Indian Premier League leaves football in its wake as it secures mega-broadcast deal
The Indian Premier League's new broadcast deal has put it above English football as the tournament continues to grow in value.
The latest IPL broadcast deal has broken record. Picture: Kolkata Knight Riders/Instagram
The Indian Premier League's broadcast deal has eclipsed the Premier League's for the first time, relegating English football's top tier to third place in the global table of television revenue.
The total value of the five-year rights package for the eight-week tournament is expected to rise to almost £5 billion (AU$8.75bn) when the electronic bidding auction for the two remaining packages finishes today (Tuesday), dwarfing the previous deal of £1.7 billion (AU$2.97bn) in 2017. It makes it the second-highest television-rights deal in terms of value per match behind the NFL.
The broadcast value of each IPL match will be about £11.3 million (AU$19.77m), a 62 per cent increase.
In the NFL each match is worth £28.8 million (AU$50.39m) and in the Premier League £9.4 million (AU$16.45m). For comparison, the total value of the present five-year television deal secured by the ECB in 2017 – which includes all England men's and women's matches, county cricket and the Hundred – is £1.1 billion (AU$1.92bn).
Each game of the IPL is set to be worth 11.3 million pounds. Picture: Rana Pandey/The India Today Group via Getty Images
Sourav Ganguly, president of the Board of Control of Cricket in India, is delighted that the IPL now "brings in more revenue than the Premier League". The former India batsman added: "The sport is strong and will continue to evolve."
The IPL deal will run from 2023 to 2027, during which time the number of matches is expected to rise from 74 a season in 2023 to as many as 94 in 2027. The schedule changes will extend the IPL's two-month window, during which there is no international cricket, by at least a fortnight.
An electronic auction took place on Sunday and yesterday (Monday), with a bidding war brewing between Viacom18, Disney Star and Sony Corporation's India Unit.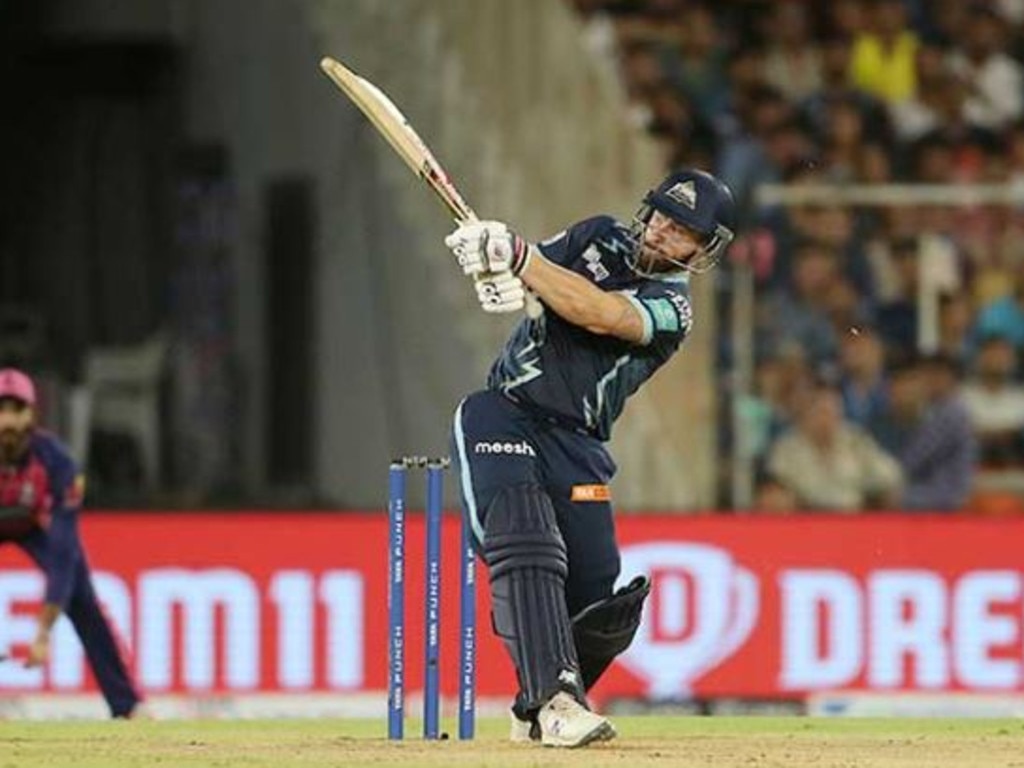 Matthew Wade's Gujarat Titans won the most recent IPL. Picture: Supplied
Although not officially confirmed by the BCCI, it is understood that Disney Star was the highest bidder among the television broadcasters and Viacom the highest bidder for digital rights.
Having secured the rights, both organisations can sell coverage on to other global broadcasters. Sky Sports has broadcast the IPL in the UK in recent years.
– The Times

Originally published as Indian Premier League leaves football in its wake as it secures mega-broadcast deal