Jack Leach: I was in a bad way, just trying not to fall asleep
The England and Somerset spinner opens up about surviving sepsis and playing with Crohn's.
Leach, now 30, was diagnosed with Crohn's when he was 14. Picture: Alex Davidson/Getty Images
In his hotel room in Hamilton, New Zealand, Jack Leach crawled to the door to let in the England team doctor, Jonathan Williams. It was the afternoon of the second day of the second Test in November 2019. Having featured in the first Test, left-arm spinner Leach wasn't playing in the match and on the first evening of the match had gone out for a meal.
He had eaten a chicken burger. It disagreed with him badly. Four hours later he woke and so began a night of sickness and diarrhoea. In the morning Leach had called Williams, who gave him some tablets and told him not to go to the ground that day.
Leach was feeling distinctly queasy, but at that point was in sufficiently good spirits to think, "Great I get the day off — 12th man duties!"
But as the day progressed things started to deteriorate dangerously quickly. "I just remember not being able to get comfortable," recalls Leach. "At times I was on all fours on my bed. I had this really bad pain in my back. It felt like I had a really high temperature. My heart was racing. I remember trying to take the tablets, but I would just throw them up.
"I texted the doctor, but he couldn't leave the ground. I ended up ringing him and saying, 'Someone has got to come.' I was going to call an ambulance. He managed to get cover and came to the hotel."
Leach was taken from his room in a wheelchair.
"They took me to a medical centre and I was sick a lot on the way," he says. "I remember being on the bed at the medical centre and our security guy, Sam Dickason, was with me as the doctors were talking outside the room and I said to him, 'I'm in a really bad way here.' He said, 'I know, I know …'
"The doctors came back in and, when they measured my heart rate, temperature and blood pressure, they were all really bad and they were getting worse. They called an ambulance, and I was rushed to hospital. There was a period when I was thinking to myself, 'I really want to fall asleep', but I was telling myself, 'Don't fall asleep.' I was really unsure what was going on.
"They put a drip in my arm to get antibiotics in and I reckon within about half an hour to an hour I started to feel a little bit more human."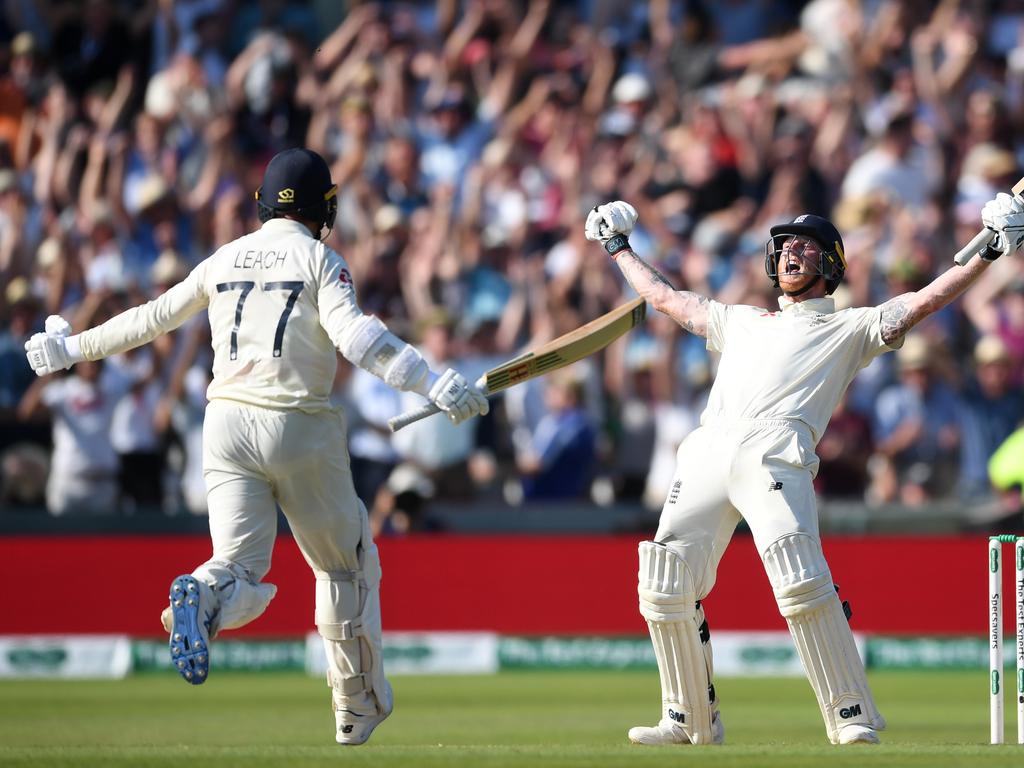 Leach, left, celebrates with Stokes during a famous Ashes victory at Headingley in 2019. Picture: Gareth Copley/Getty Images
Leach spent two nights in hospital, and it was only later that he was told that he had survived sepsis, which occurs when the immune system overreacts to an infection and begins to attack one's vital organs. Too often sepsis is not diagnosed swiftly enough and without antibiotic treatment it can result in multiple organ failure and death.
Leach was very lucky. About two months later my daughter, Bethan, died of sepsis, aged only 21. She too had contracted an infection — in her case pneumonia — that her body was unable to fight off, mainly because, like Leach, she had Crohn's disease. Leach received the antibiotic treatment in time. Bethan didn't.
An inflammatory bowel disease, Crohn's is a horrible, horrible complaint that can just flare up unannounced. In July 2018 when I first interviewed Leach and he mentioned it, I had never really heard of it. A year later Bethan was diagnosed with it and, while she was struggling to come to terms with this lifelong condition, by way of inspiration I was telling her how Leach managed to play international cricket with it.
When Bethan died in February 2020 Leach was one of the many from the cricketing world to send their condolences. But he was scared too.
"It was shocking," he says. "When I heard about it that was obviously a few months after I'd had sepsis. It hit me for six to be honest, because I felt at the time that it was something serious I had gone through and it confirmed it massively. What I felt and when I was thinking 'Don't go to sleep', it was real. It wasn't me making a fuss over nothing. It was obviously horrendous to hear and I'm just so sorry."
Leach, now 30, was diagnosed with Crohn's when he was 14. As with most cases it took some time to diagnose. "I remember going to the doctors a lot, starting with tummy ache, and being told it was nothing serious," he says. "I guess it takes time to rule out things that are less serious. I then remember regularly coming home from school and my energy levels were really low. It was then that I had a blood test and certain things were picked up. I was very anaemic when it got diagnosed.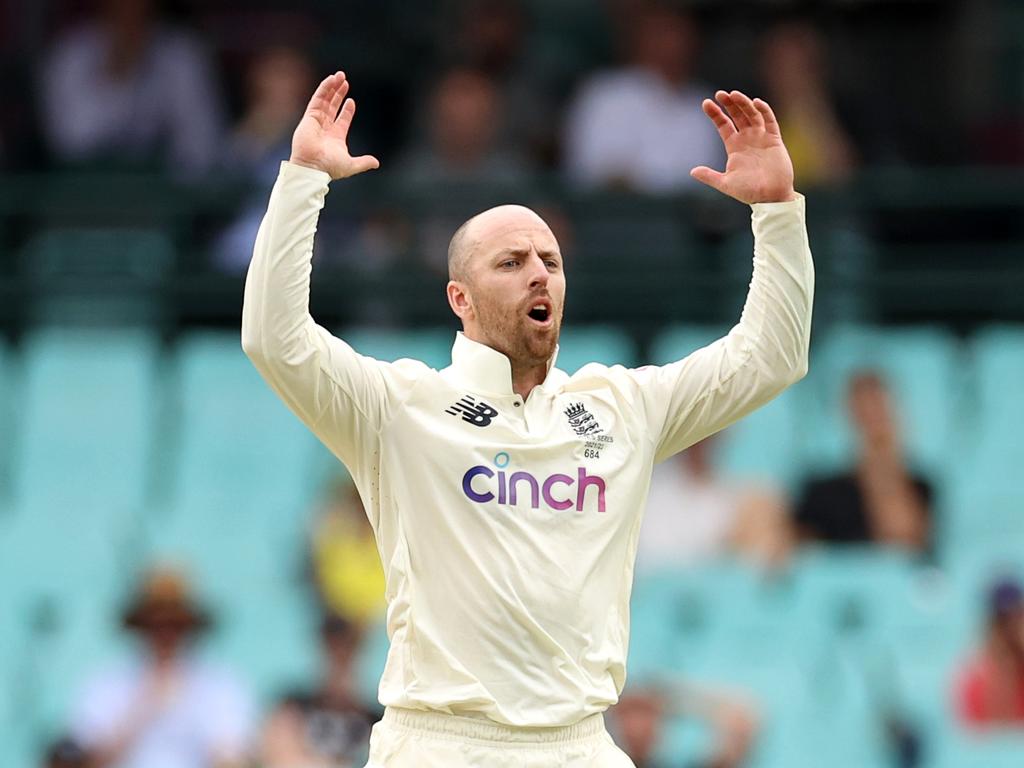 Leach has played 22 Tests and is forever famous for that vital one run he scored in the Ashes Test at Headingley in 2019. Picture: Cameron Spencer/Getty Images
"I went on a liquid diet for about eight weeks, so that my gut didn't have to do as much work, and I actually put on a lot of weight. I'm a big 'foodie' so I found that very difficult. My mum, dad and brother were sitting around the table having food and I was on these drinks! I was on Azathioprine [an immunosuppressant]. When I went back on to food, I had a relapse so I went onto steroids for eight weeks as well as the Azathioprine. It took a while to get the Crohn's under control."
Nowadays Leach injects himself once a week with Humira.
"It's easy to do," he says. "I took a bit of time getting used to it. It weakens your immune system so picking up little bugs can knock me back a bit. It is controlling my Crohn's pretty well, but it is more what the medication does to your body."
Indeed, in many ways it is remarkable what Leach has achieved in his cricket career while living with Crohn's, playing 22 Tests and destined to be forever famous for that vital one run he scored in the Ashes Test at Headingley in 2019 in a last-wicket matchwinning partnership of 76 with Ben Stokes.
"I've been a little bit guilty of not understanding Crohn's well enough, which has probably helped me in a way," he says. "Other than having Crohn's I have felt like a fit and healthy person. I think cricket has always been a distraction from it. There have obviously been a couple of occasions where my body has let me down, but I have never felt like I am defined by it. I try to focus on the positive things, like I am lucky to be playing sport, to help me through the illness."
After surviving sepsis Leach flew home from New Zealand with the tour party. A week later they were flying to South Africa, and, unfathomably, Leach went with them. It was little surprising that he did not play and had to return home early. Before that he was ill again too, like many others in the party, with what could well have been Covid a couple of months before it hit this country.
"Looking back now that was ridiculous to go to South Africa," he says. "Training and trying to play at such a high level were never going to happen after that. It was a bit stupid really."
When Covid arrived here, lockdown was a particularly tough time for him.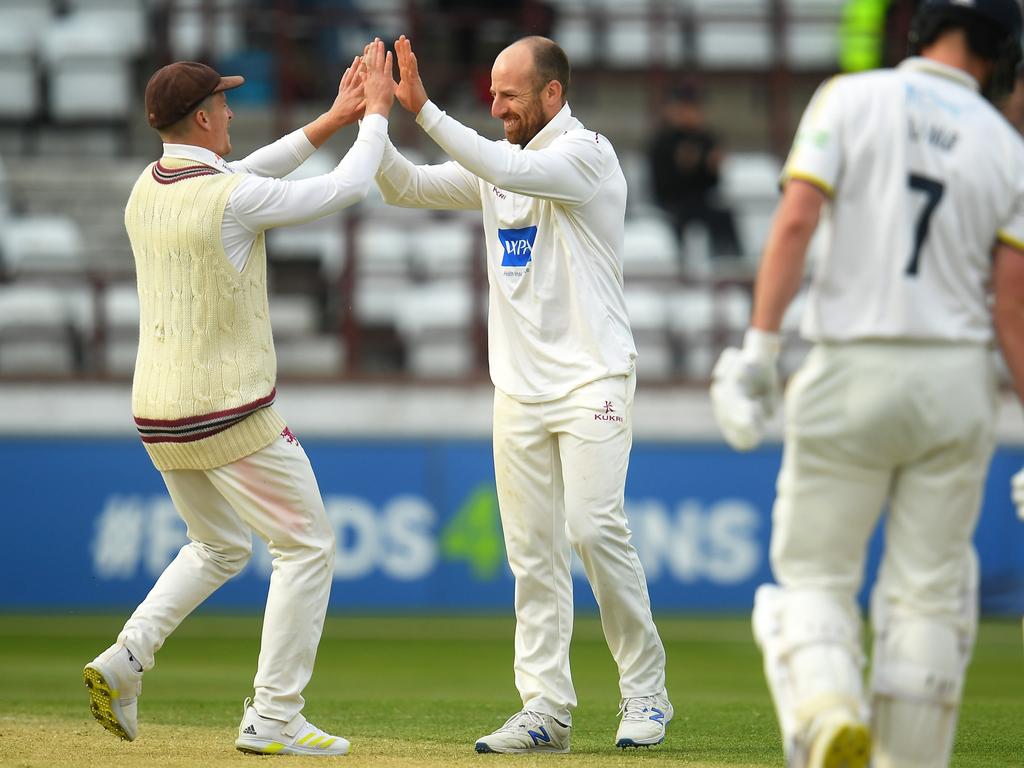 Leach celebrates a wicket for Somerset in this year's County Championship. Picture: Harry Trump/Getty Images
"I got a text from the NHS," he says. "It was obviously a very generic text, but it said something like, 'You are vulnerable. Stay in your house for 12 weeks, open the window but don't go outside.' I felt a bit trapped and it made me feel more ill than I was. I was trying to weigh up, 'How ill am I? I'm trying to play elite sport for my country on one hand, but on the other I'm highly vulnerable and must stay inside.' It came at a really tricky time when I was unsure of my England future. I felt pretty down. Those first few weeks of lockdown with a combination of all those things was obviously very tricky."
Leach's bravery in dealing with Crohn's is remarkable, and it is worth bearing in mind the next time you see him under fire as a spinner, as he was last winter in the Ashes.
"I have spoken to a lot of people with Crohn's and a lot of them struggle more with the mental side of it," he says. "I feel like my Crohn's has been at its worst when I've been stressed in my life. Since I've played for England that comes with a lot of stress. That's when my Crohn's has probably been at its worst. I get nerves in a Test-match week and that often results in a stomach ache.
"The amount you want to play for your country is more than you are worried about your health, though. It is probably not the right way round! It's given me an understanding of what sets it off so I'm quite careful with my foods.
"I spoke to [former England rugby player] Lewis Moody, who has got colitis [inflammation of the large intestine]. I asked him about his diet a few years ago. He was avoiding all sorts of things and that meant he could live without medication.
"I avoid spicy food. Around games I try to have less caffeine. I spoke to my consultant and she said she would prefer me to have a balanced diet and let the medication do its thing. Getting through the Sri Lanka and India tours [in 2021] unscathed gave me quite a lot of confidence in my body and my condition."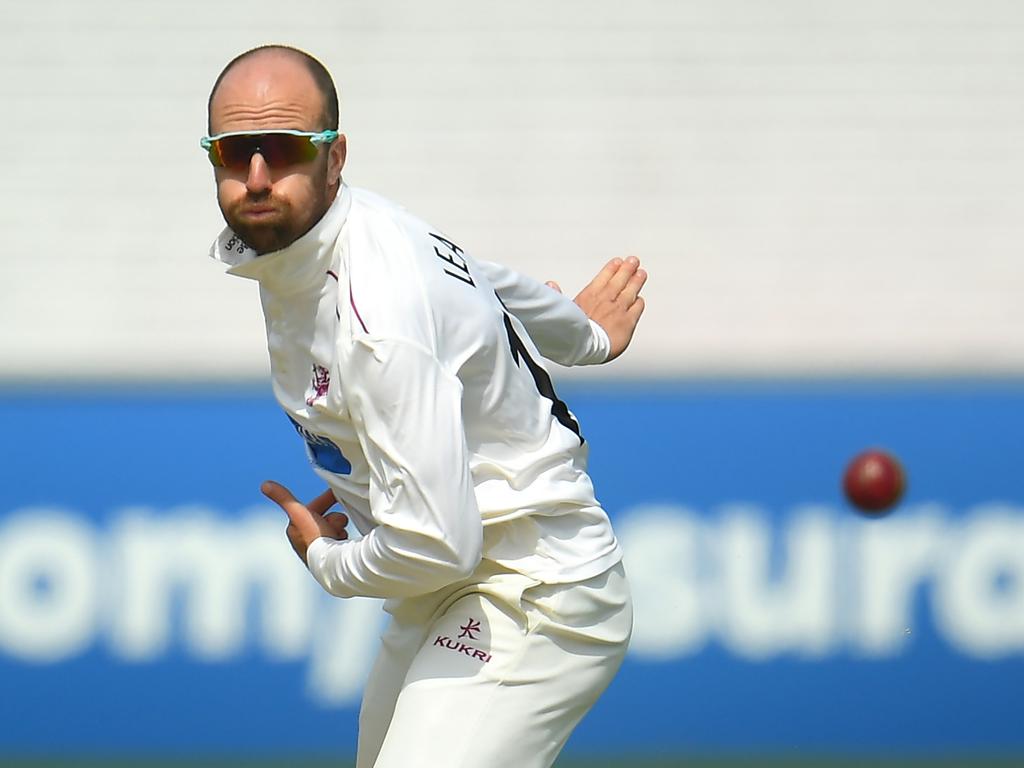 Leach is hoping to get the chance of playing under the new England captain, Stokes. Picture: Harry Trump/Getty Images
On the field, last winter in Australia and the Caribbean did not go as well as Leach, or, of course, England would have liked.
"Australia was very difficult for the team and myself," he says. "But I felt like I learned a lot. It is never acceptable to lose a series and it will be difficult to understand from the outside, but I did feel in the West Indies that we did make some progress in terms of how we want to do things and there were some positives."
With so many changes at the top in English cricket very few players can now be sure of selection.
"It is uncertain," he says. "But I think that is exciting for a lot of people around the country. There have been some great performances from a lot of guys."
And at least Leach has had a call from the new Test captain, Stokes.
"He rang up and it was nice to chat to him," Leach says. "I'm just very excited for him to be given the opportunity as captain. I think he will be very much the same as he is as a player. He wears his heart on his sleeve, but I think behind that he has got a really good tactical head on his shoulders.
"What he has been through in the last year or two makes him a very open guy who will have a chat with anyone, so I think he will naturally do the man management side of things really well. I massively look up to him. Since that day at Headingley he is a bit of a hero of mine. Hopefully I get to play under him."
And hopefully people will also realise the challenges Leach constantly deals with.
– The Times