Joe Root's audacity epitomises England's new exuberance
Former England captain Joe Root's shot-making perfectly sums up England's new approach under Ben Stokes and Brendon McCullum, writes MIKE ATHERTON.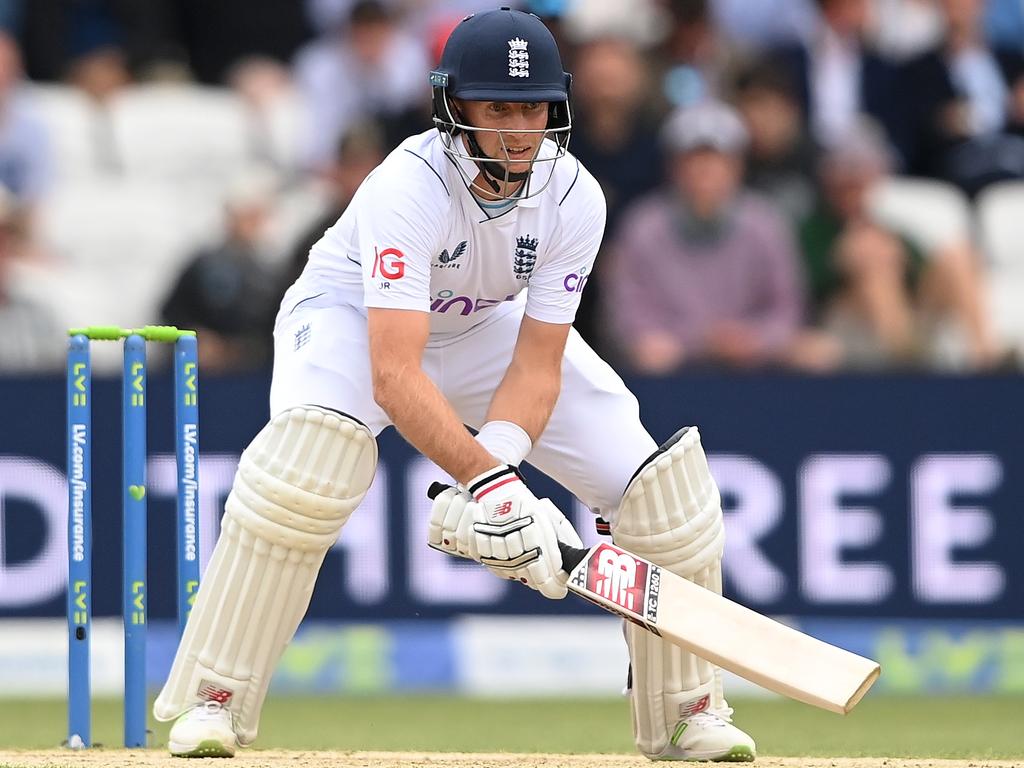 Joe Root's shot-making in the third Test against New Zealand sums up England's new approach under Ben Stokes and Brendon McCullum. Picture: Alex Davidson/Getty Images
It was Bobby Jones, the great golfer, who said, on watching Jack Nicklaus, "He plays a game with which I am not familiar." A similar sentiment applies to this England team under Ben Stokes and Brendon McCullum, as they continue to attempt to reset and reimagine the boundaries of the possible where Test cricket is concerned.
The future is rushing towards us, and it looks very different from the past.
The raucousness of the third afternoon gave way to gasps of astonishment in the 22nd over of England's reply yesterday evening, when Joe Root turned his body fully 90 degrees to reverse-scoop the fast bowler Neil Wagner over the slips and into the Football Stand for six.
Root had played a reverse sweep to his first ball faced too, and his confidence rubbed off on Ollie Pope as England looked to overcome the early loss of both openers. Appearing increasingly assured, Pope finished the day 19 runs short of what will be a second hundred in consecutive Tests at No 3, further proof of the new management's Midas touch.
He shared an unbroken partnership of 132 with Root, who once again oozed class, going to a half-century just before the close. What should have been a tricky assignment, on a dry, worn pitch, looked anything but, and New Zealand resembled a beaten team at the end.
Challenged to make the seventh-highest run chase in their history, only a week after making their fifth-highest, England finished the day needing 113 runs more to complete the clean sweep.
As at Trent Bridge, there was no thought of easing towards the total, nor playing for the close, and they scored at a rollicking 4.69 runs an over. They piled pressure on the inexperienced off spinner Michael Bracewell, on a pitch upon which Jack Leach had taken ten wickets in the match.
In doing so Leach became only the third England spinner in 50 years to take ten wickets in a Test at Headingley, wrapping up the New Zealand tail, after Daryl Mitchell and Tom Blundell had again played with great assurance.
With his new shortened run-up, designed to give him more snap and energy through the crease, Leach turned the ball sharply, and highlighted the absence for New Zealand of Ajaz Patel, the left-arm spinner who, only six months ago, took ten wickets in an innings against India in Mumbai.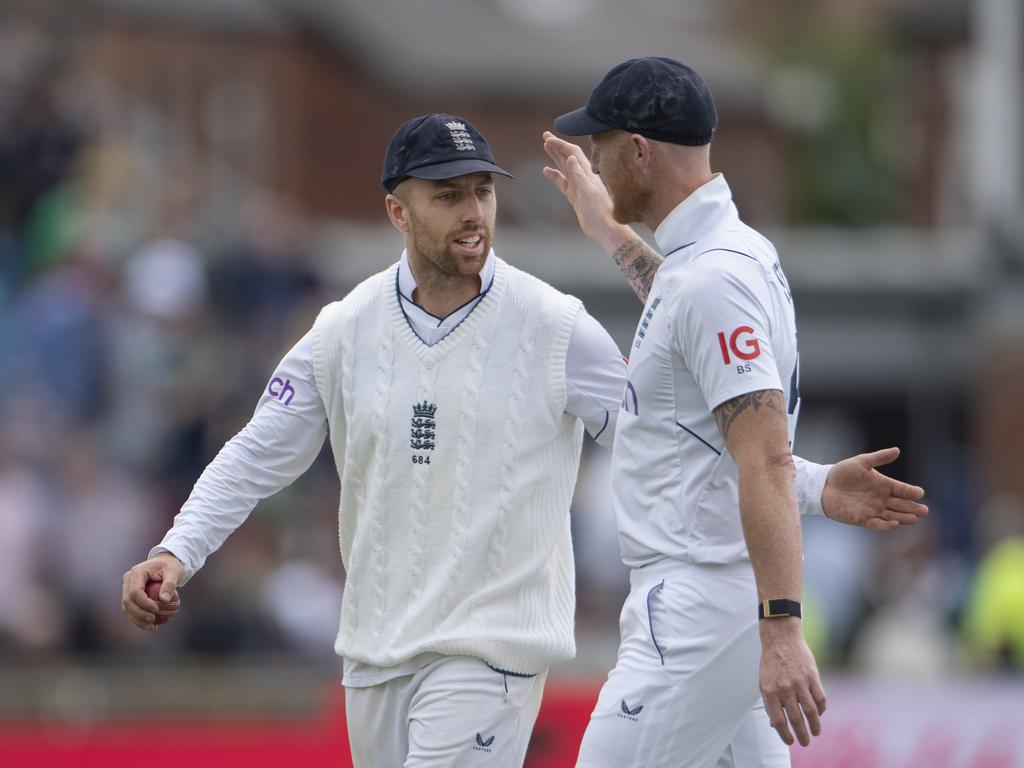 Jack Leach became the third English spinner in 50 years to take 10 wickets in a Test at Headingly. Picture: Visionhaus/Getty Images
Instead, spinning duties were left to Bracewell. England refused to allow him to settle, and he struggled to maintain a command over his length, allowing the batsmen to score at will through the off side against the spin. In fairness, he ought to have had Root caught at slip on 12, but Mitchell was standing in completely the wrong position — much too wide. Bracewell's first seven overs cost 45 runs; his second spell, of four overs, went for 35 runs more, and Kane Williamson had nowhere to turn.
It was great fun, of course, watching England play with such exuberance and confidence again, and Yorkshire caught the mood by offering free tickets for the final day, much as Trent Bridge had done last week. An hour after play there were thousands of people in the queue by all accounts, a measure of how quickly things have turned. For all Headingley's reputation as a ground where swing and seam bowlers have held sway, there have been some memorable run chases here, and four of England's five highest run chases at home have come on this ground.
Before the start of play Stuart Broad had articulated the day's initial challenge: to break the partnership of Blundell and Mitchell. The former sits deep in his crease and looks to play off the back foot; the latter advances on the front foot, with the consequence that bowlers are constantly having to adjust their length. It is a combination that has worked to great effect. When they posted their fourth three-figure partnership in this short series they emulated David Boon and Mark Waugh, who batted England to Kingdom Come in 1993, but that was over six Test matches.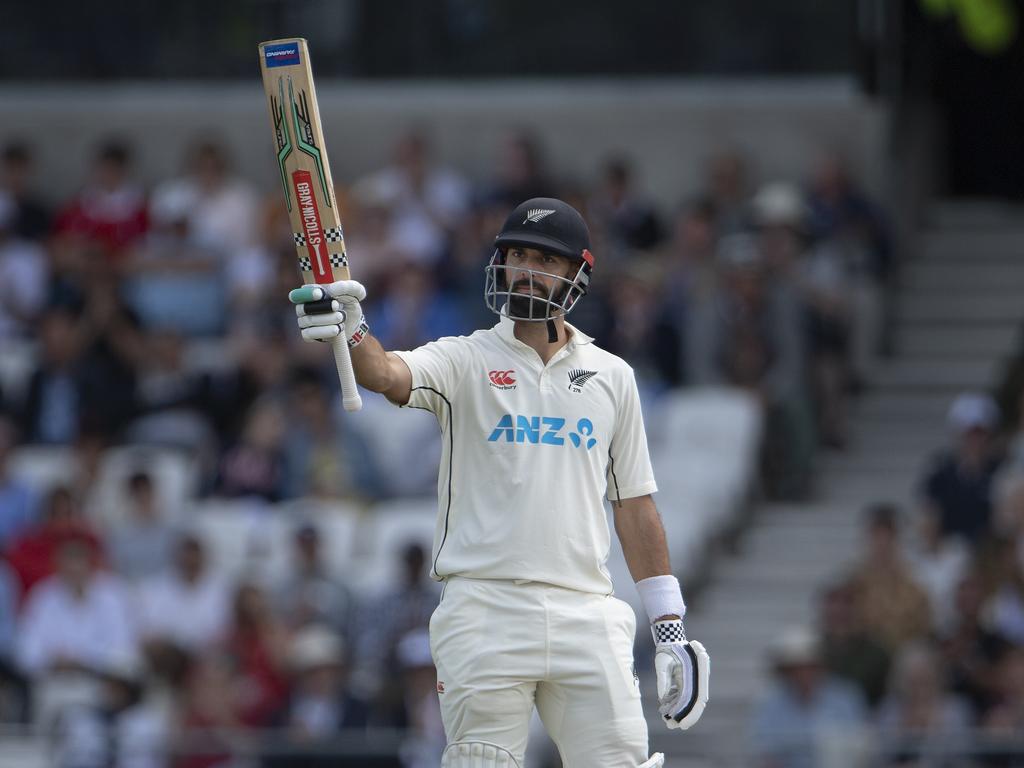 Daryl Mitchell's great form wasn't enough to save New Zealand. Picture: Visionhaus/Getty Images
They started cautiously at the start of play and for a while the match appeared to be taking a breather, with the crowd correspondingly quiet after the excitement of the evening before. Jonny Bairstow tried to reignite them, as he had the previous day, but to no avail. Acceleration came in the second hour before the second new ball as Root was introduced to try to sneak towards it with no damage done, but Mitchell was having none of that.
Leach spun one sharply past the outside edge of Blundell's bat — a sign of what was to come — so sharply that it also evaded Sam Billings, who had driven up overnight to replace Ben Foakes, indisposed through Covid-19. Billings winning a second cap as a Covid substitute will be a quiz question in time, although England hope Foakes will be fit for India at Edgbaston.
The second new ball was taken. Matthew Potts — impressive throughout the match and getting the reward in the second innings that his bowling in the first deserved — rapped Mitchell on the pads and Stokes ran in from mid-off to stand next to the umpire, pleading for the leg-before call, but Marais Erasmus was unmoved. Mitchell moved beyond 500 runs for the series, the first time for a visiting batsman in England in a three-match series, and lunch was taken with New Zealand's lead at 223.
Blundell went to his half-century soon afterwards as an edge off Leach went between wicketkeeper and slip. Leach was finding some consistent turn by now, although was not helped by Root's positioning, which was too wide and was soon costly for a second time. Mitchell's half-century followed, forcing Stokes to turn to the indefatigable Potts again in the 91st over, when things began to happen for England at last.
Potts won a leg-before decision against Blundell which was overturned and then, two balls later, won another against Mitchell, which was not. The partnership had been broken, finally, but not before it had totalled 724 runs for the series. Potts and Leach then bowled unchanged to the end of the innings, with Leach mopping up the tail. Bracewell was caught on the boundary heaving to leg; Tim Southee was bowled by a quicker ball; Wagner edged one that stuck between Billings's legs and Boult was beaten on the charge. Blundell, having played brilliantly, remained unbeaten.
So Leach led the team from the field, all smiles and place assured, and then the question was whether the other England player in need of a performance before this game, Zak Crawley, could rise to the challenge. Instead, Crawley played a curate's egg of an innings that included some high-quality shots — he took four boundaries in one over from Trent Boult — plenty of near-misses and a run out of Alex Lees to a spectacular piece of fielding from Williamson.
Dropped on nought and riding his luck throughout, Crawley looked like a man trying to join in the fun, but one who, at present, lacks the game to do so.