Jonny Bairstow: How tragedy and tenacity produced a brilliant but complicated star
England's Trent Bridge hero has taken his father's cricketing ability and mother's 'spirit and guts' to excel in a career built upon proving people wrong, writes STEVE JAMES.
Bairstow's matchwinning century against New Zealand at Trent Bridge was an innings for the ages. Picture: Stu Forster/Getty Images
The lips are beginning to quiver, the tears beginning to well up. A word is bleeped out of the transmission and Jonny Bairstow leans forward shaking his head. "This'll kill me, but this is so good …" he says with a long sigh.
Bairstow is talking on Sky Sports' excellent documentary, The World Cup: Through Their Eyes, which details England's 2019 triumph, and he is attempting to relate what Jos Buttler said to him as the team waited to receive their winners' medals at Lord's on that glorious day three years ago.
"Take your time," says the interviewer, Ian Ward.
The program cuts to Buttler and his recollection of that moment. He too is tearful. "At the time I wish I hadn't said it, but I knew he would be thinking it," he says.
Back to Bairstow and he says, mimicking Buttler's pointing finger: "Jos basically said, 'Your dad would be proud as hell.' " And that is it. Bairstow signals that he is done with this subject and bows his head, presumably as a mixture of grief, loss and pride overwhelm him.
Bairstow looks towards the heavens as he celebrates his century against New Zealand at Trent Bridge. Picture: Stu Forster/Getty Images
This is Bairstow laid bare, a moment that tells us so much about his career, his life and his personality. The 32-year-old is a top-notch cricketer, good enough to have played a huge part in winning that World Cup as a swashbuckling opener. He has played 85 Tests, 49 of them as a wicketkeeper, making nine centuries, with the most stunning of them coming on Tuesday at Trent Bridge, where he made a matchwinning 136 from only 92 balls in the second Test against New Zealand.
But he is an often misunderstood, emotional and sensitive character, whose life and career have been irrevocably shaped by the death by suicide in 1998 of his father, David, also a Yorkshire and England wicketkeeper-batsman, at the age of 46.
Jonny was only eight when one January evening he, his mother, Janet, and sister, Becky — known to everyone as Boo — returned home after Jonny had been football training at Leeds United's academy to find that his dad had taken his own life.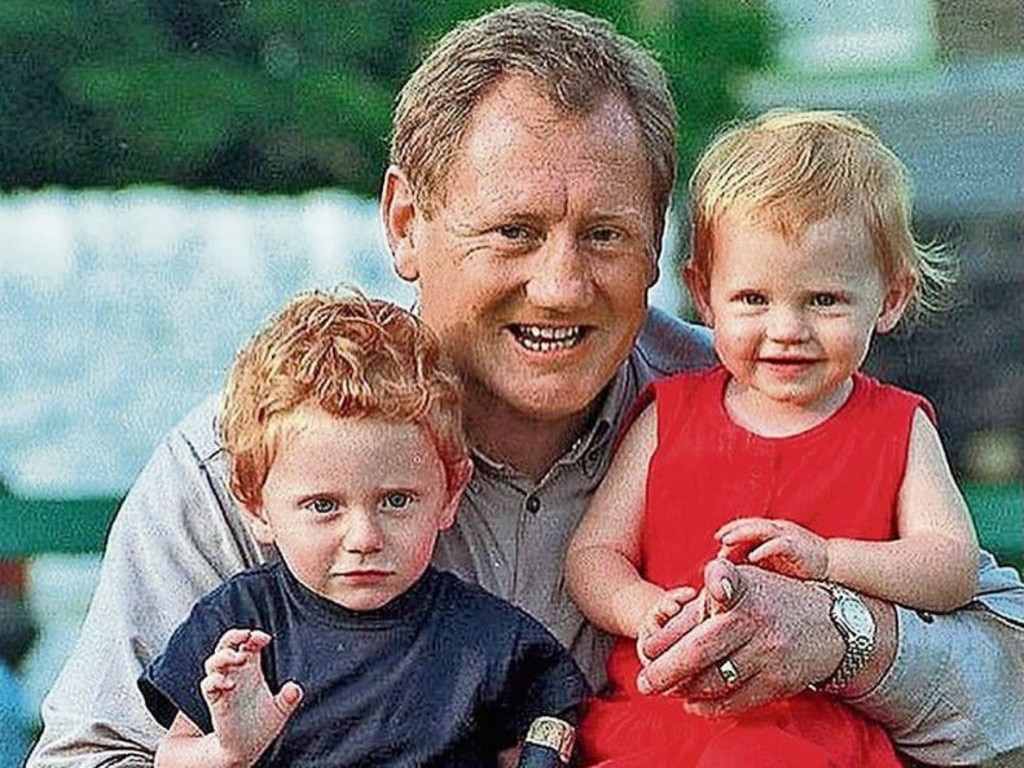 A young Jonny and Becky with their father, David, who took his own life in 1998. Picture: The Times
Remarkably, the next day — which happened to be Janet's birthday — Jonny and Becky went to school, going out through the back door and across some fields to avoid the waiting media at the front.
As Bairstow says so perceptively in his moving autobiography, A Clear Blue Sky: "I realise now that you survive the death of someone you love simply by living, however wrong and unnatural it feels at first and however long it takes for your own life to find a meaningful shape again.
"The first task is accepting things, which is always the hardest. In sending Becky and me to school, my mum knew that the simple act of putting one foot in front of the other, walking in a straight line and holding our heads up, would be a test for us. She also knew that it was a necessary one."
As someone who lost my daughter recently, the Bairstow family's resilience strikes a chord. As Bairstow says in quoting Winston Churchill in his book: "If you're going through hell, keep going." They certainly did that. Janet, who had breast cancer, even kept a chemotherapy session that day.
From that moment on, Jonny, Becky and Janet have remained the tightest of families. On Tuesday afternoon, in the Trent Bridge dressing-room after all the formalities and team speeches had been done, it is little surprise to learn that the first thing Jonny did was video-call his mother, to talk about the victory and his innings.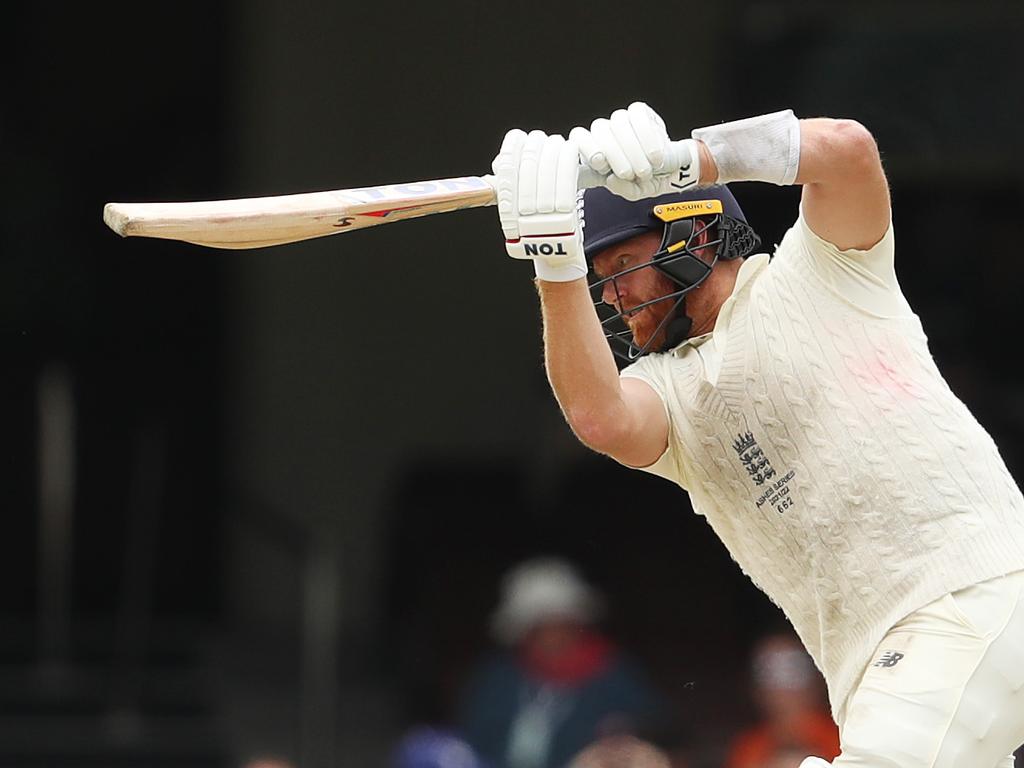 The runs keep coming for Bairstow. At the Sydney Cricket Ground for the 2022 New Years Test. Picture: Mark Metcalfe - CA/Getty Images
As he writes in his book: "I look so much like my dad — same chin, same cheekbones, same forehead — and I play a little like him too. But I am my mother's son. I am who I am because of her. My dad passed on his cricketing talent. My mum has enabled me to use it. Her life's work has been Becky and me. She's given our lives balance and structure. She's taught us to treat everyone decently and equally. Our sense of spirit and our guts come from her. So does our work ethic."
Janet has, indeed, done a fine job. From my limited experience and the testimony of many others, Jonny Bairstow is a damn good bloke.
At the heart of his personality is an exceptional warmth, generosity and gregariousness. Wherever England travel, Bairstow has friends there waiting. The former England head coach, Trevor Bayliss, would often joke that he must have been to the biggest school in the world, as time and time again Bairstow answered the coach's question about the identity of another visitor to the team hotel with "a schoolmate."
If ever a travelling family want to meet an England player on tour, Bairstow is usually the man to oblige. He will often give the younger members of that family a souvenir of some sort.
His loyalty stands out too. Witness his defence of Joe Root post-match on Tuesday, where he spoke superbly in refusing to overpraise the new environment at the expense of criticising Root's reign.
Bairstow's batting career stats. Graph: The Times
They say he can be a little different at times, his character dictating that his lows can sometimes be as low as his highs can be high, but like most of us he wants to be liked, and so he enjoys the feel of a comforting arm around the shoulder.
Bairstow always knows what is written and said about him, and sometimes he unwisely engages in spats, such as that with Michael Vaughan during the 2019 World Cup. "People were waiting for us to fail," he said of Vaughan's comments after England had lost consecutively to Sri Lanka and Australia in the group stage.
It is true that his grumpier moods, with their surrounding self-absorption, can occasionally be a little draining and frustrating for those around him, but there are plenty of players like that, and indeed much worse, in the claustrophobic intensity of any cricket dressing-room. Bairstow is just very passionate and driven to succeed.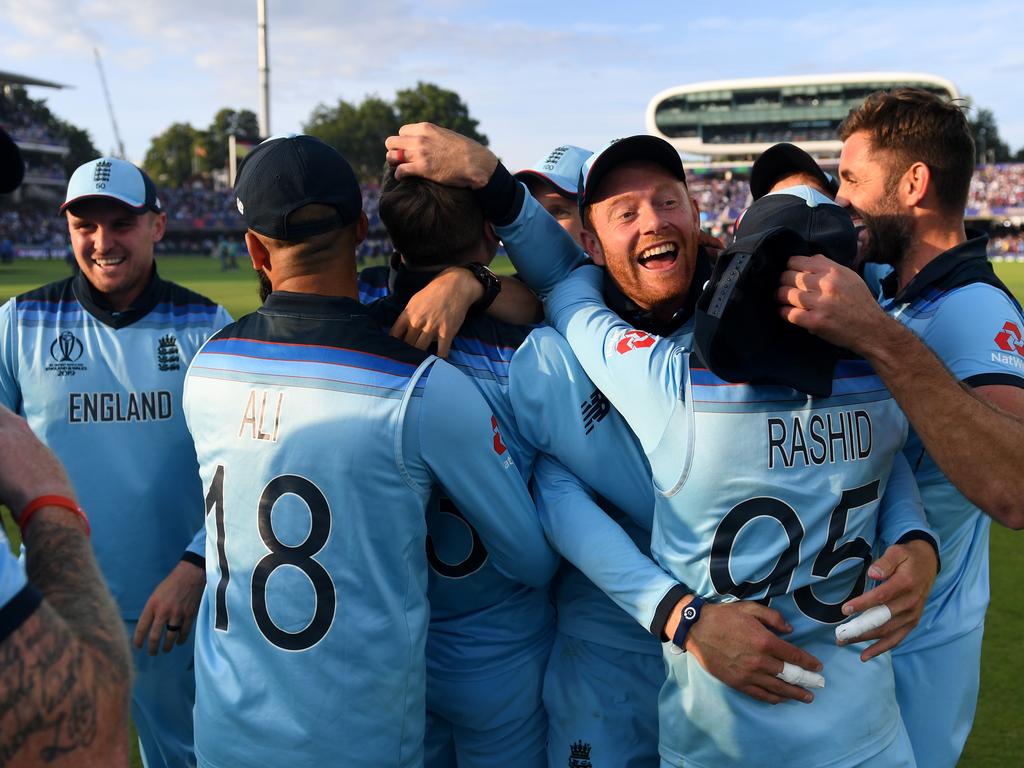 Bairstow celebrates the run-out that clinched victory in the 2019 World Cup final against New Zealand. Picture: Gareth Copley-ICC/ICC via Getty Images
There have been times when Bairstow has had every right to be grumpy about his treatment by the Test selectors. He has often been a victim of his versatility, as well as a continuing dearth of top-order batsmen. The former national selector, Ed Smith, tried to use him much higher up the order than was probably sensible — clinging to the statistic that Bairstow was one of the few players in county cricket averaging more than 40 at the time. It also reflected Smith's desire to reintroduce Buttler into the Test side (which was more successful than many want to believe). I, for one, touted Bairstow for the opening spot, mainly because of the persistent failures of others in that position, but that was given short shrift when I interviewed him for the first time in 2018.
"I have never opened the batting [in first-class cricket] other than in a dashing role for Yorkshire," he said. "To open the batting in Test cricket is a completely different skill set. I have been asked to bat in lots of different positions but that is for the benefit of the team.
"If you look back [Adam] Gilchrist stayed at seven, [Matt] Prior stayed at seven. It is very flattering that they want me to bat at five, and when they said they wanted me to play as a batter and bat four it was very flattering, but at the same time I have scored all my hundreds [then five in Tests] batting at six and seven."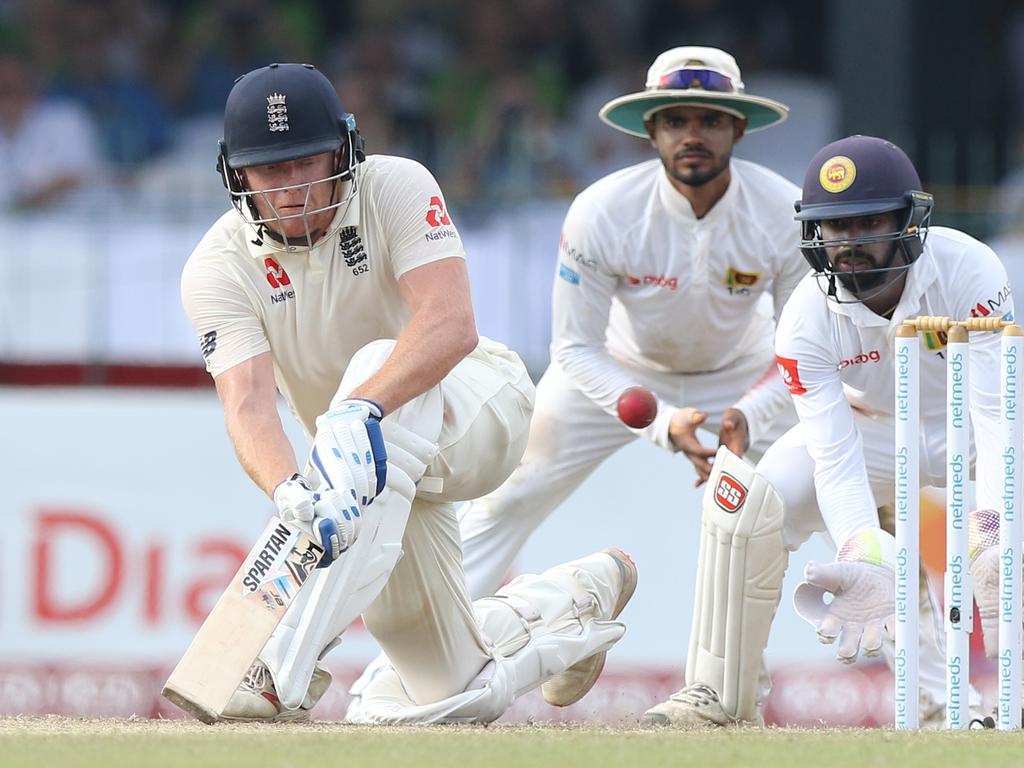 Bairstow combines immense skill with sheer power. Picture: Tharaka Basnayaka/NurPhoto via Getty Images
We should not forget how good Bairstow was for a long period after taking the wicketkeeping gloves from Buttler in November 2015. In 2016, only Root scored more Test runs in the world, as Bairstow made 1,470 at 58.80, with three centuries. No wicketkeeper has made more runs in a calendar year.
He was at his most comfortable then, mostly batting at No 7, where his natural counterattacking game thrived. It is at seven and with the gloves that his average (40.48) is greater than in any other position. Even though Ben Foakes is doing very well at the moment, it is to that scenario that he would probably revert if granted the freedom of choice. He never really deserved to lose that spot. He had done nothing wrong and had worked extremely hard on his glovework.
But judging by the words of Rob Key in a column in The Evening Standard in March, written before he became England's managing director of men's cricket, he will not be returning to a position behind the sticks any time soon.
"Finally, England have got where I always thought they needed to be, with Bairstow playing as a specialist batter," Key wrote. "For England to get to the point where Bairstow wasn't in the Test team required fault on both sides, and there was. England's unwillingness to ruffle Jonny's feathers by taking the gloves off one of their best batters (a compliment!) saw a fudge between him and Jos Buttler that not only cost the team, but Bairstow, too. Trevor Bayliss was a fantastic coach, but I thought that was one of his few poor calls."
Since mid-2018 in particular, Bairstow has been shunted around the order, making a century at No 3 in Sri Lanka, but also being particularly miffed when asked to bat at No 4 against India at Southampton that summer. Even for this present series, he has had to endure a change, with the captain Ben Stokes wanting to bat at No 6, where Bairstow made two centuries last winter. So Bairstow is at No 5, making his first Test century in that position at Nottingham this week.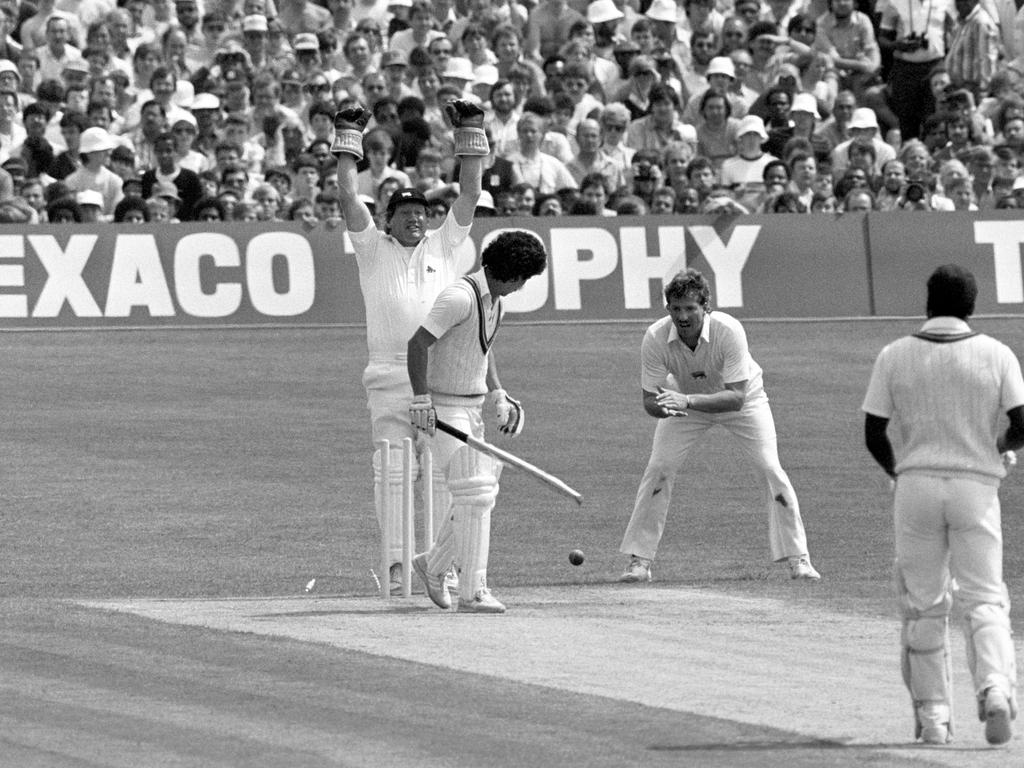 Like his son, David Bairstow was a wicketkeeper-batsman for Yorkshire and England. Picture: PA Images via Getty Images
Key also made another interesting observation in that column. "The perception was that Bairstow's failings were technical, because he kept being bowled," he wrote. "But Bairstow will never be a technician. He just needs to have a clear plan and watch the ball — the rest will take care of itself. What I am seeing now is a player who is simply thinking better. Jonny has to remain true to himself, and he lost that. We see other players, like Ollie Pope, fall into technical rabbit holes and leaving their personalities behind."
Bairstow does get clean-bowled a lot, sometimes playing with a straight front leg and low hands pushed out in front of him to create an inviting gate for the bowlers. He can delve deep into technical matters (his pick-up has always been a matter of attention, and he was too wide and low in his stance when first entering Test cricket), but his batting is usually most successful when he adheres to the basic principles he once wrote down (and repeated in his book) for a sports psychologist at Yorkshire: "See the ball. Hit the ball. Dominate. Keep it simple."
The new Test head coach, Brendon McCullum, spent much time on the Trent Bridge balcony with Bairstow before his innings, and you can imagine his message would have been very similar.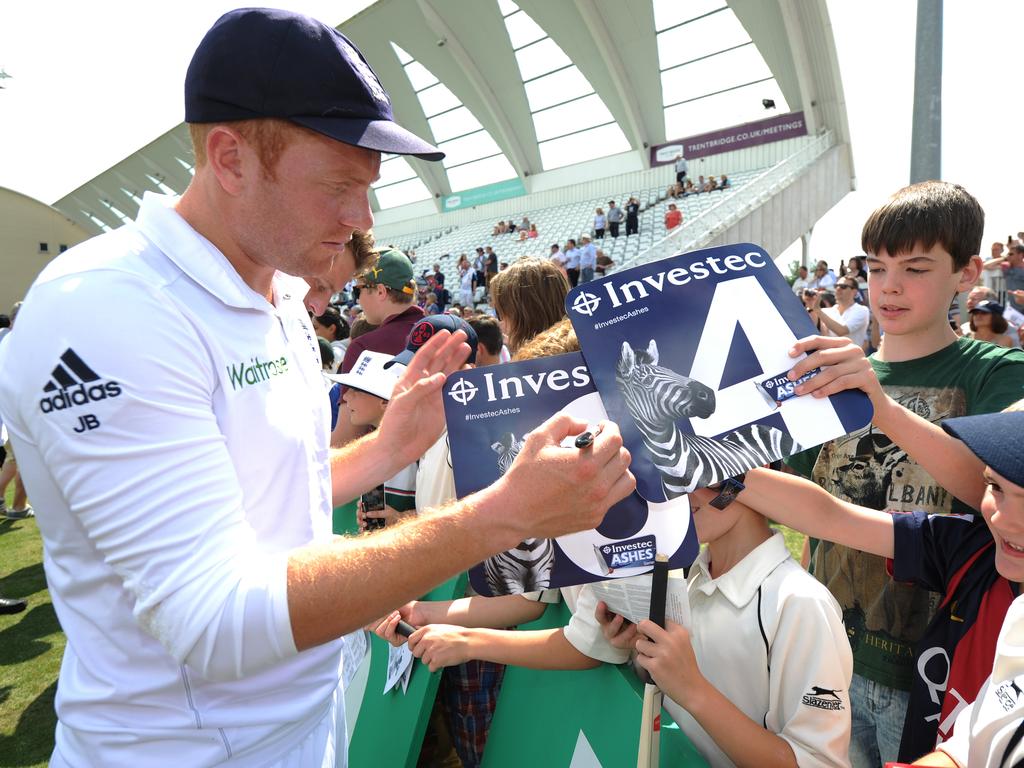 Bairstow is a popular figure with the England fans. Picture: Ben Radford/Corbis via Getty Images
As for Key's point about players leaving their personalities behind, that is a crucial consideration for Bairstow. He bats best when under pressure and with a point to prove (he scored a century against India the game after that Vaughan row, and then another hundred in the next match against New Zealand) and especially when chasing targets, as was the case on Tuesday.
I actually think Bairstow is a rugby player playing cricket, given his attitude and liking for a scrap. He loves the game, with Jonny Wilkinson having been his childhood hero (Bairstow was a fly half too), and his England teammates often rib him about that love of rugby and about how many of his friends are rugby players.
Having been released from the Leeds academy, he discovered rugby at St Peter's School in York. "From it I absorbed an important lesson," he wrote in his book. "When you're in an awkward scrape, you have two choices: fight or flight. I learnt it whenever an opponent, usually taller, wider and more muscular, came at me with the ball in his hands and murder in his eyes. You either tackled him or got clean out the way."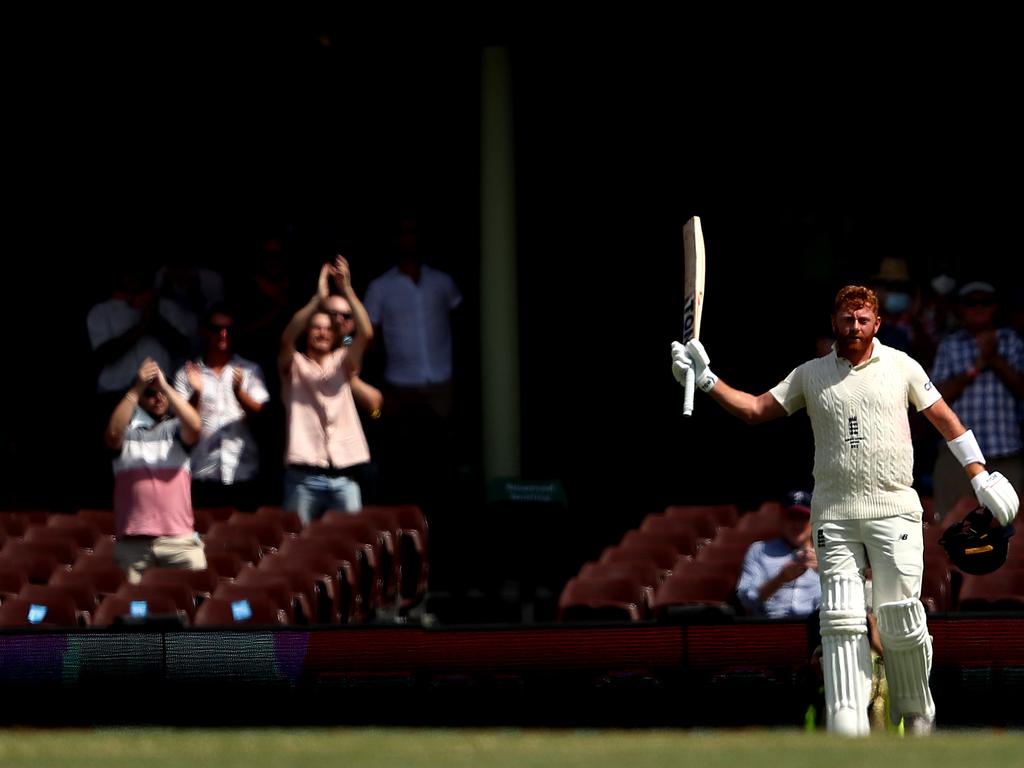 Bairstow was one of England's most dangerous players through the 2021-22 Ashes series. Picture: Mark Metcalfe - CA/Cricket Australia via Getty Images
That was the essence of McCullum's message to England at Nottingham when telling them to run towards the danger of their chase (and remember that McCullum was once a very decent rugby player too). In Bairstow, he has a kindred soul in that regard. As a result, he is clearly convincing him of the importance of his role at No 5 without the gloves — indeed that is where McCullum finished his Test career.
Bairstow now has three centuries in his past six Tests, having not made one in his previous 19. Maybe under McCullum we are about to witness a remarkable rejuvenation of a Test career that once seemed lost, particularly when he made three ducks in four innings in India last year. Apparently Bairstow is already part of Stokes's informal leadership group, and you can only see his influence growing now.