Jonny Bairstow's brilliance only happens if he's given clarity old regimes wouldn't have offered
Jonny Bairstow was England's saviour at Trent Bridge, but his match-winning knock can be attributed to solid leadership, writes ALASTAIR COOK.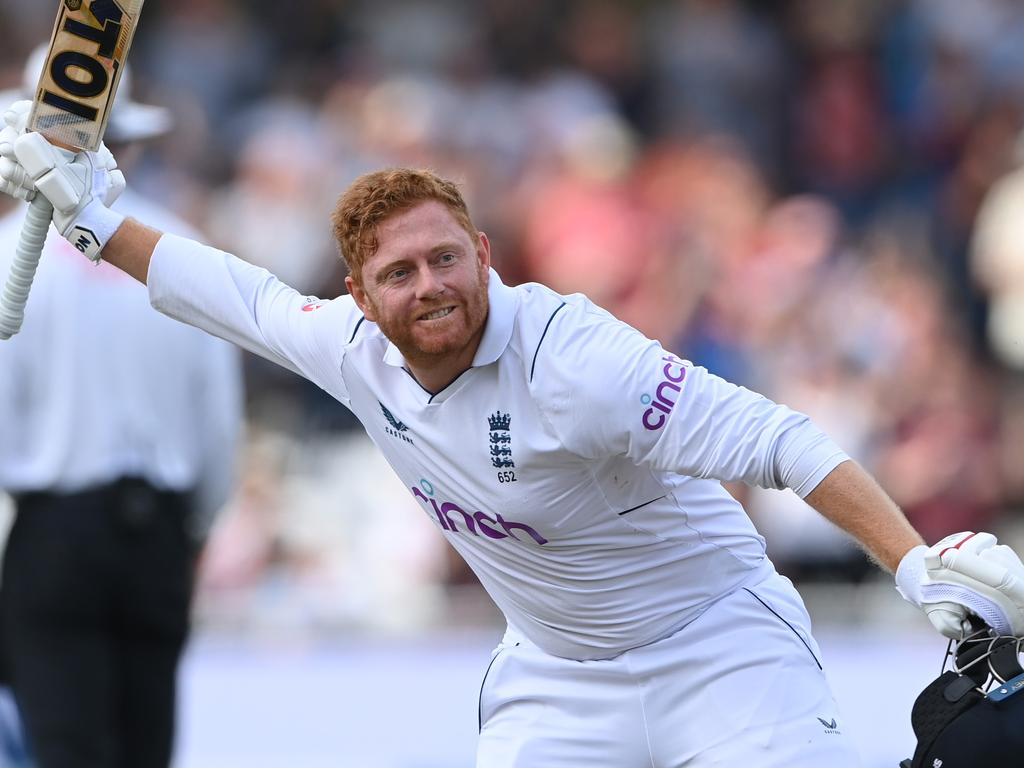 Jonny Bairstow is benefitting from knowing his role in England's Test team. Picture: Stu Forster/Getty Images
Before we revel in Jonny Bairstow's final day heroics at Trent Bridge, let's dwell for a moment on day four. To my eye, the contrast in mentalities was stark. After England's belligerence in the first hour before being dismissed, New Zealand batted as if they were scared of England winning. When you do that, you play into the opposition's hands.
At no point did the Black Caps look as if they had said to themselves: let's get 350 as quick as we can and put all the pressure back on to England. Their batting betrayed an uncertainty about what outcome they were pursuing or expecting. Yes they gifted England a few wickets but Ben Stokes and his bowlers deserve praise for the manner in which they kept pressing. They weren't content to "sit in" as previous England sides might have done.
I wonder too if we should also go back earlier in the piece to the end of day two when England finished on 90-1, still 463 in arrears of New Zealand's first innings total. I wasn't party to the team talk that night but I bet it went something like this: "If we bat positively and take every opportunity to attack then we can win this".
I can't recall overseeing such a discussion in similar circumstances during my captaincy. Nor can I imagine such notions being uttered, out loud at least, during the Joe Root-Chris Silverwood era.
Bairstow celebrates hitting triple figures on the way to a memorable win over New Zealand at Trent Bridge. Picture:

Stu Forster/Getty Images
Whether it's business, politics or sport, the best leaders offer clarity and lead by example. It is by showing these qualities that you achieve buy-in from your team. Leadership is what we have seen from Ben Stokes and Brendon McCullum in the past two Tests.
The first example of clarity came in selection — Ollie Pope inked in at No 3, an established middle order of Joe Root, Bairstow and Stokes, the backing of Ben Foakes with the gloves and the return of Stuart Broad and Jimmy Anderson.
The vote of confidence in Foakes was, I think, particularly significant for a player who has struggled with injuries and whose form in the Caribbean was below his best. It may also have helped concentrate Bairstow's mind. He enjoys keeping and would gladly take the gloves back but now he knows his primary role is to deliver middle-order runs.
As for leading by example, well I don't think I need to say much on Stokes. McCullum's playing days are behind him but the approach he showed as a Test batsman meant that when he urged his team at tea on the final day — when the match was in the balance — to grasp the moment and attack the New Zealand bowlers, the message was stamped with authority and credibility.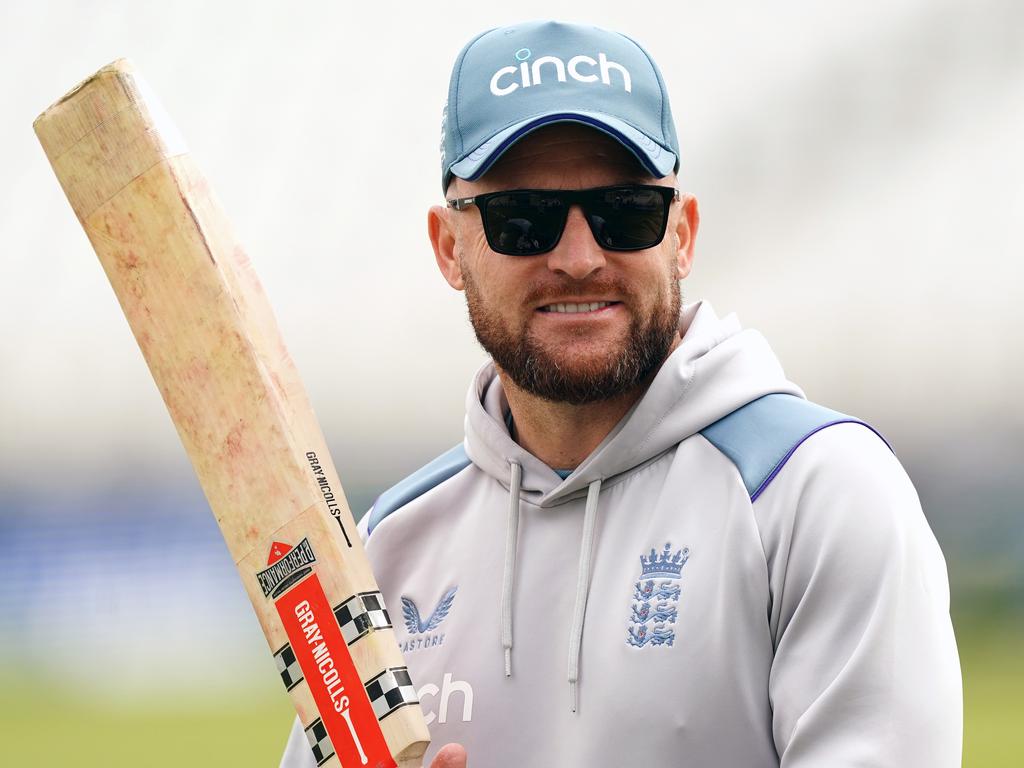 Brendon McCullum's influence is already being felt. Picture: Mike Egerton/PA Images/Getty Images
Attack England did but the first thing to say about the innings of Stokes and Bairstow is that they both looked in complete control. I was critical of the latter during the second innings at Lord's when I thought his shot selection was leaving him vulnerable to dismissal. He looked frantic and frenetic and was not adapting his shot selection to the bowling and the fields that were being set. Sure enough, he was bowled by Kyle Jamieson soon after, having faced 15 balls for 16 runs.
Before tea on day five at Nottingham, he had scored 43 off 48. It was streetwise batting by him and Stokes, sensitive to the match situation — they came together at 93-4 and the pendulum swinging back in New Zealand's favour — and to the nature of the pitch and of the outfield. In fact, I can't recall seeing an outfield in England in which the ball found the boundary so quickly and rendered so many of the fielders superfluous. It only had to beat the man by two yards either side and it was a certain four.
Even in the hour after tea when the pair put their foot down, there was nothing reckless about their shot selection. Even when Bairstow was hooking and pulling Matt Henry, Tim Southee or Trent Boult for six, I was never unduly worried that this would eventually lead to his dismissal. There were a couple of revealing moments when Boult tried to tempt him by bowling wider, slower balls and he just left them. It forced the New Zealander to bring his line back to the batsman and when he did Bairstow renewed his assault.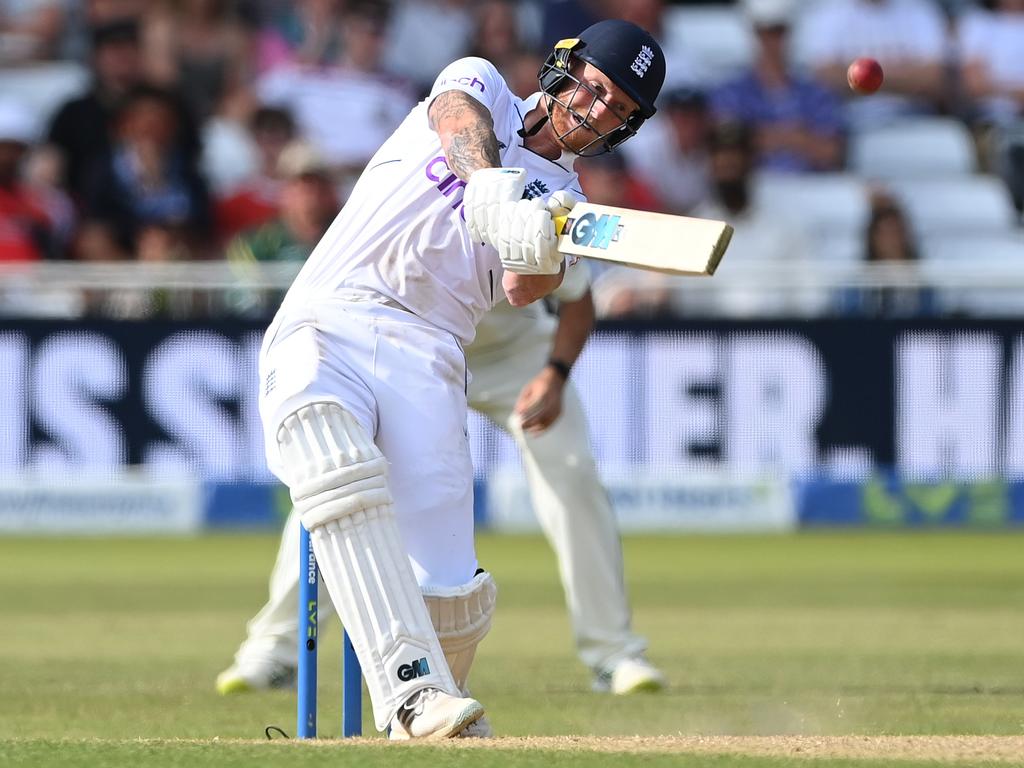 Ben Stokes leads by example. Picture: Stu Forster/Getty Images
It was an innings which showcased unbelievable technique, one honed through hours of practice. Yet this was not pre-meditated slogging. This was a skilful batsman deploying whatever weapon in his arsenal was best suited to the delivery sent down to him.
I was particularly pleased for him because when he had scored his maiden Test ton, an equally destructive knock against South Africa in Cape Town in 2016, he was eclipsed by Stokes who had smashed his way to 258 on the same day. In this instance it was Stokes playing second fiddle and I'll bet the England captain was more than happy to do so.
If there was one disappointment it was the form of Zak Crawley. He didn't gift his wicket away in the way he has done in previous Tests with that heavy drive of his, and nicking off to decent balls to Trent Boult is not a hanging offence. Yet his propensity to nick is a concern — nearly a third of his dismissals have been caught behind and more than three quarters in total have been caught.
All batsmen have weaknesses (ok, maybe not Root on current form). I was vulnerable to a ball pitched up around off stump. Crawley's weakness, as I have diagnosed before, is too much bottom hand and right shoulder in his batting. What he mustn't do between now and the Headingley Test is tinker with his technique. For the moment, he should focus on the mental challenge of getting through whatever Boult throws at him in Leeds, allied to a very simple physical task (sorry if you were expecting something revolutionary): Watch the ball for as long and as late as possible.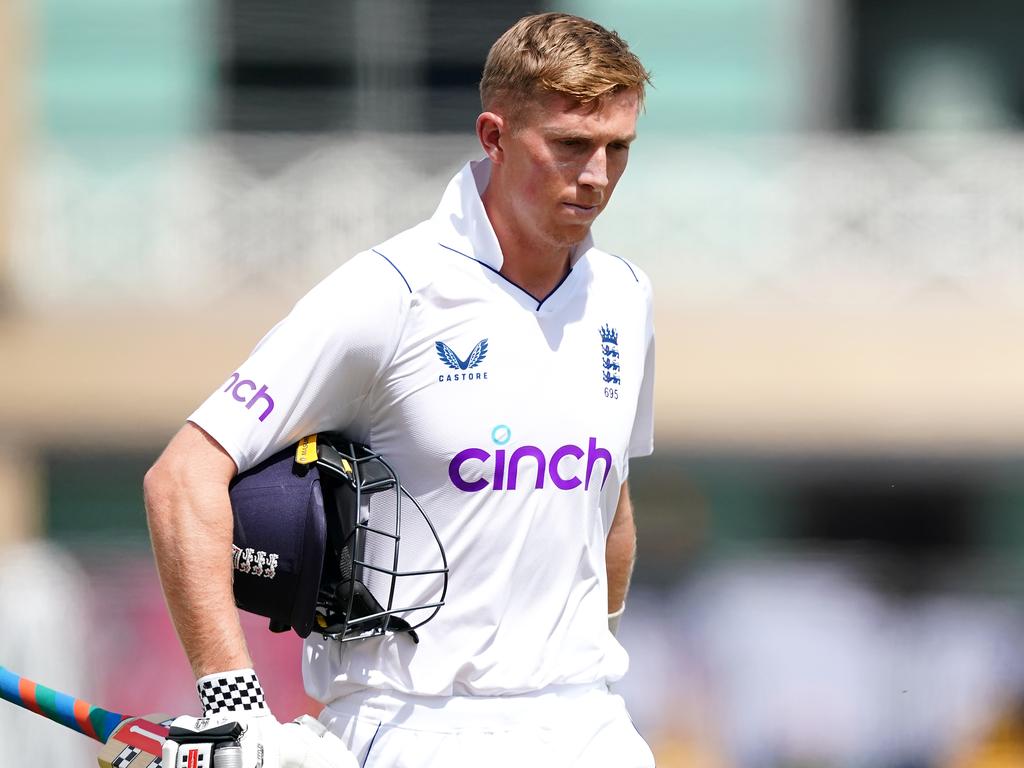 Zak Crawley doesn't need to make wholesale changes, says Alastair Cook. Picture: Mike Egerton/PA Images/Getty Images
Nottinghamshire deserve praise on and off pitch
When Nottinghamshire announced on Monday afternoon that it would be free entry for the final day's play at Trent Bridge, I said on Test Match Special that I would write sick notes for anyone looking to bunk off school or work to catch the action.
I would also like to write a short note now in praise of Notts for this great initiative which should serve as an example to our other Test grounds. Credit too to the groundsman who prepared the kind of pitch I have been advocating for county cricket — one that had plenty of carry and a bit of nip but not too much.
This was a surface on which a batsman could play himself in but could never get complacent. Remember if catches had been taken by either side, it wouldn't have been as much of a run-fest.