Josh Hazlewood has become Australia's No.1 T20 bowler in less than two years after four-year exile
Josh Hazlewood vanished from the Australian T20 team after a disappointing 2016 World Cup but his resurgence since has been extraordinary, writes LACHLAN McKIRDY.
For four years, Josh Hazlewood was left waiting.
Exiled from the Australian T20 team after a disappointing 2016 World Cup, his opportunities in cricket's shortest format dried up.
He continued to excel as a Test bowler and with a busy international schedule, red-ball cricket was made his priority. Four overs with a white ball were not where selectors deemed his metronomic talents best suited.
"When you get pigeonholed, it's a little bit frustrating I guess," Hazlewood told CodeSports.
"I felt I've always played pretty well in one-day cricket and T20 as well. It's just the opportunities and consistent cricket that you get.
"Perception is a big thing as well, for sure. The way you bowl is seen as a certain style and it's only suited to Test cricket. But it's shown that it's effective in all formats.
"[Glenn] McGrath was the same in one-day cricket, he was outstanding. So there's no reason it can't work from there."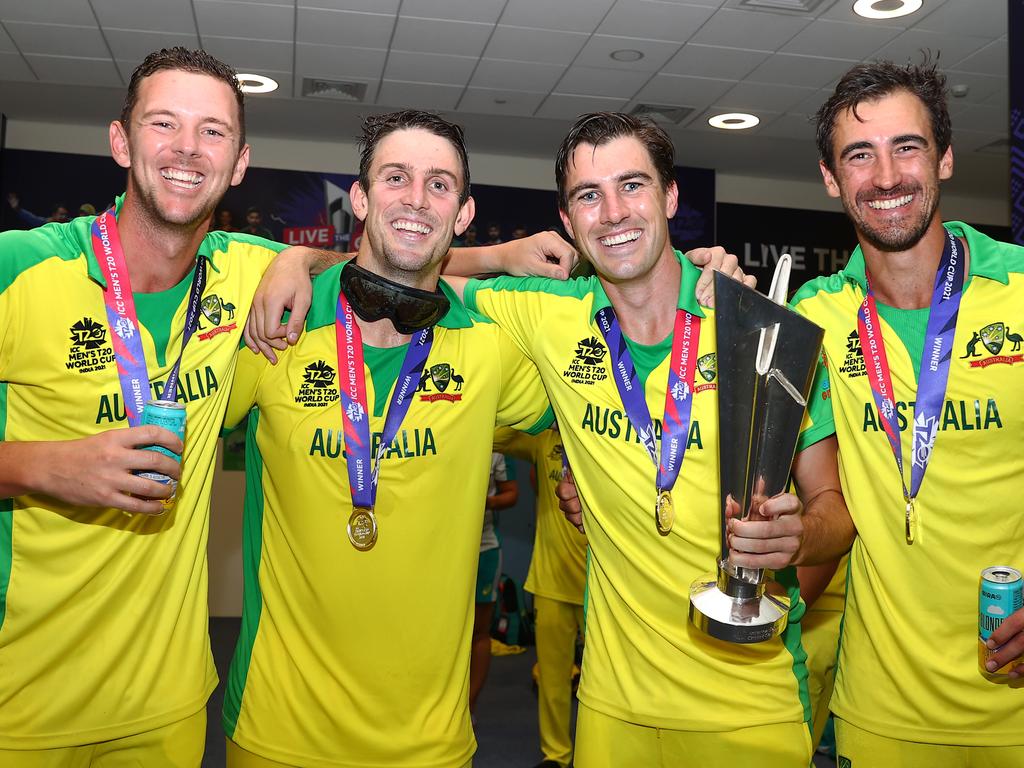 Hazlewood, Starc and Cummins have long been Australia's best three bowlers but had never played a T20I together before the 2021 World Cup. Picture: Michael Steele-ICC/ICC via Getty Images
Fellow Test quicks Mitchell Starc and Pat Cummins managed a combined 18 T20I appearances in the four years that Hazlewood didn't see a single game.
Hazlewood always thought that he could play alongside them but had to knock down the door, with consistent wickets and incredible economy rates, to remind those in charge.
In less than two years, he has become Australia's highest-ranked T20 bowler.
The wait for that opportunity?
"Hopefully that's well behind me now."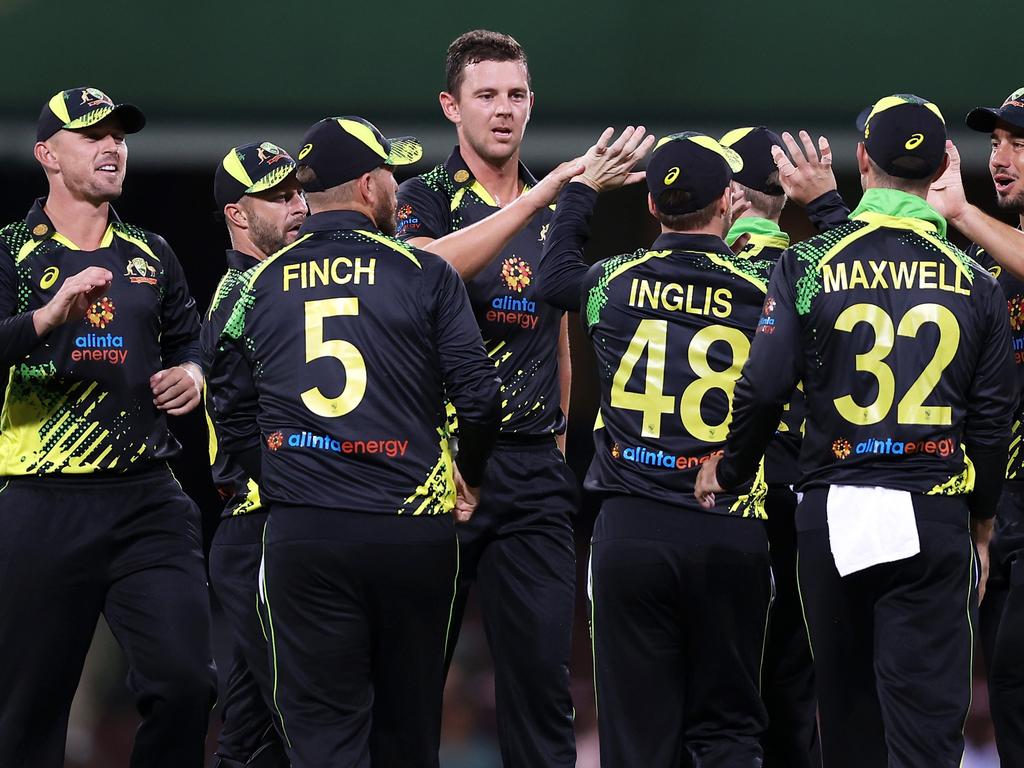 Hazlewood has been named the third-best T20I bowler in the world in the latest ICC rankings. Picture: Mark Kolbe/Getty Images
*****
Hazlewood produced another excellent performance on Sunday for IPL side Royal Challengers Bangalore: 2-17 from four overs in a dominant win over Sunrisers Hyderabad, crucial amid his team's late run for the finals.
True to his form of the past year, Hazlewood has been integral to his team's success without being the starring man.
He won the title with Chennai Super Kings in last season's Covid-disrupted IPL. He played every match for Australia in their maiden T20 World Cup breakthrough.
And through eight matches for Bangalore this IPL, Hazlewood has taken 13 wickets at an average of 16. No bowler has taken more wickets this season at a better economy rate than the Australian paceman (6.81).
While he doesn't feel that there was a distinct turning point for his T20 bowling, regular opportunities have given him something he has never properly experienced in the format: confidence.
"The more you play of it, the more confident you get," Hazlewood says.
"You're in a lot more situations in the games where you do well and then you get confidence out of that.
"I was pretty confident I was going to play a role [in the World Cup] after playing for Chennai."
The evolution of the format means that Hazlewood's Test bowling style has translated well to T20; he figures a good ball is going to get a batter out, regardless of the format.
But the introduction of slight variations to his deliveries – and a move away from yorkers being the go-to for a seamer – means that Hazlewood has emerged as a brilliant death bowler, one of T20's most valuable commodities.
That value was given a number this year when Hazlewood was signed by Bangalore for 7.75 crore ($1.44m), almost four times his contract at Chennai.
It wasn't a natural transition but being surrounded by experienced players like MS Dhoni, Dwayne Bravo, Faf du Plessis and Virat Kohli in his two recent IPL stints prepared him for the sometimes brutal challenge of bowling the final overs.
"If you put your hand up all the time, you're going to get the good with the bad," he says.
"The way I bowl doesn't necessarily change too much depending on the format. I still bowl my first two, potentially three overs in T20 the same I would in Test cricket. I just practice my change-ups and yorkers and make sure they're ready to go for when needed.
"Every time you play you can learn something, whether you go well or whether you go not so well.
"It's summing it up and chatting through that experience that's in the room, and working out what's going to work best and try and execute it
"The experience and the knowledge of the guys around you, and they're not just all from Australia, they're from all around the world and have played in all the conditions."
*****
Hazlewood's team-first attitude has been a trademark. On the recent Pakistan Test tour, conditions suited multiple spinners and he sat out the final two Tests after going wicketless in the series opener.
"I think after walking out there in Karachi [for the second Test], it was pretty much my decision. I looked at the wicket and saw how it was going to play and [was] thinking that three quicks was going to be a waste of time," Hazlewood says.
"That first Test was ridiculous. I've never played on a wicket like that I don't think. It just didn't do anything, it didn't spin, it didn't seam, it didn't change for the whole five days."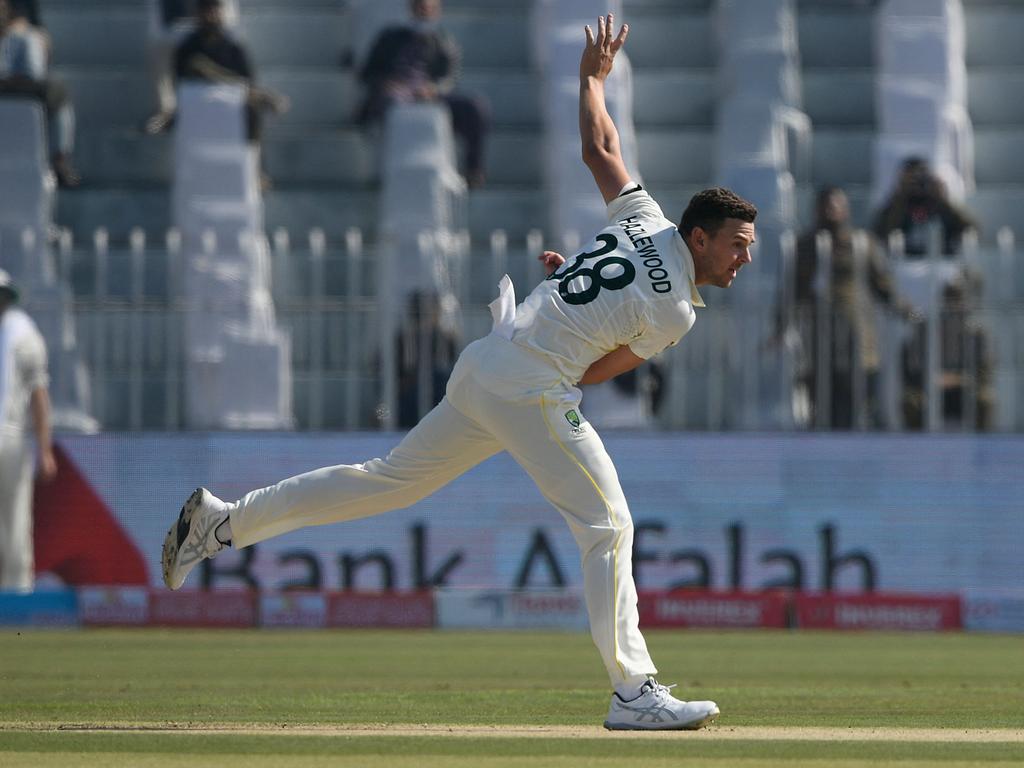 Hazlewood couldn't believe how tough the bowling conditions were in Pakistan. Picture: Aamir Qureshi/AFP
Though not one to enjoy watching the team when he's not playing, it's something he's had to manage throughout the years as Australia played in big tournaments without him, like his controversial omission from the 2019 World Cup.
But the 31-year-old now believes that he can be in Australia's best 11 players no matter the format or conditions. "If you think you're good enough to play in them, you're jumping at the chance."
The next big white-ball task is defending the T20 World Cup title at home. Hazlewood was part of the 2015 squad that won the 50-over World Cup trophy at the MCG.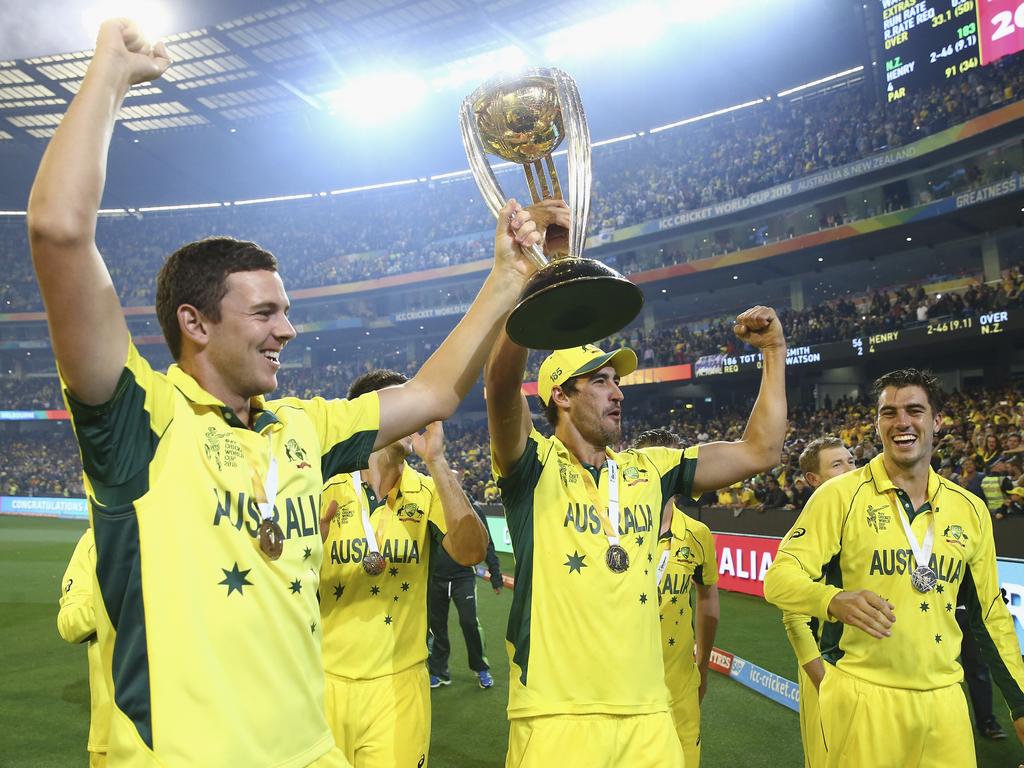 Hazlewood knows nothing beats World Cup success on home soil. Picture: Ryan Pierse/Getty Images
"I probably took 2015 for granted a bit, just being in the team as a young guy, and I remember all the older guys saying that World Cups at home, you rarely get to play in one, let alone try and win one," Hazlewood says.
"I realise now that it doesn't happen very often and to hopefully play in another one and try and try and defend our title, it's a huge goal of ours.
"I think the bowling attack will be pretty similar obviously and in Australian conditions, we know [them] pretty well and hopefully we can get it done."