Mike Atherton: Brendon McCullum cut from same cloth as Ben Stokes – he could prove an inspired choice as England coach
MIKE ATHERTON knows a thing or two about the importance of the captain-coach relationship, and believes the appointment of New Zealand's Brendon McCullum is the perfect pairing to Stokes' aggressive style.
We wanted to remove a lot of the analysis; we wanted to be 'blue collar' in how we went about things, not aloof and superior. We reduced the various theories that had dominated so much of what we did; we planned less, had fewer team meetings and we tried to be the very best we could be."
Those words could have been on the wish list for England's new Test captain, Ben Stokes, at any stage of his international career. A notoriously poor listener in a classroom setting and someone who believes words are cheap, Stokes has a short attention span and values action, not theory. He may well get his wish now that a kindred spirit has been appointed to coach alongside him.
Brendon McCullum, who spoke those words during his MCC Spirit of Cricket lecture six years ago about his time as New Zealand's captain, from 2013 to 2016, is a bold and imaginative choice to be the England Test coach. The 40-year-old, who led his country in 31 of his 101 caps, may never have coached at first-class level, but every supporter in the land must surely be excited by the potential of the combination of Stokes and McCullum to shake England's Test team out of their torpor.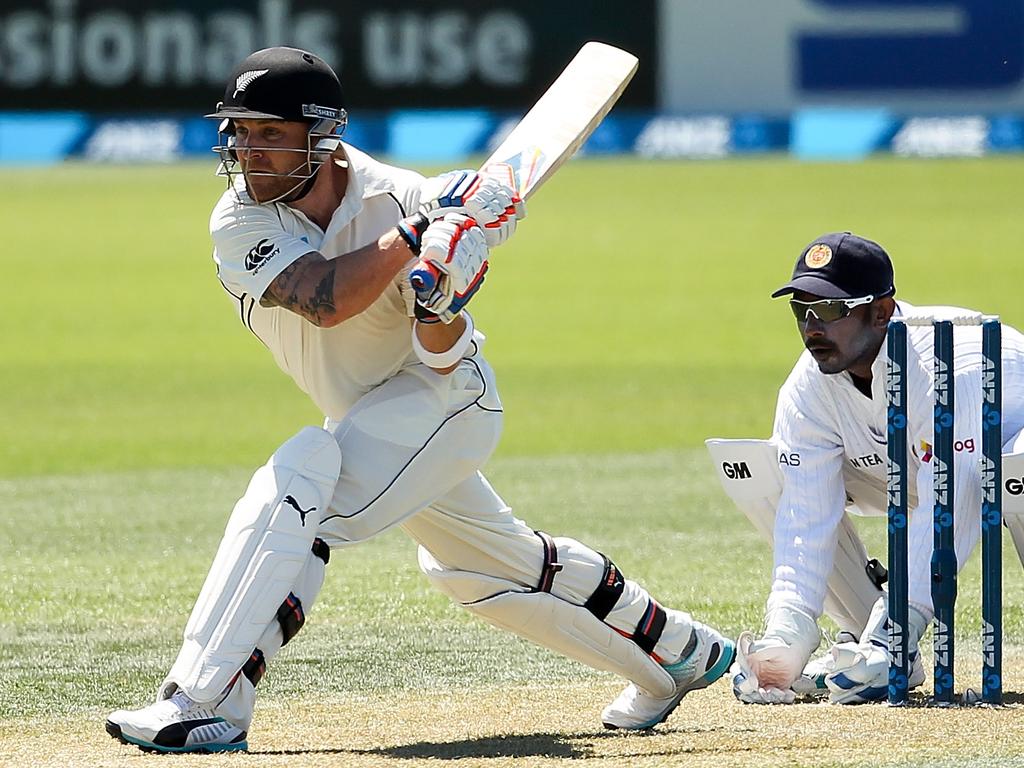 McCullum's aggressive style as a player is one that he will encourage in any team he coaches. Picture: Martin Hunter/Getty Images
They may not succeed but it will be a lot of fun watching them try. After two grim years of desperate, unimaginative leadership, the England Test team, one suspects, are about to be given licence and freedom to play, and will not lack for inspiration from leaders in whom a competitive spirit and desire to win seeps from every pore. The sense of renewed optimism after the announcement of Stokes as captain has been reinforced.
That rediscovery of a sense of boyish enthusiasm for the sport was the theme at the heart of McCullum's MCC lecture and informed much of his style of captaincy. He embraced risk, tried to rid his team of a fear of failure and did so while having the courage to push back against the dominant sledging mentality of the day. Not only was his team good, they were liked and admired for their play and the way they played. In the words of McCullum, they "rediscovered their soul".
It is difficult to see how that message will change: after all, McCullum is not long out of playing himself, having retired in 2019, and although he has coached in T20 cricket, most recently for Kolkata Knight Riders in the Indian Premier League, for whom he has just handed in his notice, it would be a push to describe this former player, sometime pundit, radio host and horse racing breeder-cum-owner as a "professional" coach.
Embracing someone on the fringes of the coaching class very much chimes with Rob Key's thinking about the coaching profession, the disregard for which fairly drips off every page of the chapter in his autobiography, Oi, Key entitled (channelling his inner Shane Warne): A Coach Is What You Get To The Ground In. In it, the new managing director of England men's cricket flays the bullshitters, the bluffers and the theorisers.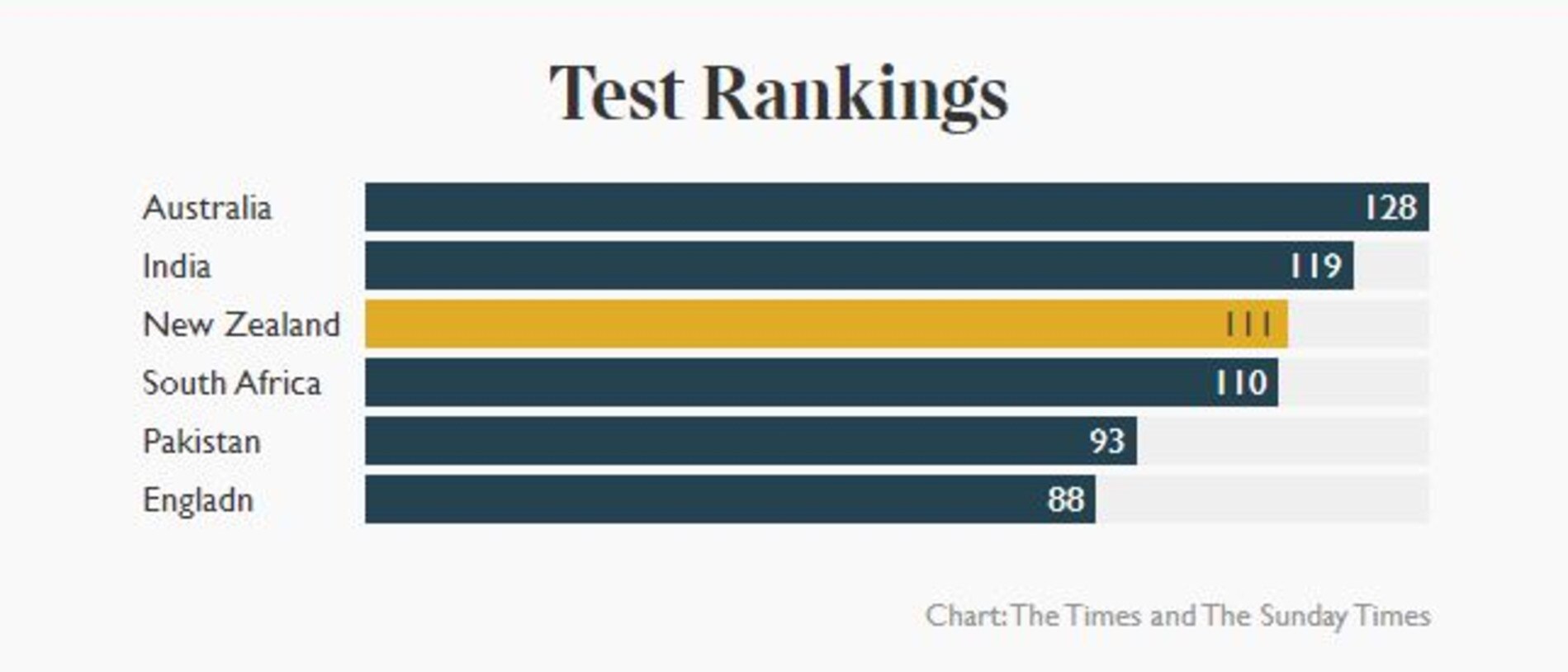 Test rankings. Graph: The Times
ODI rankings. Graph: The Times
"Essentially there are three types of coaches," he wrote. "Those who have a positive influence, those who have a negative influence and those who have no influence at all," which is about as profound as saying the sky is blue and the grass is green. He goes on, though: "Actually to have no influence is great … give me a coach who doesn't get in the way, just allows you to do what you want … all smart coaches pitch themselves as neutral."
Deep down, Key will hope that his expensive recruit has more than a neutral impact. What he is not anticipating, and that is inherent in his words above, is that McCullum will interfere too heavily in technical matters.
Rather he wants McCullum to inspire, lead and set a tone — to reinforce the way Stokes wants to play cricket, which is to say with a sense of style and adventure. McCullum is an exceptional character, and Key will want some of that to rub off on a dressing room too long cowed by defeat, conservatism and of Covid-suffocation.
Tiny Playing Resources. Graph: The Times
During McCullum's experience leading New Zealand, there were two profound and formative influences. The first came during his opening match in charge, when his team were bowled out for 45 in Cape Town in 2013. Famously, he has recalled the evening in his room when he sat down with the coaches and they dissected brutally where the team was going wrong. "We were seen as arrogant, emotional, distant, up ourselves and uninterested in our followers," he said.
Second was the death of Phillip Hughes, the young Australia batsman who was killed by a bouncer in Sydney while New Zealand were playing a Test match in Sharjah. Hughes's death happened in the middle of the game and McCullum had to find a way of persuading his team to play on, even though they were desperate not to. He told them for one day to throw out all they had learnt as cricketers and try to play with no fear of the consequences.
"The outcome of the 'uncaring', no-consequence play was a revelation to me. I suspect it was something I had been trying to achieve on a personal level for years, but I had been unable to do so, except for fleeting moments. Here there was a release of many of the external factors that can creep in and influence a player. There was an instinctiveness that took over — no fear of failure, just playing and being 'in the moment,'" McCullum said years later. He will try desperately to instil this attitude into his players now.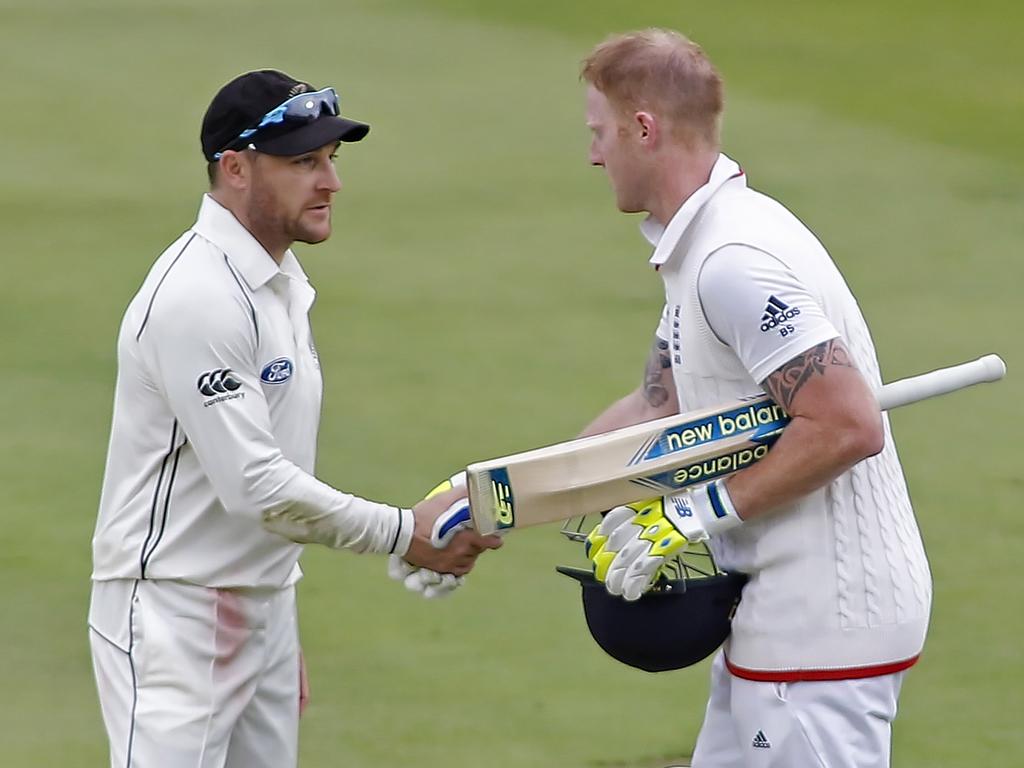 McCullum and Stokes have the same approach to how they feel the game should be played. Picture: Mitchell Gunn/Getty Images
So eventually this cricketer who had been somewhat brash and boastful — and not that successful — as a young man, became one of the most cherished, statesmanlike and influential leaders of the past decade, helping to reinvigorate New Zealand as a cricketing nation. It is not hard to see why Key, with England at a troubled and low ebb, has turned to a man who has helped to revive a team in a similar situation before. The decision has a lot of logic.
In his first big appointment — making Stokes captain was such a formality as to be no decision at all — Key could not have signalled his intention any more clearly to move away from what has characterised the past two years. As is often the way, Key has chosen someone cut from a very different cloth to his predecessor; McCullum is the anti-Chris Silverwood.
The identity of the captain is crucial here, of course. Stokes and McCullum share similar beliefs about the game and will work to a familiar script.
"There is one absolute truth about the captain/coach dynamic; it's imperative they are on the same page," Key wrote in his autobiography, dwelling on some of the successful (Michael Vaughan/Duncan Fletcher) and unsuccessful (Fletcher and Andrew Flintoff) partnerships that he had seen. He has selected McCullum very much with Stokes in mind. It could be an inspired pick.
-The Times