MPCA: Joe McGuire takes a hat-trick for Heatherhill
There was high drama as Eddie McGuire's son Joe achieved a cricket rarity for Heatherhill in the MPCA.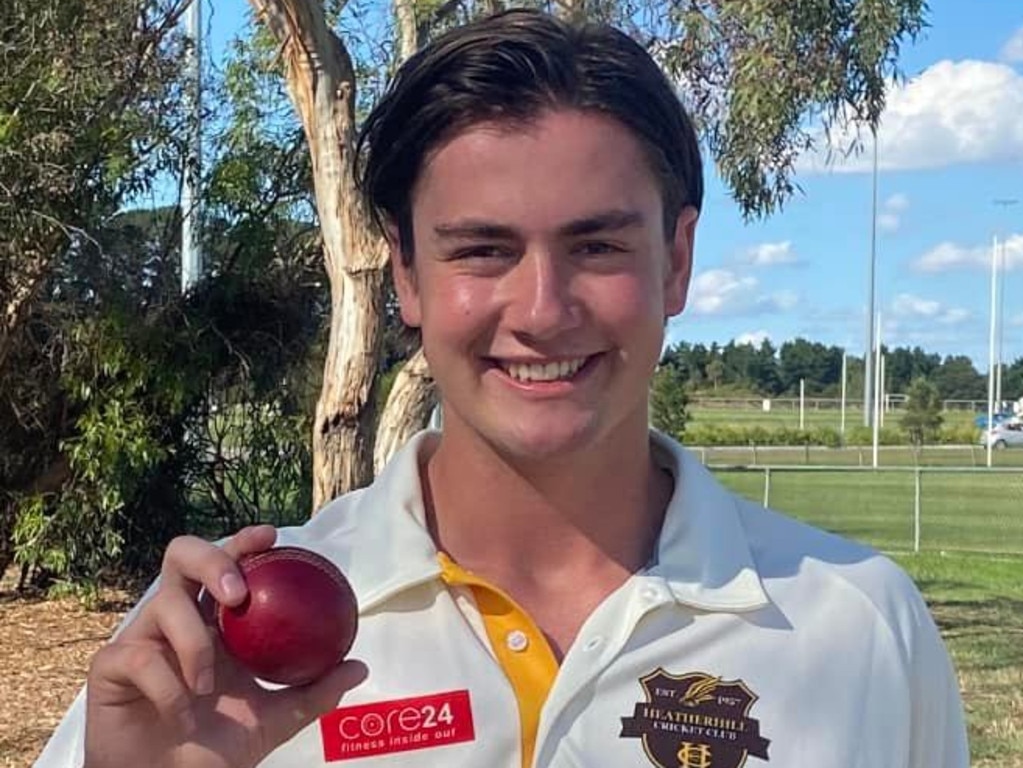 Joe McGuire took a hat-trick for Heatherhill. Picture: Facebook
Talk about finishing your bowling spell in style.
Playing for Heatherhill's 4th XI against Mt Eliza on Saturday, Joe McGuire — son of former Collingwood president Eddie McGuire — went bang, bang and bang with his final three deliveries.
But it was a real hold-your-breath kind of hat-trick.
Joe's first two wickets of the 'hat' were clean bowled.
Then came the drama…
Joe's Heatherhill teammate Brendon Gardner explained:
"The young fella for Mt Eliza faces up and slashes at one outside off stump. Big snick to keeper Miller. Hits his gloves hard and pops out, he stumbles forward to get it on the second attempt but parried it further away. Out of nowhere John Hille Jnr dives from fourth slip and catches the ball one handed just cms from the turf…and the boys went nuts!!!!!!"
It was quickly followed by another eye-popping moment when Joe's brother Xander came on to bowl the next over.
"With his first ball — Harmison style — he misses the pitch and hits the grass, straight to second slip,'' Gardner said.
Joe and Eddie McGuire at the 2019 Footy Show Grand Final special at Rod Laver Arena. Picture: Channel 9
Joe, who collected figures of 5-10 off his eight overs, will have to wait a while before attempting a double hat-trick with the first ball of his next spell.
He's told Heatherhill he is unavailable for next weekend's game because he will be attending the Super Bowl in California.
Joe and Xander have been playing for Heatherhill for a few years after being roped in by Dermott Brereton, who described Joe as "a bloody good bowler".
In 2019, Derm chuckled when Joe arrived at a Heatherhill game in grand style.
"Young Joe is the first Heatherhill cricketer to ever arrive at the match catching a Uber from Toorak to Baxter No 7,'' Derm chuckled.
"We thought Ed might send the helicopter but, no, he got an Uber."
That was the game when Joe encountered some new experiences.
"He was ready to run into bowl," Derm said.
"And somebody out on Sages Rd decided to take off out of a street fairly quickly, got into a bit of sideways action and an almighty skid noise ensued — and young Joe said, 'what's that?'.
"I said, 'sorry mate, you won't be used to those sounds around Georges Rd, Toorak'."
Originally published as MPCA: Joe McGuire takes a hat-trick for Heatherhill