Cricket news: Australia pushing for ODI series against South Africa to go ahead
Cricket Australia is on a collision course with South Africa after standing firm amid a push to abandon an ODI series which has been planned for four years.
Cricket Australia is refusing to give into a South African push to cancel the scheduled one-day series in January, despite the obvious boon the BBL would receive if they did.
The three 50-over international matches in mid-January are inconvenient to both countries because they land smack bang in the middle of their respective T20 franchise leagues, which, for different reasons, are facing make-or-break seasons.
South Africa are so determined to get out of playing the matches and ensure all their international stars are on deck for their fledgling T20 league, they're prepared to risk jeopardising the Proteas' qualification for the next World Cup by refusing to play.
If the ODI matches didn't go ahead, it would mean the struggling Big Bash would suddenly get a massive boost because all Australian international players technically available to play at once for the first time in the tournament's history.
This at a time when CA is desperate to regenerate interest from broadcasters ahead of the next TV rights deal.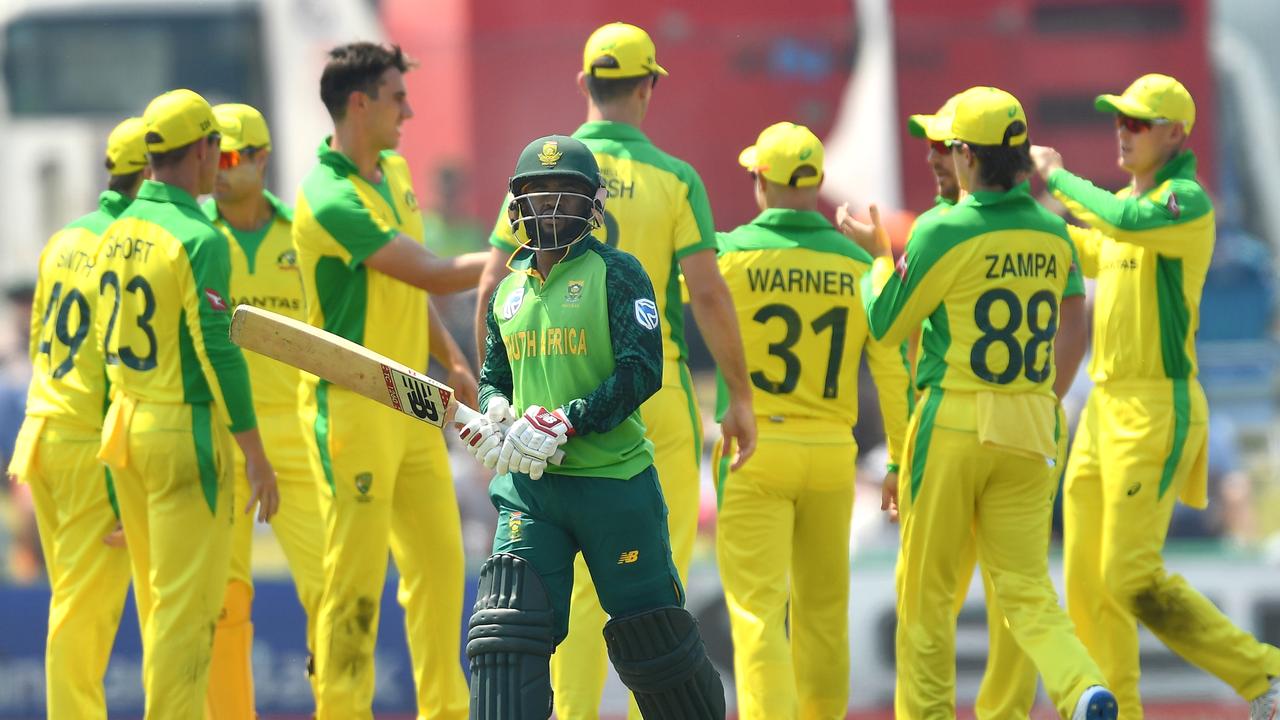 Australia celebrates the wicket of South African star Temba Bavuma.
But Cricket Australia are refusing to give into that temptation, and want to hold South Africa to the dates which have been in the ICC calendar diary for four years.
The awkward stand-off could result in the International Cricket Council being called in to intervene and resolve through their dispute process.
Cricket Australia is committed to the series because they won't renege on a four-year commitment to broadcaster Fox Cricket and the ICC's Future Tours Program.
South Africa initially asked for the three ODIs to be moved, but because there is nowhere else in the schedule for them to go, their next move looks like being a refusal to play – which will mean they sabotage any chance of directly qualifying for the World Cup.
The ICC is unlikely to look favourably upon a country pulling out of a scheduled international series for the sake of prioritising its own franchise league.
It may mean South Africa are forced to pay Fox Sports compensation and then go through a qualifying process just to make the next World Cup.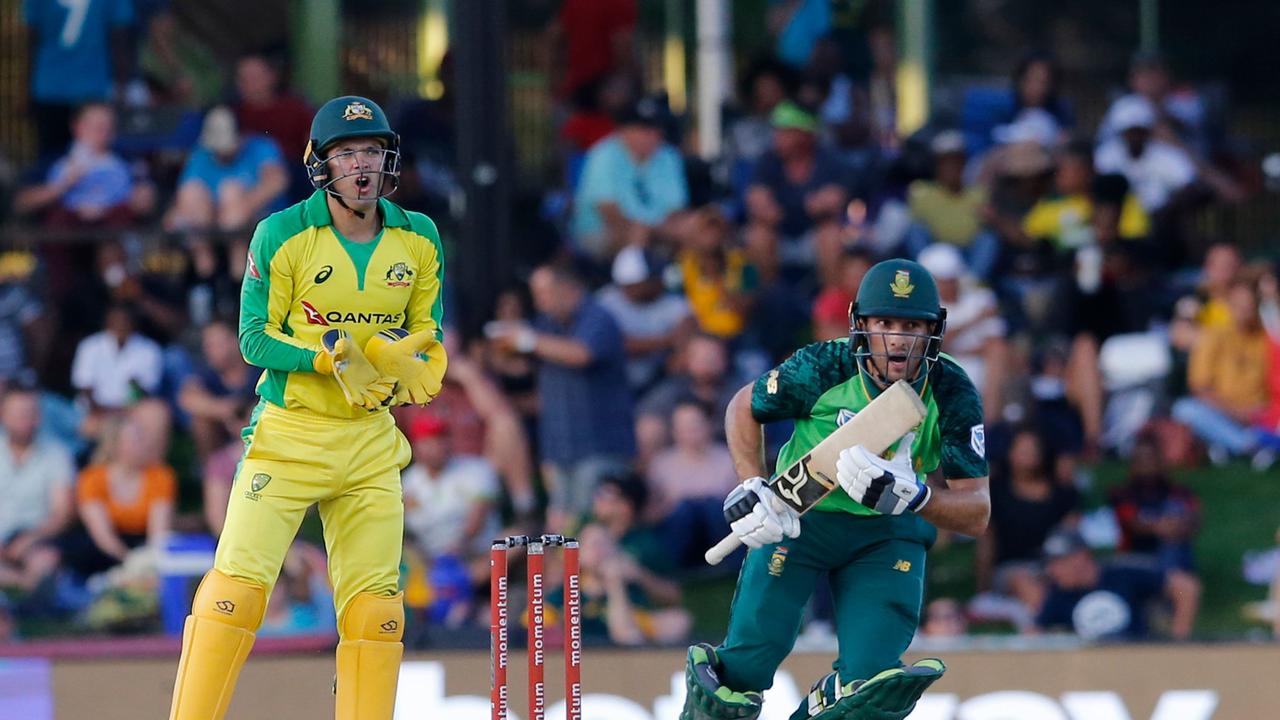 South Africa's next series against Australia remains in doubt.
PONTING ROLE COULD PAVE WAY FOR LANGER RETURN
The Hobart Hurricanes are poised to sign Australia's No. 1 cricket brain Ricky Ponting as a key advisor in a move which could also bring Justin Langer to Tasmania.
News Corp understands Ponting is close to agreeing to a role where he would have input in recruitment and also a say over who the new Hurricanes coach will be.
As first reported by News Corp, Langer has been linked with the Hurricanes coaching job for several weeks, and although mystery surrounds what his next move might be, the former Australian coach certainly has a huge supporter in Ponting, one of his closest mates.
Watch Australia's Tour of Sri Lanka. Every T20, ODI and Test Match Live & On-Demand on Kayo. First T20 Starts 7th Jun 11:30PM AEST. New to Kayo? Try 14-Days Free Now >
Proud Tasanian Ponting signing on with the Hurricanes would be a massive boost for the Big Bash League in general at a crucial time in the competition's future.
The former Test captain is one of the world's most respected cricket coaches – a guru in the IPL – and would bring instant credibility to the Hurricanes.
There aren't many cricketers – Australian or international – turning down Ponting if he expresses interest in their services.
Although it's only one club, Ponting's presence would give an instant injection of life to the BBL's recruitment period, which is set to get underway in the coming weeks with the announcement of an international player draft.
The BBL needs big names and big personalities, and although Ponting wouldn't be playing, he is the type of personality that could help revive the struggling competition.
This coming summer shapes as a crucial one for the Big Bash League because the TV rights deal is only two seasons from completion and Cricket Australia desperately needs to get the major free-to-air networks back interested again.
Langer hinted in a recent interview with Kim Beazley that he is keeping an open mind on his next move.
However, an opportunity to coach in a partnership of sorts with Ponting would be a highly tempting opportunity, and a chance to fall back in love with coaching after things went sour with Cricket Australia.
Langer's record as a T20 coach is impeccable, as a World Cup winner and multiple BBL-winner with the Perth Scorchers.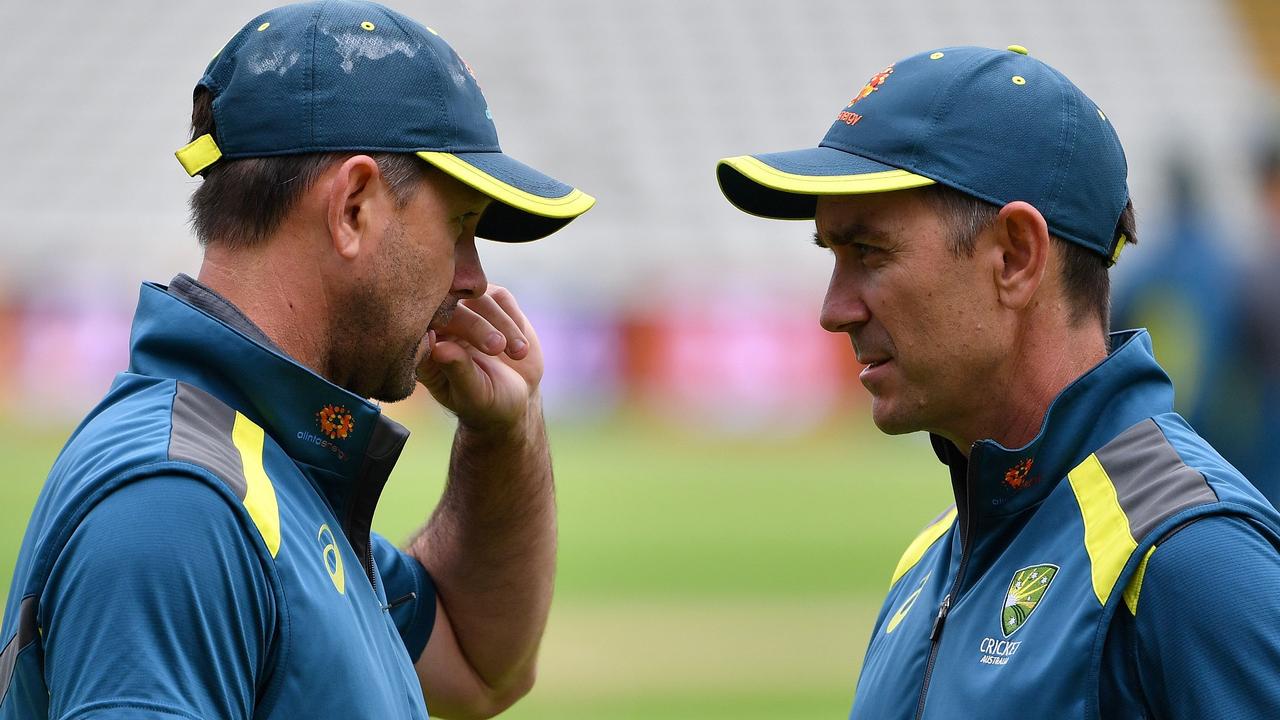 Justin Langer and Ricky Ponting chat at an Australian training session.
AUSSIE STAR SIGNS ON TO HELP DEAF TEAM
Australia's most precious set of spinning fingers are being used for a different cause as Nathan Lyon devotes himself to helping deaf cricketers.
Lyon is flying out to Sri Lanka later this month to spearhead Australia's next overseas challenge, but in between, the superstar bowler has been taking sign language classes.
It's been a slow process but Lyon has learnt a few words which will help him communicate more effectively with players in Brisbane next week when he's on hand for the start of the Australian deaf team's long-awaited Ashes clash with England.
Lyon has been an ambassador for Australia's Inclusion teams since 2016 and regularly turns up to training sessions off his own bat – with his efforts to learn sign language further testament to the spinner's investment in the people he is hoping to mentor.
Watch Australia's Tour of Sri Lanka. Every T20, ODI and Test Match Live & On-Demand on Kayo. First T20 Starts 7th Jun 11:30PM AEST. New to Kayo? Try 14-Days Free Now >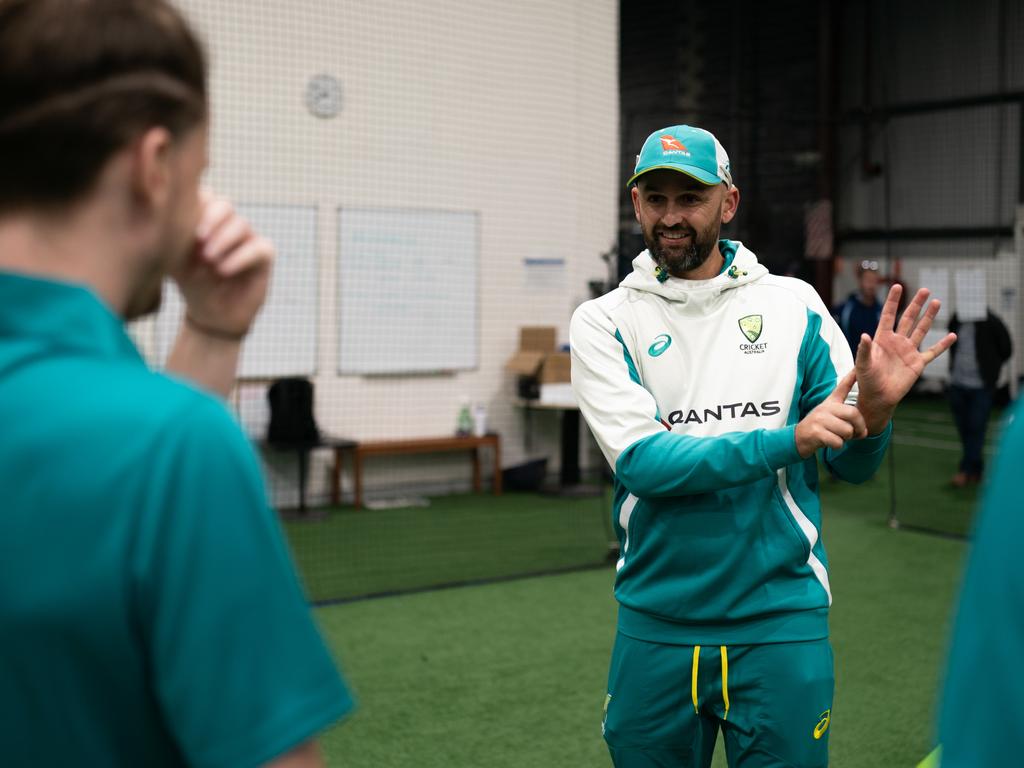 Nathan Lyon has been working on his sign language. Picture: Supplied
"That's one of my little projects away from cricket, actually trying to learn sign language," Lyon told News Corp.
"We are lucky we have interpreters that come with us the majority of the time, but for me, it would be nice to be able to have a conversation and not need an interpreter.
"It's something I'm struggling with, but I'm trying to get better at it. It's a bit like being at school I guess.
"They just do it so quick, and trying to understand it (is difficult). I know a couple of things, but it just happens so quickly.
"It's made it a little bit more difficult having online courses because over zoom you can only see the person actually talking, which is usually me asking questions. Hopefully now we can get back to face-to-face and that will speed up my learning."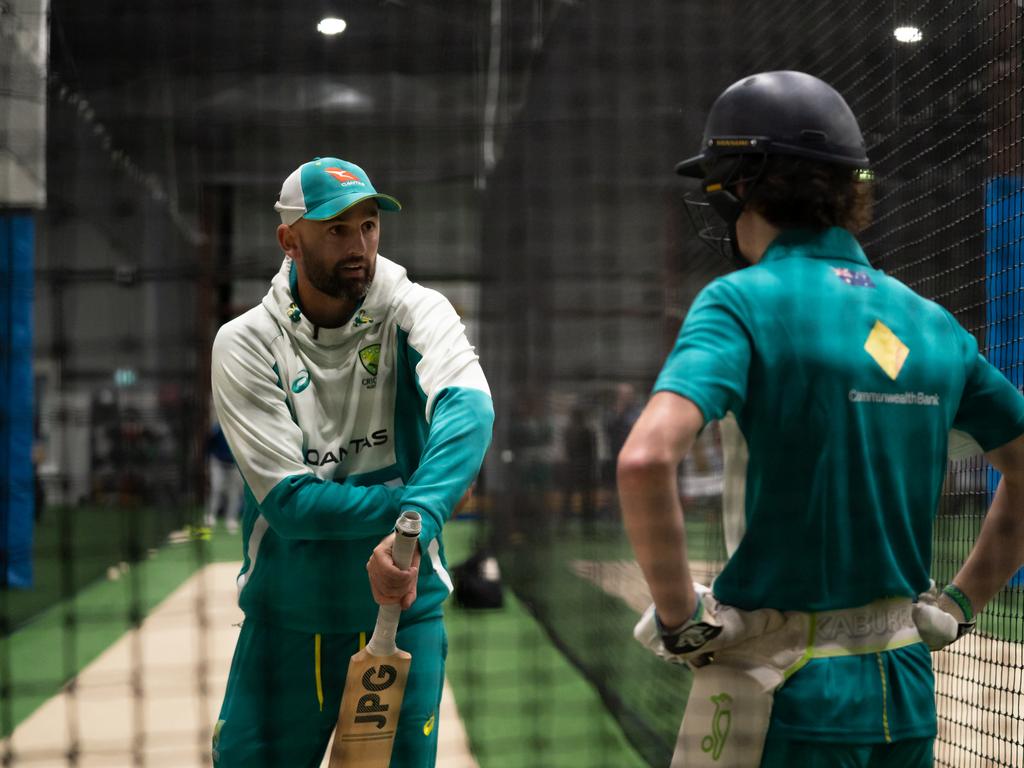 Nathan Lyon is the 'water boy' for the team.
Covid-19 put a hold on Australia's deaf, blind and intellectual disability teams from competing over the past couple of years, but the inclusion teams are all set to take to the field from June 8-17 in Brisbane.
The deaf and intellectual disability teams are playing the Ashes, and the blind team are taking on New Zealand.
Lyon plans to be in Brisbane to run water before he flies to join Australian teammates in Sri Lanka for two Tests, and says the athletes have a bigger impact on him than he does on them.
"They have so much to offer and so many learnings to give, I'm looking forward to learning off these guys," Lyon said.
"Hopefully I can help and be a role model for someone or many of the guys going up there and playing the Ashes."
The Australian deaf team's veteran captain Andrew Park is excited to be welcoming some young debutants into his squad, including young NSW batsman Harry Bell.
Park and Lyon have built a close friendship over the past six years, but there's no doubt the skipper takes great pleasure referring to the Test great as his "water boy".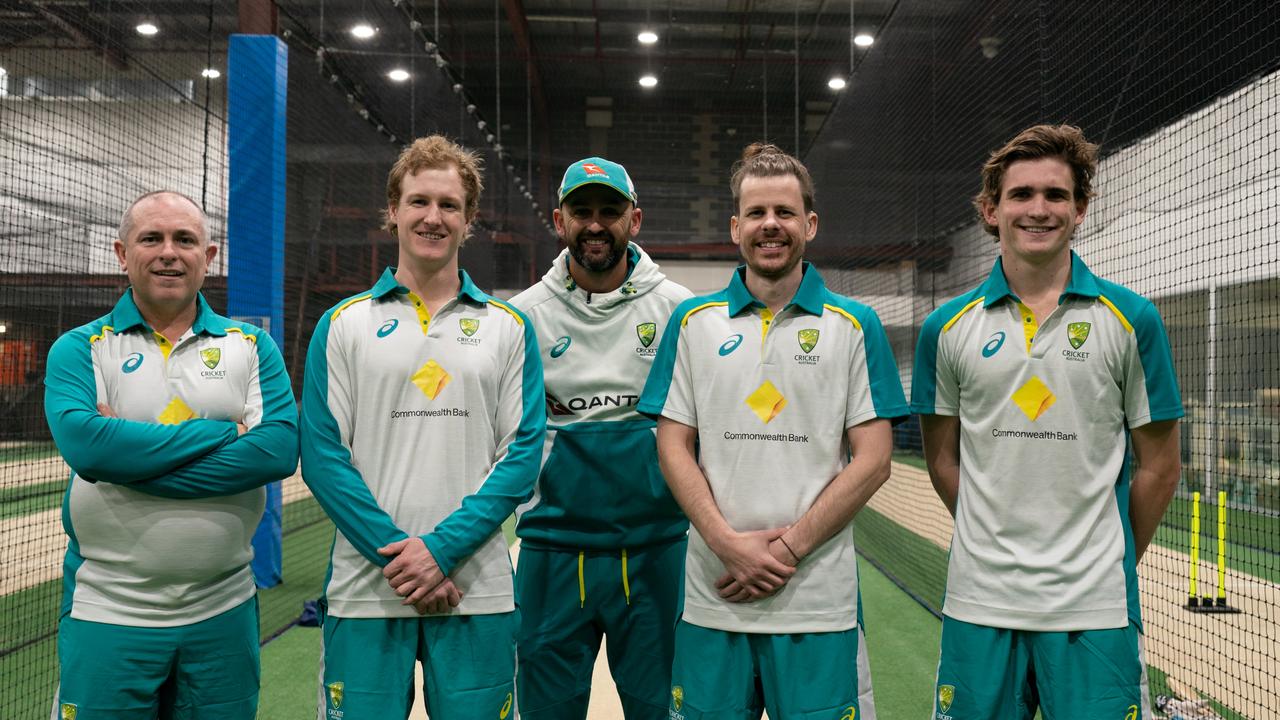 Nathan Lyon (C) pictured with members of the Australian deaf cricket team.
"Nathan is a great ambassador for inclusive cricket. He's been on board for a long time now," Park said.
"I remember when he was our water boy when we last played in 2020 – that's his job within my team.
"But through Nathan, the guys learn that cricket is for everyone. It doesn't matter who you are, we are Australia. We're very grateful Nathan is here."
Bell, 20, has prepared for his first Ashes series by facing the greatest off-spinner Australia has ever produced.
"He's an amazing player and he's hard to face in the nets I'll tell you that," said Bell.
"He gives amazing tips, for batting and bowling."
Originally published as Cricket news: Australia pushing for ODI series against South Africa to go ahead