Ollie Pope: I felt a bit stuck – but Brendon McCullum just said, 'Mate, don't worry'
Ollie Pope tells STEVE JAMES about the tip from transformative new England coach that prompted his Test turnaround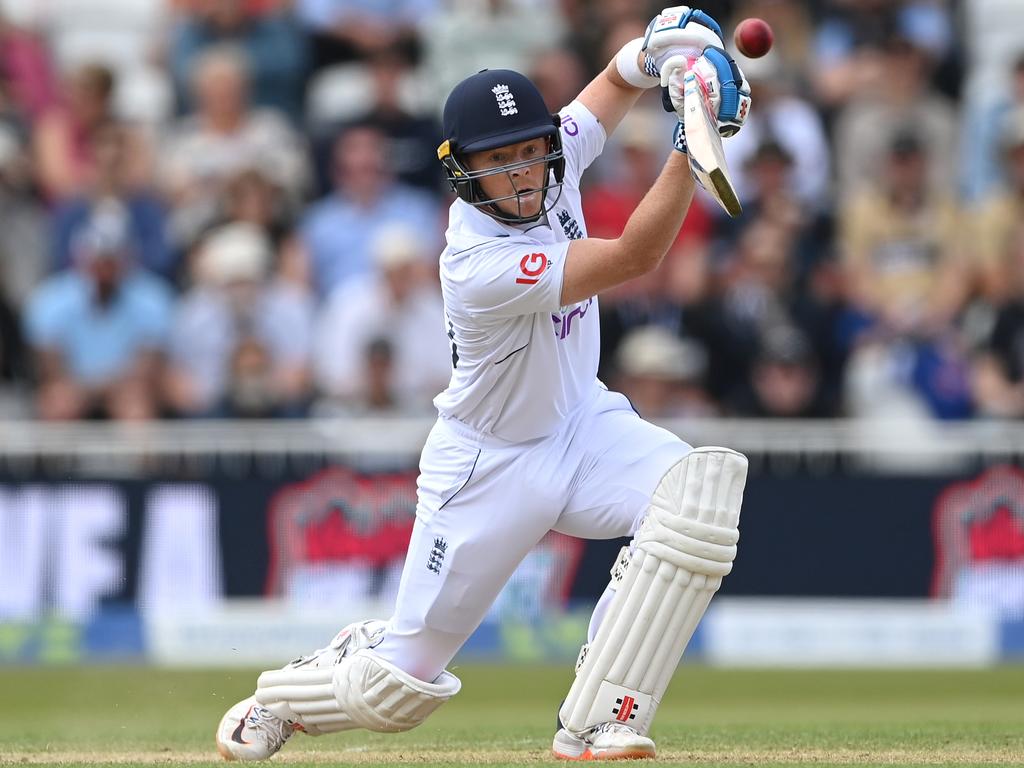 Pope scored 145 in the second Test against New Zealand. Picture: Stu Forster/Getty Images
Ollie Pope had returned to the Lord's dressing room for the second time in the match without a score to his name - in the first Test of this summer, against New Zealand, he had made only seven and ten. Each innings had lasted 27 balls. "Scratchy" was an adjective being bandied around liberally.
Pope had been recalled to the Test side in June, in the unfamiliar position of No 3, and it was not the start he or England had wanted. It was then that Brendon McCullum, the new England head coach, sidled up to the 24-year-old and started chatting. Pope explained how he had really struggled in that second innings. "I felt a little bit stuck because I wasn't cutting, as the bounce was a little bit inconsistent," he relates now.
McCullum's reply was simple: "Mate, don't worry about that, if you cut it and it bounces a bit more it is probably going to go over the slips for four."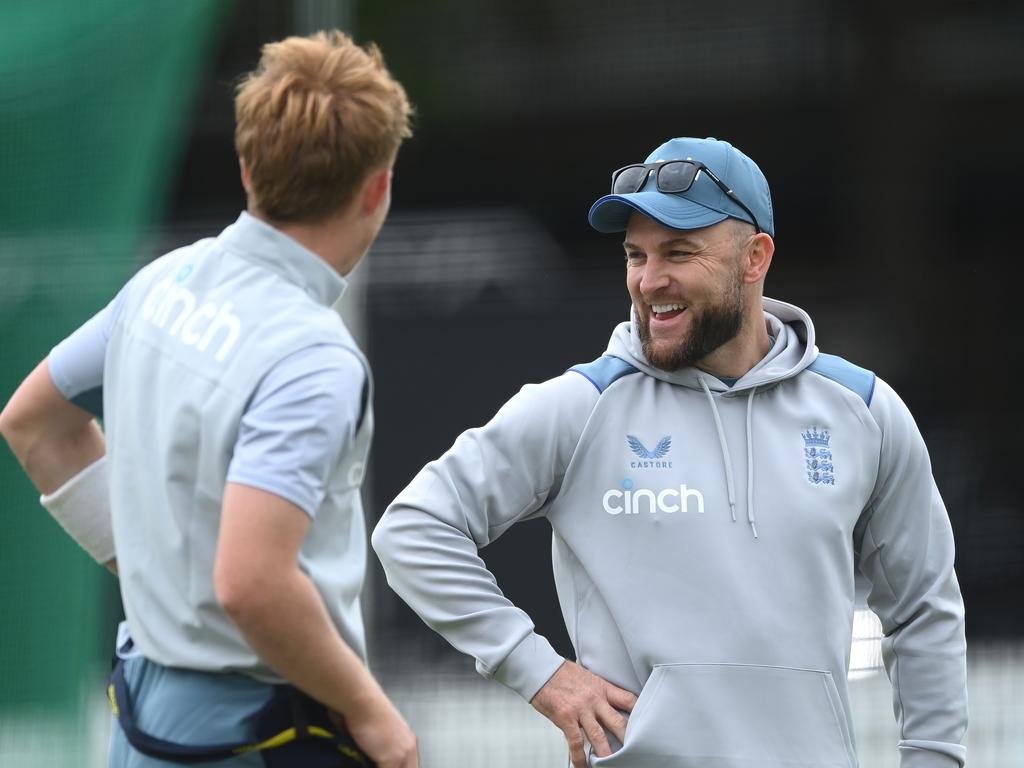 Pope says McCullum has managed to lift the sense of fear among England's top order. Picture: Stu Forster/Getty Images
It is hardly the most stunning piece of coaching analysis, reasoning that the player should always look to score positively from his favoured shots rather than worrying about its drawbacks. It is, though, an illuminating example of McCullum's excellent man-management skills and his method of encouraging the style of play that so captured the nation, and indeed the whole cricketing world, in the first four Tests of the summer, against New Zealand and India.
"Those kinds of chats almost ease the pressure a bit and allow you to free up more," Pope says. "It is getting rid of that fear of getting out the whole time. Test cricket is the pinnacle for so many players in this country, and a lot of other countries as well, and it is about taking the pressure off, rather than having that fear of being dropped the whole time if you get a low score.
"It's almost taking weight off the shoulders and trying to make us feel as calm as we possibly can. You are going to get out somehow, it's almost that it doesn't matter how you get the runs, just get them. It's just allowing you to express yourself and allowing you to play the way you want to play."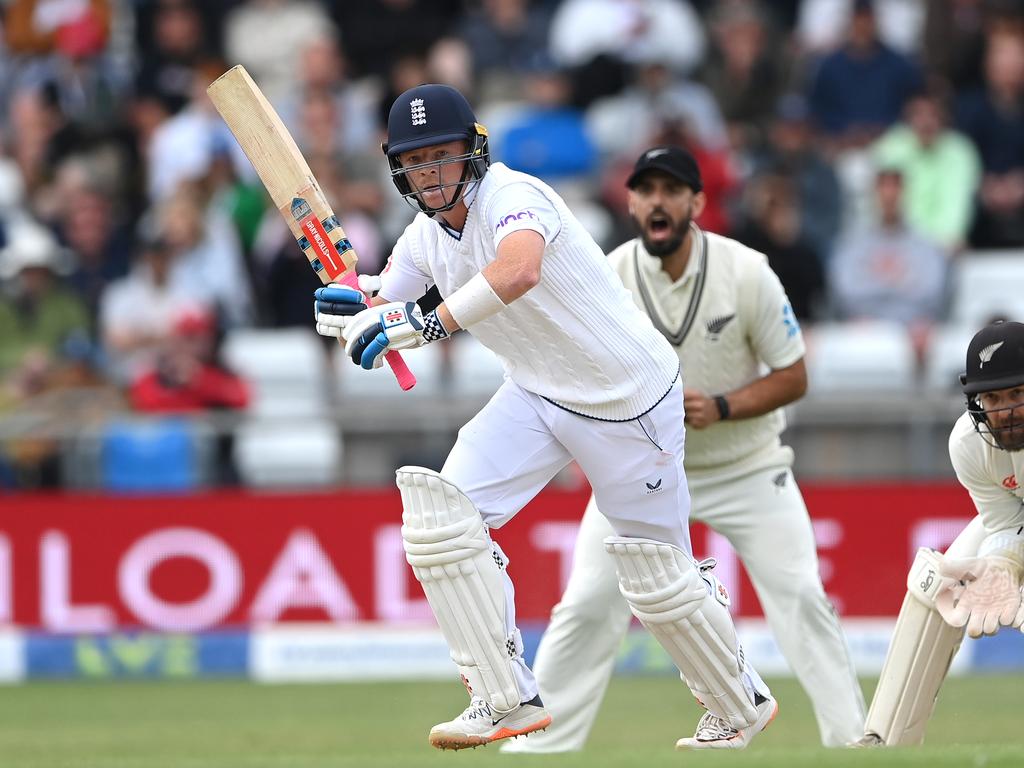 'Bazball' has led to Pope feeling more freedom to be creative at the crease under McCullum. Picture: Stu Forster/Getty Images
There, in a few sentences from one of England's brightest young batsmen, appears to be the perfect explanation of what "Bazball" is.
"Yes, that's exactly how it is styled for me," Pope says.
But should we even be using that term, "Bazball"?
"I think it is great," Pope says. "I know obviously that Brendon is not necessarily a massive fan of the term, but it is pretty cool actually. I've personally seen a slight change in how some of the county cricket is being played because of it."
So the term is not forbidden in the England changing room?
"It's not banned," Pope says. "I didn't even know it wasn't liked until I saw a little interview Baz did. I think the boys just loved it and it went so quickly that time [the four Tests] - it was a bit of a whirlwind, to be honest. We'll see - I don't think it will be used now that the boys know that he doesn't like it."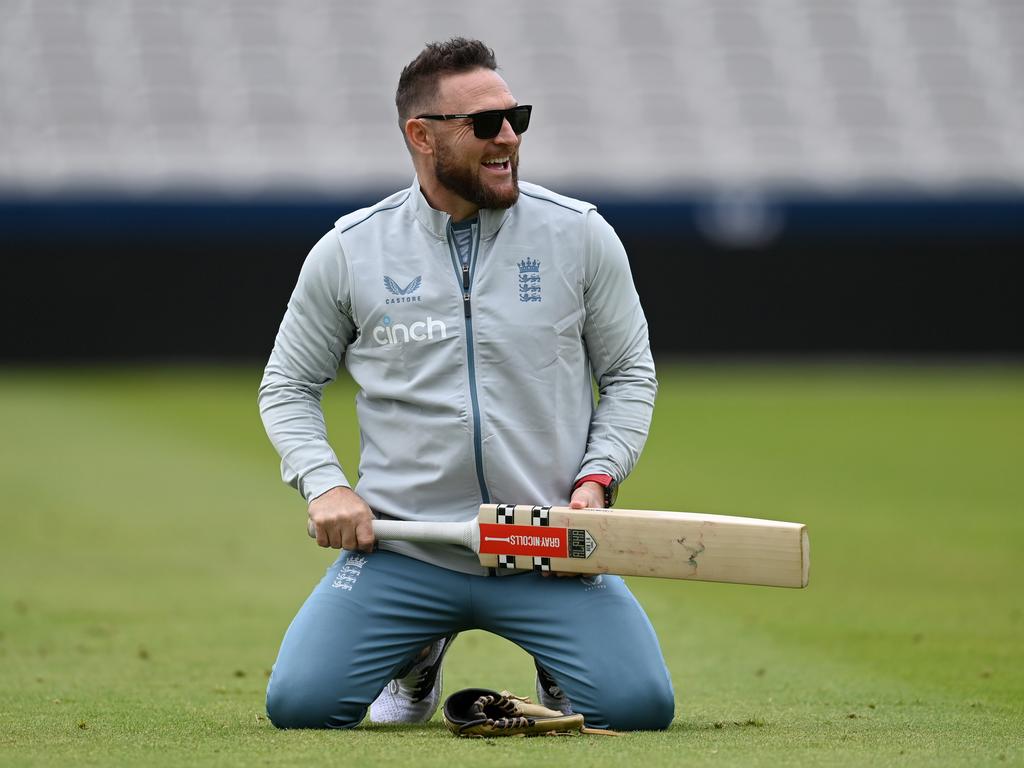 England have experienced a resurgence under McCullum, with back-to-back Test victories over New Zealand and India. Picture: Gareth Copley/Getty Images
Talking to the amiable Pope is to be met with the most breezy and cheerful optimism. It is a far cry from the end of the Ashes in the winter, when he looked a tormented soul.
Pope had been dropped after two Tests of that series, and when recalled for the final Test, in Hobart, was bowled around his legs by Pat Cummins in the second innings. His mind was clearly muddled, his game in a bit of a mess.
"I was trying to tinker too much," he admits. "I'd have two low scores and then suddenly I'm trying to change loads of things in my game, which is just unnecessary, because my game for the first innings of the first Test at the Gabba [he made 35] was actually in a pretty good place.
"I then saw how some of the Aussies were batting and was like, 'Maybe I should get a bit further across and leave a bit better.' "
Pope was once one of many players lured by fad into taking guard on off stump, which always seemed rather ill advised for such a fine off-side player. He was negating his own strengths, particularly the cut shot.
Pope's new mindset is a far cry from his 'muddled' mentality through the 2021/22 Ashes series. Picture: Robert Cianflone/Getty Images
No more, thankfully. Now he stands on middle stump and triggers so that he is just inside off stump when the ball is released. The tinkering has stopped.
"I got back from that Ashes trip and had a good chat with [the former Surrey head coach] Vikram Solanki, who was in his final few days at Surrey before he left for the IPL," he says. "We sat down and had a discussion with a couple of psychologists there, and rather than tinker it was decided it doesn't matter what you choose.
"Choose exactly how you want to go about it, where you stand on the crease and where you want to make your super strengths - but you are going to stick with that, no matter if you have three or four low scores.
"That is exactly what I have done. I have stood in the same position for pretty much every bowler. I've got to know where my off stump is a bit better and it has allowed me to get to know my game a lot more."
Listening to external voices in the media has stopped now too. "Now, especially in and around a series, I try to block them out," he says. "You have got to learn to trust the people you know, the ones that know your game, rather than listen to a commentator, because they are not in the training sessions with us, they don't know our games inside out, so that has been something Baz has put a bit of emphasis on.
"I actually went pretty well on off stump for Surrey. As happens in Test cricket, though, when you get lbw once, suddenly everyone is telling you. I probably didn't have that exact guidance that I needed at the time to say, 'Block out that outside noise and stick with what you are good at.' I tried to change it up too quickly, but where I'm at now, I'm happy with."
I put it to Pope, though, that he can look rather frantic at the start of an innings when seeking quick singles.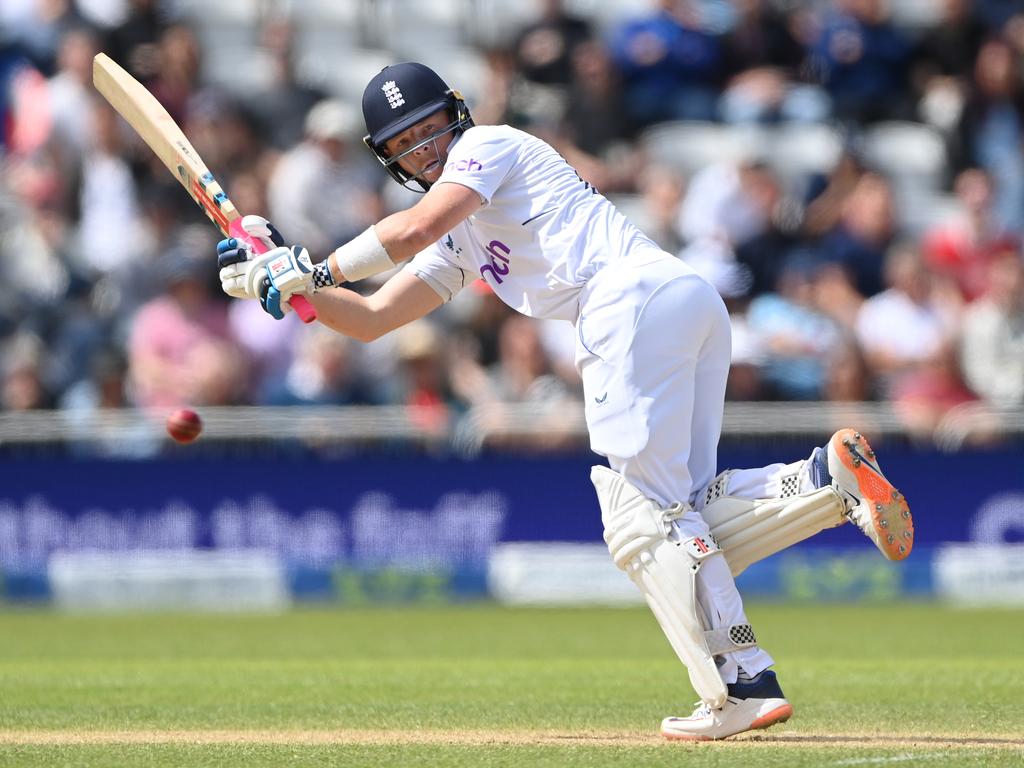 Pope has also had success with blocking out the opinions of pundits and the media. Picture: Stu Forster/Getty Images
"Sometimes it is being that little bit more precise with my footwork," he says. "That's not because it's frantic, it's because early on, when maybe you don't pick up the length as quickly as you do when you've faced 30 balls, that's the way it can look.
"One of my strengths is nicking those quick singles early on and getting down the other end. If I score a hundred that's my strength, if I do badly, then that's my weakness. I think the position I generally get in on impact is fine."
The match after that chat with McCullum at Lord's Pope scored 145 at Trent Bridge, his second Test century. He made 82 in the second innings of the third Test against New Zealand at Headingley and so far this summer has averaged 34.62, which is higher than his overall 29.75 after 27 Tests.
These figures are, of course, nowhere near his outstanding first-class average of 50.10, which still hints at the prospect of Pope being England's next great Test batsman, but he has probably made a better fist of the No 3 position, where he had never batted previously, than many envisaged.
"I haven't really found it much different," he says. "I know I've said it before, but it is just one ball difference between No 4, where I've been batting for Surrey, and No 3.
"Genuinely the only difference I have found is getting used to, when you've been in the field and you're coming off, having to get your pads straight on."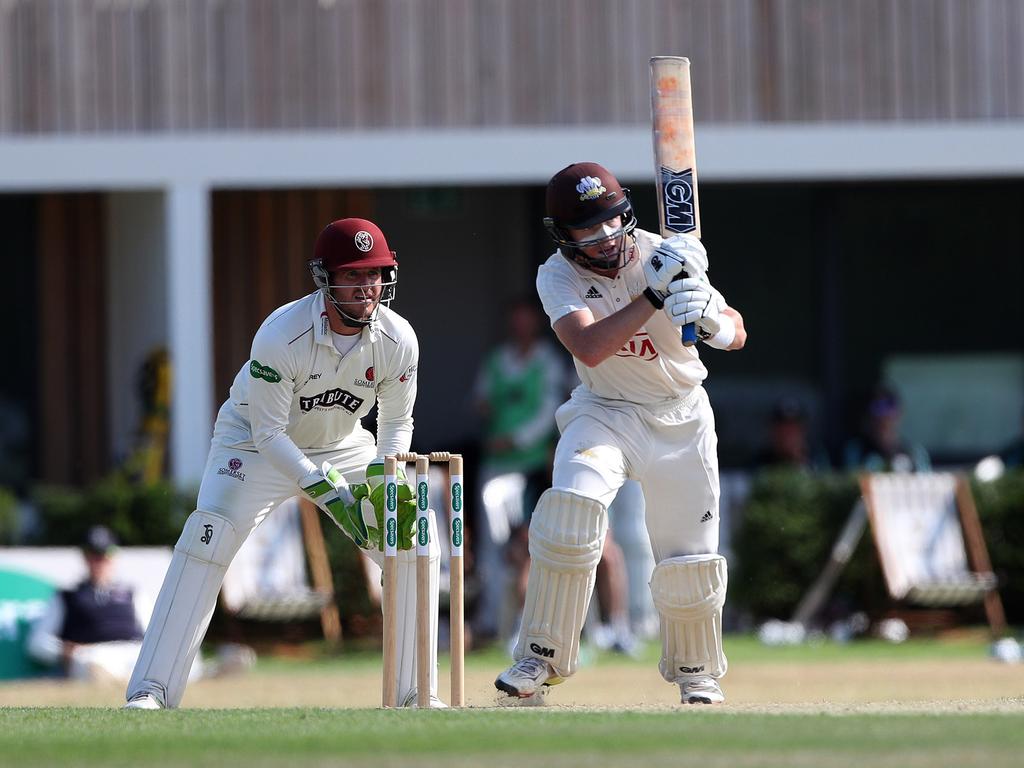 Ollie Pope's form for Surrey has been bettered by his renewed confidence at the international level. Picture: Sarah Ansell/Getty Images
Oddly, when Pope played two County Championship matches for Surrey last month, he continued to bat at No 4, with Hashim Amla at No 3.
"I did speak to them about it and I would have been keen to bat at three, but I think Surrey were keen to keep me at four and Hash at three," he says. "I spoke to Tres [Marcus Trescothick, the England batting coach] and said that these were the conversations we've had, and I'm sure if the ECB were pushing for me to bat at three, then we would have come to some sort of agreement.
"What I have enjoyed about three is that you have a chance of dictating where the innings goes rather than playing the situation a bit more. I still want to keep that consistency up and see if I can keep getting better and better for England."
Pope still has much to prove in Test cricket, and you suspect he will eventually be happier at No 4 once Joe Root has had his fill of breaking records, but, given he is not an opener (he mainly batted at No 4 and No 5 as a youngster, as he was often keeping wicket too) No 3 is really his only entry point to the team at present, with Root at No 4, Jonny Bairstow at No 5 and Ben Stokes at No 6.
Pope did not really look in his most natural habit when making ten off ten balls for Welsh Fire on the Hundred's opening night in Southampton on Wednesday, but he is not concerned about playing a couple of matches in that competition just before a Test match.
"As long as I am still getting in good positions and doing an extra bit of top-up work on the outside, then that is fine," he says. "I don't see it as a downside.
"I have also played a lot of red-ball cricket this year with the county stuff, so I know my game well enough. It is just about training hard in that week before the Test and being as ready as I can."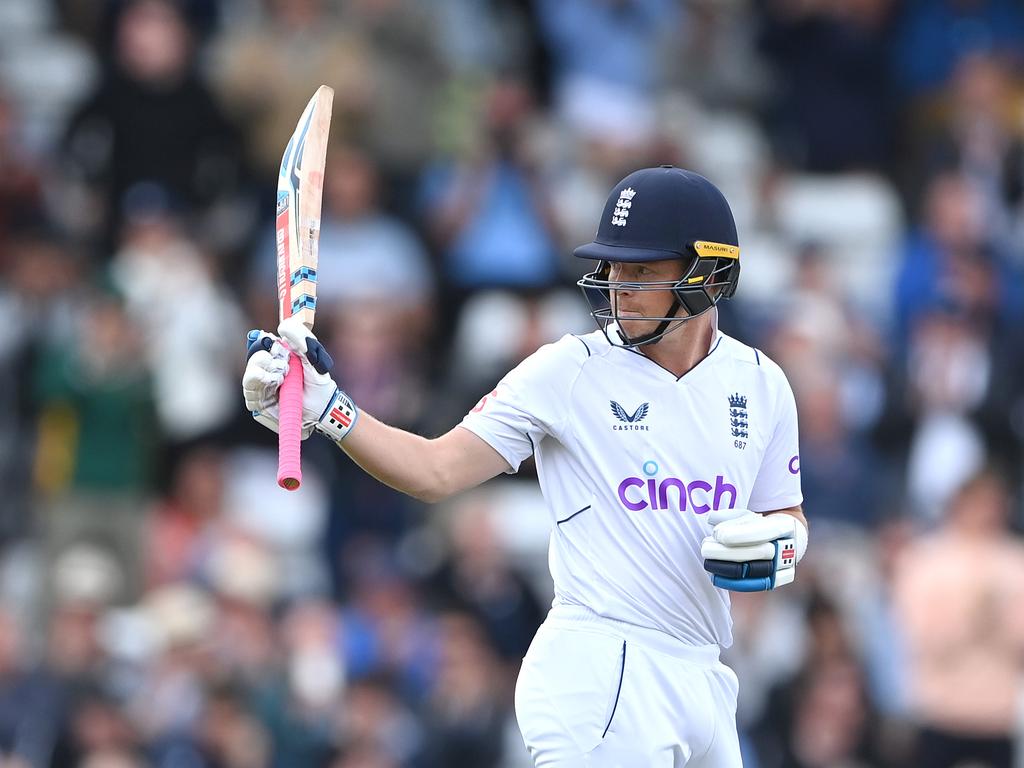 Pope reaches his 50 during day four of the third Test against New Zealand. Picture: Stu Forster/Getty Images
At least then, when the first Test begins at Lord's on August 17, Pope will face a South Africa side against whom he has had previous success, after his superb, talent-announcing 135 not out in Port Elizabeth in 2020.
"What I have struggled a little bit with in international cricket is going into each series against an attack that you have never actually faced before," he says. "It's just trying to work out those angles where they challenge you. That's a positive I can have, that I faced the likes of [Kagiso] Rabada and [Anrich] Nortje. It's good to have a bit of confidence that you have done well against them in the past."
Indeed it is, and there were some lavish predictions post-Port Elizabeth, with Stokes to the fore: "For me, if there's going to be someone to take over the records that [Joe] Root sets, it's Popey," he said.
Now is surely the time to kick on to prove them right.
Originally published as Ollie Pope: I felt a bit stuck – but Brendon McCullum just said, 'Mate, don't worry'