Revealed: Andrew Symonds' final text message before tragic fatal car accident
Just two hours before Andrew Symonds was tragically killed in a car accident, the cricket icon sent a text message to his Fox Sports boss which summed up the man perfectly. Read the text here.
Andrew Symonds was an old-fashioned larrikin and pot-stirrer to the very end.
At 8.45pm on Saturday night – just two hours before he was tragically killed in a car accident – the phone of Fox Sports boss, Steve Crawley pinged with a text message from Symonds, which summed up the man.
It was a screenshot of a news story about NFL star Tom Brady's staggering $375 million new broadcasting deal with Fox Sports in the United States.
Symonds was off contract with Fox Cricket, and the interest of the commentator with the famous dry wit was piqued.
"Crawls, we need to talk. Roy," texted Symonds' alongside the image of Brady and his eye-popping pay packet.
Crawley responded with a laughing emoji.
A short time later, police believe around 11pm, Symonds was involved in a harrowing accident outside Townsville which has rocked the cricketing community.
But through the raw pain, the much-loved cricket star and unique on-air talent was remembered for the infectious and loyal personality embodied in his final, playful text.
"I'd like to remember him as a nice guy, because that's what he was," Crawley told News Corp.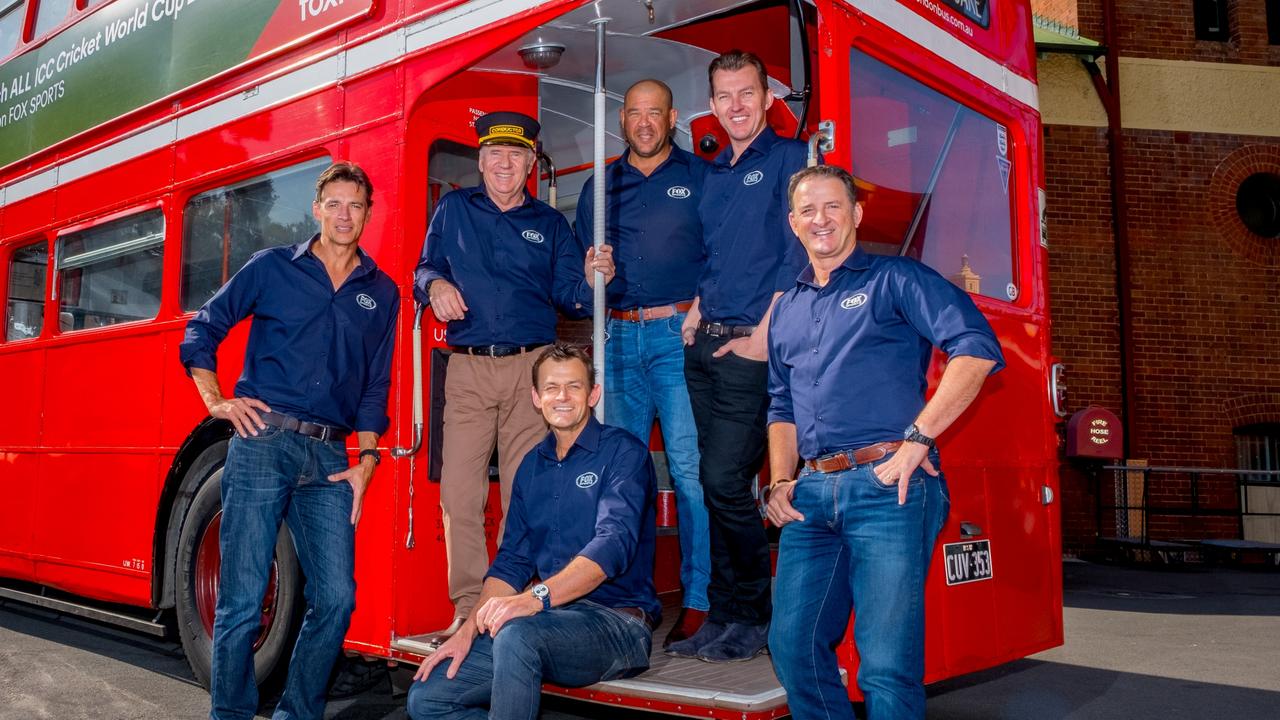 Andrew Symonds (C) was a much-loved member of the Fox Sports cricket team. Picture: Fox Sports
"When he first started doing a bit of commentary towards the end of his playing days, he said he'd commentate for us if our kids could sit with him while he did it.
"He wasn't doing that for himself. He made their day.
"He seemed to get on a lot better with kids than he even did with adults. He was a bit of a pied piper.
"It was always an open invitation to go up to Townsville and go out on his boat barramundi fishing.
"He loved going fishing.
"He was a great Australian character, sort of like an outback hero like the Crocodile Hunter, but real."
By early Sunday morning Crawley was fielding phone calls from distraught commentators Adam Gilchrist and Brett Lee and his Fox executives including Matt Weiss and Brad McNamara, who were all among Symonds' closest mates.
A heartbroken Gilchrist was overcome with emotion, but still managed a chuckle at Symonds' final text.
Part of Andrew Symonds' text to Steve Crawley.
"His sense of humour was just extraordinary," Gilchrist told News Corp.
"Just so dry, so quick. Half the time he'd make you laugh without him even trying.
"He was a boy from the bush who just loved nature. My heart is ripped out thinking about his two little kids. The most gorgeous little kids ever."
Gilchrist was a key part of Symonds getting a contract at Fox Sports, and went in hard recommending him to Crawley.
That was simply a continuation of the theme from Symonds playing days in that respected figures like Gilchrist and Ricky Ponting would trust the big Queenslander, and he would repay their faith in spades.
Symonds was a blossoming commentator who was a deceptively sharp analyst and a unique and honest communicator.
Gilchrist declared Symonds was more than a mate – "he was the heart and soul of any team I ever played in."
"I just do not know where to start with Roy, I really don't," said an emotional Gilchrist.
"He was the sort of guy you knew that if you backed him, he would be forever loyal to you. And he understood that and was so appreciative of that.
"He's just the most loyal, fun bloke that would just do anything for you.
"To use the term you'd go to war with him; you just would.
"He was just one of the real good guys."
It's just over two months since Shane Warne's shock death, Fox staff are left dealing with another tragic loss.
Andrew Symonds brought a unique style to the commentary box. Picture: Darrian Traynor/Getty
Symonds and Warne were close, with the two-time World Cup winner revealing on air the day after Warne's shock death from a heart attack how the spin king had helped him through some dark moments in his life.
"We were lucky to have known Roy and worked with him. We're not his family and I really feel for his family at this time," Crawley said.
"When we did that tribute to Warnie, he came down and I remember that night we went out for dinner and he was the most upset out of everyone."
Crawley also received a phone call from Wayne Bennett on Sunday morning, with the rugby league super coach reminiscing about when Symonds trained with the Brisbane Broncos in the early 2000s when his cricket career was at a crossroads.
"(Crossing codes) was probably never going to happen, but if any cricketer could do it was probably him. We all saw his shoulder charge (on a Gabba streaker) on the field that day."
Luckily Symonds stuck with cricket, because a short time later he was the hero for Australia at the 2003 World Cup, scoring a maiden ODI hundred the day Warne had been sensationally sent home for a failed drug test.
"Absolute heart and soul of any team I played in with him in it," Gilchrist said.
"And what a talent. Just box office.
"There aren't many that were bums on seats talent that had a cult following. He was a cult hero but also the heart and soul of the team. He was all of it.
"The whole cricketing world was stunned and in disbelief at the fact Warnie wasn't with us after the positive test. Roy just went out there and saved our arse. As he did on so many occasions.
"That set the tone for us to go on and win that World Cup."
Symonds made headlines off the field for the wrong reasons at times, including when he was ruled unfit to play against Bangladesh in an ODI once when he turned up drunk from the night before.
But he always redeemed himself in the eyes of his mates.
"He was the true meaning of work hard, play hard. He was so fun to be around. Just constantly making you laugh," said Gilchrist.
"He was just a pleasure to play alongside. If there was some social activity, Roy was always going to find it or be a part of it.
"To his detriment on occasions. But he also knew that if he made a mistake, all he wanted to do was just try and make it up to you or to the team."
Originally published as Revealed: Andrew Symonds' final text message before tragic fatal car accident