Jhye Richardson gave up a huge IPL payday to complete a full pre-season, and it has him poised for an Ashes berth
Fast bowler Jhye Richardson was signed to an astonishing $2.48 million IPL deal this year, but his priorities lay elsewhere.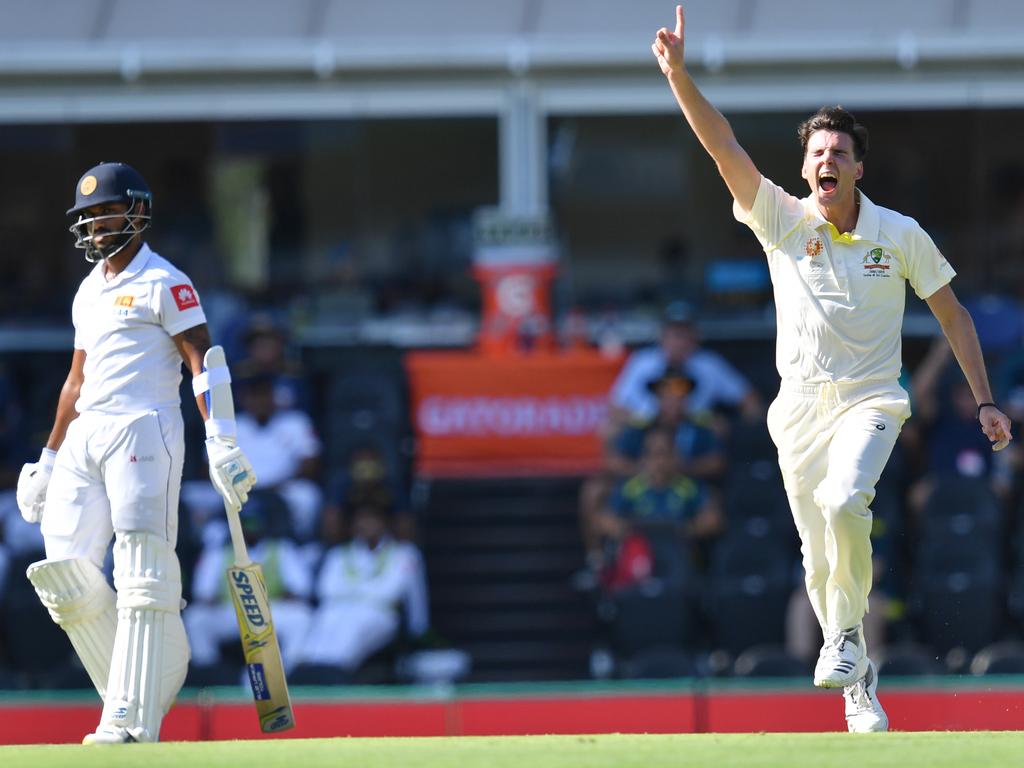 Jhye Richardson remembers that feeling of taking Test match wickets for his country. A big off-season decision could see him back taking poles sooner than he thought. Picture: Darren England/AAP Image.
To say Jhye Richardson values the prospect of playing an Ashes Test isn't merely a figure of speech. The value can actually be quantified.
Richardson made headlines around the world earlier this year when he was selected by the Punjab Kings for an eye-watering $2.48 million in the IPL auction, having just topped the wicket-taker list in the BBL.
A Covid-19 outbreak, an evacuation to the Maldives and a hotel quarantine stint in Australia interrupted his tournament – and his earnings – however the option of restarting both was placed before him when the IPL announced it would resume in the UAE in September.

Returning to play in the IPL would presumably have ensured a seven-figure windfall for Richardson calculated on a pro-rata basis. For a 25-year-old with a long history of injuries, it must have been tempting. Better-heeled athletes have done substantially more for much less.
Richardson passed.
"I thought it was important to spend some time making sure my body was ready to go," he says. "The nature of the world at the moment with quarantines and Covid, it's nice to spend a bit of time at home and just hone in on those skills and get ready for the season."
Even by his own express standards, life has come fast at Richardson this season.
The international retirement of James Pattinson and selection in the Australian Test squad for the Gabba has thrust Richardson back into the national conversation after injuries and misfortune had conspired, unsuccessfully, to remove him from it.
The prospect of Richardson adding to his two-Test resume this summer is strong thanks, in part, to his decision to forego IPL riches and complete a full pre-season at home. Selectors have already hinted that the Australians have learned the lessons of last season – in which the unchanged fast bowling cartel faded towards the end of a gruelling Border-Gavaskar campaign – and will embrace the rotation model employed effectively during the 2019 Ashes.
That places Richardson in a two-way battle with Michael Neser to displace one of Mitchell Starc, Josh Hazlewood or Pat Cummins against England when a spell is required (unless Sean Abbott, Mark Steketee or Scott Boland force their way into consideration via the Australia A route).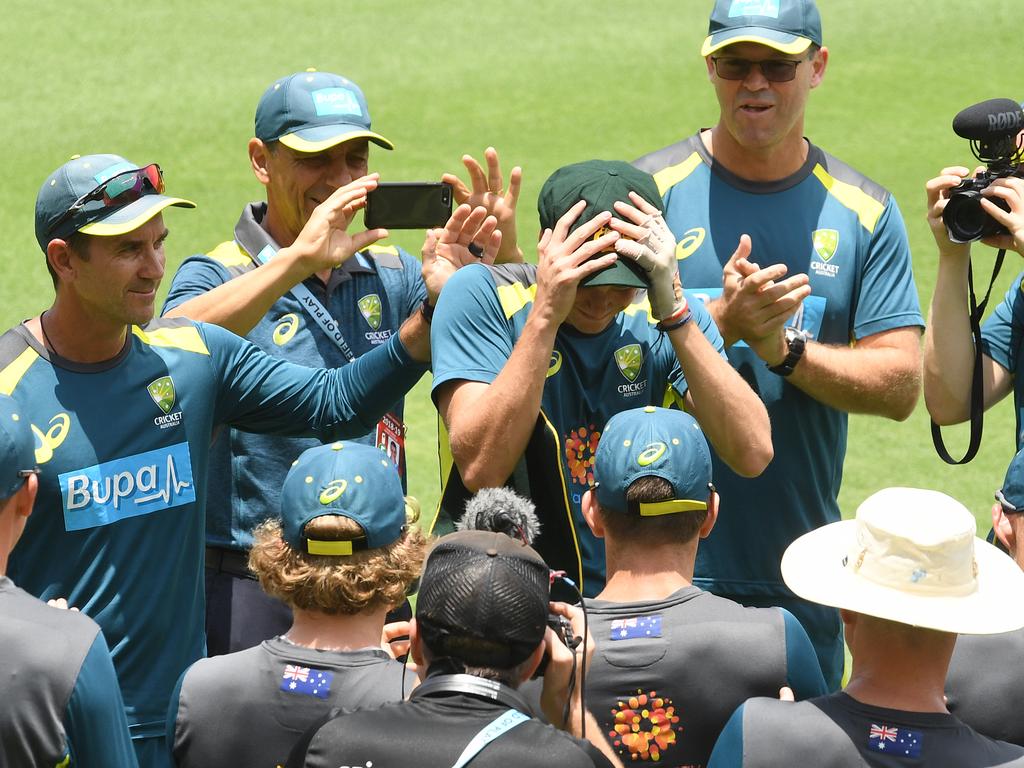 Richardson received his first test cap in 2019, but injury and a rich contract with the IPL changed the trajectory of his career. Picture: AAP
There was a time, however, when Richardson's decision to prioritise the home summer over an IPL payday looked cruelly, expensively cursed.
Just last month, the right-arm paceman bowled two overs in his first red-ball match for Western Australia in almost two years. He removed Tasmania's Tim Ward with his fifth delivery and looked sharp in the short period before stumps on Day One.
The next morning came news no one wanted to hear.
"Jhye Richardson suffered an acute spasm in his thoracic spine during the warm-up this morning and won't take the field today."
It was difficult not to immediately think the worst. For a 25-year-old with a long list of injuries, fears grew that another promising summer was about to be curtailed.
"I was pretty defeated on the morning of day two knowing that we were heading out to bowl and not being able to get out there with the boys, especially after not having played for so long," he recalls. "Luckily enough, I could get up for the second innings."
Two wickets in 14 overs against Tasmania in the second dig eased the concerns of selectors. Five wickets from 33 overs against South Australia impressed them. And eight wickets from 36.2 overs against Queensland convinced them he was ready for a home Ashes campaign.
"Physically I think he looks as strong as I've ever seen him," George Bailey told reporters after the Ashes squad announcement. "He's starting to build some resilience into his body."
Richardson will travel with the Australians to the Gabba, the scene of his Test debut against Sri Lanka in 2019, just weeks after lighting up the venue in the Shield match against Queensland.
The pace and consistency of his bowling was of such a standard that Marnus Labuschagne and Joe Burns, two of his victims that day, both walked off the field in amazement at just how dangerous the 25-year-old looked.
Richardson finished with 5-23 in the second innings and eight wickets for the game. It was no surprise he was named player-of-the-match.
"He's a fantastic bowler. Jhye has done it for a number of years now," Burns said after day three. "I'm a big fan of Jhye."
As are the selectors. Sixteen wickets at an average of 12.5 from three matches tends to catch the eye of Australian cricket's kingmakers, particularly when this season's first-class games are Richardson's first since 2019. In fact, so severely has his young career been impacted by injuries, Richardson has managed just 20 first-class appearances since making his debut for Western Australia in 2016, an average of roughly four matches per year.
The nadir came shortly after his twin Test appearances against Sri Lanka. A dislocated shoulder while diving in the field against Pakistan in the UAE resulted in two surgeries and the best part of 12 months out of the game.
"I've been asked a lot whether I would change what I did and it's easy to say yes, but when you're out on the field and trying to compete and do everything you can for your country to win a game of cricket, sometimes those things happen and that's what the focus was," Richardson says.
"Things happen but it's been a very wholesome experience to go through all of that and play for Australia again, albeit in white-ball cricket."
Injuries have been all too common for Richardson throughout his career, even back to his childhood bowling thunderbolts at his brother on the family acreage ("I'm sure he'll take some of the credit for teaching me what I know today.")
But it is something he has learned to accept, and with a surprising lack of begrudgement.
"You'd be quite naive to think you're not going to get an injury as a fast bowler, it's the nature of it," Richardson said. "It's such a high intensity and high-stress movement that you put on your body and you have to expect injuries now and again. So a lot of it is the acceptance that now and again you might get injured.
"I had stress fractures when I was younger so it was about how can I still bowl fast but do it a bit safer. I've always loved bowling fast but growing up it's been more about how we manage that and keep me on the park.
"Sometimes the luck of the draw is you get injured and you have to be okay with that moving forward."
Today, there is good reason to believe Richardson is set to resume his Test career as he left it: bowling fast, full and troubling the outside edge with consistent swing. He partnered Starc with the new ball against Sri Lanka in 2019 – Cummins was brought on first-change – and finished with five wickets for the match.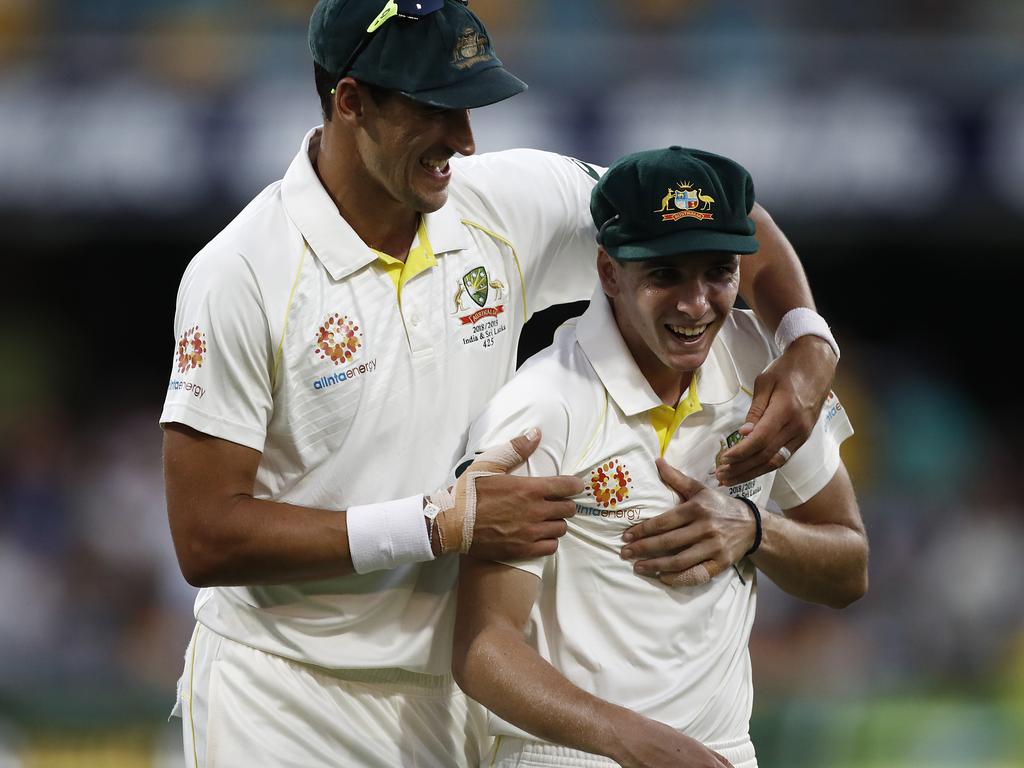 Richardson and Mitchell Starc embrace during day one of the First Test against Sri Lanka in 2019. There's strong feeling he could resume his Test career during The Ashes, potentially even at Starc's expense. Picture: Ryan Pierse/Getty Images
"You need to be able to do something else with the ball rather than pure pace," he says. "You need to be accurate, seam the ball, swing the ball, whatever it is."
"Not being the biggest or tallest guy [growing up], some people didn't expect me to bowl fast. Bowling fast is great and it's good fun but it's not the be-all and end-all of when you play at a high level and I learned that quickly playing Shield and One-Day cricket for WA."
The retirement of Pattinson came as a surprise to Richardson. Were it not for an injury sustained at his home before the third Test last summer, Pattinson was widely expected to play at least one of the final two Border-Gavaskar Tests.
History, though, will now record that Pattinson's final appearance in the baggy green was the New Years Test against New Zealand in 2020. The drive to push his surgically-repaired frame for more international honours was no longer there due, in part, to the impact of the extended Covid-19 lay-off.
"With his back problems, he's overcome a lot and credit to him, he's been an amazing bowler, he bowls fast and he puts fear into the batsman. You can't fault anything that he's done leading up to now and I think it is understandable, the longer that Covid goes on and the biosecurity bubbles and the quarantines, it can take its toll for sure on your mental health," Richardson said.
"You never really want to push someone out but ultimately the dream is to play at the highest level. It's a good problem to have that we have a set bowling attack and it's tough to break in.
"You can't help but be amazed and happy for what those guys have achieved and are achieving. Australian bowling stocks [are] really strong at the moment."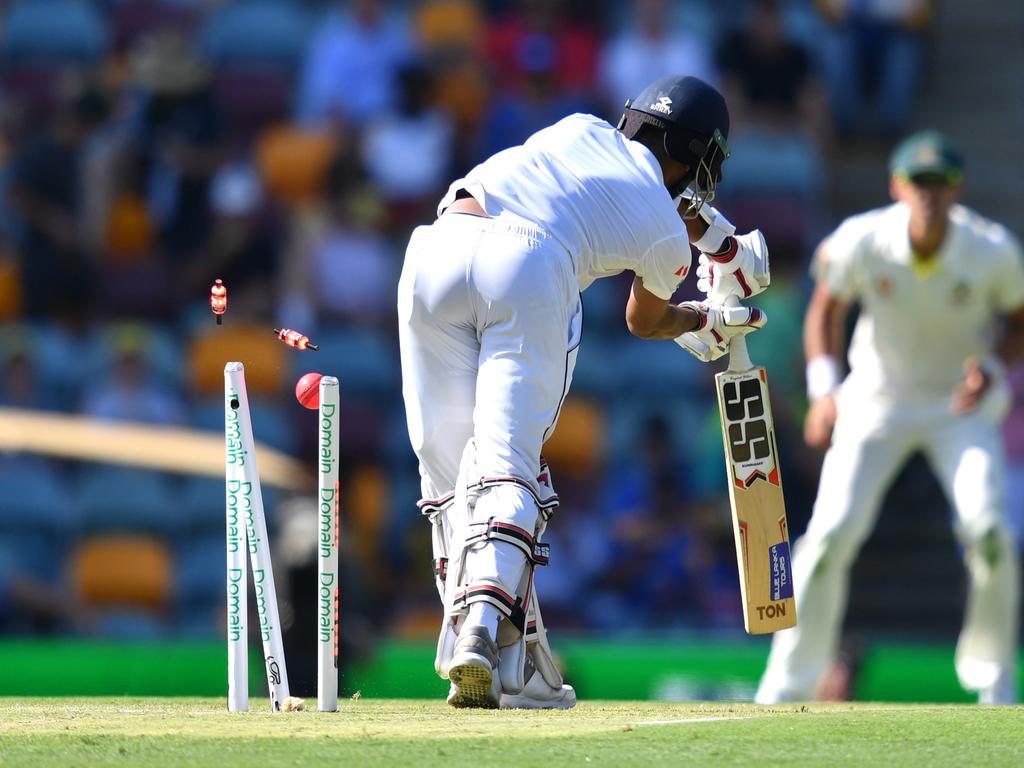 A sight all fast bowlers love to see, middle stump dislodged. Richardson did it in his first Test and it's hard to think it will be his last. Picture: Darren England/AAP Image
It's remarkable to think that, not so long ago, Richardson's international future seemed destined for the white ball formats. He has played more combined ODI and T20I games for his country than he has first-class matches.
But a decision to forego white ball riches has greatly enhanced his red ball prospects.
An Ashes Test appears an appropriate, if costly, reward.