The Ashes: Dropped catches and baffling tactics leave sterile England with forbidding sense of déjà vu
A shaky start to the second Ashes Test shows England are doing little that makes cricketing sense, writes MIKE ATHERTON.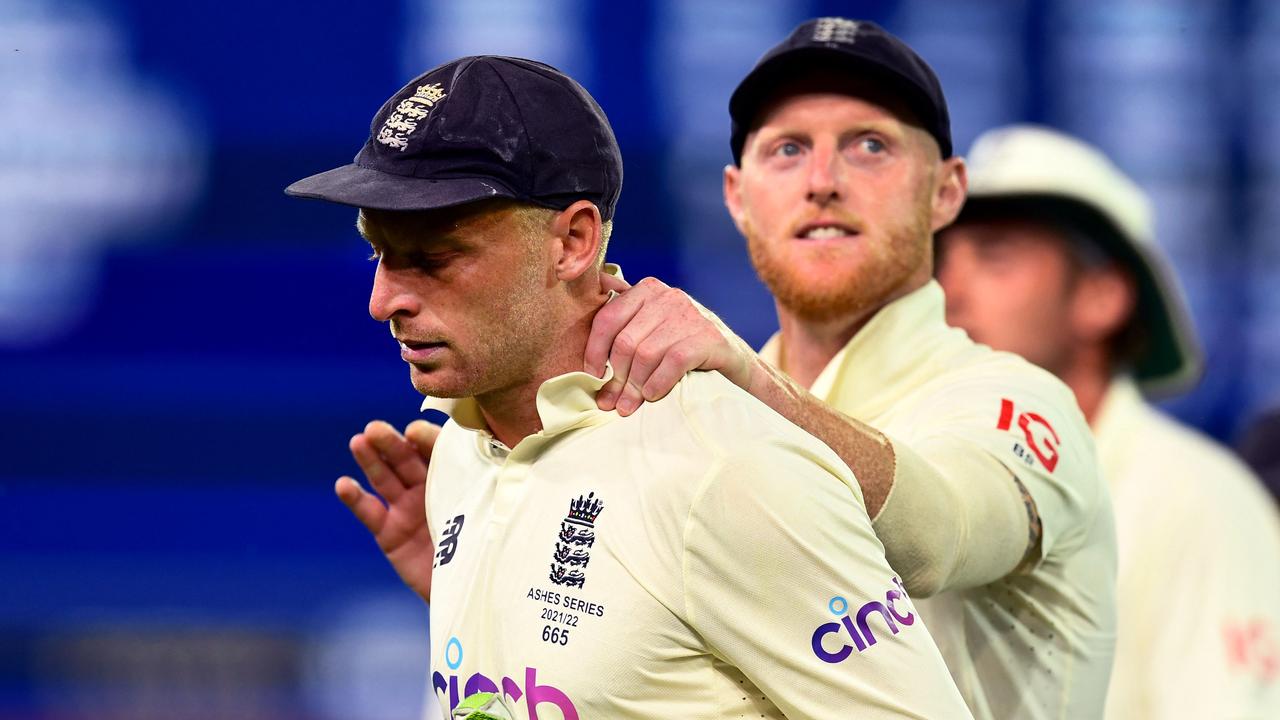 A distraught Buttler is consoled by Stokes after dropping a simple chance to dismiss Labuschagne. Picture: William West/AFP
"It feels more English," said Ollie Robinson, hopefully, before the team's reacquaintance with Adelaide. Cooler, less tropical and with more supporters in attendance, the City of Churches certainly felt more welcoming at the outset than the Gabba, and Joe Root responded by picking a very English-style attack: five right-arm seamers, all of whom operate at a pace within touching distance of each other.
That initial optimism, heightened by the pre-match withdrawal of Pat Cummins because of a Covid scare, had faded by the close of play on day one, in the face of some determined batting from David Warner and Marnus Labuschagne. As they had in Brisbane, these two hard-running, full-of-conviction batsmen overcame the loss of an early wicket to push their team into a position of dominance, exposing some barren and unimaginative tactics as they did so.
Having scored a solitary run in the opening hour, Warner had England's bowlers at his mercy for the second Test running, only to gift his wicket away in sight of a century. After castigating himself for his generosity in the first Test, Labuschagne was clearly too determined to make amends here, tensing up and getting stuck in the 90s after twilight's golden glow had departed to leave this great cricket ground brilliantly illuminated under the inky night sky.
Labuschagne rode his luck at times and was the grateful recipient of two drops by Jos Buttler, the second of them a howler. His mannerisms are more extreme than ever, in the exaggerated way in which he leaves the ball, and the way he commentates as he plays some shots — "that's a good leave, Marnus!" "duck that one, Marnus!"— but he constructs his game intelligently, knows exactly how and where he wants to score his runs and has had England's measure since appearing in the Ashes for the first time at Lord's in 2019.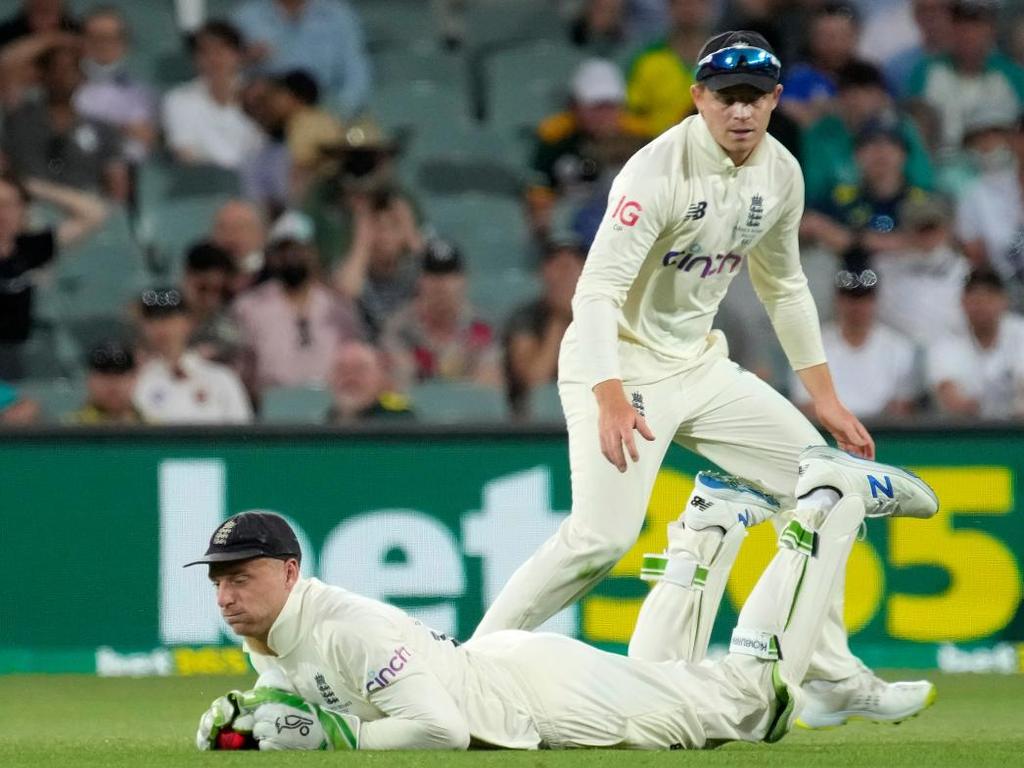 Anderson found the outside edge of Labuschagne's bat but Buttler could not hold on to what seemed a straightforward catch. Picture: Getty Images
Warner's tickled ribs, and later Steve Smith, were no doubt delighted by the absence of Mark Wood, and there was no Jack Leach to slow the pace of the game (and quicken the over-rate). Root had warned against putting all their apples in the day-night, pink-ball basket, but it felt like that is what the selection was doing, loaded as it was with the kind of attack England had promised not to revisit after some days of toil on the 2017-18 tour.
England are not doing much right now that makes cricketing sense and this selection looked counterintuitive. On a green pitch under gloomy skies in Brisbane, England had chosen a varied and balanced attack; now, under piercing blue skies and on a dry, biscuit-coloured pitch, that variety and balance was lacking. Some say England always seem to be thinking about the game but one in front of them; here, it looked like they were playing the game behind.
As a result, Ben Stokes was utilised for lengthy periods in the kind of assertive role that would have been taken by Wood, using fields more reminiscent of Bodyline, nearly 80 years ago. It was fine for a short while, but became repetitive and stale. Root was requisitioned into the spinner's role and by mid-afternoon he had spun a couple of balls quite sharply, beating Warner on the outside edge and almost picking up Labuschagne at leg-slip, each producing a noticeable puff of dust from the pitch. It is clearly quite dry.
No matter the tactics and strategy, it is wickets that count, and England took only two of them. It must be said that it was far from straightforward for Warner and Labuschagne for long periods initially. It took Warner two sessions to find real fluency; Labuschagne, playing and missing frequently, was dropped just after lunch by Buttler on 21, a reasonably straightforward chance down the leg-side as the batsman flapped at a short ball from Stokes.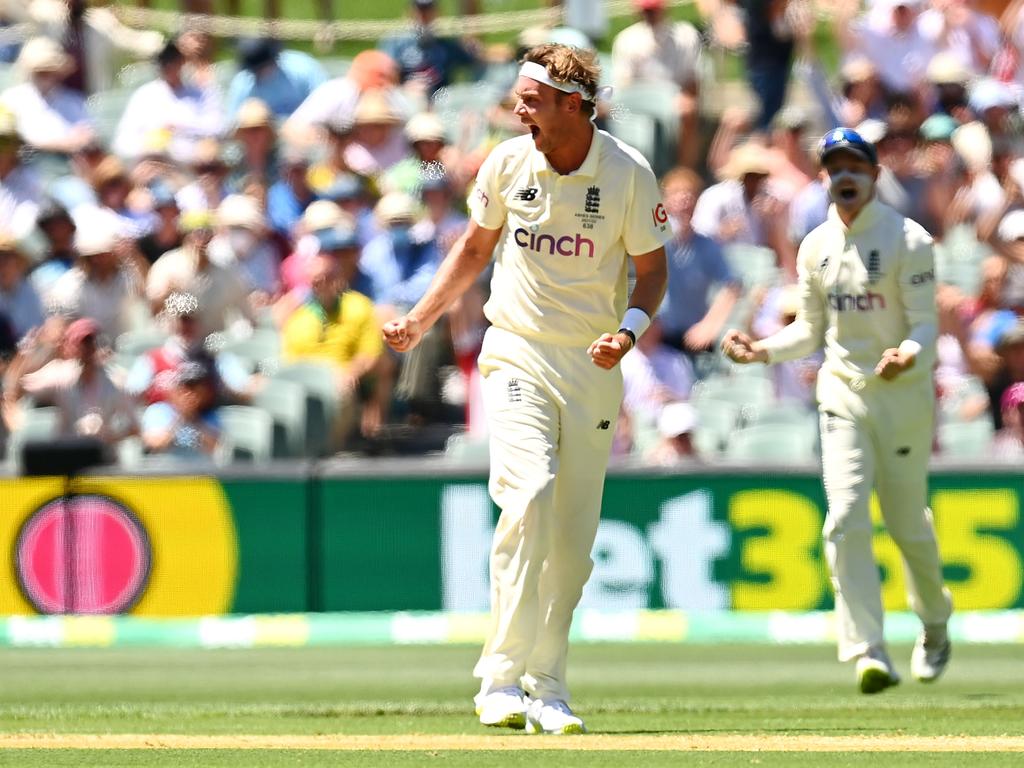 For once, Broad did not get the better of Warner but the returning England bowler did take the wicket of Harris early on. Picture: Quinn Rooney/Getty Images
Their partnership calmed the Australian dressing room after what must have been a frenetic few hours in the morning. It was at about 10pm on the eve of the game that Cummins was notified of his status as a close contact of a Covid case, about 12 hours later that the story was broken in local outlets, resulting in a frenzy of speculation and activity. Not least among the English press corps who sniffed similarities with Edgbaston in 2005, when Glenn McGrath had stepped on a ball before play.
Losing their premier fast bowler was one thing, but Cummins's position as captain meant a greater sense of dislocation. Smith, looking all spic and span at the toss and greeted later on when he walked out to bat with a mixture of cheers and boos, was catapulted back into the captaincy, not far off four years after leaving it in disgrace. Australia's much-vaunted pace attack was suddenly being propped up by two bowlers — Jhye Richardson and Michael Neser — with a brace of caps between them.
England, meanwhile, recalled more than 1,100 Test wickets into the team. There was no swing for James Anderson but Stuart Broad, presented with his 150th cap by Anderson before the game, bowled beautifully with the new ball and throughout the morning. Broad emptied his lungs after Warner let the first ball of the match cannon into his pads, on the angle from which the left-hander's game had been dismantled in the summer of 2019. From the evidence of the first hour, which Warner spent fretting over a single run, some scars remained.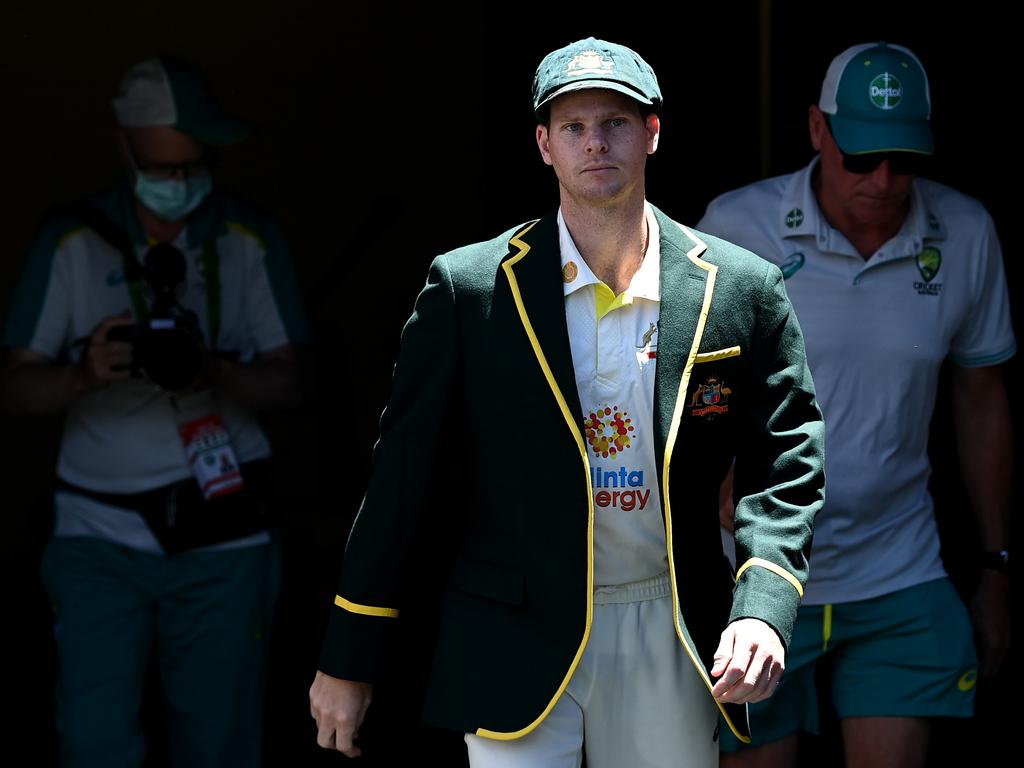 Smith is leading Australia for the first time since being stripped of the captaincy in 2018. Picture: Quinn Rooney/Getty Images
Broad bowled two spells in the morning and threatened in each. Marcus Harris was brilliantly taken one-handed down the leg-side by Buttler; Warner survived two significant appeals for leg-before and Labuschagne was beaten on the outside edge four times in one over. Warner finally broke free by cutting Chris Woakes for four after drinks and Stokes presaged the ploy to come, with a barrage of bouncers in the run-up until lunch.
The afternoon belonged to the batsmen, with Root setting some extraordinary leg-side fields that may look imaginative to the uninitiated but exposed England's shortcomings. An attack selected with sideways movement in mind was operating in conditions and a manner betraying it. Both batsmen posted their half-centuries and Stokes, chasing the ball to the boundary, again suggested that all was not well with his left knee.
England's over-rate was predictably poor, seven overs down by the afternoon break. It was another short ball from Stokes that finally brought Warner's downfall, when he backed away to thrash through the empty off side, only to pick out Broad, the one man stationed there. He had hammered the ball before to the leg-side boundary and presented his wicket just as England looked on their knees.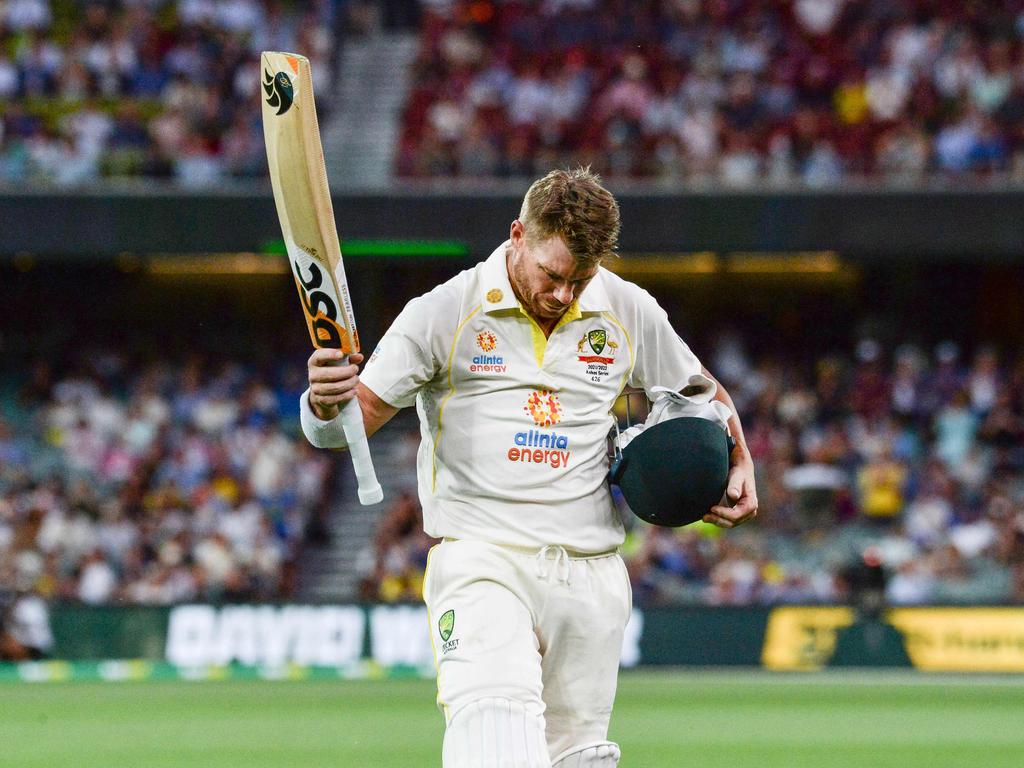 For the second time in as many Tests, Warner was dismissed in the 90s. Picture: Brenton Edwards/AFP
With dusk falling, the time of night that is said to favour seam with the second new ball, we had the sight of Root hustling through his overs in order to hurry his team to the point when it became available. It did so, with Labuschagne six runs away from his century, Smith into double figures and 35 minutes of play remaining (including the extra half-hour.)
As Labuschagne stalled, increasingly tense as a century beckoned, he edged a back-foot force off Anderson only for Buttler to put down the easiest of chances. Inevitably, the next two balls came the wicketkeeper's way, too. He caught them both. The crowd cheered sarcastically. It was Australia's day. With selection, strategy and execution, there was a sense of déjà vu.
-The Times