The phone call that threw Alyssa Healy off her game
It's hard to believe, but even Australian cricket's gamechanger Alyssa Healy can have an off day on the golf course, as witnessed when she received a phone call from Matthew Mott, writes LACHLAN McKIRDY.
Alyssa Healy's stunning World Cup final knock still leaves the wicketkeeper lost for words. Picture: Hannah Peters/Getty Images
As Alyssa Healy walked off Hagley Park following the World Cup final in April, the relief was written on her face.
Exhausted and ecstatic – one of the busiest and most successful summers of her career had finally come to an end.
With husband Mitchell Starc alongside, they finally had an opportunity to put cricket in the back seat and take a well-deserved break.
The pair made the short trip to Queenstown to tour some of the best golf courses New Zealand had to offer, hoping to find a bit of anonymity amid the endless green hills.
But it wasn't just Starc's 197cm frame that garnered attention.
"Being in Queenstown so many people wanted to just stop and chat about the World Cup which I thought was cool," Healy tells CodeSports, speaking at the launch of Kayo Sports' coverage of the men's US Open Championship.
"It was nice just to be able to switch off and play some golf, but to [also] see what sort of impact the World Cup had."
It's no surprise locals wanted to stop and chat, they were in the presence of history.
Healy's knock in the final against England will go down as one of the greatest in one-day cricket.
She finished on 170 off 138 balls, including 26 boundaries, to register the largest individual score ever in a World Cup final. Healy also became the first person to score consecutive centuries in the knockout stages of a World Cup.
Whatever happens from here, the 32-year-old wicketkeeper has already confirmed her legacy as a gamechanger for women's cricket with her ability to break the game open.
But even she is lost for words as to what came over her that day in Christchurch.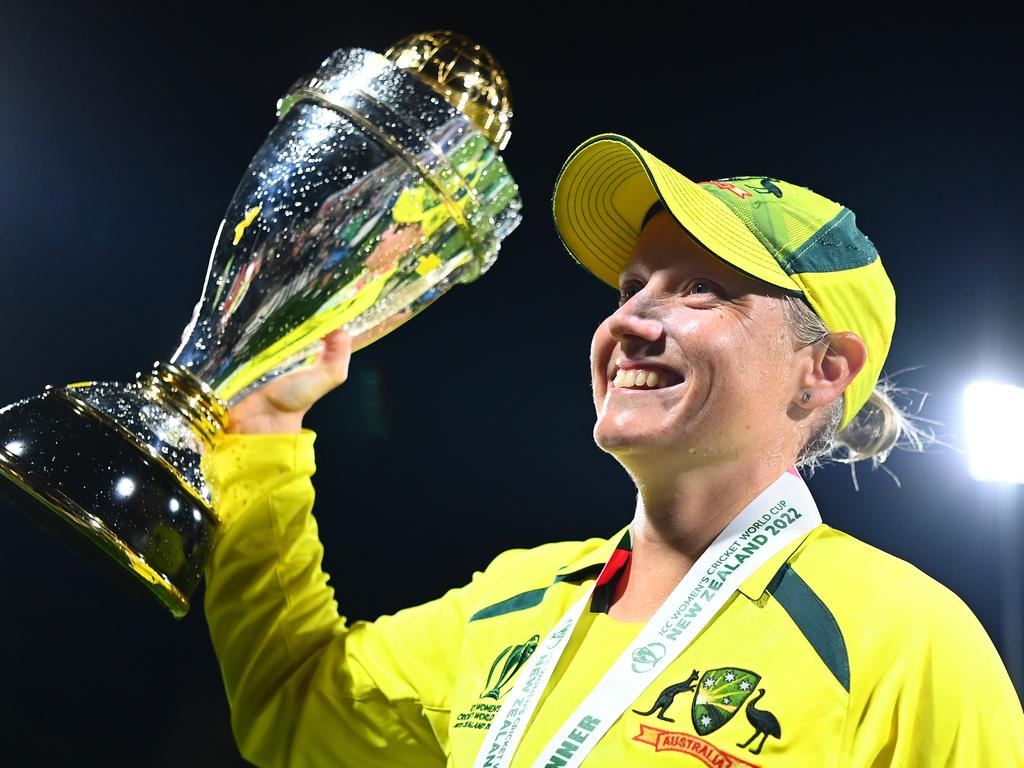 Healy's exploits got Australia over the line for the World Cup glory they'd been chasing. Picture: Hannah Peters/Getty Images
"I still don't know what happened," Healy says.
"People want to talk about it and I don't quite know how to answer the question.
"I think I really sort of found that maturity in those last two games, giving myself an opportunity to make runs and thankfully it came off at the right time.
"One day I'll probably sit down and watch it properly and dissect it all, but for me, it was just so great to get the trophy and get the medal at the end after five years of training and waiting and anticipating that World Cup.
"But yeah, I've just got to find out how to do it more consistently. That'd be nice."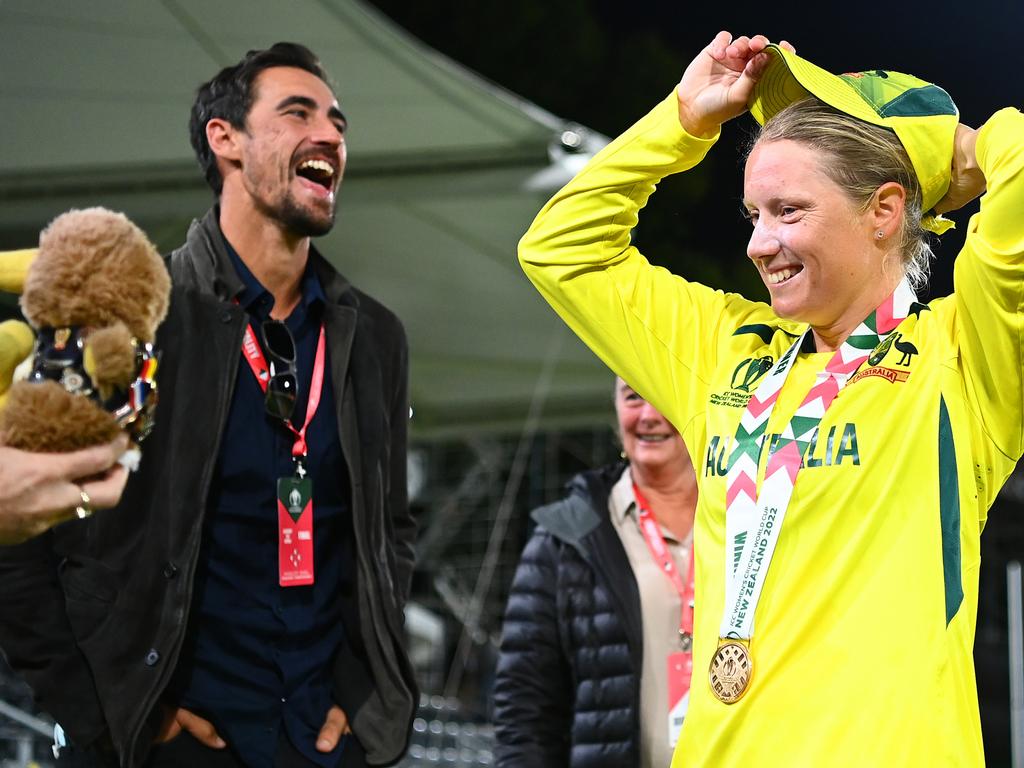 With the World Cup won, Healy was already looking forward to time off with husband, Mitch. Picture: Hannah Peters/Getty Images
*****
After taking time off over the past two months to let her body rest, Healy heads back into the national team refocused on the year ahead.
She wasn't able to join fellow contracted players for a camp in Brisbane last week due to the flu, but it hasn't slowed her preparation for the team's inaugural Commonwealth Games campaign next month.
When she reunites with the squad for the first time in the coming weeks, there will be some key faces missing from the Australian set up.
Head coach Matthew Mott has been given a role to oversee England's men's white-ball sides, while his former assistant Ben Sawyer has been picked up as the next New Zealand women's coach.
Mott's Australian reign came to an end with the World Cup triumph. Picture: Hannah Peters/Getty Images
After a period of such dominance, their departure presents an opportunity for the squad to head in a new direction and challenge each other to find different ways to improve.
"It was a little bit of a surprise and I look at it and I go, 'We won the World Cup, why do we have so many changes?'," Healy recalls.
"But I guess that's part and parcel of our sport. A heap of us have sat down post the World Cup and thought, 'What are our next goals?'. Fortunately for Motty, he got a job offer, we don't get job offers.
"[It's] great recognition for him and what he's been able to do with our group but you know, potentially can go and do the same thing with England, so we wish him all the best."
Healy's connection with Sawyer is even closer. The pair have also worked together at both the Sydney Sixers and Cricket NSW for the best part of eight years.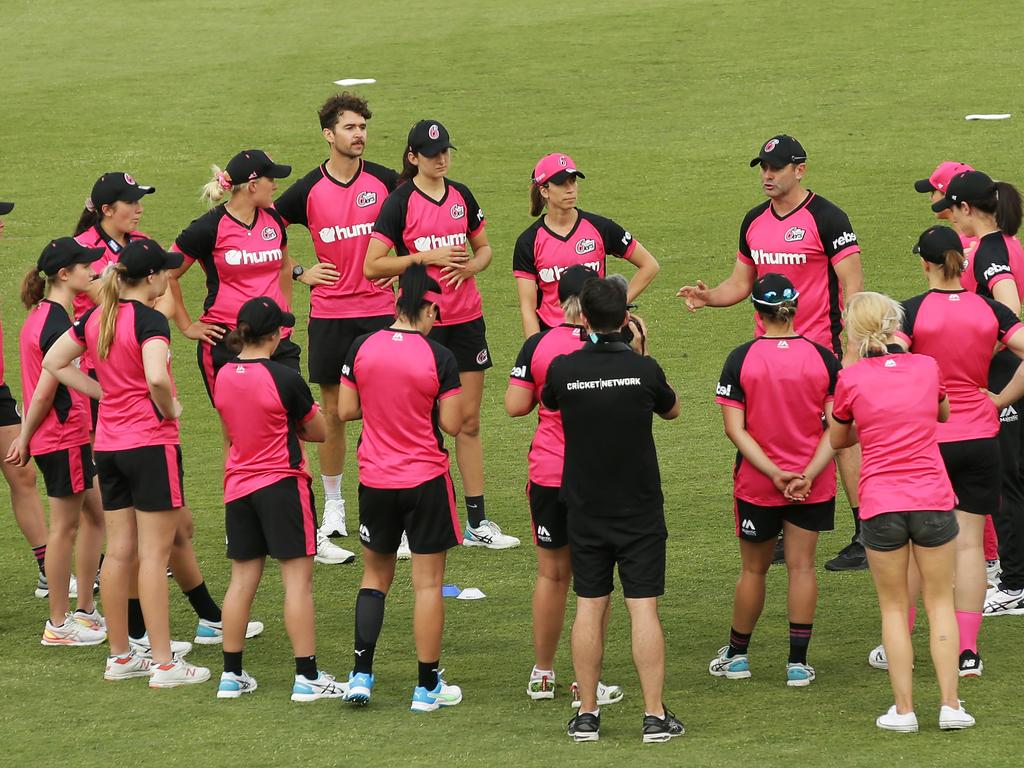 Sawyer has had a formative role through the last decade of Healy's career. Picture: Matt King/Getty Images
To an extent, his recruitment by the White Ferns feels like an attempt to get inside the mind of this successful Australian team and find out what makes them. Healy is confident it will have the opposite effect.
"Thankfully Benny has been throwing me balls in the nets for the last eight years so I know exactly how they're going to try and get me out.
"It's a nice reward for some staff that have been involved in our group and involved in our success to go on and test their skills elsewhere and see what they can achieve."
Healy was at home when Mott called her with the news, as he did with the rest of the squad.
Having spent so many years working towards the goal of the World Cup title in April, it was a fitting end to what will go down as one of the most successful coaching tenures in cricketing history.
But Healy still thinks he could have picked a better time to pick up the phone.
"Funnily enough, he rang me on a Saturday morning right before I was about to go and have a tee time, that threw me right off!"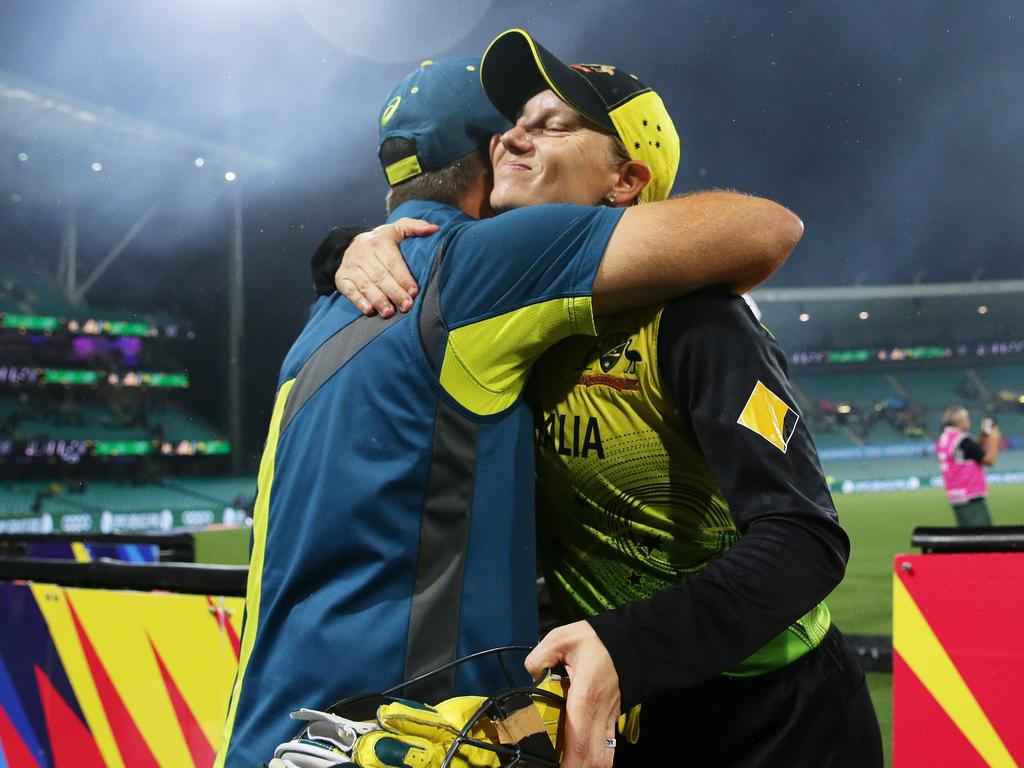 Healy is confident Mott will have an important role to play in the group, even if he's coaching the old enemy. Picture: Matt King-ICC/ICC via Getty Images
*****
When Healy and her teammates touch down in Birmingham in July for the Commonwealth Games, there will be a sense of expectation that the gold medal is theirs to lose.
It's the only piece missing in their trophy cabinet with so many accolades already to their name.
But for the players, there's a sense of eagerness to be involved in something new that they're most looking forward to.
Having won the 2020 T20 World Cup and this year's World Cup – two tournaments that saw so much pressure placed on the team – comparatively, this experience is set to be the complete opposite.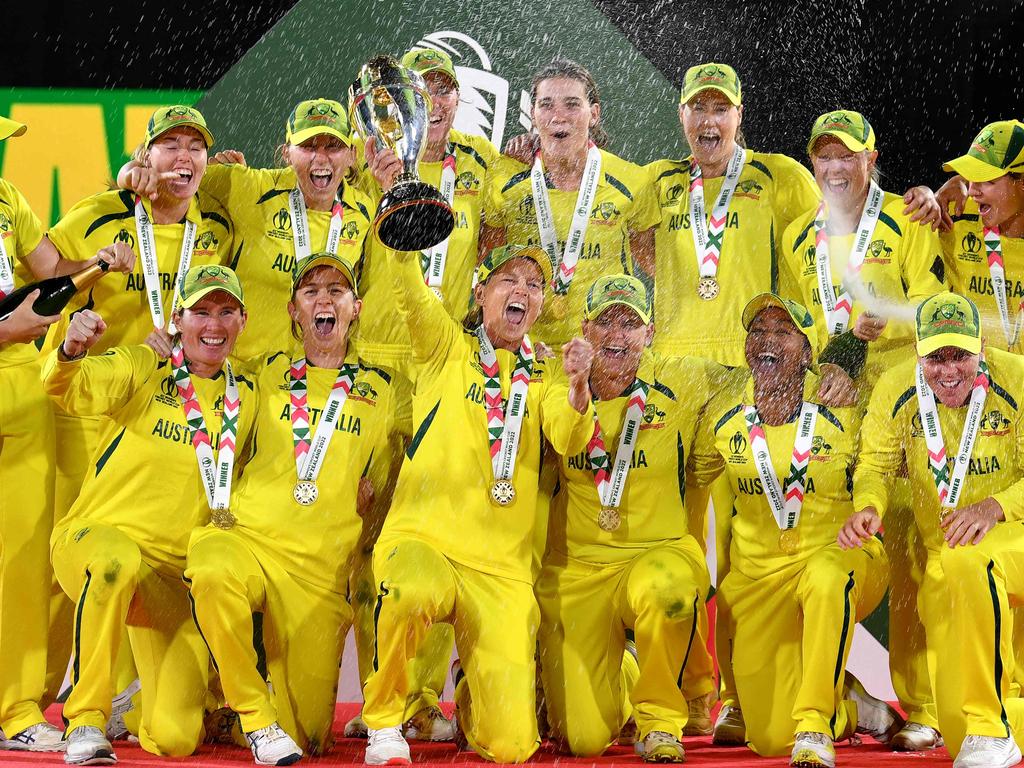 The Commonwealth Games is set to be a different experience for the all-conquering Australian team. Picture: Sanka Vidanagama/AFP
"I think it's a really exciting opportunity to be a part of it for the first time," Healy says.
"If we walk away with a gold medal or we don't, it's not a huge disappointment for our group. It's just gonna be a really exciting experience to go over there and cheer on all our Aussie athletes and hopefully do our best for the country and play some good cricket.
"I've heard we might be bunking it with the beach volleyballers and hopefully they're a bit of fun because we're pretty tame as a group. So hopefully they'll liven up the joint."
If Healy was to add a Commonwealth Games gold medal to her collection, she will have achieved almost everything there is as a cricketer.
And while she currently holds the Stealy Cup, the trophy she and Mitch play for on the golf course, there are no thoughts of a career change for a new challenge.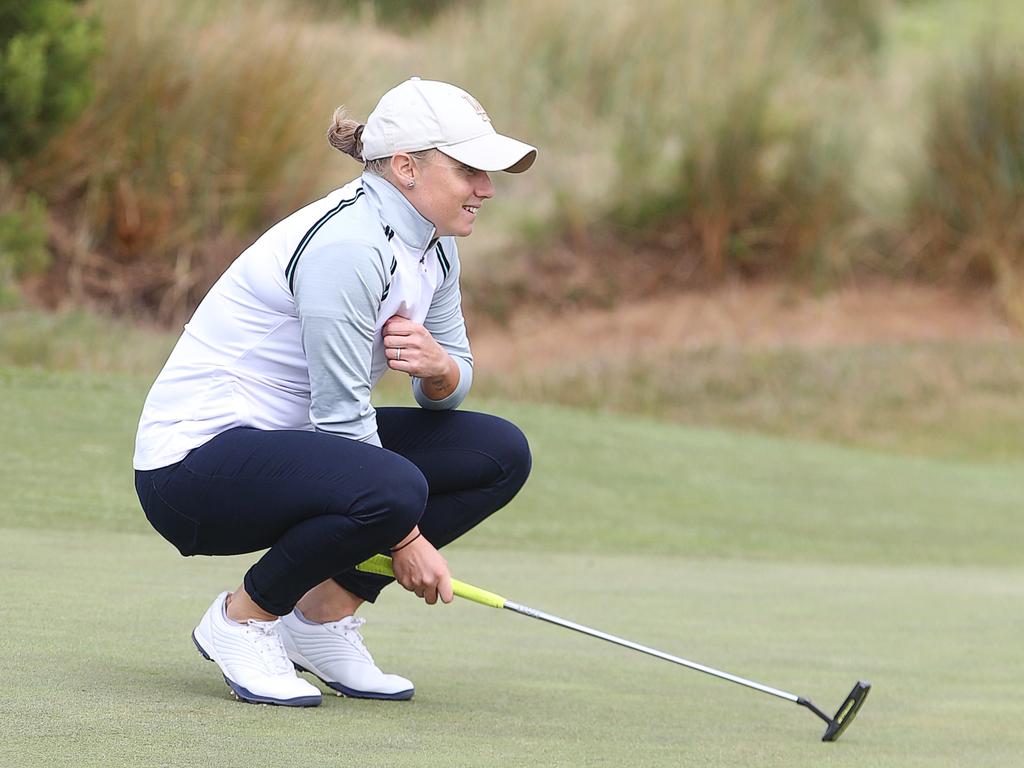 Healy played in the Victorian Open pro-am in 2020. Picture: Alan Barber
"People like to assume that it's easy to do, but I've been fortunate enough to be around a couple of professional golfers and see how hard they work. I don't think I'll ever get there," Healy says.
"Nor do I want to dedicate nine hours a day to swinging golf clubs.
"So I'll leave that to the pros who have done it their whole lives and I'll just blow on in and play the Thursday and the Saturday comp down at Long Reef."
Every round of the US Open is live and exclusive to Fox Sports, available on Kayo Sports from 9.30pm AEST.