West Indies v England: England face fifth successive series defeat – Joe Root will not survive this
Joe Root has been party to too many strategic errors — and too many batting collapses — to sustain this position, writes SIMON WILDE.
Root's cheap dismissal summed it up for England's frail top order. Picture: Gareth Copley/Getty Images
Joe Root has a decision to make over the next few days about his future as England captain. He will no doubt consult key advisers and may be encouraged to give it time, but defeat in this deciding Test match in Grenada — which is all but inevitable — and with it a fifth straight lost series can only mean one thing.
Had England won here, the mass overhaul of the team and the de-selections of James Anderson and Stuart Broad after the humbling in Australia could be justified. But defeat here will leave Root owning those decisions as well as a string of series defeats (technically, last summer's home series with India has yet to be completed, but England trail 2-1).
Arguing, as he has frequently done, that he is the best man for the job, is all well and good but the evidence of this shambolic third day's play suggested otherwise. He has simply been party to too many strategic errors — and too many batting collapses — to sustain this position.
This third day began finely balanced and in one of those situations that Root has often spoken about when it is necessary to seize the moment. Neither Root nor England did that. The first half of the day was as chaotic as anything we have seen this troubled winter. They spent the second half trying and largely failing to retrieve a hopeless position.
At stumps they were 103 for eight, a lead of ten. Kyle Mayers had the astonishing figures of five for nine, just the latest in a long line of seemingly innocuous bowlers to humble the might of the Three Lions.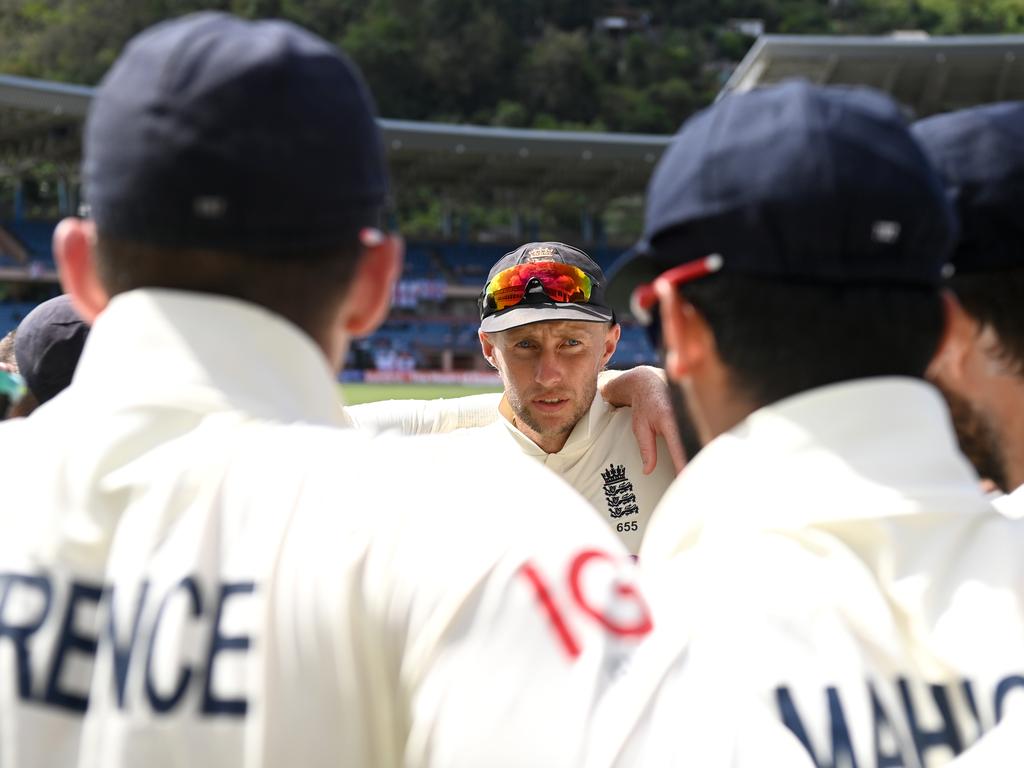 England captain Joe Root speaks to his team on Day 2 of their third Test match against the West Indies. Picture: Gareth Copley/Getty Images
With no spark of imagination, it took England two hours and 17 minutes to claim the last two wickets and by then West Indies had, thanks to a brilliantly calculated maiden Test century from Joshua Da Silva, extended their lead from 28 to a decisive 93. England's frustrations had left them hot, bothered and bewildered.
It was a terrible state in which to start the second innings. The pitch was playing reasonably well — how else could so many tailenders survive for so long? — but the real demons were in English minds.
Zak Crawley punched two boundaries, then drove hard at Jayden Seales — the No 11 who had shared a 52-run partnership with Da Silva, his club-mate from Trinidad — and was caught at second slip.
Root came in on a pair and for 20 minutes seemed composed enough. Then on came Mayers, who had dismissed him for a first-day duck with his gentle swingers, and within three balls Root carved at a wide ball he had no need to play at, and was caught at slip. Not in 117 Tests had a bowler twice dismissed Root as cheaply as Mayers did here. All Root could do now was watch.
Kyle Mayers took five wickets for only nine runs. Picture: Gareth Copley/Getty Images
To compound matters, Mayers quickly removed two batsmen desperate to avoid playing any shot at him at all — Dan Lawrence shouldering arms to a nip-backer to be bowled for a six-ball duck, and Ben Stokes trying to withdraw his bat caught behind by Shamarh Brooks, who temporarily took over the gloves from Da Silva, who was nursing a finger injury.
This left former Yorkshire team-mates Alex Lees and Jonny Bairstow to bat for their captain's future and for 24 overs they held firm. Survival seemed achievable as the ball aged from 18 to 40 overs old. Lees was dropped at point on nine but otherwise showed good judgment. Then Bairstow inexplicably swung at a short ball that failed to get up and he was caught behind. Four balls later, Ben Foakes ran himself out charging for a non-existent second run.
Badly wounded, England staggered into the lead, but when Lees was bowled by Mayers from a ball that scuttled the game was effectively up.
All credit to Da Silva for a remarkably composed hundred but England's tactics were too defensive. Da Silva is an accumulator not hitter yet when the ninth wicket fell Root set most fieldsmen deep and allowed him singles. At one point, ten overs passed without Seales facing a full over.
The innings ended in farce. Da Silva appeared to be caught behind off the next ball after his hundred and although he gestured for a review he walked off briskly. He was beyond the boundary rope when the not-out verdict came; the ball had hit his hip. When Craig Overton fielded the last ball of the over, he hurled it back in frustration and hit Da Silva on the leg.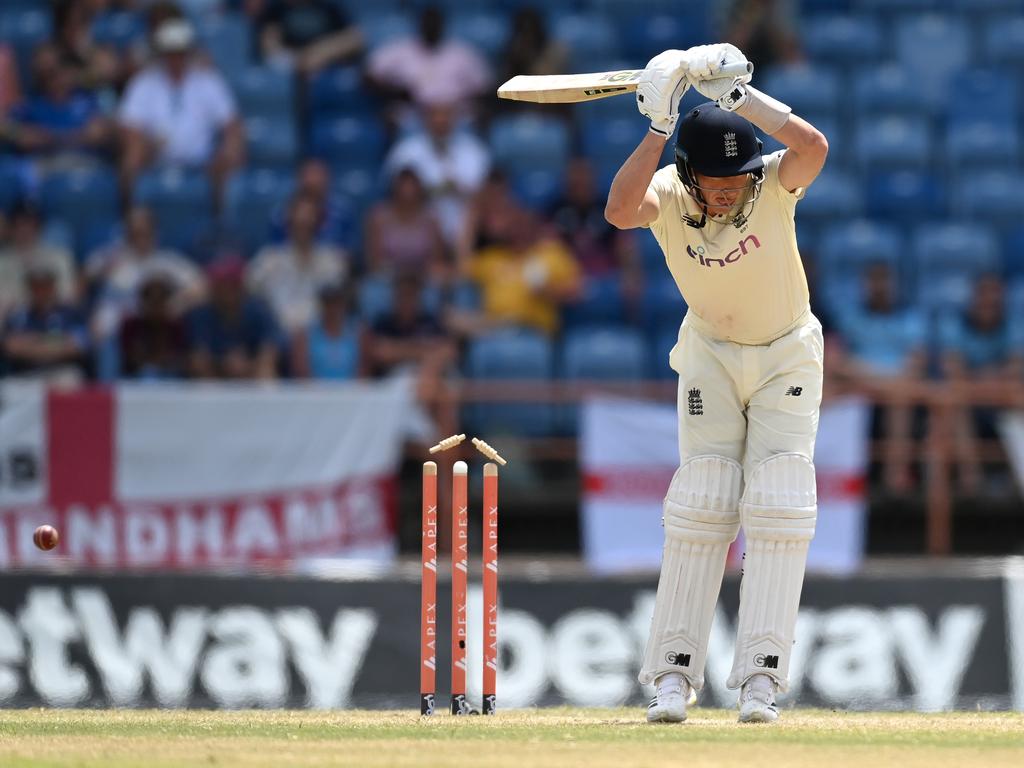 Dan Lawrence was bowled for a six-ball duck as England continued to make hard work of the final Test. Picture: Gareth Copley/Getty Images
Thankfully three balls later the innings was over when Root held a return catch off Seales, and everyone left for lunch to cool down. England's frustration was compounded by an umpiring error that afforded Seales a life before he had scored, but they only had themselves to blame for burning their reviews on the second day. This cost them 52 runs.
Seales joined Da Silva 20 minutes into the day after Kemar Roach fell to Saqib Mahmood to end a stubborn ninth-wicket partnership of 68, but if England thought their pain was over they were mistaken. Seales had never batted longer than 24 balls in a Test; he now more than doubled that. He even hit his first six.
Mahmood bowled a good first spell of 6-2-6-1. He had Roach caught down the leg-side seeking to fend a ball off his thigh and should have had Seales leg-before in his next over but the umpire, Gregory Brathwaite, erroneously gave it not out. There was nothing England could do.
Da Silva had only Seales for company but did not try to force the issue, controlling the strike and scoring when opportunities presented themselves. The pitch was not entirely straightforward: Da Silva, on 65, took a nasty blow on his right hand from Chris Woakes.
Sunday
West Indies v England
Day four
BT Sport 1, from 2.30pm