Why Andrew Symonds nearly punched-on with Benny Elias during Legends of Origin charity match
As an avid rugby-league lover, the late Andrew Symonds jumped at the chance to play in a charity Origin match in 2011. Blues legend Ben Elias quickly realised 'Roy' took the spirit of the Queensland jersey to heart, writes BRENDAN BRADFORD.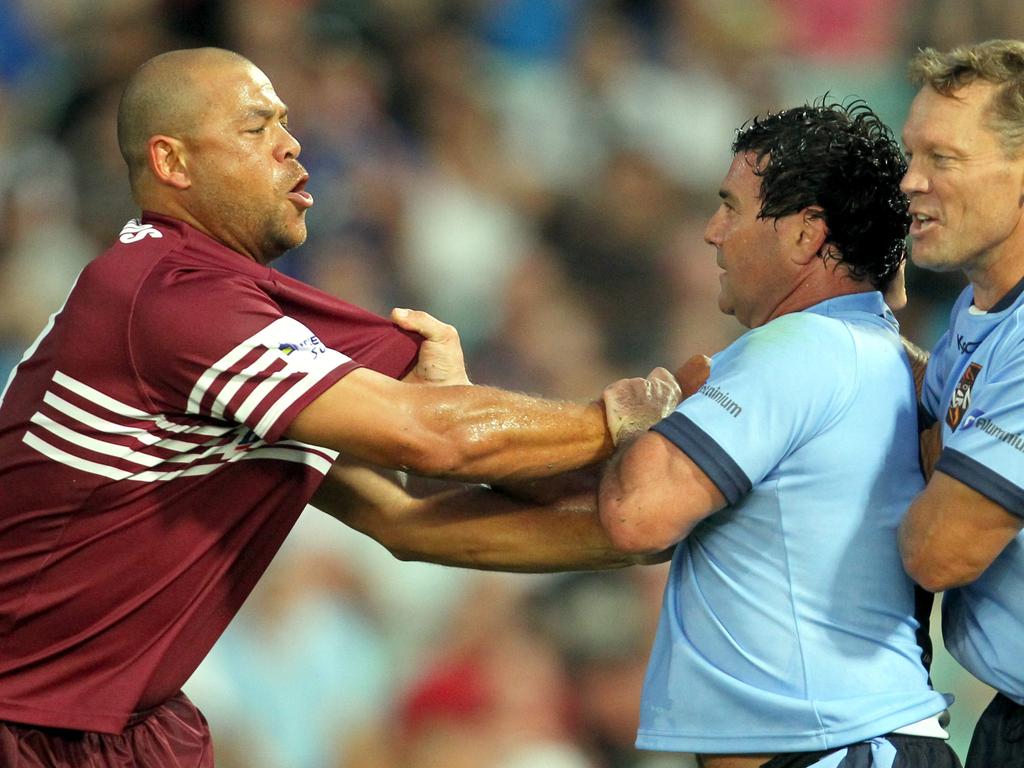 A rugby league tragic, Andrew Symonds went toe-to-toe with Benny Elias when they faced each other in a Legends of Origin charity match in 2011.
The Maroons veterans had been getting in Andrew Symonds' ear all afternoon.
"We hate that bloke, Roy," they told him. "Queenslanders can't stand him. You've gotta take him out."
That's what Benny Elias reckons anyway.
It was late January 2011. Devastating floods had ravaged large parts of Queensland that summer, and Blues veteran Mark Geyer had organised a Legends of Origin charity rugby league match at Parramatta Stadium to raise money for affected areas.
Behind cricket and fishing, rugby league was Symonds' greatest sporting passion, and, two years into his international cricket retirement, he jumped at the chance to play.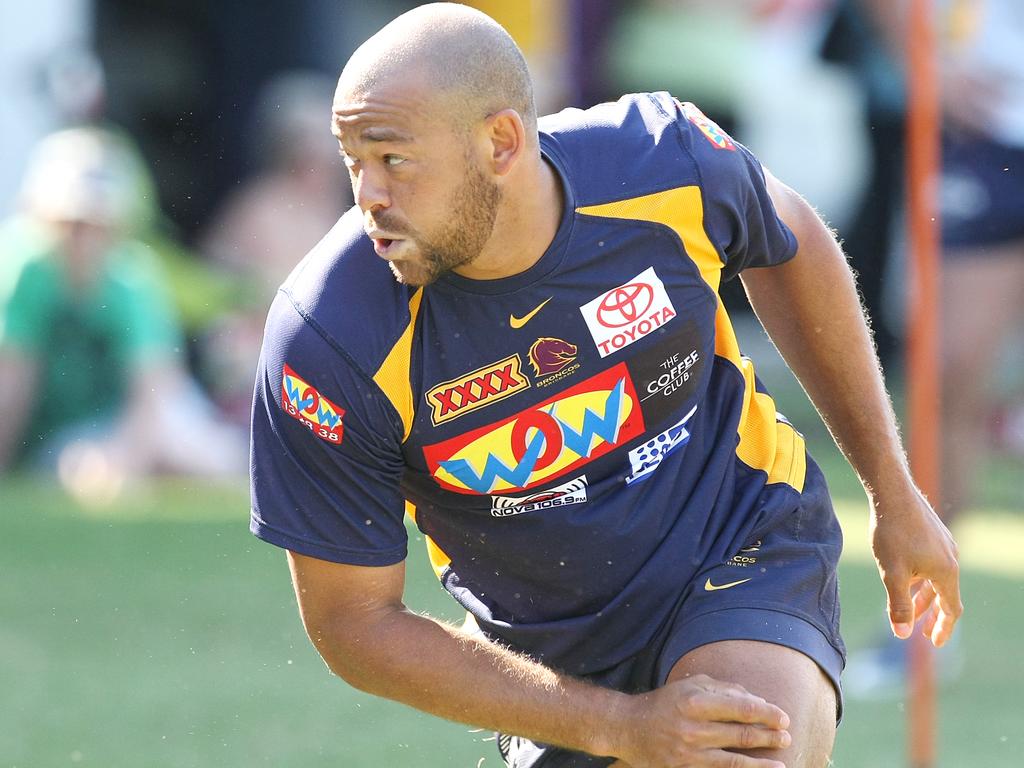 Andrew Symonds loved rugby league so much, he often spent time training with the Brisbane Broncos.
Symonds' favourite player as a kid, Wally Lewis, was coaching Queensland, while Phil Gould took charge of New South Wales.
Mal Meninga, Kevin Campion, Robbie O'Davis and Gary Belcher were wearing Maroon jerseys, while Elias ran out alongside Brad Fittler, Greg Alexander, Cliff Lyons and Mark Carroll.
Naturally, Symonds wanted to prove himself in front of some of the game's greats.
And his ageing Queensland teammates were only too happy to egg him on.
"They were geeing him up in the dressing room, telling him how much they hate Benny Elias," Elias laughs. "It was a charity game, but they took it seriously.
"Mal Meninga made it clear to him that 'this is the bloke we hate, and you've gotta go after him'.
"They were just winding him up."
Symonds puts a shot on Mario Fenech during the Legends of Origin charity match.
Lewis doesn't deny it.
"He (Symonds) wanted to prove that he could handle the physical nature of the game and he dived straight into it, with the guys egging him on," Lewis tells CodeSports.
"(He can) try and go out there, and let him be the one responsible for showing aggression.
"The other guys were retired, but to see him take it on was amusing – I don't know if Ben thought it was."
Besides, Symonds had form.
Social media in 2008 wasn't what it is now, but his famous shoulder charge on a streaker during an ODI against India at the Gabba would've gone viral in an instant.
"Having previously watched him smash a bloke who'd raced onto a cricket field, it was fairly obvious he was quite handy in the tackling department," Lewis says.
Nine years earlier, Symonds had also seriously considered ditching cricket in an attempt at playing in the NRL with the Broncos.
Andrew Symonds floors a streaker at the Gabba in 2008.
But, in January 2011, he was a man on a mission, finally free to give footy a fair crack, and eager to prove himself.
It was a charity match, played over four 15-minute quarters, but with more than 20,000 people in the stands, it was still intense. Tallis and Carroll both had steam coming out of their ears at times.
After starting on the bench, Symonds' first meeting with Elias came in the dying seconds of the first quarter when the Balmain legend launched himself at Symonds' shoulders and wrestled him to the ground.
"Like a Dessie Hasler tackle," Belcher remembers. "Just jumping on him."
Symonds didn't take too kindly to the tackle, and, in no uncertain terms, let Elias know about it.
The pair squared up, shirt-fronted one another and exchanged pleasantries while Rod Wishart stood at marker laughing.
One tackle later, as the siren sounded to end the quarter, the pair had to be separated again, with Geyer, Carroll, Mat Rogers and Adrian Lam all involved.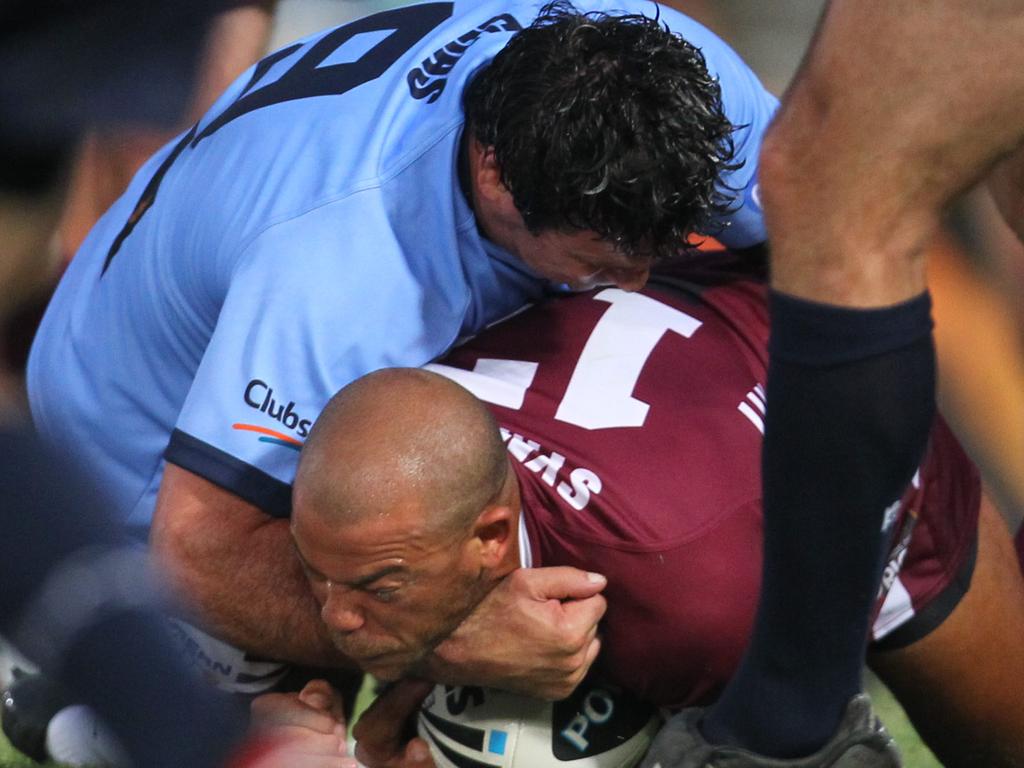 The tackle that started it all.
Contrary to rumours that have circled ever since, Elias didn't mention Indian cricket or Harbhajan Singh.
"No, when we were holding each other by the jersey, he just said, 'Queensland hates you,'" Elias says.
"I just said, 'Mate, all of Australia hates you!'
"He'd just had a bit of drama and controversy prior to the game. But that was the banter – it's just what it was.
"You leave it all on the football paddock and we had a beer and a good laugh later that night."
Plenty of players have worn the famous Maroon jersey, but not all of them can say they've been sledged by Benny Elias while doing so. It's a rite of passage in many ways.
"Absolutely, when you're wearing a Maroon jersey," Belcher says of the sledging. "And we were just as thrilled to be playing alongside a cricket legend as he was to be playing in a Maroons jersey. It was great."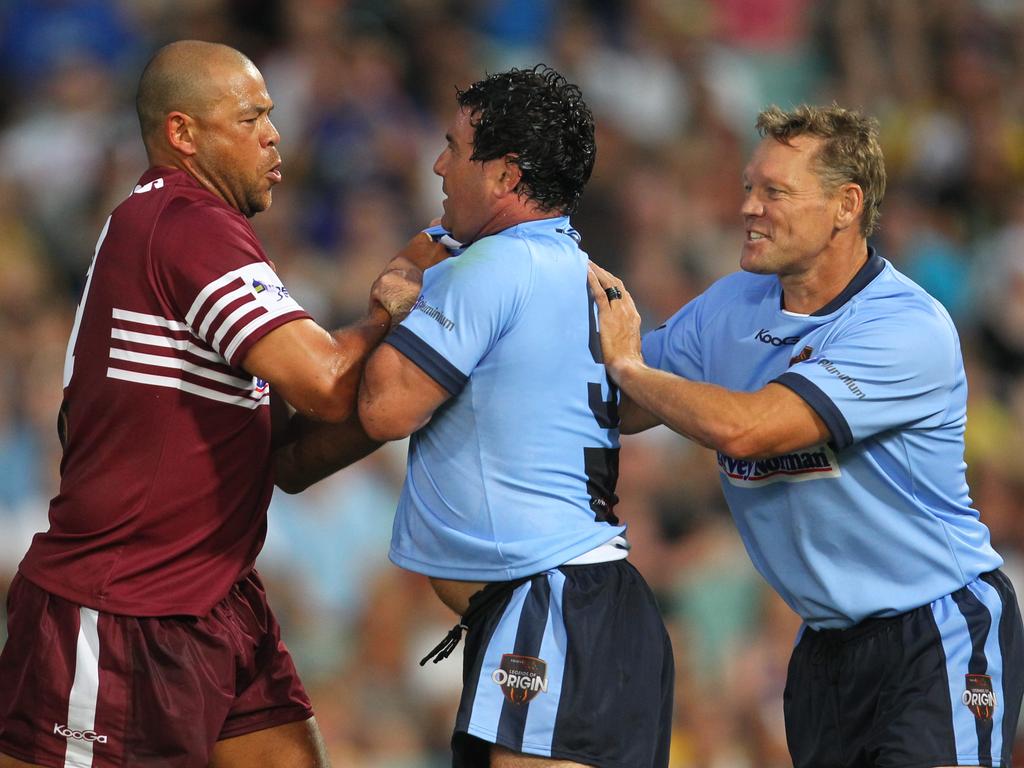 Symonds and Elias get acquainted, while Rod Wishart watches on with amusement.
The fire of the first quarter of the match, as well as the Symonds-Elias rivalry, soon gave way to ageing legs and aching lungs and Queensland won 20-16.
"Me and Roy had a bit of a one-on-one, but we had a laugh about it after the game," Elias says.
"He was a lovely, knockabout bloke. Even for a Queenslander he wasn't a bad fella."
Stats of that charity match don't exist, but the whole game is available on YouTube.
The footage shows Symonds, bald-headed with tape around both knees, playing with a workmanlike intensity.
"He was super-keen, just jumping out of his skin to play," Belcher says. "I don't know whether he went off the field.
"I think he played the whole game after coming on. Whereas blokes a bit older, like me, were trying to sub on and off the whole game."
Although he hadn't played footy at a high level since his school days, Symonds was hardly out of place.
"You could tell he'd played a bit of footy, but you could also tell he was a cricketer playing footy," Belcher says. "Probably a bit like Wendell and Alf playing in those Masters games.
"They go all right, but if they played at a serious level, they'd be a bit out of their depth.
"But he just loved it, mate. He loved it."
Andrew Johns, who was on commentary alongside Roy and HG, had dished out his fair share of insults to some of his former teammates and adversaries, but reserved high, if brief, praise for Roy: "Andrew Symonds – he could probably play," he said after full time.
Lewis goes even further.
"Oh, it seems that way," he says when asked if Symonds could have made it in the NRL under different circumstances. "I think all sports people love to think they could do it in another sport.
"Watching him that night, he certainly wasn't short of courage. I've got no doubt he was born with a skill.
"Could he have done more than that? Well, the great ones usually do."
Symonds' tragic death in a car accident this week hit Elias and Lewis hard.
Roy wasn't one of a kind, but he was the last of his kind.
"It was only half-pie fair dinkum, but at the end of the game, we were all good," Elias says.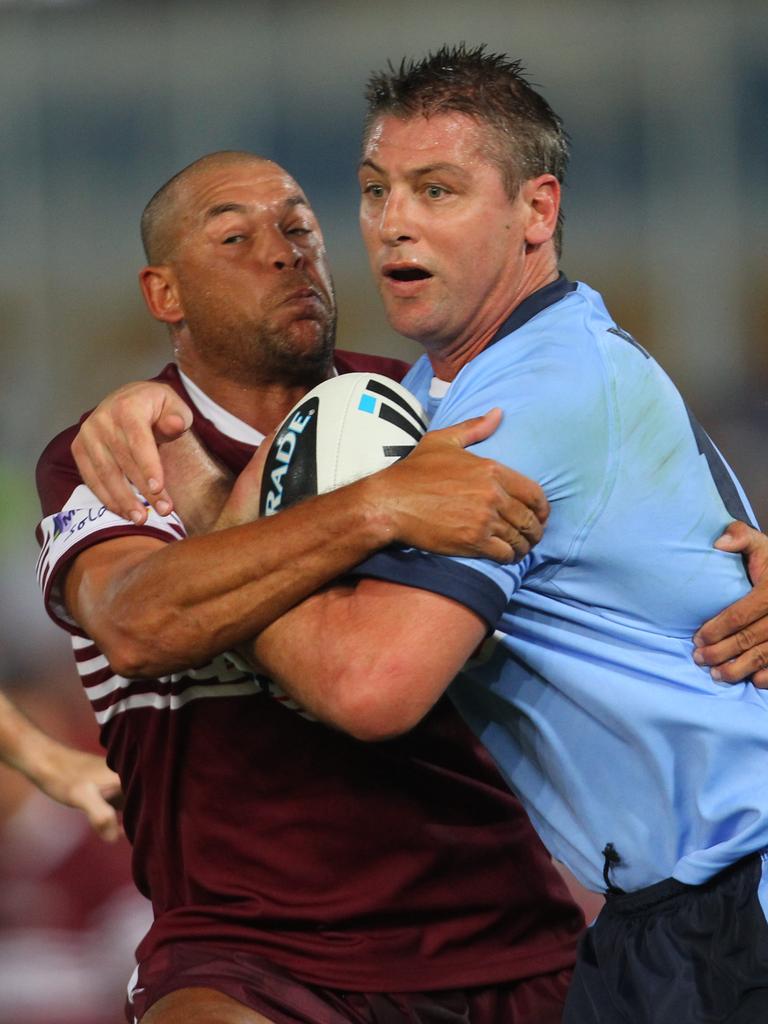 Symonds puts a nice one-on-one tackle on Luke Ricketson.
"That's how he played his cricket. He was aggressive and flamboyant.
"He was a character. He was probably the last of the larrikins, old Roy. He was so great to watch.
"I saw him many times since, and saw him a lot when we were both working at Fox. We'd always have a chat and a chuckle about that incident.
"It was all in love at the end of the day. It was for charity and we both came off the field respecting each other.
"What a lovely man."
The tragedy hit Lewis even harder.
When the Queensland great was going through some tough personal problems, Symonds was one of the first people to check in.
"We spent a bit of time on the phone and he lent his support, which was very much appreciated," Lewis says.
"Sports people and sports fans are just shattered today. Particularly when it's somebody who carried the weight of a nation on his shoulders on many occasions.
"The sadness is on display and this is one of those occasions where, it doesn't matter how tough you are, you'll be swallowing pretty hard today."