Women's cricket emerging as immense betting market, but integrity experts are on edge
Betting on women's cricket has increased at a truly jaw-dropping rate. See the staggering numbers and find out how the game's leaders are trying to stay ahead.
Cricket Australia has reinstated a crucial integrity job it slashed during Covid to bolster its assault on corruption amid an explosion of betting on the women's game.
Since the advent of the Women's Big Bash League in 2015-16, cricket insiders say betting on women's cricket has increased at a stunning rate of 800 per cent year on year.
Bookmakers estimate women's cricket has become the most wagered on women's sport in the world behind the well-established WNBA basketball and Grand Slam tennis, and it's not unusual for a regular game of WBBL to now trade in excess of $10 million on a betting exchange like Betfair.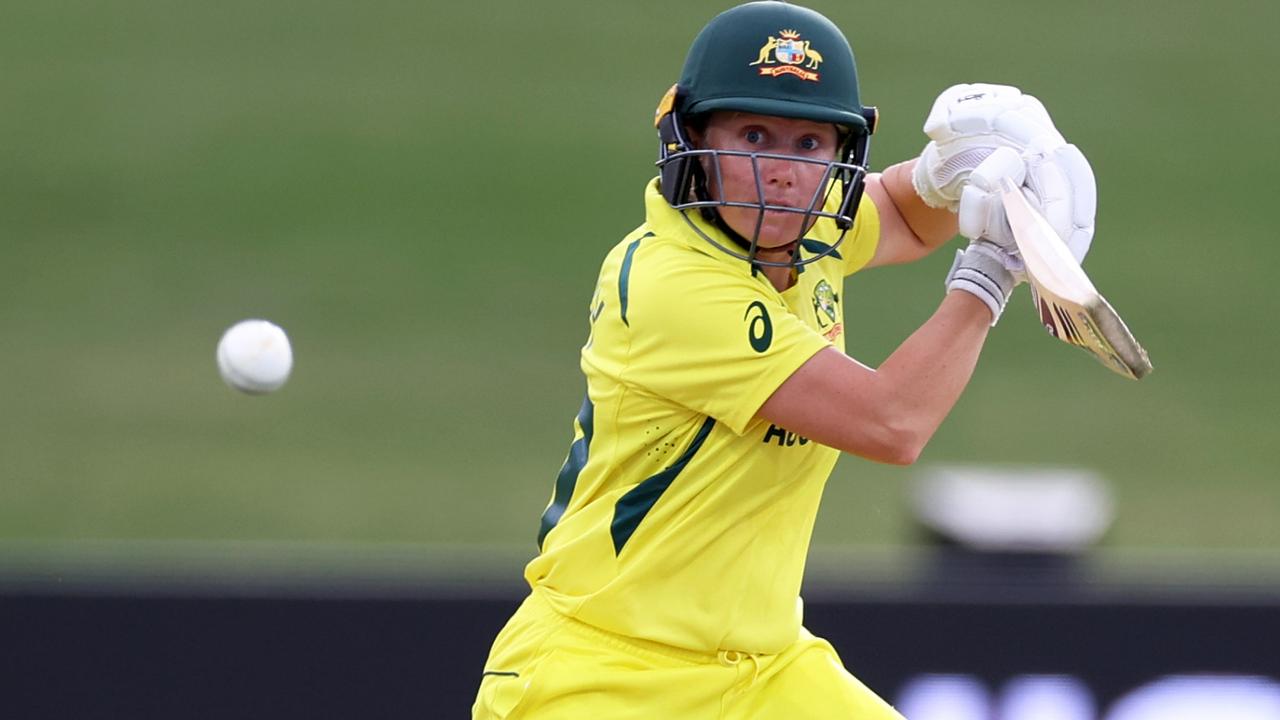 Alyssa Healy and her World Cup teammates currently over in New Zealand were sat down by International Cricket Council officials for a full anti-corruption briefing. Picture: Fiona Goodall/Getty Images
There are over 1000 betting outlets internationally where punters can bet on matches at the current women's World Cup in New Zealand — but also countless illegal betting rings operating mainly out of the subcontinent, who also now have an interest in the women's game.
With women's cricketers largely underpaid compared to their male counterparts — particularly overseas where the tentacles of the game's seedy underbelly spread wide — integrity experts fear women's cricket (along with underage cricket) has become the biggest risk area when it comes to anti-corruption.
Cricket Australia is beefing up its resources to handle the threat by advertising for a new 'Integrity Analyst' to join its team headed up by Head of Integrity Jacqui Partridge.
Eyebrows were raised at the onset of the COVID-19 pandemic in 2020, when Cricket Australia made the key intelligence gathering position redundant as part of 40 job cuts across the board.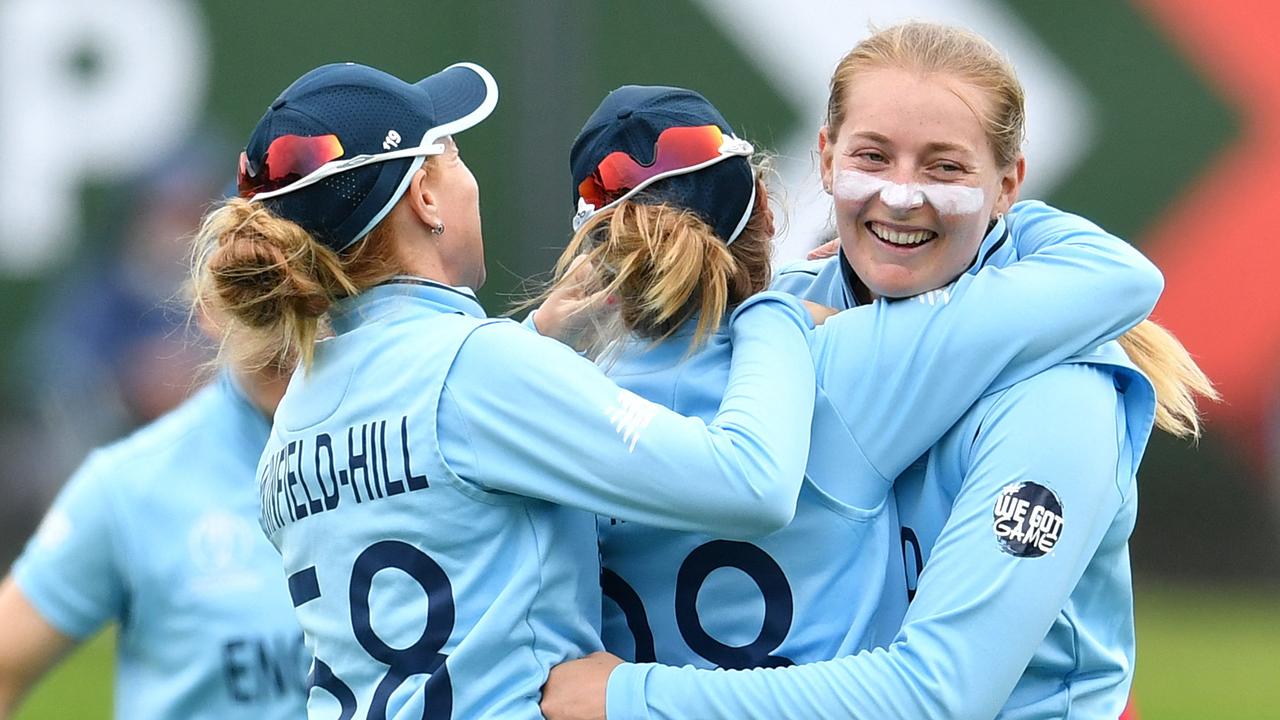 England's Sophie Ecclestone (right) celebrates the dismissal of West Indies Kycia Knight during a women's World Cup match between England and West Indies. Picture: Sanka Vidanagama/AFP
By doing so, industry insiders felt CA had reduced its capacity to protect the game and questioned why it was cutting from a department of the organisation that should have had its maintenance paid for by the substantial product fees cricket garners from sporting companies annually.
Instead, the Integrity Analyst role since 2020 has been performed by combining Security and Anti-Corruption Manager and integrity support roles and supplemented via the provision of additional services by global sports data company Sportradar.
However, News Corp can reveal that is all set to change as the game reacts to several changing trends such as the influx of a multitude of new online betting providers in the market and the opening of new markets in countries like the USA.
News Corp understands CA has in recent years had more reports of suspicious approaches made to women's cricketers — especially in the WBBL — than it has in men's cricket.
That is why the 'Integrity Analyst' is considered a vital weapon in monitoring betting patterns continuously so that intelligence can be analysed against what is coming up.
It's understood the 'Integrity Analyst' will have a significant role in developing deeper relationships with betting entities for reporting purposes as well as regulators and shows the game is taking seriously the fact women's cricket has become a lucrative sports betting heavyweight in its own right.
The fact women's cricket competitions around the world are increasingly being televised as the game grows means it will more and more become a target for corruption. Picture: Marty Melville/AFP
"CA is aware that betting in women's cricket has increased significantly. But we have a huge number of preventive and educational measures in place and several codes and policies to ensure the integrity of cricket and the safety of all our participants," Partridge told News Corp.
"We work closely with the ICC and other national cricket anti-corruption units, law enforcement and betting providers to enforce a strict anti-corruption process and to share intelligence.
"And we know we have to remain vigilant with regard to any potential integrity threats to all our participants and across all matches and we are constantly monitoring the changing landscape to identify emerging risks."
Betting on women's cricket is growing exponentially.
"When the women play, it's all over the TV. We feel in the WBBL, it went to the next level this year," said Gerard Daffy from the TAB.
"It's not as big as what men's cricket betting is. But having said that, it's got a pretty good stranglehold on women's sports betting."
Cricket Australia has a proven record at keeping the WBBL and its domestic women's competitions safe from the evils of corruption — but the warning bells are there that constant vigilance is required.
News Corp has spoken to one international commentator who was approached about weather conditions during her playing days.
The incident occurred since the advent of the WBBL era, and was immediately reported to authorities after a shady character had made an approach on social media.
Last year at a WBBL match at Blacktown in Sydney's west, cricket officials spotted what's known as a 'pitch sider' operating.
Pitch siders try and take advantage of delays in television broadcasts overseas by calling in reports of live action for punters offshore to get bets on knowing what's about to unfold in the play.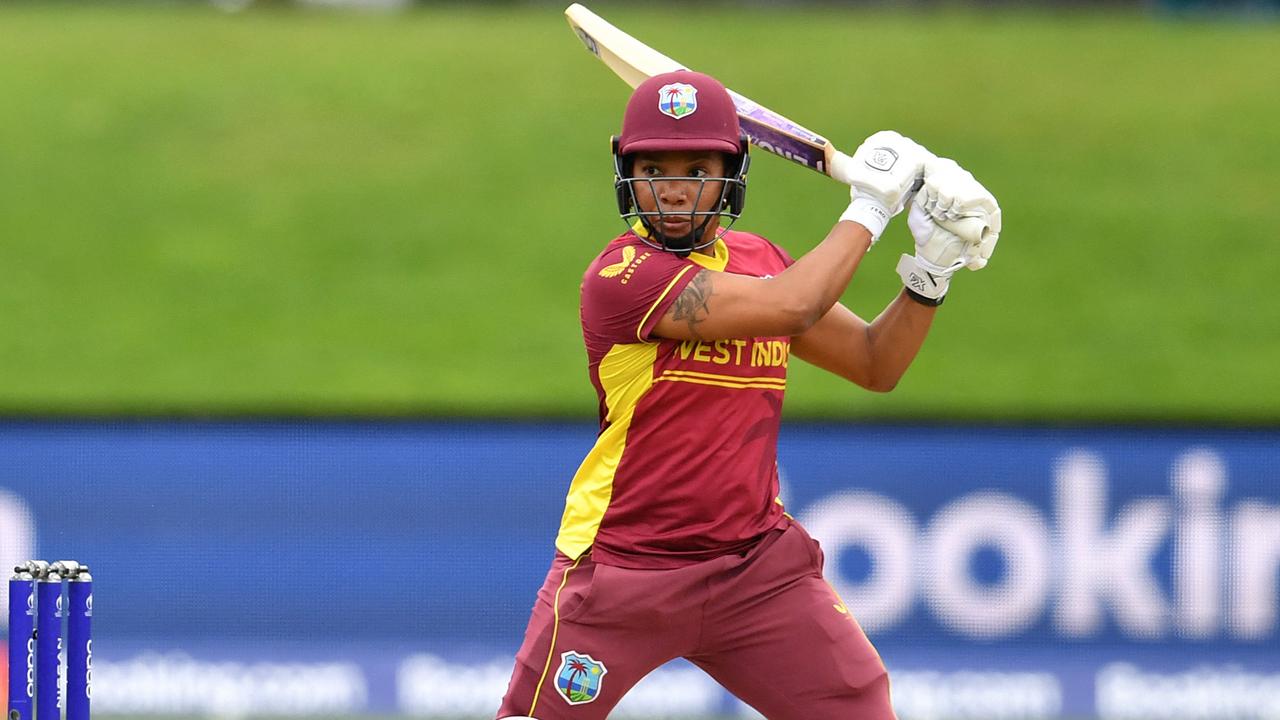 Chedean Nation bats during the women's World Cup match between England and West Indies at University Oval in Dunedin. Picture: Sanka Vidanagama/AFP
It's not match fixing because it doesn't involve players, but it is a manipulation of betting markets which concerns authorities about the potential for that sort of opportunity to be exploited by criminal activity.
WBBL matches at suburban venues like Blacktown and Drummoyne Oval are vulnerable to pitch siding — as well as more sinister anti-corruption threats — because they are essentially open parks that are more difficult to control and keep secure than big stadiums.
Pitch siding operators for example can sit outside the venue and still view the match without being in breach of their entry terms and conditions.
Cricket investigators have found in the past examples of illegal betters in India and the subcontinent who would bet against betting exchange agencies like BetFair and use pitch siders at the match to get a head start based on broadcast delays.
Betfair has a five second delay on placing bets on live play to protect itself as best it can from exploitation.
Some insiders there is a far greater soft spot for the game that has emerged this summer.
All Premier grade cricket in NSW and Victoria is now live streamed online and agencies have started to run markets on these matches which have no integrity controls over them.
For example, WBBL and BBL cricketers have to hand in their phones before entering the Player and Match Official Access zones, but in premier cricket, players can still have their phones with them.
In late 2019, Cricket Australia's integrity chiefs were heavily criticised for throwing the book at Hobart Hurricanes player Emily Smith for innocently breaching the game's anti-corruption laws by posting a team sheet as a joke on social media.
Smith had no intention to put inside information into the public domain, she was merely making a joke at her own expense about her lowly position in the batting order — and in any event the match was rained out and never went ahead anyway.
Cricket Australia enforced a hard line 12-month ban on Smith for breaching anti-corruption rules, which was accused of being heavy-handed due to the mitigating factors outlined above and the fact she was on a small salary as a fringe female player.
However, supporters of CA's stance pointed to the fact you can influence just as much betting revenue as a female as you could a male, plus Smith and all Australian players are heavily educated on anti-corruption rules and regulations.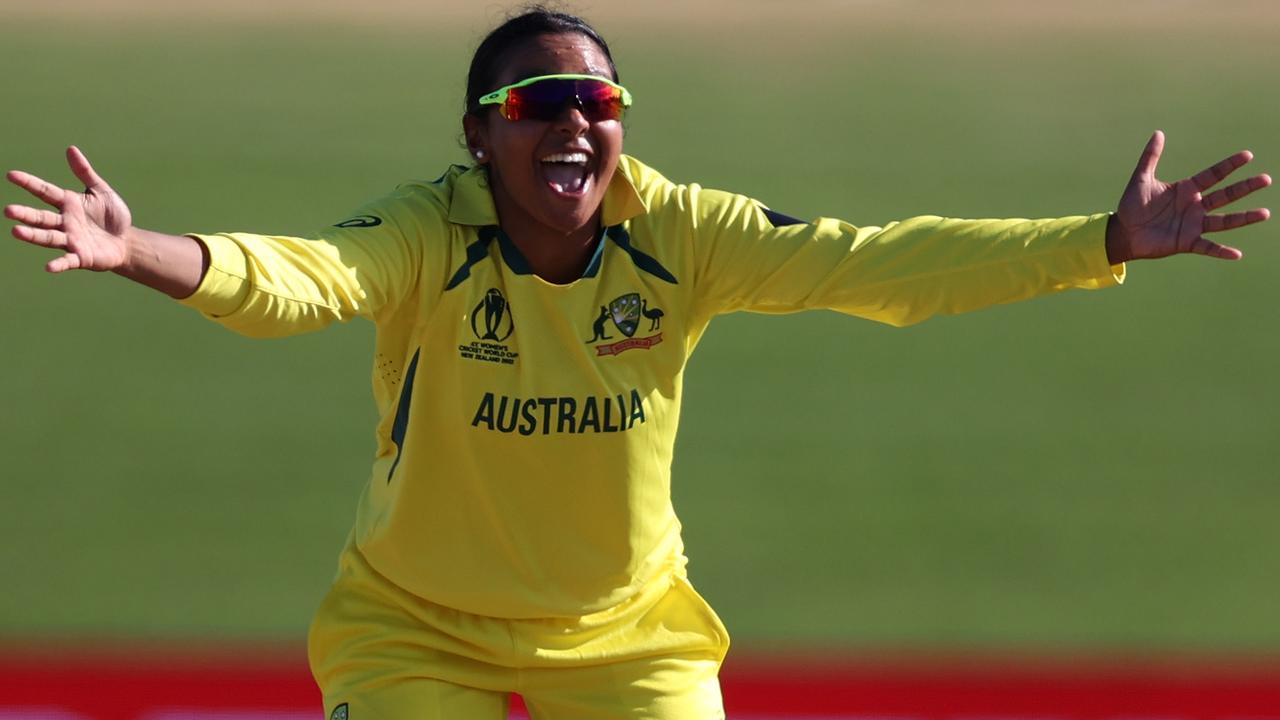 Cricket Australia also undertakes its own education programs tailored specifically to each level of the game. Picture: Fiona Goodall/Getty Images
It's the same for Australia's World Cup squad currently over in New Zealand who were sat down by International Cricket Council officials for a full anti-corruption briefing before the start of the tournament.
The fact women's cricket leagues and competitions around the world are increasingly being televised as the game grows means it will more and more become a target for corruption.
But ICC Integrity boss Alex Marshall says unlike in the Australian domestic ranks, in the international game at this stage the number of illegal approaches to female players are far less than what's seen in the men's game.
Even so, the ICC is exercising vigilance at the World Cup.
"Up to a year out, we ensure we have good relationships with the law enforcement in the country because in New Zealand and Australia for example, match fixing and corruption in sport is a crime," Marshall told News Corp.
"Where appropriate and where it's legal to do it, we will share the information about known international corrupters who might try to come to that country during the World Cup so that if that country wants to, their border agency can use those details to prevent those people coming in.
"Then we do an assessment of which teams are the highest risk and we get in early with those teams to do additional educational sessions. Then we deploy an intelligence team of two people to be in country prior to the event and for the entire event.
"We have four anti-corruption managers at every match, we have intelligence coverage at every match. We are doing what we can to monitor all the active corrupters who we think might pop up and then we have an investigation team back in Dubai who would pick up any investigations and would deploy to New Zealand in the case of a significant investigation being undertaken.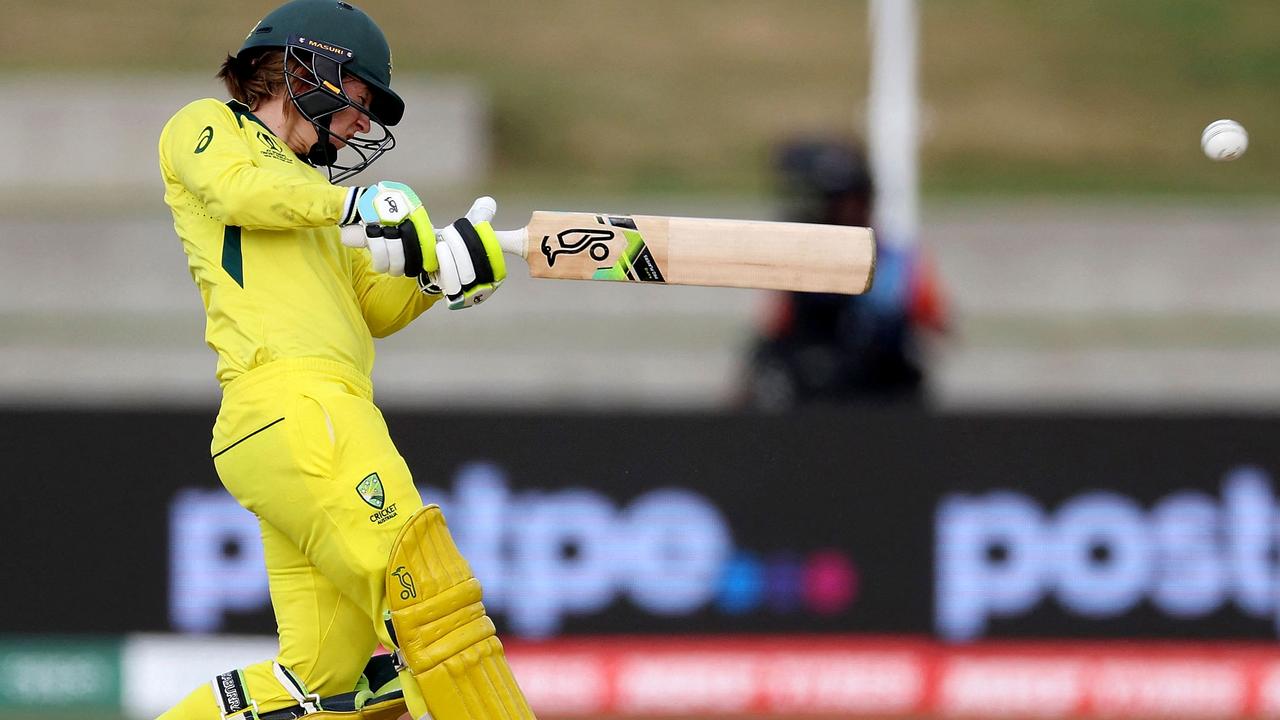 Betting on women's cricket is growing exponentially. Picture: Marty Melville/AFP
"Every single team has a full education session prior to the start of the tournament where they get the latest on corruption, anti-doping and safeguarding."
Cricket Australia also undertakes its own education programs tailored specifically to each level of the game and deploys security and anti-corruption staff to all domestic matches.
Sportradar, an international bet-monitoring service, uncovered suspicious activity in 903 matches in 10 different sports worldwide last year in 76 countries.
It is the highest number of suspicious matches recorded in their 17-year history but it still remains a largely male sport area of concern.
"Sportradar detected six suspicious women's matches globally in 2021," a Sportradar executive said.
"This is in keeping with recent trends and while suspicious matches have been detected in several women's sports, match-fixing for betting purposes is overwhelmingly detected in men's sport.
"Up to this point, we have never detected a suspicious match in women's cricket.
"Betting coverage and interest in women's sport continues to grow all the time so this is something we continue to keep a close eye on."