Women's World Cup: Cricket's biggest hitters to face off in Aus V NZ clash
New Zealand boasts four of the most dangerous batters at the World Cup and Aussie skipper Meg Lanning is under no illusions about the challenge her bowlers will face.
Quickly – that is how Australian captain Meg Lanning plans to deal with New Zealand's power hitters in tomorrow's World Cup clash at Hamilton.
Australia's campaign is off to a blistering start with two wins from two games, including one over reigning champion England.
Host nation New Zealand are coming into form with two consecutive wins, after losing by just three runs to surprise contenders West Indies.
Top-three batters, known as some of the biggest hitters in international women's cricket, Sophie Devine and Amelia Kerr have proven tricky for bowlers to dismiss.
Devine has so far this World Cup knocked 108, 14 and 35 in the first three games, while Kerr has hit home 13, 47 (NO) and 50 runs.
With all-rounders Ashleigh Gardner and Tahlia McGrath back at training this week Lanning said which players made the starting 11 would come down to the conditions and match ups particularly against powerhouse batters Devine and Kerr.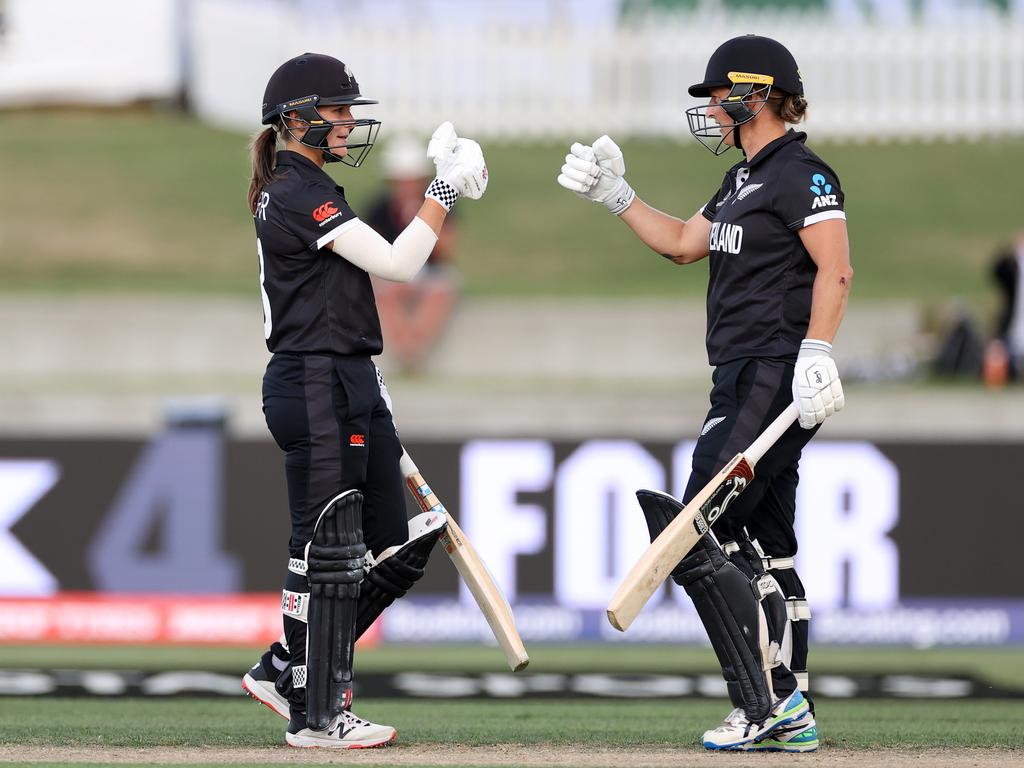 Sophie Devine and Amelia Kerr pose a huge threat for the Aussies. Picture: Fiona Goodall/Getty Images
But Lanning has a simple plan to deal with the Kiwi batters – get them out early.
"We plan to be really aggressive upfront and make sure we're bowling at attacking areas and trying to take wickets," she said.
Lanning remained tight-lipped on whether they would play the dangerous leg-spinning duo of Alana King and Amanda-Jade Wellington.
"We need to make sure we have some variation and options within our line-up because we have seen throughout this tournament that once batters get set it is pretty hard to stop them from scoring big," Lanning said.
"We played two leg spinners last game against Pakistan and that showed we were willing to do that depending on conditions and match-ups."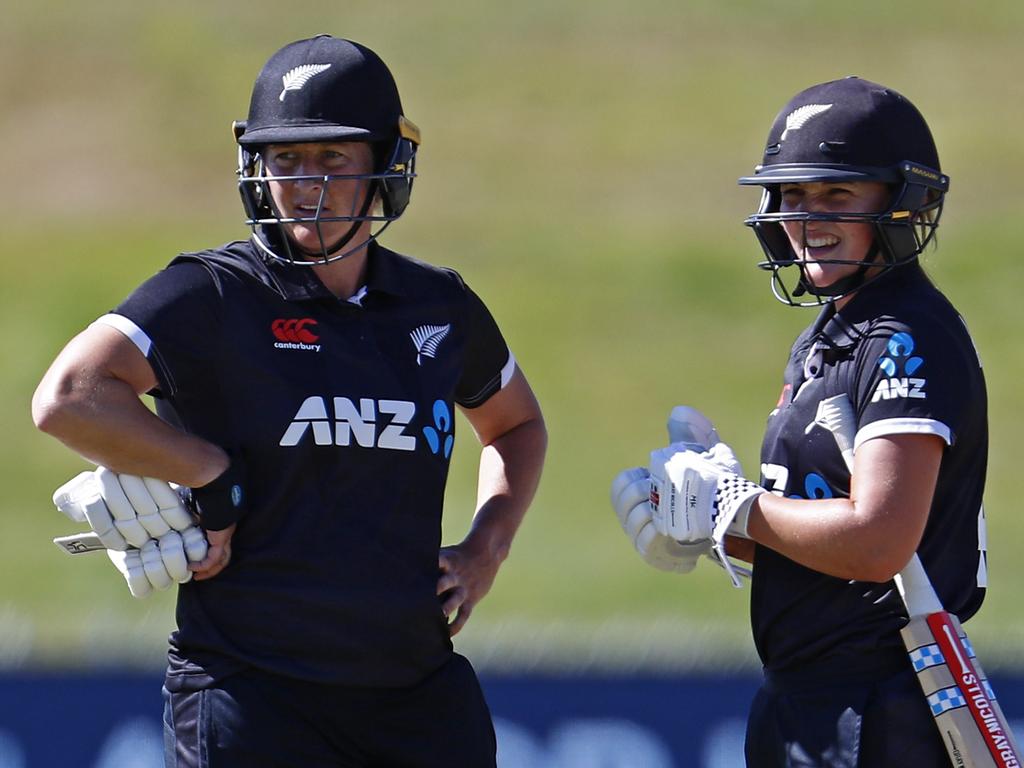 Devine celebrates a wicket with Jess Kerr. Picture: James Allan/Getty Images
Aside from the pre-tournament warm-up win Australia haven't lost an ODI against the Kiwis since 2000.
The game is set to be played at the Basin, in Wellington – the two sides haven't met there for an ODI since 1999.
A blustery southerly wind has been predicted. Lanning said all they could do was be prepared as possible and willing to adapt.
"There is a lot more pressure around, this is a big game, there is no doubt about that," Lanning said.
"So realistically, whatever has happened in the past, whether it is internationals or warm-up games, I don't think that counts for a lot tomorrow.
"It's whoever plays the best on the day and is able to handle the big moments.
"We feel like we have done that well so far this World Cup, but we are going to have to bring that tomorrow against a firing Kiwi line-up who is playing with confidence."
With just the top four eight teams progressing to the semi-final, every game is important.
Meg Lanning says her side has to be at its best against the Kiwis. Picture: Fiona Goodall/Getty Images
CLOSE MATES BECOME FRENEMIES IN WORLD CUP BLOCKBUSTER
They are close friends and teammates but the WBBL's most feared batting duo will leave all that in the dressing room when they go head to head at the World Cup on Sunday.
Queenslander Mooney and Kiwi all-rounder Devine have been Perth Scorchers' opening batters for two years, combining last season for an amazing 935 runs and spurring the side to a top of the table finish.
Their impressive efforts earned them a spot at the top of the WBBL All-star team for the third year running.
Perth Scorchers coach and Australian Women's assistant coach Shelly Nitschke said anything could happen when Mooney, 28, and Devine, 32, were at the crease, especially with valuable World Cup points on the line.
"They are friends and get on really well but they are both fierce competitors," Nitschke said.
"They love opening the batting together and have real mutual respect for each other.
"But there is nothing holding them back and they will both want to be putting their best foot forward."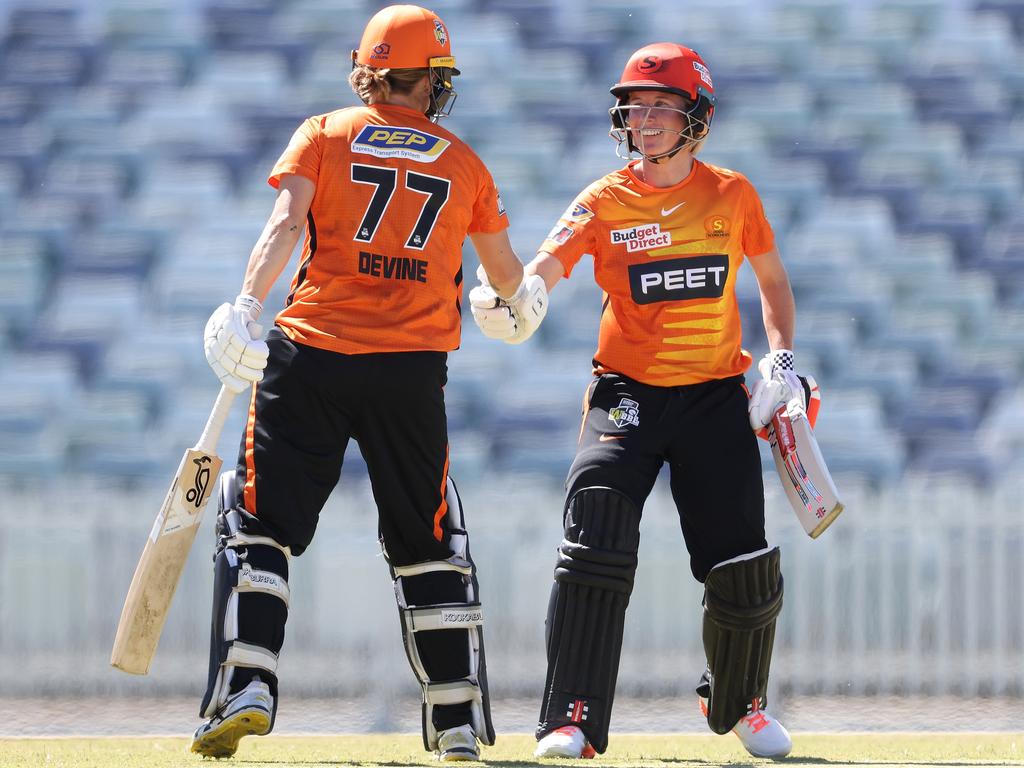 WBBL Scorchers teammates Sophie Devine and Beth Mooney will go head to head at the Women's Cricket World Cup on March 13. Picture: Paul Kane/Getty Images
Nitschke, a former Australian all-rounder, said putting two of the world's best batters together always guaranteed a high-quality training session. While the pair have similar strike rates across all forms of the game both have very different batting styles – not just because Mooney is left-handed and Devine right-handed.
Devine is the biggest hitter of the two and the most likely to knock it into the grandstand.
"She has got one of the biggest hits in world cricket and no one is going to top that," Nitschke said.
"I don't think anyone hits the ball longer. She is a power hitter and loves to hit sixes.
"Moons has the ability to score all around the ground, long and straight. She can accumulate runs and find a boundary when she needs to.
"Moons might not hit many sixes but they both score at a very quick rate."
Nitschke said Mooney and Devine knew each other's games as well as their own and with a World Cup on the line that information was all fair game.
"Sophie will be giving the New Zealand players a lot of info about Moons and Moons will be giving information about Sophie's game to the Aussies," she said.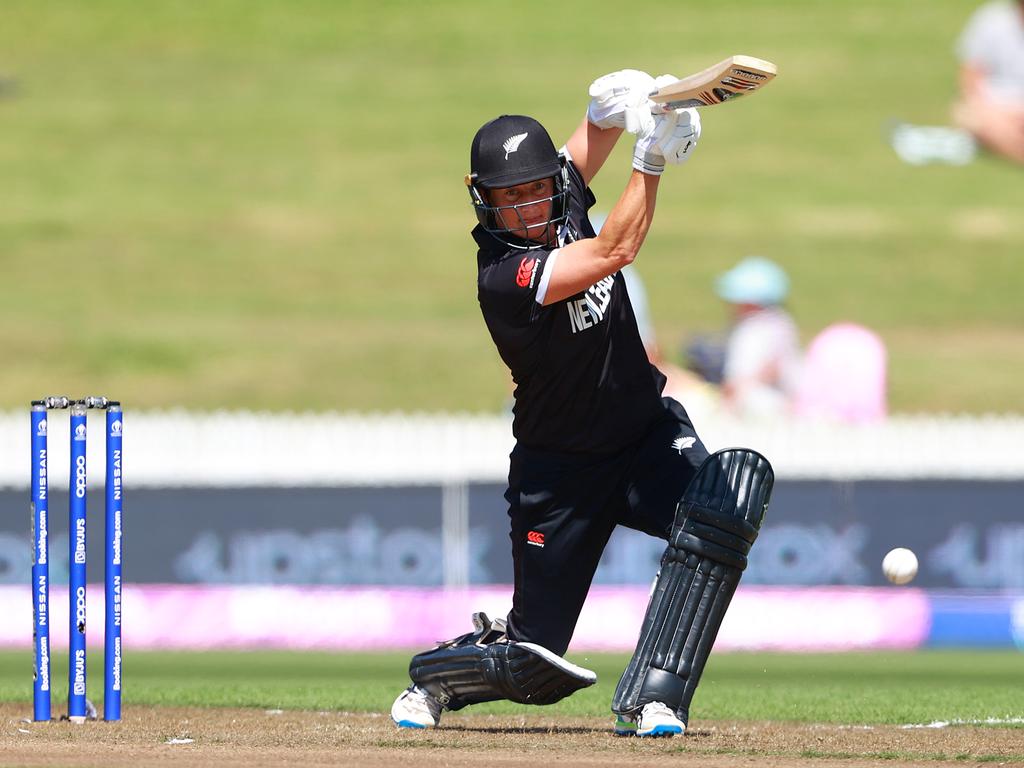 New Zealand opening batter Sophie Devine is the biggest hitter in the game. Picture: Phil Walter-ICC/ICC via Getty Images
It is hard to compare Mooney and Devine's ODI statistics with Mooney batting fourth and fifth and Devine opening for NZ.
Nitschke said they both had different roles – Devine's being to set a good pace for her team and Mooney's is to assess the situation.
"It is always interesting when you come up against a teammate in another format as you have to work out ways to get them out," she said.
As an all-rounder Devine could play a direct role in sending Mooney, a middle-order batswoman, back to the sheds.
"I'm sure she has bowled to her plenty of times, either against her when she played for Adelaide Strikers or in the nets – I'm sure she has plenty of ideas both on her bowling and stuff to pass on to the rest of the team," she said.
Nitschke has also been sharing a few trade secrets about Devine with the Australian team.
"No secrets are off limits when you are talking about a World Cup, that is my role as assistant coach and everyone understands that. To be honest there is not a lot I can tell our players that they don't already know about the opposition," she said.
"A lot of players come out and play in the WBBL and the women play in other competitions all around the world."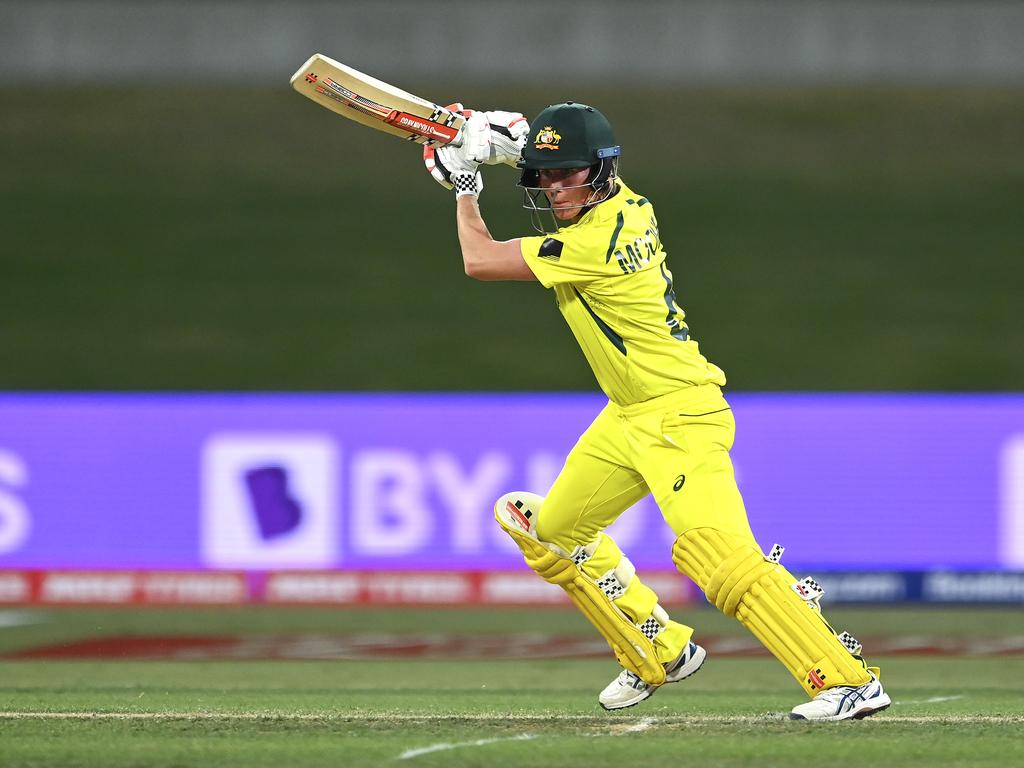 Beth Mooney of Australia plays a shot during the 2022 ICC Women's Cricket World Cup match between Australia and Pakistan. Picture: Hannah Peters-ICC/ICC via Getty Images
The two teams met in a World Cup warm-up game two weeks ago where Devine's spectacular 161 off 117 deliveries helped her side pull off an inspirational run chase to topple Australia by nine wickets.
But the host nation's World Cup campaign did not get off to the same blistering start, with NZ losing by three runs against underdogs West Indies, despite Devine knocking 108 runs off just 127 balls.
They got themselves back in contention with a convincing win over Bangladesh and India.
Australia shook off its pre-tournament losses and is back in winning form with back-to-back wins against England and Pakistan.
"NZ didn't get off to the start they would have liked but they got the job done against Bangladesh, so we know what a dangerous team they are and how good they can be in their own conditions," Nitschke said.
There are no certainties in sports, especially not in a World Cup but Nitschke said one thing was always guaranteed when New Zealand and Australia went head to head "a good contest".
Australia will play New Zealand at 9am (AEDT) on Sunday March 13 at Basin Reserve, Wellington.