Ben O'Connor produced one of Australia's greatest Tour de France rides after nearly quitting cycling
Ben O'Connor once rode 225km with food poisoning in a desperate bid to earn a contract and nearly quit cycling. His 2021 Tour de France assault was remarkable, the road that led him there even more so, writes BRENDAN BRADFORD.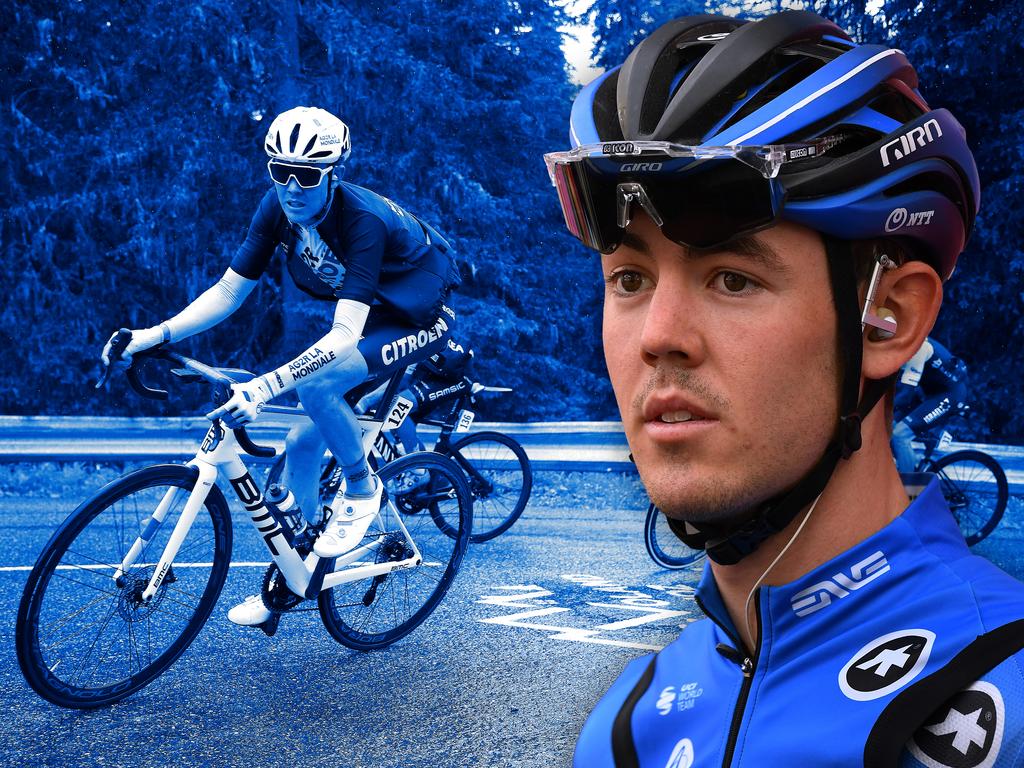 Ben O'Connor nearly quit cycling, only to then produce one of Australia's greatest rides in the Tour de France.
Ben O'Connor isn't supposed to be in the breakaway. It should be one of his teammates off up the road in front of the peloton.
A contender for a high overall finish in his debut Tour de France, O'Connor is supposed to be hiding in the pack, saving himself for the brutal final week. Just nine stages into the 21-stage race, it's too early for O'Connor to be attacking.
But in the biggest bike race on the planet, the best laid plans can, and more often than not will, be wiped out in seconds.
So, here he is.
Ben O'Connor, the unassuming West Australian is five minutes in the front of the yellow jersey group in a six-man breakaway featuring two-time Grand Tour winner Nairo Quintana. It's cold, it's raining, and there's 100km and three Alpine mountains still to traverse.
He's a long way from home in more ways than one.
Only one thing for it: grip the handlebars, grit his teeth and mash the pedals. Which is exactly what he does.
The group whittles itself down until O'Connor is left alongside Colombian duo Quintana and Sergio Higuita with 27km left. Quintana drops off first. Five kilometres later, Higuita loses O'Connor's wheel. Time to go.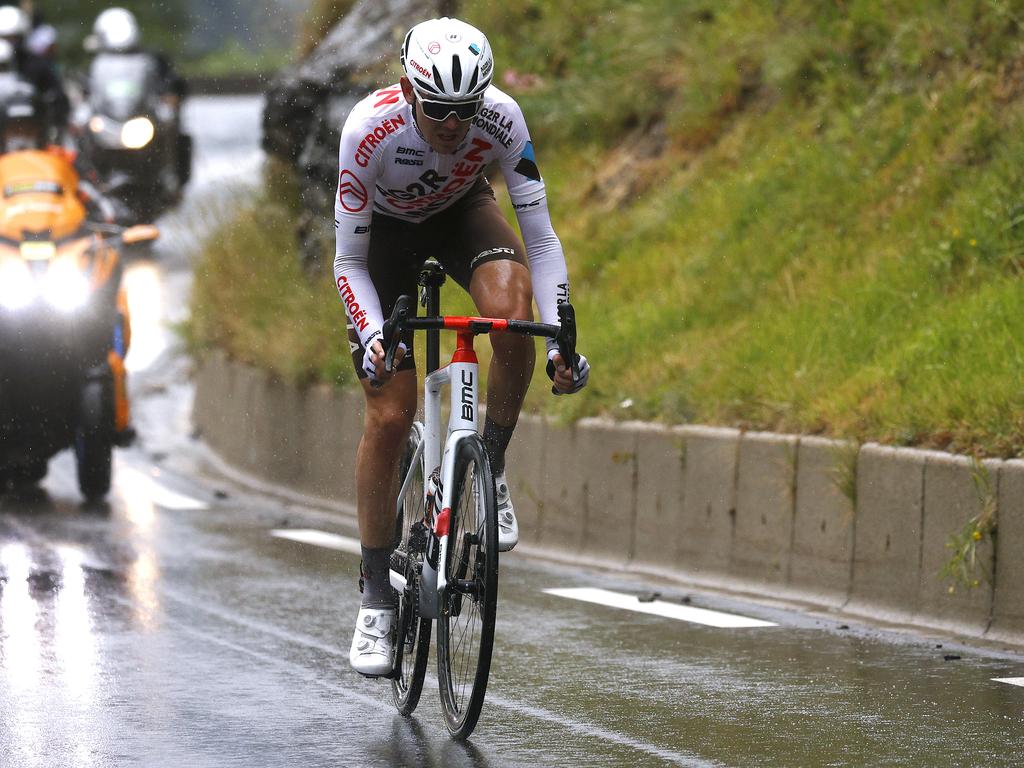 Ben O'Connor drops Sergio Higuita on the final climb of stage nine of the 2021 Tour de France. Picture: Chris Graythen/Getty Images
With 17.3km left to ride, O'Connor goes it alone. Long range solo attacks like this in the mountains are virtually unheard of on the Tour these days.
A little over 41 minutes later, drenched, exhausted and elated, O'Connor crosses the finish line a stage winner of the Tour de France and in second place on the general classification (GC) behind defending champion Tadej Pogacar.
O'Connor has won races before, but nothing that even remotely approaches this in scale.
"It's massive. It's the Tour de France, so everyone is watching. It's not just a few people, it's everyone," he says of that breakthrough ride last July.
"And it's not like it was a lucky chance either. It was solo in the mountains, it was cold and rainy and in bad conditions, which made it even more spectacular.
"It was on the weekend too, and the day before the rest day, so there's even more media exposure. Then I was in the GC, second overall. There was a lot going on. It was massive."
Pretty good result, then, for a guy who shouldn't have been in the breakaway in the first place.
Even better considering he nearly quit the sport in 2019 and didn't have a job 14 months beforehand.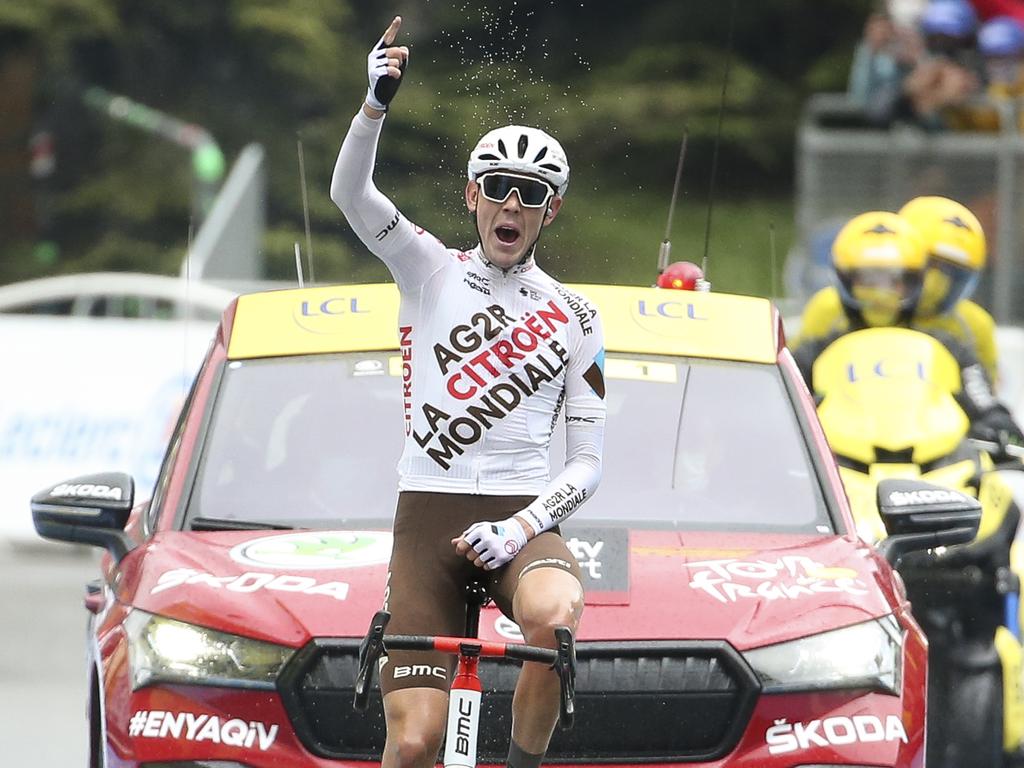 O'Connor had won races before, but nothing compared to claiming a stage win at the Tour. Picture: John Berry/Getty Images
*****
"I'm gonna stop …"
It's late 2019 and a deflated O'Connor is on the phone to his manager. He can't keep putting himself through all this.
The wiry climber has been riding professionally in Europe for three years, attempting to gain a foothold in the cutthroat atmosphere of big-time cycling. It's a different world to racing in Australia and New Zealand, but he has shown potential aplenty.
There was a fifth place GC finish and a stage win at the 2017 Tour of Austria, and an eighth place at the Tour de Langkawi later that year. 2018 was even better, with O'Connor finishing seventh overall, winning a stage and taking home the best young rider classification at the Tour of the Alps.
It certainly felt like he'd improved since his first few nervous races as a neo-pro in Belgium in 2017.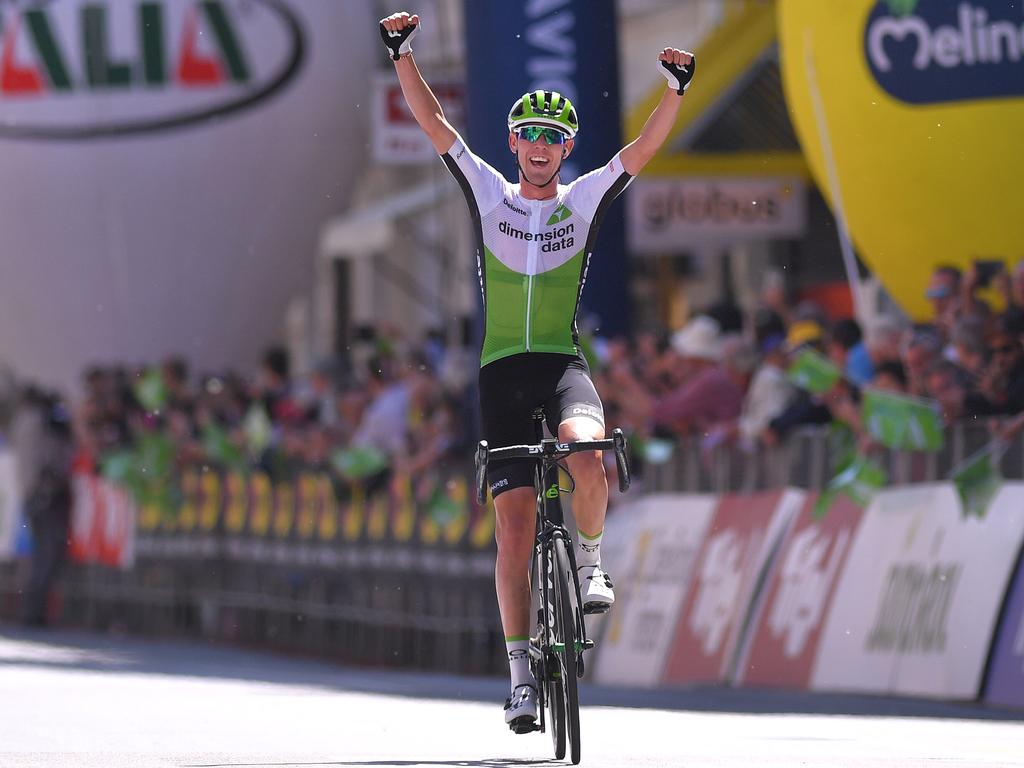 O'Connor achieved early success after moving to Europe, winning stage three of the 2018 Tour of the Alps. Picture: Tim de Waele/Getty Images
But it all turned to shit in 2019. There's no other way to put it. No results and no luck. Instead, injury, sickness and doubt.
He hadn't packed up his life and moved to the other side of the world just to finish races. He wanted to win them. So, he decided if things didn't improve in 2020, he was done with cycling. For good. Pack up, move home, try something else.
"From (2018) I actually thought bike riding was easy, because, from being green and very new to the sport, to then being up there with some of the best guys, you just think it's gonna keep getting better and better – simple," he says.
"Yeah … it didn't turn out like that. The next year, 2019, was a disaster. It was really, really hard. From the racing point of view I really struggled.
"Then it's a combination of things – where you're living, are you happy with what you're doing as a person at home? There's lots of other factors.
"I spoke to a close friend who was on my team and my manager, and just said 'if I do another year like this, I'm gonna stop.'
"I just couldn't explain why it was working last year and not this year. It takes a big toll."
So, one last year. One more season. Make or break.
Nothing went right for O'Connor in 2019, and he was close to retiring. Picture: Tim de Waele/Getty Images
*****
Stage five of the 2020 Giro d'Italia is a cold, wet, 225km slog through the hills of Southern Italy, and O'Connor is struggling. Big time.
It's almost 12 months after he seriously contemplated walking away from cycling, but 2020 has been a much better season. Thoughts of retirement have been banished.
But, he's riding for a team he knows will soon be disbanded due to lack of sponsorship dollars, meaning he needs a new contract at another team. The Giro – which has been rescheduled from its customary spot in May to October due to Covid – shapes as one of the last chances he has to prove to other teams he deserves a job for 2021.
Pretty bad time to get food poisoning then …
The uphill finish of stage five is won by Italian superstar Filippo Ganna, while O'Connor, racing for his livelihood but struggling after eating something dodgy a few days before, limps across the finish line in second to last place.
168th out of 169 finishers for the day.
He's a full 28 minutes behind Ganna, who had already received the cheers of the locals, posed for photos and sprayed his champagne on the podium by the time O'Connor finished.
"I just had really bad stomach pains and I was pretty much riding in all the support cars," he says.
"You had the peloton, a line of cars, then me behind them pretty much all day. It was horrible.
"I only finished because I didn't have a contract for the next year. There are things that push you and drive you and that was definitely one of them. I couldn't not finish."
O'Connor was struck down by food poisoning early in the 2020 Giro d'Italia. Picture: Stuart Franklin/Getty Images
*****
It was tough that day, but the hardest mountain stages of that year's Giro still lay ahead. Indeed, O'Connor describes the mountainous final few days as "a joke," adding: "we were doing some silly stages. It was too much."
One of them is stage 17's 203km route, which includes 5200m of vertical climbing – well over half the height of Mount Everest – through the Alps in Northern Italy.
Despite his less than ideal first week, O'Connor's future looks a little more assured with French team AG2R showing some real interest in picking him up. A couple of good performances here will surely seal the deal. Plus, knowing his NTT Pro Cycling team is just weeks away from folding, he wants to put in a good performance. He gets into the early breakaway – intentionally, on this occasion.
A day earlier, O'Connor had been in another breakaway, but was beaten – tactically more than physically – to the stage win, finishing with a second place that left him "feeling pretty bitter."
This time he wasn't going to risk it.
In a move that is becoming more characteristic of his bold approach to bike racing, O'Connor attacked his breakaway companions with 8.4km of the 12.5km final climb of the day.
That's a long way and a lot of climbing to do on your own, but the laid back Australian barely took a backward glance as he powered to his first ever Grand Tour stage win.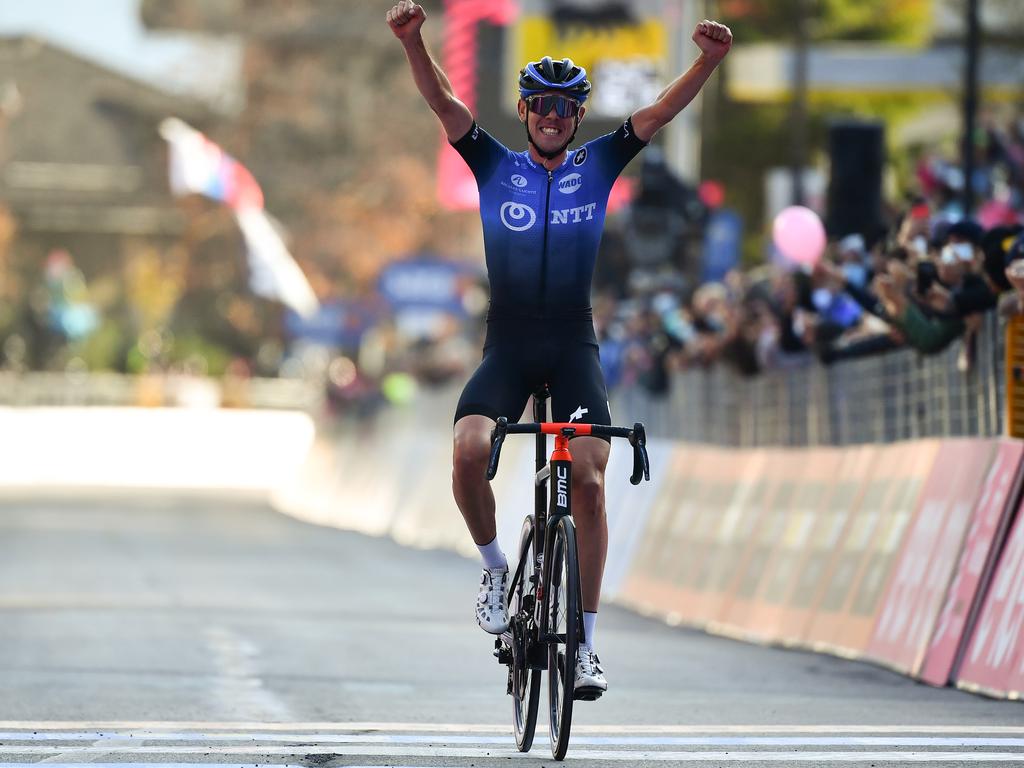 O'Connor finishes off another solo attack to win on stage 17 of the 2020 Giro. Picture: Stuart Franklin/Getty Images
He savoured every moment of an emotional final few hundred metres. As he rolled across the finish line, it wasn't just the emotion of the stage win coming out. It was the near-retirement 12 months earlier. It was the broken collarbone he suffered in his first Giro in 2018. It was two months stuck on the indoor trainer due to the unbelievably strict Covid lockdowns where he lives in Andorra. It was the fear of not knowing whether he had a job the next year.
It was pure, unbridled joy.
"That was an emotional moment," he says, taking a few seconds to relish the memory. "I didn't want the team to fold, so it meant a lot for myself, but to the team as well.
"I was just really proud at the time and was really emotional. It was way more emotional than even the Tour de France win. It meant more, because of the situation."
*****
After three years of misfortune, injury, illness, lockdown and self-doubt, O'Connor finally feels like he belongs in the pro peloton.
And that means a debut Tour de France in 2021.
His win on stage nine – that brave solo effort after 'accidentally' joining the breakaway – propels him into the cycling spotlight.
He celebrates with "a half glass of champagne" while his social media explodes and the media swarms like never before.
There are changes on the bike too.
He's second place in the general classification, which officially affords him the status of a protected rider at AG2R. With that comes pressure and privilege.
"Now you're on the GC, the game's changed – you have to perform," he says. "Especially at AG2R, a French team that has huge general classification DNA. It's important to them."
In keeping with the trend of his career to date, the final two weeks of that Tour are anything but straightforward.
He has "a shocker" on Mont Ventoux – one of the toughest and most feared climbs in France – and drops from second place to sixth by stage 14. But, as always, he finds a way to climb back up the GC, finishing the Tour in fourth place overall. In the 118-year history of the race, only two Australians – Cadel Evans and Richie Porte – have finished higher.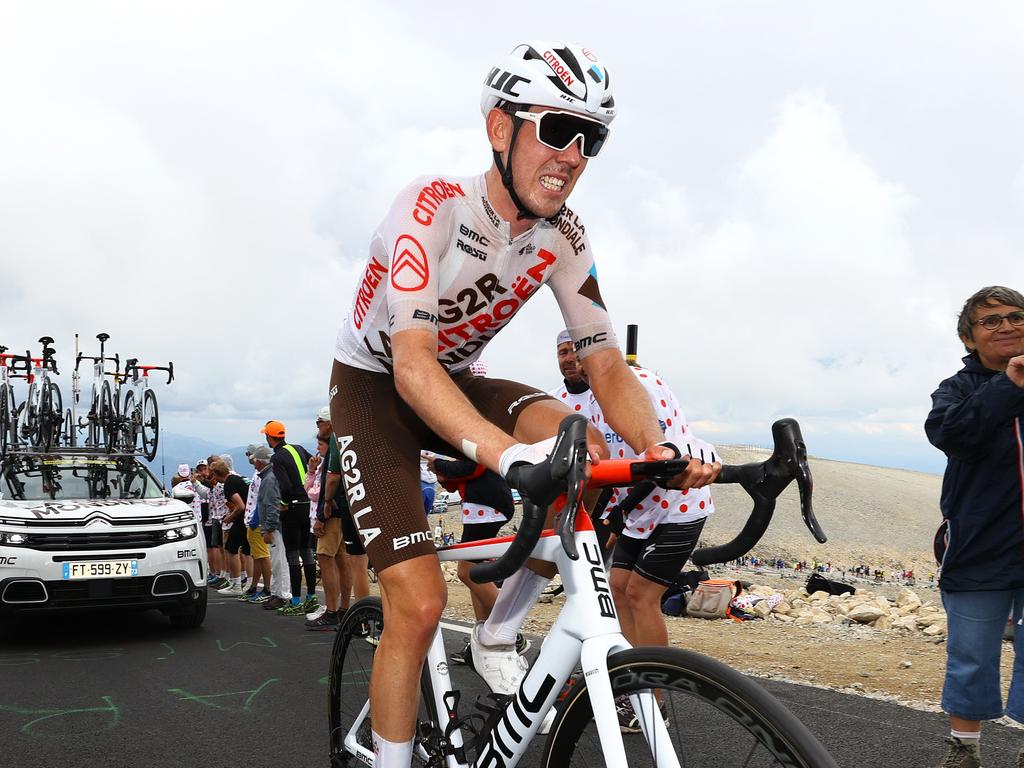 Pain. In his own words, O'Connor had "a shocker" on the slopes of Mont Ventoux at last year's Tour. Picture: Tim de Waele/Getty Images
"The mental fortitude takes the biggest toll," O'Connor says of contending at the Tour. "It was stressful. The game changed where you have to be at the front all the time. No stupid crashes. Nothing stupid. Follow your teammates everywhere.
"Luckily I had some really good teammates – Oliver Naesen, Greg van Avermaet, Michael Schar – these guys have been around for a long time, and they just said to me, 'I've never missed a split in the wind in the Tour de France, so just follow me. If you're not on me, tell me and I'll get back to you and I'll take you back to the front. Just don't lose the wheel.'
"So basically I had one job: just to follow them. Which was really cool.
"I'm proud of that step. That's the difference between being a neo-pro to riding the Tour and getting the positioning and being safe and attentive."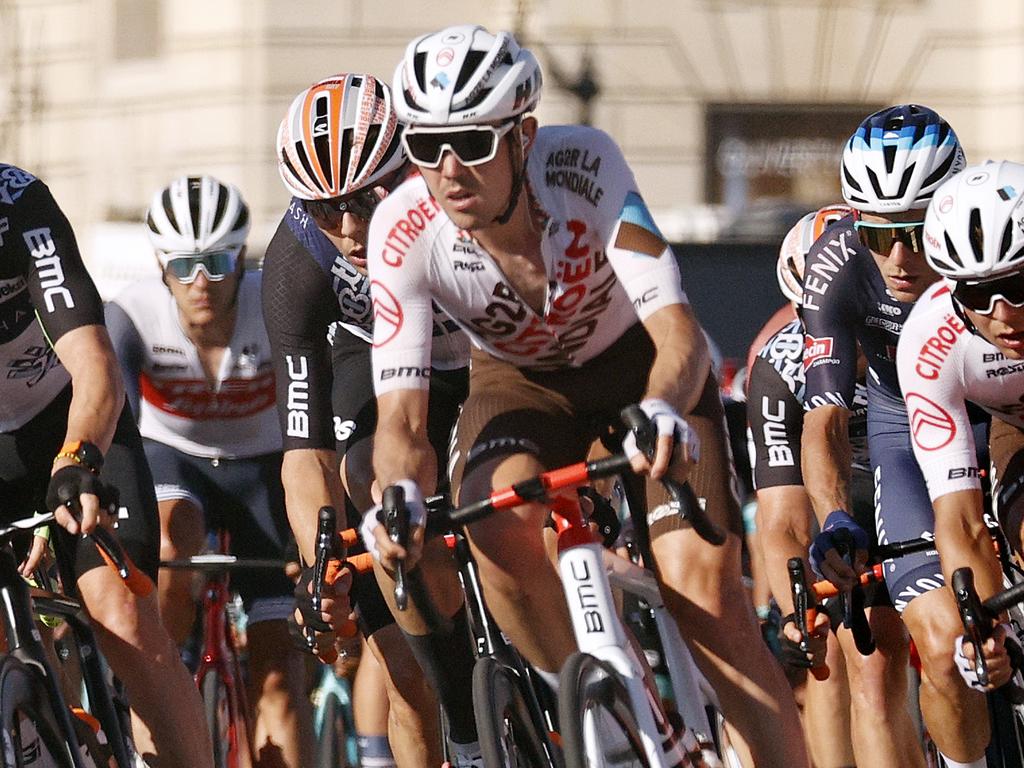 Riding into Paris in fourth place in fourth place in his debut Tour de France. Picture: Chris Graythen/Getty Images
*****
Rest. That's what's in store for O'Connor over the European winter months. It'll be a well-deserved one, too. The 2021 season was demanding in all the right ways after what had been an often tumultuous couple of years.
"It's been such a big step and a change in the way I'm racing and taking on leadership," he says. "It's about recuperating and recovering the legs.
"It's been a big 36 months really, because of the build-up when I was struggling. Then I had to build to be good for the Giro to find a job.
"It's taken its toll. I just put the bike away and am making the most of living over here in Europe, because that's important too. You need a happy home life and to make the most of living over here, because you never know, you might only have a few years in your racing career."