A-Leagues: Danny Townsend speaks to Robbie Slater about worrying crowds, broadcast and quality issues
Poor crowds, broadcaster issues, lack of starpower. Danny Townsend speaks to ROBBIE SLATER about the issues confronting the A-Leagues.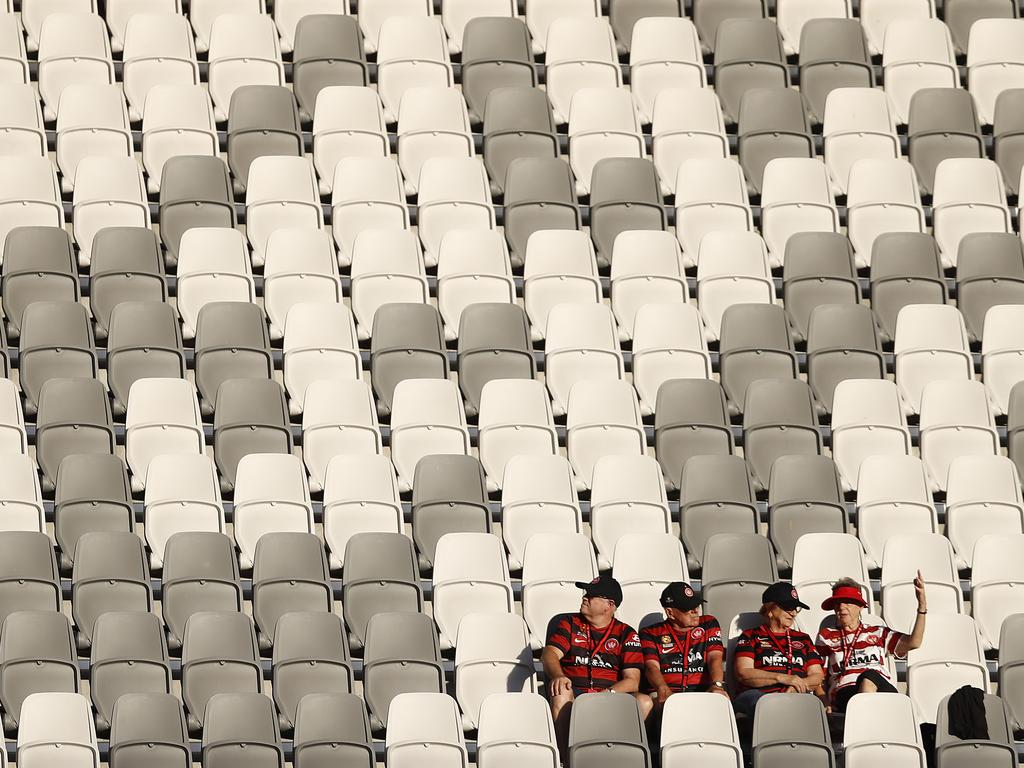 Despite ongoing issues with the broadcaster, Australian Professional Leagues CEO Danny Townsend believes Paramount + is the key to reengaging football fans in the A-Leagues. Picture: Ryan Pierse/Getty Images
After the most challenging and underwhelming season in the history of the men's A-League, Robbie Slater speaks to Danny Townsend, chief executive of the Australian Professional Leagues, about what went wrong, how to fix it and plans to build for the future.
Robbie Slater: This season has the league gone forward, is stuck in neutral or gone backwards?
Danny Townsend: It's fair to say it's gone backwards and, to your point, there's a lot of reasons why it has, many of them beyond our control, unfortunately. When you go through the peak of the pandemic in January when the A-Leagues are in stride, rescheduling 90-odd fixtures, it's a very difficult environment to move the game forward.
Importantly for us, though, we put the foundations in place to be able to be resilient, through difficult times, which we've done this season and looking forward to a big finals series and an interesting off-season to build on.
RS: If you look at the finals series, it certainly has the potential to be a big success … but would it be foolish if we do get a great send off, a packed house Melbourne Derby grand final, to say 'We're back!'
DT: We've certainly got to make moves. The game is not in a place where you can just let it go and expect it to succeed. Definitely, the finals series will be really interesting, if we end with a bang, big crowds, I think that will set us up nicely to really do the work in the off-season to reinvigorate the game.
The biggest challenge we've had is to give our fans certainty of when games are on. [I] get told by people in the street, '[We] don't know when games are on.' We set up a derby this year with six days' notice, which is unheard of.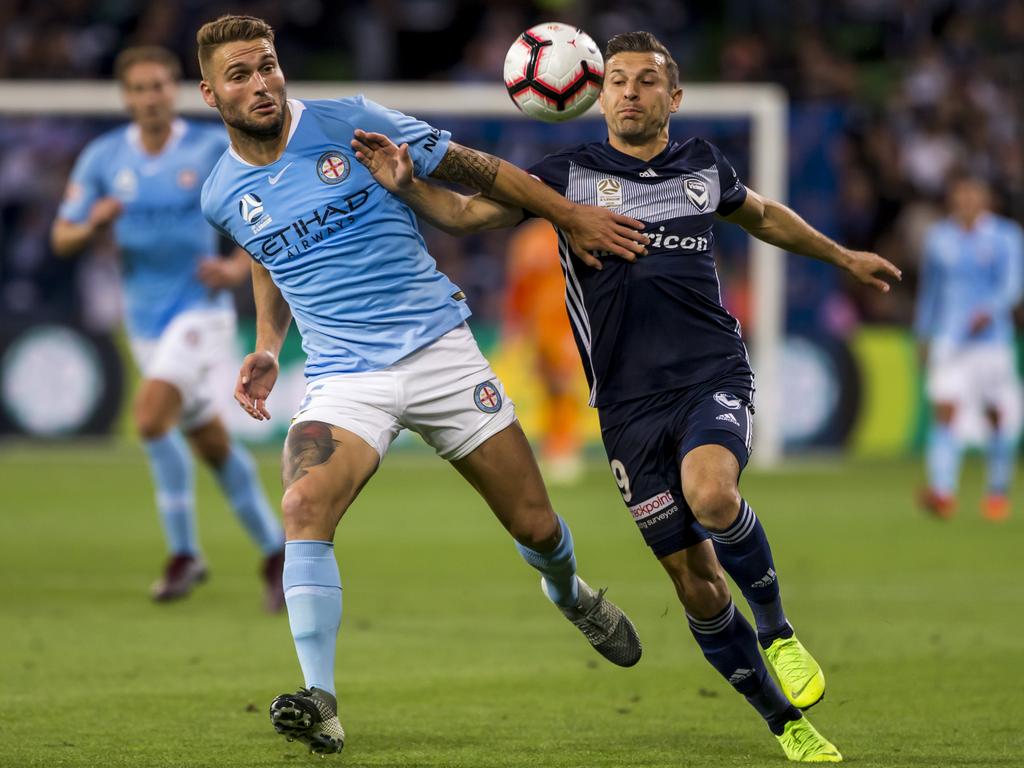 The two Melbourne-based teams await the winners of the elimination finals, having finished top two in the regular season. Picture: Jason Heidrich/Icon Sportswire via Getty Images
RS: Take some of those circumstances away, is it fair to say a brand new deal – a lucrative one – with Paramount and Channel 10 has lived up to expectations?
DT: It hasn't been ideal. The support we had from Channel 10 leading into the season… helped, but we had to delay the start of the season by three weeks due to Covid-19. That hampered our plans a little bit. The Paramount+ platform has had its challenges.
The good news is we [have been] working really closely with them over the last six months for next season to ensure it will be a world class product. We're listening to concerns about the platform and keen to see a very different product next season.
RS: Western United came in with a promise of building a stadium which hasn't eventuated. Macarthur can't seem to find a fanbase. What is the future for these new clubs, and how do they now go find a supporter base?
DT: You're right, they've been challenged, and to their credit they've done really well on the field, all things considered. Launching new clubs is challenging in good times, let alone times of a pandemic. I genuinely feel for Western United and Macarthur having to navigate their way through. [They have] different challenges.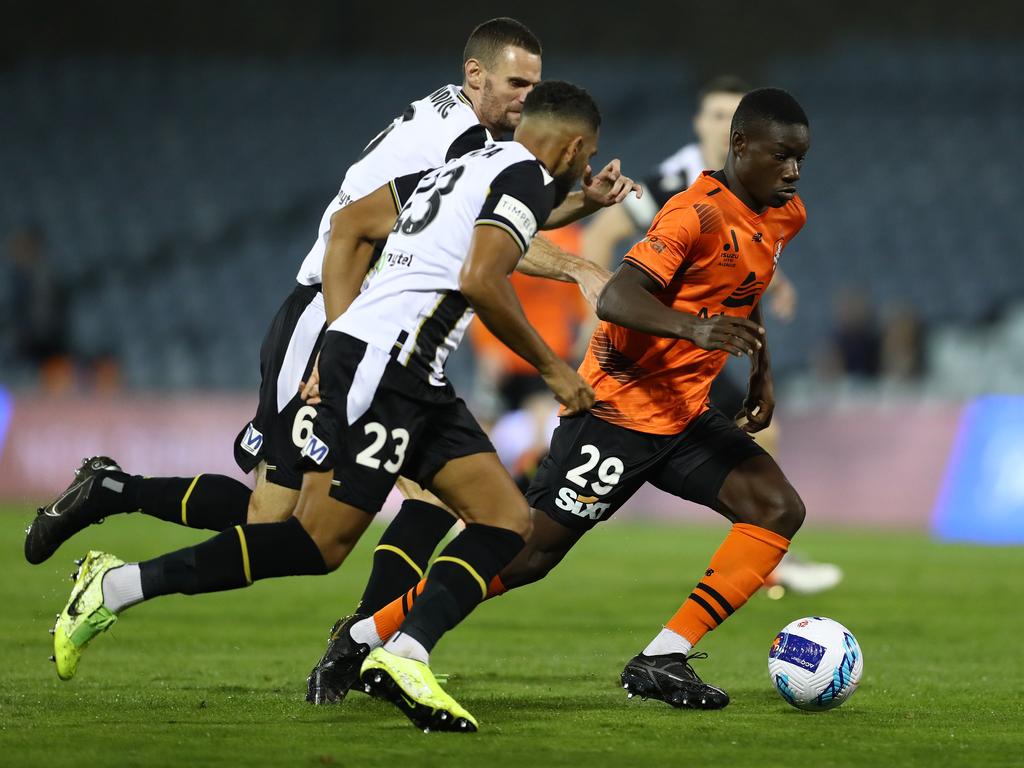 Macarthur FC have struggled to attract a consistent fanbase to its home games at Campbelltown Stadium. Picture: Mark Metcalfe/Getty Images
Macarthur is a club that will grow with a community. It wasn't going to insert itself into a mature-sized community, it was going to grow with [it] and will take time. The stadium out there at Campbelltown is a good one for A-Leagues, not too big. As their crowds grow outside the pandemic, that will entice more to support the club. Western United is slightly different. [They were] accepted by FA into the league on the promise of a stadium, they are building a smaller initially, 5,000 seater whilst the 15,000 seater is built. There is a pathway there for them. [I am] confident when they secure their home in the west of Melbourne, with Melbourne City in the east of the city, we'll see Victoria geographically divided and I think that's a really important part of generating a following.
RS: One thing hard not to notice: Western Sydney is a problem. The Sydney Derby was massive, but [for] Wanderers … the decline in their supporters is alarming. Has the APL got a solution to that problem?
DT: A strong Wanderers means a strong A-Leagues. [We] saw that with Melbourne Victory last season, what impact that had on the metrics of the league. The Wanderers are an underperforming club now, they know that. Chairman Paul Lederer and their board are also fully aware of what needs to be done. They are working behind the scenes, appointment this week of a new CEO, Scott Hudson, which is great. Clarity around leadership. The good news is we know those fans are there. [We] just need to re-engage them.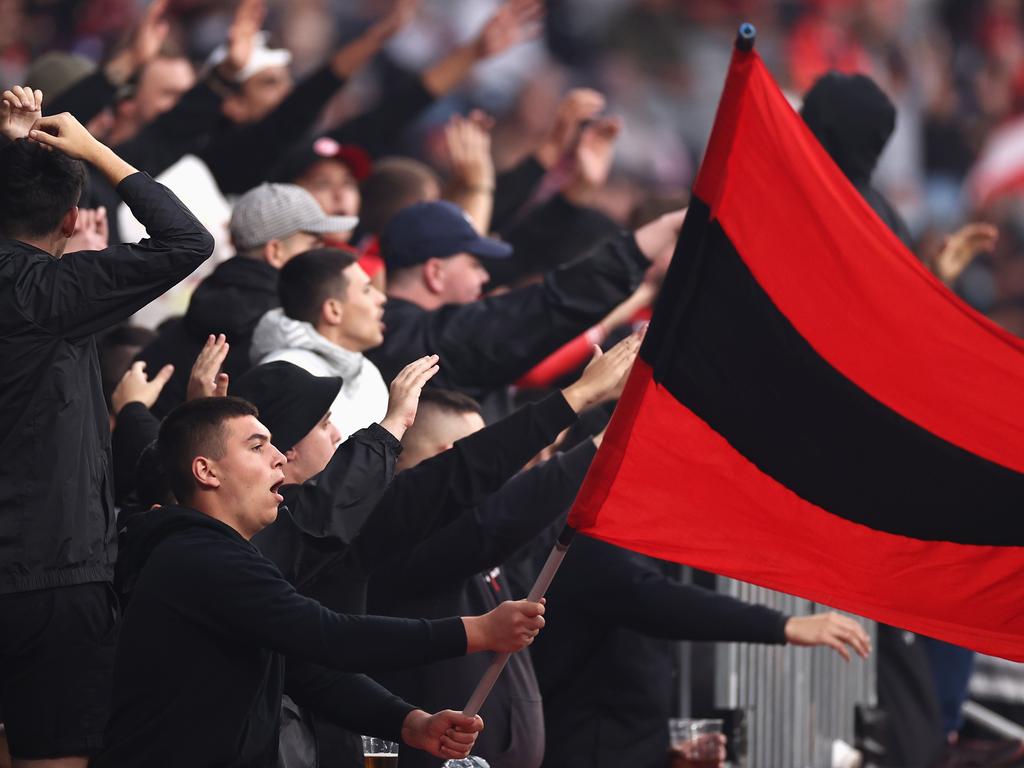 The once vocal RBB have been depleted this season with the Wanderers underperforming on the pitch. Picture: Cameron Spencer/Getty Images
RS: When you lose fans it's hard to get them back. Not only Wanderers, but the general apathy, if we put it that way. What's different next season?
DT: We have to work hard. [It is] all about engagement for us. You know yourself, when you get disengaged from something, it's very hard to re-engage. Our focus in the off-season is a number of things that will encourage fans. Then it will be about re-engaging more often. [I] get asked a lot, 'What will you do?' Well, we've got to do 30 things - 28 of them really, really well - to get people back and supporting the game.
We went through 12 months last year of business-critical work to establish a TV deal, sustainability for the league through the [$140 million] capital raised through Silver Lake, shore up the players through a five-year CBA. The foundations are there to build on next year, ideally when we can set our fixtures early, re-engage our club members and start building the crowds back. We genuinely believe this league has the chance to become a flagship sporting league in this country.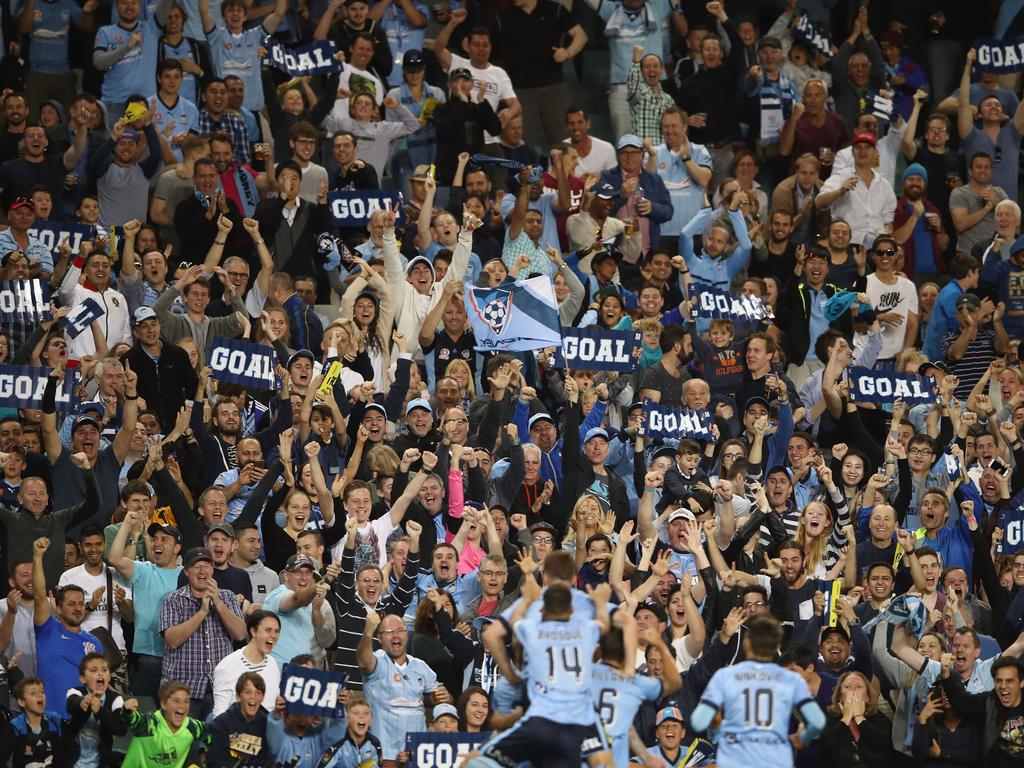 Townsend believes that the TV deal with Channel 10 and the end to Covid restrictions will see viewers and fans flood back to the leagues. Picture: Mark Kolbe/Getty Images
RS: Back before the A League, to the NSL, it was about how we link the grassroots to the top league. I've said before: Australians have a habit of comparison to the EPL. How do we get that crowd, teenagers, engaged?
DT: That's why we've invested heavily in KeepUp, to build the digital connectivity to the grassroots. The community element of that platform is being built at the moment so it hasn't been deployed as yet, but when it does that will be our way of connecting directly to every footballer in this country.
The comparisons to Europe, I see them as a good thing. It's the global game. We have to own our space, and have to differentiate ourselves. [We are] not going to be a Premier League, not La Liga, but we are the elite football competition in Australia.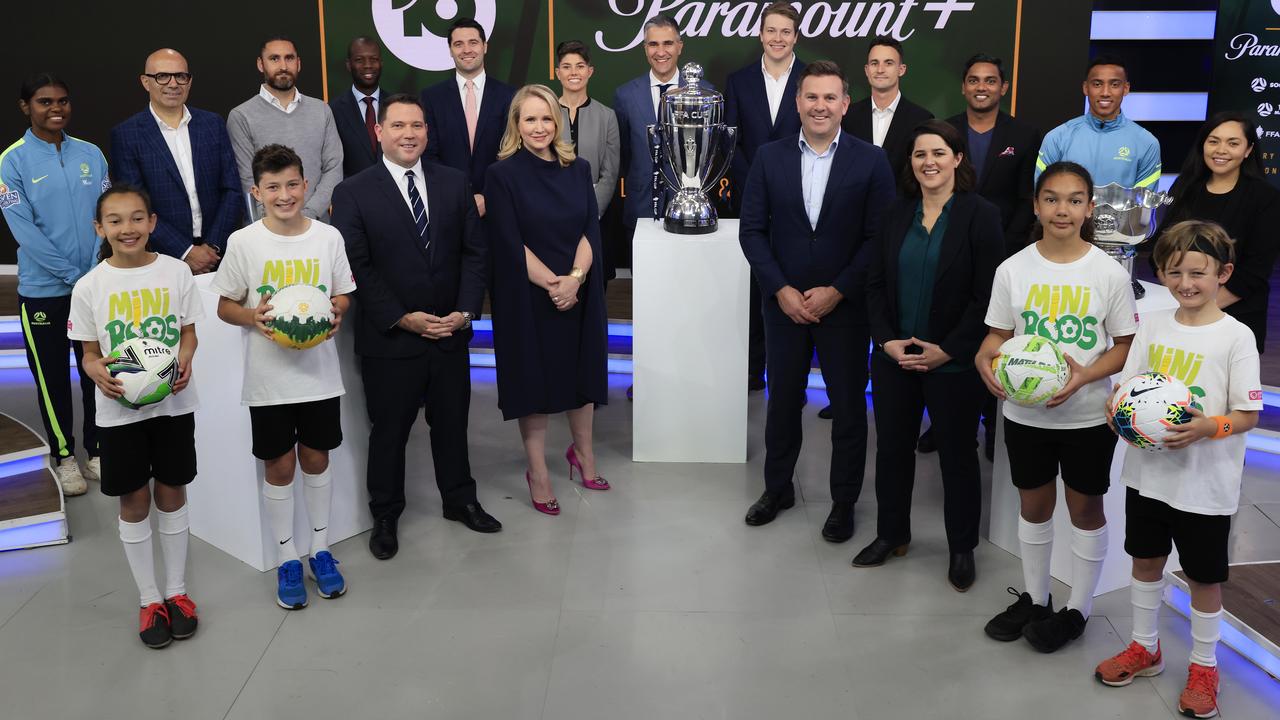 Football Australia was hopeful the focus on digital and streaming content would engage younger audience who look overseas for their football fix. Picture: Mark Evans/Getty Images for Football Australia
RS: I touched on it in a recent article. Being a fan of football isn't easy in Australia because of the number of platforms needed to watch it: Optus, Stan, Paramount+, beIN Sports via Foxtel and Kayo. That's hard to solve. Cost of living isn't helping. How do families deal with that kind of pressure?
DT: It's not ideal, give you that. You've said before the A League was at its best when aligned with the Premier League and I'm sure that's true. I look back and [ask] what was the football fan paying to access those leagues? Probably over $100 a month. The cost of Paramount is $8.99 a month, a couple of coffees. Even if you had an uber fan, the sum of those parts are less than previously, and those platforms have amazing other content.
That shouldn't be dismissed. This is not just about football consumption. Fragmentation away from linear into digital was always going to mean a wider range of platforms for consumers. It's not great football has landed on a bunch of different ones but the customers has choice.
RS: For the older supporter, though, technology can be difficult.
DT: 100%. We had a great partnership with Foxtel for 15 years. Sat on the couch, [Channel] 505, there was you're A League. We are trying to change behaviours built over that time. I know myself, some of my family members find it difficult to get onto that technology. It will always be a transition, and the challenge for us is to work with our broadcast partners to make it as easy and accessible as possible and that's what we will do in the off-season with Paramount+.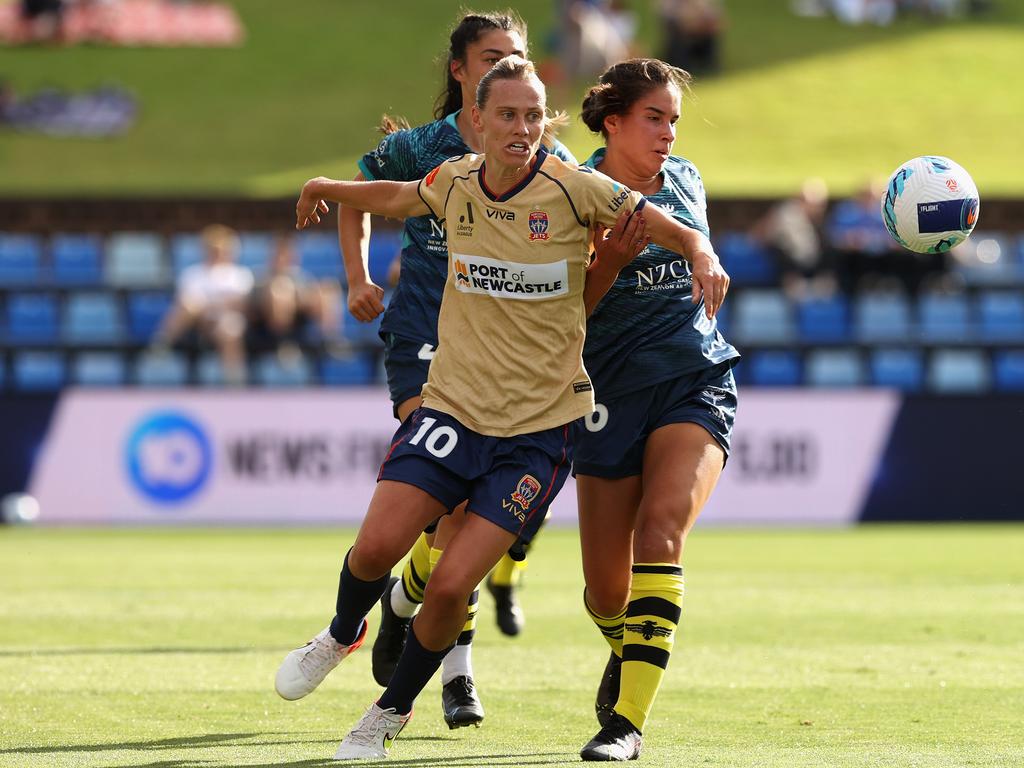 The A-Leagues will be working closely with Paramount + and broadcast partner Channel 10 to make the competitions as accessible as possible to viewers. Picture: Ashley Feder/Getty Images
RS: With the $140 million capital got from Silver Lake, how will you spend it?
DT: Wisely. People asked why not blow some money this year on promotion and marketing. Well, our season was compromised by Covid-19. No point us throwing packets of money on a season like that. In the off-season you'll see a number of initiatives rolled out, only able to be done so because of that capital raising. Marquee signings, different marketing and content strategy.
RS: Do you see expansion in the next 2-3 years?
DT: Yeah, both in the men's and women's we see expansion as part of our strategy. We want to take A League football to as many places as we can. You do that by expansion. We'll go through a far more strategic approach to expansion … to ensure we get it right.