Daniel Arzani joins Macarthur FC hopeful of rediscovering World Cup form after lost years in Europe
Daniel Arzani excelled at the 2018 World Cup. Then came a brutal European spell he has yet to make peace with. He speaks to ADAM PEACOCK.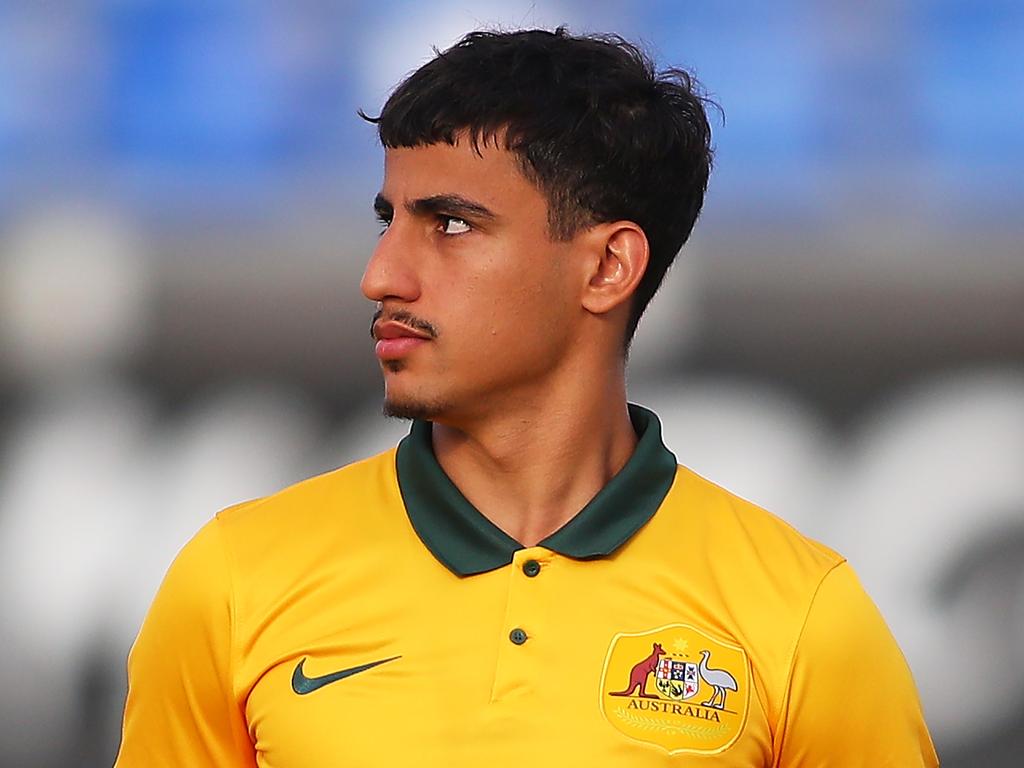 Daniel Arzani went from World Cup hero to European obscurity within three years. Picture: Fran Santiago/Getty Images
Sochi, 2018. The Socceroos had just been knocked out of the World Cup. No wins, no goals from open play. Legends like Tim Cahill and Mile Jedinak were done.
It felt bleak.
Gold shirts trudged back to their hotels, glum, and only one thought improved the mood.
Daniel Arzani.
The kid, just 19, had come off the bench in all three group games and shone.
He'd barely played a full game at senior level, anywhere, and yet in 60 combined minutes against France, Denmark and Peru, he made everyone notice.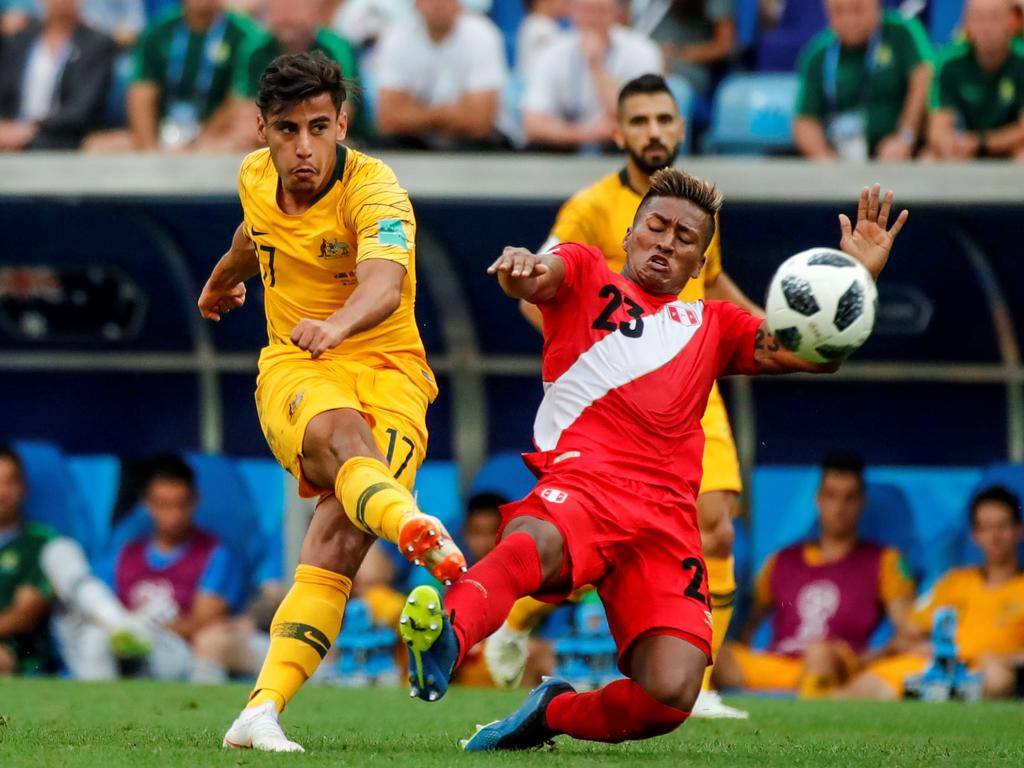 Daniel Arzani took the Australian football scene by surprise when he forced his way into notoriety at the 2018 FIFA World Cup. Picture: Sebnem Coskun/Anadolu Agency/Getty Images
Four years, a pandemic and a grey wiggle later, Australian football has moved on, and Daniel Arzani hasn't played for the Socceroos since.
He bounced around Europe.
Now he's back in Australia, living back at home.
And while there is comfort, and care, rattling around in that intelligent mind of Arzani's is a question he can't find the answer to.
What the hell happened to the last four years?
"It's constant. 24/7," Arzani tells CODE Sports of his inner thoughts. "I carried it myself, man. I don't really feel comfortable talking about that kind of stuff with people. It's pretty taboo, you know. It's almost your biggest insecurity.
"Constantly reminded of it, mostly by myself. It's constant."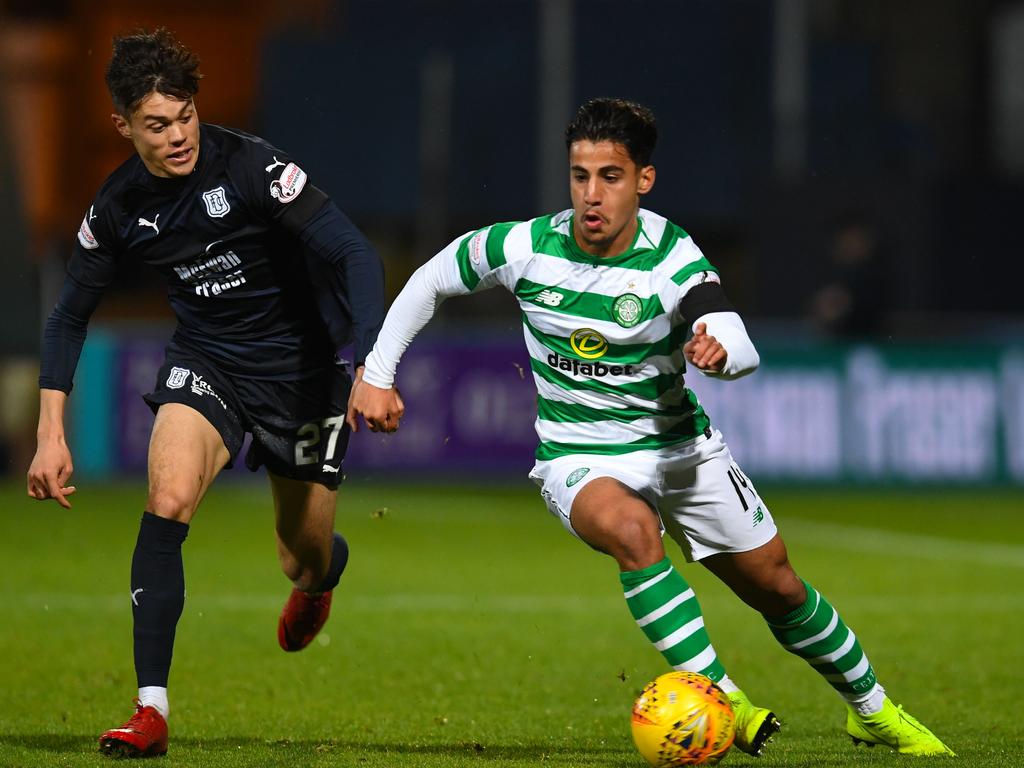 Arzani was loaned to Celtic after being picked up by Manchester City following his World Cup cameo. Picture: Craig Foy/SNS Group via Getty Images
At his best, with the ball at his feet, Arzani is poetry in boots.
Built low to the ground, he doesn't change direction so much as he glides, like a slalom skier who gathers pace down a slope despite obstacles meant to slow him.
He loves linking with teammates as much as beating a defender himself. It gives him joy.
It gives anyone watching, who loves football, joy.
Arzani now has the task to find it all over again.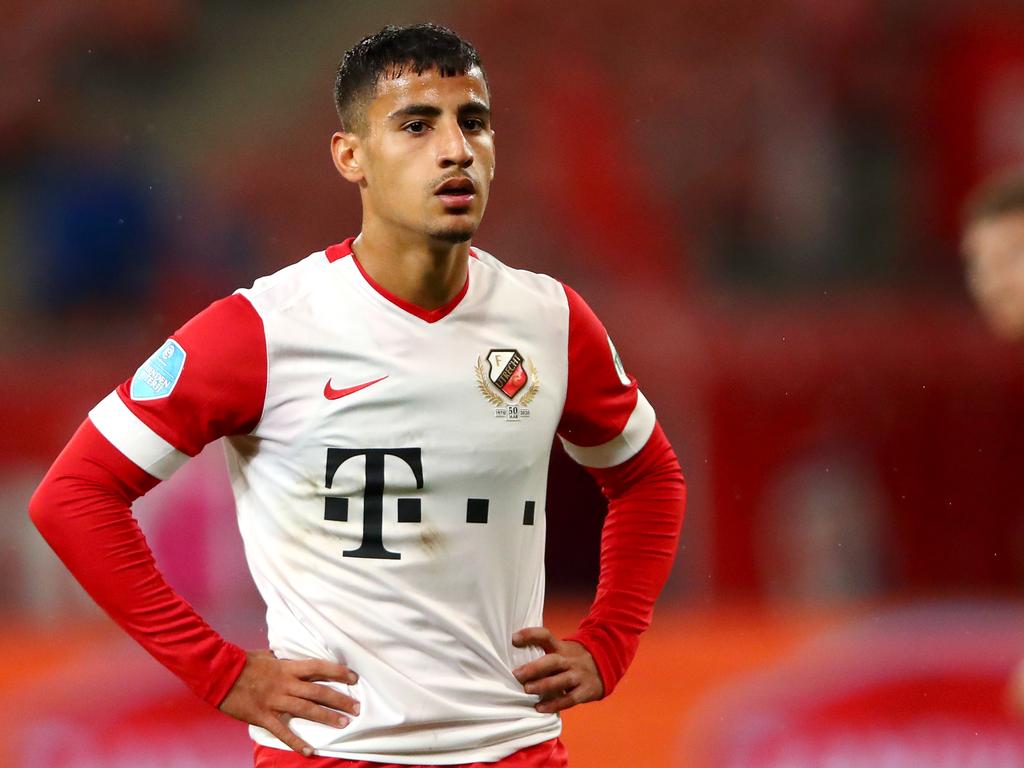 After a tumultuous four years across Europe, Arzani is looking to rebuild and re-find his love of football. Picture: Dean Mouhtaropoulos/Getty Images
*****
So, what the hell happened in those last four years?
Arzani went to the World Cup as a Melbourne City player, but his brief show in Russia earned him a significant upgrade with the parent club, Manchester City. Manchester is the top of the City Football Group (CFG) pyramid. CFG own or part-own eleven football clubs, and have brilliant contacts at others littered around the world.
Arzani signed with Manchester City knowing full well he'd be loaned out. Both parties decided Celtic, in Scotland, then-managed by Brendan Rodgers, would be a good fit for two years.
Arzani took a while to get fit. Late October, 2018, he finally made a debut.
Skinned a few opponents. Then disaster.
"I slipped then mid-slip, my foot got caught on the grass again, did my ACL," Arzani says, before adding, "Shit happens, it's football."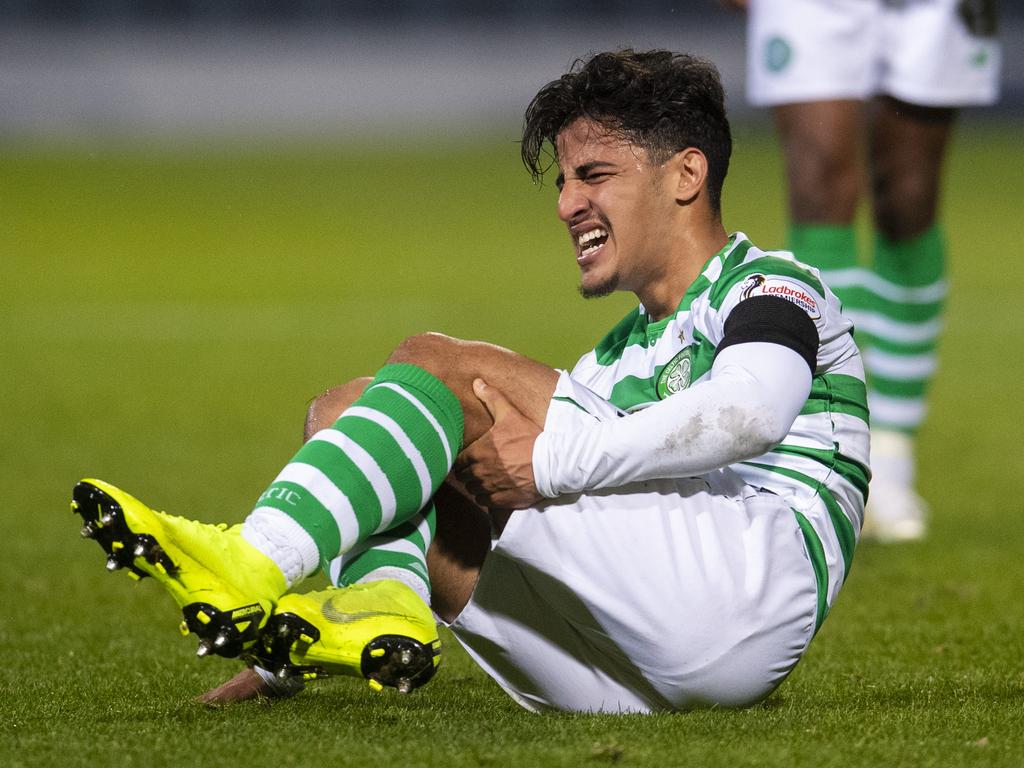 Arzani's time in Scotland's top flight was cut devastatingly short by an injury on debut. Picture: Craig Foy/SNS Group via Getty Images
The recovery was slow. In early 2020, he was back in Celtic's first team squad. Then the pandemic hit. Done at Celtic, but undeterred, Arzani went back to Europe and City loaned him to Utrecht in Holland.
It didn't work out.
Six months later, he went to Denmark, and Aarhus.
It didn't work out.
"Denmark was a rash decision," he reflects. "They didn't really need a player in my position, I didn't get a look in. Played three minutes off the bench."
City then farmed Arzani out last year to Lommel, a Belgian second division club they'd recently purchased. It started well enough. Young British manager Liam Manning liked Arzani, but Manning bailed for a job back in England. Lommel proceeded to go through managers like a buck's party goes through beer.
The last of five managers in a few months went ultra-defensive, and played Arzani as a lone striker in a defensive system.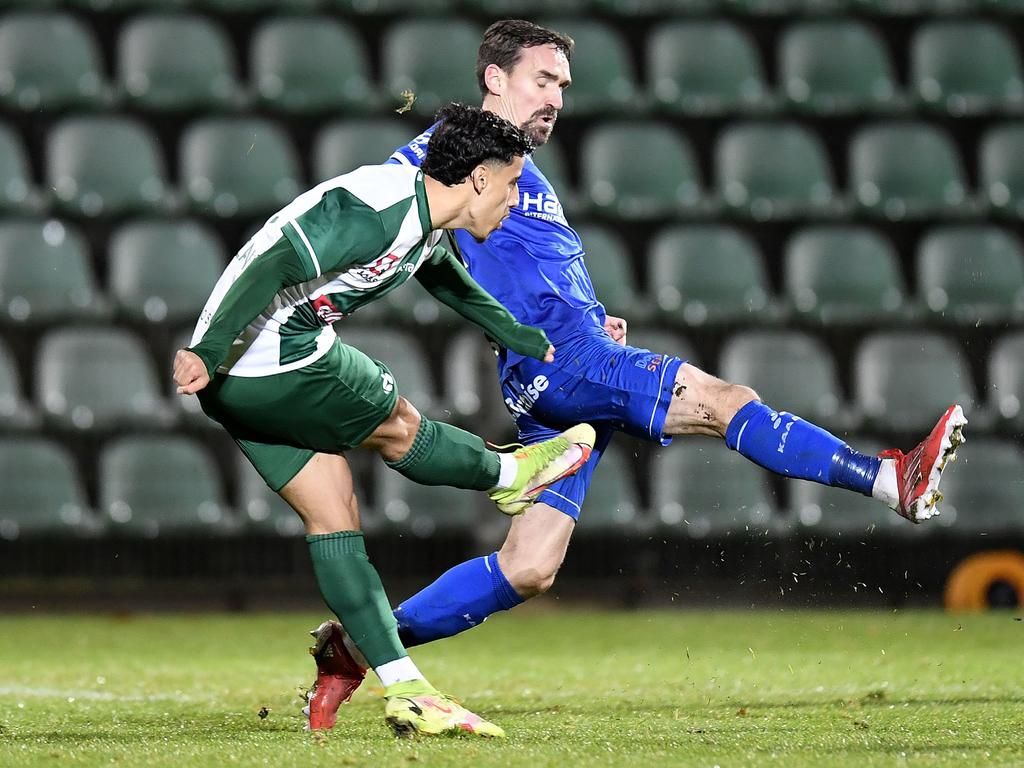 Arzani during his ill-fated stint with Belgian second division side Lommel SK. Picture: Tom Goyvaerts/Photo News
So, in summary, what the hell happened in those last four years was … not much.
He's featured in just 33 games at club level, all the while, frustration building within.
"I'm very grateful to City for giving me my opportunity in Europe," Arzani says. "But it's just difficult for a young player, going out on these six-month, one year loans and you go into an environment where you don't know anyone.
"If you don't hit the ground running at full speed, you get thrown to the side. The clubs don't care, they don't pay the salary [CFG does], they don't have the vested interest in your future."
The CFG system works for some, and not others.
Aaron Mooy trod the path from Melbourne, to Manchester, to a loan deal. Mooy's loan sent him to Huddersfield, where he became a hero, and paid City $18 million for his permanent transfer. That deal essentially paid for CFG's licence fee to buy Melbourne City in the first place. Brilliant business.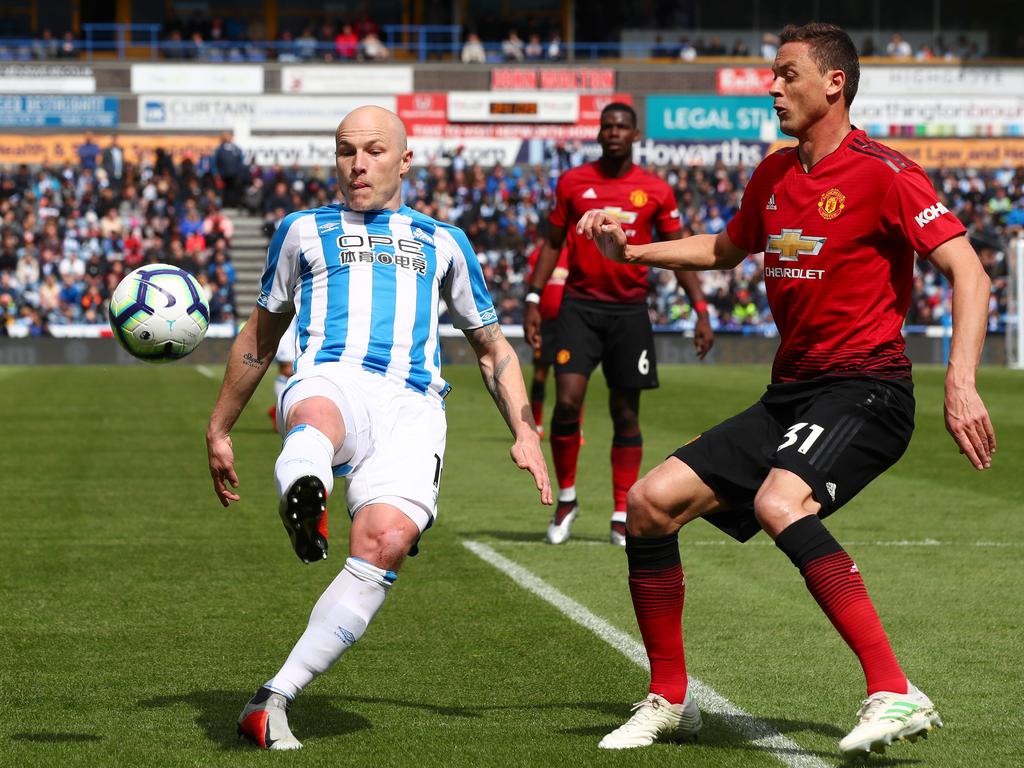 Mooy has faired better than Arzani in his transfer from Melbourne City to Manchester City. Picture: Clive Brunskill/Getty Images
Arzani bears no grudges for his experience, and admits some personal fault.
"Patience is something I was definitely lacking," he says. "There are 17 and 18 year-olds playing all over the world and it's become normalised. You end up comparing yourself to them and you feel rushed to get into the team and get that big move. You think, 'Why not me?'"
The part Arzani finds hardest to reconcile is that he knows he's good enough. In 2018, he was at a World Cup, sharing a pitch with the biggest names in the sport, unmoved by their presence.
"When we walked out to play France, Pogba, Mbappe were there, and really just normal people," Arzani told Fox Sports in 2019.
Australia faced up against the might of eventual winners France, whose line-up included Ligue 1 superstar Kylian Mbappe. Picture: Michael Regan - FIFA/FIFA via Getty Images
With the benefit of more time, reflections of Russia have become irrelevant.
"I get stuff on social media, but haven't watched it back properly," Arzani says now. "Not because there's no point, I know people were speaking highly of me at the time, but because I haven't done as well as I could have since then.
"I'd be unnecessarily pumping up my own tyres by watching it back."
He pauses, reaching for the right words for a good ten seconds.
"It's hard to explain," he continues. "Because I haven't lived up to my own expectations, it's a little bit falsified."
The last of his loans in the CFG system, with Lommel in Belgium, made Arzani's mind up. He wanted to come home, and last week put aside interest from Sydney FC and Western Sydney to sign with fledgling A League Men's club Macarthur, who have legendary striker Dwight Yorke at the helm.
"He dares to dream big, and that's what I like," Arzani says of Yorke.
"Speaking to him, he understands, he knows the highest level, and wants to play attacking football. That suits me, plus he has a strong and focused mentality."
A notable bonus is living back in the family home, where mum, Sima, is known to serve up incredible Persian meals. Daniel has got her on board too with what he needs for football.
"Mum has changed her cooking for me," Arzani says. "She understands, spoke to the club, days off its chicken and salad, even though it's not traditional cuisine!
"I don't need to worry about anything but football."
A number of times during his chat with CODE Sports, Arzani makes mention of the need to do everything right in the next two months before the A League Men's season starts.
Anthony Crea, one of Yorke's assistants who handles the physical preparation, doesn't do shortcuts. In 2006, Crea prepared Guus Hiddink's Socceroos for the World Cup. Every one of those players still quivers at the thought of how deep into their collective souls Hiddink and Crea pushed them.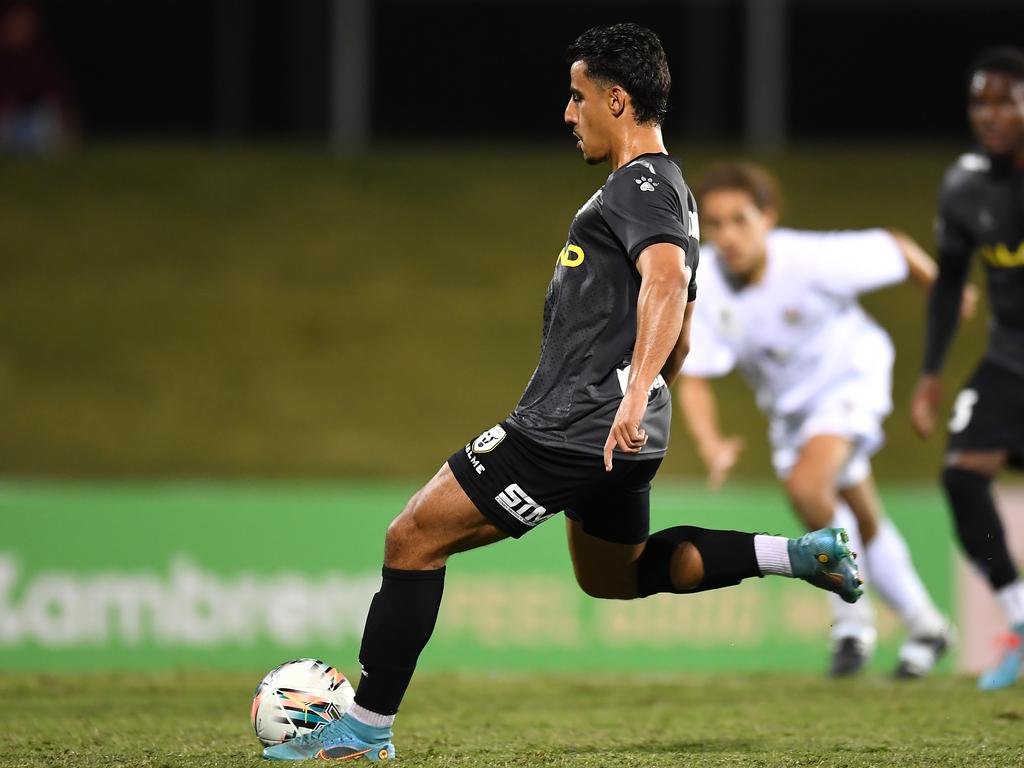 Arzani debuted for Macarthur in the Bulls' 6-0 win over Magpies Crusaders United in the 2022 Australia Cup round of 32. Picture: Albert Perez/Getty Images
Not much has changed.
"We've been getting killed," Arzani says. "Yesterday, then a tough session today, going to get absolutely destroyed apparently."
He was right. A 90-minute session of torture would follow our chat, from which Arzani hobbled off. Not injured, or broken, but hurting.
Necessary pain.
"I'm still just 23," Arzani says, with renewed optimism. "I have a decent chance of getting back to where I belong. Need a killer season, and a killer season after that.
"I know what I've got to do. Have to get top fit this pre-season. Then all guns blazing and see where that leads me. I can only control what I control now, the past is in the past. And I wouldn't do it if I didn't love it."