FA boss James Johnson on Australian football's current predicament and how to return to success
In an extensive interview with ADAM PEACOCK, Football Australia CEO James Johnson explains what administration is doing to ensure the code can rise from its current depths and develop a player-first mentality.
FA CEO James Johnson speaks about how to reverse the disappointing recent form of the Socceroos and Matildas.
Australian football had a rough few days at the end of January.
The Matildas exited the quarter finals of the Asian Cup. Failure. The Socceroos drew with Oman. Failing to qualify for a World Cup looks more likely.
But for those closely involved in the sport, neither result was a huge shock.
Australian football has a development issue. Neither the Matildas, nor the Socceroos have the desired depth in talent. Football Australia published findings 18 months ago which said as much.
For the Matildas, a Performance Gap Report unveiled an over-reliance on one age group of players – the vintage of Sam Kerr, Steph Catley, Kyah Simon, et al.
Coach Tony Gustavsson was brought in to build depth, and give young players a chance. Some held their own, others struggled. But really, international football is not a finishing school. It's the real world.
At the recent Asian Cup the Matildas squad was an unhealthy balance of extremes – experience and youth – with not a lot in between. Just one outfield player in the squad – Clare Wheeler – was aged between 23 and 27, a time when players start to peak.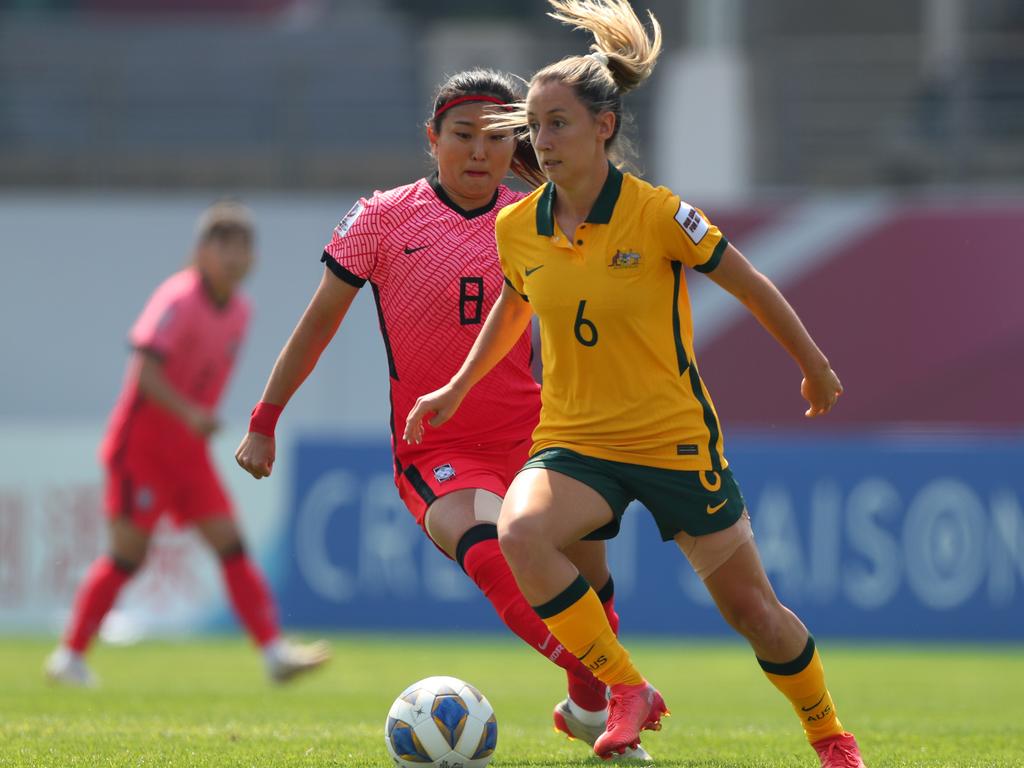 At 24, Clare Wheeler is the only Matilda in the prime 23-27 age bracket. Picture: Thananuwat Srirasant/Getty Images
It's a similar story for the men's side. The Performance Gap Report told of the A-League averaging the highest age for players among 35 big competitions worldwide. Young players found it impossible to break through and players born in 1996 and 1997 were virtually non-existent.
It manifests itself in the present. Those players are now 24 and 25.
Of Graham Arnold's 23-man squad to play Oman, only one 24-25-year-old featured – Fran Karačić, who was born and raised in Croatia and recruited to play for Australia through lineage.
They are just examples of a wider problem facing Australian football.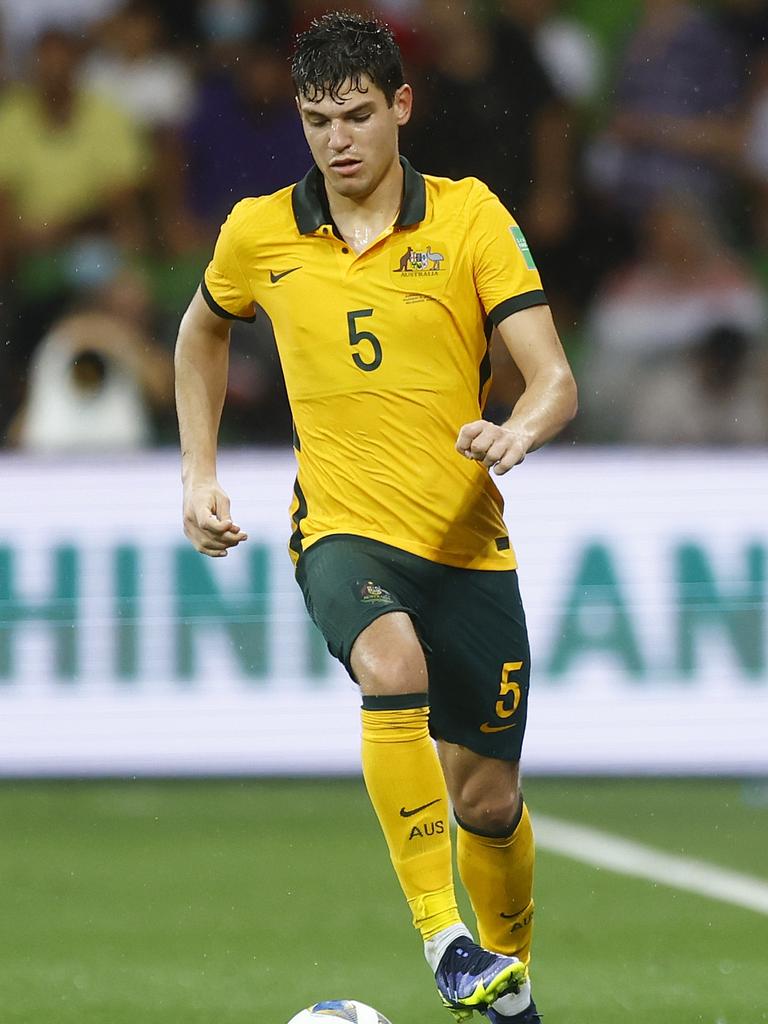 Fran Karačić, one of the youngest Socceroos, is a Croatian recruit. Picture: Mike Owen/Getty Images
How do talented young players navigate their way through a convoluted system, which on face-value doesn't put players first? For instance, the A-League Women's doesn't run two full rounds. For the men, there is no Youth League underneath the A-League. Commercial realities come first.
Some will argue the tactical decisions made by Gustavsson and Arnold were major factors in the January games. The counter argument is that the state of single trees is important, but not compared to a whole forest in poor health.
Some big decisions are being made to try and fix the issues. The game has always had a hard time coming together, with different levels of governance holding grudges and hurling grenades toward one another.
As we saw in Germany in 2006, if the right players are developed, the country goes along for the ride. FA CEO James Johnson spoke with Adam Peacock about what is being done to improve the situation.
Adam Peacock: James, thanks for your time. The recent results for the Matildas and Socceroos did what to your opinion of how we develop players in this country?
James Johnson: I think the writing has been on the wall for some time, by many measurements. If you look at the results of our youth national teams over the past two decades, it's not a healthy trend on the men's side. The trend of qualifying for a men's World Cup has gotten more difficult. From our Performance Gap Report we issued 18 months ago, we know players in the under-23s age group – a key development area – are not playing enough match-minutes. There's the number of youth teams compared to our Asian counterparts – we don't have as many. Any way you measure it, the writing was on the wall before these matches. Clearly there's issues.
I didn't need the Oman match to be convinced we need to be looking seriously at our development pathways. Our big strength is our participant base, with more people playing than any other club sport. Then we have to look at how clubs are thinking across the country, not just the A-Leagues. They have a big role to play, but there's a whole ecosystem that has to buy into it, and in my view, clubs need to be incentivised to develop players and not just run teams.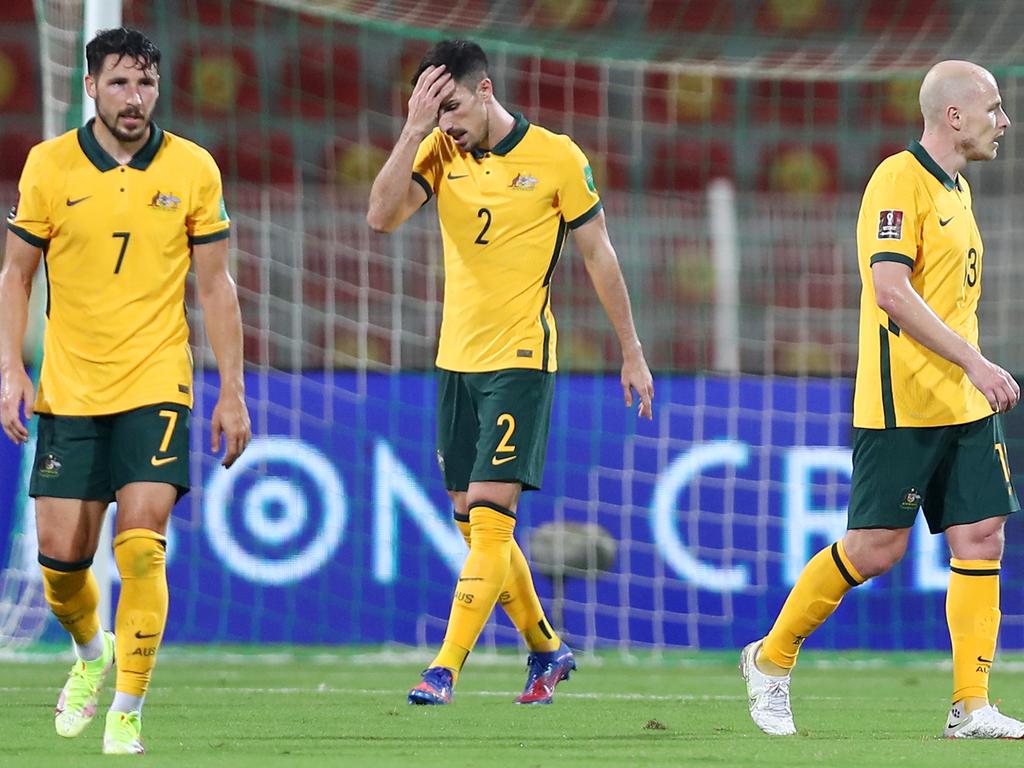 A draw to Oman makes the path to the World Cup much harder. Picture: Adil Al Naimi/Getty Images
Those clubs aiming to develop are investing in training facilities, top-level coaches, spending more time with players on the pitch, so the current system that we have in place doesn't give incentive. You can develop a player, then an A-League club can poach the player and you get a $10,000 payment. So why is a club incentivised to invest in youth development when they don't benefit from it? And that's a challenge for us.
Now you had your feet on the ground for two years as CEO, does the game cater to a player-first philosophy enough?
JJ: We've got to get a better balance of football and commercial KPIs. At the top end of the game we are more focused on commercial, but I think the better place would be a balance. I put football before commercial but the reality is we need to have both. If you don't have money, you can't do football. And you don't do football well, you don't get money. I think we need to focus more on football outcomes.
I'll give you a positive example, when we did the Performance Gap on the men's game, we measured the number of match-minutes played in the A-League Men's, and we had one of the oldest leagues by age in the world. We released that, and we've seen a lot more match-minutes given to young players. It's not just about introducing major structural changes, it's little things like doing analysis and communicating in the right way which can lead to the football outcomes.
There are some encouraging signs, but we (the FA) are pushing hard for a transfer system, which ultimately is focused on player development. We've got a governing body that is talking about introducing a second tier. These are good signs that there is a rebalancing of football and commercial KPIs.
That second tier competition is on the way. How does that line up with A-League clubs who pretty much all have academies with the best young talent. Do they need to run off and do their own youth league and second tier comp at their own expense?
JJ: With the second tier, the debate has moved from 'we are against it' to 'we see the benefits of it'. We want a second tier. And it's going to happen in 2023. We are assessing what is practical. We need to give more match-minutes for clubs to play at national level under a competition model. We are looking at two different models (a traditional home-and-away season, or a conference-based on geography then coming together for finals), and we have to see which one has better football outcomes. It will mean more matches at a national level for players, coaches, referees, but it has to be practical.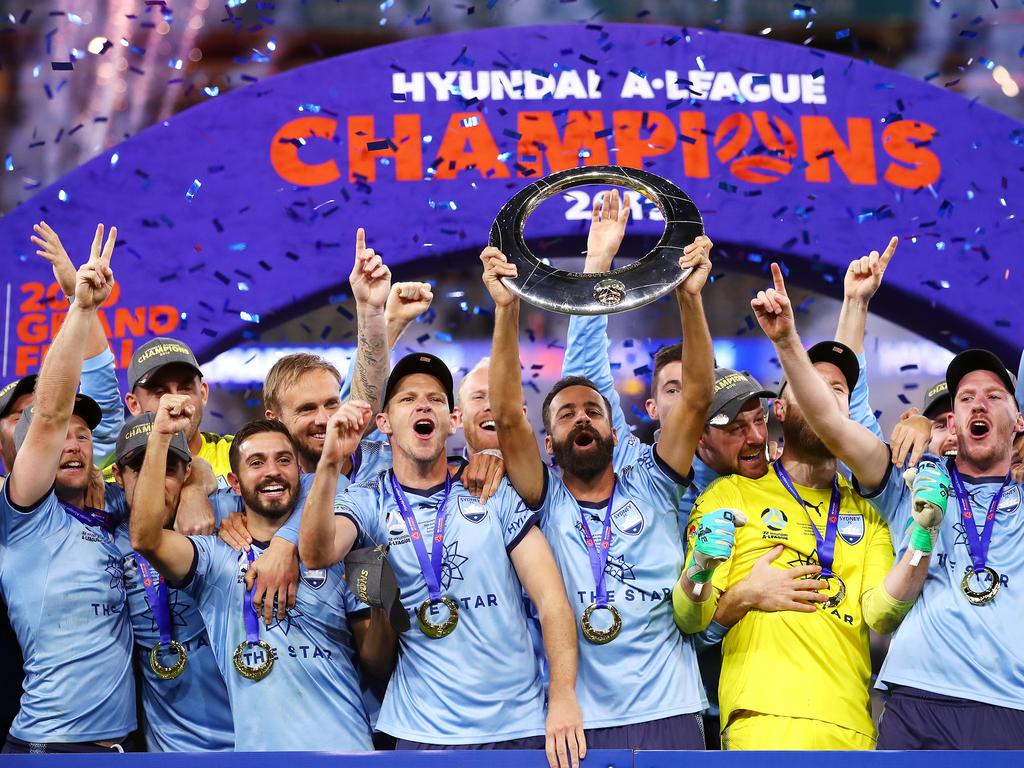 A-League Men's, on average, fields some of the oldest playing groups in comparison to professional football competitions around the world. Picture: Cameron Spencer/Getty Images
With the separation of the A-Leagues clubs (APL) it's added another layer of governance. Instead of, say, NSW having three layers – associations, state feds, and you the national body, there is another, the APL. Is more political layers a good thing?
JJ: The unbundling of the APL was a good thing for the sport. Especially the business side, our revenues and costs, where we can allocate funding. We are in a much healthier position as a business than we have been for many, many years. We got a very good broadcast deal for our rights – Asian rights, national teams, FFA Cup. Over time the A-Leagues will be in a much better position, with a lot of good ownership and now they own their own product, they have incentive to invest and I can tell you now, speaking to the owners, the attitude to invest has very much changed since the unbundling. It does create complications around decision-making. We have the final say on the big football issues but that's just the reality of a more sophisticated football market.
To bring it back to focusing on developing better players – your point about being in a better financial situation – how does that help young elite footballers get better. Is it more youth teams going to tournaments or camps?
JJ: Exactly. What we are able to do now, unlike the past, is invest a lot more dollars into our national teams. Not just Socceroos and Matildas, but youth teams. We are spending 55 per cent of our revenue on national team activity. 75 per cent of revenue is going into football as a whole. That's the highest proportion ever. The sharpest increase has been around the Matildas and Young Matildas, and that's a strategic shift in trying to close the gap in investment for the women's game.
An example of how the governance works in actual terms for development opportunities – it's hard to tell owners how to spend their money, but those involved are screaming the A-League Women's needs to be a comp where everyone plays each other twice (18 games as opposed to the current 14-game season). How do you now tell the APL clubs to get it done?
JJ: Well the way it works is we set the window for the match calendar on when competitions can play. We've given the APL enough time to play two rounds. How they use that window, and how many teams, how many games, that's at their discretion. Not us. We can have a view on that, and our view very strongly is to go to two full rounds as soon as possible.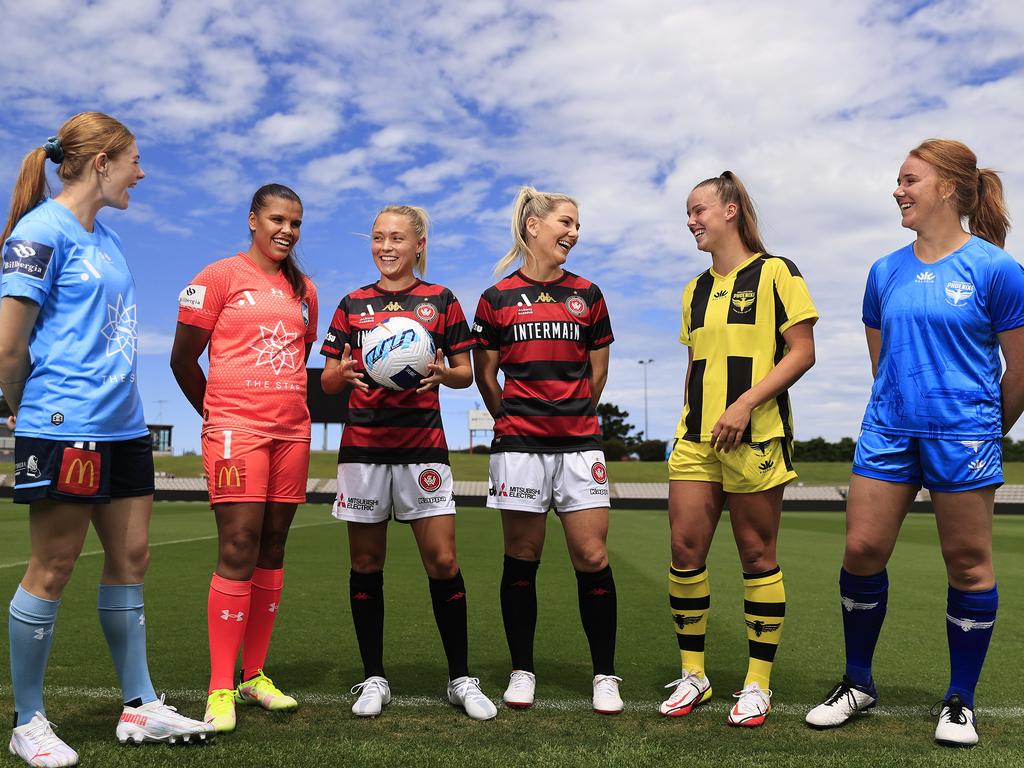 Fans are crying out for an 18-game A-League Women's season. Picture: Mark Evans/Getty Images
That's an example from the women's side. On the men's side, there is a long awaited second tier competition coming. It looks like it will be completely independent of the A-League Men's, promotion/relegation eventually but not now. But initially, how do you make sure it's not an NSL-lite v A-League clubs and they both hate each others' guts?
JJ: That's where you need mechanisms to connect the football pyramid. This is a mindset as much as anything. We seem to have a view that the A-League is separate from the rest. You can see and feel it.
A transfer system is the way to create a relationship between a second tier and the A-League, because it regulates the player movement, and shapes the economic flows between those levels. But when you put a transfer system on the table, not all stakeholders buy into it. That's quite frankly a frustration.
Another mechanism is club licensing. We have implemented a licensing system for the A League clubs for the Asian Champions League so they can compete in that competition, and eight of the 11 Australian clubs have it (Adelaide, Newcastle, Perth missed out), and it's measured on academies, youth development strategy and coaching. Now we are working down the pyramid and those same standards would be set up by FA to take part in the A-League, and again there will be a very heavy focus on youth development, then they could get the guillotine or a speeding ticket. Guillotine means they don't participate. Not so serious, they could get fined. We are focusing on that now, then the next step would be to introduce it through the NPL (second tier clubs) on the same principles, but at a different level. So a Wollongong Wolves, for instance, if they had aspirations of playing in the A-League, can have a crystal clear idea of how they measure up to A-League clubs. It's a very good way to connect pyramids.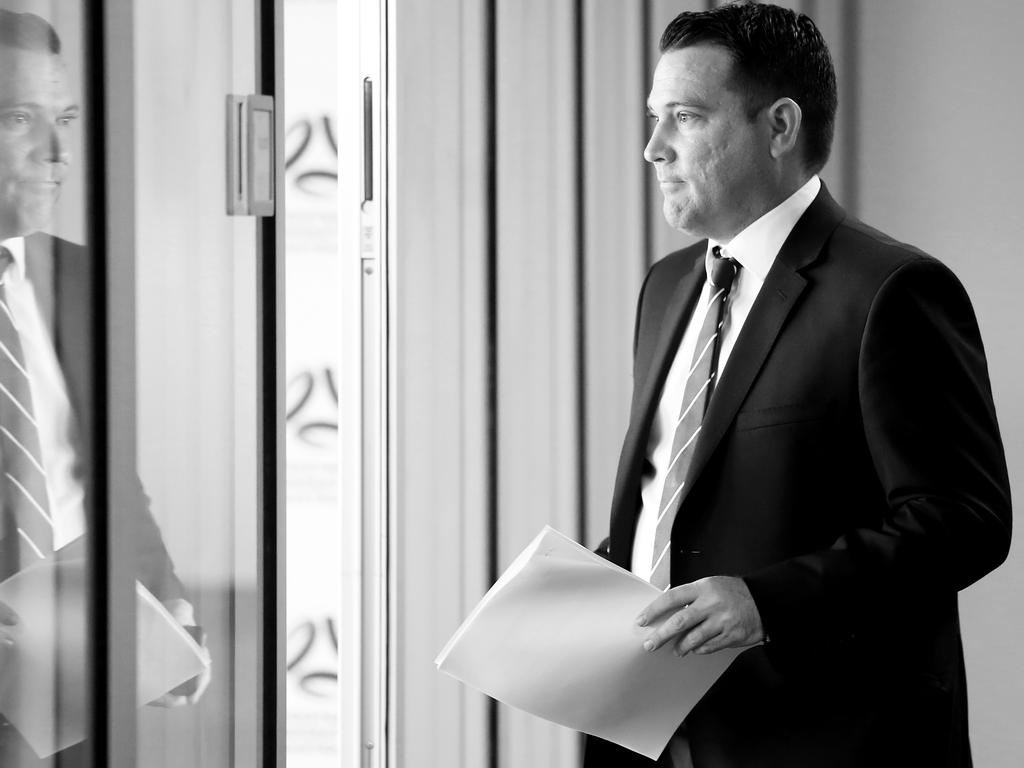 James Johnson is trying to build a positive culture for football in Australia from the top down. Picture: Matt King/Getty Images
How do you have true power to implement these things? Money is power and in European football, and other sports here in Australia, the money filters down from the top. But Australia football money comes in at all levels and those groups do what they want with it. How do you streamline it for the greater good, and again I reference it back to what that is – helping the elite young player get better?
JJ: It's a challenge our sport faces. Economically it's a very complex ecosystem. One positive is we are going through a One Football process with our Member Federations (state federations who run the state-based competitions). For the first time ever we are going to have on one piece of paper a football strategy with four or five key areas that the Members Feds and FA will focus on. Elite pathways is part of it, also areas like participation, and commercial matters. It's really positive.
It's hard to predict the future, but you plan for it. Are you confident the big black hole that exists in the performance age gap for the Matildas and Socceroos can be fixed?
JJ: The sport has gone through a lot of changes. Got a women's World Cup, major governance change, new broadcast partners, new sponsors. The whole sport has completely transformed. One for vision, another because of Covid. Our biggest threat, and also our biggest opportunity is people at all levels of the game stakeholders need to be open to change. It's a continuation of a process. You can't just say with the Leagues breaking away, we've got a World Cup coming, and tried to qualify for the men's, OK we're in a good place, and just go back to administering the sport. No, the attitude has to be that we have to keep changing. I come in and go out, so I don't want to be focused on change, then I leave and we go back to normal. No, it's got to be built in the culture of the sport. If we don't we'll get left behind. You look at Qatar, Saudi Arabia, Japan, our competitors in the region – that's what they are doing. They are continually open to change. It's a big opportunity, but the biggest threat if we don't do it.