How 908 days away from football rekindled Matthew Spiranovic's desire to be the best
He didn't retire. He just disappeared for two years. Now Matthew Spiranovic is back and ready to lead Melbourne Victory to glory, writes ADAM PEACOCK.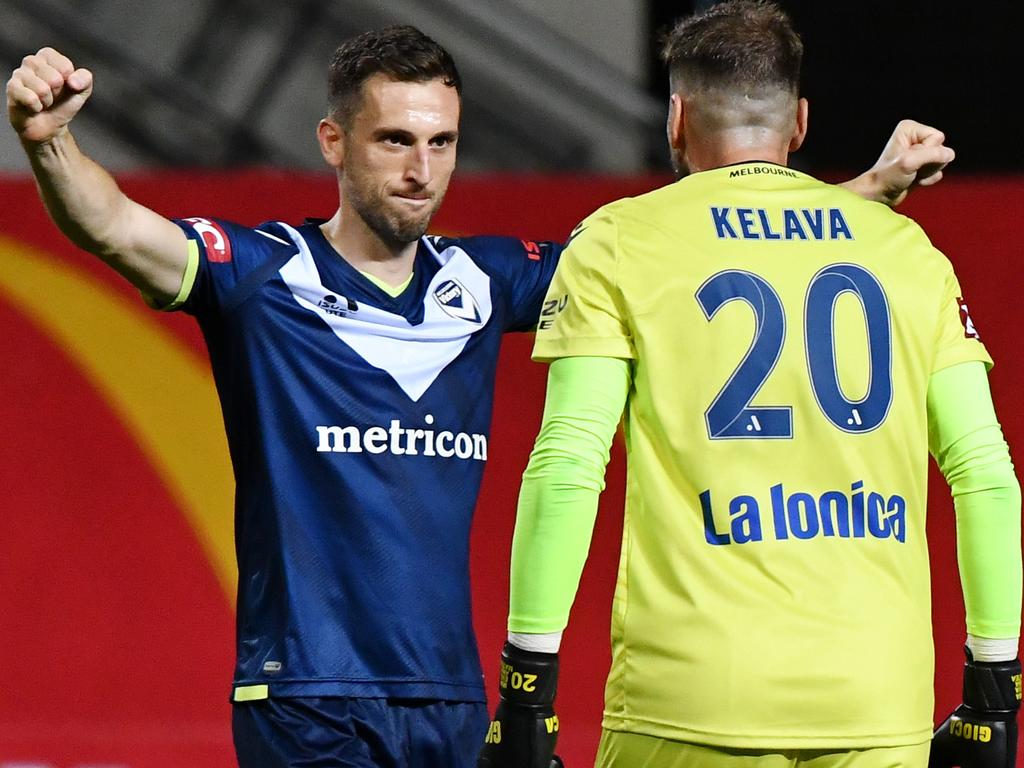 After two-and-a-half years out, Matthew Spiranovic is back as Melbourne Victory make a charge into the finals. Picture: Mark Brake/Getty Images
How good is Matthew Spiranovic?
It was 908 days. That's how long he stopped playing for. Not because of injury, or form. Because he couldn't be bothered. So, at age 30, he stopped.
And then, aged 33, he started again, and looks like he hasn't missed a day.
How good is Matthew Spiranovic?
When he was a teenage bag of bones, broad shoulders that acted more like a coathanger, he was selected in the Australian under-17s. A wiry defender, word got around about his skill level.
Ange Postecoglou coached the team, and he liked to get tennis balls out. "Juggle them," Ange would say.
Most got 20 or 30 before failure. Spiranovic was always the last to finish. A hundred, sometimes more. The kid was special.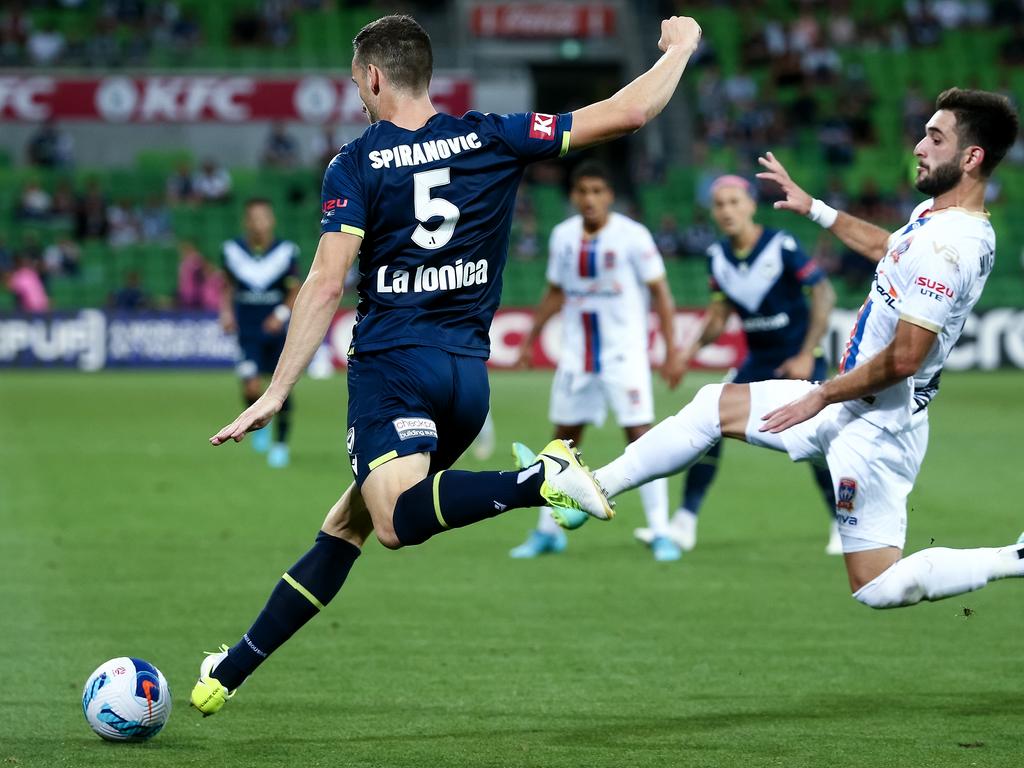 Spiranovic hardly looks like he's missed a beat in his Melbourne Victory comeback. Picture: Dave Hewison/Speed Media/Icon Sportswire/Getty Images
How good is Matthew Spiranovic?
Melbourne Victory's manager Tony Popovic usually hands out praise like the ATO hands out compliments, but talks of Spiranovic like a relative.
"Never have to pump him up for a game," Popovic effuses to CodeSports. "Just leave him alone and you know when he walks out you've got a player you can rely on at the back.
"He's a better player than I was, that's for sure."
Seeing Popovic played in Japan and England for a decade, plus 58 times for Australia, it's big love.
How good is Matthew Spiranovic?
After a gap year that lasted 30 months, he's a large reason why Victory are right in championship contention. And he might just be able to help the Socceroos in their desperate hour of need.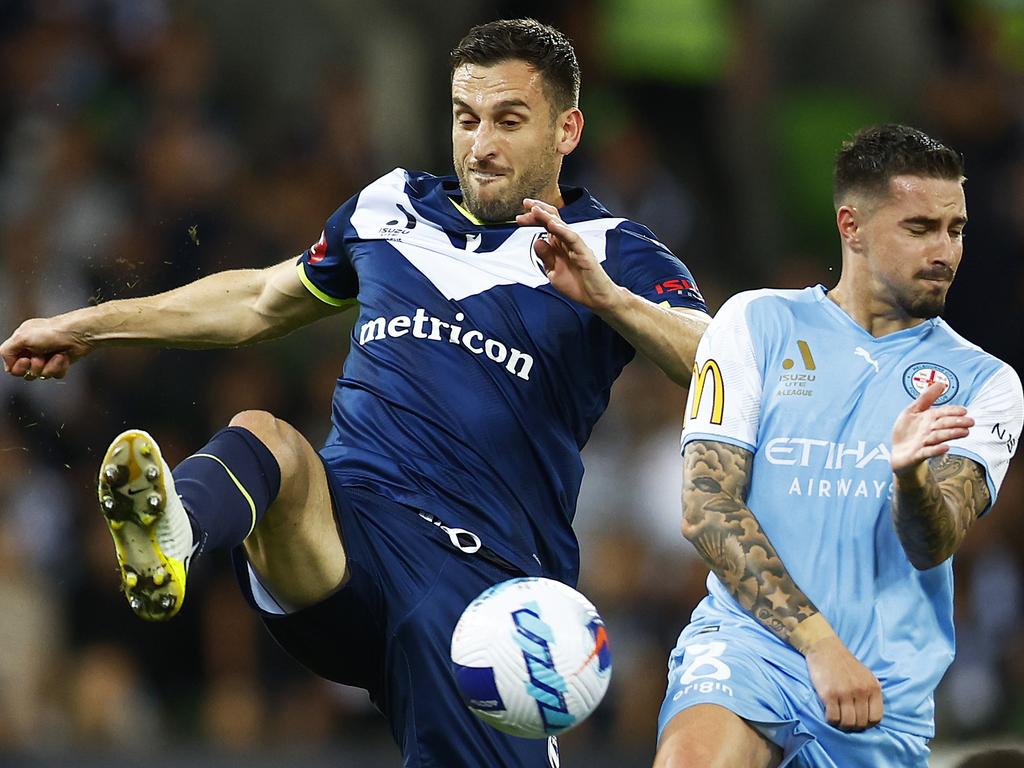 With Spiranovic on board, Melbourne Victory are right in title contention. Picture: Daniel Pockett/Getty Images
*****
Stopping at the age of 30 usually means one thing for an athlete. Retirement.
Spiranovic didn't call it quits. He just disappeared. Didn't say a word, didn't announce anything, but the passion for being a footballer had dissolved.
It went toward the end of a season in Perth in 2019, where Popovic was coach, and Glory got to a grand final, which they lost to Sydney.
Spiranovic knew he was cooked, Popovic too.
"I tried to convince him to play a second year," Popovic says, "but I know Matty well, he didn't have the desire to stay at that level."
Spiranovic took off to Croatia for a break, and the closest he got to football was some late afternoon five-a-side with fellow Socceroo Tomi Juric and his family in the summer sun.
"I wasn't going to go into anything half-heartedly," Spiranovic says about his missing professional ambition. "Nothing felt right."
Then the pandemic hit.
"The A-League was going through quarantines and pay cuts, and I thought then, it's a blessing in disguise"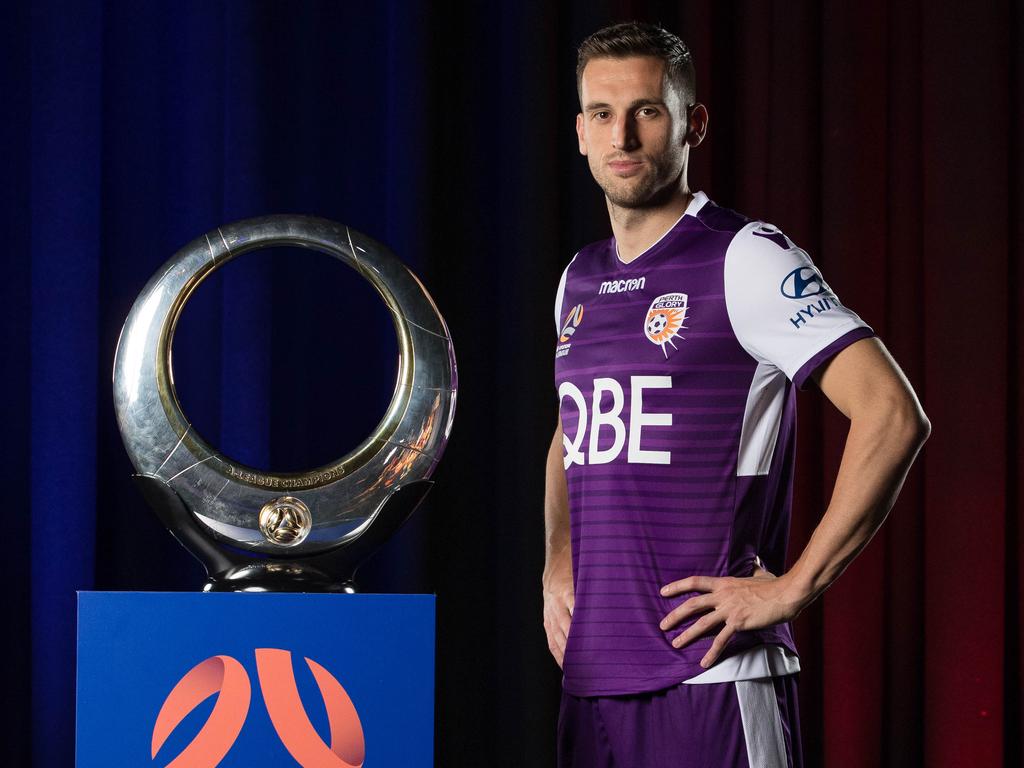 Spiranovic made it to the decider in his one and only season in Perth. Picture: Mark Metcalfe/Getty Images
Not even lockdown after lockdown in Melbourne altered his decision. Spiranovic was home after a career spent elsewhere. And importantly, he was happy.
"Strangely, I was comfortable and content with my decision. No alarms to go to training. Doing my own thing."
Then, nearly two years into his hiatus, a strange itch returned. Watching the A-League toward the back-end of last season started some cravings.
"It wasn't overnight. It wasn't one morning I said I'm bored; I want to play football again," Spiranovic says.
"I was watching games. And as I watched a few more, I thought why not, might give it a go, see what happens."
Not one to do things by half, Spiranovic hired a personal trainer, Colin Hamilton, who put him through the ringer at a local Melbourne gym.
If there's been a handbrake on Spiranovic's career, it's been the constant niggles, like the double hip clean-out that stopped his chances of playing in the 2018 World Cup. A four-month gym program was going to shine a torch on every part of his post-30 body, and search for a weakness. There wasn't one.
"It was the first time in my career my body felt really good and I was getting through the training. Then I thought, 'You see players go into their late 30s, so why not?'"
The comeback was on. He picked up the phone to meet an old friend for coffee.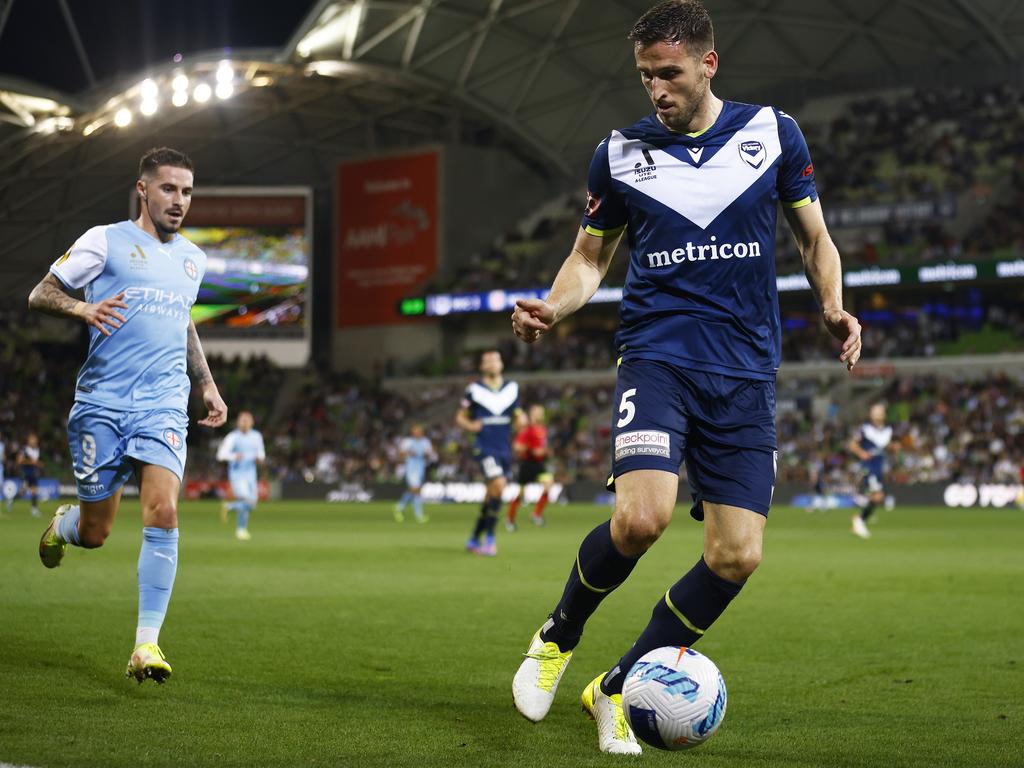 Spiranovic got the itch to play again after two years out of professional football. Picture: Daniel Pockett/Getty Images
*****
It was June, the depths of winter, and Melbourne Victory had just hit the depths of their own hell, finishing their worst-ever season with the wooden spoon. Unheard of.
It became Tony Popovic's mess to fix.
Popovic started Western Sydney from scratch for immediate success. He guided underachievers Perth to their first A-League trophy. Now to sort out Victory.
Building his squad, Popovic was happy to take Spiranovic's call, but the real chat would take place in person.
"I wanted to see how he looked," Popovic says.
Once he realised Spiranovic hadn't indulged in a Homer Simpson lifestyle, he needed to read his mood. Didn't take long.
"That hunger that had disappeared in Perth, well when I sat in front of him, he had it back. I saw it in his eyes," Popovic says.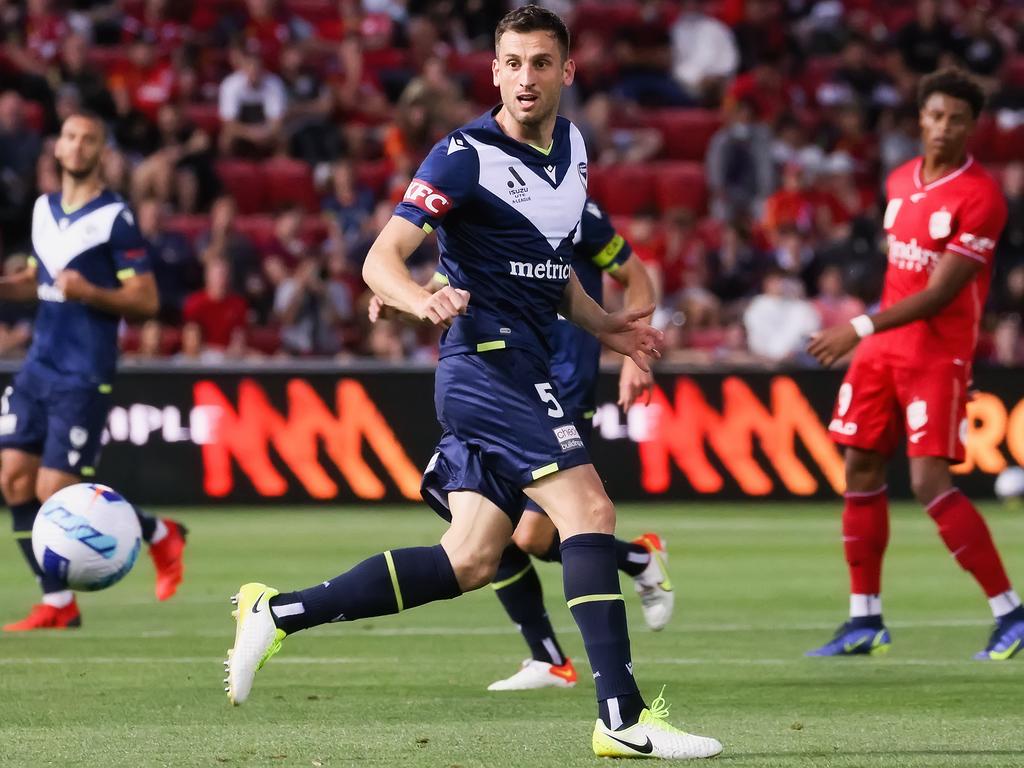 The hunger is back in Spiranovic's eyes. Picture: Peter Mundy/Speed Media/Icon Sportswire/Getty Images
*****
"Matty's the guy we all hope could end up being one of our best-ever players."
So said Ange Postecoglou in 2014 about Spiranovic after picking him for all three games at the World Cup in Brazil. The praise didn't stop there.
"He's in the age group where the next World Cup becomes a real big one for him. He's a really important part of what we're building going forward."
Of course, it didn't quite work out for Postecoglou and the Socceroos for the 2018 World Cup. And Spiranovic didn't make it either, cruelled by a double hip operation at the time.
Has Spiranovic reached Ange's lofty prediction? No. His choices of clubs have raised the eyebrows of not just fans, but national team coaches. Spiranovic's reasoning is that he has gone where he felt comfortable, not where others expected him to go.
As a teenager he was at Melbourne Victory, but never signed. Before the first ever A-League season in 2005, he took off to Germany, where as an 18-year-old, he won a German Cup with FC Nürnberg. Then to Japan with Urawa, arguably the biggest club in Asia's best league. Then the fork in the road.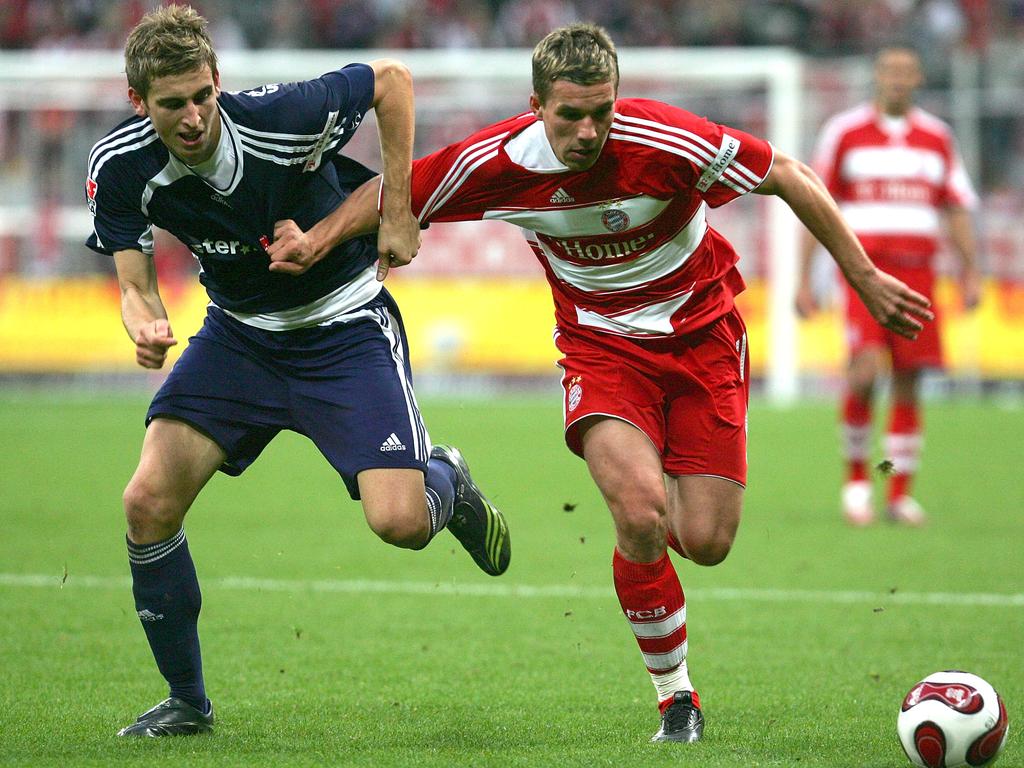 Spiranovic (L) competes for the ball with Bayern Munich's Lukas Podolski in the Budesliga in 2007. Picture: Johannes Simon/Bongarts/Getty Images
In 2012, Swansea, then in the English Premier League with Brendan Rodgers as manager, wanted him.
"We played a Socceroos friendly game against Wales in Cardiff, and Rodgers was at the game. A few months later they put an offer in for me, and it was a done deal.
"Then Rodgers signed at Liverpool and it fell through."
So Spiranovic took a huge offer to play in Qatar. After that he returned to the A-League for his first of three stints with Popovic, at Western Sydney. He was fit and firing for the 2014 World Cup, hence Postecolglou's "one of the best ever" predictions.
After Wanderers, he followed the money trail to China at a time when the Chinese League had the green light from the government to go on a spending splurge that attracted some of the world's best attacking players, like Brazilians Oscar, Hulk and Argentine Carlos Tevez.
Spiranovic makes no apologies for his club choices.
"I always sat down with my agent, parents. It wasn't always the most eye-catching club, or country, it was about what's best for my football, development and future, ultimately. I always thought long and hard about each move that I decided to take."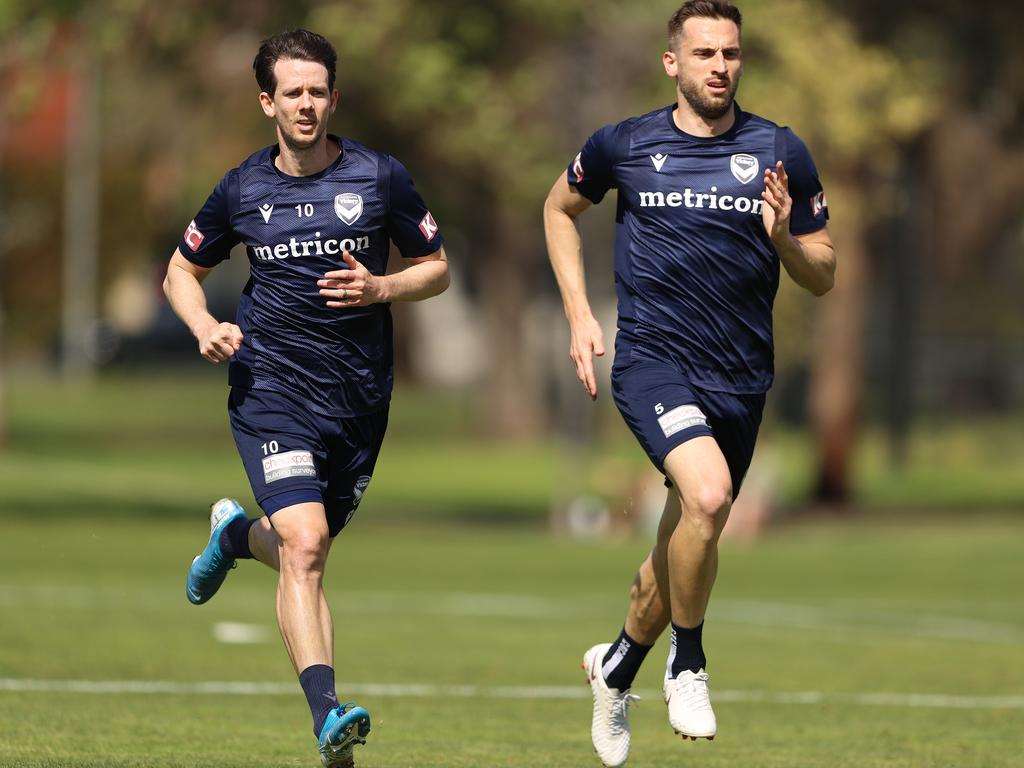 Spiranovic (R) and fellow Melbourne Victory veteran Robbie Kruse (L). Picture: Robert Cianflone/Getty Images
Is he happy with his own career?
"I think I very much reached my potential. I'm proud and content with what I've achieved."
At club-level outside of Australia he's won a German Cup, an Asian Champions League, and at international level won an Asian Cup, played at an Olympics and World Cup. It's more than most.
*****
Coming back at the age of 33 to play under Popovic cannot be regarded as the easy option. His pre-seasons are regarded as one-stop short of a Navy Seal prep camp.
"Some people might think I'm crazy going for a third stint with Popa!" Spiranovic says.
"I said to him when I decided to come back, I'm under no illusions, it's pain, it's suffering, it's heartache, but ultimately I know the rewards are there at the end.
"I'd much-rather be in that environment fighting for trophies rather than taking it a little bit easier elsewhere."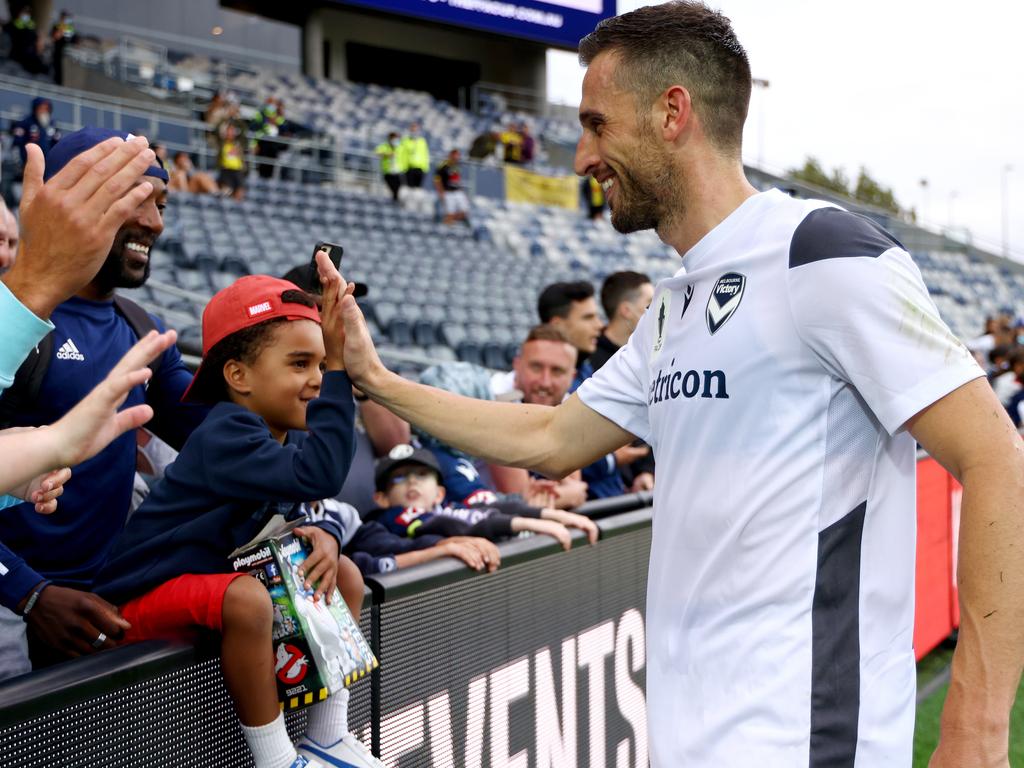 Spiranovic celebrates Victory's FFA Cup semi final win over Wellington with the fans. Picture: Jonathan DiMaggio/Getty Images
Spiranovic's class for Victory this season has been evident, despite playing half the games he could have. Popovic has been careful to manage his load, with the odd niggle, like a recent tight calf, flaring up.
"The problem I have when I see him training, because he moves so well and is so good, I forget he's been out for two years," Popovic says.
Of the 11 A-League Men's games he's featured in this season, Victory have conceded just 10 goals, and lost just two of those games.
Tonight, the finals start against Western United and Popovic is happy he had that coffee back in June.
"I'd love to keep coaching him for as long as he keeps playing," he says.
*****
The best benefit of his sabbatical, Spiranovic figures, is he has seen the sporting afterlife.
He won't have to wait until retirement to realise it's a land barren of the unique buzz only playing can give you.
"You set yourself up for disappointment if you think something's going to match playing," Spiranovic says.
"Whatever you do, you're not going to get that adrenaline rush, that high. Walking out in front of a full stadium at a World Cup, what's going to match that?"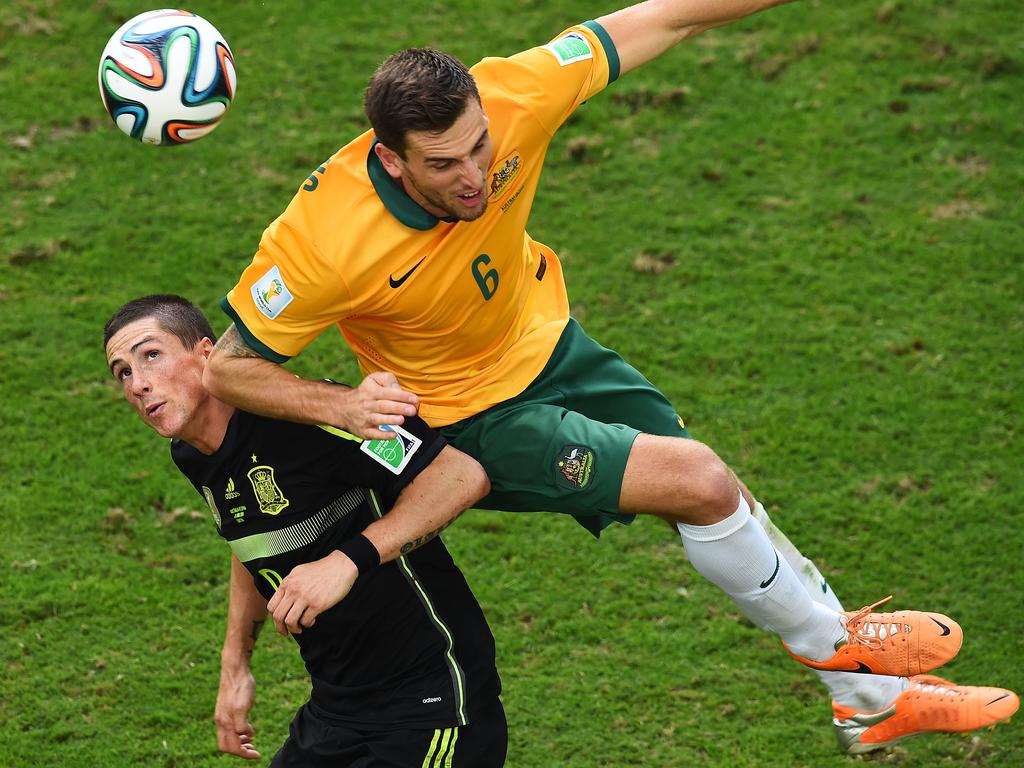 Spiranovic and Fernando Torres during Australia's group stage match with Spain at the 2014 World Cup. Picture: David Ramos/Getty Images
A chance at a second World Cup is not dead. He was called up for the Socceroos in March, but got Covid-19 right when Graham Arnold selected him for the Japan and Saudi Arabia games.
In less than a month, there are the two playoffs to negotiate. Spiranovic is available.
"If I'm required and they think I can contribute, I'm more than happy to put my hand up," Spiranovic says.
"But first I have to do the business for Victory, that's first and foremost in my mind."
The desire is back. Talent has always been there. Retirement can officially wait.
"The body feels good," Spiranovic says with a smile.
"Why not? I'm home, I'm happy, there are so many positives."