The answer to the A-League Men's woes is hiding in plain sight with young talent and marquee signings
The A-League Men's grand final won't pack out the stadium, but a clear path forward for the league can be found utilising its incredible young talent with a mix of potential marquee signings, writes ADAM PEACOCK.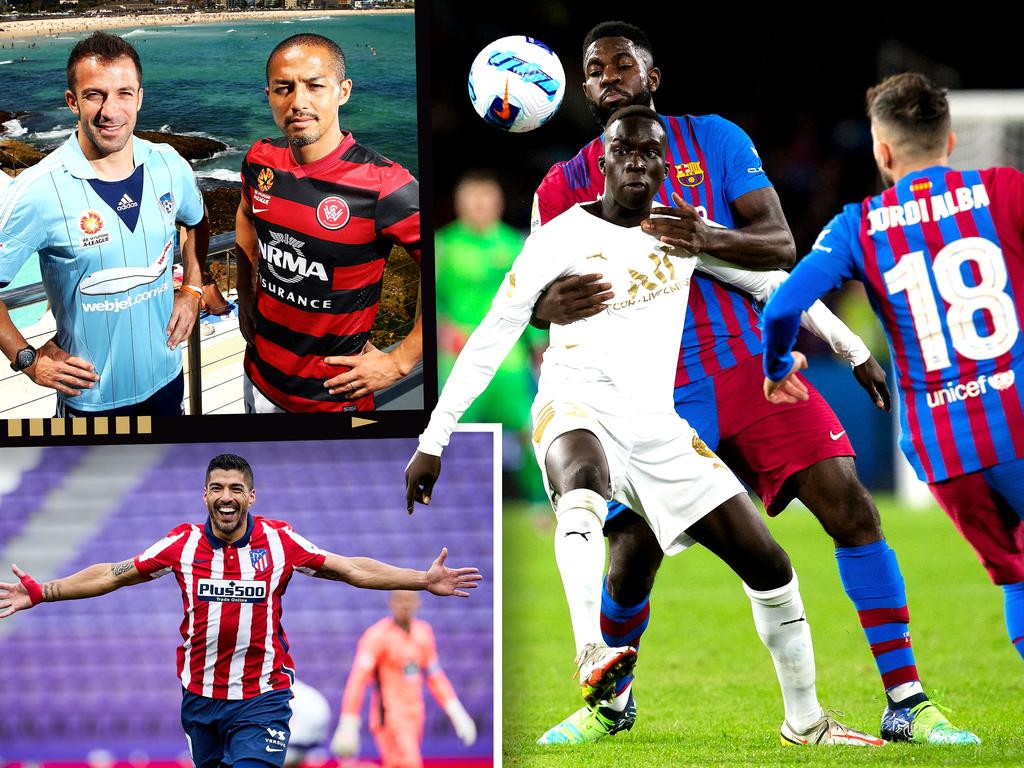 Marquee signings and the best young talent could prove a recipe for success.​
It was around 9.30pm on a school night, but the kid in the stands with his dad was still wide awake.
The A-League All-Stars replacement striker burst through Barcelona's last line, leaving two players worth the sum of the NRL and AFL salary caps combined in his wake, before his deft chip over the advancing, desperate Barca keeper just dribbled wide of the post.
"Who's that?!" the wide-eyed child of about 10 asked.
Dad didn't know.
It was Garang Kuol.
The 17-year-old shone in his 30 minute cameo in front of 70,000 people at Accor Stadium last Wednesday night.
And yet all season, he's been hiding in plain sight.
Garang Kuol has been superb in the second half of the season for the Central Coast Mariners. Four goals in nine game-changing appearances off the bench. His brother Alou did the same last season, and landed himself a deal with Stuttgart in Germany.
Kuol junior is likely to play his next match for a European team. There are offers, and now it's about the Mariners accepting the right one for the player and themselves.
The game against Barcelona though served as a shining example of where to now for the A-League Men's in the Australian sporting landscape.
Hidden gems playing against big names. Barca drew the crowd. Kuol drew attention.
Is this the template for the A-League Men's to rediscover its mojo?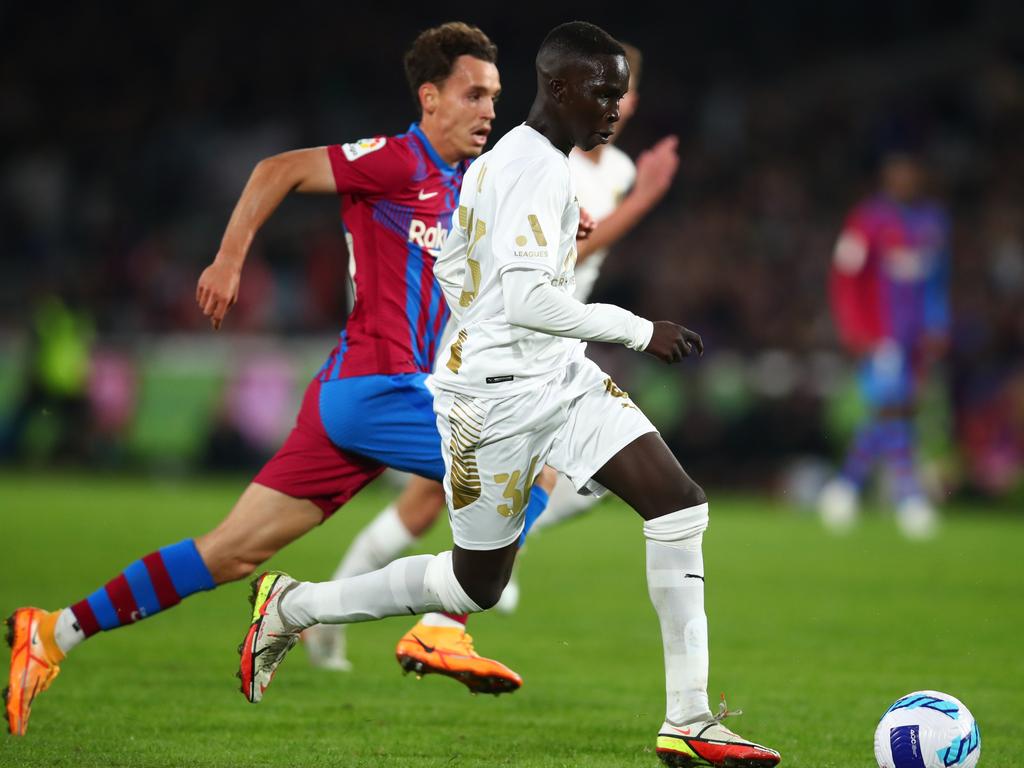 Garang Kuol mesmerised plenty against Barcelona. Picture: Jason McCawley/Getty Images
*****
A crowd of 70,000 won't be at tonight's A-League Men's Grand Final.
Around 20,000 are expected at AAMI Park to watch Melbourne City meet Western United in the decider.
Promoters' dream? Not quite. It's just the two best teams left.
There will be some fine imported footballers on show. First-choice and emerging Socceroos too. But cut-through, in the middle of an AFL season, is hard to get in Melbourne.
Plans are afoot to change that.
As the finals series has played out, communications between the APL (Australian Professional Leagues, who run the A-Leagues), Australian agents and European counterparts have ramped up.
Marquees – big-money, big-name signings – are very much back on the agenda.
A sliver of the $140 million raised by the APL through private equity is available for whatever team wants to take the plunge.
Here's a quick hit of palatable options about to become free agents: Juan Mata, Cesc Fàbregas, Edinson Cavani, Luis Suárez, James Milner, Fernandinho and the ageless Zlatan Ibrahimović.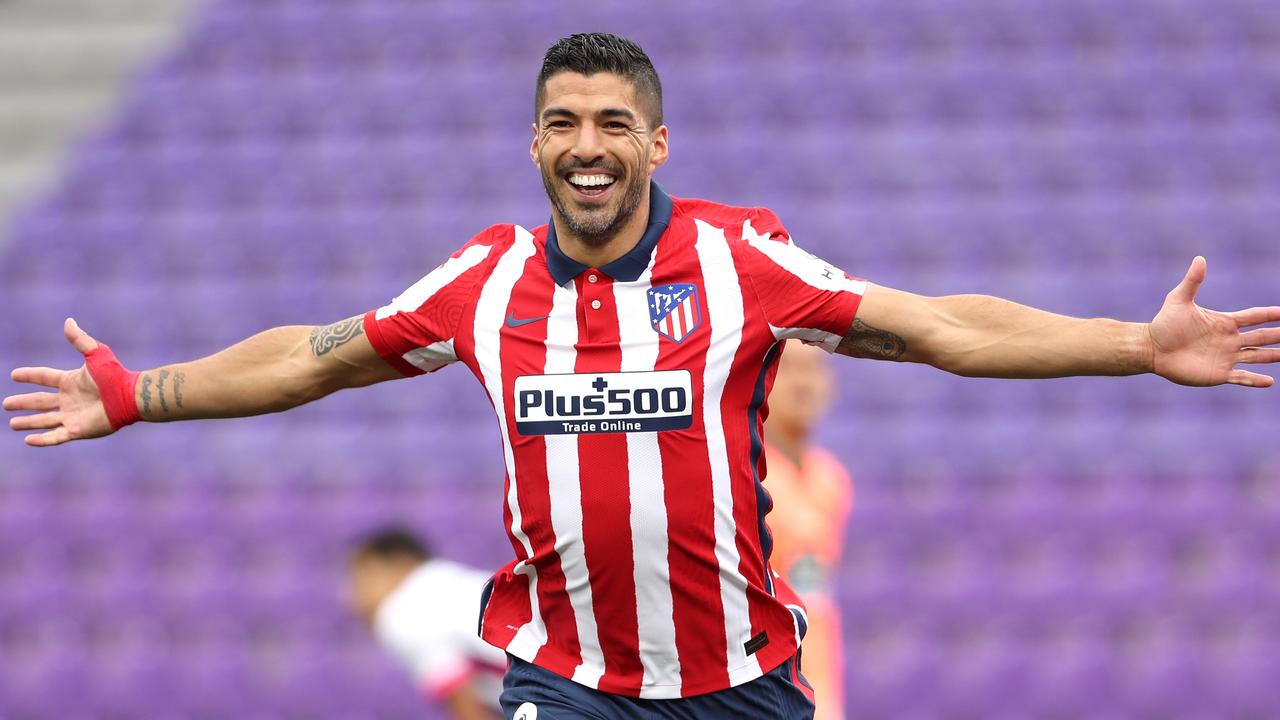 Signing Luis Suarez would be a serious statement from an A-League club. Picture: Angel Martinez/Getty Images
Tony Pignata knows all about marquees. He was Sydney FC CEO when Alessandro Del Piero rolled into the A-League a decade ago.
"We fluked getting someone like Alessandro Del Piero," Pignata tells CodeSports.
"It was just timing. He was ready to come, cost about $3 million, but he really did lift the whole league and Sydney FC supporters are still wearing his shirt.
"To get a marquee is so hard. Someone like a Suarez, a Cavani, you are talking around $4-5 million. They can still command that in Europe."
Pignata is now CEO of Perth Glory, who this season had the A-League's lone marquee experiment in Daniel Sturridge.
First up, but way underdone in terms of preparation, the former Liverpool striker played five minutes off the bench in Glory's first home game, which saw 17,000 pack out HBF Park.
"We've never made so much money at the gate in 15 years at Perth Glory. It was a buzz, great game, 1-1 draw with Adelaide," Pignata says.
Then state borders went up. Glory hit the road. Covid-19 ripped through the squad. Sturridge got injured.
"It was just a disaster, one thing after another. In the end, for us, it just didn't work out," Pignata says, before adding, in a normal season with 13 home games, and Sturridge fit, it wouldn't have been so bad.
"Would have got maybe an average crowd of 14,000, and with merchandise, memberships, corporate boxes and the gate, we probably would have broken even.
"A marquee isn't so much about the spend. It's about limiting your losses and what they can drive through the gate and your exposure."
Pignata will await direction from Perth's owner Tony Sage as to whether Glory go after another marquee this off-season. At the moment it looks doubtful, but Sage isn't known for following scripts.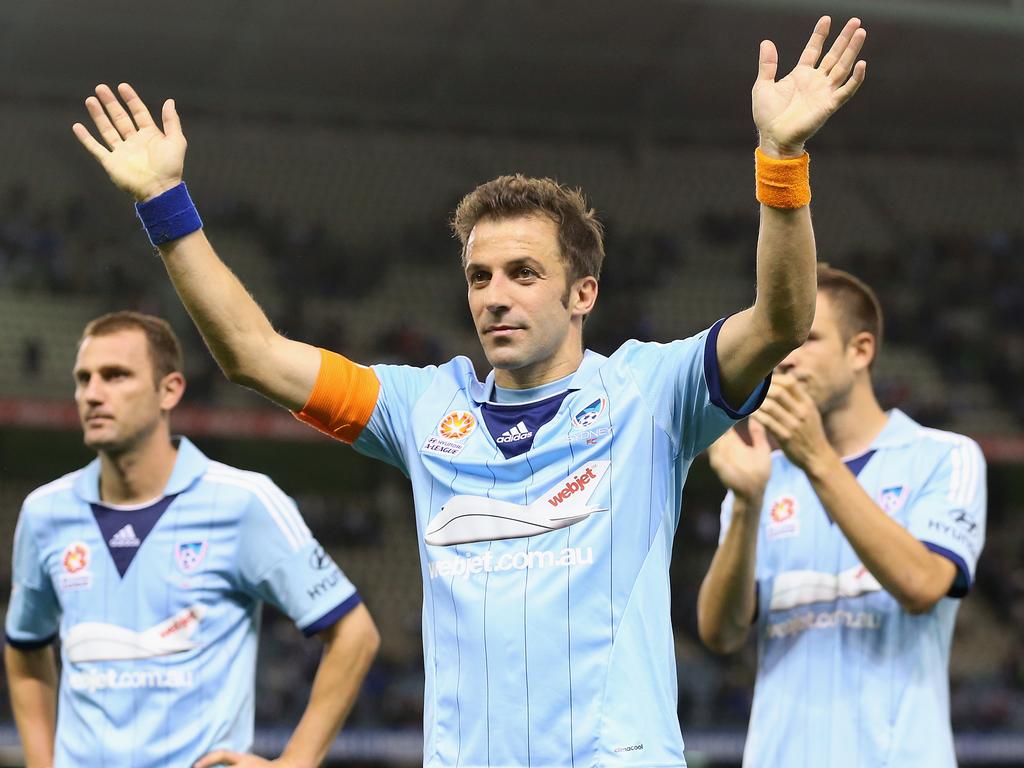 The biggest signing in A-League history. Picture: Quinn Rooney/Getty Images
The marquee won't be Sturridge. He's gone home after a zero-goal return in 139 minutes of football in Australia.
But beneath the surface of a failed season for Glory, was one largely unnoticed transaction which is starting to become a habit around the A-Leagues.
Young right back Josh Rawlins was sold to FC Utrecht in Holland. After two seasons of senior exposure, the 18-year-old is treading a path which was once a conveyor belt to football's epicentre.
In the past 12 months Rawlins, Connor Metcalfe, Nathaniel Atkinson, Cam Devlin, Joel King, Denis Genreau, Gianni Stensness, Bruce Kamau, Ryan Strain and Alou Kuol have secured moves from Australia to European clubs.
If the league was so inept, there is no chance those moves would become reality.
Therein lies the key issue. Finding a way to introduce an audience to a competition which is starting to become a respected breeding ground for young footballers.
A marquee sugar-hit is one way. The quickest.
There's another factor to consider, though. The competition isn't just a breeding ground for players.
Coaches have their neck on the line.
For them, it's win or bust.
*****
John Aloisi is one of the success stories of the season.
The famed Socceroo walked into Western United on his third, and probably, last management chance in Australia if it didn't go to plan.
It has.
Western have deservedly made tonight's grand final. Impressive, considering the club was created out of nothing, with no traditional fanbase and no home ground (it's being built now, belatedly).
John Aloisi is thriving with Western United. Picture: Robert Cianflone/Getty Images
Aloisi admits it's not ideal his club's run hasn't captivated more, but he's been around. Played in England, Spain and Italy. The product isn't the issue.
"The crowd and the general interest wasn't there this season, but in terms of coaching development and players improving, this is the best I've been involved in," Aloisi tells CodeSports.
"Tactically every team has got their different ways of playing, and this season has been outstanding in that respect."
Aloisi's winning mindset matched the needs of his club.
Western United's backers have some serious money behind them, but rather than go down the big marquee path, club powerbrokers simply backed Aloisi's judgment and assembled the team he wanted.
Even at 6 foot 3, Serbian striker Alex Prijović could walk down Lygon St and not be stopped too much, certainly if, say, Patrick Cripps was nearby.
But Prijović, who played in the 2018 World Cup for Serbia, and played 15 times in the Champions League, was exactly what Aloisi needed.
"The owners know success builds a supporter base a lot quicker and they backed me when wanting to sign Prijović," Aloisi says.
"I believed he was the player we needed and they backed me."
As far as developing young players, Aloisi has a clear philosophy when it comes to his Western United side. Prove you can cope, and you play. Lachlan Wales and Dylan Wenzel-Halls are two that have thrived under Aloisi.
"It's important to find the balance when playing young players," he says.
"If you play too many kids at the same time and you're getting beat, they don't develop."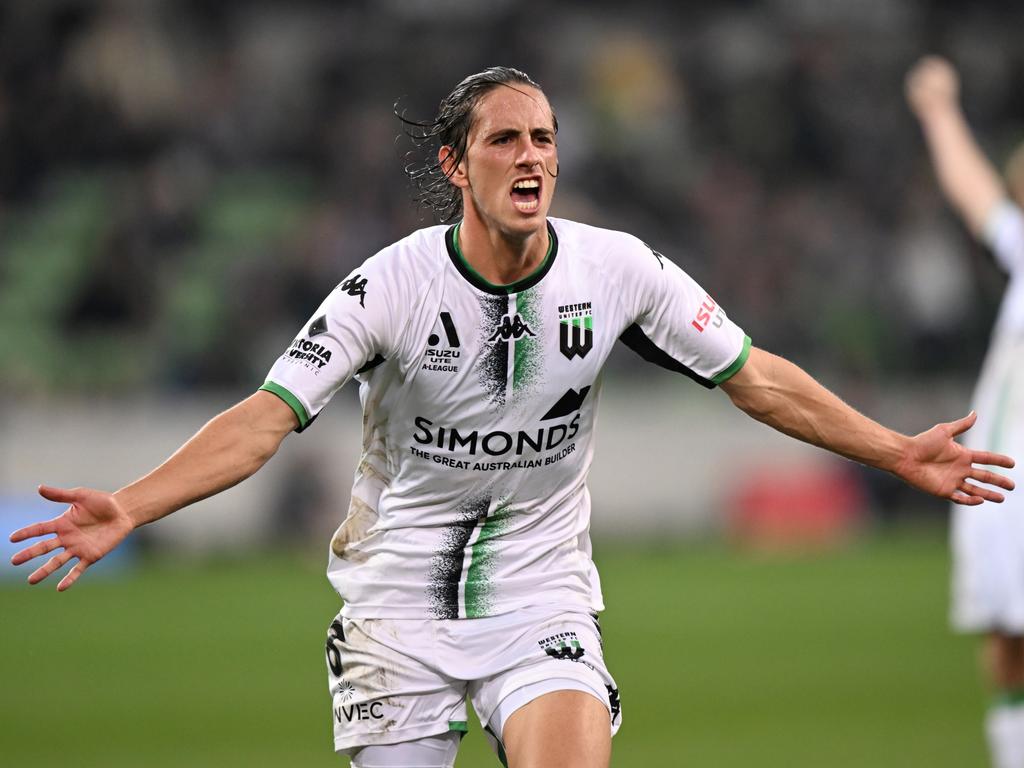 Lachlan Wales was old enough because he's good enough. Picture: Morgan Hancock/Getty Images
The origins of Aloisi's opinion can be traced to his playing days, spent predominantly in Spain.
"It's no different in Spain. When I was at Osasuna, we always wanted to stay in the top division. If there were players from the academy good enough, they'd get their opportunity.
"Some did. I played with Raúl García, who debuted at 17, and he's played nearly 600 La Liga games. He got his start because he was good enough.
"Each club needs to be clear with the philosophy. Are they worried about making top six and finals each year? Do they want to develop players?
"At Western, ours was to chase success."
*****
Once the championship confetti is mopped up from AAMI Park, a familiar feeling will fall over those connected to the A-Leagues.
It will be better next season. Brighter days are ahead.
Sure, every indication suggests next season won't include dancing with a pandemic, which meant closed borders and a fixture list that looked more like a game of Jenga.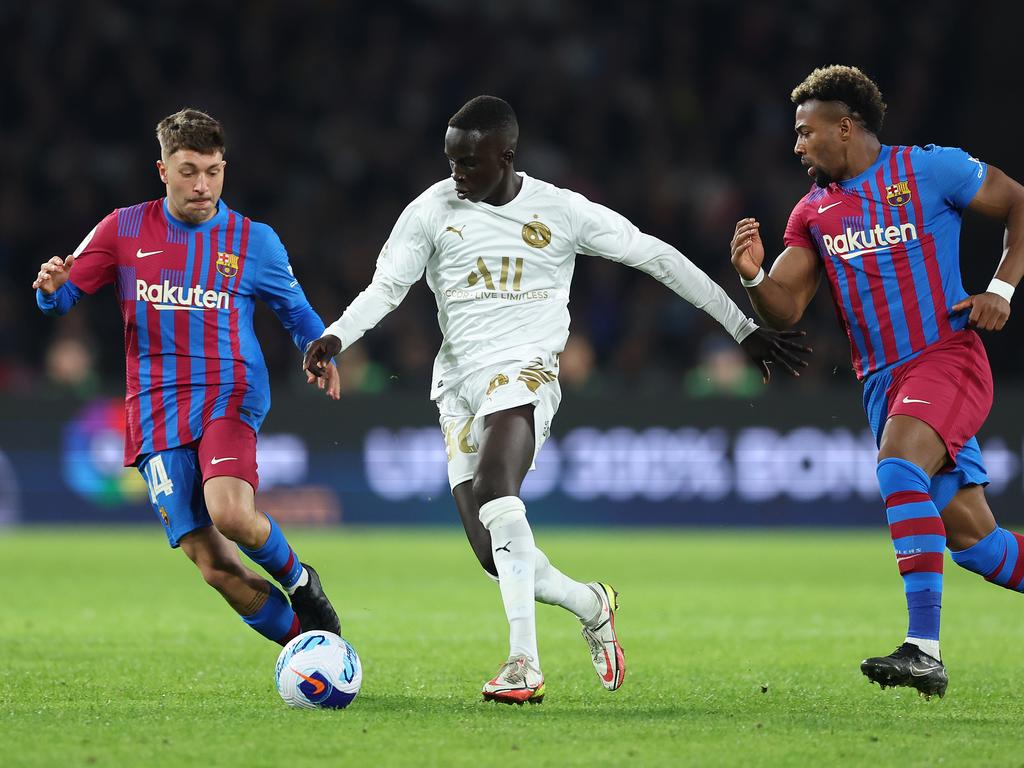 Garang Kuol is on his way to being a household name. Picture: Mark Metcalfe/Getty Images)
But the 'better next season' mentality has been around for the past seven years, once the sugar-hit of the Del Piero days wore off.
All these years later, minds remain muddled about how best to engage an audience the likes of Garang Kuol deserve week-in week-out, not just when 70,000 rock up because Barcelona is in town.
On Wednesday, Kuol and a few others made a mockery of myopic sentiment about the quality of the local competition.
Everyone from Barca's manager, the legendary Xavi to the 10-year-old kid in the crowd know who Garang Kuol is now.
Now the hard part. Stop talents like him from hiding in plain sight.