The troubled kids and inspirational sibling reminding Hannah Brewer football is just a game
Hannah Brewer knows when she goes into work, she's going to be dealing with suffering. And that's OK. Because away from football, helping her troubled students makes all the difference.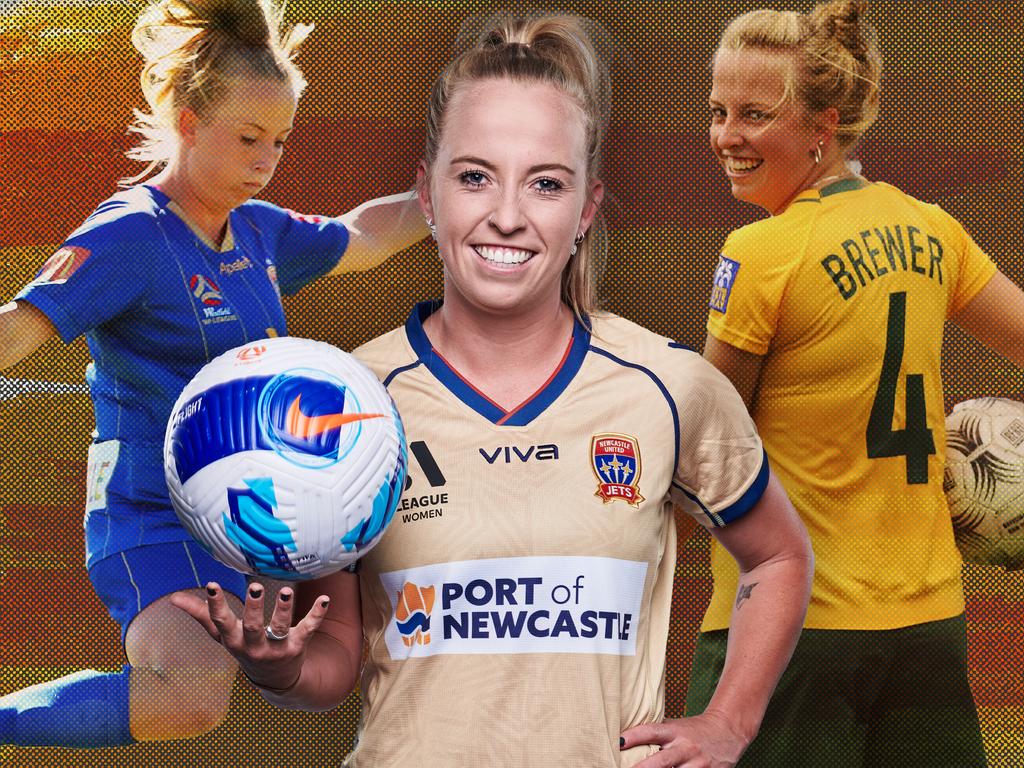 Hannah Brewer's tough persona on the field couldn't be more removed than who she is off it.
Playing football against Hannah Brewer is not fun.
"To be honest," one opponent says, "she's a f--king nightmare."
She flies into tackles with commitment as full as the ball is round.
And yet, she is a contradiction. The intensity is reserved for the green rectangle of games and training. As a person, teammate, sister and teacher, she radiates life and laughter.
Football is a part-time existence, but Brewer loves it as much as the day she started playing in the A-League Women's 14 years ago. Along the way, three games for the Matildas, too.
Despite the way she plays, she's not trying to prove anything to anyone.
Instead, it's her release.
In Hannah's world, there's a reminder every single day life can throw some bad, bad things your way, through no fault of your own.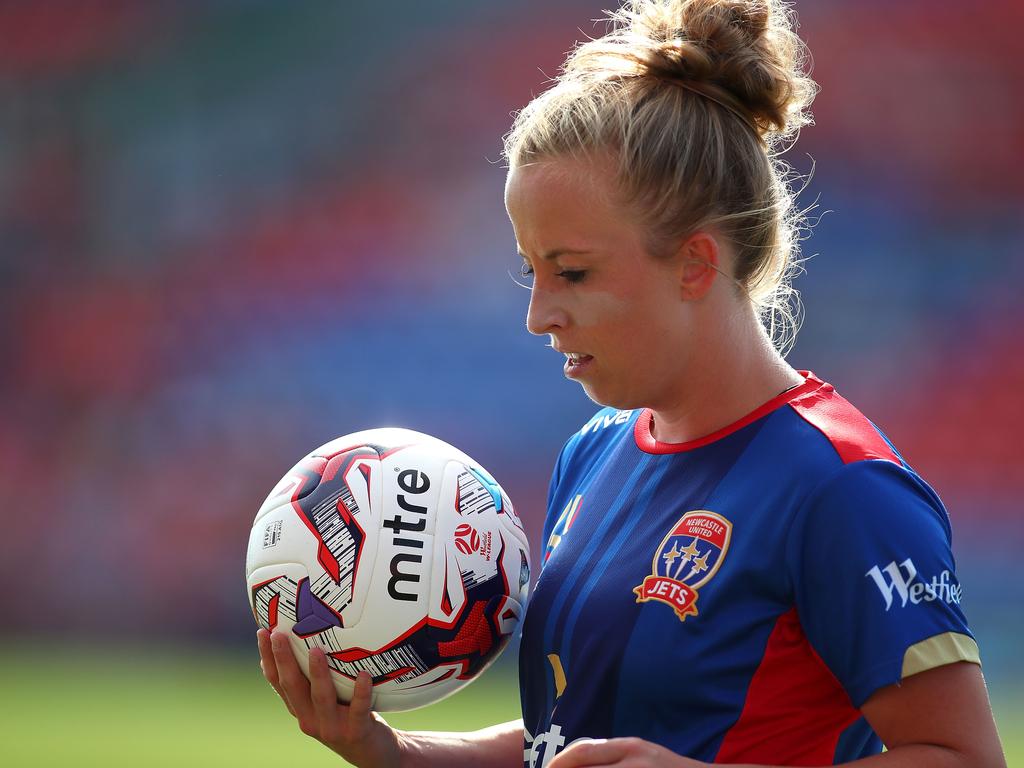 Brewer has been described as 'a f--king nightmare' on the field because of her relentless work ethic. Picture: Tony Feder/Getty Images
*****
Mondays are the worst, especially after school holidays.
Brewer knows she's going to show up to work and be verbally abused. She's going to see and hear about some horrible things.
And that's all OK. Because she wants to help.
Brewer is a full-time high school teacher working with Emotionally Disturbed (ED) kids on the Central Coast of NSW.
She deals with kids from year 7 to 10, and the horrific emotional baggage that accompanies home lives plagued by domestic violence, trauma and rampant drug use.
When Brewer sits down for a chat at the Newcastle Jets training centre, an hour's drive from her high school, she's 45 minutes late because of a "situation" at school. There's no point asking. It's confidential, and not a happy tale. "Situations" can't be.
"These kids have had horrible lives," Brewer says.
"You can see that in a different environment they would have been different kids. It is so sad."
Brewer is responsible for between four and seven kids at one time, which sounds like a manageable ratio, until the chaos in every one of their minds and lives is factored in.
"They all want one-on-one attention with you, and need that, because they have lacked it all their lives and crave it.
"When the trauma happens in their lives, they don't really progress developmentally past that point. I'm working with year 7 to 10 kids, development wise – emotionally and academically – they aren't past the year 2 to 3 mark."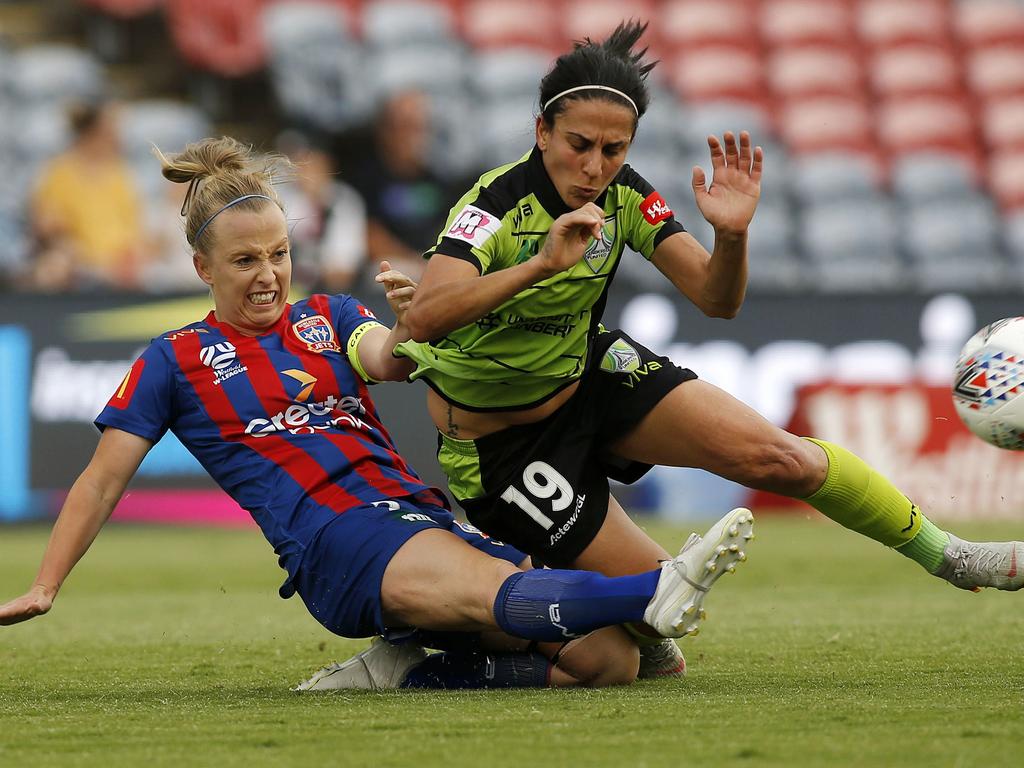 Brewer's fierce on-field persona is very different to her role as high school teacher working with emotionally disturbed kids. Picture: Darren Pateman/AAP
As a teacher Brewer is somewhat related to the personality of her footballing self, the robust defender who can't help but rip into a challenge, shirking simply not an option.
"Some are very hard to engage with at times, but then the out-there aggressive kids want to take you on," she says. "But my personality fits that, I just try and make it lighter.
"I'm called every name under the sun, every minute of the day. They'd talk like that to their favourite person in the world. Could be LeBron James, they'd still curse him.
"You can't take any of it to heart."
Brewer's job is to somehow use her 30 hours a week at school to help guide her kids back toward a place where they realise the world is not against them. There are people who care. There are other paths than the desperate one they think they are tied to.
Success for her is rehabilitating the kids and integrating them with normal classes, which, when it happens, feels better than any win.
Still, the reality is those 30 hours a week leave another 138 hours a week spare. Mondays start with a two-hour bushwalk to de-stress from the weekend.
And then school holidays hit, like the six-week summer break just gone, when Brewer can only think, and hope, every day.
"You can't check in on them," Brewers says.
"That's deemed unprofessional, and actually against the law. I'd love to have called them. The sad part is we had one boy come back day one almost crying, he'd had an absolute shocker of a holiday.
"There's another boy who is homeless at the moment. And during winter I saw one of the boys out the front of the shopping centre without a jumper. You just want to help them but you can't."
Brewer is doing what she can, having grown up knowing and seeing no other way.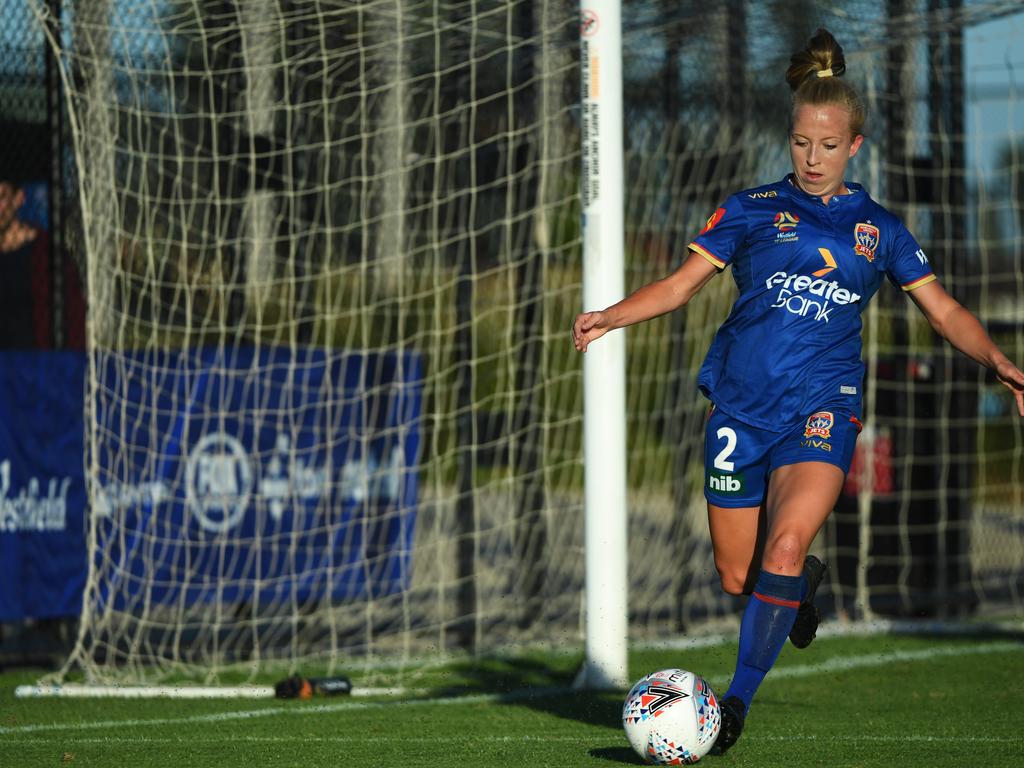 Brewer started playing A-League Women's 14 years ago. Picture: AAP Image/James Ross
*****
All was healthy with Tom Brewer right up until he was ready to meet the world 21 years ago.
As he made his entrance, a major problem developed. Later put down to midwife error, Tom suffered major brain damage at birth thanks to a lack of oxygen, giving him cerebral palsy.
He has spent his life in a wheelchair, mentally fully there but trapped in a body that won't function.
"Tom knows all about what happened," Hannah says.
"He can't talk, he communicates through a Bluetooth keyboard, but people just see him and think he's a dummy. That breaks my heart. How many kids are out there who would have people advocating for them to make the most out of their life?
"He could dwell on it, but can't change it. It has never held him back, and I almost think it's pushed him to do more."
Tom is why Hannah works with the ED kids and why she didn't just stop at a primary school teaching degree, continuing her studies with a Masters degree forging her football career.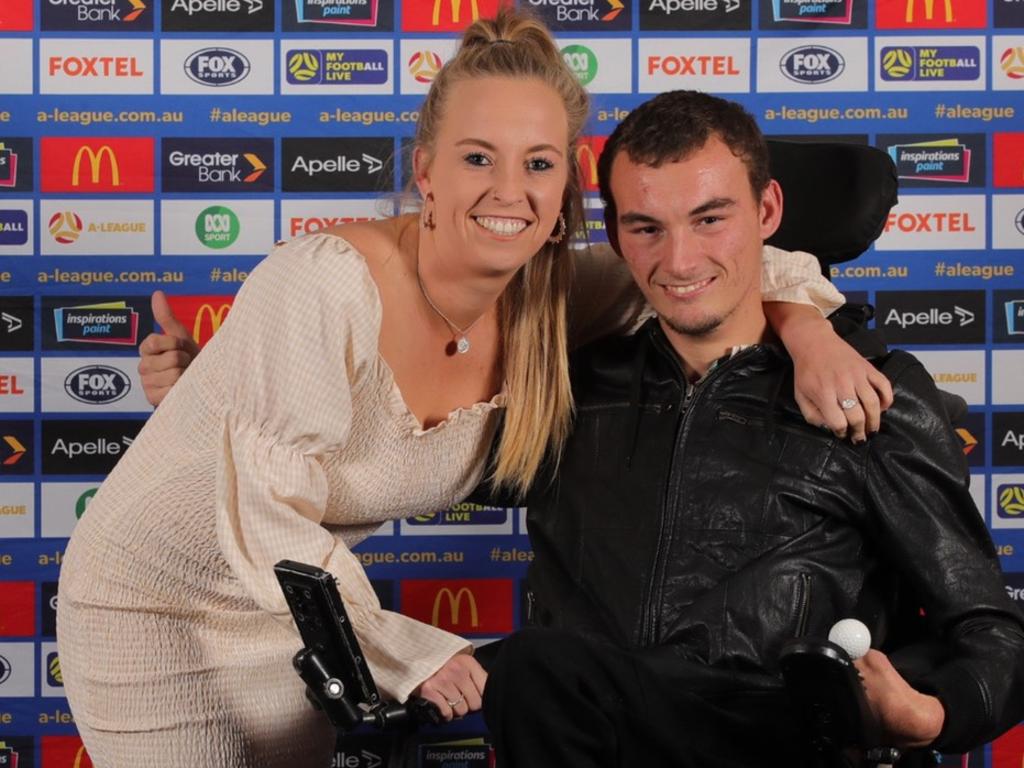 Hannah Brewer with her brother Tom, who has cerebral palsy. Picture: Supplied
"I've grown up with how something can affect a family and individual," Brewer says.
"The students I work with haven't had someone by their side to show them it's OK, [there are] other ways to get through and still achieve, which my brother has been able to do."
There are countless stories which sum up Tom's sheer tenacity, like the time he didn't like the look of the backyard gazebo, so he started picking bits off it, remarkable given his severely limited motor-control.
"Over a month he just picked bits off this gazebo," Hannah laughs.
"He'd have a hoe on the ground, roll over it with his wheel so it would flick up. He'd drop it, do the same. So patient. In the end, the gazebo went!"
Tom has his own business, creating activity bags for kids with autism when travelling long distances, creating the idea out of his own boredom being dragged to Hannah's football games as a kid.
"He's so determined, he finds a way to do anything," Hannah says.
"[It's] such a severe disability, but he has managed to achieve so much. He even does Judo, they carry him out to the mat, put him on the floor and he just wrestles. He has people tapping out!"
*****
Strikers know what they are in for when they play the Jets. Sturdy shin pads are advised.
"Football Hannah, she's not nice, but out there to win," Brewer laughs.
She proves as easy to get on with as she is combative on the pitch.
"Last year we had Sunny Franco and Chloe O'Brien come to the Jets," Brewer says. "And they said to me when we signed, 'We were so scared because we hated you! But we actually love you now!'
"And Sunny went to play for Brisbane in the finals last year, and the coach got me to send her a video, and the Brisbane girls said to Sunny, 'Wait are you friends with her? She's a bitch!"
"On the field I am. (I'm) out there to win. I'm a fun person, I just tend to get out on the field and this other person comes out."
Brewer's work and football exist in perfect unison. Playing is a welcome distraction, the hour drive from school to training a gradual decompression before another form of therapy when she arrives.
"I come in for physio before training and all the girls tend to congregate in there because they know it's story time," she says. "Obviously it's confidential, no names used, but I think that helps me deal with it.
"Football is a huge enjoyment in my life. It's a release."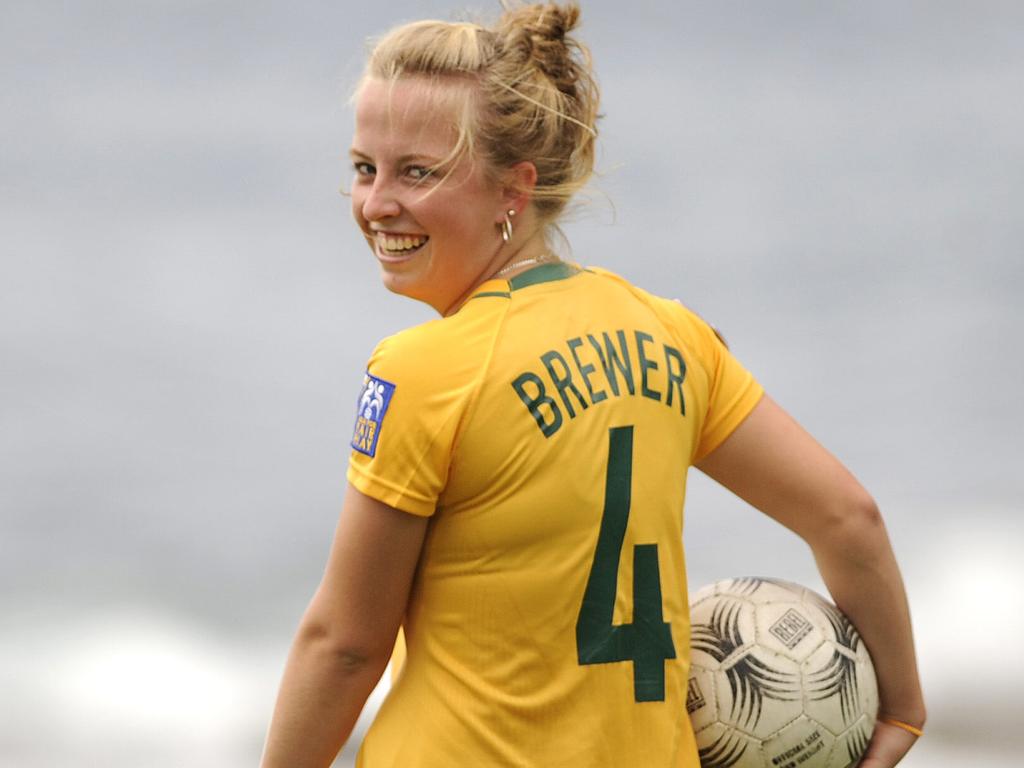 Brewer when she was picked for Australia in the under-16s. Picture: Supplied
With a Women's World Cup around the corner, investment and attention is surging in the women's game in Australia.
It is hoped the A-League Women's will move from a predominantly part-time competition toward a more professional set up.
Brewer, at 28, might miss that bus. But even if it arrived now, it's doubtful she'd hop on.
How could she leave those kids? Stepping into school from harrowing scenes that by all rights, no child should ever know.
"They say you can't work in this field for too long, I have had a lot of people say three or four years is the max, because then it starts to become normal to you," Brewer says.
"It's not the norm for the majority of the population out there, but it is for these kids and I like the fact that I can help them change that, even for just six hours a day."
And even though they have their own lives to deal with, the kids do care about what Brewer does on weekends for the Jets.
"They've somehow found me on google, shared photos around and (they) laugh at them.
"They say I'm a sassy teacher, so they know I bring the sass to the game.
"Not too much of a surprise to them, I'm a bit of a Bruce in the backline."
It's something they can laugh together with. Anything to bring a smile and forget for a while.