Ufuk Talay's masterclass at Wellington Phoenix has tagged him a potential Socceroos coach
Perhaps the best Australian footballer to never play for his country, Ufuk Talay may one day coach the Socceroos having delivered a masterclass amid great hardship at Wellington, writes TOM SMITHIES.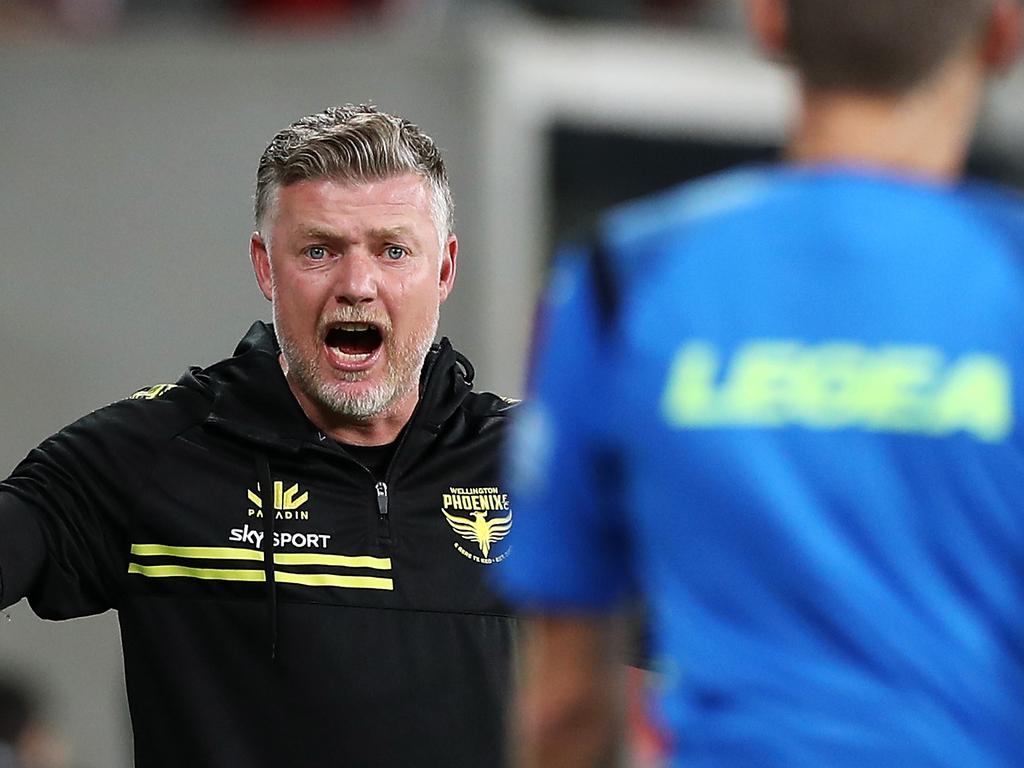 Wellington Phoenix head coach Ufuk Talay is proving himself a potential Socceroos boss. Picture: Mark Kolbe/Getty Images
Four games into Ufuk Talay's first role as a club head coach, he called his right back, Louis Fenton, into a meeting. Those four games in 2019 had yielded four defeats, making it the worst start in Wellington Phoenix's history, and key players were injured. All hands on deck was an understatement.
Fenton had no idea what to expect. For years he had suffered multiple shoulder dislocations, but had always put off the operation doctors told him was the only solution. In that fourth loss of the season, it had gone again.
"So Uffy sits me down and says, 'You have to do what's right for your body, not what you think is right for the football club'," Fenton tells CodeSports.
"I was in the mindset to play on, again, but he said to me that it was probably better that I get my body right and come back stronger. It was just such a human approach."
Fenton's very first encounter with Talay months earlier, soon after the new coach's appointment, was in hospital, where the defender was undergoing a series of operations to clean out a bad infection he suffered during recovering from a compound fracture of his foot.
"Literally our first conversation was when he came in to see how I was, just to check up and ask me how it was all going. I was really struck by that."
Louis Fenton (R), seen here taking on Scott McDonald in round 1 of the 2019-20 season, says Ufuk Talay's initial encounter with him was striking. Picture: Hagen Hopkins/Getty Images
Fenton had the shoulder op and ended up sitting out much of the season that was suspended due to Covid, coming back for the handful of fixtures played in July 2020 in a hub to complete the season. The following year, he played in 23 of Phoenix's 26 games.
This is the sort of story you hear about Ufuk Talay when you talk to those who have worked with and for a man who Josip Skoko (himself a technically gifted Socceroo) described as the best Australian never to have played for his country.
Working on a moderate budget, with a Wellington squad that seems to lose its best players each season and has essentially played in exile for the past two-and-a-half years, the fact Talay has steered his team into the A-League finals – and kept his playing squad sane – is a quietly outstanding feat.
Talay himself gets little fanfare, which is just how he likes it, but the evidence of the past three years leaves many believing there is no more tactically savvy, emotionally intelligent and straightforward coach in the A-League – qualities that should make him a candidate to coach the Socceroos sooner or later.
As you talk to people about Talay, you start to understand the character reference given by a very senior figure in Australian football. Talay, he says, "makes people better".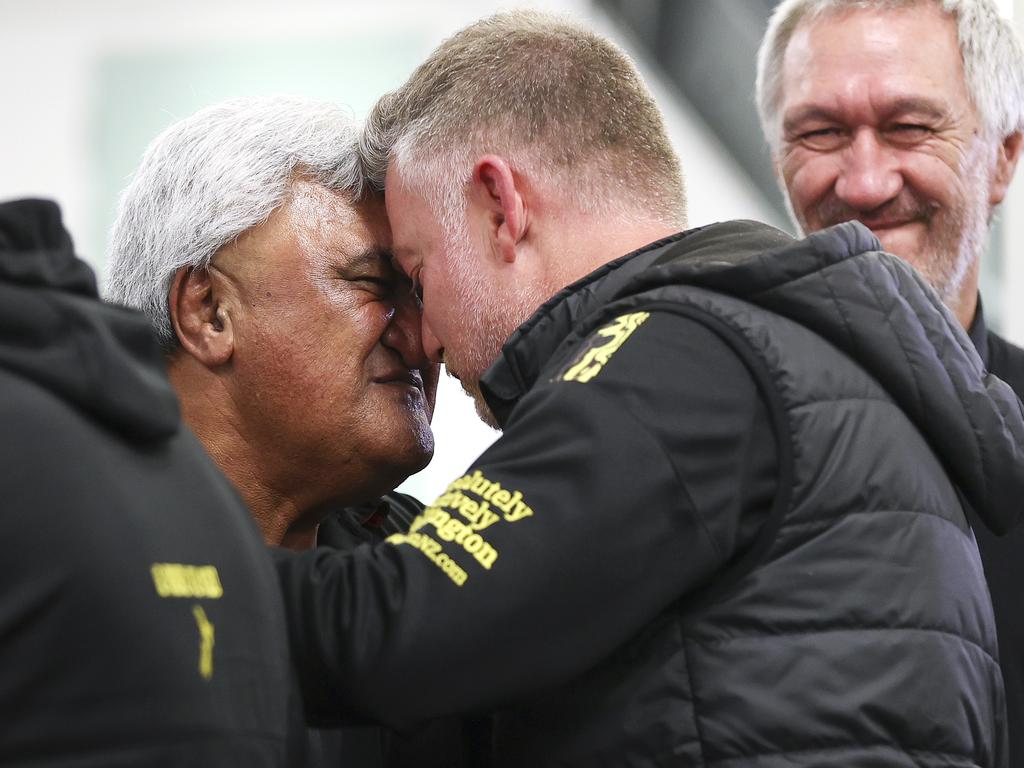 The Wellington Phoenix were finally allowed to return to New Zealand after two years in Australian hubs. Picture: Hagen Hopkins/Getty Images
*****
Just off the Pacific Highway at Chatswood is a nondescript apartment block that was home to Wellington Phoenix for the entirety of this season, until the lifting of border restrictions finally allowed them to go back to New Zealand a fortnight ago.
It was very much a bittersweet experience for some of the players, particularly those like forward David Ball, whose usual work-life balance involves time away from football and his work colleagues.
Ball – who played for Mark Hughes at Manchester City among a variety of British coaches – was struck by the fact that Talay chose to live in the apartment block despite his own family being based in Sydney.
"I've lived in the same apartment block as my manager for two years now, you know – I've seen him more than I've ever seen any manager in my career!" Ball says.
"With Covid, I think he'll say he's learned a lot from those situations. I think he's managed it great, he knows when he needs to give us time away and he knows when we need to step it up.
"When you consider what he's had to deal with and what we've had to overcome; every year he seems to have to wait to get his team together.
"He's probably the best tactical manager I've ever worked with, the way he wants to play the game."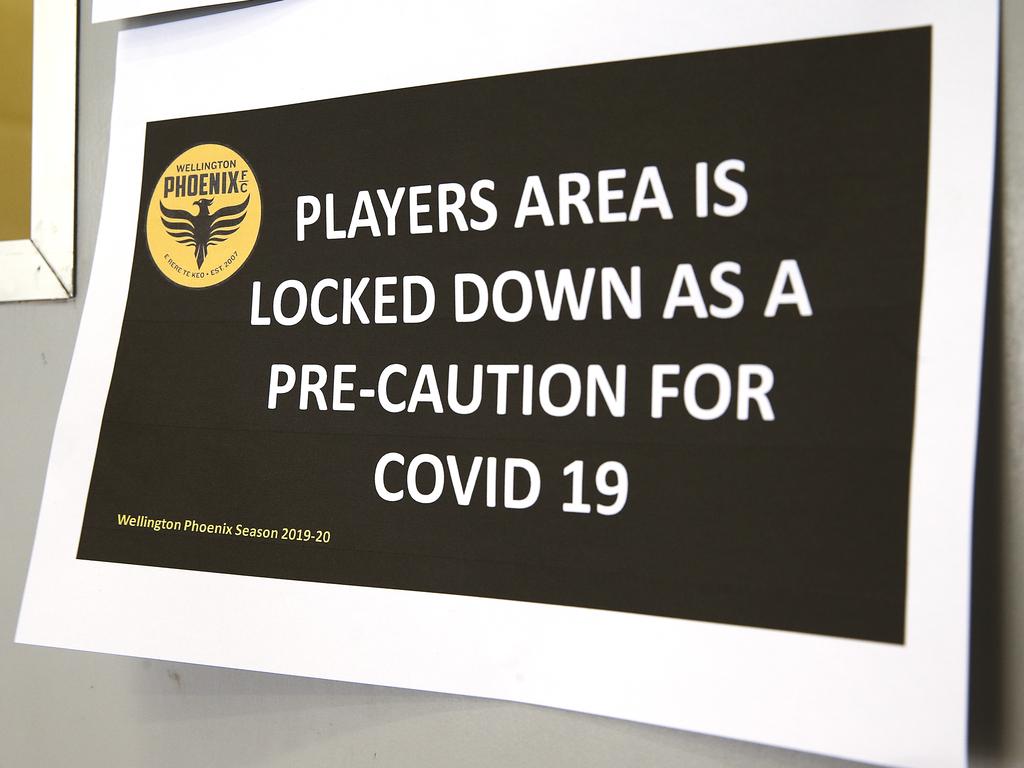 Phoenix players and staff have struggled through years away from home. Picture: Hagen Hopkins/Getty Images
That's another recurring refrain: many in the game will say that Phoenix are as well-coached as any A-League side, with a game plan that maximises every player's contributions (and, some say quietly, allows its less-than-stellar squad members to overachieve).
It's true that a squad particularly hit hard by Covid cases has suffered several big losses this season – as reflected in a chronically negative goal difference – but Talay has still been able to husband those resources well enough to finish ahead of Sydney FC and Western Sydney, among others.
"Certainly there are clubs in the A-League with much better setups and more experienced squads who aren't doing anywhere near as well," says former Socceroo Alex Brosque, who played with Talay at Sydney FC and then played under him there when Talay spent a year as assistant coach to his close friend Steve Corica.
"As a player his awareness and knowledge on the pitch was always a step ahead, he saw things that others didn't.
"Now I'd love to experience how he's getting his team to play the way they do. I fed off his passion and I can see how he'd be a great coach to play under.
"That's the thing you don't know when a player becomes a coach, how they will go looking after the interests of a whole squad. But his standards are obviously infectious, you can actually see that players want to play for him."
(Ball, it should be noted, whose wife and children have been based in the UK since January to give them stability in schooling, has insisted on playing each game with painkilling injections for a toe injury.)
*****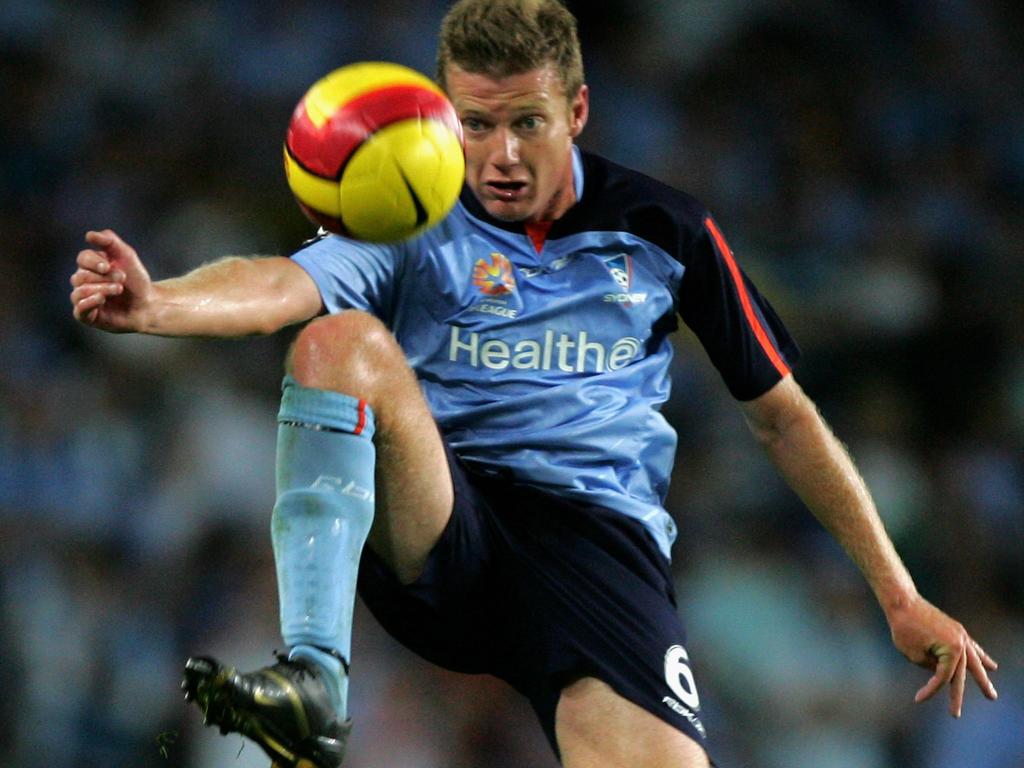 Ufuk Talay had his own long playing career in the A-League before deciding to move into coaching. Picture: Ezra Shaw/Getty Images
It was a rather different air that Talay was giving off when he presented for interview at the Australian Institute of Sport in Canberra, early in 2012 – just months after he had retired as a player.
The role, to be assistant coach to former Socceroo Tony Vidmar with the Men's Football Program, was a coveted one – more than 100 coaches applied, including Joe Montemurro, now coach of Juventus. Talay was visibly nervous at the interview.
"He didn't have much experience but he stood out immediately because he had such a good football brain," says Peter de Roo, who was technical director of the AIS Football Program for nearly six years (and previously played and coached in the Dutch Eredivisie).
"I have never seen or worked with a coach in Australia who can so quickly spot when something isn't working on the pitch and see how to fix it.
"People think that European coaches are automatically better than those in Australia – that's bullshit. You need ability and talent but also opportunity – Ange Postecoglou is a great example because someone gave him that opportunity at Celtic.
"There is a generation of good young coaches in Australia, people like Tony Popovic, John Aloisi and 'Uffy'."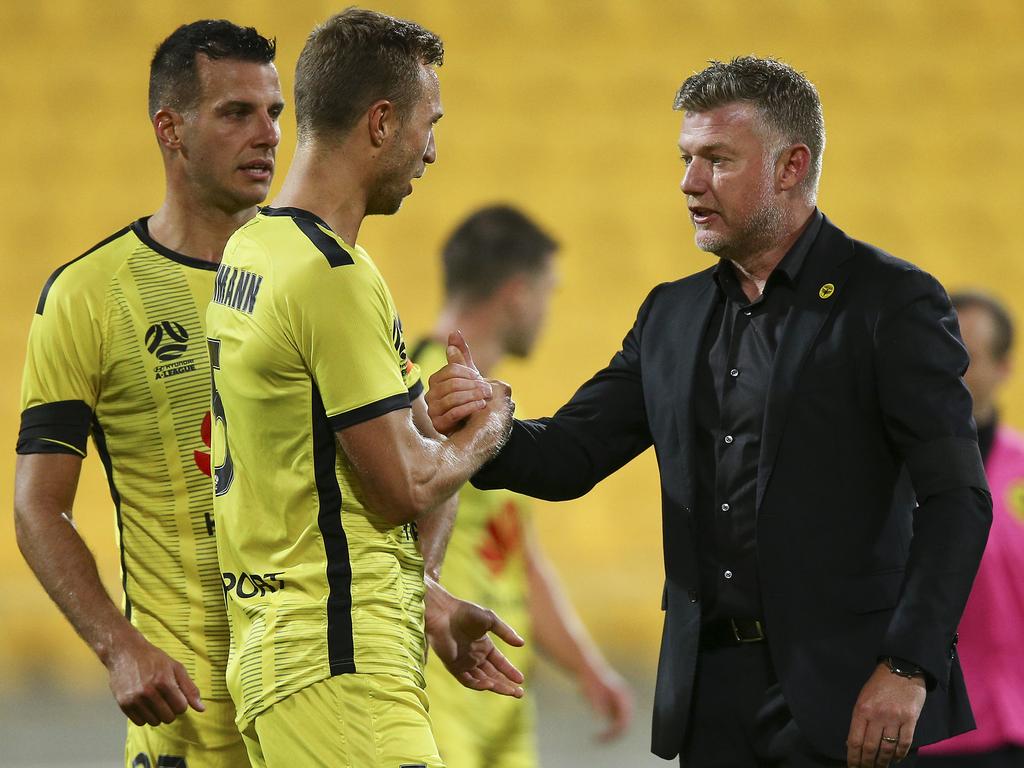 Ufuk Talay's ability to bring out the best in his squad, no matter the personnel, has been impressive. Picture: Hagen Hopkins/Getty Images
Talay had already been noticed, in fact, thanks to an apparently insatiable thirst for knowledge which impressed instructors on his A Licence coaching course. Some players assume they are born to coaching; others realise what an entirely different skill-set it requires.
"That's an interesting point to bring up, because right now we have a major issue with Wesley Sneijder, the most capped player ever (for Holland)," says Han Berger, technical director of the Dutch Football Association (KNVB) and board member at Sydney FC – but previously technical director of Football Federation Australia.
"Sneijder just quit the (KNVB) coaching course because there's 'too much studying' and he knows it all already.
"That happens a lot with former players. They don't think they need any education, they think when you stop playing today, and you've played on the high level, you can start coaching tomorrow.
"But it doesn't work that way and I think 'Uffy' was so eager to learn. He soaked up all the information he could find and he could get, not only on the course but also from other coaches."
De Roo similarly calls Talay a "sponge" who would ask questions, get answers and immediately ask questions of the answers. In September 2016 he was appointed head coach of the Australian under-20s side and given barely five weeks to prepare for the AFC U19 Championship – despite winning the first game, his side failed to qualify from the group by a goal differential of just one, and so missed out on the chance of World Cup qualification.
*****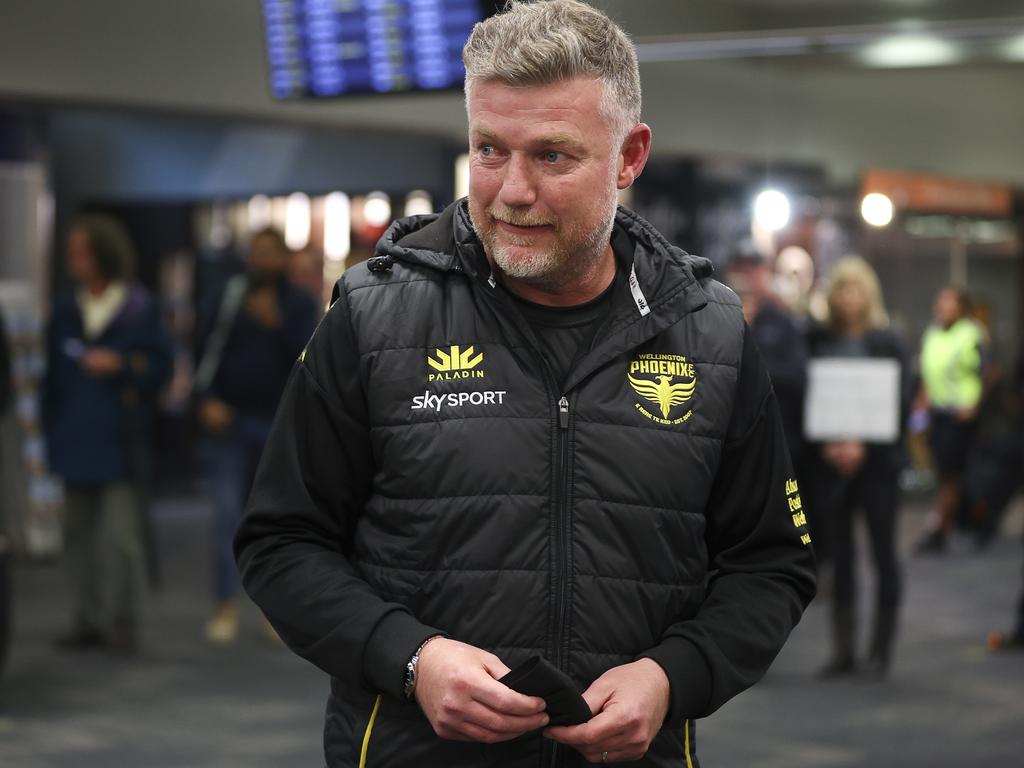 Ufuk Talay at Wellington Airport after Phoenix A-League players and staff arrived home in May last year after a long stay in Australia. Picture: Hagen Hopkins/Getty Images
Still, that experience of working with young players at the AIS undoubtedly helped mould his style of man-management, including the realisation that young players make mistakes, sometimes quite seriously.
Mistakes like driving a golf buggy up a freeway while over the alcohol limit on the final night of their team's quarantine in the early stages of the Covid pandemic. It had potentially ruinous consequences for the players involved, their club and the A-League, which was only operating with special dispensation from local health authorities.
In fact Tim Payne, who drove the buggy and was later fined for drink driving, and his partner in crime Ollie Sail had plenty to lose themselves. Payne had been one of Talay's first signings just months before, for his first A-League contract aged 24. Sail, two years younger, was the club's reserve goalkeeper.
Both realised very quickly how much they had let Talay down, and how far they would have to go to re-earn his trust. But he also led them down the path towards learning from the debacle: encouraging them to apologise to their teammates and to the club's supporters, and to embrace the program of community work and reparations that both were required to undergo. Two years later Payne is a senior member of the team and Sail, now club captain, seems a shoo-in for the A-League's Goalkeeper of the Year.
Having regained coach Ufuk Talay's trust, Wellington's Ollie Sail is in contention for Goalkeeper of the Year. Picture: Scott Gardiner/Getty Images
The culture that enables that is set from the top.
Last year, hours after Phoenix had drawn 2-2 with Perth in the penultimate game of the season, the team's Mexican playmaker Ulises Dávila stood up in front of his teammates at dinner. Dávila had missed a 90th minute penalty that would have lifted his side into the top six; the lost two points ultimately cost them a place in the finals.
Dávila started to apologise, but Talay cut him off, emphasising that Dávila had nothing to apologise for. "We win together, we lose together," he said, to murmurs of agreement around the room.
Ulises Davila with Phoenix coach Ufuk Talay. Picture: Hagen Hopkins/Getty Images
*****
What happens next in the career of Ufuk Talay depends on many things, some outside football. Wellington Phoenix, and their head coach, desperately need a return to normality after two and half years of Covid exile. Nor are there likely to be vacancies at other clubs in the A-League that might tempt him in the short term.
But bigger opportunities will undoubtedly come his way – including, many believe, the national team. "I think he already ticks a lot of boxes and if he keeps developing then you never know how far you could go as a coach," says Han Berger, who still moves in senior European coaching circles.
"There's also one or two things I think he still has to learn and to improve. I think sometimes he's a bit too aggressive on the touchline and a bit too involved with the referee and fourth official and things like that. There's also one or two little learning points there for him.
"But it's like a good wine, he has to age a little. He certainly is an interesting coach to follow."