Andrew Redmayne's wife reveals Socceroos hero almost quit after 'dark, shitty' period
Andrew Redmayne's insta-meme celebration had a special meaning to his family back home in Australia, Jamie Pandaram reveals they story behind that moment.
Five years ago, Andrew Redmayne sat with wife Caitlin and the couple decided he'd quit football and pour coffees at his friend's Melbourne café.
At 6.36am on Tuesday, as Caitlin poured her own coffee in her kitchen, she could barely comprehend how this story had unfolded.
One of a handful of people on the planet to know that goalkeeper Redmayne would be brought on to replace Socceroos captain Mat Ryan should their World Cup qualifier go to a penalty shootout, Caitlin's roar of support was enough to wake 16-month-old daughter Poppy – and probably a few neighbours in Sydney's lower north shore.
Stream Over 50 Sports Live & On-Demand with Kayo. New to Kayo? Try 14-Days Free Now >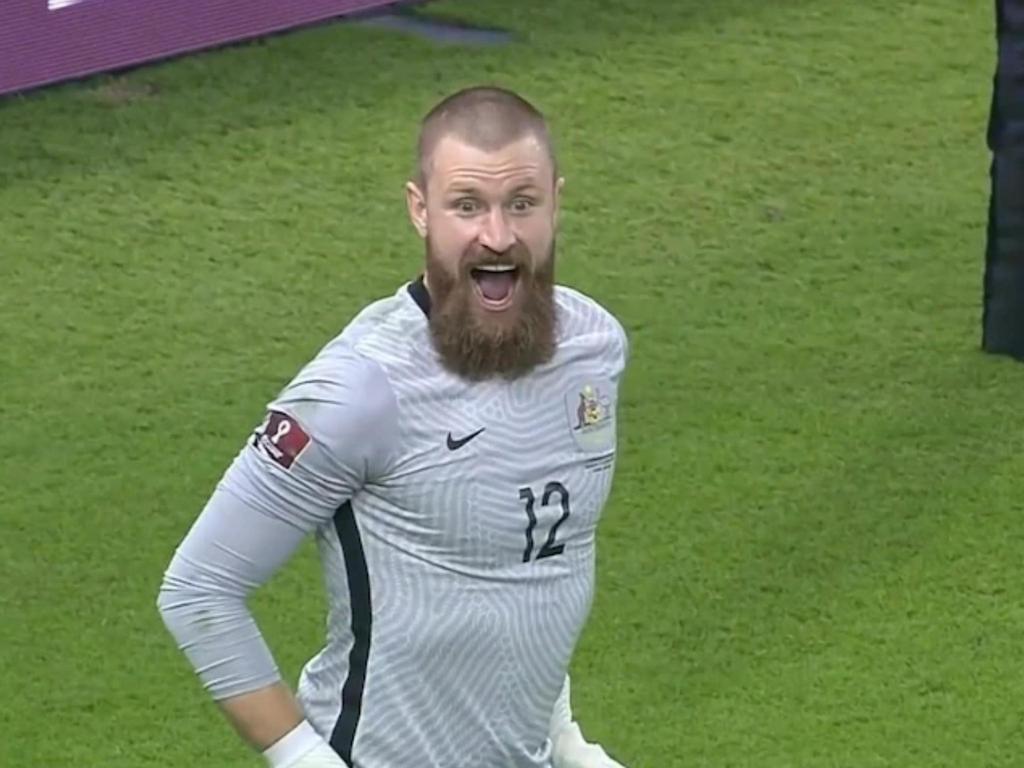 Andrew Redmayne's spectacular celebration was a message straight to his family.
"He had given me the heads up that if it got to a penalty shootout, that's what they were thinking of doing," Caitlin said.
"But watching the game I was thinking, 'Surely not'. I'm there making my morning coffee and I saw him run on and I just screamed the house down, woke our daughter up, it was just chaos."
And then, Caitlin concedes: "Life just changed in a matter of 10 minutes."
Redmayne – flailing like a car yard inflatable – out-psyched Peruvian forward Alex Valera, dived right and saved the goal attempt to send Australia through.
Then his classic reaction, smiling his carnival clown smile while his teammates went ballistic, immortalised him.
This was the John Aloisi moment of the viral era.
Redmayne, with the smile created to make his little girl laugh, will be a GIF for all occasions.
"He's been away so much of this year, so Poppy's gotten very used to seeing him on TV and FaceTime, and over FaceTime, that's just what he does with her," Caitlin said.
"So when I saw him do that I just knew he was doing that for Pops, it makes me emotional still.
"This is what boys and girls dream of, they've watched John Aloisi, and this is the stuff of childhood dreams, it's so cool."
The Socceroos won 5-4 at Ahmad Bin Ali Stadium in Doha. They'll be back in Qatar for the 2022 World Cup in November, grouped with defending champions France, Denmark and Tunisia.
That can wait.
The hysteria of qualifying will fuel Australia's feel-good factor for a while yet.
And the Redmayne's must very quickly adjust to cult hero status.
"We're a pretty unassuming family, Andrew has been in the football world for many, many years and I always call him the silent assassin," said Caitlin, a physiotherapist.
"He's just the typical guy that puts his head down, sticks his bum and gets into it. He is a man of few words.
"I got up at 4am this morning, didn't think twice about getting Poppy to daycare at 7.30am, had to be at work by 8am, and our lives have completely flipped.
"I can't even put it into words, I'm completely overwhelmed. This is just so bizarre.
"But what is heartwarming is that the people who know us are just rallying around us because they know how much it means to us."
Those who know the Redmayne's best understand this life-changing 10 minutes was made over an agonising 10 years of grind, self-doubt, failure, resilience and hope.
The hope all but disappeared in 2017 after a disappointing stint with Western Sydney Wanderers in the A-League.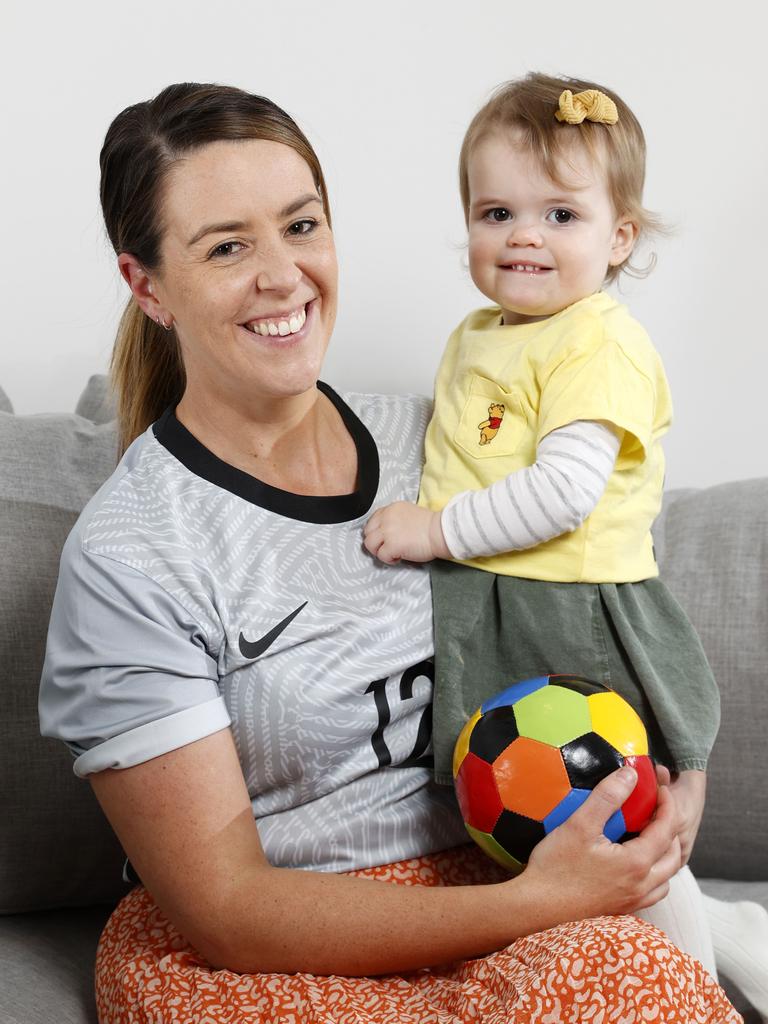 Caitlin Redmayne and daughter Poppy. Picture: Jonathan Ng
"I'm from Melbourne originally, I'd relocated to follow him up here when he signed for the Wanderers, and honestly it was the worst time of his career, it was really low," Caitlin said.
"Andrew was not in a good headspace, or good physically really. And I'm not going to sugar-coat it, it was a really shitty time.
"And we just put our logical hats on and thought, you've got to do what makes you happy, and maybe I that's not football at the moment you need to take a step back and find something else.
"One of his best mates owns several cafes in Melbourne, and we were literally thinking about moving back to Melbourne and he would pour coffee, that's actually what it was like.
"It was a pretty dark time.
"But luckily he got a call from John Crawley and they managed to get him to the Sky Blues, and the rest is history."
Moving to cross-town rivals Sydney FC, where Crawley was the goalkeeping coach, was the first step for Redmayne that led to the giant leap for Australian football in Qatar.
"The fire in his belly came back, so honestly we owe it all to John and Arnie [Graham Arnold] because Arnie was there at the same time, and they had faith in him, which he did not have, he could not see it for a very long time," Caitlin said.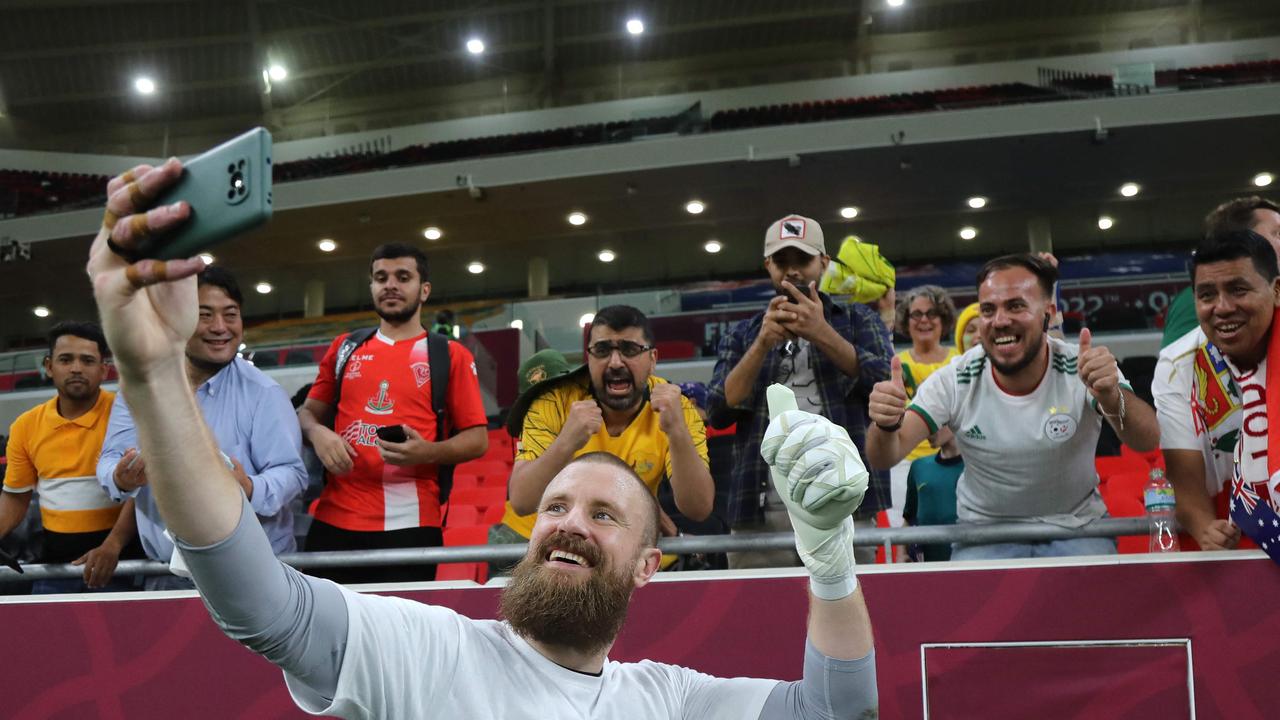 Andrew Redmayne poses for a selfie with fans after his heroics.
Two seasons in, Redmayne – again with limbs flailing on the goal line – saved penalty kicks from Perth stars Andy Keogh and Brendan Santalab to deliver the 2019 A-League title to Sydney FC.
"We were in a similar position with Sydney FC in the grand final against Perth, I just couldn't watch it then, I had my back turned," Caitlin said.
"But this time around I was just screaming at the screen, trying to talk to him, screaming 'You've got this, this is your bread and butter, you can do it'.
"So it was a different emotion to the last pen shootout we experienced where I was an absolute mess. I was just fired up this time, for some reason even though it was a slow start and it didn't look like it was going to go our way, I just knew that something would happen and it would be all right."
Redmayne has been labelled the "Grey Wiggle" for his goal line antics and has been offered an honorary spot on the musical group's line-up after ensuring Australia can compete in the biggest sporting event in the world.
"It's so not like him to be out of the norm, to do something no one else would do," Caitlin said.
"But he has so much faith in JC the goalkeeping coach, and a lot of that has had to do with JC. They started doing that at the Perth grand final, and it's just kind of become his thing.
"It's just crazy, I've started to see The Wiggles stuff, and it's exactly that. He looks like an absolute larrikin, arms and legs everywhere.
"He is the definition of a gentle giant.
"I know a lot of athletes work bloody hard, but Andrew does the one per centers, it's what he's all about. He'll be first in the gym, the last person to be at the club, pushes his body to the absolute max.
Australia's defender Aziz Behich (L) celebrates with Australia's goalkeeper Andrew Redmayne.
"He's doing a teaching degree on the side and he's still chipping away at it, he's got his head screwed on, he knows football is not going to be forever, he wants to do something meaningful with his life.
"Teaching is a big part of his family, a lot of his extended family are teachers, so on top of full-time commitments with football, he's been chipping away at that.
"And he's been the best damn dad and husband this year, he's done everything he can to help us despite being away so much."
Redmayne, 33, will reunite with Caitlin and Poppy on Wednesday night, after which there'll be a deserved escape.
"I'm just hanging to see him, because I've been single-parenting for far too bloody long," Caitlin said.
"We've got a holiday booked so we'll sit out on the sun and enjoy it, there'll be plenty of champagne had."
Dancing super sub that saved Socceroos
– Marco Monteverde and Tim Michell
Substitute goalkeeper Andrew Redmayne was the unlikely hero as the Socceroos beat Peru in a dramatic penalty shootout to qualify for a fifth successive World Cup.
Brought on to replace captain Mat Ryan in the final minute of extra-time by Socceroos coach Graham Arnold with scores locked at 0-0 and the shootout in mind, Redmayne delivered saving an Alex Valera penalty to seal Australia a 5-4 shootout win.
Bringing on Redmayne, a hero of Sydney FC's 2019 A-League grand final penalty shootout win, proved a masterstroke by the much-maligned Arnold, who survived several calls for his axing during Australia's rollercoaster qualifying campaign.
The 33-year-old played down his heroics post-match, declaring he was no hero.
But Redmayne has become the favourite Socceroo of many sporting fans after pulling off the save which sealed Australia's fifth successive World Cup berth.
He is affectionately known as 'The Grey Wiggle' for his Wiggles-like dance moves during shootouts.
And he did not disappoint despite the enormity of the occasion, shuffling from side to side on both feet in an effort to distract the Peruvian penalty takers.
"This idea was floated preselection that this might kind of eventuate in these circumstances. For the 2-3 weeks we have been here I've kind of been having that in my mind," he said on Channel 10.
"I'm grateful for the other boys for running out 120 minutes.
"I'm no hero. I just played my role like everyone else did tonight."
Former national keeper Mark Bosnich hailed Redmayne a "hero", while one fan said he had etched himself into Australian sporting folklore alongside Cathy Freeman, Mark Schwarzer and Don Bradman.
Andrew Redmayne has just become as iconic as Cathy Freeman, Mark Shwarzer & Don Bradman.

Five mins ago he had never played a qualifier. Now he's probably going to sign every commercial deal in AUS this summer.

This is the stupidest most beautiful sport in the world.

— Eli (@ElMengem) June 13, 2022
Redmayne for Ryan. My goodness.

— Daniel Garb (@DanielGarb) June 13, 2022
The shootout started badly for the Socceroos, with Martin Boyle having his spot kick saved by Peru's captain and goalkeeper Pedro Gallese.
However, through Aaron Mooy, Craig Goodwin, Ajdin Hrustic, Jamie Maclaren and Awer Mabil, the Socceroos didn't miss another penalty in a shootout that needed sudden-death to decide it.
The Socceroos had got back into the shootout when Peru's Luis Advinculla hit the post with a penalty that may have also got a touch from Redmayne.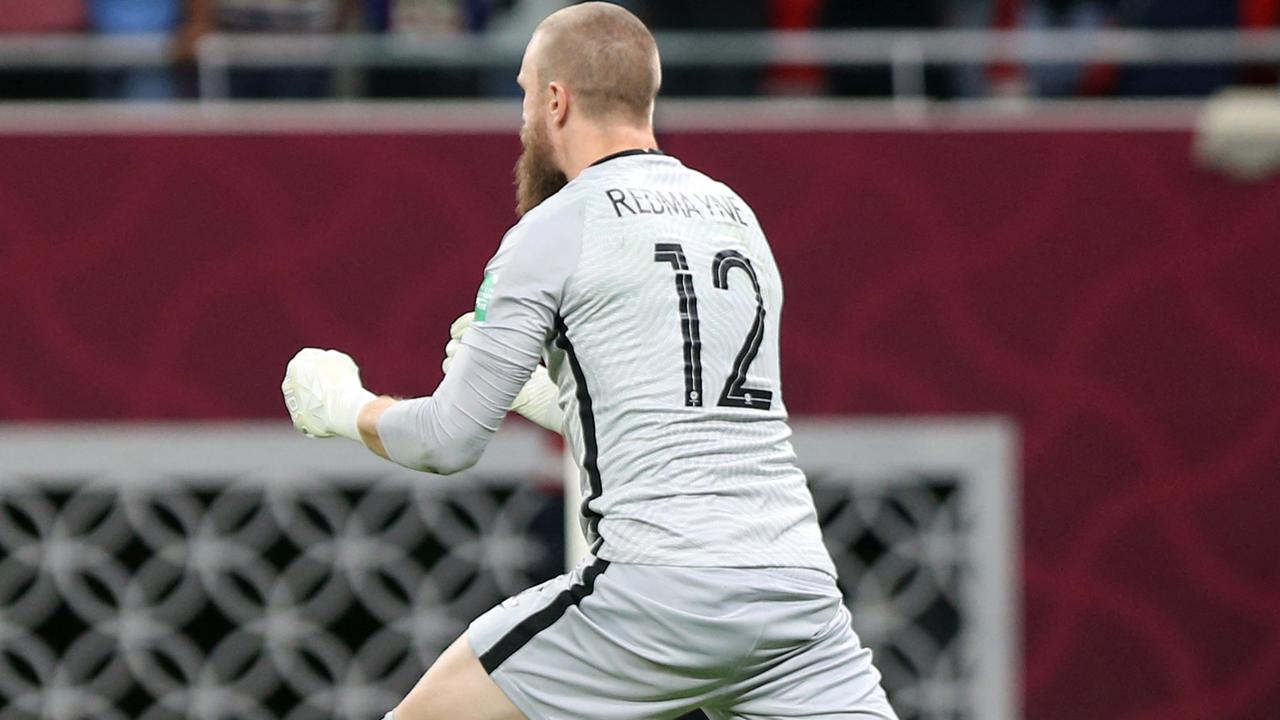 Australia's goalkeeper Andrew Redmayne celebrates after one of his shootout saves.
Redmayne, whose tactics include moving side-to-side on the goal line to put Peru's penalty takers off, was later to stamp himself ion Australian football folklore with the shootout-deciding save to deny the shattered Valera.
But while it was tears of despair for Peru, it was tears of joy for the Socceroos, who booked their place in the November 21-December 18 World Cup in Qatar.
It was a deserved qualification, with the Socceroos having had the better of the 120 minutes against the South Americans.
In a cagey first half, right winger Boyle was Australia's main attacking threat.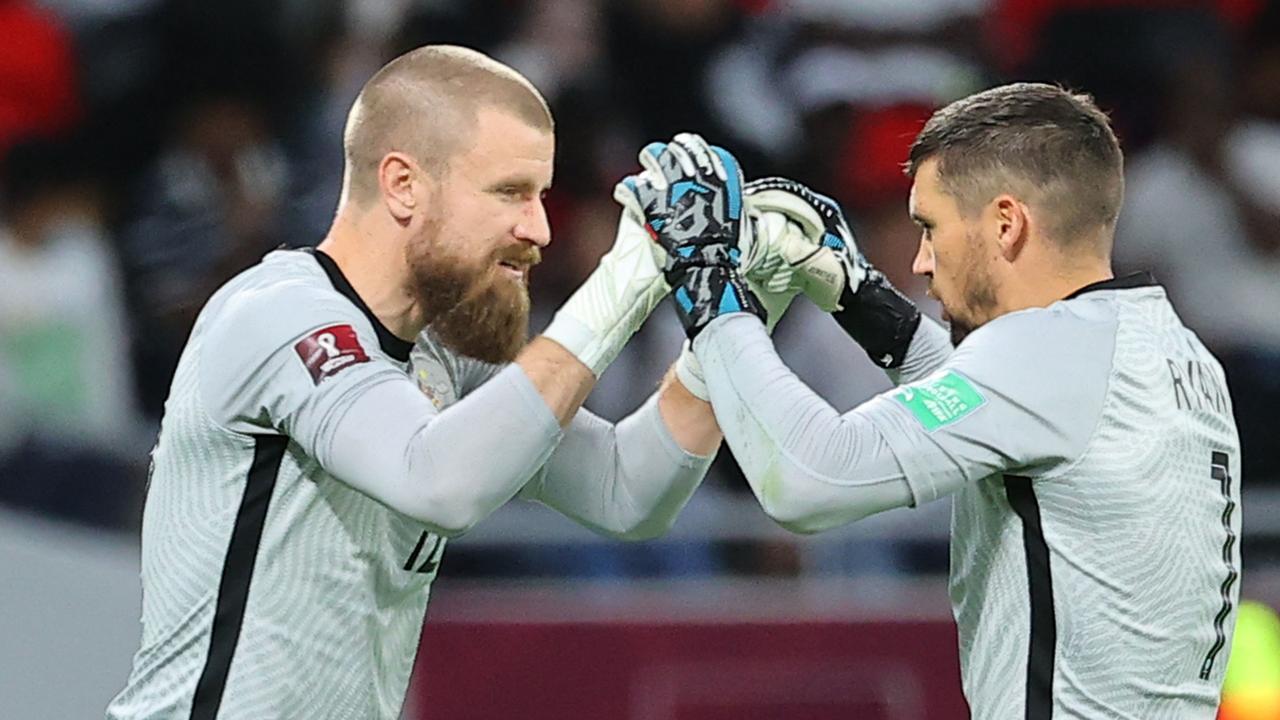 The moment: Andrew Redmayne replaces Matt Ryan in the 119th minute.
Having forced his way into Peru's penalty area with a dangerous run in the 32nd minute, Boyle forced a heavy but fair tackle from midfielder Christofer Gonzales to halt his momentum.
Boyle was again prominent eight minutes later with a dangerous cross that found midfielder Jackson Irvine.
However, Irvine, who had cleverly drifted into space, failed to make a decent connection with his header.
The Socceroos finally forced a save out of Peru goalkeeper Gallese in the 81st minute.
However, playmaker Hrustic's long-distance free-kick was comfortably held by the custodian.
The Australians had two more chances before the end of the normal.
Left back Aziz Behich hit the outside of the post in the 85th minute after cutting inside and shooting with his weaker right foot.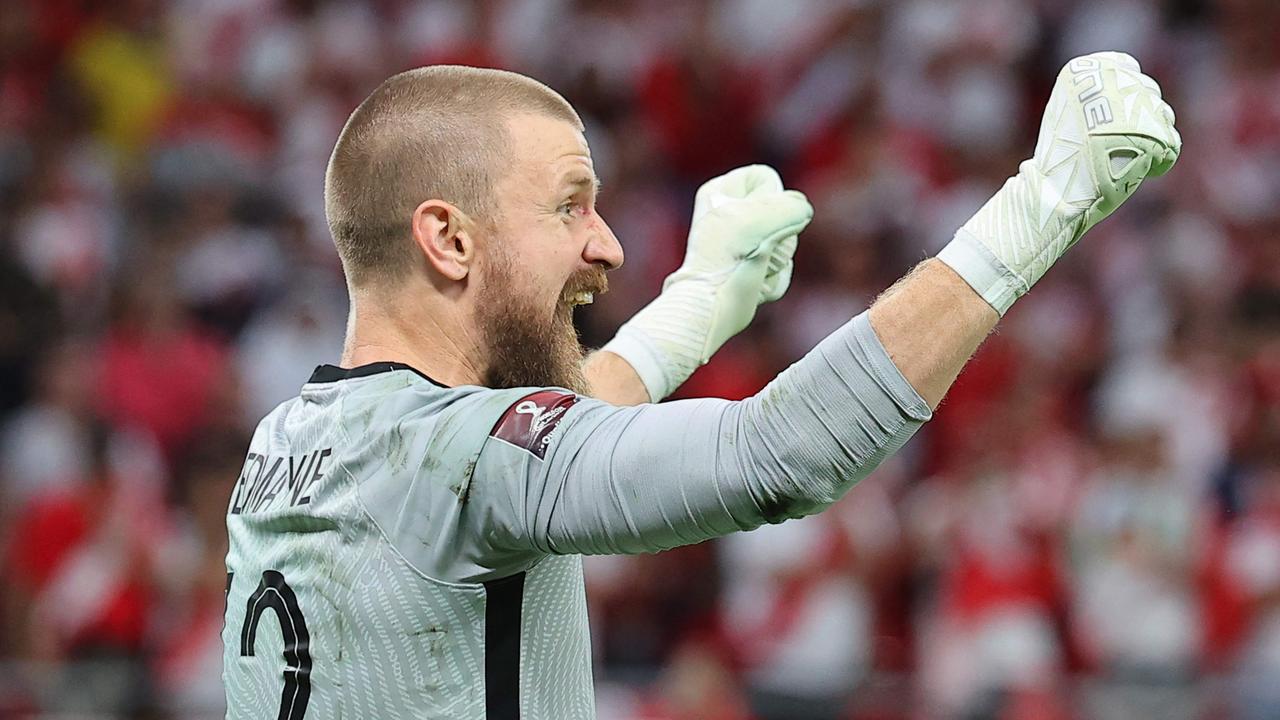 Australia's goalkeeper Andrew Redmayne is the new national hero.
Three minutes later Hrustic forced a save out of Gallese after the playmaker was found unmarked on the edge of the penalty area by substitute Mabil.
Peru had the first chance in extra-time in the 99th minute when substitute Edison Flores let flying with a stinging strike directed straight at Socceroos keeper Ryan, who gloved the ball without fuss.
The South Americans continued to attack, with Flores cutting the ball into the path of Cueva. whose 106th-minute strike flew wide of the post.
The woodwork came to the Socceroos' rescue one minute later when a header from Flores hit the post.
Arnold made one change to the team that started last week in Australia's 2-1 playoff win over the United Arab Emirates.
It came in attack, with centre-forward Mitch Duke replacing Goodwin – who came on in the dying stages – in a reshuffled forward line that allowed Mathew Leckie to shift to his preferred left-wing position.
Australia: Mat Ryan (C) (Andrew Redmayne 120'), Nathaniel Atkinson (Fran Karacic 91'), Bailey Wright, Kye Rowles, Aziz Behich (Craig Goodwin 120'), Aaron Mooy, Jackson Irvine, Ajdin Hrustic, Martin Boyle, Mitch Duke (Awer Mabil 69'), Mathew Leckie (Jamie Maclaren 86').
Peru: Pedro Gallese (C), Luis Advincula, Alexander Callens, Carlos Zambrano, Miguel Trauco, Renato Tapia, Andre Carrillo (Edison Flores 65'), Sergio Pena (Pedro Aquino 80'), Christofer Gonzales, Christian Cueva (Alex Valera 116'), Gianluca Lapadula.