Socceroos qualify for World Cup after bombshell shootout decision
Socceroos coach Graham Arnold was overcome with emotion after he gambled his career on a move that pulled off "the greatest achievement ever".
The Socceroos are going to the 2022 World Cup in Qatar.
In wild, euphoric scenes Australia bested Peru 5-4 in a nailbiting penalty shootout in Doha on Tuesday morning (AEST) to complete what coach Graham Arnold said is "one of the greatest achievements ever".
November's World Cup will be Australia's fifth consecutive appearance at the world's biggest sporting event.
Stream Over 50 Sports Live & On-Demand with Kayo. New to Kayo? Try 14-Days Free Now >
Arnold made a bombshell selection gamble in the final minute of extra time by taking captain Mat Ryan out of the game to put Andy Redmayne in goals — and it proved to be one of the greatest tactical decisions Australian football has ever known.
It said everything about the magnitude of the Socceroos' achievement that Arnold became emotional and was briefly unable to speak when interviewed on Channel 10 after the win.
When asked to describe the moment Arnold was lost for words.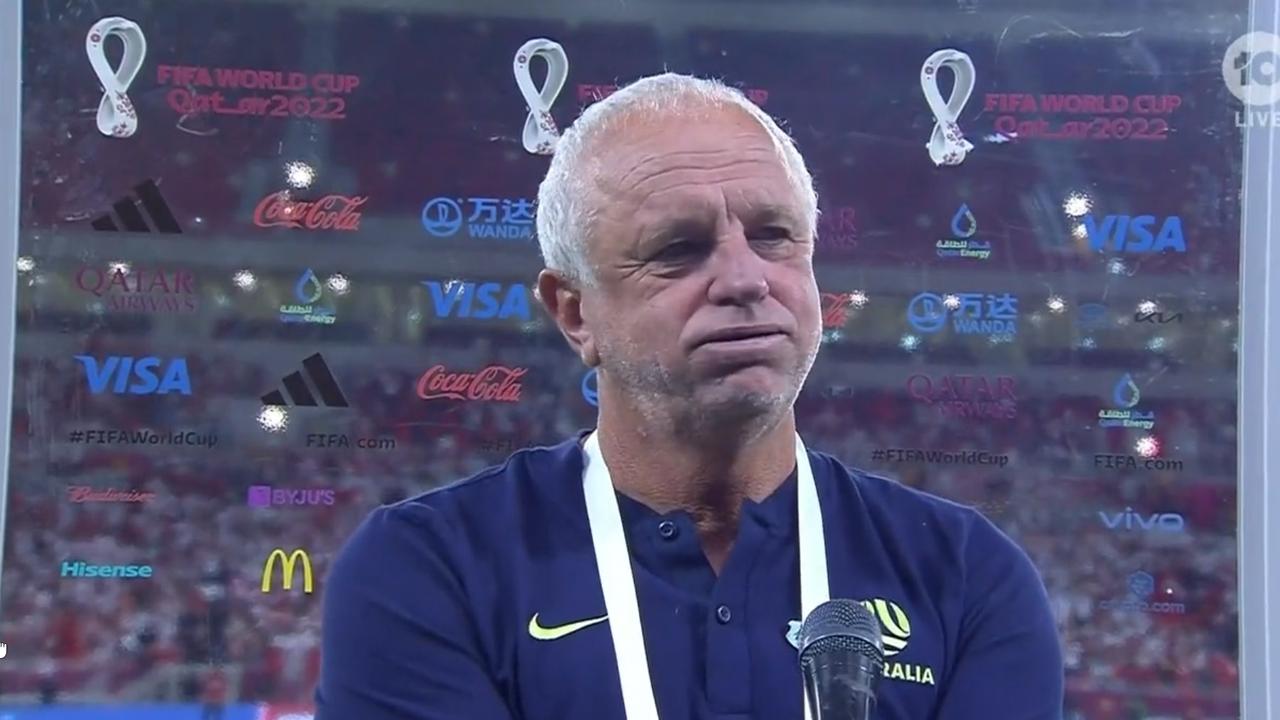 Graham Arnold on Network 10 was briefly lost for words. Photo: Network 10.
"I called out Anthony Albanese the other day to give everyone a day off to celebrate this because I believe this is one of the greatest achievements ever to qualify for this World Cup the way we had to do things," he said.
"It's been tough, but we did it.
Arnold tried to give his players the spotlight — but his success in the face of so much criticism was one of the big talking points to emerge from the contest.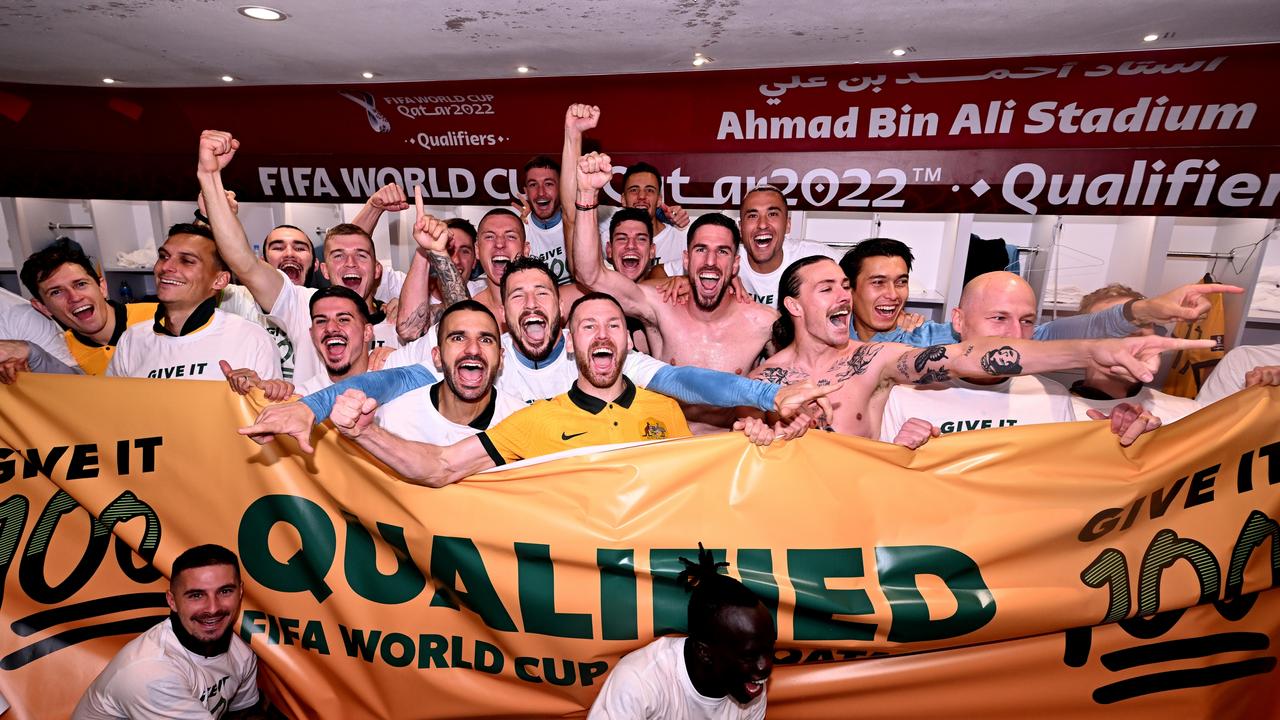 Australia celebrates their win over Peru in the changing room. Photo by Joe Allison/Getty Images.
"The doubters don't bother me, it is these boys I care for," he said.
"It's the game I care for, and I do it for my family."
He also confirmed the decision to drop Ryan for Redmayne was made for the simple reason of trying to get in the Peru team's head.
The Socceroos trailed early in the penalty shootout when Martin Boyle's first shot was saved, however, Aaron Mooy, Craig Goodwin, Ajdin Hjrustic, Jamie Maclaren and Awer Mabil all converted from the spot.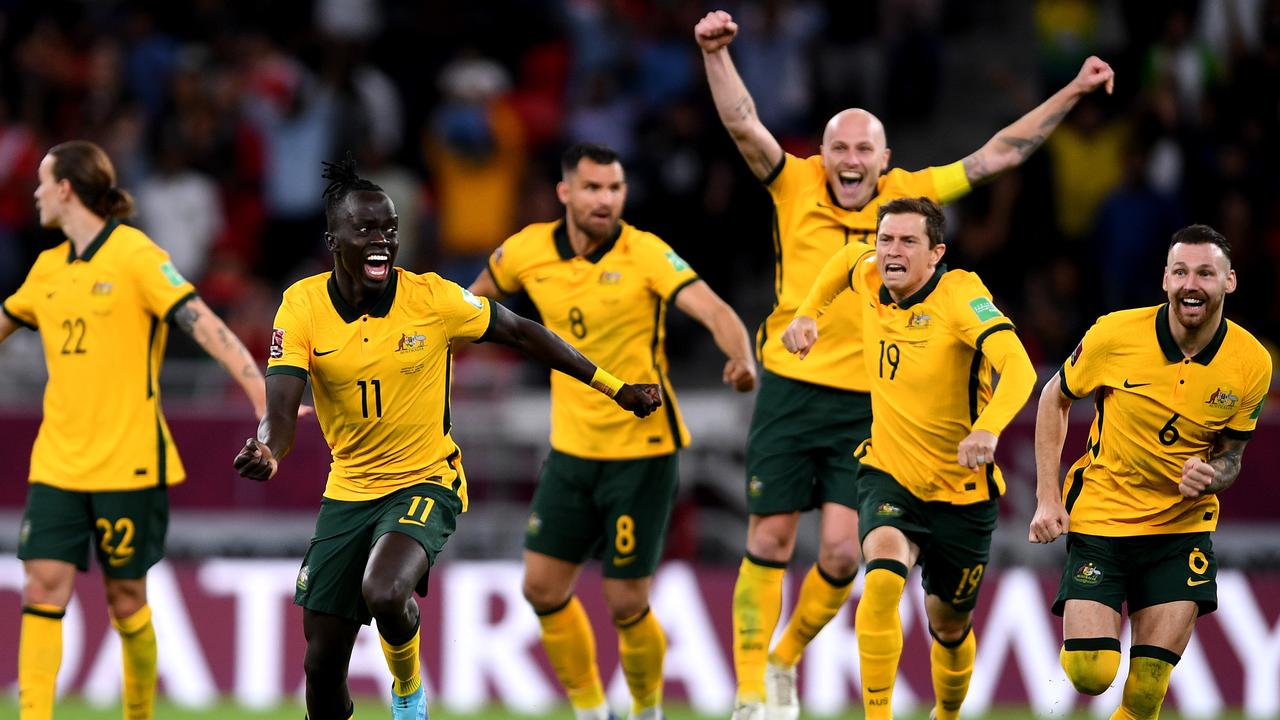 Australia celebratethe historic win. Photo by Joe Allison/Getty Images.
Redmayne was the fairytale hero at the end as he made two saves to send Australia to the World Cup.
Socceroos players went bananas as they rushed to celebrate with Redmayne after the save — and there were tears of joy seen on sections of the team.
Redmayne's moment will go down in Australian sporting history — and so will Arnold's decision to roll the dice.
Socceroos great Andy Harper applauded Arnold's performance after the coach was very nearly sacked earlier this year. Arnold's contract now extends through to the end of the World Cup campaign.
"There was so much pressure on the coach," he said.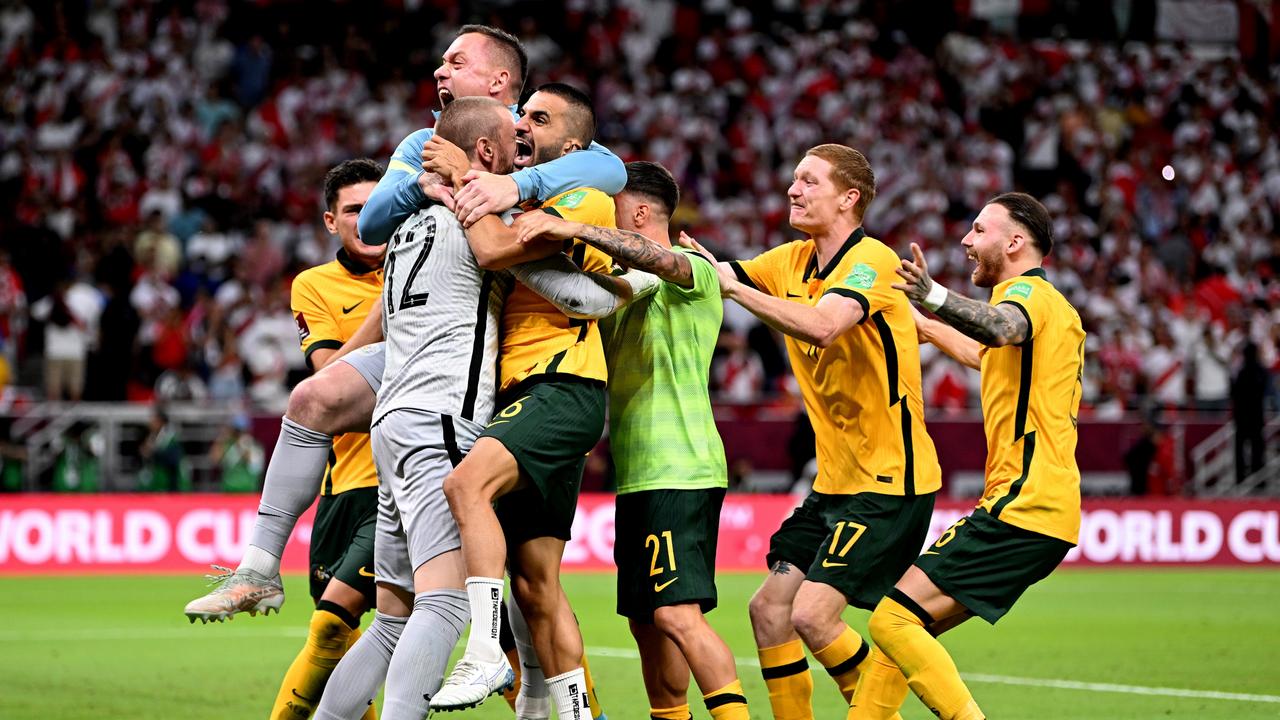 Australian players go berserk. Photo by Joe Allison/Getty Images.
"Questions of the coach. A queue of people waiting to take a baseball bat to the coach. And Redmayne saves the team, the campaign and now Australia is off to a fifth consecutive World Cup."
"A massive acknowledgement to Graham Arnold. What he has had to endure as a coach to get to this point over many years, what a crowning glory for him.
"People have got opinions on this and that on the other, but when you come to the end of a penalty shoot-out, if they didn't win that they would be the other side of the coin, but the fact of the matter is the team under him prevailed, he guided the team to World Cup football, the biggest sporting event on the planet, and massive congratulations."
Arnold's qualification campaign involved 20 matches beginning in 2019 — with 16 of those matches played overseas.
Australia can now turn its attention to the Qatar World Cup in 2022, beginning November 21, where they will be in Group D against France, Denmark and Tunisia.
Graham Arnold gambles everything with shocking late substitutions
Socceroos captain Mat Ryan has been taken from the field in the 119th minute ahead of penalty shootouts.
The shock move from Graham Arnold sees Andy Redmayne step into goals for the sudden-death shootout.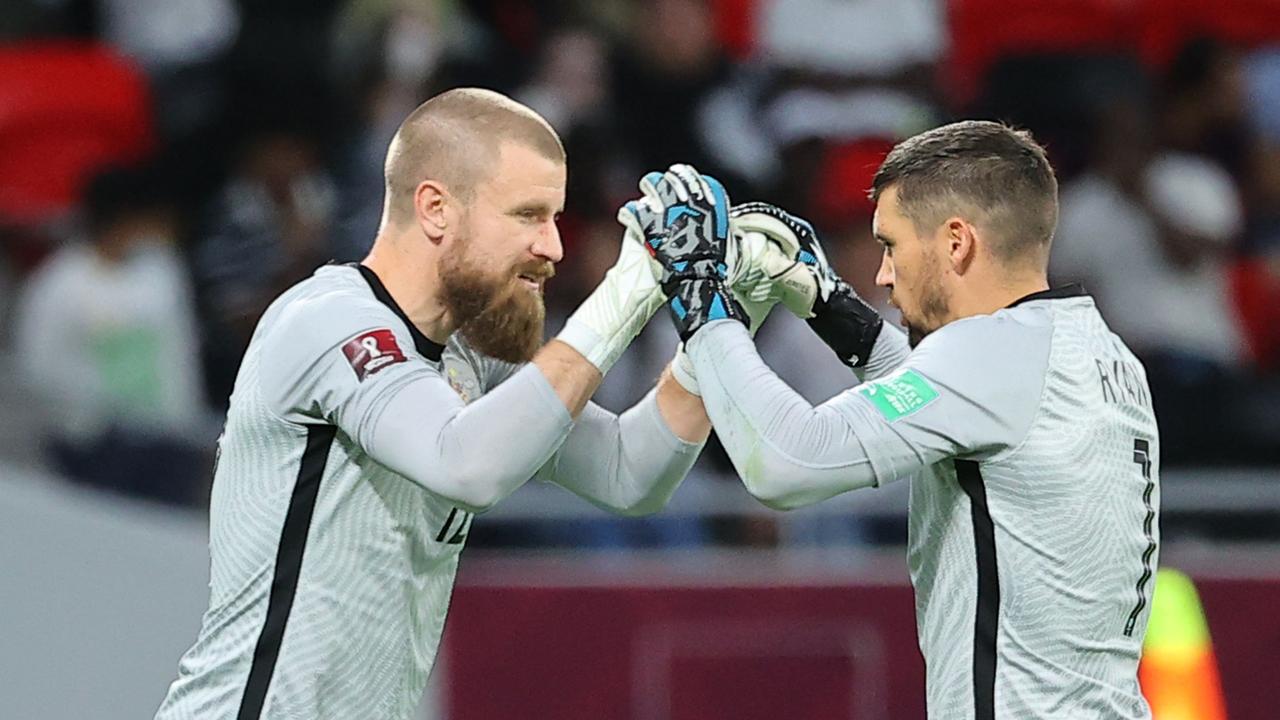 Australia's goalkeeper Andrew Redmayne replaces Mat Ryan. Photo by KARIM JAAFAR / AFP.
Arnold made a double swap with Craig Goodwin brought on to replace Aziz Behich.
Football journalist Daniel Garb was stunned by the decision to sub Ryan out of the game.
"My goodness. A call for the ages one way or another," he posted on Twitter.
Socceroos go agonisingly close to late winner
Peru settled into the match in the second half and Australia's opportunities on goal had dried up before Aziz Behich nearly broke the deadlock with a cutting run outside the box before his shot went agonisingly close to the left side of the goal in the 83rd minute.
Ajdin Hrustic then had the best opportunity of the match in the 88th minute when he had the ball at his feet in the box before his shot went straight at keeper Pedros Gallese.
Peru under fire for 'cunning' plan
Peru has used stalling tactics to frustrate the Socceroos as Australia dictated terms in the first half.
Peru coach Ricardo Gareca was pulling his hair out at his team's lack of tempo, however, Socceroos great Andy Harper said it could be the result of a "cunning plan".
"Australia look really comfortable with being allowed into the game, earning the right to acclimatise to the contest," Harper said.
Peru's Argentine coach Ricardo Gareca was not happy. Photo by KARIM JAAFAR / AFP.
"I don't know that Gareca would be that happy with the lack of intensity from his team to get the ball back into action. But perhaps that is part of their cunning plan."
Commentator Simon Hill said: "Interesting how long it is taking for Peru to re-start the match from goal kicks, he is taking an hour.
"This is the third or fourth re-start in a row where you could have put the kettle on. They're not looking for any tempo in this game at all. That's taking forever."
Socceroos great Luke Wiltshire told Network 10 at half time the Socceroos' dominance would have seen Peru players get a "rocket" from their coach.
"They have looked lacklustre, he said.
"We have dominated that half without going ahead and they are going to cop a rocket at half time. Their coach was not happy.
"I think they have underestimated us. They have been sloppy. I think we have been on without being clinical."
Graham Arnold makes selection gamble to face Peru
Craig Goodwin has been dumped to the bench for Australia's play-off with Peru with Mitch Duke coming into the side to play up front.
The selection gamble has seen Matthew Leckie shift to the left wing.
Socceroos great Mark Milligan said before kick-off he was concerned about the ability of Australia's back four to deal with any speed Peru can exploit out wide.
Arnold said before kick-off: "I feel excitement and relaxed. It's been since 2005 when we played a South American team in the final qualifier.
"I'm just excited to see the boys playing and I'm here to help the boys."
There are just four players remaining from the Australian team that faced Peru at the 2018 World Cup in Russia.
'Insane' scenes before World Cup Play-off
With over 12,000 Peruvian fans expected to be in attendance in Doha, the crowd will be heavily against the Aussies.

"We've got to get in their faces," Socceroos coach Graham Arnold told SEN radio on the weekend.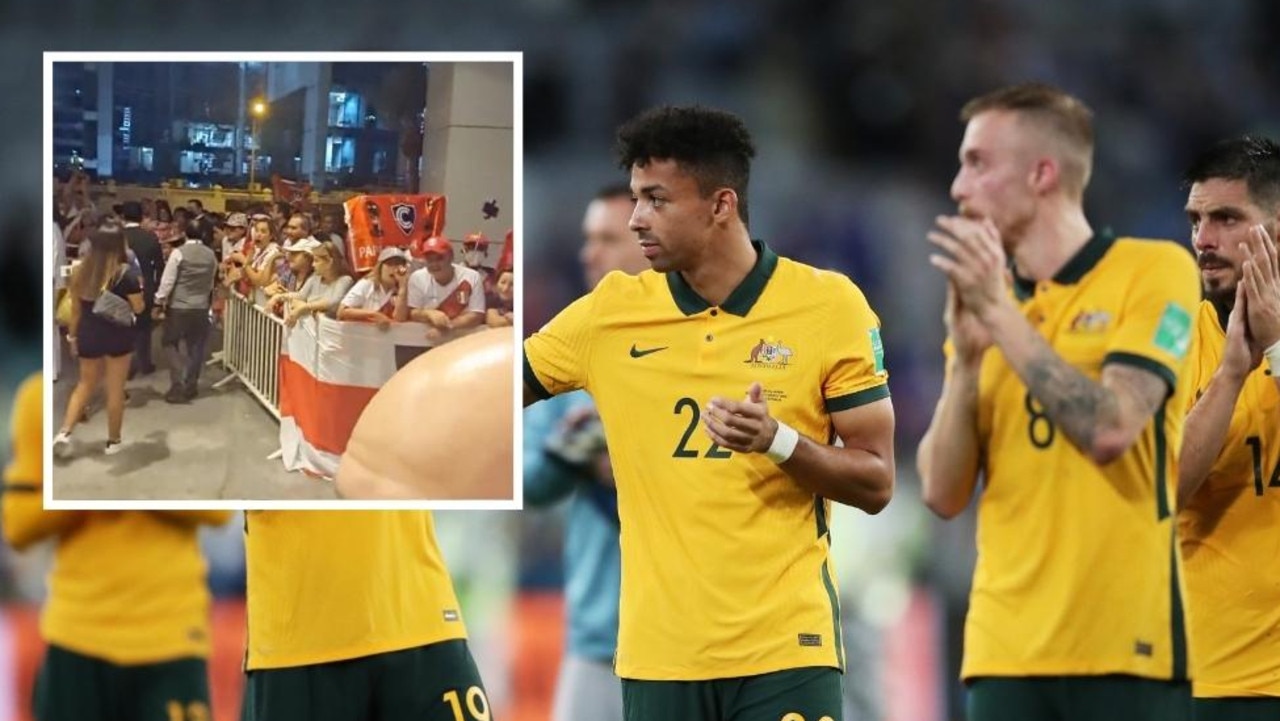 The Socceroos will take on Peru on Tuesday morning.
"We've got to make a fight of this, a war of this, and make sure that when we go out on the pitch that we rattle them. When we do that, that's our best chance."
New South Wales Premier Dominic Perrottet posted a video to Twitter: "Effort, aggression commitment and desire are always qualities that our national football team have. Our Socceroos have plenty of confidence in their experience, and on behalf of New South Wales we wish you the best of luck as you aim for the World Cup."
After missing out on automatic qualification, the Socceroos eliminated the United Arab Emirates in the Asian qualifying playoff last week to give themselves one final opportunity.
Socceroos in World Cup playoffs
1965 – lost to North Korea
1969 – lost to Israel
1973 – beat South Korea
1985 – lost to Scotland
1993 – lost to Argentina
1997 – lost to Iran
2001 – lost to Uruguay
2005 – beat Uruguay
2017 – beat Honduras
Originally published as Socceroos qualify for World Cup after bombshell shootout decision