Celtic boss Ange Postecoglou has won over a once-sceptical city, and restored the reputation of a once-broken club
Ange Postecoglou received a cold Glasgow greeting when he was named Celtic manager. But, as with his tenure with the Socceroos, 'Ange-ball' is winning the locals over – and producing results.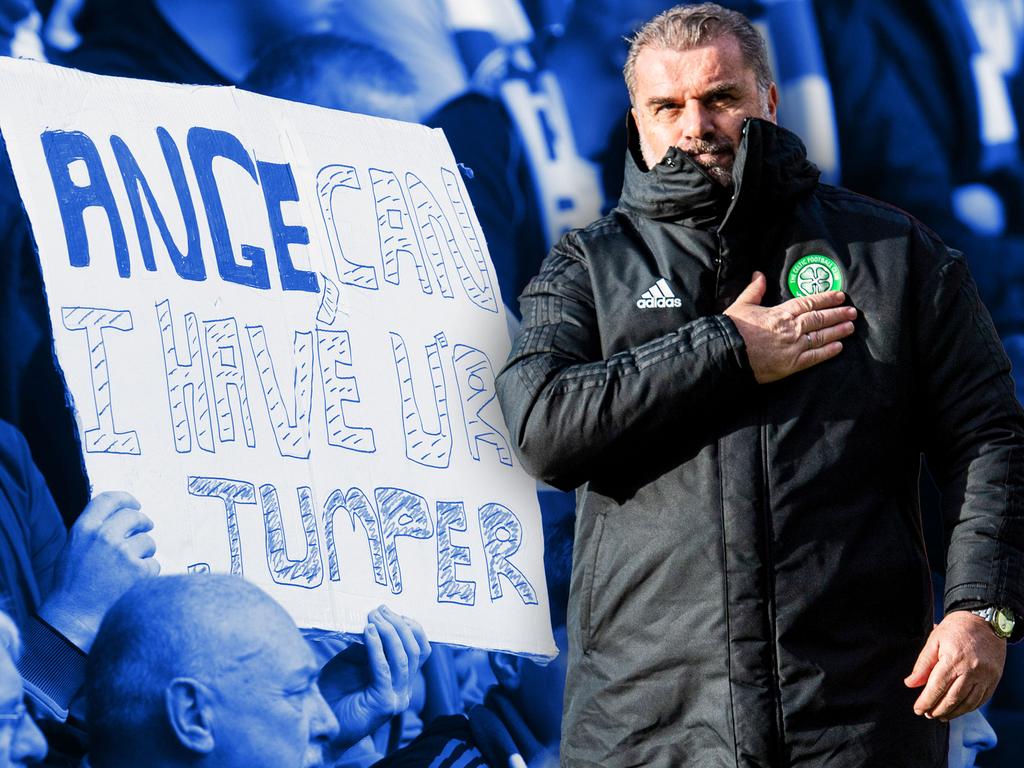 Schadenfreude was everywhere in Glasgow this summer. If it had been plotted on a map it would have shown up predominantly in areas like Govan and Cessnock on the southside of the city but also in places like the Louden Tavern, a Rangers stronghold on Duke Street deep in Celtic territory, Scottish football's equivalent of West Berlin in the Cold War period.
Located not much further from Parkhead than a wind-assisted Packie Bonner punt up the pitch, it remains a bastion to all things blue and the regulars there were in their element.
After a decade-long slog in which their club had been liquidated, re-formed and then endured an ignominious journey through the divisions, Rangers supporters' joy at a first league title since 2011 was matched only by the pleasure they were taking from the utter misery of their Celtic-supporting counterparts.
Football in Glasgow is a seesaw. If one side is up, the other is down. And as Rangers supporters entered a state of exhilaration at their side finally returning to Scottish football's summit, the Celtic fans sunk into a deep despair following a disastrous campaign in which their club's myopic and obsessive pursuit of an unprecedented 10th successive league title had come at the cost of any semblance of long-term planning.
Players like Odsonne Edouard had been retained for one last push when it had long been clear that he was no longer motivated to perform. Similarly, manager Neil Lennon had remained in post longer than ought to have been the case as Celtic's league prospects diminished week by week, his relationship with the supporters, who had once stood by him in solidarity, soured and strained to the point of breaking. Chief executive Peter Lawwell also felt this would be a good time to bow out after 17 years in charge.
When Celtic botched their protracted attempts to lure Eddie Howe north as Lennon's replacement, it felt like Murphy's Law had been invoked. The balance of power in the city appeared to be shifting from east to south, the league trophy removed from Celtic's grasp after nine seasons and taken on the five-and-a-half mile, 15-minute journey along the M74 and then the M8 motorways before arriving at Edmiston Drive, up the fabled marble staircase and into the Ibrox trophy room.
A Rangers squad that had just clinched the championship by 25 points without losing a game looked set to preside over a period of sustained domestic dominance.
The Celtic fans' chant that "Glasgow is green and white" no longer felt a valid claim.
The man, the message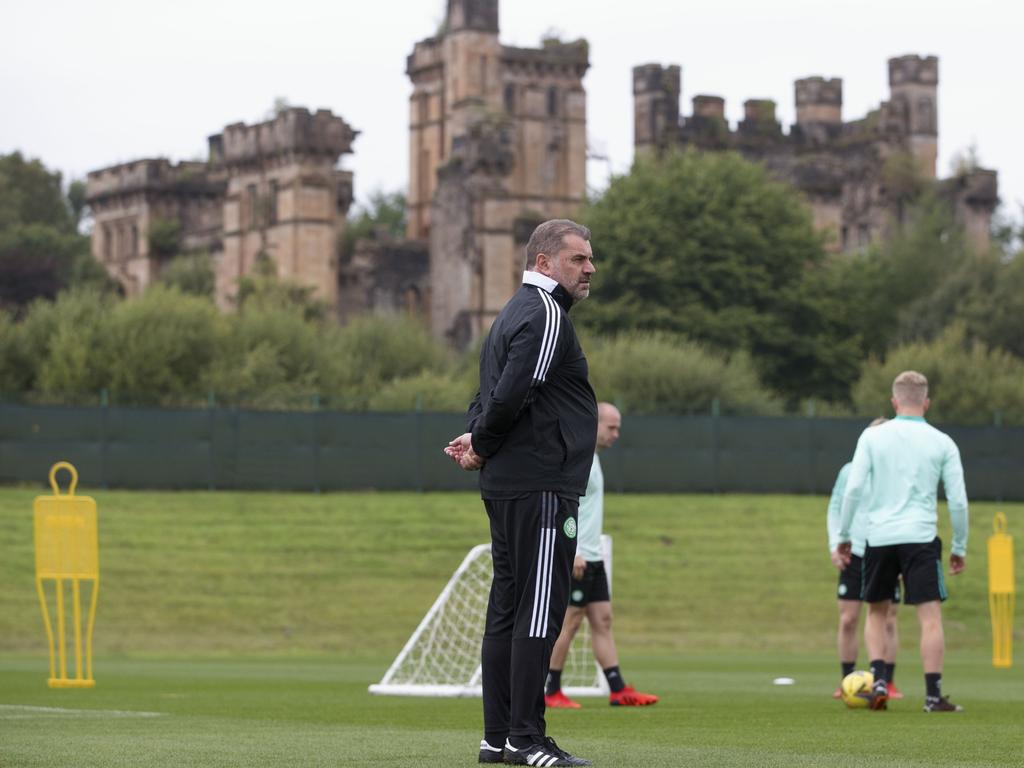 Ange Postecoglou's move to Glasgow was met with scepticism by long-suffering Celtic fans. Picture: Craig Williamson/SNS Group via Getty Images
Into this maelstrom of madness emerged Ange Postecoglou, a man clearly not afraid of a challenge.
Up against it from the start, simply for not being Howe, Postecoglou also saw himself prejudged by some as unsuitable to make the "step up" after working in Australian and Japanese football, something that says more about a misplaced Scottish sense of superiority than any flaws in his make-up. Scotland, after all, haven't sent a team to the men's World Cup since 1998 and haven't won a European club competition since 1983.
The appointments of Brendan Rodgers at Celtic and Steven Gerrard at Rangers, however, were still fresh in the memory of most Scottish football observers, making the recruitment of a manager that had previously not registered on the British psyche seem anticlimactic by comparison.
Gerrard was a rookie manager when he arrived in Glasgow in 2018 but his playing hinterland bought him time and instant respect. Postecoglou's coaching history deserved the same but that was never likely. There were immediate comparisons with Pedro Caixinha, the Portuguese who had flopped at Ibrox, while gloating Rangers fans predicted that Postecoglou's stint would be just as brief.
In the west of Scotland, two old school alternatives remain to social media when it comes to the venting of fans. One is to phone the Daily Record hotline, where a nominated reporter at the Glasgow-based newspaper listens to supporters gripe or gloat for an hour or two each day, and then somehow tries to condense the ramblings into a column for the following day's paper.
The other is to call Radio Clyde's Super Scoreboard, the long-running football phone-in where studio guests – mostly former Celtic or Rangers players, but also veteran journalists like Hugh Keevins – debate the hot football topics of the day with contributions from irate and excited punters.
It is a quirk, perhaps not unique to Glasgow, that more often than not fans will call up to speak not about their own team but about the (mis)fortunes of their rivals. And with Celtic in turmoil, Rangers fans could not wait to talk about Postecoglou.
"I predict poor Ange will be heading back Down Under after a New Year Old Firm tanking and 12 points behind," was a flavour of the confidence coursing through their bones in the summer.
Another referenced a famous British soap opera storyline from the 1980s. "Don't be surprised if like the other famous Ange from EastEnders he gets handed his divorce papers at Christmas," joked one caller.
From the start, however, Postecoglou played a blinder in the media, a skill that undoubtedly eased his transition into Scottish life and helped get the Celtic supporters on board right away. He expertly managed the public message with a high level of emotional intelligence and, to this day, has yet to have one of his coaches sit in for him at any of the many pre- and post-match conferences, preferring to handle it all himself.
Lennon would often get irate with supporters, most notably the club's ultras, The Green Brigade, a politically charged group who regularly vent their anger via hard-hitting banners unveiled before or during a game, something that has landed the club in hot water with UEFA in the past.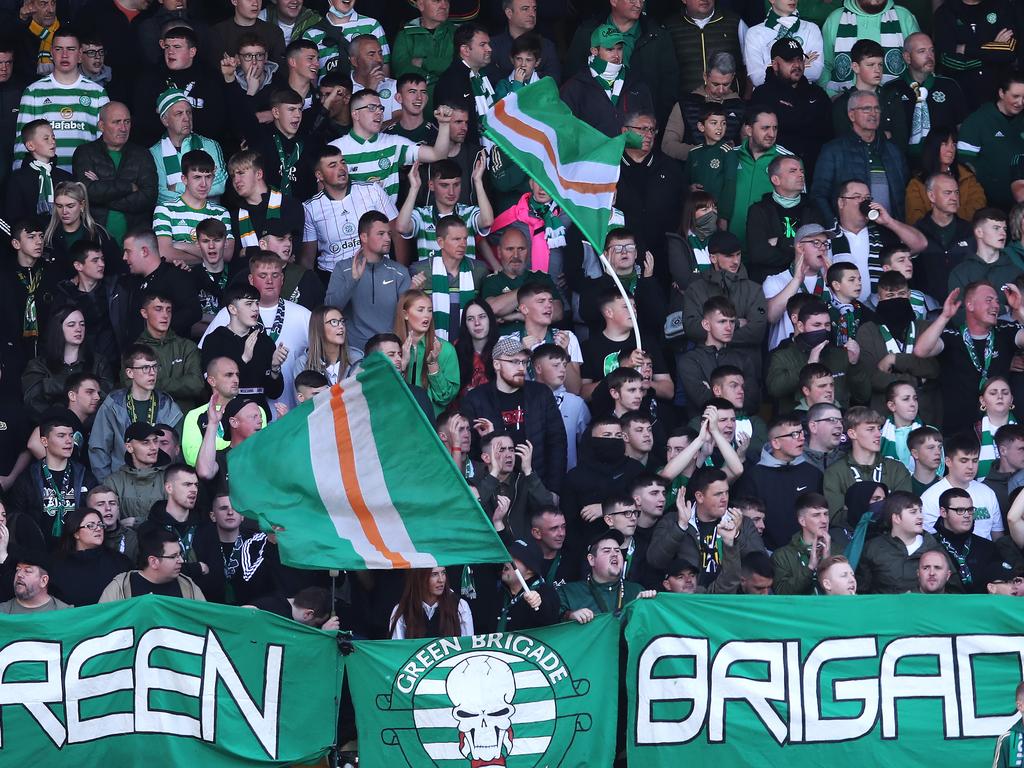 Celtic's ultras, The Green Brigade, are known to protest over club decisions. Picture: Ian MacNicol/Getty Images
Postecoglou, though, took a different tack. When supporters protested against the board following the resignation of former chief executive Dominic McKay – said publicly to be for family reasons, although the club were quick to brief privately that it was because it wasn't working out – the manager resisted the chance to criticise the fans.
Lesser men would have wobbled when the chief executive who had unveiled them to the world departed less than three months later, but Postecoglou, the public face of the organisation, said only that he was surprised but that it didn't change a great deal in the bigger picture. It was the sort of stability Celtic needed at a difficult time.
"We are all transient figures at this great club," he said. "The constant is the fans and they expect us to get on with it. I've done that throughout my career and will continue to. Everyone is allowed to express opinions in whatever way they choose to, our job is to send the 60,000 who are here home happy and that goes for the millions around the world. Sometimes it's good to be kept on your toes and I am sure our supporters will do that."
That has been a consistent approach from the manager, who has similarly refused to blame his players for poor performances, and also adroitly tiptoed across the verbal tightrope early in his tenure when he made it clear he needed more players but stopped short of publicly castigating his board of directors for taking so long to deliver them.
When Rangers later moved to condemn and impose bans on the supporters who had racially abused the Japanese forward Kyogo Furuhashi, Postecoglou did not reach for the easy answer either.
Asked if he was impressed by the speed of the Ibrox club's response, he replied: "It doesn't matter who it involves, we don't need to be impressed. It just has to happen. I don't think Rangers acted because they wanted to impress anyone, I would like to think people see right and wrong and just deal with it.
"This doesn't need endless debates on radio or television on what should happen and why it happened. It is wrong, we know it is wrong."
It is a level of bullshit-free transparency that has played so well with the supporters.
"Celtic fans absolutely love the fact he's so blunt and honest," said Hamish Carton, host of the popular 67 Hail Hail YouTube channel. "For so long we've had managers who have just fed us rubbish. Brendan Rodgers was a brilliant manager but you couldn't really trust a word he said. Now we have a manager that we know will just give us the truth. Sometimes it might not be what the fans want to hear but he won't sugar-coat it.
"Those wee humorous remarks that he makes – when he drops in the word 'mate' – have become his trademark. Fans love a manager sticking it to the media and that hasn't done Ange any harm at all."
While Postecoglou has proved himself willing to tackle any subject thrown at him, it is radio silence for the most part across the city after Rangers elected to put a cash value on Gerrard's words this season.
Any organisation wanting to attend the manager's press conferences or take photos on a matchday would need to pay between £10,000 to £25,000 [$AUD18,000 to $AUD45,000] for the privilege. No mainstream organisation has so far chosen to do so, meaning it is only Postecoglou currently taking difficult questions from newspaper reporters. And doing so with aplomb.
Gerrard has now departed Rangers, appointed as the man to replace Dean Smith at Aston Villa. The former Liverpool man finally has a chance to test himself in the Premier League. Dutch legend Giovanni van Bronckhorst has been unveiled as Gerrard's replacement, and Ange's new cross-town rival.
The rise and rise of 'Ange-ball'
Smart media dexterity can only carry a manager so far, however, but his honest approach has brought him the time he was always going to need. Celtic are now starting to show a consistency of performance that was missing in the early days, when a raft of injuries and new players taking time to settle led to a period of turbulence.
"I'm hoping that in six months' time, when people look back, they will know why I have been so resolute and persistent about what we are doing," Postecoglou said in early October, when his Celtic team had won just twice from their previous eight matches.
The Australian has at different points throughout his career needed time to rescue an ailing situation before eventually prevailing. And Celtic was undoubtedly a club in desperate need of extensive restoration. Six months didn't seem like anywhere near long enough for this particular salvage job.
The Celtic fans, however, have shown a willingness to give him time. If there have been grumblings over a post-match pint or two in The Brazen Head or The Squirrel, popular hangouts for Hoops fans, then there have been very few mass displays of dissent about the progress being made under Postecoglou.
There was some half-hearted booing after the home draw with Dundee United and again after the recent stalemate with Livingston, although Postecoglou questioned the BBC Scotland's radio reporter's version of the latter match. "If they were booing us, I didn't get that impression. Maybe I didn't hear them."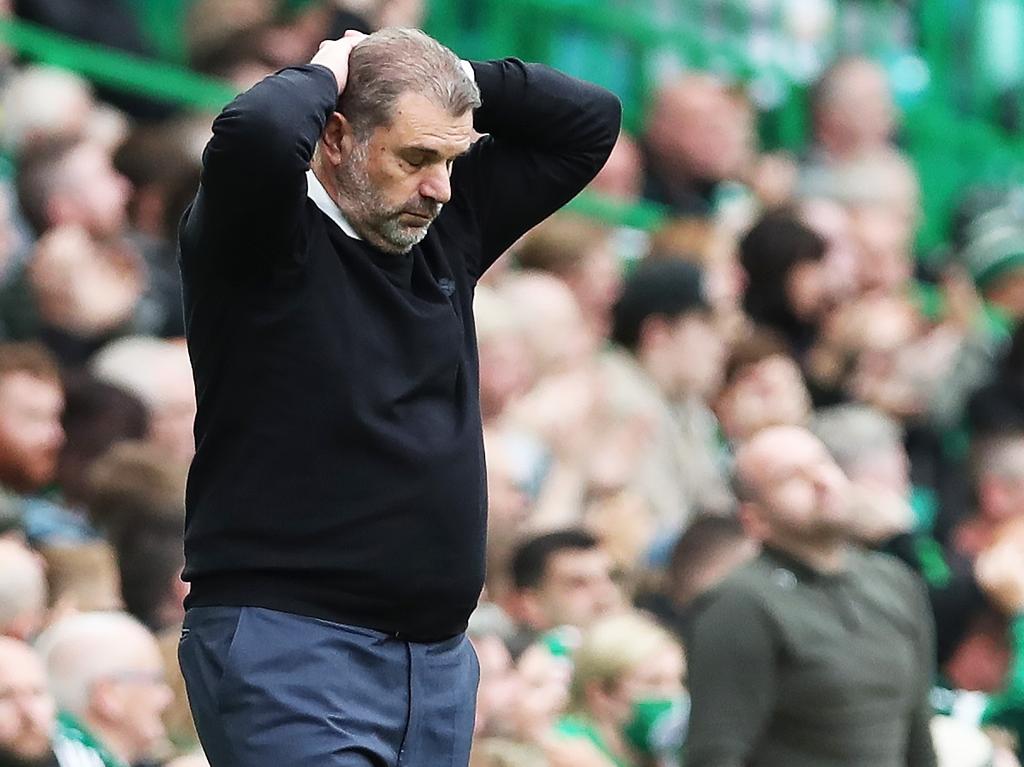 As far as fans booing Celtic during their draw with Dundee United in September, Postecoglou said, "Maybe I didn't hear them". Picture: Ian MacNicol/Getty Images
The turning point for Postecoglou came with the victory at Aberdeen in early October. Off the back of a heavy Europa League defeat to Bayer Leverkusen and without an away win in the league since February, a loss would have seen Celtic drop into the bottom half of the table.
The return of Kyogo from injury was key to that success and, although some of the lingering defensive frailties re-emerged late in the game, the 2-1 victory was both deserved and a major milestone after Postecoglou had become the club's first manager to lose his first three away games in charge.
He did his best beforehand to play down the game's significance but his animated reactions at full-time told a different story as he went over to the travelling support and repeatedly punched the air in delight. That a sizeable cluster of Celtic fans then stood around in the cold for around an hour to wait for the team bus departing was another sign that the manager was already winning over hearts and minds.
You need to have broad shoulders to deal with the pettiness and rabid expectation that comes with being manager of either Celtic or Rangers and, five months on from his appointment to a fairly muted response, Postecoglou is still here and thriving.
"There was some chatter from some people when he got the job that he would be a fish out of water here," added Carton. "Could he handle a club the size of Celtic? Could he handle the scrutiny of the Scottish media and the Celtic support? Nobody's asking those questions any more."
A drastic overhaul of the squad – 12 first-team players came in, 10 went out – did not lend itself to a smooth transition and results predictably suffered early on.
There were questions raised over the effectiveness of "Ange-ball", Postecoglou's all-out attacking style that sees fullbacks masquerading as midfielders but can often leave central defenders overwhelmed when facing better teams, especially on the road.
Lennon, back at Celtic Park as a TV analyst, described the Leverkusen performance as "kamikaze".
Less battle-hardened figures may have swallowed their pride and principles and opted for a more pragmatic approach, but Postecoglou is made of stronger stuff.
"If you are a strict vegetarian, you don't drop into Macca's just because you are hungry, mate," was his riposte to the notion of adopting a more pragmatic stance, one of a number of idiosyncratic quips that have helped him gain a cult following among the Celtic support.
More recently, without sacrificing his beliefs, Postecoglou's team has looked more assured and defensively robust, with fewer of the individual errors that had blighted their early-season displays. Rather than the manager altering his style, however, that improvement has stemmed instead from the players becoming more accustomed to how Postecoglou wants them to play.
When Jota, the Portuguese loanee, was asked after the Pittodrie win about the team needing to occasionally grind out a result, he looked almost aghast at the thought.
"We don't want to win playing bad football because those are not our principles," he remarked. Any doubts that Postecoglou's philosophy wasn't one shared by the dressing room were dispelled in an instant.
"If you bring a manager in like that and he's got a style of play you have to let him get on with it," said Andy Walker, the former Celtic striker and now pundit and co-commentator for Sky Sports whose six brothers are all Parkhead regulars.
"And the Celtic supporters seem to be buying into that. You have to trust his judgement. You still see the occasional mistake but defensively they now seem to be a lot more disciplined compared to games at the start of the season.
"I like this new style with the inverted fullbacks. I didn't think Anthony Ralston was capable of playing at the level he has been showing over the last couple of months. I'm very much enjoying watching Ange's team. His football, when it comes off, is sparkling."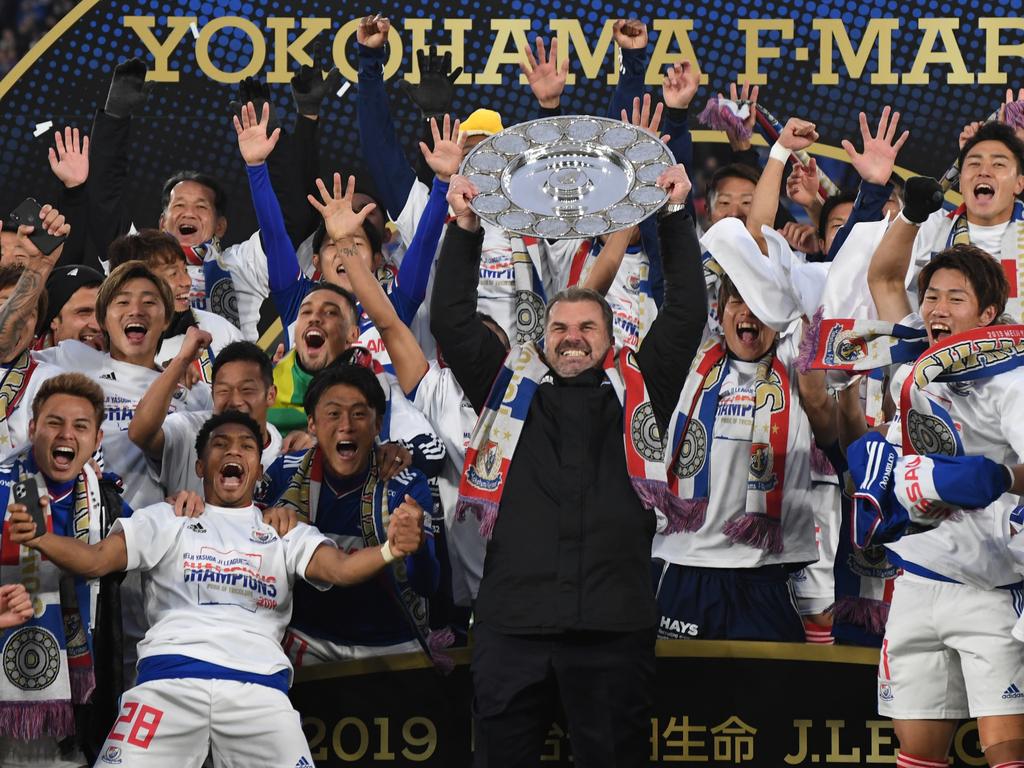 Postecoglou's sterling stint at Yokohama F. Marinos is proof of what the former Socceroos coach is capable of. Picture: Masashi Hara/Getty Images
Indeed, Celtic have been a force to behold on several occasions this season. In successive home league games they put six goals past Dundee and then St Mirren, while away wins at Aberdeen, Motherwell, Hibernian and Dundee have all been achieved with flair and no little flourish.
"The goal away at Fir Park told me that the players are very much buying into this," added Walker, himself a former Motherwell striker. "It started with a Kyogo tackle in his own half, he passed it quickly to Tom Rogic who plays a brilliant ball inside the fullback to Jota who finished it brilliantly. It was just lovely football to watch and we've seen a few moves like that a few times this season: slick, fast-flowing football."
The focus on attack can often still leave Celtic defensively vulnerable but there is a growing sense of comfort among the support that they have a manager in place who knows what he's doing.
"I admire him for sticking to his guns," Carton said. "I admit that in the early days on the podcast I was sometimes quick to have a moan, especially when we were recording right after a game. And you can understand why Ange seemed a bit bemused by folk in the media suggesting the title was over. And he's been proved right of course.
"He has to play his way. He's got this identity and if you deviate away from that you've lost the essence of what makes Ange's teams. The players are getting more accustomed to how he wants them to play."
Recruitment was key in the summer and will be again in January. Of those brought to Celtic by Postecoglou, the majority have so far been a success including the aforementioned Jota. Kyogo is an early frontrunner for player-of-the-season, Liel Abada and Joe Hart have looked solid acquisitions and defenders Josip Juranovic, Carl Starfelt and Cameron Carter-Vickers have impressed in flashes, the latter pair after a rocky start. The jury remains out on Giorgos Giakoumakis and James McCarthy, simply because they haven't played regularly.
McKay has been replaced as chief executive on an interim basis by Michael Nicholson and it will be instructive to see whether the manager gets the players he believes can improve his squad in January.
"All of that hasn't helped Ange settle as quickly as he would have liked," Walker said of the boardroom reshuffle.
"Relationships, like the one with your chief executive and other directors, are so important for any manager. For Ange's sake, you have to hope that he can continue to have his voice listened to and that the players coming in are transfers he wants to make and not forced upon him.
"I'm not a big fan of the Celtic board at all so I wouldn't put anything past them at all. But I hope they give him time. He's had one transfer window in which he managed to do an incredible amount of business but he needs more to add bits and pieces as he sees fit."
Europe and the derby
There is little pretension about Postecoglou. His standard get-up of a crew-neck sweater over a shirt and slacks makes him look more like a shift manager at a car rental firm than a football manager.
It seems an unlikely merchandising opportunity but Celtic fans eager to copy that look can snap up the Ange pullover – with a small, discreet four-leaf clover adorning the chest – for £50 [$AUD91] from the club's website.
Bootleg T-shirts have also sprung up on fan websites, with Postecoglou's fist-clenched image captioned with one of two phrases: The Boss and Here For Angeball.
When it was pointed out to him in a radio interview that a young fan behind him was wearing a scarf with his image on it, his response was typically deadpan. "I hope it doesn't scare any children."
Living in Glasgow with his wife and two young kids, Postecoglou has kept a fairly low-key presence away from football, not one regularly snapped out and about in the city's hot spots, although he was spotted visiting a Scottish-Greek food stall called MacTassos in the Glasgow Fort shopping centre back in August. As with every photo since, the picture posted by the owner shows Postecoglou giving it a thumbs up and smiling.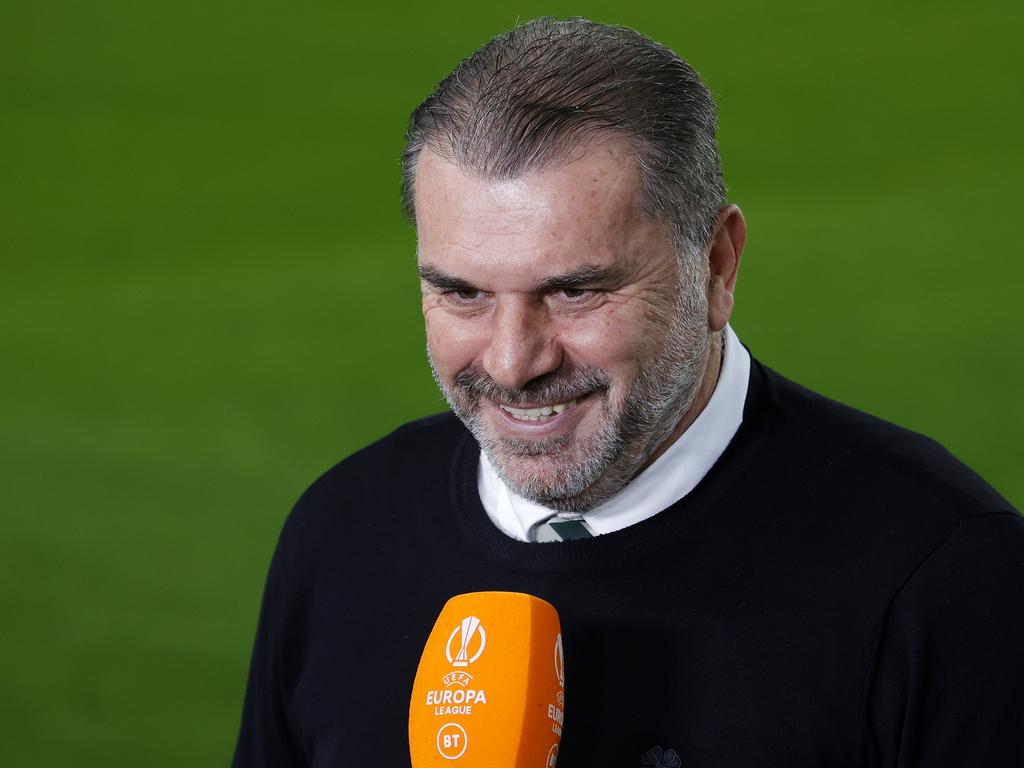 Getting the Scottish media onside has been half the battle for Postecoglou, but he has slowly won them over. Picture: Laszlo Szirtesi/Getty Images
The fans are smiling, too, with European football now guaranteed after Christmas and a title race seemingly in full swing thanks to Celtic belatedly discovering some consistency and Rangers not the impregnable force they were last season.
November could well be a pivotal month, with the record books showing that the team top of the table on St Andrew's Day – Scotland's patron saint who is celebrated on the 30th – going on to lift the title in 16 of the previous 20 seasons. Celtic sit just four points behind Rangers through 13 games.
Of the last 10 permanent Celtic managerial appointments, six have won the title in their first season in charge, with Lennon achieving it in his second spell but not the first. Of the four who didn't, only the Northern Irishman was given a second season to try to rectify it.
But with automatic entry into the group stage of the Champions League likely to await the winner, there is a lot more than simply domestic bragging rights at stake in Postecoglou's first season in Scotland.
"It was a hell of a job in the summer just to get that amount of players in and out," Walker said. "So to be sitting where they are in the table is perfectly acceptable at the moment.
"Obviously everybody wants to win the title and I think they could now. If you had asked me in the summer I'd have said 'no chance'."
Postecoglou's ability to quickly fix the early-season teething problems, combined with a Celtic board rarely known to act in haste, should see him given at least one more season, even if he doesn't win the championship.
"When he took over we were in as bad a state as Rangers were when Steven Gerrard was appointed – and he got three seasons to sort it out," Carlton said. "Now I don't know if Ange will get that long without a title but he'll get next season at least unless we finish 20 points behind. But it's not looking like that now."
On current trajectory, the New Year derby at Celtic Park is shaping up to be pivotal. In seasons when the title is a two-horse race as this one looks like becoming, it is often the team who prevails on the head-to-head record that goes on to hoist the league flag at the start of the following season.
Celtic didn't win any of the five derbies played behind closed doors last year – managing only one draw – and history doesn't go in their favour. But at home, and with Rangers fans banned from attending due to an ongoing tit-for-tat arrangement between the clubs, there will be a greater expectation on Postecoglou to open 2022 with a victory to properly ignite their title prospects.
"The derbies are where Ange needs to make his mark," Walker says. "The next time they play Rangers in January, a Celtic manager has to win those games to get everyone on board. If there are just a few points in it and Celtic win that game then the level of excitement will go through the roof."
Celtic restored on and off the pitch and top of the table by February?
Maybe Postecoglou knew what he was talking about all along.