Cristiano Ronaldo leaving Old Trafford early was unacceptable, says Erik ten Hag
On the eve of the Premier League, the new Manchester United manager has been left with a big decision to make over the team's biggest star.
Cristiano Ronaldo left before full-time of Manchester United's last pre-season match. Picture: Matthew Ashton - AMA/Getty Images
Erik Ten Hag has torn into Cristiano Ronaldo and some of his teammates after they left Manchester United's friendly on Sunday against Rayo Vallecano before the final whistle.
Ten Hag also warned the Portugal forward that he must prove his fitness and worth to the team before he is considered for selection in the Premier League.
The new United manager, 52, described Ronaldo, who this summer asked to leave the club as he wants to play in the Champions League, as a "fantastic football player" but made it clear he was unhappy with the 37-year-old's exit ten minutes before the end of the 1-1 draw.
Diogo Dalot was among a number of other players who left Old Trafford early, which infuriated Ten Hag.
"There were a lot more who went home [early]," Ten Hag told the Dutch broadcaster Viaplay when asked about Ronaldo's early departure.
"I definitely do not condone what happened. It's unacceptable. For everybody. I told them that it's unacceptable, that we are a team, and you have to stay until the end."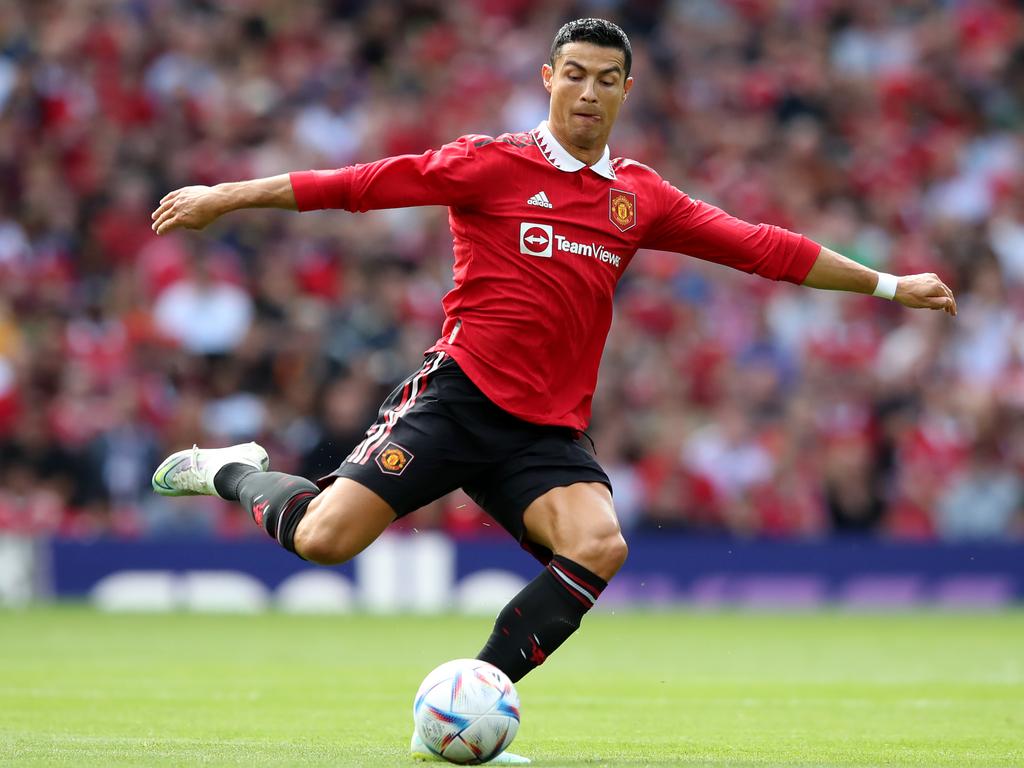 Ronaldo was lacking in fitness after missing most of United's pre-season. Picture: Jan Kruger/Getty Images
When asked whether any of the players had been fined, a United source said that it was an internal disciplinary issue.
The former United captain Gary Neville said: "It's unpalatable for me when the star player in the dressing room is playing up. There were times over the past few years where Paul Pogba's agent was playing up. You can't have your star player in a club running the shop."
The episode is an unwelcome distraction for Ten Hag given that the club's league campaign begins on Sunday. It comes at a difficult time for the club with Chelsea emerging as frontrunners to sign Frenkie de Jong, a key United target, from Barcelona.
The midfielder appears to favour a move to London and the prospect of playing in the Champions League. The 25-year-old, who is owed about pounds 17 million in salary that was deferred due to a wage cut during the pandemic, is reluctant to move to United, where he would play in the Europa League, handing Chelsea a big advantage.
Sunday's game was Ronaldo's first and only appearance of pre-season. He was missing from the 2 and a half week tour to Thailand and Australia due to personal circumstances.
Speaking on Saturday, Ten Hag said that Ronaldo was "definitely not on the level of our squad players at this moment because he misses a lot of weeks. He needs games and a lot of training".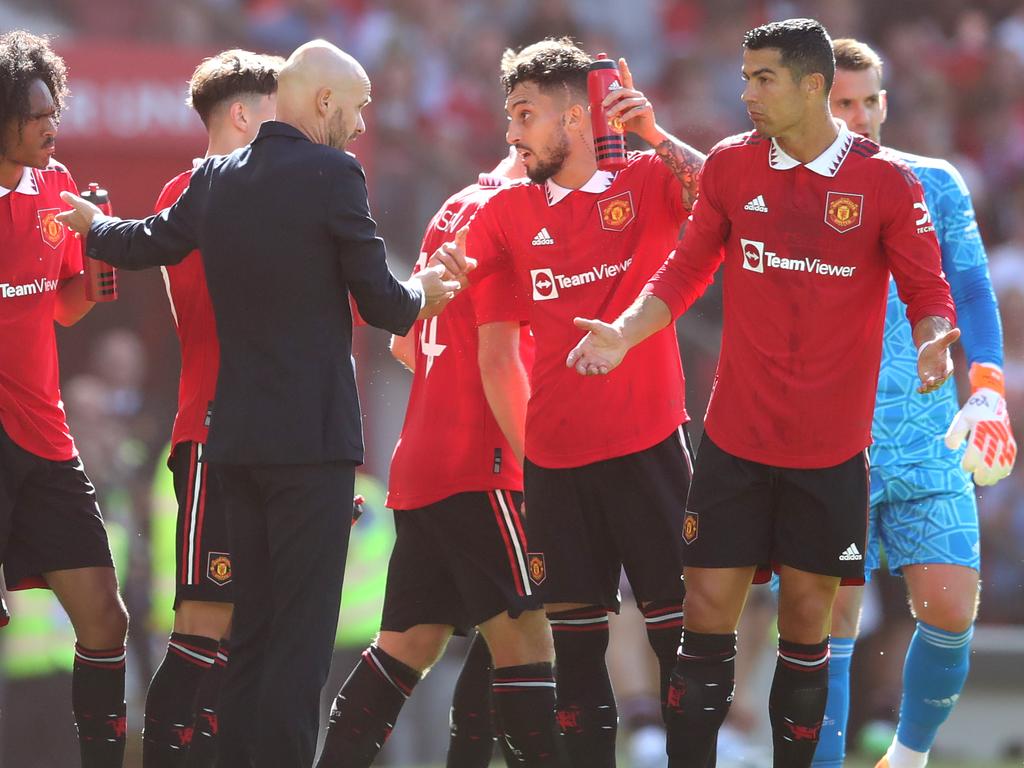 It appears unlikely that Ronaldo will start in United's Premier League opener against Brighton. Picture: Jan Kruger/Getty Images
It seems logical therefore that Ronaldo will not start Sunday's league opener against Brighton & Hove Albion at Old Trafford. Ten Hag is, though, planning for Ronaldo to stay at United and insisted yesterday (Wednesday) in an interview with Sky Sports that Ronaldo can adapt to his pressing style.
"I think he can [fit into the style of play]," Ten Hag said. "But to start with, he has to get fit. He just started [training] and he is a fantastic football player – he proved it so many times – but you are always judged by what you are now, what you are presenting now, and [how you] are performing now, so Cristiano, by himself, has to prove it."
Ten Hag stressed the need for unity at the weekend by telling all of his players that they must report to Old Trafford on Sunday to watch the Rayo game, even though many of them had been playing 24 hours earlier in another friendly against Atletico Madrid in Oslo, Norway. The squad were also told that they must eat together on Sunday afternoon before the Rayo game.
Five days earlier, Ronaldo and his agent, Jorge Mendes, had reiterated that the player wanted to leave United during a meeting with club officials at the Carrington training ground. Ronaldo, who was United's top scorer last season with 24 goals in all competitions, has one year left on his contract, but the club can extend the deal by one year.
Few clubs can afford to pay Ronaldo's pounds 500,000-per-week wage. Atletico Madrid, Bayern Munich and Chelsea have all distanced themselves from a possible transfer in recent weeks.
Ten Hag has a big task ahead of him in his first season in charge in Manchester. Picture: Jan Kruger/Getty Images
Ronaldo recently rubbished claims that he was going to return to Sporting Lisbon, where he began his career. The only serious offer on the table is from an unnamed Saudi Arabian club, who have offered him a contract worth more than pounds 2 million a week.
Ten Hag, meanwhile, appealed for calm even though United have signed only three players this summer: the former Tottenham Hotspur playmaker Christian Eriksen, 30, the right back Tyrell Malacia, 22, and the centre back Lisandro Martinez, 24.
"We know what we want, and it's not about signing players, it's about signing the right players," Ten Hag said.
"We are planning it carefully and we are strict to that – we are working hard to get the right players in to construct a good squad, who can win games."
When asked for a comment regarding De Jong's preference to play for Chelsea over United, Ten Hag said: "I can't talk about that. I don't talk about a player who is not under contract at Manchester United."
– The Times

Originally published as Cristiano Ronaldo leaving Old Trafford early was unacceptable, says Erik ten Hag