Ellie Carpenter knee injury: Teammate Chloe Logazro on teammate's World Cup hopes
One of Ellie Carpenter's Matildas teammates has backed the star defender to mount an unlikely World Cup bid after going down with an ACL injury in the Champions League final.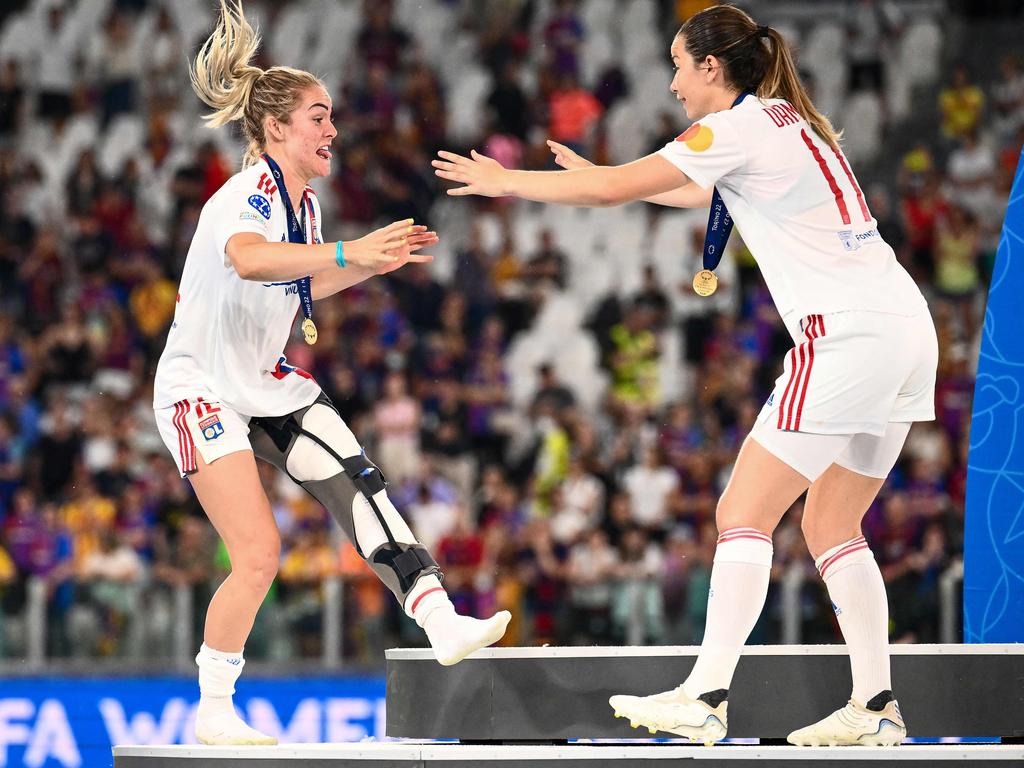 Ellie Carpenter and Damaris Egurrola celebrate on the podium after their team won the UEFA Women's Champions League final over Barcelona in Turin. Picture: Marco Bertorello/AFP
Matildas' midfielder Chloe Logarzo is back running and shooting at goal just six months after her ACL surgery and she is confident star Aussie defender Ellie Carpenter will be able to do the same.
Carpenter tore her ACL playing for Lyon in the Women's Champions League final at the weekend. She is due to have surgery this week to repair the ligament.
The injury cast a shadow of doubt over whether or not the 22-year-old would be fit to play in the Women's World Cup come July 2023.
Live Stream The EFL Championship Promotion Playoff - Huddersfield vs Nottingham Forest, 1:30AM Monday 30th May - with beIN SPORTS on Kayo. New to Kayo? Try 14-Days Free Now >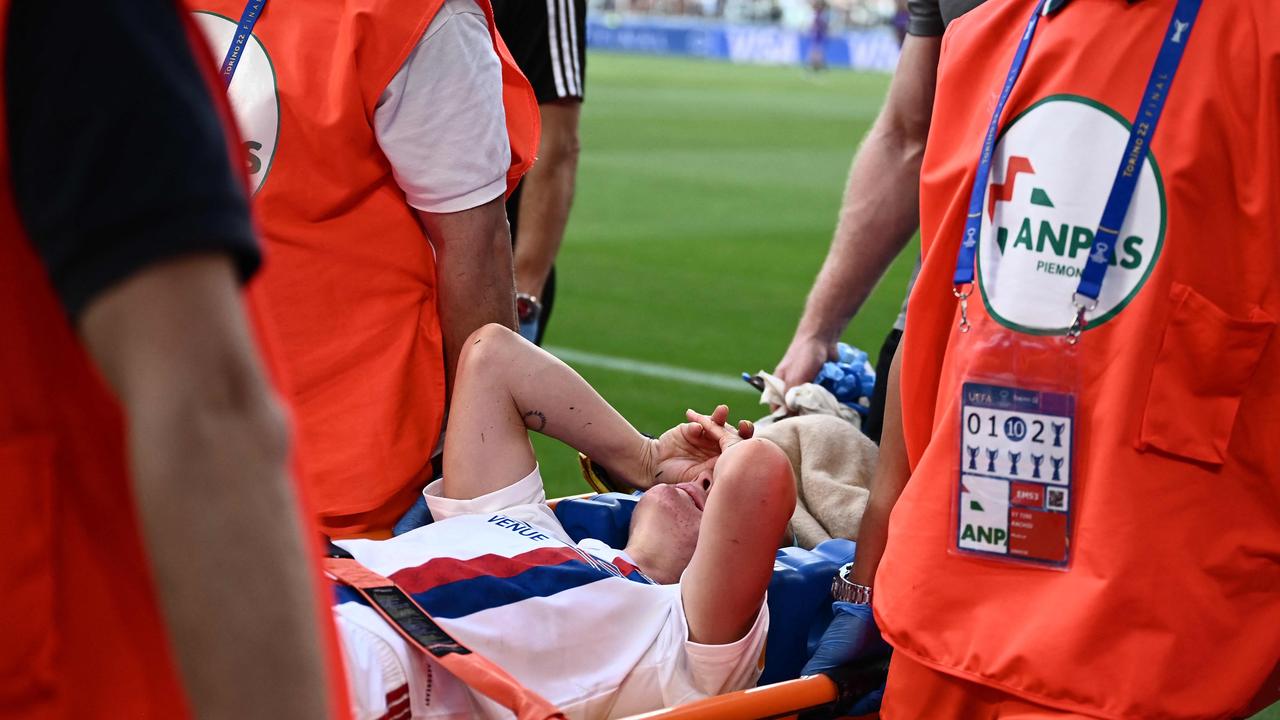 Lyon's Australian defender Ellie Carpenter is carried on a stretcher after injuring her ACL.
Logarzo, who plays for USA side Kansas City, said if anyone could do it, it was Carpenter.
"I was actually in the gym rehabbing watching the final, I had literally put it on like six televisions so that no matter where I was in the gym I could watch it," Logarzo said.
"I was devastated, I messaged (Carpenter) straight away.
"I know she has this under control. She is the most tenacious, unbelievable woman that I've ever met in my life. She has got the drive to get back onto the field faster than anyone I know.
"She will be with us wearing the green and gold, standing in front of her friends and family for the World Cup."
New hi-tech medical equipment and technology will help Carpenter cut her recovery from what was once a career-ending injury to less than 12 months.
"We have (anti-gravity) treadmills that allow us to take our body weight off so we can run faster and cryotherapy," Logarzo said.
"All these things allow us to get back to what we're doing much faster at the highest level."
While confident Carpenter will return in time for the Cup, Logarzo knows better than anyone the road to recovery is never a smooth one.
Logarzo tore her ACL in September, during a friendly against Ireland. She had surgery six weeks later.
"Most people say this should be the most enjoyable part of rehab because you get back into playing on the field and a bit more normality but for me I know how far I am from where I was and it is difficult to process," Logarzo said.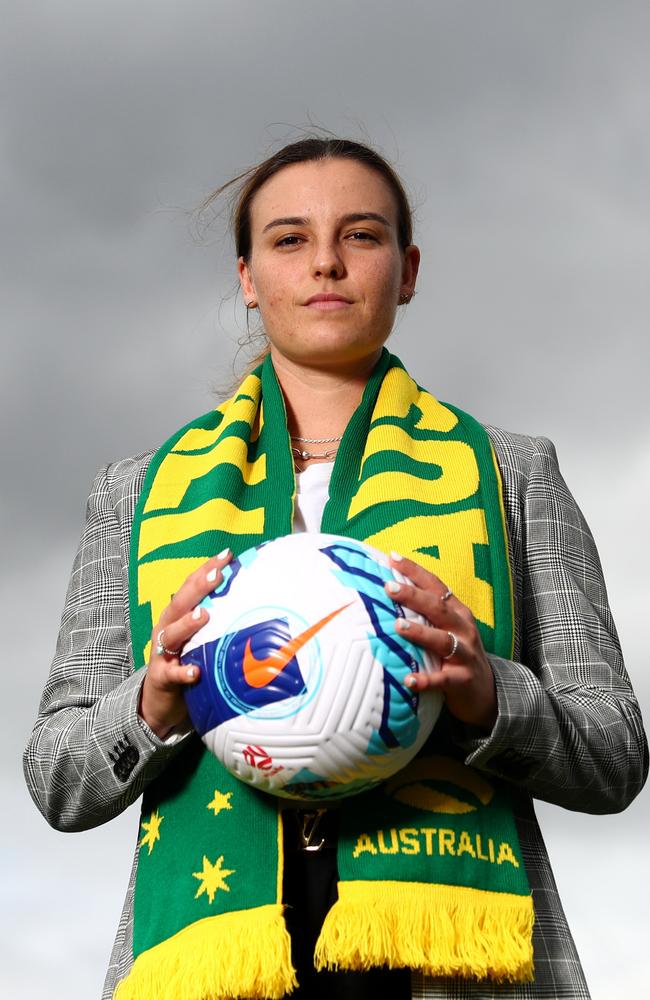 Chloe Logarzo is backing teammate Ellie Carpenter to push for a World Cup return from injury.
"I have to remind myself to take it slow and understand that is what it is going to take to get back to where I was and where I want to be."
The looming World Cup, which will be hosted in Australia and New Zealand, has given Logarzo extra drive to stick with the rehab.
"There is a big mental side to rehab. I know that (Carpenter) has got that all under wraps especially with all the people supporting her and the massive goal ahead of her, that is what made my rehab a lot easier," she said.
"Knowing that I have the World Cup has kept me on the straight and narrow on the bad days. It reminds me there is something bigger in front of me and I just need to keep my head down and work hard."
A Football Australia spokeswoman said the national team was devastaed by Carpenter's injury news.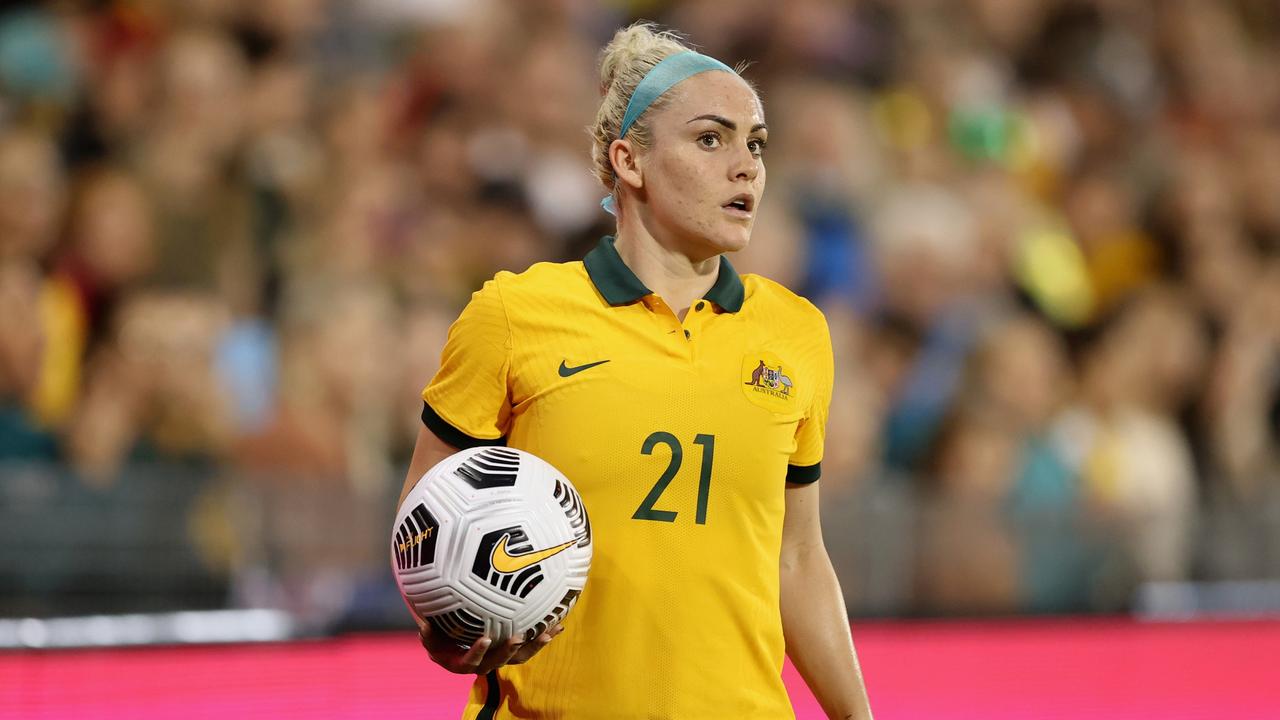 Ellie Carpenter in action for the Matildas.
"Carpenter will undergo surgery in Lyon in the coming days and commence her rehabilitation," the spokeswoman said.
"She is a tenacious, vivacious, and well-respected member of the CommBank Matildas family, and we know all the qualities that make her so admired on the pitch will see her return to the pitch to continue her substantial contribution to the team."
Football Australia's medical team will continue working closely with Lyon's medical team and Carpenter will have all the support necessary for her physical, mental and emotional wellbeing.
Logarzo hopes to be back training with the team, in non-contact drills, within the next fortnight and is confident she will be fit for the World Cup.
STAR'S WORLD CUP IN DOUBT AFTER HUGE INJURY BLOW
Matildas' star Ellie Carpenter will undergo surgery this week after sustaining one of the most dreaded sporting injuries – putting her 2023 World Cup campaign in doubt.
French club Olympique Lyonnais confirmed Carpenter had ruptured her anterior cruciate ligament (ACL) in the Champions League final on Sunday morning (AEST).
Carpenter, 22, went down it he 14th minute of the game against Barcelona after pushing off the grass to receive a long pass – she went down grabbing the inside of her left knee.
She was stretchered off the field, covering her face with her hands and with tears in her eyes.
Carpenter did seem to somewhat recover hobbling onto the field, with crutches and her knee in a brace, to celebrate Lyon's Champions League win – giving Matildas fans hope the injury was not as bad as first thought.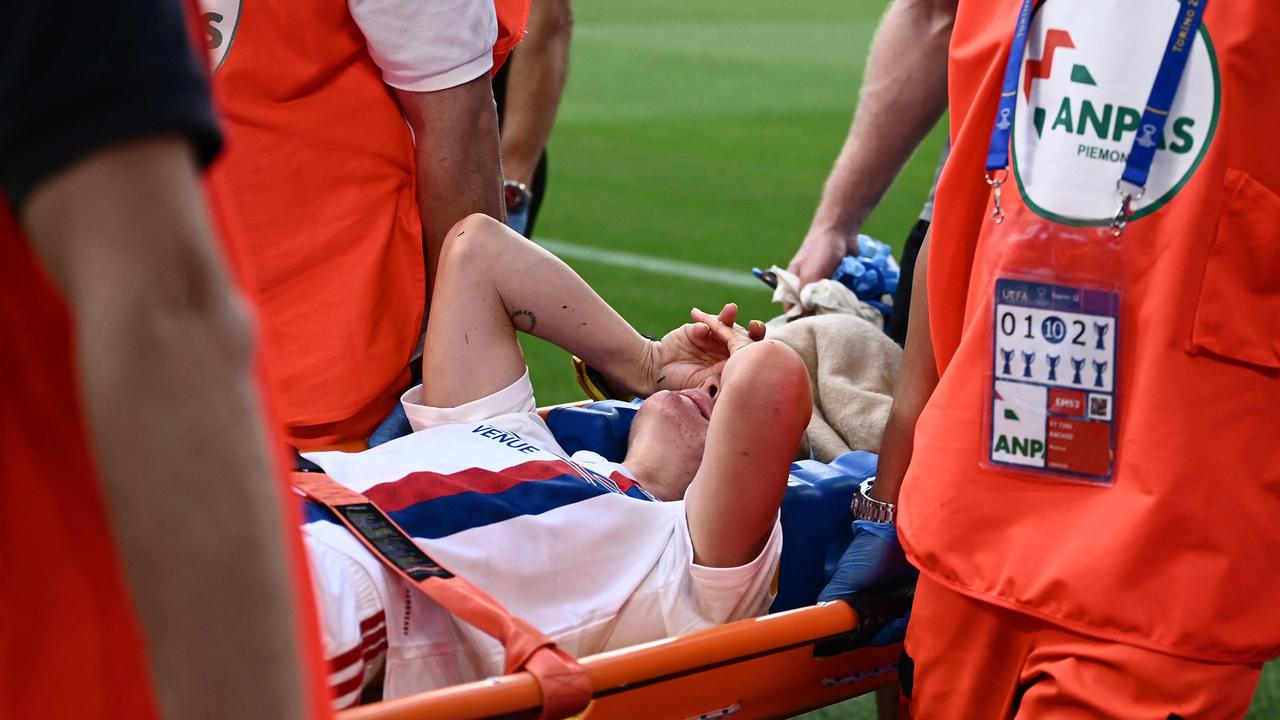 Ellie Carpenter leaving the field. Picture: AFP Images
Lyon shared, in a statement on its website that Carpenter had ruptured her ACL.
"Olympique Lyonnais deplores the serious injury of its defender Ellie Carpenter, out in the 14th minute of play during the final of the Women's Champions League played against Barcelona (3-1) in Turin," the statement read.
"The examinations passed by the Australian international have confirmed a rupture of the anterior cruciate ligament of the knee which will lead to an operation this Wednesday in Lyon.
"Olympique Lyonnais would like to give its full support to Ellie Carpenter, author of 29 matches this season and winner of her second Champions League with OL, who should be unavailable for a minimum of six months."
Damaris Egurrola and Ellie Carpenter after the match. Picture: Getty Images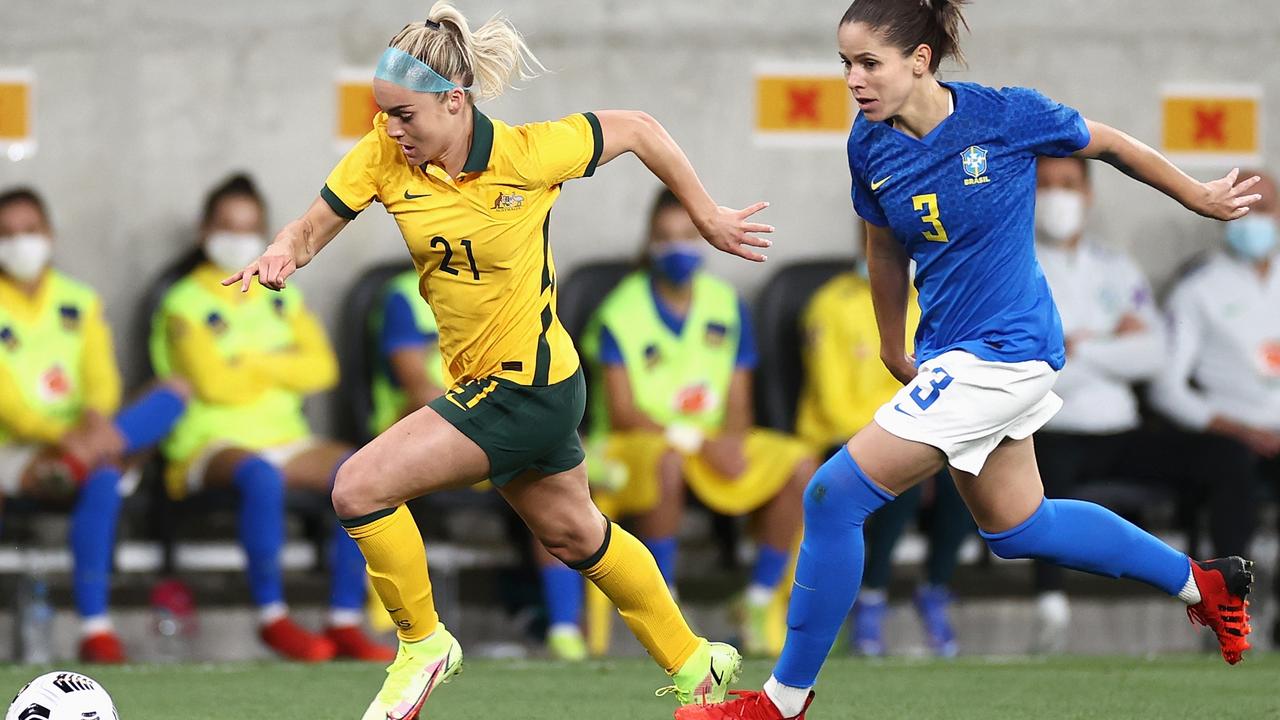 Ellie Carpenter would be a huge loss for the Matildas. Picture: Getty Images
ACL injuries can take anywhere from 6-12 months to recover – leaving Carpenter in a race against time to be fit and ready for the 2023 Women's World Cup, being hosted by Australia and New Zealand.
The tournament, featuring 32 teams, is set to run from July 20 to August 20 – giving her just 14 months to recover.
Carpenter will certainly miss the friendly matches the Matildas have lined up against Spain and Portugal in June.
HURT MATILDAS STAR'S HISTORIC CHAMPIONS LEAGUE WIN
AFP
Lyon, including Australian Matildas star Ellie Carpenter, won the Women's Champions League on Sunday (AEST) after beating Barcelona 3-1 to be crowned queens of Europe for a record-extending eighth time.
First half goals from Amandine Henry, Ada Hegerberg and Catarina Macario were enough to take the title from pre-match holders Barca, who pulled one back through captain Alexia Putellas just before halftime.
The match was bittersweet for Carpenter, who was carried off on a stretcher having suffered a knee injury after just 13 minutes. She hopped onto the field to celebrate at full-time, having become the first Australian footballer to win the Champions League twice.
Expectation was high among Barca fans, who descended in large numbers on the Allianz Stadium in Turin to watch a team who have been tipped to end Lyon's dominance of the women's game in Europe.
However they couldn't come back from going three goals down in the first 33 minutes.
"I'm super happy to have scored because it helped us settle in to the match. It will remain engraved in my memory," said Henry after her blockbuster finish.
"I'm not used to scoring but this will give me even more confidence and more desire to keep playing."
The damage was done in a whirlwind opening period in which Lyon showed their European pedigree and for large tracts steamrollered Barca.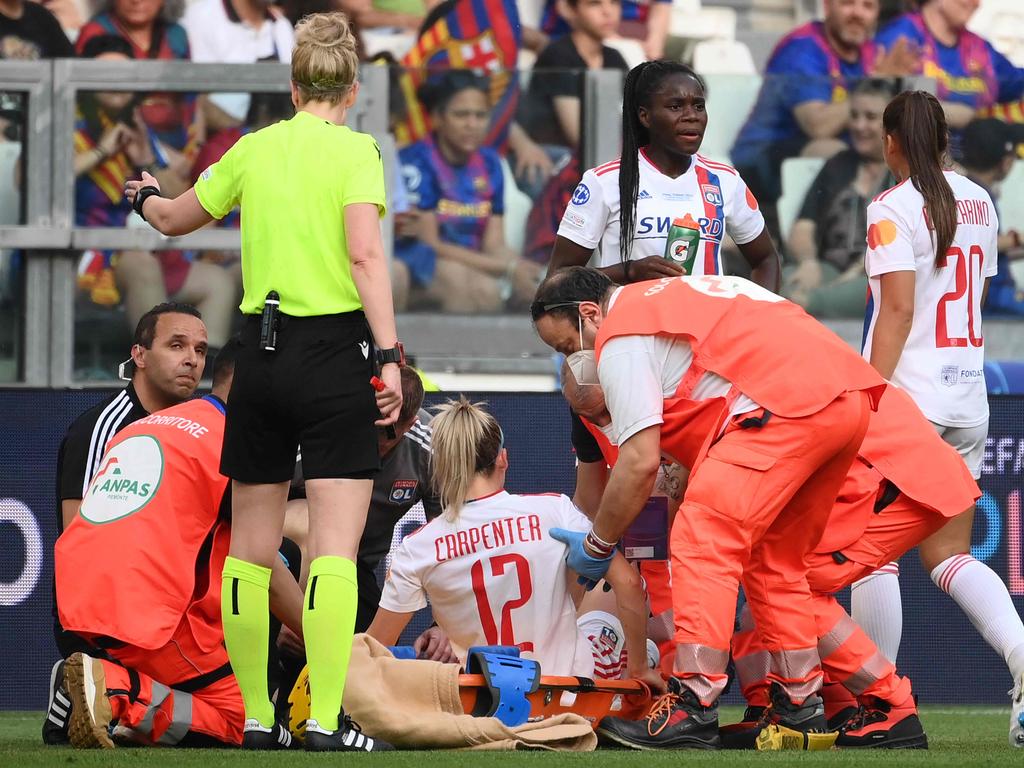 Medics tend to Lyon's Ellie Carpenter after she suffered a knee injury. Picture: Franck Fife/AFP
Henry opened the scoring in the sixth minute with a beautiful strike which came out of nowhere, the France icon picking up the ball way out before letting off a rocket which Sandra Panos could only grasp at in vain.
From there Lyon kicked into gear and Hegerberg had her 59th goal in 60 Champions League appearances in the 23rd minute when she calmly nodded in Selma Bacha's cross from close range.
Ten minutes later Barca's heads were spinning after a baffling defensive mix-up left Macario with a tap-in to make it three from almost on the goal line.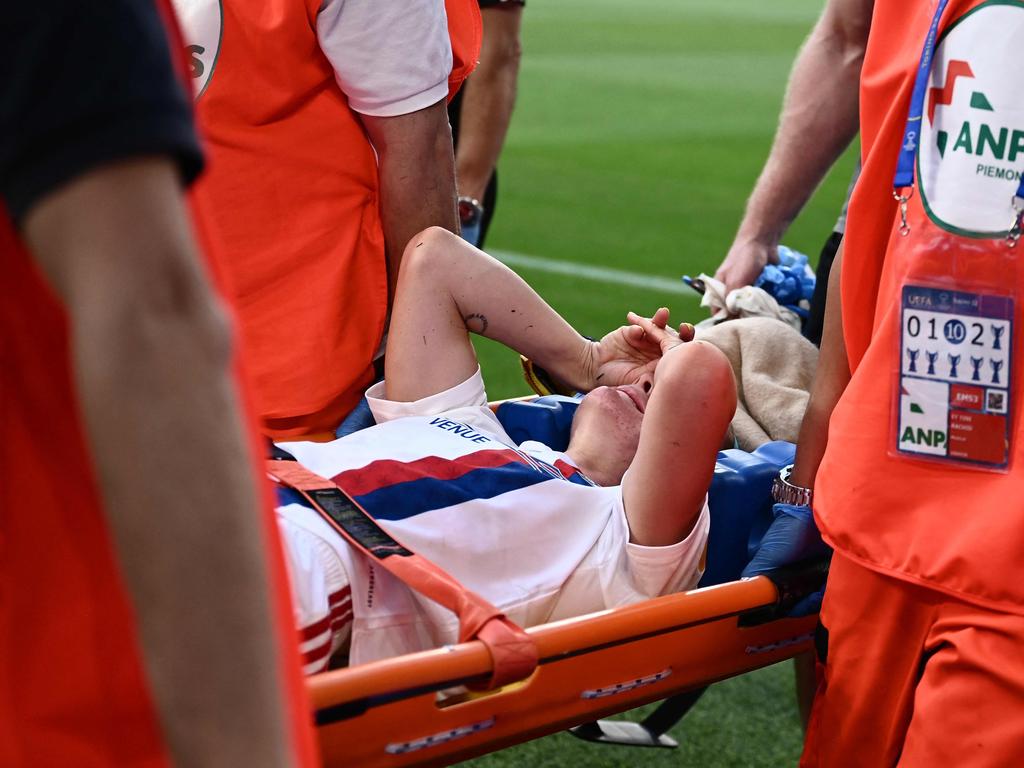 Ellie Carpenter is carried on a stretcher during the Champions League final. Picture: Marco Bertorello/AFP
Barca looked dead and buried but Ballon d'Or holder Putellas dragged her team back into it four minutes before the break when she saved Caroline Graham Hansen's miscued cross by lashing home a low first-time finish.
Patricia Guijarro thought she had cut the deficit to just one in the most spectacular way possible when she launched an audacious shot from just after the halfway line which crashed back out from the underside of the bar.
From there Barca were the better team but lacked the killer touch, with Ana-Maria Crnogorcevic volleying a great chance wide with seven minutes remaining highlighting a wastefulness which in the end cost them their European crown.