Goalscoring machine Erling Haaland will only get better under Pep Guardiola
Erling Haaland is already one of football's elite forwards. A move to Manchester City and the Premier League is set to take the Norwegian striker to the next level.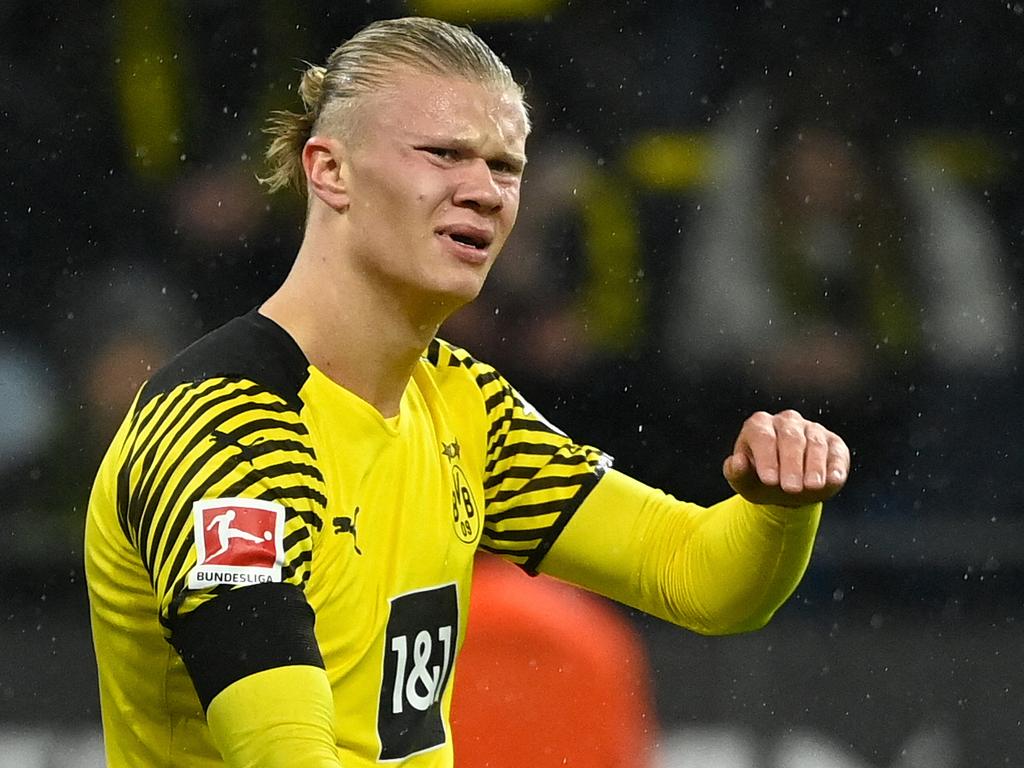 Haaland has barely scratched the surface of his career as he takes the next step in the Premier League. Picture: Ina Fassbender / AFP
At 21, Erling Haaland is already a goalscoring machine, a centre forward who can create and destroy, a formidable athlete moulded by the genes of his sporting parents and his own work ethic. What will also alarm Manchester City's rivals is that he will only get better under the tutelage of Pep Guardiola.
With all due respect to his teammates at Borussia Dortmund, Haaland will also benefit from the superior service he will receive at City. It hardly requires the wildest imaginations to picture him running onto Kevin De Bruyne's pinpoint 50-yard passes, heading in Riyad Mahrez crosses from the right, being slipped through by Phil Foden on the edge of the area or playing one-twos in the box with Bernardo Silva, Jack Grealish and Raheem Sterling. City have a precocious creative mix anyway and now they have the blond leading the blend.
Haaland's a perfect fit for City, a real No 9 rather than their false ones, using his anticipation, ferocious acceleration and awareness of where to make his run. He can play on the shoulder of the centre back, ghosting away rapidly. He can finish with devastating power with his left foot or beat a goalkeeper with more subtlety, a dink, a lob.
Such is his strength and determination that Haaland can cope with any ball drilled into him, whatever its velocity, whether holding off his marker and controlling the ball, whether flicking it on or laying it off first time. As well as his 85 goals in 88 games for Dortmund, Haaland has contributed 19 assists. He offers City so many options.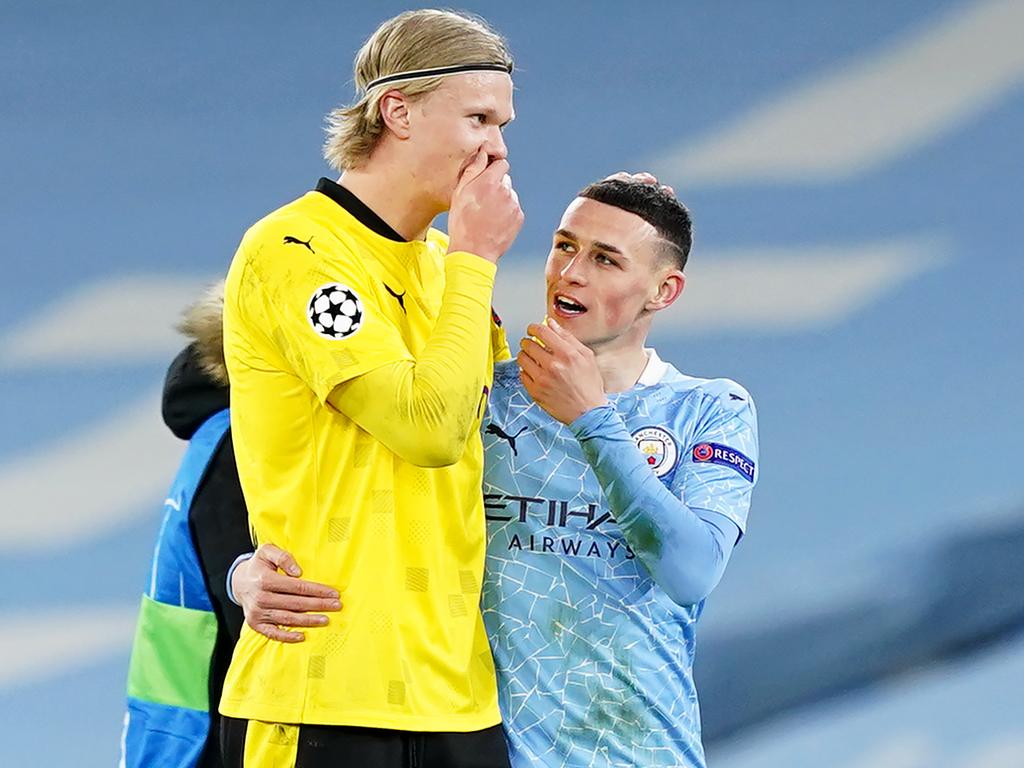 Haaland should expect Foden to provide plenty of chances for him when they play together for City. Picture: Matt McNulty – Manchester City/Manchester City FC via Getty Images
Haaland's style has brought a few injuries, muscular problems, but he will gain a timely, if unwanted, break from November 21 to December 18 as Norway failed to qualify for the World Cup. Even though Guardiola goes reasonably strongly in the League Cup and FA Cup, he will inevitably rotate Haaland occasionally. Such a talent has been brought in to fight for the Premier League and the Champions League, nirvana for the Oasis crowd.
Expectation will rise of City finally becoming champions of Europe. If Haaland had been in their attack against Real Madrid, particularly at home in the first leg, City would be in the final now. Managers claim that their team puzzle is never complete but Haaland is a hugely significant piece.
Haaland's arrival should spread excitement and fear in equal measure. Of young strikers at work in Europe, only Kylian Mbappe is better. Haaland sprinkles more stardust on the Premier League and the global interest will intensify. City fans know they are in for a treat and more trophies. City accountants know that he's a marketing and merchandising dream.
It's great business, too. At euros 60 million (about pounds 51.3 million), Haaland is in City's preferred price range of pounds 40 million to pounds 60 million (with outliers such as Grealish's stipulated release of pounds 100 million and De Bruyne's pounds 68 million) and they have acquired a reputation for getting their business done early and decisively, partly because rivals know they cannot compete. Haaland will have huge resale value should City decide to cash in one day.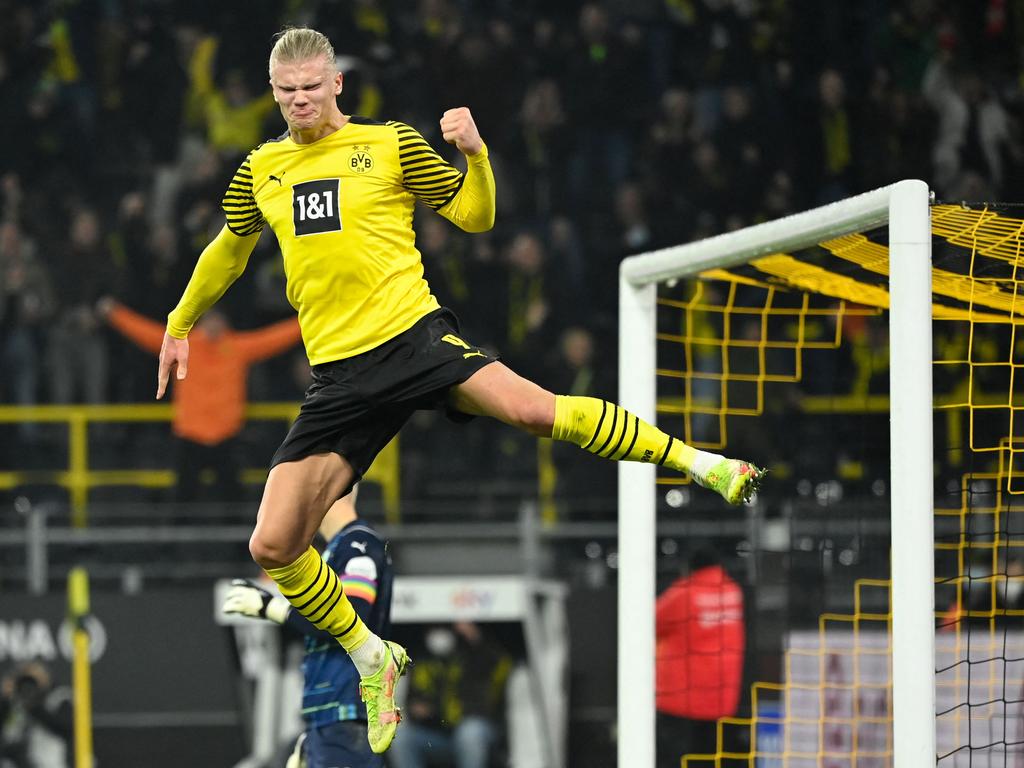 Haaland is a proven goalscorer in some of Europe's biggest competitions. Picture: Ina Fassbender / AFP
Murmurs of frustration among certain other Premier League clubs can already be detected, whether through jealousy, concerns of the title race becoming a procession, and broader issues about the source and balance of City's investment. There are still questions to be answered about meeting Financial Fair Play regulations, and the Premier League is still investigating.
City were found to have breached UEFA rules in 2014. More recently, the Court of Arbitration for Sport reprieved City when they were again charged by UEFA in 2020. City emphasise that they operate within the rules. An executive at another club points to the quality and quantity of City's lawyers against those scrambled by the footballing authorities.
The knock-on effect of this eye-catching move is obvious. Other clubs know they have to invest heavily this summer as City disappear over the horizon. The only team close to them, Liverpool, are well stocked in attack but will surely make a judicious midfield signing this summer.
The chances of Haaland's precocious Dortmund teammate Jude Bellingham joining either Liverpool or Manchester United are lessened as the German club now are under no financial pressure to sell.
As ever, one issue raised by a high-profile transfer is that Haaland's previous clubs, Byrne, Molde and Red Bull Salzburg will share (proportionally on time spent) 5 per cent of the fee – pounds 2.55 million – under Fifa solidarity payments.
They played a part in Haaland's development, especially in the formative 12 years at Byrne, and such dream factories deserve a greater cut that they can reinvest. All talent starts somewhere, and English football should be grateful for the skilled nurturing of such a fabulous player as Haaland.
– The Times

Originally published as Goalscoring machine Erling Haaland will only get better under Pep Guardiola