Henry Winter: Big ambitions and small ego, Steven Gerrard is perfect for Aston Villa
It's the move Steven Gerrard has been waiting for as he finally gets his chance to manage in the Premier League with Aston Villa and it could be the perfect marriage, writes HENRY WINTER.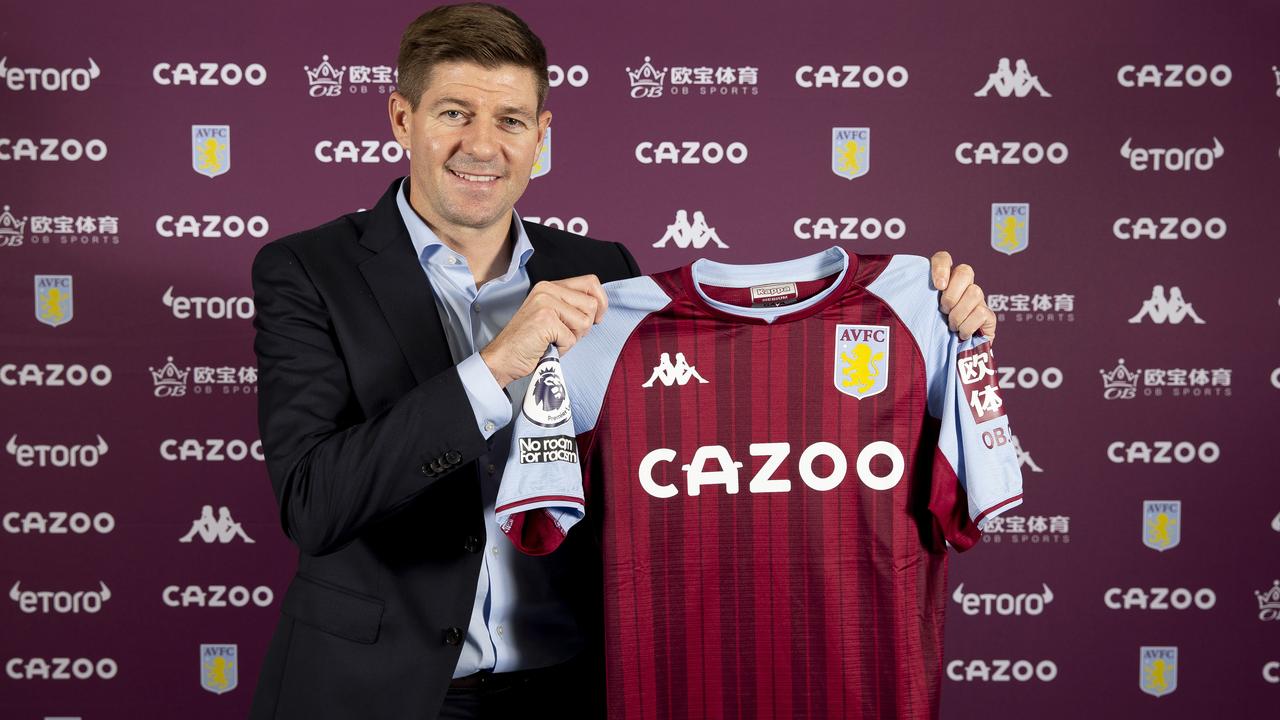 Steven Gerrard is about to embark on his biggest challenge yet as he takes over as manager for Aston Villa. Picture: Neville Williams/Aston Villa FC via Getty Images.
It's the little details that make Steven Gerrard a manager of such accelerating substance, a head coach who possesses the ability and ambition to lead Aston Villa consistently into European football. It's the little tweaks, such as moving the analysts' lab at Rangers' training ground next to the changing room so players would walk through, stopping for a scroll through a few clips to enhance their game.
It's the minutiae, such as shifting the squad's ping-pong table closer to his office so he can join in the banter and quietly invite a player in for a motivational chat. Gerrard thinks deeply about preparing players, knowing marginal gains can bring lavish rewards.
The boy from a Huyton housing estate who became a Liverpool legend was often perceived as a force of nature as a marauding midfielder, all instinct and emotion, ploughing into tackles, charging upfield, and rescuing the team with goals from Anfield to Cardiff to Istanbul. And countless other places.
When people question Gerrard as a manager, as some still do, they do not understand the pressure that accompanies stewardship of an Old Firm club. Picture: Andy Buchanan/AFP.
Yet Gerrard was always a thinker, always listening to Gerard Houllier, Rafa Benitez, Kenny Dalglish and Brendan Rodgers. Despite enjoying an illustrious playing career, also including 114 England caps, Gerrard has little ego. He doesn't talk about his feats. His Villa players will know all about his prowess and achievements, and will have grown up admiring him, but will now meet a coach focused on the next game, not a man obsessed with past glories.
Inherent sadness over a good head coach in Dean Smith leaving Villa Park, and sympathy for a decent man chewed up by a brutal profession, is now offset by the excitement of Gerrard taking this opportunity in the Premier League. Everyone knows that Anfield is his dream destination one day - "1,000" per cent, he said in May - but the key element is "one day". A whirlwind in a hurry on the pitch during his playing days, Gerrard plots his managerial career sensibly.
Villa do not represent a stepping stone, as many cynics suggest, because he will give everything to deliver there. Gerrard, 41, will also know that he needs time at Villa, learning his craft, building a body of work at this elite level, recording some famous results, and showing that he can develop further the talent that the club's academy is producing.
He has to establish himself in the Premier League, getting Villa competing for European contention and matching the ambitions of his chief executive, Christian Purslow, a supporter from their Liverpool days, and the club's owners, Wes Edens and Nassef Sawiris. Gerrard did well in his three years with Rangers, and will surely always be grateful to the chairman, Douglas Park, the honorary president, John Greig, the sporting director, Ross Wilson, and the managing director, Stewart Robertson. They supported him, gave him a platform and allowed his managerial talent to flourish.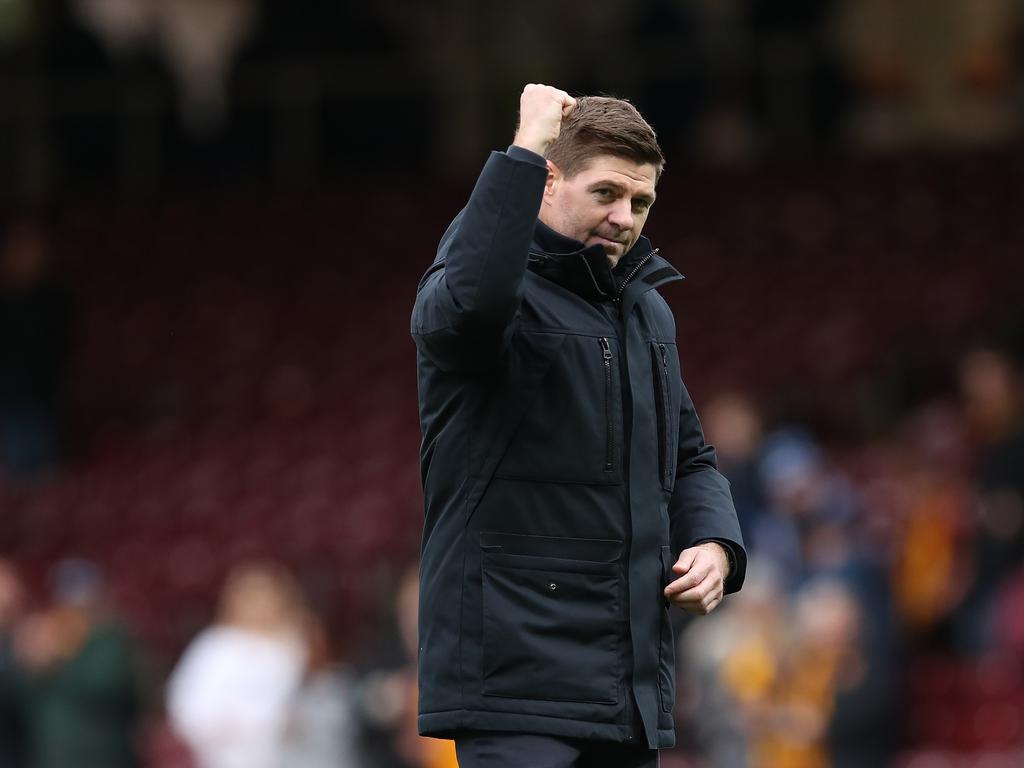 Gerrard will need immediate success at Villa as they come off five-consecutive losses in the Premier League. Picture: Ian MacNicol/Getty Images.
In return, Gerrard rebuilt the team and restored Rangers' pride. When people question Gerrard as a manager, as some still do, they do not understand the pressure that accompanies stewardship of an Old Firm club. Gerrard delivered a title in a complicated city obsessed with football. He deserves more respect than often accorded.
He now heads south, a relief for his family on Merseyside, as he has always said that being away from his wife, Alex, and their four children was his "biggest challenge", although Gerrard will soon find the M6 south of the M62 a clogged artery compared with the more open road north towards Scotland.
But he's back, and for all the media focus on "destination Liverpool", Gerrard will be hard at work at Villa Park and Bodymoor Heath. He will also know that he has to convince the sceptics among Villa fans, those angry at Smith's sacking and those with long memories. Gerrard was sent off at Anfield for a filthy challenge on Villa's George Boateng in 2001. Typically he fronted up, apologised on the pitch and phoned Boateng to state his contrition.
Villa fans, understandably, remained incensed and reminded him whenever he visited. "The Holte End hate me," Gerrard recalled in his 2006 autobiography. "Ever since the Boateng foul, I get serenaded with 'Steven Gerrard is a w*nker' whenever I play at Villa Park."
It was not his only offence. Gerrard "enraged" Villa fans by taking a tumble in their area, winning a penalty and admitting: "I stitched up Villa's defenders."
Gerrard led Rangers to the Scottish Premiership summit last season, and in doing so denied Celtic a tenth consecutive title. Picture: Ian MacNicol/Getty Images.
In a strange way, Villa are the perfect club for him to go to, knowing he has doubters within, and being so driven he will focus on winning them over by winning. If he is also, one day, to succeed Jurgen Klopp at Liverpool, there are only a few clubs he could manage that are not vicious rivals - Everton, Manchester United and so on - or too far down the pecking order. It was essentially either Villa or Leeds United when Marcelo Bielsa eventually calls it a day.
And so it is Villa. Importantly he brings a strong coaching staff, including Gary McAllister, who was assistant to Houllier at Villa Park from 2010 to 2011, and briefly caretaker, and the respected Michael Beale. It's actually a coup by Purslow. Gerrard brings a reputation for attacking football, having used Ryan Kent and Ianis Hagi as inverted wingers in his 4-3-3 system and adventurous full backs such as James Tavernier. Gerrard has plenty of talent in Villa's strengthened squad to mould into a successful team.
One of the many lessons he absorbed from playing under the late, great Houllier, himself a former Villa manager, was caring for players, treating them as human beings. Gerrard will also, doubtlessly, learn from the mistake that Houllier made at Villa and that was sounding still in awe of Liverpool.
But if there is one thing associated with Liverpool that drives Gerrard it is that slip against Chelsea that cost Rodgers's side the title in 2014. Gerrard frequently thinks about the slip and it is one of many reasons, a big detail among the smaller ones, why he is such an inspired appointment by Villa.
- The Times

Originally published as Henry Winter: Big ambitions and small ego, Steven Gerrard is perfect for Aston Villa