How Liverpool tapped into neuroscience to become set-piece masters
The club are working with German company neuro11 to help get players 'in the zone' through analysis of live electrical activity in the brain.
On what had become a difficult evening in the San Siro, Liverpool turned to a familiar source of inspiration to break Inter Milan's spirit.
Yet this was not just about the precision of Andrew Robertson's left foot or the clever headed flick from Roberto Firmino that followed, but the growing importance of set pieces to a team intent on chasing history across four competitions.
The same method had breached Burnley's resistance on Sunday, when Fabinho profited from Sadio Mané's touch at a corner to score at the second attempt. At first glance it appeared a scruffy, somewhat fortuitous goal.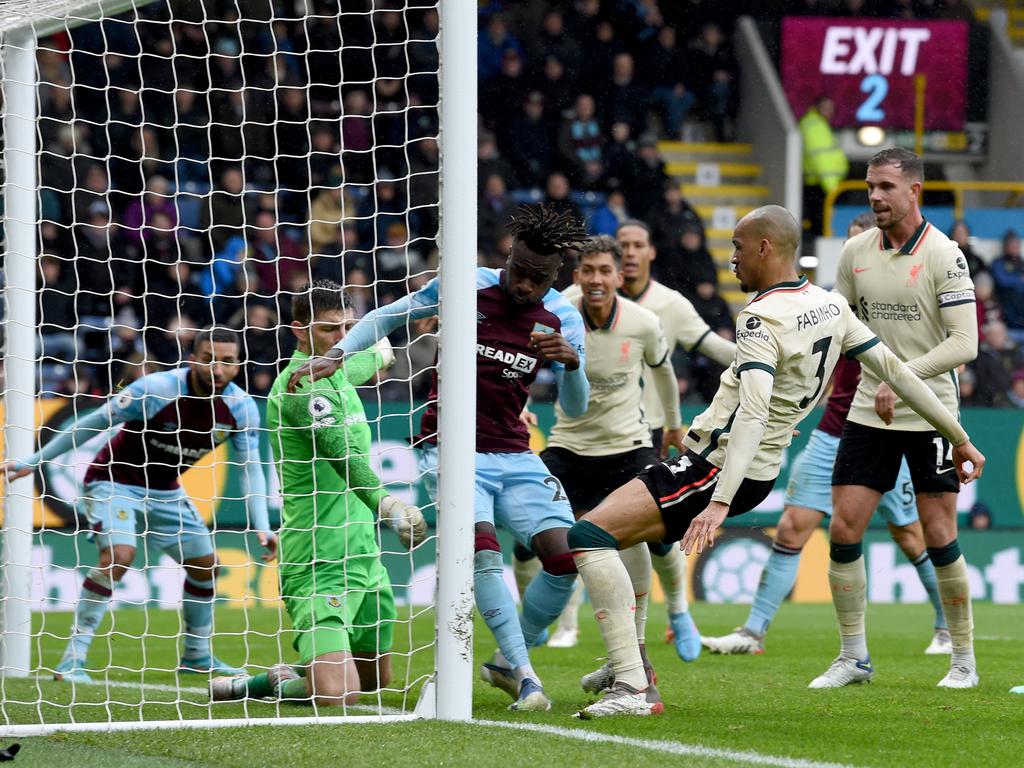 Fabinho is Liverpool's topscorer from set-pieces this season, netting 3 for the club. Picture: John Powell/Liverpool FC via Getty Images
To view the midfielder's intervention purely in those terms would overlook, however, the science behind what was a landmark strike for Jürgen Klopp's side. Excluding penalties, 14 of Liverpool's 61 league goals this term have come from set pieces, which is more than any other top-flight side. It is also one more than the tally they recorded over the whole of last season.
In the Champions League they also top the charts with five goals from set pieces, two more than a cluster of teams in second place. These are totals that have not been achieved by chance but, rather, by design.
The delivery of Trent Alexander-Arnold and Robertson, the aerial prowess of Diogo Jota and Virgil van Dijk, among others, and the work of the assistant manager, Peter Krawietz, alongside the club's analysts mean Liverpool boast natural attributes that already make their skill at dead-ball situations the envy of their rivals.
Still, fuelled by the manager's curiosity, they have continued to improve in this aspect. When Liverpool's extensive pre-season preparations moved from Austria to the French town of Évian-les-Bains in the summer, they were joined by the German company neuro11, which helps professional athletes to develop their mental strength.
Pepijn Lijnders, Klopp's assistant, said that to make progress as a team they wanted to finesse their work from "direct free kicks, wide free kicks, penalties and corners".
He and Klopp believed that neuro11, founded by Dr Niklas Häusler and Patrick Häntschke, a former academy player at the German side Energie Cottbus, would give fresh stimulus to "accuracy training".
The work of neuro11 does not pretend to reinvent football. Every team in the Premier League practises free kicks, so neuro11 enhances the groundwork Liverpool have already established by focusing on adding a layer of efficiency: the aim is to ensure players are "in the zone". This in effect means running on automatic rather than having to think about what they are attempting to do.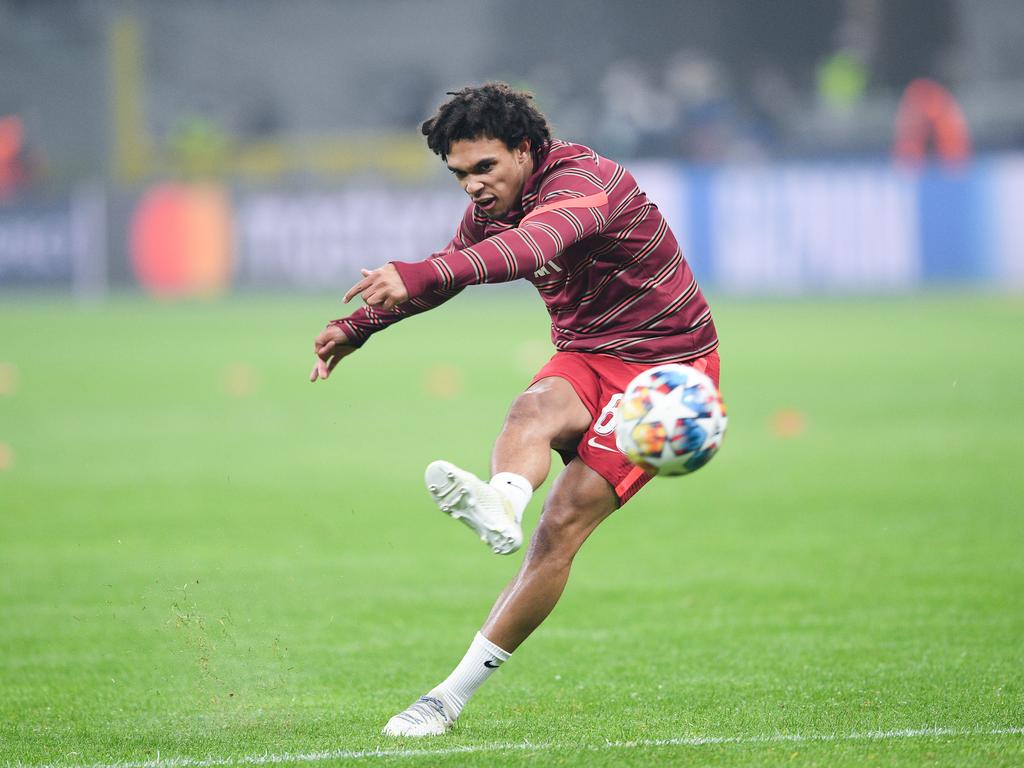 Alexander-Arnold has taken 8 of Liverpool's 14 goal scoring set-pieces for the season. Picture: Giuseppe Maffia/NurPhoto via Getty Images
During pre-season the likes of Alexander-Arnold, Mohamed Salah, James Milner and Harvey Elliott wore headsets with electrodes attached. This allowed neuro11 to ascertain whether a player is in the zone, and also how intensely. Follow-up sessions have continued during the campaign.
The electrodes measure the live electrical activity of the brain. As part of neuro11's funding by the EU and German government, they did their own neuroscientific study to identify which part of the brain's electrical activity is the most important to look at and what exact time frames and aspects of a set piece must be used for the analysis and training.
Through this, they can identify correctly whether a player is in the zone or not.
"This is a highly individualised process," Dr Häusler told The Times. "But since we look at the live brain activation during our set-piece training, we can see when and how greatly the player is in the zone or what might make him fall out of it.
"In addition, we use our self-developed analysis following each training session to create an individual brain index with which the player can optimally learn session by session.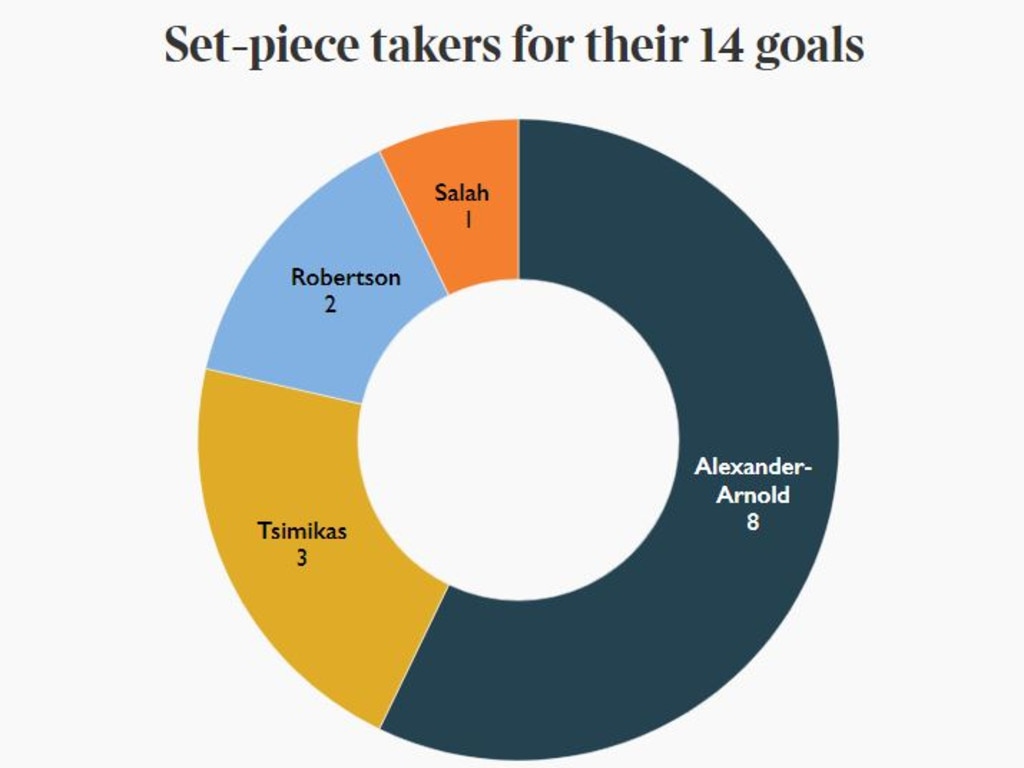 Set-piece takers for their 14 goals. Graph: The Times and The Sunday Times
"Through these steps, and together with proper neuropsychological coaching, the player ends up knowing in very high detail what aspects help, or do not actually help, him to get into the zone.
"For example, one individual might need to look at only one focus point, such as the ball or the target, very intensely. Another might have to switch the focus point between the ball and target frequently to help him get into the zone.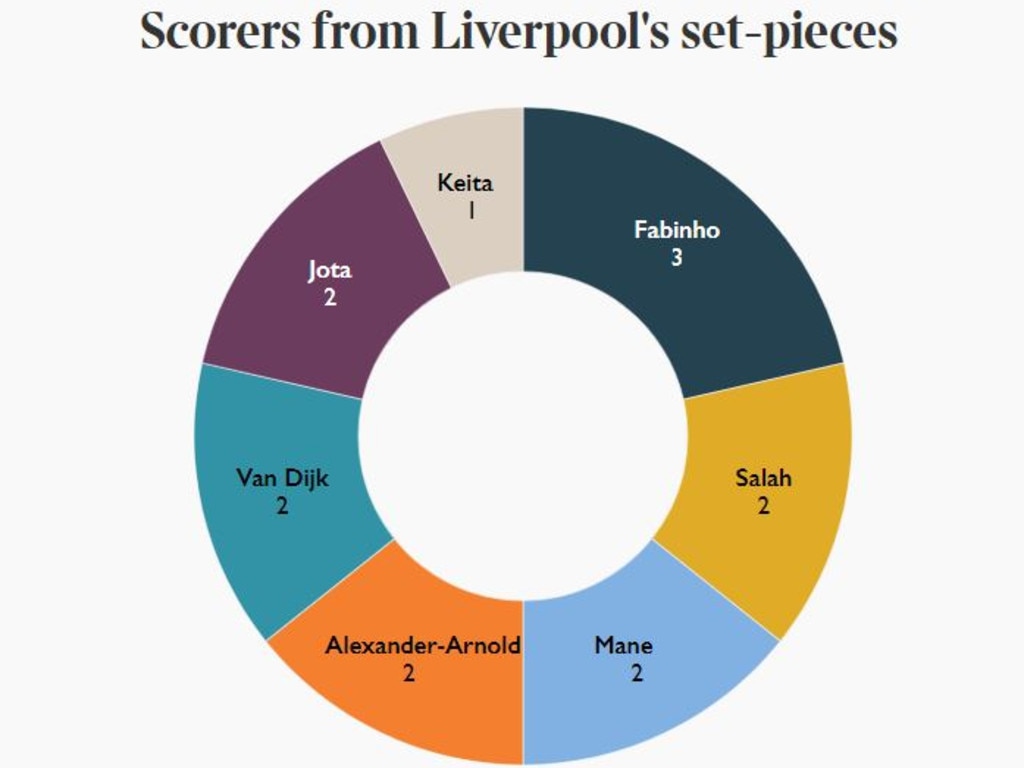 Scorers from Liverpool's set pieces. Graph: The Times and The Sunday Times
"These are just two of many examples, but it does not stop here. While one individual might be very good at getting into the zone quickly, another might have a harder time to get in.
"However, the latter person might then be better at staying in the zone longer and not falling out as quickly. The importance is not to judge anything as good or bad, but to let every player get to know himself better. Knowing ourselves in more detail makes it possible for us to optimise our mental processes and develop the best and most stable routine."
More evidence of how Liverpool constantly seek to tweak routines came in Klopp's admission that he has encouraged Fabinho to go forward at set pieces in recent weeks — and the Brazil player has responded with a flurry of goals. At Turf Moor there was an acceptance that Alexander-Arnold's corner was a little low and that Mané's intervention was vital.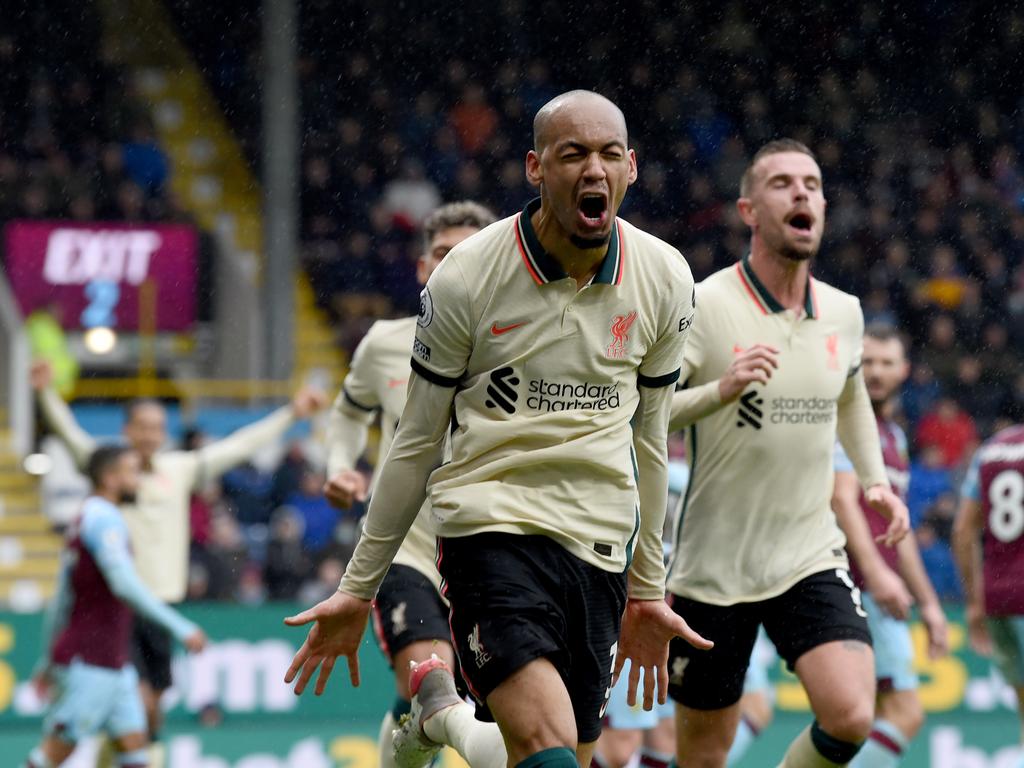 The research has helped Liverpool score more set-piece goals this term, including Fabinho's against Burnley. Picture: John Powell/Liverpool FC via Getty Images
However, Alexander-Arnold's relaxed state ensured that he was able to find his teammate while ignoring the obvious distractions around him, such as the barracking from Burnley fans and the howling wind and swirling rain. The partnership between Liverpool and science is proving beneficial.
" 'Beneficial' is an understatement in my opinion," Lijnders said. "When Niklas texted me last week, 'Thanks for your trust and belief,' I just responded: 'I want to win!'
"It's the best way to train pure accuracy and pure focus. We focus a lot already on 'the assist' in the game, and with them we can really work on it. We want to create set pieces by shooting a lot, we want to use them, and most importantly we want to make them decisive. It's a part of the game we believe in as much development as possible. I'm happy we made this step with them."
As well as free kicks and corners, Liverpool have worked with neuro11 to improve their penalty taking. The club expect more Champions League ties to be decided by spot kicks after Uefa scrapped the away goals rule in knockout ties.
Confidentiality prevents neuro11 from going into too much detail on its processes, but the spike in interest in the company shows how football's frontiers are expanding for those, such as Klopp and Lijnders, willing to be open-minded.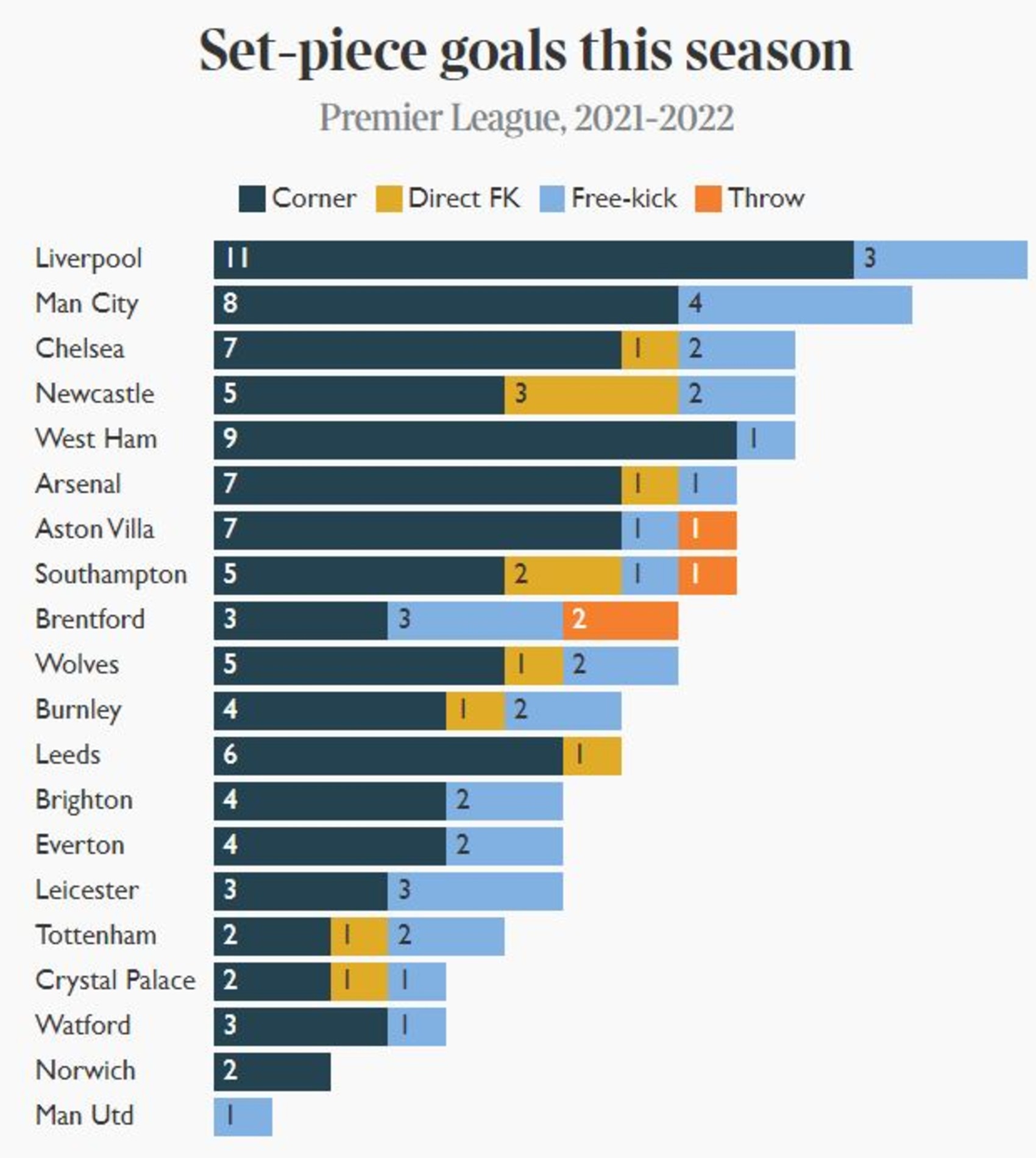 Set-piece goals this season EPL. Graph: The Times and The Sunday Times
The willingness of Liverpool to embrace innovation has been highlighted by the recruitment of the throw-in coach Thomas Gronnemark, working with the club for a fourth season, and the use of the German surfer Sebastian Steudtner, who offered tips on staying calm under pressure.
Liverpool's desire to harness marginal gains meant they had been looking to tap into the field of neuroscience previously, only for the pandemic to check their plans to work with the company.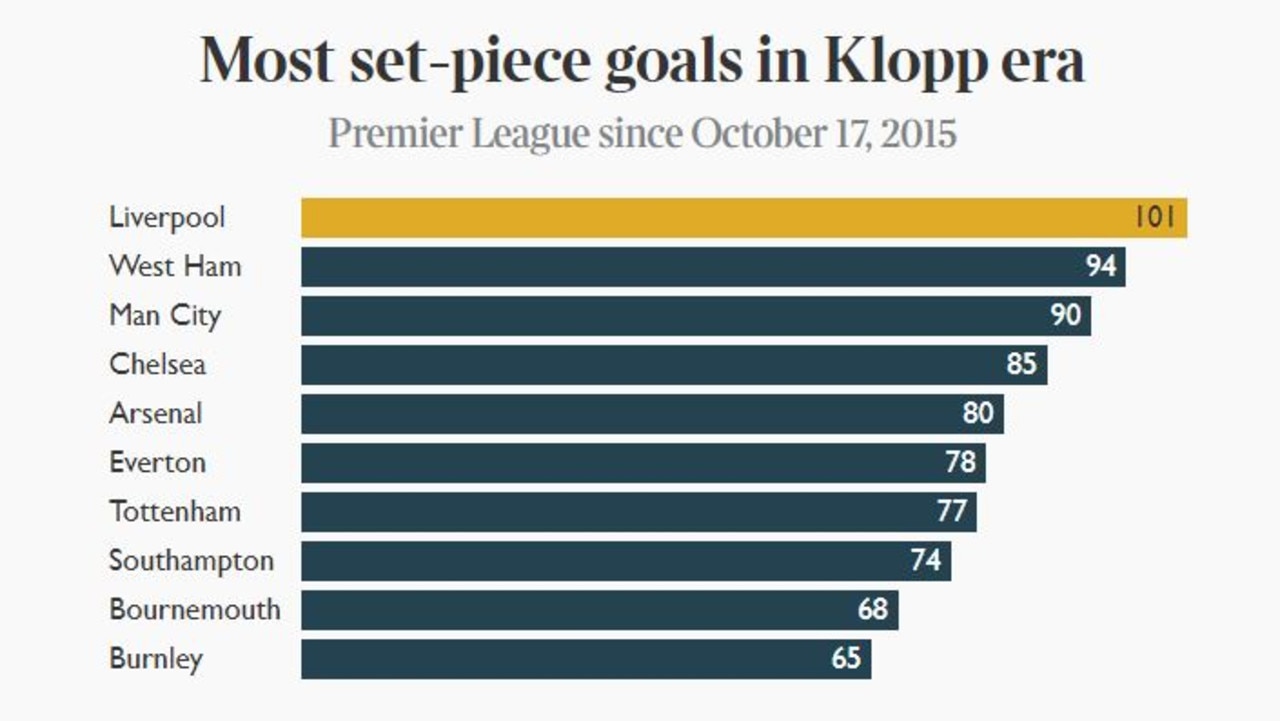 Most set-piece goals in Klopp era. Graph: The Times and The Sunday Times
"Everyone in our team has played and watched sports all our lives," Häusler said. "We knew the importance of the brain in relation to optimal performance and realised right away that we had developed something very special.
"How the brain learns using rewards and losses, and how it works in relation to risk, had been the topic of my previous research, so I was always wondering how to use this expertise in professional sports as efficiently as possible.
"Because if you think about it, a lot of aspects that fascinate us in sports have to do with rewards, losses and risk. The key moment then came when Patrick told me that in the world of professional sports, this kind of knowledge and brain training coming directly from neuroscience has not been used thus far.
"Once I saw this with my own eyes and we had the results of our study, we both had a gut feeling that Jürgen was the right person to get in touch with."
Scrutiny often falls on Liverpool's cutting edge in front of goal, yet the thirst for silverware means their ruthlessness goes far beyond their finishing.
-The Times