How Tottenham manager Antonio Conte is attempting to transform Spurs into legitimate EPL title threat
Antonio Conte affects his clubs through a restless intensity but also a less talked about trait of successful management, writes JONATHAN NORTHCROFT.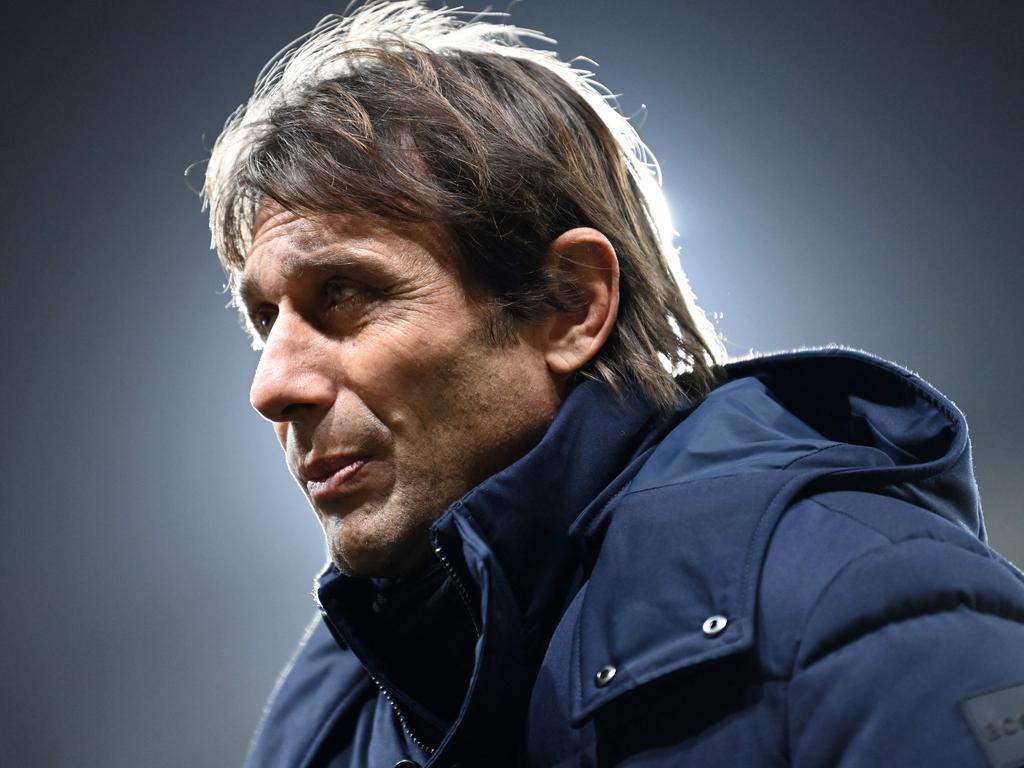 Tottenham manager Antonio Conte: Bloody-mindedness and clarity combined. Picture: Glyn Kirk/AFP
It was 11 summers ago that a team who had just finished seventh in their division picked up a 32-year-old midfielder on a free transfer. Nobody disputed the ability of the player. But he had just suffered a season marred by achilles issues and muscular problems and his previous club had offered no more than a one-year contract extension.
He cried about leaving. Just gone over the hill, was the verdict; best days behind him on the slopes above.
The player was Andrea Pirlo. The team that signed him was Juventus — whose new manager was Antonio Conte and newish sporting director a certain Fabio Paratici. Pirlo would prove one of the most important signings in Serie A history, becoming the orchestrator of a new era of Juventus dominance. Watching Tottenham Hotspur's recent business, the thought is stirring that Conte, with Paratici, is in the process of doing that thing he does again.
Namely, transforming a club in a very short space of time. He took Juve from "crap" (his description) to serial winners, Chelsea from 10th to Premier League champions and Inter Milan to a first Italian title in 11 years. He affects places through his restless intensity but also a less talked about, but absolutely fundamental, trait of successful management: clarity.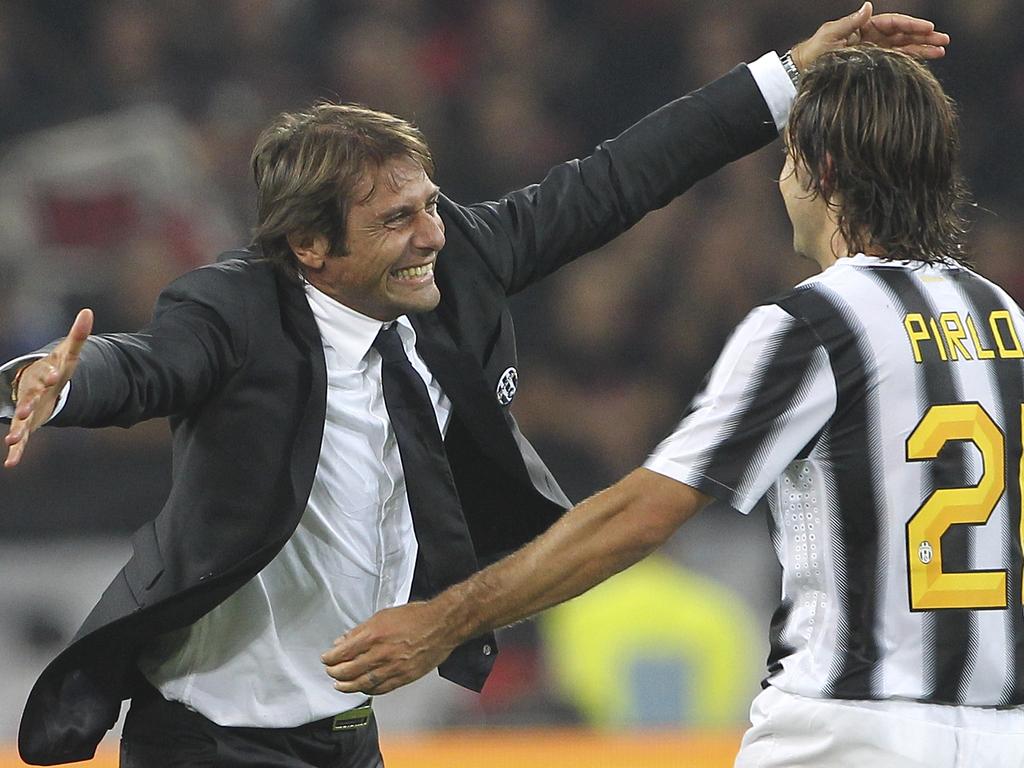 Antonio Conte celebrates a Juventus victory with Andrea Pirlo in 2011. Picture: Marco Luzzani/Getty Images
Paulo Sousa, who played in midfield with Conte before they both went into coaching, told me how those two qualities define his former colleague. "He was always very focused, very demanding of himself, always trying to be efficient in everything he did and I recognise that today in his teams," Sousa said. "They are like a Swiss clock all the time, always with the same intensity."
At Spurs, Conte's fidgety ambition has been evident from the moment he replaced Nuno Espírito Santo and began nagging the club — at all levels, from fanbase to dressing room to executive tier — to show ambition. But so has his clarity. The January dealings he and Paratici (now Spurs' managing director of football) enacted were masterful. By signing Rodrigo Bentancur for £17 million and Dejan Kulusevski on loan, while shipping out Dele Alli and Tanguy Ndombele, they fixed two deficiencies (midfield control and the right of the attack) on a budget, while speeding up a culture change.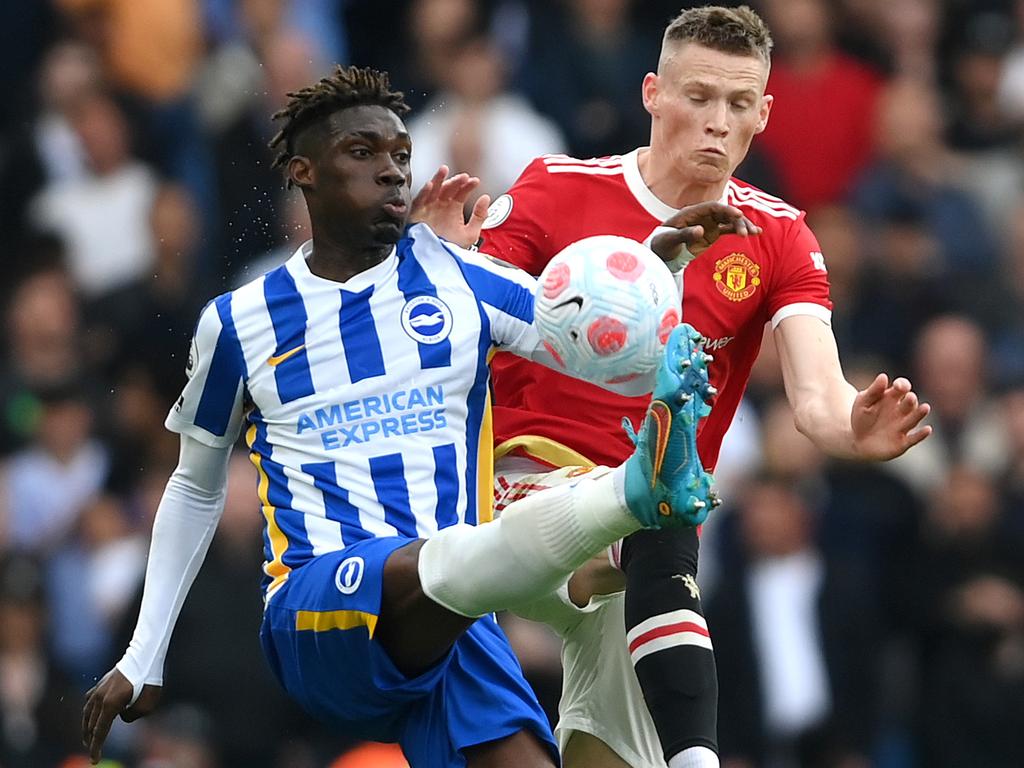 Spurs signing Yves Bissouma, formerly of Brighton & Hove Albion, is challenged by Scott McTominay of Manchester United during last Premier League season. Picture: Mike Hewitt/Getty Images
And now to this summer's window. Yves Bissouma is not Pirlo (although he did describe himself as the best midfielder in the Premier League last year) but he has exactly the profile to play Conte's football of high-energy competitiveness, mixed with guile and craft. At Brighton & Hove Albion, he was one of the League's most efficient midfielders at pressing, dribbling and passing — perfect when seeking to be effective in transitions, and attributes not dissimilar to the key signing Conte made when he began at Chelsea in 2016: N'Golo Kanté.
What is more, under Graham Potter at Brighton, Bissouma spent a lot of time playing in a system similar to Conte's 3-4-3 and, aged 25 and costing £25 million plus add-ons, his moderate fee is said to have surprised rivals. A shrewd and focused buy.
It follows the recruitment, on free transfers, of Fraser Forster — a very sound choice as back-up goalkeeper — and Ivan Perisic, who may be 33 but was the tireless star man of Inter's 2021-22 season, racking up eight goals and seven assists from left wing back. It is a position where Conte was desperate to upgrade and it was he who converted the Croatian to a wing back while building his Scudetto-winning Inter team. Perisic — as England found out at the 2018 World Cup — also brings difference-making big-player mentality. Shrewd, focused recruiting again.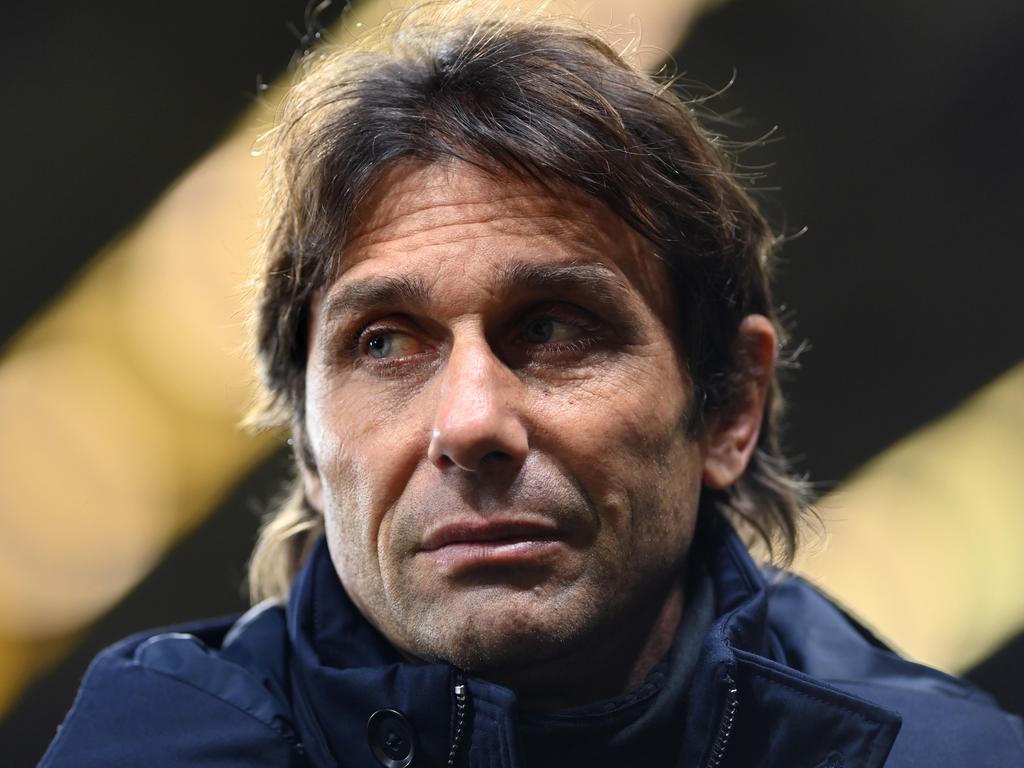 Tottenham manager Antonio Conte is attempting to turn Spurs into a legitimate title threat. Picture: Justin Setterfield/Getty Images
The same summer Pirlo arrived at Juventus, so did Arturo Vidal, Mirko Vucinic and Stephan Lichtsteiner, who proved influential signings too. Alongside Kanté, Conte brought in David Luiz and Marcos Alonso, with all three playing big parts in Chelsea's 2016-17 title win. At Inter, Romelu Lukaku, Christian Eriksen and Nicolò Barella were pivotal recruits in Conte's first year.
What is going on at Spurs now is part of a thought-out program with Conte securing assurances from Paratici at the end of last season that he could improve the squad in at least six positions. The next targets are a left centre back, right wing back and wide forward. Alessandro Bastoni, Pau Torres and Josko Gvardiol (as centre backs), Djed Spence (right wing back) and Richarlison and Raphinha (forwards) are high on Paratici's list.
There could be the additional coup of bringing Eriksen back on a free transfer, with the Dane weighing up his future while on holiday and choosing between Manchester United, staying at Brentford, or a return to Spurs. Unlike United, they can offer Champions League football and the chance to still live in London.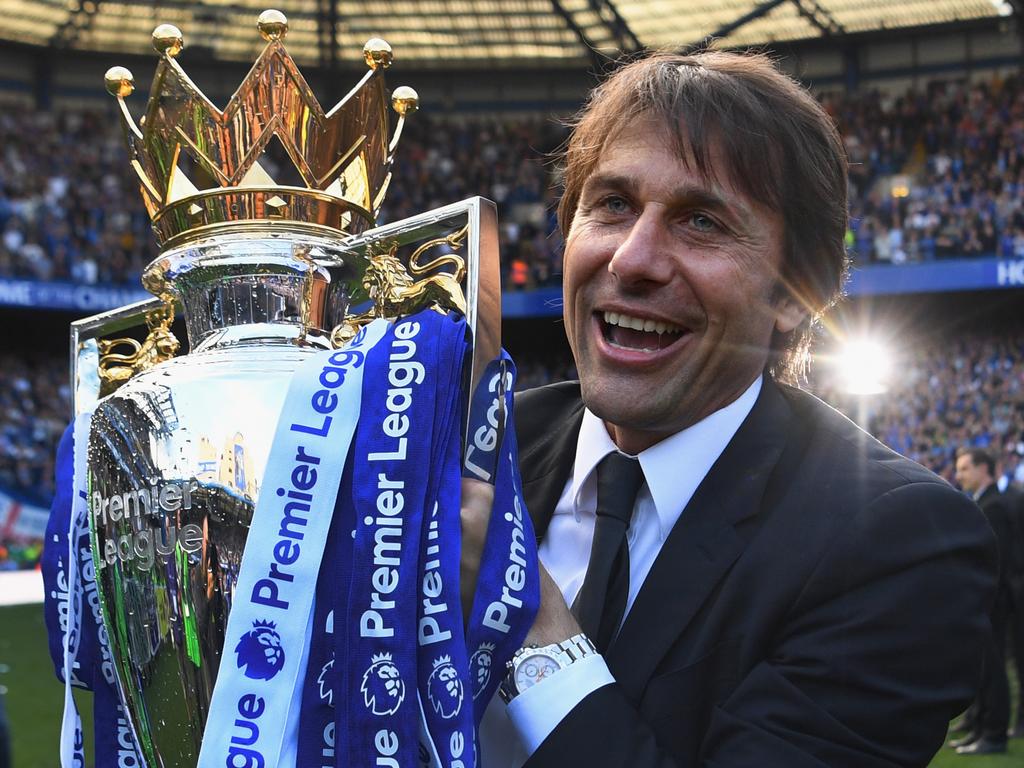 Antonio Conte with the Premier League trophy in 2017 after taking Chelsea to the title. Picture: Michael Regan/Getty Images
Recruiting a large number of players in the same window will always excite supporters but carries a significant danger: that of messing with the cohesion and focus of a squad. Yet with Conte this seems less a risk, because of his own sheer, transmittable fervency. Pirlo remembers their first Juve title together as "all down to him … a triumph of bloody-mindedness that went beyond everyone's expectations. It really couldn't have gone any other way, given the example we had in front of us every day. Conte was like a man possessed."
The buying program is being funded by an injection of £150 million by ENIC, the investment company that controls Spurs, which shows how Conte's bloody-mindedness has the ability to pull not just a dressing room along with him but owners too.
Manchester City and Liverpool are too far ahead but next year's contest for the Premier League's third spot will be worth watching. Chelsea have to rebuild and their new owner, Todd Boehly, is already talking about Financial Fair Play, while at Spurs a Conte revolution is continuing.