How Trent Alexander-Arnold and Mohamed Salah have built telepathic understanding
Liverpool assistant Pep Lijnders tells PAUL JOYCE about the attacking duo who are keeping The Reds one step ahead of their competition.
Alexander-Arnold, right, has 16 assists in all competitions this season — with potentially 19 matches remaining. Picture: Catherine Ivill/Getty Images
For Liverpool supporters of a certain vintage, some goals will forever remain seared into the psyche. Terry McDermott's back-post header against Tottenham Hotspur in 1978, after a move that flowed the full length of the pitch, was always regarded by Bob Paisley as his favourite Anfield goal. Similarly, it is 40 years since another iconic strike came with matching commentary.
"Ian Rush celebrates the goal, but Kenny Dalglish is the creator supreme," purred Alan Parry on Match of the Day in December 1982 after Watford had been sliced open. Dalglish collected a pass from Phil Neal, bamboozled a marker by the halfway line, sending him one way while Dalglish went in the other direction, and produced an inch perfect pass which Rush ruthlessly dispatched.
It serves to highlight how football has changed that Liverpool's creative talisman is no longer a genius forward, but a homegrown right back whose numbers are redefining how the game is played.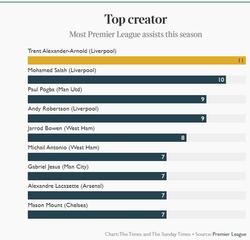 Most Premier League Assists 2021-22 season. Graph: The Times and Sunday Times
Trent Alexander-Arnold registered his 16th assist in all competitions in last Saturday's victory over West Ham United, his best return in a single season, and with potentially 19 matches remaining this term will expect that tally to swell considerably.
His influence is testament to his natural talent, but is also a direct consequence of Liverpool's desire to constantly evolve as a team in order to stay ahead of the opposition.
Jürgen Klopp, the manager, assistants Peter Krawietz and Pep Lijnders, plus the likes of Vitor Matos, elite development coach, sat down in pre-season looking to devise ways of ensuring the first team took another step forward.
Liverpool's right flank, with Mohamed Salah stationed in front of Alexander-Arnold, already drew focus from rivals who might double up on the Egyptian seeking to cramp his space. The idea was to make it more potent rather than suffer any drop in productivity and so Alexander-Arnold's responsibilities were tweaked and he was given licence to roam.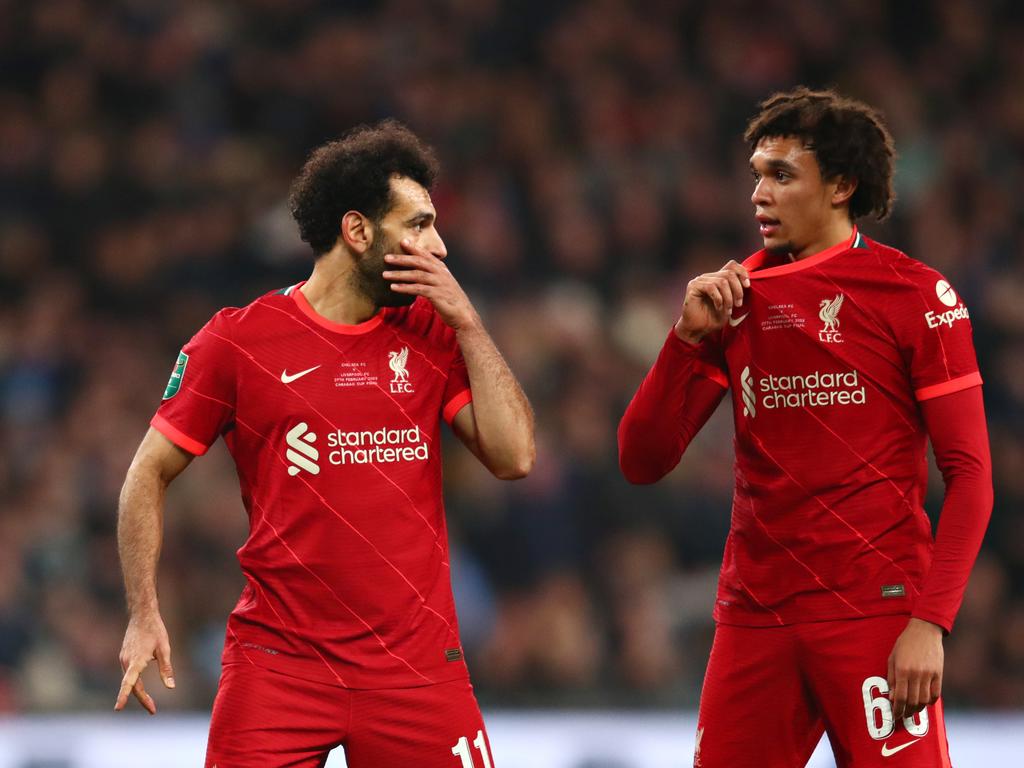 Salah and Alexander-Arnold are benefiting from playing together on Liverpool's right. Picture: Chris Brunskill/Fantasista/Getty Images
"We wanted to become more unpredictable over our right side," Lijnders explained. "We felt we could improve the outside and inside dynamics to attack with bigger variety than [in past] years. It's not only about him [Alexander-Arnold], but also to find the best positions for the other players. We look to evolve, but also, the opposition pushes us towards new ideas.
"Both [Alexander-Arnold and Salah] are really benefiting from each other's positioning; their connection is just like [they are] twins and is still evolving. Mo has a lot of freedom in our system, so Trent adapts well with his positioning on the inside, playing passes to spots he couldn't reach before."
A perfect example came back in August with his first assist of the campaign for Liverpool's second goal in the 2-0 win over Burnley. Virgil van Dijk played a trademark 50-yard, diagonal pass out to the right to where Harvey Elliott was stationed.
Rather than in the traditional right-back position, Alexander-Arnold had crept forward into a central area, almost where you would expect a No 8 midfielder to be. Elliott's pass inside found his teammate, who played an impudent ball around James Tarkowski that was finished superbly by Sadio Mané.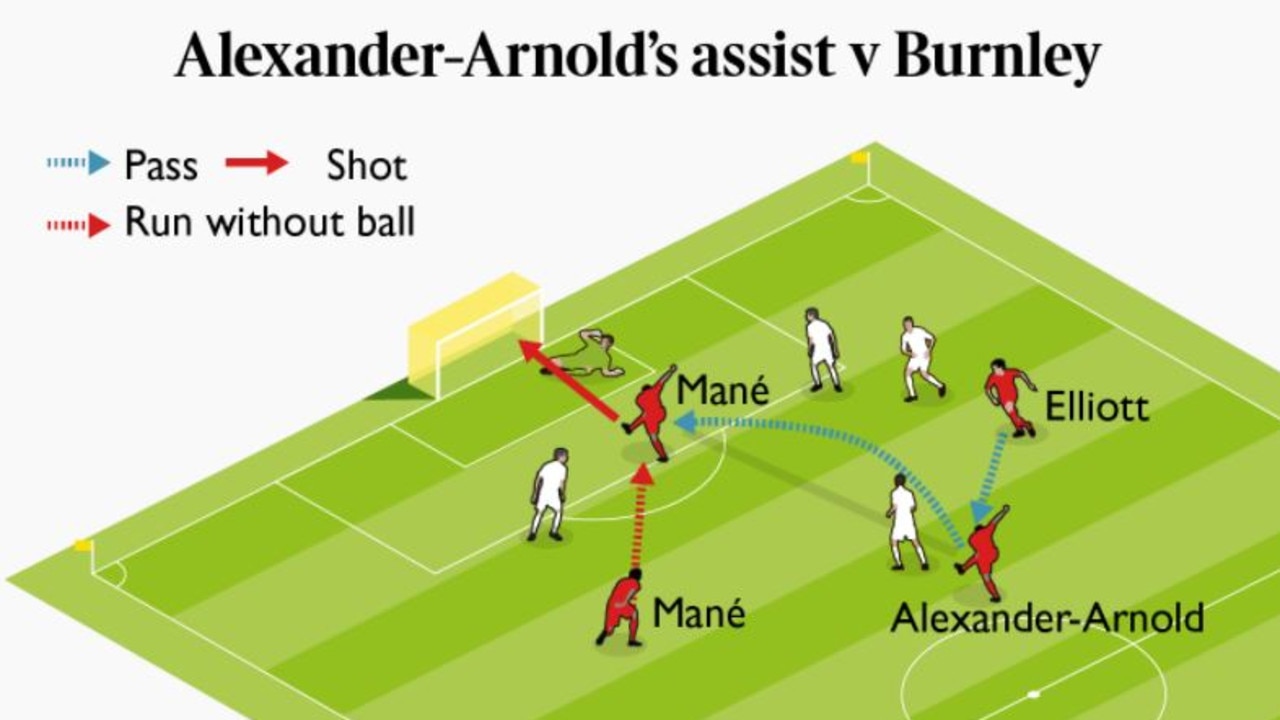 Trent Alexander-Arnold assist v Burnley. Picture: The Times and Sunday Times
Such flexibility is born out of a desire for Liverpool to have "not just a false nine, but a false team", according to Lijnders. A situation where every player can play the final pass, as seen by goalkeeper Alisson Becker providing the assist for Salah in the February victory over Norwich City.
However, Alexander-Arnold is proving a major beneficiary of the approach which appeals to his skill set and renders the debate about whether he would be better to be permanently stationed in midfield redundant.
The 23-year-old's desire for self-improvement has been evident from a young age. During his early sessions with the first-team squad, Alexander-Arnold noticed that Kevin Stewart, now at Blackpool, had the "bravery" to work on his left foot in training at the same time as he was trying to catch the manager's eye because he thought it was a weakness in his game.
Alexander-Arnold resolved to do likewise and the range of passing from his left boot is now remarkable. Think of the build-up to Salah's header in the 3-1 victory over Manchester City in Liverpool's title-winning season and it starts with a switch of play that comes from the full back's supposedly weaker foot.
The instructions Klopp and his coaching team have offered this season point the England international in the right direction before instinct kicks in. It is left to him to judge when to move into certain areas of the pitch.
Trent Alexander-Arnold and Mo Salah's on-field relationship is reflective of the wider Liverpool playing group, the team's assistant manager Pep Lijnders believes. Picture: Andrew Powell/Liverpool FC via Getty Images
"It's training, it's improving relationships, it's explaining logics and above all it's the boys filling it with all of their talent and attitude," Lijnders said. "A good system always gives freedom and chance for interpretation.
"What he is doing in the football world shows he is constantly improving. The best ones have this will to improve and long may it continue."
By seeking to squeeze more from Alexander-Arnold, the demands on him are huge. In the 1-0 success over West Ham, he set up Mané's winner one minute and later on cleared off his own line from Pablo Fornals.
He is second in the whole of the Premier League for touches — 2,351 compared to Manchester City's João
Cancelo with 2,844 — third in terms of passes in the opposition half behind Cancelo and teammate Rodri, and third for open play crosses behind Burnley's Dwight McNeil and Leeds United's Jack Harrison.
The best metric to show how involved Alexander-Arnold is his open play sequence involvements where he is again second only to Cancelo [1,470 compared to 1,598]. However, Cancelo has eight assists this season.
Alexander-Arnold's goal line clearance to deny Fornals as Liverpool beat West Ham at Anfield. Picture: Andrew Powell/Liverpool FC via Getty Images
Certainly, no Liverpool player is being asked to do more which allows Lijnders to offer a firm rebuttal to those who seek to persist with the notion Alexander-Arnold can find himself exposed defensively.
"It's how you want to look at the game," Lijnders said. "We look at it from an attacking point of view — both when we have the ball and when the opposition has the ball.
"Trent fills this attacking side incredibly well, especially without the ball. There are moments we cannot defend the half way line and this is when we need 'legs and speed'. He has this.
"A good defensive line solves problems, a top defensive line avoids them. We defend with the whole team — everyone is responsible for defending. If a defender only gets judged on one versus one situations in big spaces, the football world is just looking back in time instead of into the future."
As he is displaying week in, week out, Alexander-Arnold represents a bold, new vision.
-The Times