Imperious Virgil van Dijk helps Liverpool out of a tight spot in narrow Aston Villa victory
Liverpool have kept the pressure on Manchester City after escaping Villa Park with all three points thanks to their defensive talisman.
Liverpool absolutely refuse to give up the chase. They fell behind here, were constantly tested by Steven Gerrard's fired-up Aston Villa, but fought back to go level with Manchester City at the top of the Premier League.
City remain favourites, even more so if they prevail at Molineux tonight (Wednesday), but Liverpool are determined to keep the pressure on. Trent Alexander-Arnold embodied their resolute mentality, passing expertly short and long, and making a couple of important blocks. Virgil van Dijk was imperious in the second half, beyond a brief slip when Philippe Coutinho ran at him, and the otherwise commanding Dutchman twice closed down the dangerous Danny Ings late on.
Villa ultimately fell to Sadio Mane 's second-half winner but the Holte End loved the endeavour of Gerrard's side. Matty Cash and Lucas Digne kept attacking down the flanks, Ings was a constant threat, and the noise from their fans was unstinting, even in eventual defeat.
All the suggestions that Gerrard would go easy on his old team, the side he has always supported, were quickly shown up as the nonsense they were. As if such a proud professional as Gerrard would allow his players to ease up. There is also an irritation within Villa Park over frequent questions about Gerrard one day joining Liverpool. At least, Jurgen Klopp's contract extension has lessened those.
Gerrard is committed to Villa, and building something strong here, galvanising the whole place and this famous old stadium shook with belief and defiance. The Holte End rarely paused in its vocal backing of the team, and frequent flag-waving.
"AVFC The Obsession," read one banner, "Holte End The 12th Man," another.
Well prepared and motivated by Gerrard, Villa's players, shaped in a diamond with Coutinho at the tip, had swarmed all over Liverpool from Jon Moss's opening whistle and the poor referee, who retires soon, struggled to keep up with the pace and intensity of the game.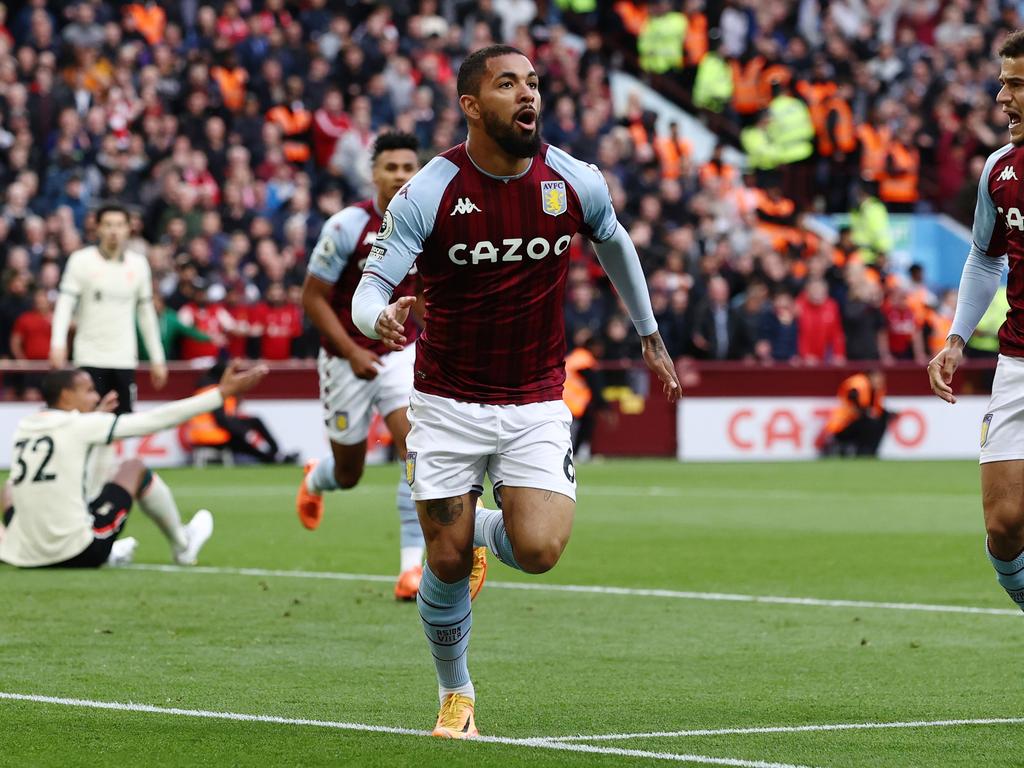 Douglas Luiz put the hosts in front after just three minutes. Picture: Ryan Pierse/Getty Images
The start was breathless, Villa taking a third-minute lead through Douglas Luiz, who began the move on the right, passing back to Cash. Gerrard loves his full backs to get forward and whip in crosses, and Cash delivered here. His ball caused chaos in Liverpool's area, carrying to John McGinn. Villa's left back, Digne, now took over, whipping another cross in.
Villa players flew towards the six-yard area. Ollie Watkins arrived first, followed by Douglas Luiz, the pair scattering Joel Matip and Konstantinos Tsimikas. Alisson managed to save Douglas Luiz's header but failed to control it and the Villa No 6 rammed in the rebound left-footed. Klopp stood there open-mouthed in disbelief.
His players hit back within three minutes, again via a goal that arrived via similar chaos in the six-yard box. Alexander-Arnold, whose distribution was one of the features of the game, delivered the free kick from the right. Tyrone Mings breaking off from wrestling Diogo Jota missed the ball. Matip escaped Watkins's clutches, and attacked the loose ball which bounced up. Jota, now free of Mings, leapt up and connected, sending the ball left to van Dijk.
Emiliano Martinez stretched out a hand to save van Dijk's shot but could not stop the ball's journey further into the six-yard box where Matip drove the ball past Mings on the line. As Klopp punched the air, and then his chest, Gerrard looked away in frustration.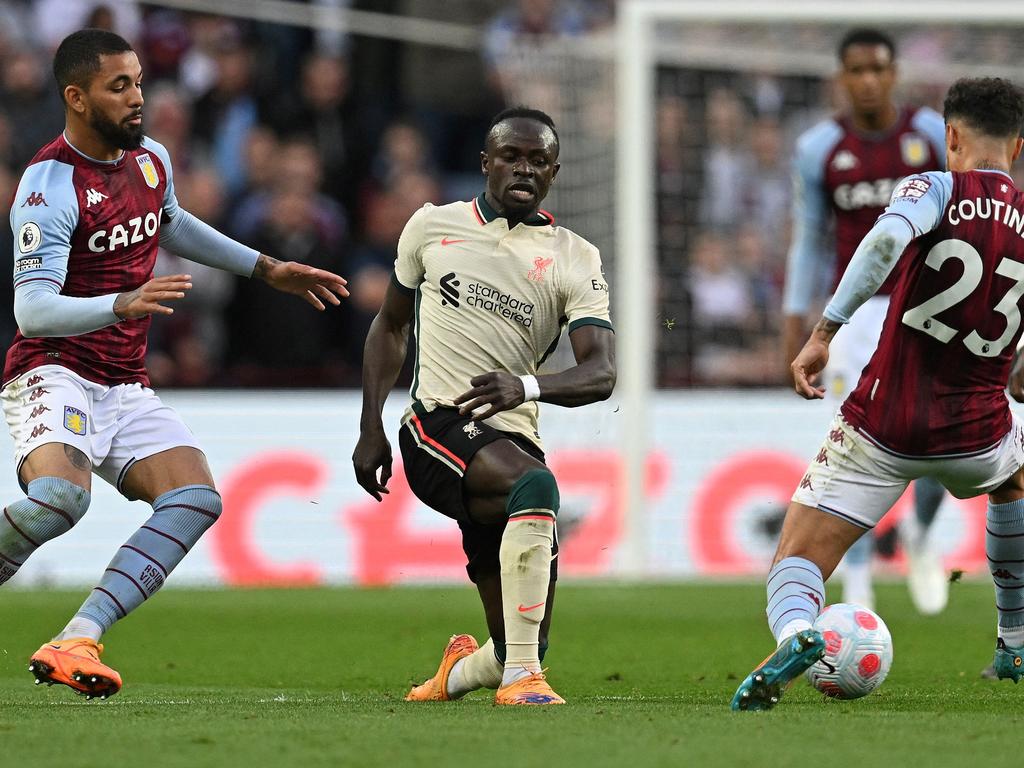 Mane was at the centre of a lot of Liverpool's best movements. Picture: Paul Ellis/AFP
The tempo eased for a while, and there was a brief moment to take in the five changes in the Liverpool line-up, leaving Mo Salah and Thiago Alcantara on the bench. Klopp was trying to rotate his squad with FA Cup and Champions League finals to come. The strain on Liverpool's players, and the sheer intensity of their opponents' play, was confirmed when Fabinho's hamstring gave way, making him a doubt for Saturday's Wembley date at the very least. Jordan Henderson came on, taking the armband from van Dijk.
Somehow that was the end of scoring for the half. Alisson almost gifted a chance to Villa, passing to Watkins, but recovered. Coutinho, now popping up on the left, juggled the ball past Alexander-Arnold, swapped passes with Digne before curling his right-foot shot over.
Villa are closing in on a permanent deal for the player on-loan from Barcelona, and it makes obvious sense, as he is enjoying football under Gerrard, his old Liverpool teammate, and is settled in the area. Barcelona, now living in more straitened times, cannot afford his eye-watering salary and Villa are hopeful of sorting a deal that will keep him within their wage structure.
Coutinho gives Villa that touch of subtlety in tight areas and his presence alone inspires teammates and supporters alike. For all his work as the half wore on, Coutinho could still have turned around behind. Villa were relieved that Naby Keita totally miskicked when ten yards out and unmarked, a waste of Alexander-Arnold's wonderful cross.
Mané glanced home a Díaz cross to put Liverpool level on points with Manchester City, who have a game in hand. Picture: Paul Ellis/AFP
As so often in Klopp's reign, his players emerged for the second half with tempo raised. Thiago arrived for Curtis Jones after 63 minutes, and made an immediate impact, stealing possession, and Mane took the move on. Jota became involved, and slid the ball left to Luis Diaz. The Colombian had started on the other flank, but did far more damage here. He ran at Mings and then stabbed in a lowish cross. Mane had drifted into space, helped by poor concentration from Ezri Konsa and Digne. Mane positioned himself between the pair and steered his header past Martinez. The former Southampton player has now scored nine times in his ten appearances against Villa.
As Mane ran towards the away fans to celebrate, over on the other side Liverpool's substitutes, James Milner, Salah and Roberto Firmino, swamped Luis Diaz, congratulating him on his trickery that had produced the goal.
Villa responded to the beseeching of the Holte End when Ings ran through but Alisson was quickly off his line to block.
Salah came on for Luis Diaz with 19 minutes remaining, and Liverpool pressed tirelessly for a third. Salah threatened, Mane had an effort cleared off the line by Cash, but Villa again responded, and the game flowed back and forth. Alexander-Arnold cleared from Ings, who then thrashed a shot past Alisson but Matip had organised the offside well.
As Villa poured forward late on, van Dijk was magnificent, dispossessing Ings twice, spiriting the ball away. Moss's final whistle was greeted with joy and relief and hope that Wolves can do them a favour this evening.
– The Times

Originally published as Imperious Virgil van Dijk helps Liverpool out of a tight spot in narrow Aston Villa victory