James Gheerbrant: Thomas Tuchel a bigger asset to Chelsea than any of his players
Thomas Tuchel is a bigger asset to Chelsea than any of his players. Amid friction with a star striker, it's time for the Blues to finally back their boss, writes JAMES GHEERBRANT.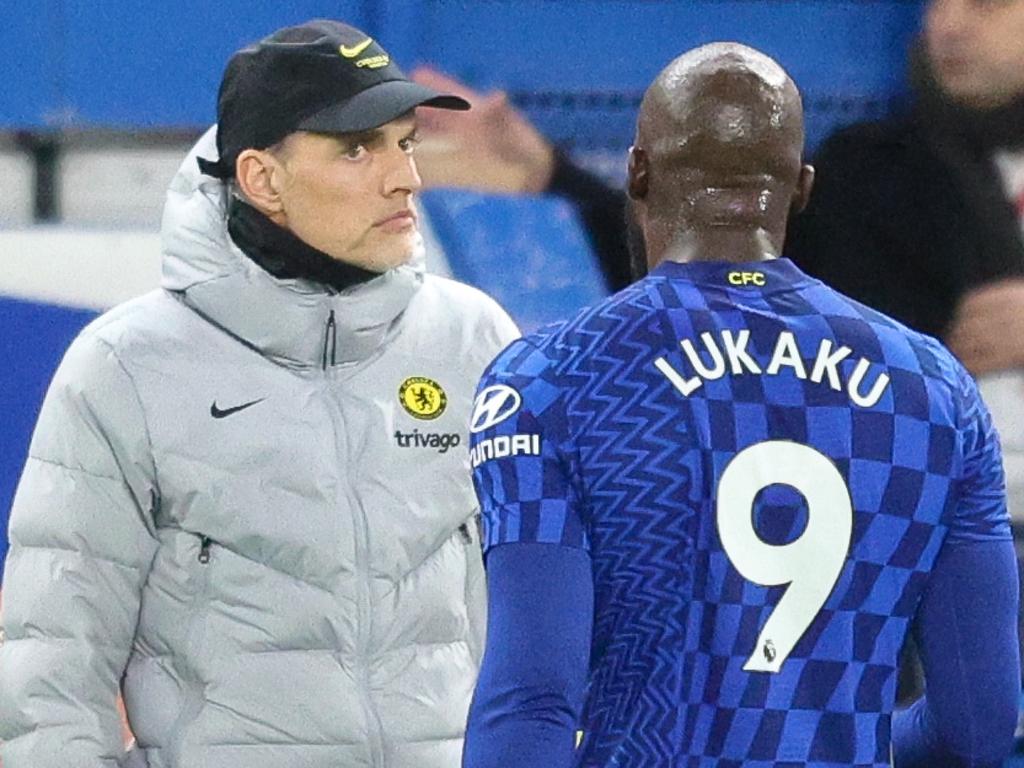 Chelsea manager Thomas Tuchel has words with Romelu Lukaku during a Premier League match against Brighton and Hove Albion at Stamford Bridge last week. Picture: Robin Jones/Getty Images
For a while there, things felt almost idyllic at Chelsea. 2021 has been a very good year. A second Champions League title. A happy camp. The players and manager celebrating with their families on the confetti-strewn pitch of the Estádio do Dragão. The imperious 4-0 demolition of Juventus last month, with the first three goals scored by graduates of the Chelsea academy.
The tenure of Thomas Tuchel, which is nearing its one-year anniversary on January 26, has supplied not only the kind of highwire success from which Chelsea have hardly been estranged in the Roman Abramovich era, but also some unusually soulful and stirring moments.
But even when you're feeling warm, the temperature can drop away. And in recent days it has been possible to detect that shift in the weather, the sudden chill in the atmosphere, the sight, somewhere on the horizon, of that familiar grey fin slicing through tranquil blue water. Results have hit a skid. Isolated grumbles about Chelsea's playing style have begun to harden into a consensus. Most ominous has been the recurrence of those old tensions between the squad and their coach, in Romelu Lukaku's comments about being unhappy with his role and Tuchel's counterthrust, lamenting "noise we don't need".
You know the history. You know how this one ends. Tuchel is an intense and demanding coach with a habit of rubbing people up the wrong way. Chelsea are a club where the talent runs the show. Since the first firing of José Mourinho in 2007, they have turned managerial slash-and-burn into a model, razing the head office at regular intervals to reinvigorate the team. It is a strategy that has proved hugely successful over a decade and a half of glittering conquest, and dissolved a lot of football's encrusted notions about the innate righteousness of loyalty and stability.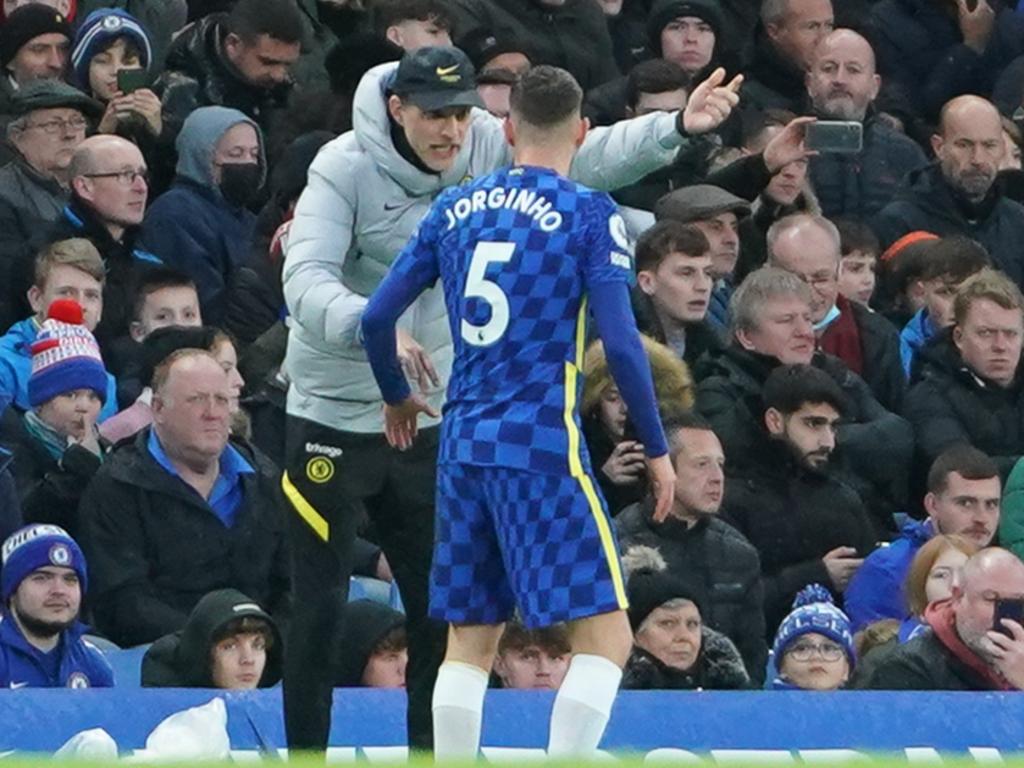 Chelsea manager Thomas Tuchel issues instructions to Jorginho during a Premier League match against Leeds United at Stamford Bridge last month. Picture: Stephanie Meek – CameraSport via Getty Images
If any club have earned the right to feel blasé about the prospect of letting a brilliant coach walk out the door, to be confident in their ability to withstand that loss, it is Chelsea. But if there is a crunch approaching, if it does come down to a choice between the manager and certain players, I think it is time for Chelsea to break the habit and go all-in on Tuchel.
There are a few things to say about Tuchel. The first and most obvious is that he is a brilliant manager. Since he took over Chelsea have taken 2.05 points a game in the Premier League. In 52 matches in the Premier League and Champions League, they have conceded 33 goals. That is a staggeringly good record, and a testament to the influence that meticulous coaching can have.
Of all the managers, Tuchel is probably closest to Pep Guardiola in his focus on highly rehearsed positional play, and it is interesting to note that, by some spooky coincidence, Manchester City's points per game (2.05) and goal difference (+41) a year into the Guardiola project were exactly the same as Chelsea's numbers under Tuchel. That is a glowing — and very auspicious — endorsement of his work so far.
Tuchel is one of those managers who understands this complex game on a deep spatial level, who has a sense of a football team as a perfectible thing. He has shown the ability to elevate a team beyond the sum of their talents by leveraging patterns, rotations, the practised tessellation of shapes.
Thomas Tuchel has proven himself an elite manager at Chelsea, a club infamous for its impatience with poor results. Picture: Darren Walsh/Chelsea FC via Getty Images
One of the really interesting things about Tuchel's Chelsea, I think – and a reminder that there is more than one way to improve a team — is that their share of shots in the Premier League (64 per cent) is not dissimilar to their shot share under Frank Lampard (63.4 per cent). In other words, Chelsea's matches under Tuchel look, in terms of their end-to-end balance, pretty much like their games under his predecessor. It is in the inner workings that the watchmaker has wrought his transformation — which suggests also that a further leap is possible if Tuchel can get Chelsea to dominate games like City do.
The second thing to say is that brilliant managers are very rare. Academic studies in this area suggest that most teams simply find a level commensurate with the quality of their players; very few coaches offer the guarantee of a substantive positive influence through training and tactics. Tuchel is undoubtedly one.
We can get a read on this by looking at the Elo ratings (an empirical system borrowed from chess) of his clubs. By this measure, he left Mainz 108 points better off than the team he inherited, Borussia Dortmund 71 points better off and Paris Saint-Germain 23 points up; his positive effect at Chelsea at present stands at +87. Just as salient is what has happened to those clubs since he left: Mainz have managed only one top-ten finish in the Bundesliga, Dortmund have stood still despite assembling a better squad and, almost a year into Mauricio Pochettino's reign, PSG look a far inferior version of the organised collective which Tuchel took to the Champions League final.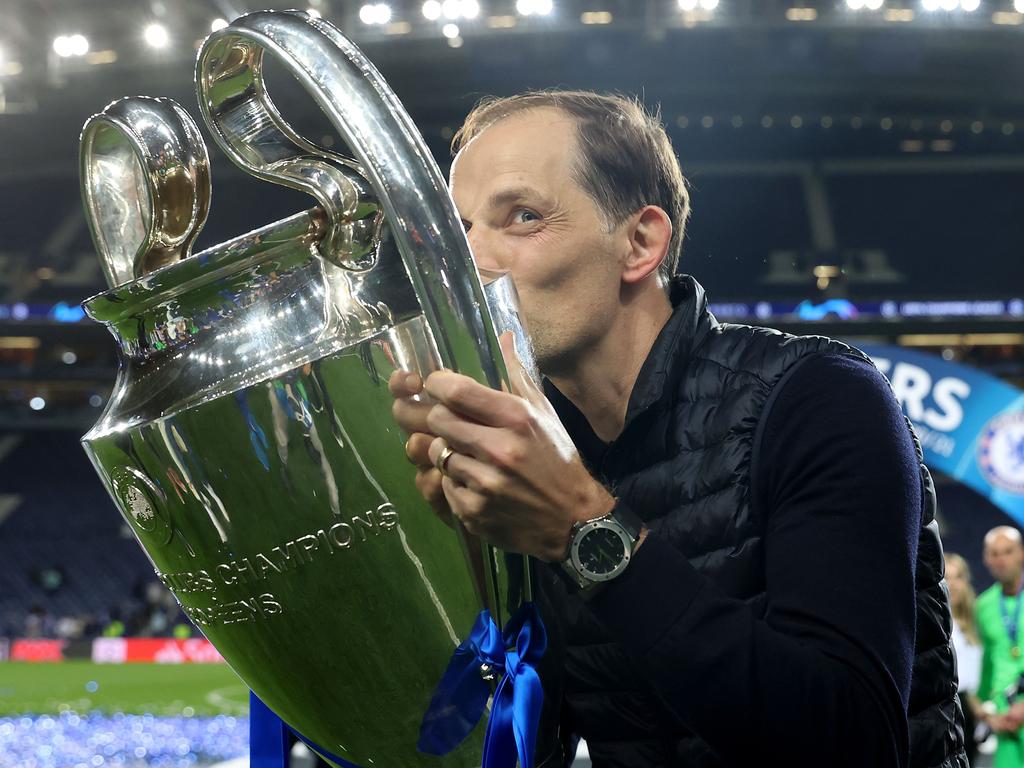 Chelsea manager Thomas Tuchel kisses the Champions League trophy after beating Manchester City in the final in Porto during May. Picture: Alexander Hassenstein – UEFA/UEFA via Getty Images
Tuchel is by far the most irreplaceable asset that Chelsea have. Elite coaches are a much scarcer commodity than elite players. If he were to leave at the end of this season, where would that leave Chelsea, manager-wise? Of the coaches on Tuchel's level, Guardiola and Jürgen Klopp are out of the picture, Antonio Conte has already managed Chelsea, Julian Nagelsmann is ensconced at Bayern Munich and Atletico Madrid's Diego Simeone is not exactly at the peak of his powers. They would be fishing in a very small pond indeed.
One of the biggest lessons of the past couple of seasons is that having one of the absolute top-rank managers is perhaps the most advantageous market move you can make. The effect is twofold: not only does your team get the benefit of elite coaching, but you also reduce the available pool of elite coaches for the other superclubs. Look at the parlous situation that Manchester United now find themselves in, desperate for that injection of genius, but with almost nowhere to get it from.
If Chelsea are looking enviously at City and Liverpool and the higher gears they possess, then that is an argument for sticking with Tuchel, not discarding him. The performance of those teams this season has been an advert for what you may call the single-malt approach to managers: simply leaving well alone, allowing that coach-squad relationship to mature, intensify, take on new depths. Chelsea have inarguably been successful over the past ten years, but have they had what City and Liverpool have now, in their sixth and seventh seasons respectively under Guardiola and Klopp: that sense of a manager completely in tune with their squad, discovering new ways to get the most out of their players, eliciting maximal response from the system with the merest push on the tiller.
There is a wider context here too. Guardiola's contract expires in 2023, Klopp's in 2024. They are nearer the end of their tenures than the beginning, and they will leave a vacuum. It will not always be this hard to win the Premier League title.
Chelsea have a shot at being what City are now in five years' time, and even if they have to depart from a philosophy which has served them well, it seems like a shot worth taking.
– The Times