Liverpool v Real Madrid: The reset in the Alps that inspired long road to Paris
Evolving their attack, changes in defence and a January masterstroke have been key to a marathon season that could yet end with European glory, PAUL JOYCE writes.
Liverpool's pre-season in the Austrian Alps took the team to new heights on the pitch. Picture: John Powell/Liverpool FC via Getty Images
As Liverpool's players watched Real Madrid's remarkable Champions League semi-final comeback against Manchester City, a sense of relief washed over some of them.
It was not a feeling that in any way suggested they believed the Spanish club would be an easier proposition than Pep Guardiola's side in the final. Far from it. Messages from family members and friends claiming they would stand a better chance of claiming a seventh win in the competition were given short shrift and a reminder pinged back that Carlo Ancelotti's side had beaten Paris Saint-Germain and Chelsea, as well as City, in sealing their route to Paris.
Nor was it the case that Liverpool were scared of City. Simply that the titanic, intense battles in the Premier League and the FA Cup, together with a title race that concluded in favour of City only last weekend, meant the two teams knew each other inside out.
Rather, relief came from the fact a collision with Real Madrid in the Stade de France would be different. Exciting. An opportunity to pit themselves against opponents with whom they do not go head to head each season.
Now Jürgen Klopp's squad must make sure it is different and there is no repeat of Real's 3-1 victory in the Kyiv final of 2018.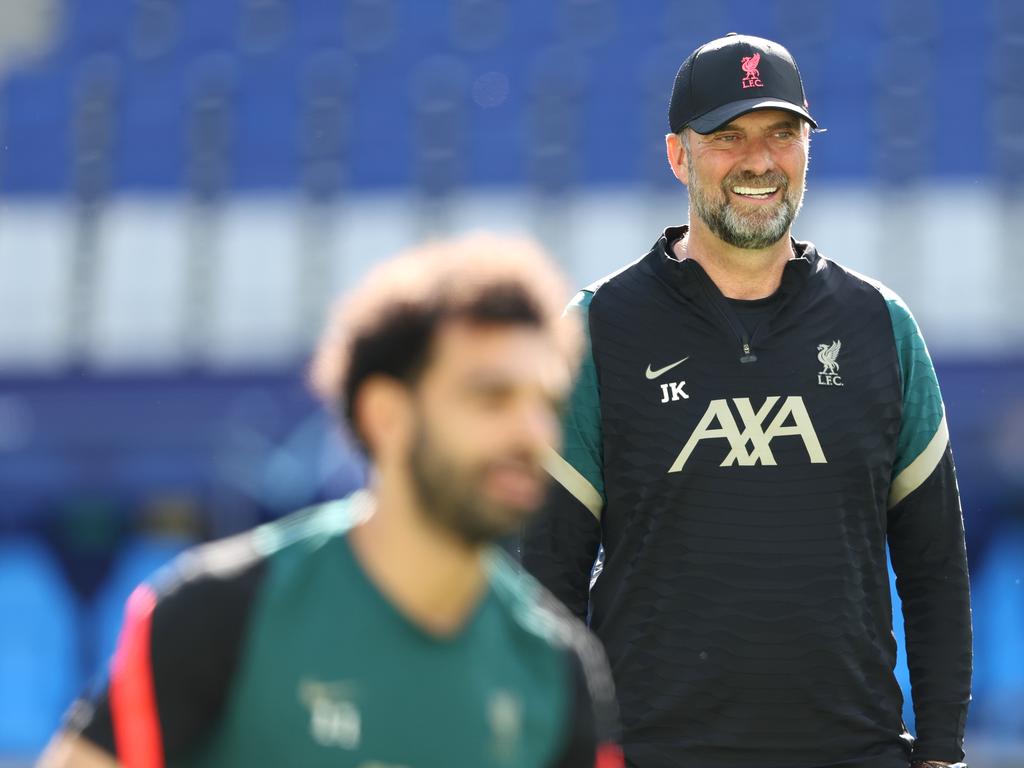 Jurgen Klopp will be spurred on by the disappointment of the 2018 final when Liverpool take on Real Madrid on Sunday morning. Picture: Matthew Ashton - AMA/Getty Images
Chapter one - Learning to be unpredictable
Learning to be unpredictable
Preparations began ten months ago, with the longest pre-season Klopp has ever had with his players. Liverpool headed to Austria on July 11 and, by the time their season finishes on May 28, they will have been together for 321 days, barring international breaks. The initial plan was to go to Austria, return to England before finishing off preparations by staying at Evian-les-Bains in France. Potential travel complications due to Covid-19 meant it was decided they would stay in Austria for longer.
There was concern about how to sell being away for a month to the players. The schedule, on a spreadsheet, looked intimidating. Klopp sent messages on the group WhatsApp chat explaining his rationale. Liverpool were not asking the players to do anything they wouldn't do with their countries, plus training time is the most valuable commodity to Klopp and his coaching staff. The bottom line was it was the right thing to do in the pursuit of success.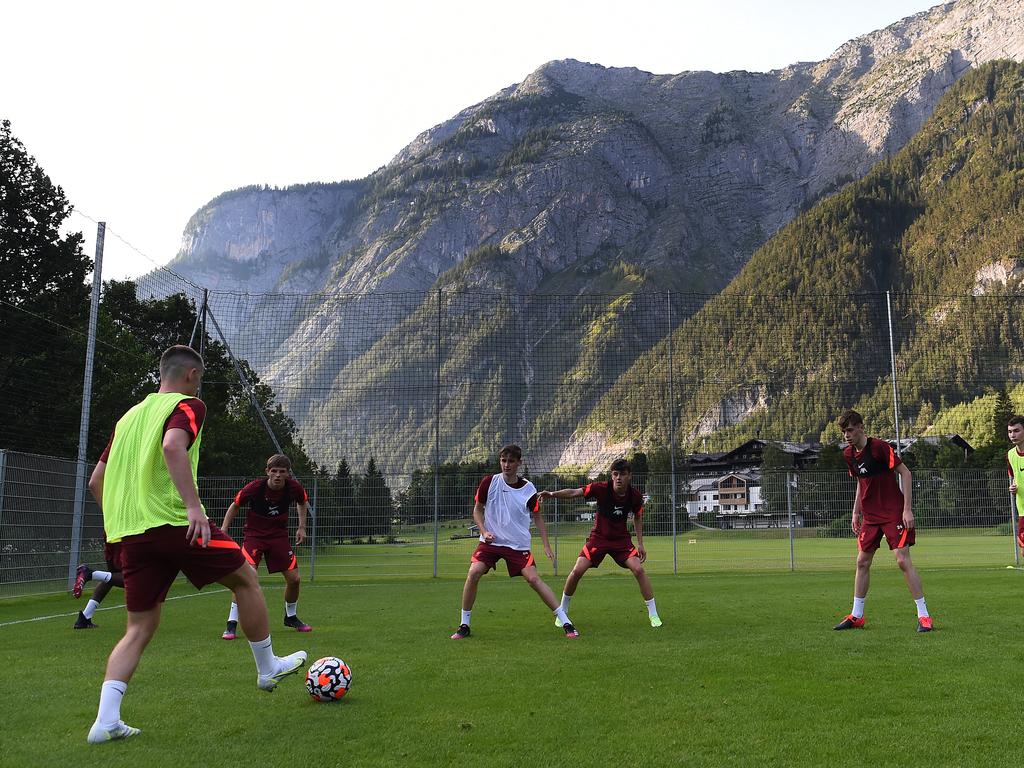 Liverpool spent a month in Austria as part of their pre-season preparations. Picture: John Powell/Liverpool FC via Getty Images
Pre-season is always Klopp's time. There are no distractions and the planning was meticulous. Liverpool took Warren Scott, from their ground staff, away with them, which proved perceptive when poor weather affected training pitches. The throw-in coach, Thomas Gronnemark, gave a presentation, the staff played the card game Uno at night, and there were the usual table tennis tournaments and team bonding exercises. Ben Fogle, the adventurer, gave a motivational talk.
The added bonus of so long together meant plenty of thinking time for Klopp and his coaches, Pepijn Lijnders, Peter Krawietz and Vitor Matos. Lijnders, in particular, was constantly brainstorming, tossing ideas around to find new ways for Liverpool to strike back after the difficulties of the 2020-21 campaign, when their title defence unravelled because of injuries.
That season had, in Klopp's words, been the period he had learnt most from. Now was the chance to put those lessons into practice. Liverpool's campaign had not imploded simply because of the loss of personnel, although that was the overriding reason. Klopp and his coaching team realised that they had relied heavily on specific patterns of play. They watched videos of positive moments during the previous season and thought about what they could do better. It wasn't about reinventing themselves but evolution. How they could increase the probability of winning a football match.
One of the ideas was to tweak the positioning of Trent Alexander-Arnold to make him, and Liverpool, less predictable. The availability of Mohamed Salah for the full tour meant there was an opportunity to focus on the right flank and extract even more from it. The triangle on the right with Jordan Henderson would be important as the season progressed.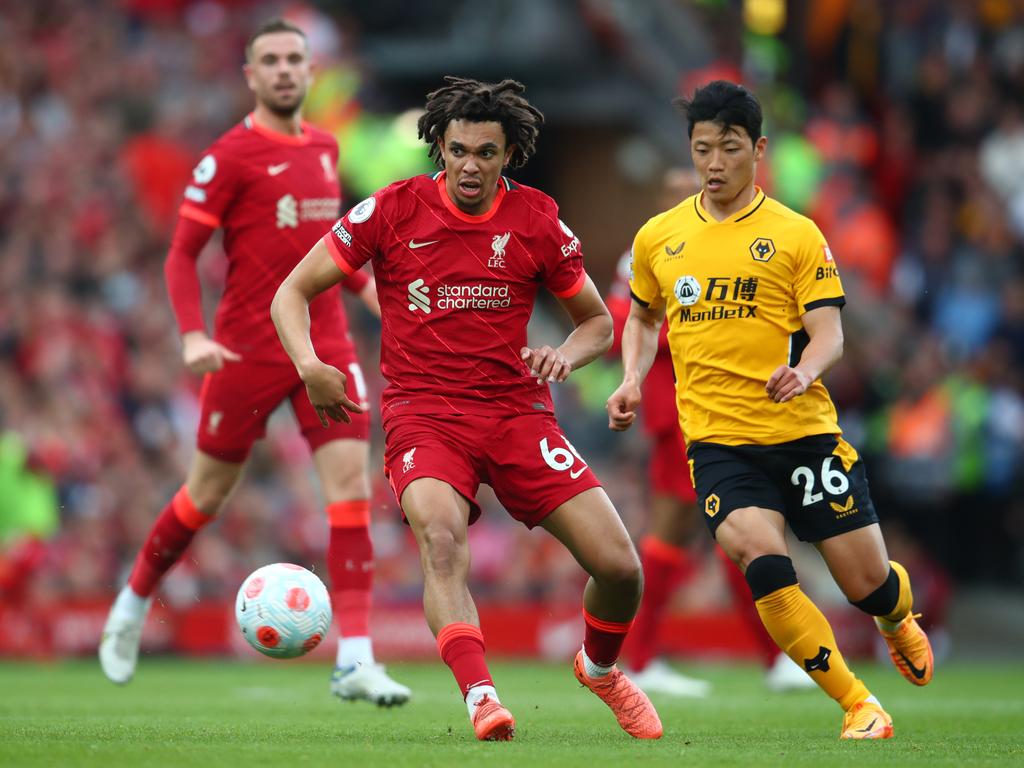 Klopp worked on Alexander-Arnold's positioning during pre-season. Picture: Chris Brunskill/Fantasista/Getty Images
"We wanted to become more unpredictable over our right side," Lijnders explained. "We felt we could attack with a bigger variety than in the last years. It's not only about him [Alexander-Arnold], but also to find the best positions for the other players. We look to evolve, but also, the opposition pushes us towards new ideas. Mo has a lot of freedom in our system, so Trent adapts well with his positioning on the inside, playing passes to spots he couldn't reach before."
Liverpool's second game of the season was evidence of a plan coming together. Harvey Elliott touched a ball inside to Alexander-Arnold who, rather than lurking in the fullback role, was effectively in the No 8 position. He turned a superb pass into the path of Sadio Mané, who fired past the Burnley goalkeeper, Nick Pope. It was the first of 19 assists for the 23-year-old defender, a remarkable tally that showed just why Liverpool were right to try to squeeze more from a generational talent.
Chapter two - Rebuilding from the back
Rebuilding from the back

The ball to Elliott which started that move had been pinged 50 yards in trademark style by Virgil van Dijk, playing at Anfield for the first time since October 2020 after a cruciate knee injury. A key date in Liverpool's season was July 29. They played Hertha Berlin in a friendly in Austria and in the 70th minute Van Dijk appeared on the touchline, along with Joe Gomez, who had also had a serious knee injury, to launch their comebacks.
There had been pressure from Holland for Van Dijk to captain them at Euro 2020 despite the fact that he had not played for his club in ten months, but the centre back stuck to the plan mapped out by Liverpool's medical team, including Dr Andreas Schlumberger, head of performance and recovery.
When Liverpool arrived in Salzburg, the sense was that Van Dijk was back. Reality proved different. An intense rehabilitation continued for him and Gomez. They would take part in the rondos training but, initially, were not involved in the main sessions and would instead work with Schlumberger. Some of the young players were instructed to get at the duo with the intention of reacquainting them with the principles of one-on-one defending. That is fundamental to Van Dijk's style, as he showed against Son Heung-min in the 2019 Champions League final against Tottenham Hotspur.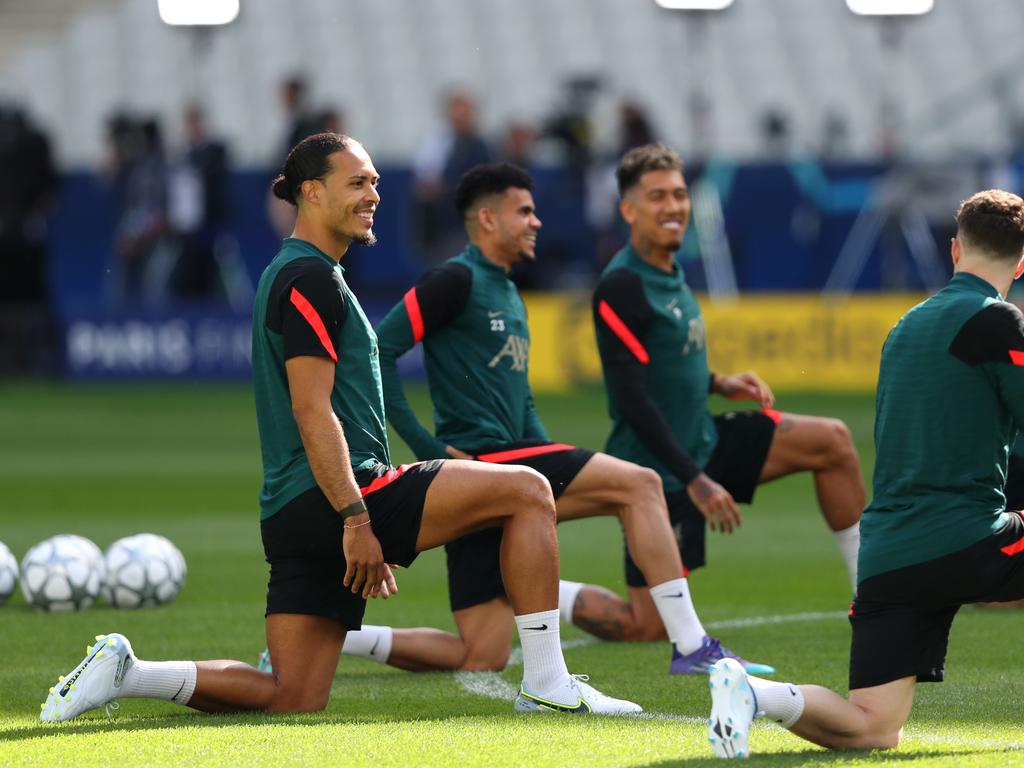 Van Djik was carefully nursed back to his best after suffering a serious injury during the previous campaign. Picture: Alex Livesey - Danehouse/Getty Images
The bond that Gomez and Van Dijk formed with the medics during a painstaking recovery would be shown at that Hertha workout. Covid restrictions meant there were only a limited number of passes for staff to be allowed in the "red zone". Van Dijk and Gomez insisted on Schlumberger and Dr David Rydings, a rehabilitation fitness coach, being present.
There was some concern about how Klopp would cope should Van Dijk suffer a setback in his comeback but his progress has been remarkable. Liverpool were careful not to overload him in the early weeks. The Champions League campaign began at home to AC Milan and Van Dijk was rested for that 3-2 victory. In the league, the only game he missed through injury was against Southampton in the final week because of a slight twinge in his knee. Covid forced him to miss two other league fixtures and he was on the bench against Wolverhampton Wanderers.
The issues Liverpool endured in defence last season prompted additional emphasis on their back line in pre-season. Some sessions involved four defenders against eight attackers. Time was spent on the co-ordination of the defence.
Having been crippled defensively in 2020-21, Liverpool took no chances. The signing of Ibrahima Konaté from RB Leipzig immediately strengthened them and the 23-year-old has proved to be another savvy recruit.
Nat Phillips was retained for the first half of the season — memorably performing a Cruyff turn to spin away from Milan's Zlatan Ibrahimovic in a 2-1 success at the San Siro as Liverpool won all their group games — before being allowed to join Bournemouth on loan.
Liverpool have defended higher this season than in any other campaign under Klopp. The average distance from their goal that the team's open-play sequences start has been 45.3 metres, slightly higher than in the title-winning season of 2019-20. The sight of opponents regularly penetrating behind that rearguard proved an illusion, with the guidance that makes assistant referees wait before flagging for off-side creating the impression that Liverpool were struggling. The opposite has been true.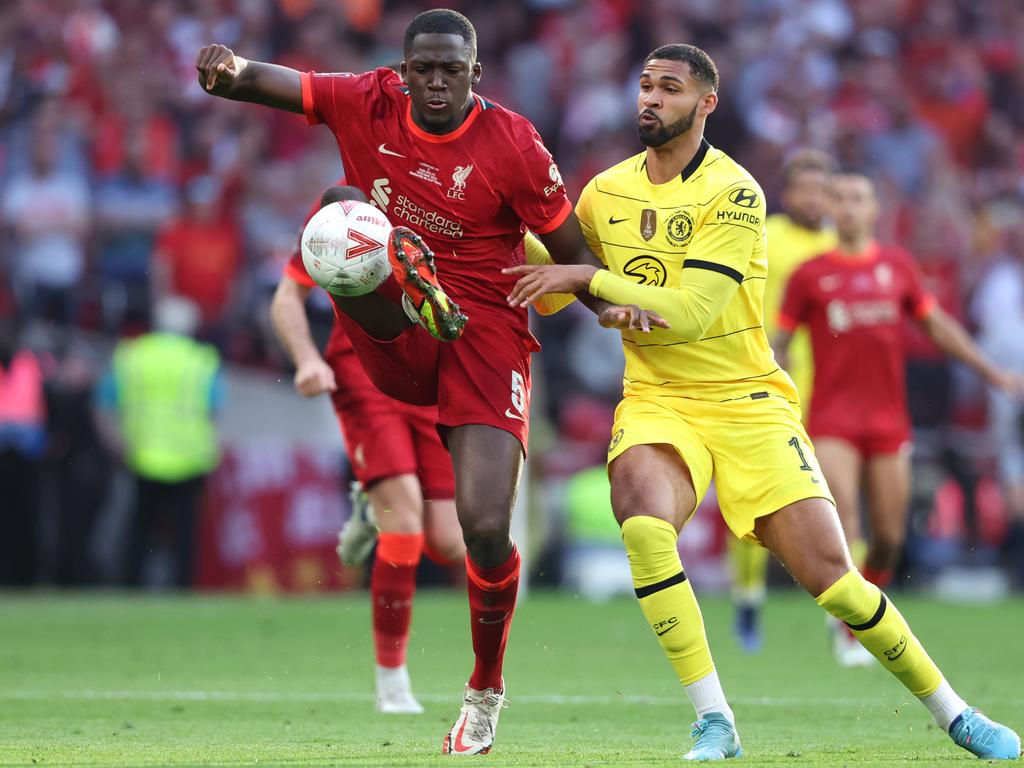 Ibrahima Konaté has been a useful addition to Liverpool's back three. Picture: Matthew Ashton - AMA/Getty Images
Chapter three - Strikers find 'lethal' form
Strikers find 'lethal' form
Liverpool's domestic achievements have been transferred into the Champions League, where they are the second-highest scorers with 30 goals (Bayern Munich have 31), boast the joint best average possession in games (60.1 per cent) with Bayern and have made the most ball recoveries — 521 (Real Madrid are second with 467). That Liverpool's average possession in 2017-18, their first Champions League campaign under Klopp, was 50 per cent highlights one area of their evolution.
For the first time since arriving at Liverpool, Salah and Mané both had the summer free of international commitments and were able to recharge and reset. Salah hit the ground running as he sought to elevate his game to new heights and justify his claim that "in my mind, I'm the best player in the world".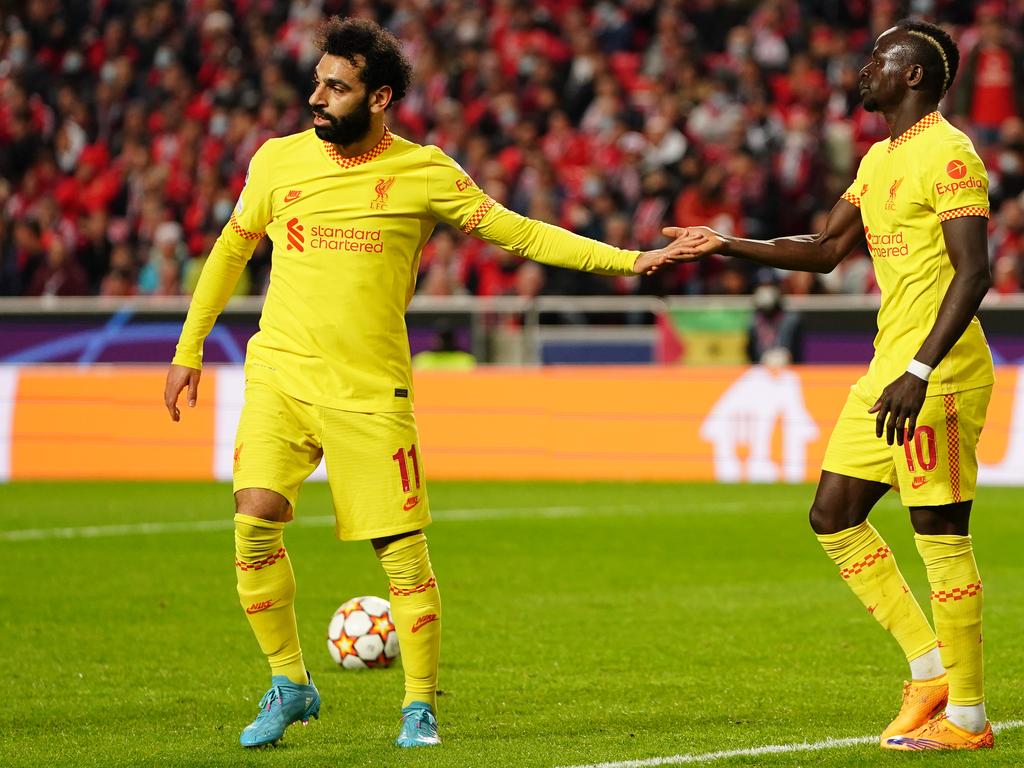 Mané and Salah have hit new heights this term. Picture: Gualter Fatia/Getty Images
When sitting next to Elliott for one meal during pre-season, he saw that the teenager had some bread and fruit on his plate. The striker asked Elliott how many slices of bread he had already eaten. "One," Elliott replied. Salah said he should only eat the fruit.
Of Salah's 31 goals this season, eight have come in Europe, and his declaration that he is seeking revenge on Real for the 2018 final in Kyiv when he was bounced out by Sergio Ramos in the opening half, leaving the field in tears with a shoulder injury, underlines what this game means to him.
There have been times when Liverpool have swarmed over opponents. When Salah scored a hat-trick in the 5-0 demolition of Manchester United at Old Trafford, Lijnders remarked that the attacking triumvirate looked "like raptors in Jurassic Park. They go for it, they are lethal".
If Salah's productivity has dipped in the second half of the season, then the fallout from his experiences with Egypt in the Africa Cup of Nations (Afcon) final, and the World Cup playoff, perhaps act as mitigation. Egypt lost both matches on penalties to Senegal. Salah missed a penalty in the World Cup playoff and on both occasions Mané struck the winning spot kick.
There were obvious sensitivities to handle regarding the outcome of those matches, but it says much about the mood at Liverpool that there has been no disruption.
Mané's performances in the second half of the season have been central to everything Liverpool have achieved and are still striving for. He is a contender for the Ballon d'Or having combined versatility with a ruthless streak.
He has scored 13 goals since returning from the Afcon to take his club tally for the season to 23. Having started his Liverpool career on the right, he had settled on the left but is, more often than not, now deployed through the middle after the signing of Luis Díaz from Porto in January.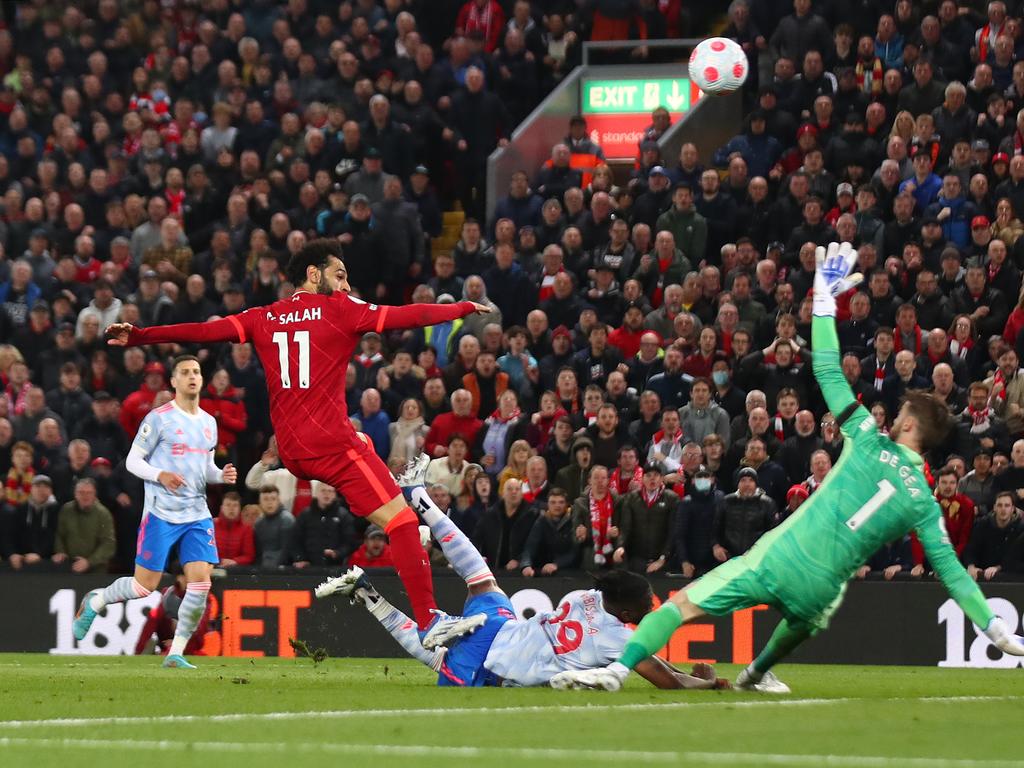 Salah scores Liverpool's fourth goal during the Reds' five goal downing of Manchester City. Picture: Chris Brunskill/Fantasista/Getty Images
Chapter four - A mid-season masterstroke
A mid-season masterstroke
Liverpool were already tracking Díaz and had the chance to study him close up against Porto in their Champions League group. The Portuguese lost 5-1 in the Estádio do Dragão and 2-0 at Anfield, with the Colombian starting both games. His signing has proved another masterstroke and bodes well for the future, both on and off the pitch. The deal was led by Julian Ward, the assistant sporting director, who will replace Michael Edwards as sporting director at the end of the season.
Klopp pushed for Díaz but the plan was to sign him in the summer. When Tottenham negotiated a £37.5 million deal, with £12.5 million in add-ons, the threat of missing out on the player meant Liverpool acted swiftly and decisively, with Mike Gordon, president of club owner Fenway Sports Group, pivotal.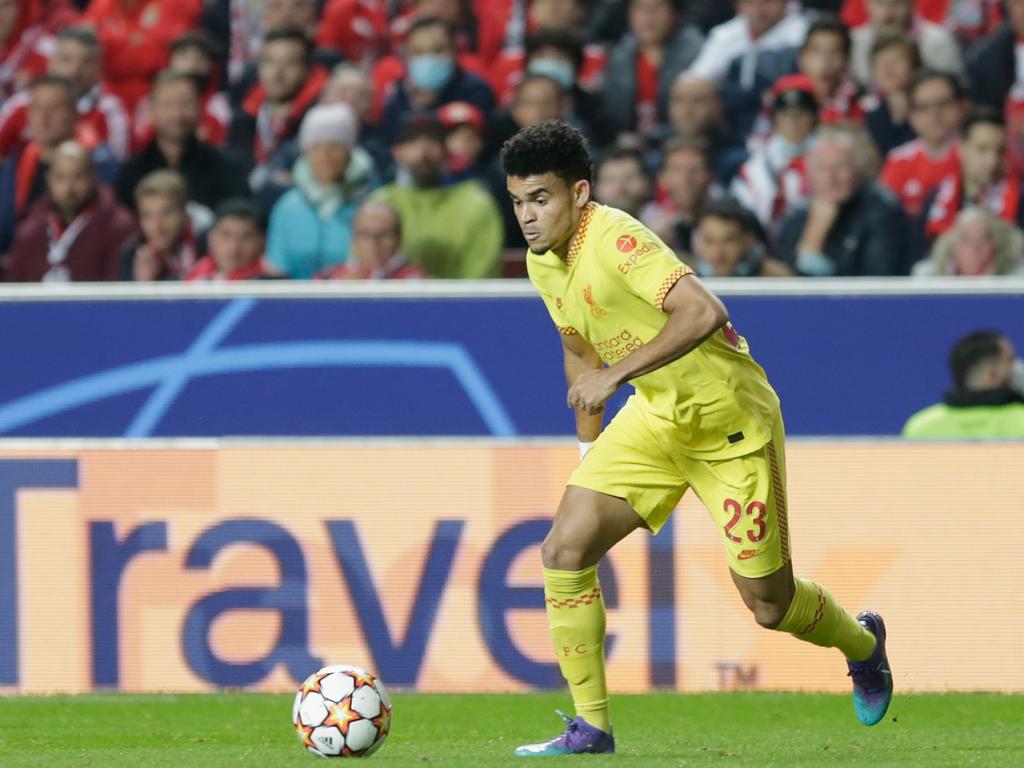 Díaz has hit the ground running since joining the club in January. Picture: Valter Gouveia/NurPhoto via Getty Images
Potency had hardly been an issue but the transfer gave everyone a lift. Díaz has been "a smiling ball of energy" from the moment he arrived at the club's training facility in Kirkby. He is low maintenance, likely to sit alongside the Brazilians, including the goalkeeping coach, Cláudio Taffarel, and the Spaniards, Thiago Alcântara and Adrián, in the club canteen. Klopp already had four centre forwards he had to fit into three places and now there are five, but if Díaz doesn't start his demeanour doesn't change. Konaté is the same.
Liverpool's productivity has also benefited from the work done in pre-season by the German company, Neuro11, who targeted improving set pieces. By using headsets with electrodes that measure the electrical activity of the brain, Neuro11 can identify whether a player is in the zone. This means a sportsperson running on automatic rather than having to think about what they are attempting to do.
Liverpool have scored 18 goals from set pieces in the Premier League and eight in the Champions League, while the Carabao Cup and FA Cup final victories came by virtue of penalties, which Neuro11 also helped with.
Chapter five - Re-energising bodies and minds
Re-energising bodies and minds
There have been 20 different goalscorers — 21 including own goals — and 37 different players used across a season of what will be 63 games. "Whatever happened this year, happened because of this group," Klopp said.
In August, he promised to rotate and has been true to his word. There is clearly a pecking order but the mentality that has been infused through the squad underpins everything. That was shown in both domestic cup competitions, with a mix of youth, experience and quality allowing Liverpool to tick off the games in a way that had previously been beyond them.
Takumi Minamino epitomises that humility. The Japan international was the top scorer in both domestic cups, did not play in either final and then scored the equalising goal against Southampton on the night Klopp rolled out the "Ferraris" he usually must keep in the garage. They went on to win 2-1 at St Mary's to take the title race to the final game.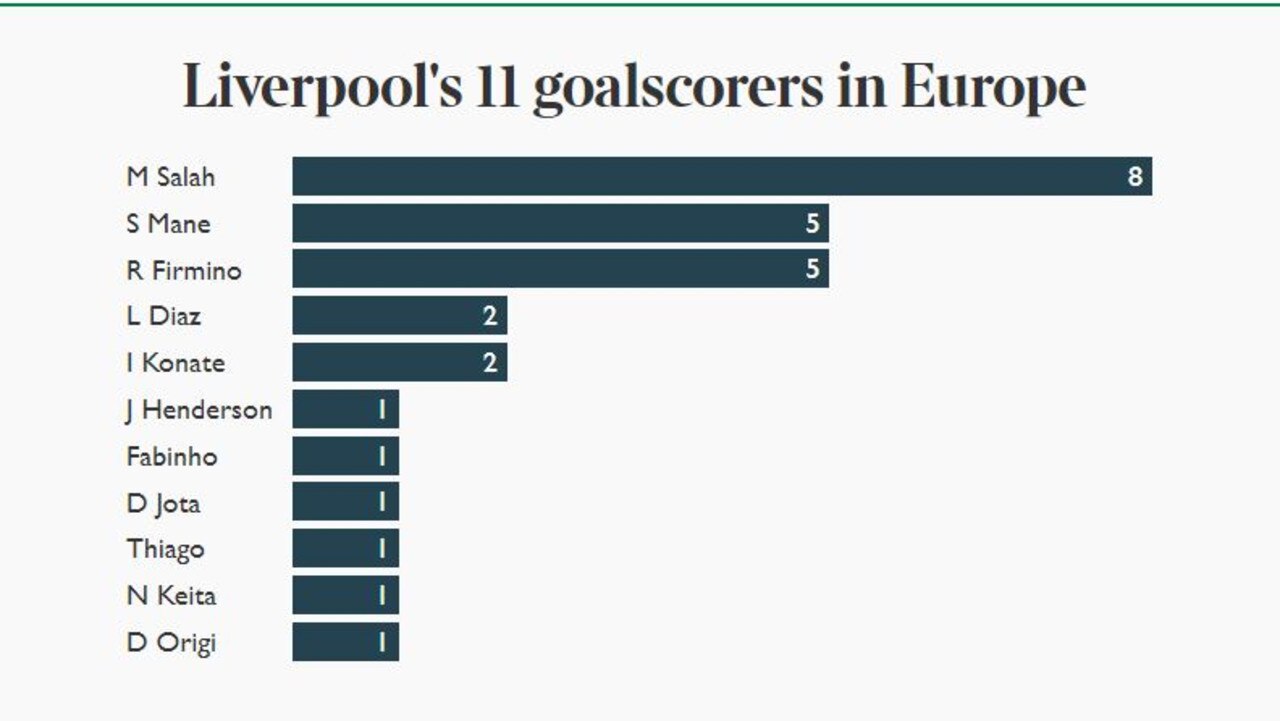 Liverpool's 11 goalscorers in Europe - Not including two own goals. Graph: The Times
Klopp has rotated more than ever because of the options he has and also the unrelenting schedule that led to Liverpool bringing back the physio Christopher Rohrbeck, who had left in 2020, for the final fortnight of the campaign.
Their dedication is clear. Jordan Henderson, the captain from whom everyone takes their lead, undertook a recovery session at 3am in a swimming pool at the training ground immediately after arriving back from the pivotal 2-0 win over Arsenal in March.
Elsewhere, Salah spoke to Henderson about bringing training forward to help with Ramadan, the period when Muslims fast during the hours of daylight. The other players were also keen on the idea as it was felt that switching to more morning sessions would benefit the team in general for energy levels and have a positive effect on their personal lives.
Previously, Liverpool might have had four or five training sessions starting at 4pm and one or two starting at 12. That was flipped around. Towards the end of the season 4pm starts were limited to the day before games.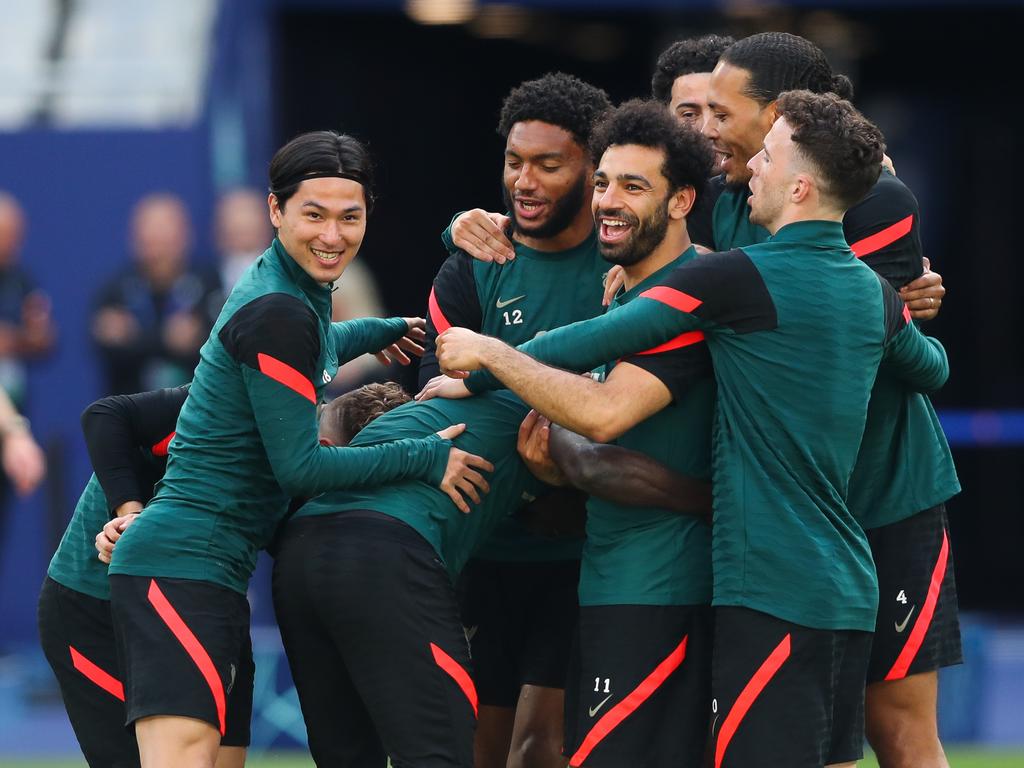 Players such as Minamino have stepped up when Liverpool's more established stars have been in need of a rest. Picture: Alex Livesey - Danehouse/Getty Images
It feels like the schedule is catching up with Liverpool. In the past three weeks, there have been injuries to Salah, Van Dijk, Fabinho, Thiago, Gomez and Divock Origi of differing degrees of severity and fitness is again shaping their ambitions. But of all the bodies — and minds — that have been re-energised, Klopp's has been the most important. Last season had taken its toll because of the injuries, while his mother, Elisabeth, also died and a travel ban meant he was unable to attend her funeral. He admitted to feeling "caged" and "drained" and put away his phone for ten days at the start of his summer holiday. With his mojo restored, Klopp, who signed a new contract in April until 2026, has been the driving force behind a season that can end on one more high.
In the semi-final success over Villarreal, Liverpool won the first leg 2-0 at Anfield with the visiting midfielder Étienne Capoue describing the experience as like being a "sheep among wolves".
A week later in Spain the opposite was true, with that advantage wiped out in the opening half. Klopp calmly addressed his players during the interval, reminding them to play football, and the ensuing fightback brought Liverpool a 3-2 win on the night and their place in the final.
"He is the key figure in our squad. He is the foundation of our team. He is the one who started it all," Alisson, the goalkeeper, said.
-The Times