Martin O'Neill, last of the dinosaurs, knows he 'could still do that job' if football calls again
Martin O'Neill talks to MATT DICKINSON about wearing Eusebio's shorts, throwing his medal at Clough, and why, as he prepares to turn 70, he wants one more chance in the dugout.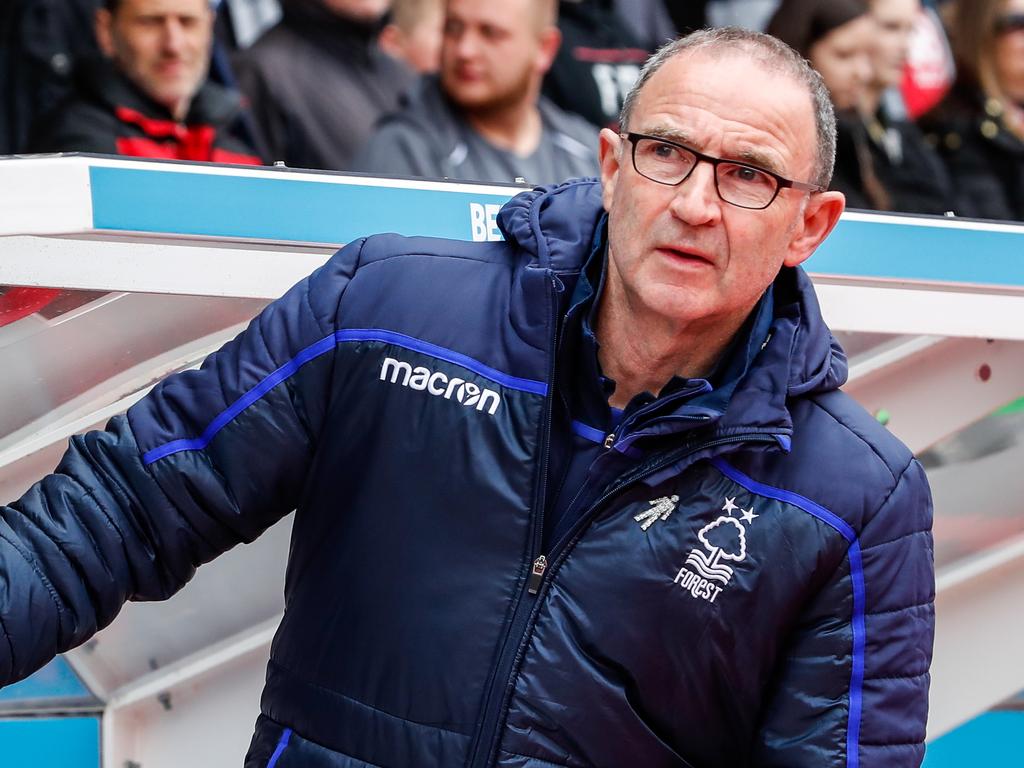 Martin O'Neill peers out of the dugout while serving as Nottingham Forest's manager. He's about to turn 70 but would love another crack at managing a football club. Picture: Andrew Kearns - CameraSport via Getty Images
Martin O'Neill sits in a London cafe rifling through pages of handwritten notes. "You might like this one," he says, pulling out a sheet of paper. As soon as he starts reading, we are transported instantly to a chilly Scarborough beach in February 1972, where he is training on the sand with the Northern Ireland squad.
George Best is notable by his absence. He will only arrive at 10pm that night, unsteady on his feet after a journey from Manchester that became a pub crawl. A teenage O'Neill is awestruck that Best is there at all, and joins the rest of the squad crammed around the superstar's bed to hear of his latest amorous exploits.
O'Neill can still hear the clack of studs on the dressing-room floor from the next day when, an hour before facing Spain at Boothferry Park, Hull, Best pulls out a pair of boots still caked in mud from his last game for United and tries to knock off the dirt. "The greatest player in Europe asks for boot polish," he reads.
To have played 45 minutes with the incomparable Best is just one snapshot of a long, grand footballing life – and O'Neill has hundreds to recall with vivid detail and relish. One of football's sharpest, most interesting minds has been scribbling down these recollections during the lockdowns.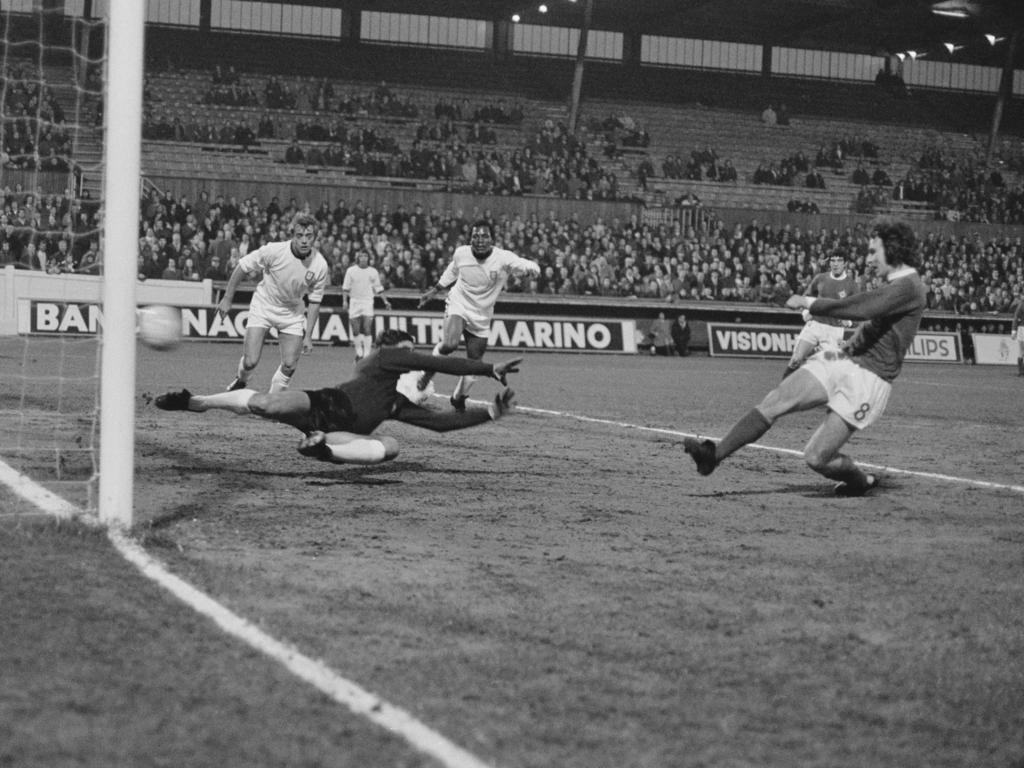 Martin O'Neill scores for Northern Ireland against Portugal in a drawn FIFA World Cup qualifier. Picture: Robert Stiggins/Hulton Archive/Getty Images
O'Neill picks up another pile of papers and suddenly we are in the dressing room at Munich's Olympic Stadium in May 1979 after Nottingham Forest have beaten Malmo to win the European Cup. The mood is ecstatic. O'Neill is fuming.
Brian Clough has not risked playing him after injury and O'Neill has spent what should have been the greatest night of his professional life cursing on the bench. Afterwards, when Clough asks the substitutes to hand over their medals so he can arrange for more to be cut for the staff, O'Neill hurls his medal at Clough in fury. "It bounces on a table top towards him," he reads. "He wants to take this medal of Best, Di Stefano and Puskas away from me?"
O'Neill smiles at the memory, and his own rage that Clough never put him on in the biggest game of all. "I can have no idea then that I will be back next year playing in a final," he reads. "How could I imagine that was even possible?"
Hopefully one day, these tales and many more like them will make a wonderfully compelling memoir but O'Neill picks up the papers and puts them away. This story, he believes, is not yet concluded.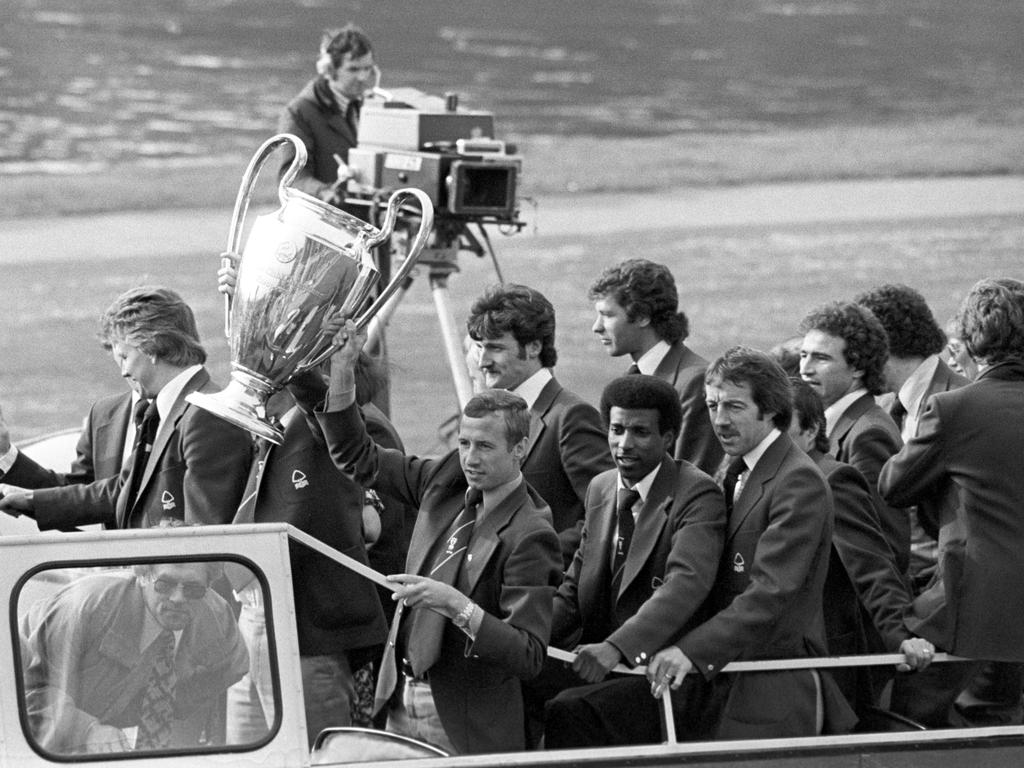 Nottingham Forest celebrate with the European Cup after their 1979 win over Malmo. Picture: PA Images/Getty Images
It has been more than two and a half years since O'Neill was sacked as manager of Forest in very unhappy circumstances, after only 19 games. But more than 50 years after he made his debut for Distillery, while also starting a law degree in Belfast, he does not want anyone assuming his work is done. "My daughter said to me recently, 'People don't know if you are retired or dead,' " he says. "I think she was joking."
He turns 70 in a few weeks but ask him if he is ready to settle back into a world of golf and punditry and he recoils. "I think I'll always fight that," he says. "Talk to any manager and there will be very few satisfied with all they've done. And I feel in good health, good shape."
O'Neill certainly looks younger than his 69 years, still trim, and cites Roy Hodgson returning to the training pitches at Watford at the age of 74 as evidence that age should be no barrier.
"A tough task for Roy but if I am the other managers at the bottom [of the Premier League] I'm preferring Roy not to go in there," he says.
"You give him a real chance of keeping them up because of his experience, his steadying influence."
He pauses, grinning. "And Roy looks much older than me …"
"Look," he adds, "Roy will steady them. Maybe I am not called steady. I have been called volatile. But I feel I could do that job in my own way."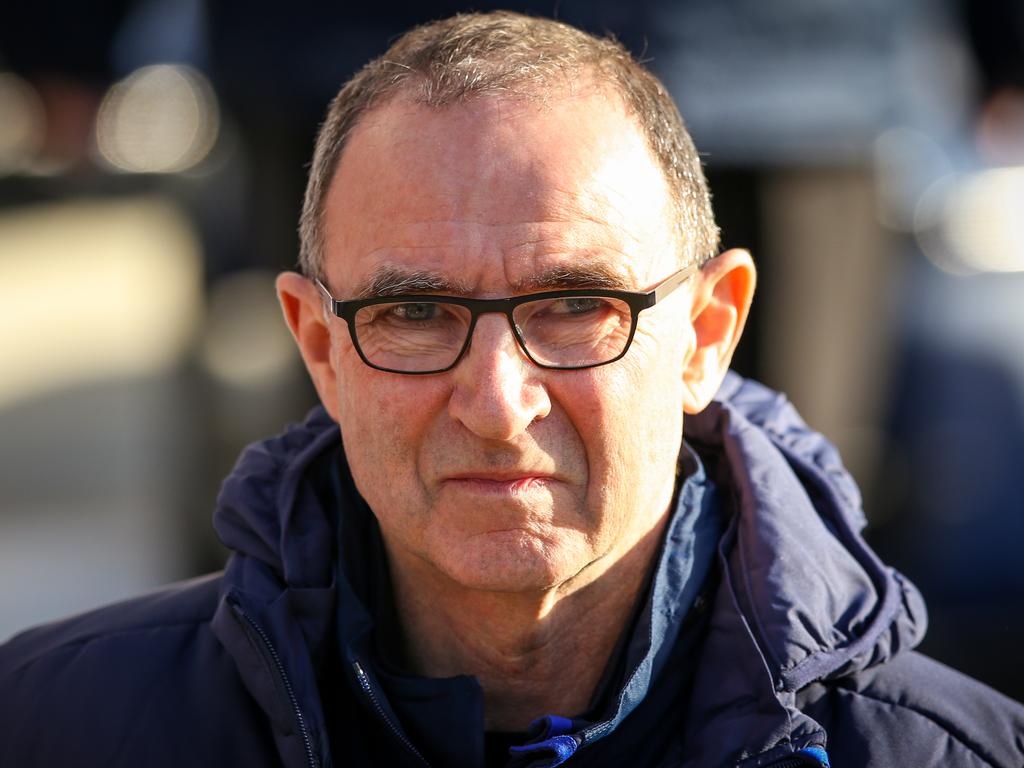 Martin O'Neill spent 19 games at the helm for his former club Nottingham Forest. Picture: Alex Dodd – CameraSport/Getty Images
For O'Neill, that means a heavy degree of control. The successes he enjoyed at Leicester City, Celtic and Aston Villa were notable for O'Neill being put in charge of not only a team but a wider strategy.
When that started to be questioned by Randy Lerner, the former Villa owner, it all turned sour. O'Neill still has a few regrets about that.
"Three top-six finishes in succession, European football. I wanted to push on for the Champions League and it's a real shame in hindsight," he says. "Maybe I should spend a bit less time fighting with people. Cantankerous I think I have been described as in my own household. On reflection, you can see other viewpoints as well as your own."
A greater regret is taking on jobs at Sunderland and Nottingham Forest where he never did receive the level of command he wanted, and felt plunged into "fighting a cause, a struggle" right from the start.
"I never felt I was in charge at Sunderland," he says. "Other people with no talent whatsoever telling me what to do. Unfortunately I allowed that. I wish I hadn't.
"At Forest, we talked when I took the job [in January 2019] about an 18-month project. I got 19 games. We had a week of pre-season, hard work, [Antonio] Conte-like, and then I was gone. The next manager signed about 15 players. I like to think that if I had that chance the club would be in the Premier League now.
"It sounds boastful but any time I was given real charge – like Dermot Desmond telling me to take charge of Celtic, and Randy Lerner when he was new to football, and Leicester after a difficult start – then I think results speak for themselves."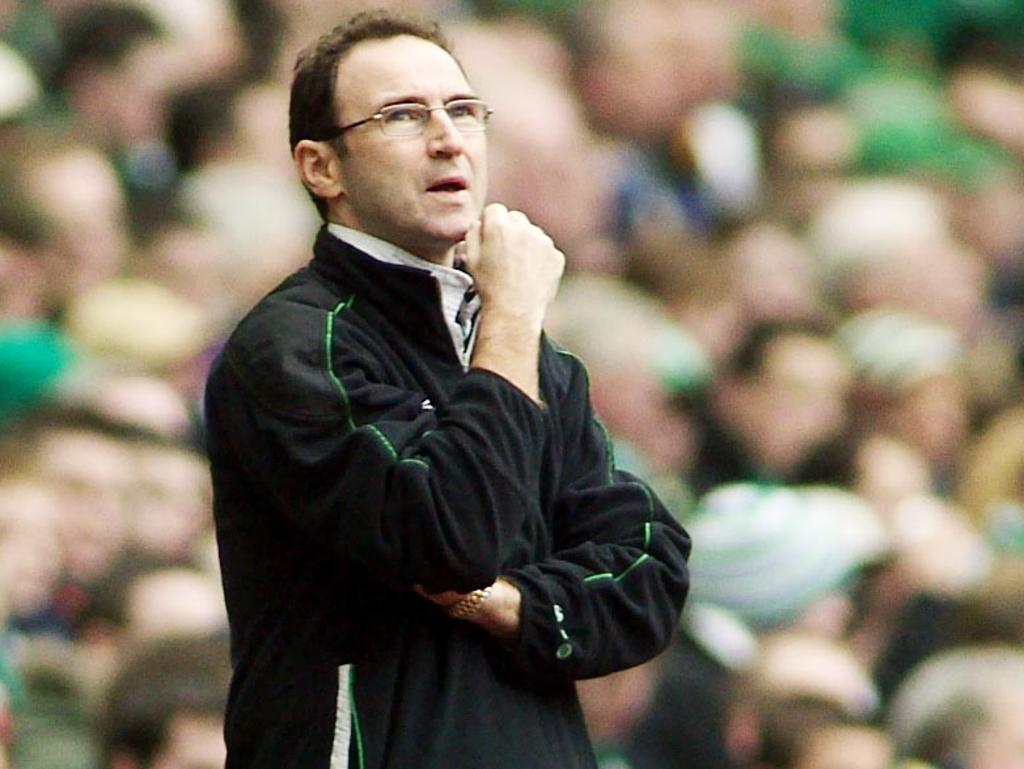 Martin O'Neill enjoyed success with Celtic, becoming one of the most successful managers in the Scottish club's history. Picture: Nick Ponty/SNS Group via Getty Images
He says that he has read since his sacking at Forest that he was ousted by player power. "I think you have to do something in the game for that," he says, pointedly. "There was no player powerful enough." The loquacious O'Neill can charm but also skewer with his words.
It hurt not to succeed at Forest given that it was his club as a player through an extraordinary decade, winning the old First Division title and culminating in those astonishing European triumphs. He had been offered the manager's job at the City Ground on several occasions before eventually accepting, including the chance to follow Clough in 1993.
Forest feels like a different club to him these days as they head into an FA Cup fourth-round tie against Leicester, pitching two of his old teams against each other. Both have been transformed at every level, which raises the question of whether the game does move on and leave managers behind.
"It's a paradox," O'Neill says. "The game moves on and remains the same." Has he been left behind by modern strategies? "It's something that's levelled very quickly. Even [Arsene] Wenger, [Sir Alex] Ferguson might have heard it, the last of the great dinosaurs.
"It depends what we mean by modernity. Passing out from the back? Ralf Rangnick came in and gave us five points about how to play the game. I knew three of those on my first day in football. It's not rocket science. What we analyse are still the same things, maybe just with different tools. Speak to Pep Guardiola, who is maybe the best out there, and he will tell you that his main task is man-managing. Encouraging those who are great for you, looking after those you've left out. He knows an awful lot of intricacies but he will say his game is based on overloads which, in themselves, are not rocket science.
"But the minute you mention your influences in the game, there comes a time when a generation doesn't know who you are talking about, even when you mention Matt Busby and Brian Clough. So that's why I say it's this paradox."
O'Neill's assistant during his time with Ireland, from 2013 to 2018, and at Forest was Roy Keane, who is poised to return to management with Sunderland in Sky Bet League One.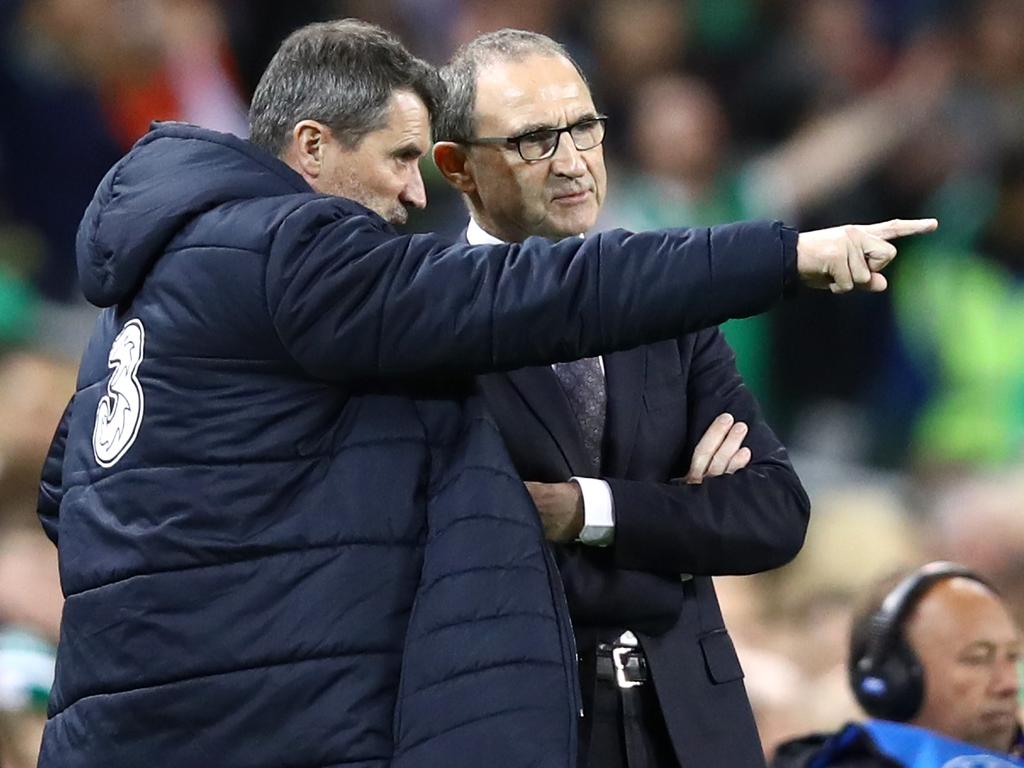 Martin O'Neill and Roy Keane have worked together with both the Northern Ireland national team and in O'Neill's doomed stint at Nottingham Forest. Picture: Dan Istitene/Getty Images
There were plenty who warned O'Neill against taking on a man who suffers fools even less readily than him, but the two became close and still meet up for regular coffees to discuss the game.
O'Neill has only fond memories of their years together, especially at Euro 2016 in France. "Roy said qualification for the Euros and the time in France and the night against Italy [winning with an 85th-minute goal to qualify for the knockout stage] were up with anything he did as a player," he says.
"He has said it too many times for me not to believe him."
Of Keane's imminent return, O'Neill thinks it is "splendid news" for his friend and for Sunderland. "It's a great fit because Roy had success there before," he says.
Keane has his own reputation for volatility but O'Neill's point is simple. "From my experiences working with Roy, I would really want to play for him and I would readily accept any tough times and hard words for what the praise would mean if I did something terrific to please him."
Inevitably, it makes him think more about his own chances of returning to management. His time away has coincided with the pandemic, which was no bad thing for personal reasons, given that his wife, Geraldine, needed to shield from Covid, and for a professional break.
"In those days before vaccines and when you saw those images from hospitals in Bergamo and just knew this was going to become a pandemic, I think for a lot of people it felt the game took a back seat for a while," he says
"Crowds still haven't come back fully across a lot of Europe but it feels like we are heading back to some kind of normality and I think appetite for the game is really reinvigorated, mine included."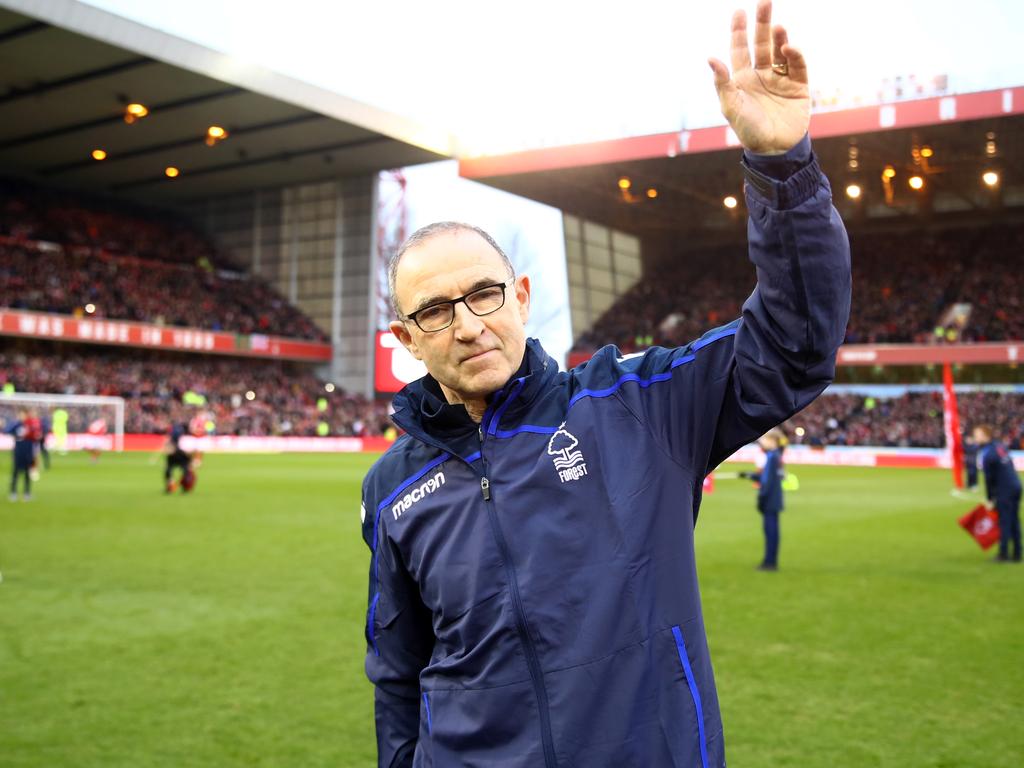 Martin O'Neill's enduring love for football has him considering what a return to the sidelines would look like. Picture: Mark Thompson/Getty Images
His love for football, and its characters, is there in the stories he has scribbled on those sheets of paper. He tells a wonderful tale about asking a startled Eusebio to swap shorts, reducing the maestro to his jockstrap, because a teammate had already nabbed the Portugal star's jersey. "I must have worn those shorts on every beach in Europe," O'Neill laughs.
Those notes tell not just of football but of his lifelong fascination with criminology, including a chapter about a trip to New Orleans on the trail of Lee Harvey Oswald and retracing JFK's last journey in Dallas.
There is fascinating history woven through, given that Northern Ireland were playing that game in Hull in 1972 because the match was only two weeks after Bloody Sunday, and the national team would not be able to return to Belfast for three years.
O'Neill has a stack full of these eclectic, colourful stories of playing and managing at every level of the game, and a memory that can summon every detail. But he puts those pages away and wonders if there is one last chapter still to be played out in the dugout.
– The Sunday Times
Originally published as Martin O'Neill, last of the dinosaurs, knows he 'could still do that job' if football calls again