Pep Lijnders takes us inside the methods driving Liverpool's relentless pursuit of perfection
Liverpool assistant manager Pepijn Lijnders gives PAUL JOYCE a glimpse of the methods driving the Reds' pursuit of perfection and the exercise underpinning their insatiable appetite for silverware.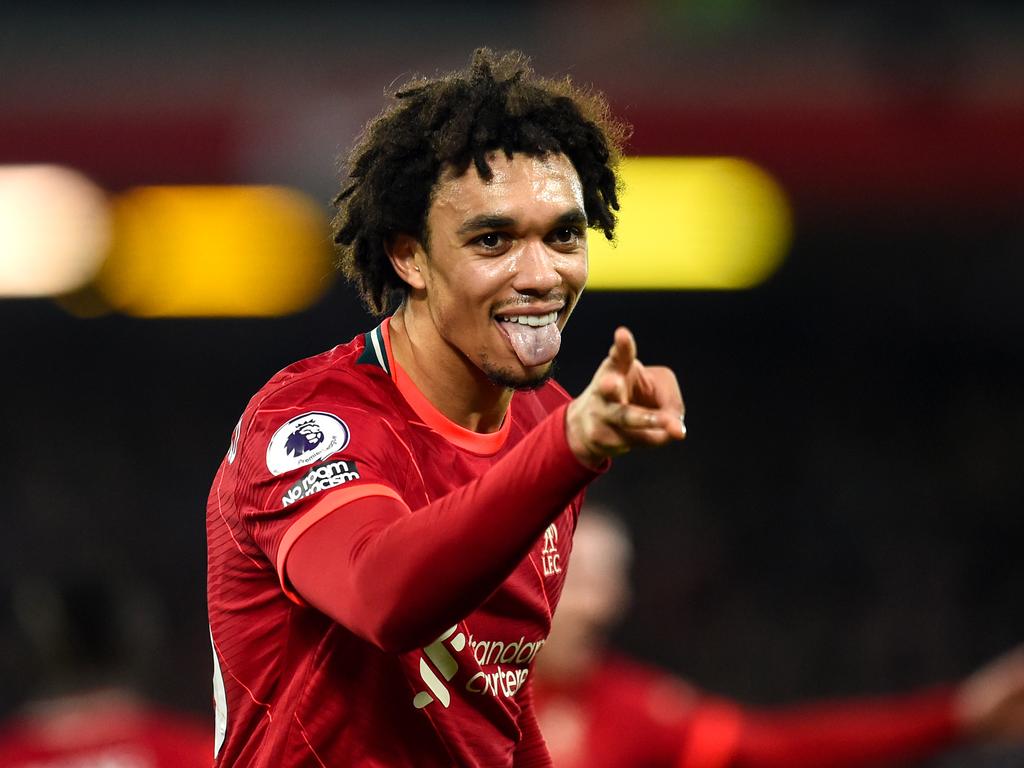 Liverpool head into the Premier League season among the favourites. Picture: Andrew Powell/Liverpool FC via Getty Images
There is an exercise Liverpool utilise in training which the assistant manager, Pepijn Lijnders, believes underpins the squad's insatiable appetite for silverware by taking them back to when they were kids.
It is called "the Identity Game" and involves three teams competing for the ball, striving to attack, and transports everyone to their "origins, like where you play on the street".
"Winner stays on," Lijnders explains. "If you are good, you play. If not, you are the goalpost. This is how we stimulate this winning mentality, because to win in training Virg [van Dijk] has to beat Darwin [Nunez]. Luis Diaz has to beat Robbo [Andrew Robertson]. Or Trent [Alexander-Arnold] has to stay on the pitch against all these big guns.
"With this they excel and get that 1 per cent better. Working for Liverpool means you are dealing with high expectations and that is something we love. It is not something we are afraid of."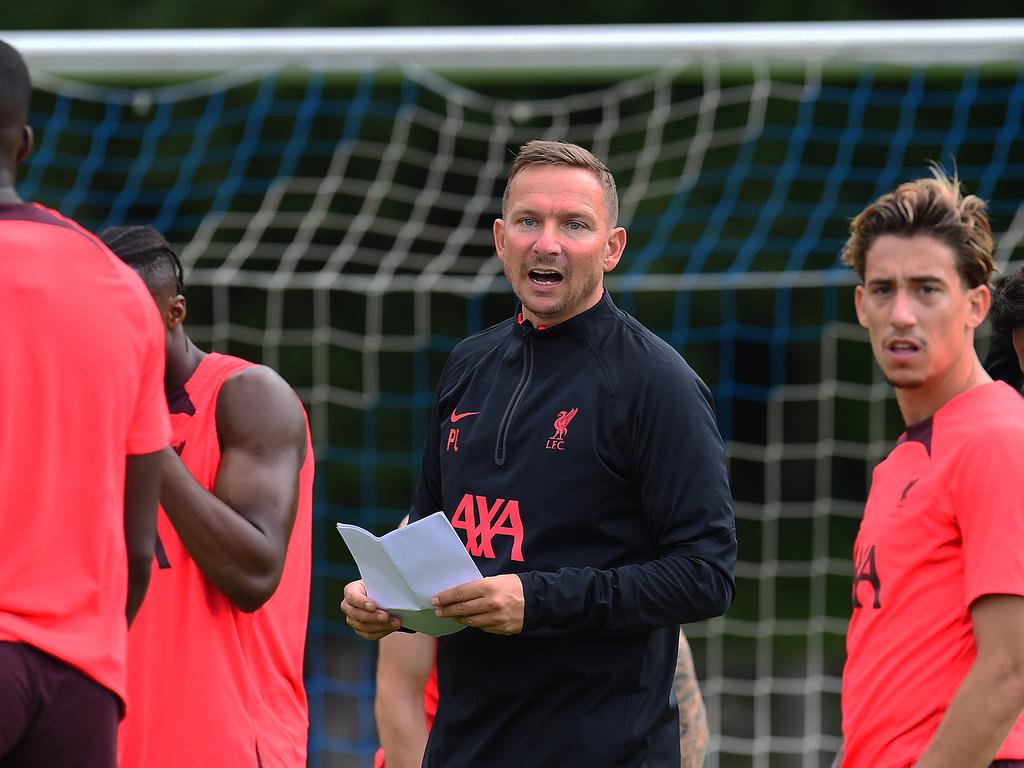 Jurgen Klopp's No.2 Pepijn Lijnders is a key figure at Liverpool. Picture: John Powell/Liverpool FC via Getty Images
The pressure to perform begins all over again on Saturday against Fulham. Liverpool will seek to improve on last season when Jurgen Klopp's side pursued the Quadruple but were, ultimately, forced to settle for a domestic cup double.
That journey is recounted in forensic detail in Lijnders's new book, Intensity, which provides insight into the methods, relationships and tactical innovations that have made the club successful in recent seasons.
Lijnders wrote excerpts every day, and the launch at Anfield's club shop on Wednesday was attended by the eloquent Dutchman's family, including his young children, Romijn and Benjamin. They both wore shirts emblazoned with "Alexander-Arnold 66" on the back and Lijnders was probably only half-joking when he said: "That is Daddy pushing. I pushed for them to do that!"
When Lijnders first arrived at Liverpool in 2014 from Porto, he coached Alexander-Arnold at under-16 level and takes understandable pride at the progress the home-grown defender has made.
"Oh, there is no limit to him," Lijnders says. "If you saw pre-season then the games he played he reached a new level. The way he dominated the right side offensively, but also defensively, was remarkable and if I see this boy it just makes me really proud. He trains in the same way as when he was 15. The smile, the fire.
"Our relationship is very strong. I see a boy who grew, who is still growing, and I really believe that life doesn't have limits.
"Take, for example, the one-touch pass to Luis Diaz in the [Manchester] City [Community Shield] game. Did we see that coming? No. But that's freedom. The ball comes out and he hits it first time. He sees things that the stadium doesn't see. It is for us to put him in the right position to excel. There is always more – to create more, score more, defend better – but he knows this."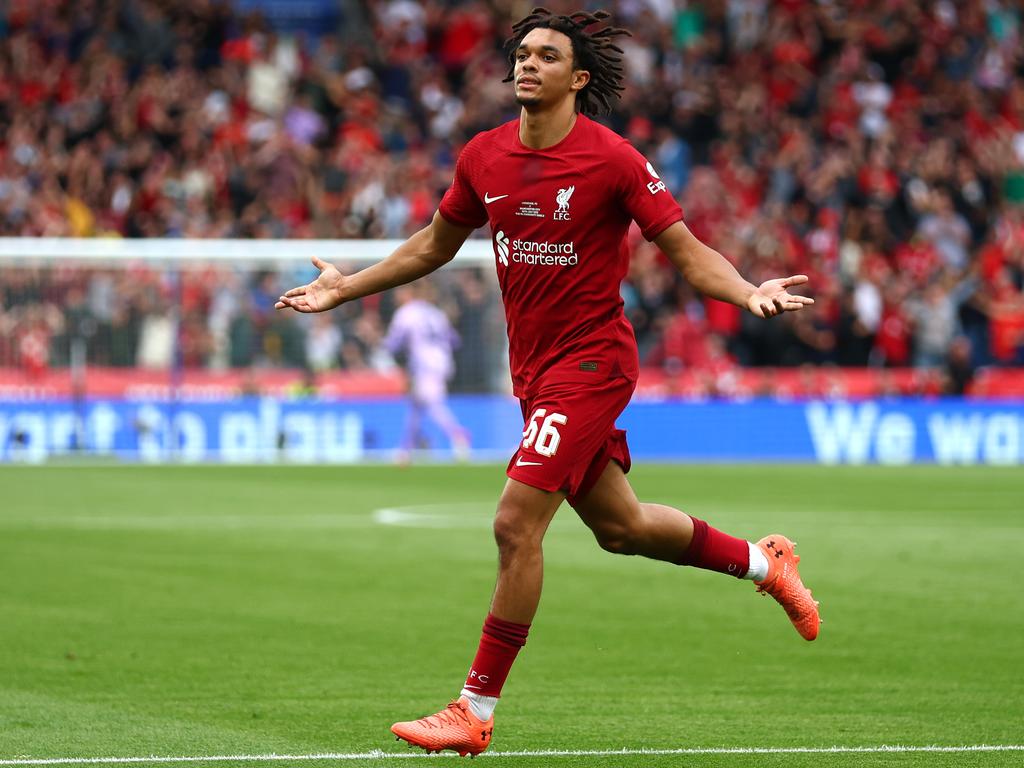 Trent Alexander-Arnold has reached another level, according to Pep Lijnders. Picture: Chris Brunskill/Fantasista/Getty Images
The start to the season will be important for Alexander-Arnold if he is to force his way into Gareth Southgate's England XI for the World Cup in Qatar, starting in November.
The subject is guaranteed to provoke a debate given the merits of City's Kyle Walker and Chelsea's Reece James. Lijnders pauses, briefly, and picks his words carefully.
"It is only my opinion but if you see the game in an attacking way, he gave that position such a creative boost over the past few years. Like Cafu [the Brazil right back] did," he says.
Last season Alexander-Arnold recorded 19 assists, that tally owing much to the tweaking of his duties as he was encouraged to adopt more advanced, central positions.
Evolution never stops. Klopp, Lijnders and the rest of the Anfield coaching staff are now working on the integration of Nunez, the striker recruited from Benfica in the summer for what could become a club-record pounds 85 million fee, to ensure the post-Sadio Mane era runs smoothly. The Senegal forward's move to Bayern Munich feels a considerable blow. But, typically, Lijnders spies only opportunities.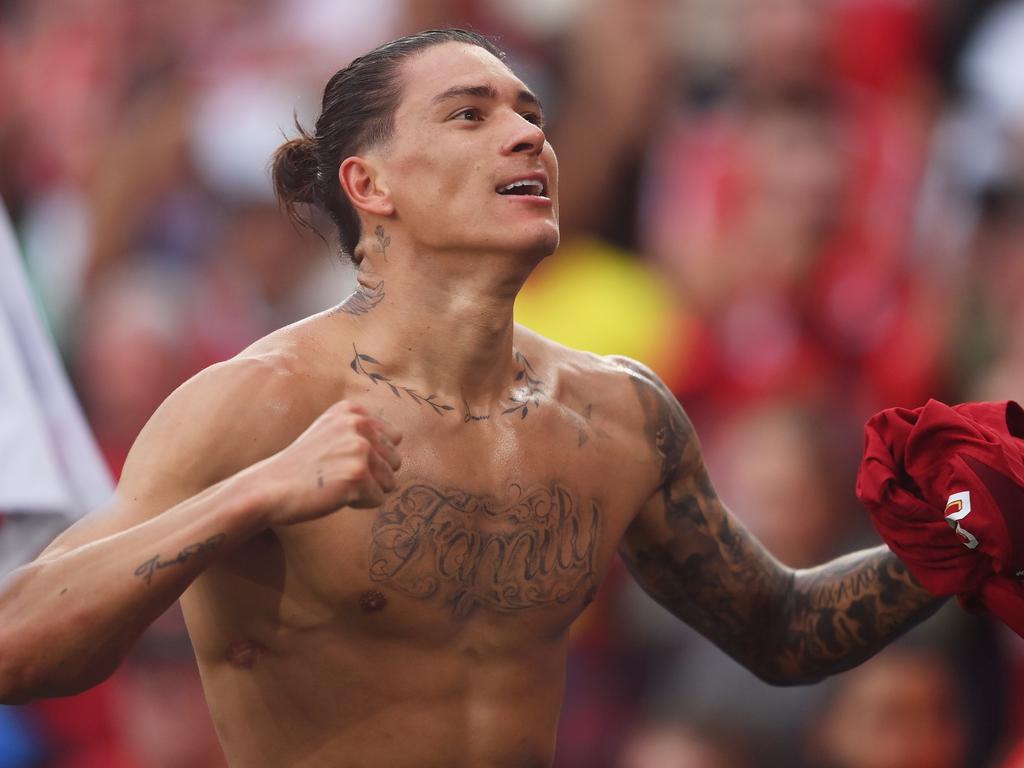 Darwin Nunez's integration will be essential for Liverpool. Picture: Mike Hewitt/Getty Images
"There were not many strikers last year who caused a lot of issues for our centre halves but he [Nunez, when playing against Liverpool in the Champions League] was definitely one of them," he says.
"I remember the process of signing Sadio, watching different players, doing background [research], watching him on the big screen in our coaches' room and us all saying, 'Yes'.
"We feel that with our squad, and especially our front players, we are ready to compete.
"The individual player will always influence the team in a certain way. For example, Luis Diaz gives a different problem on the outside when he receives the ball. He will dribble and then wait, which means the players in the centre have more time. If we play with Bobby [Roberto Firmino] he will play in the centre – more calm, waiting – which gives the players more time to come from the outside.
"Luis gives a different vibe and Darwin gives that as well. We know where we want to go. We know what we want. It is about taking time. In time you build relationships in football and connections with players. We are really grateful we signed these two players and Fabio [Carvalho]. I really like how we recruited."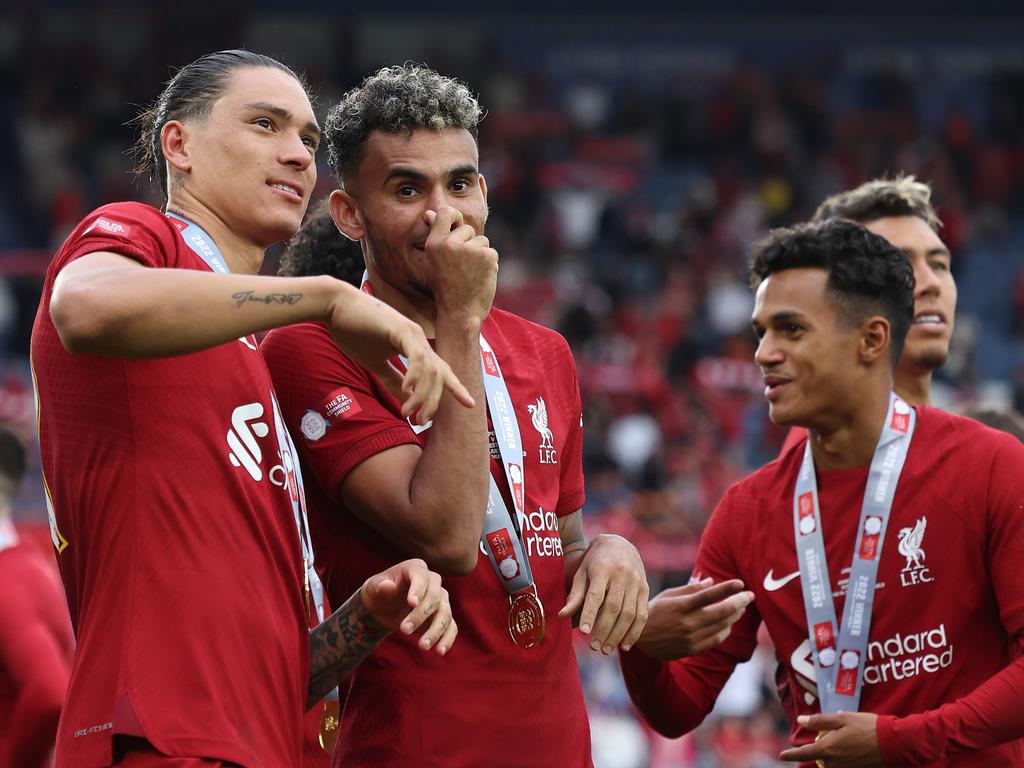 Darwin Nunez (left), Luis Diaz (middle) and Fabio Carvalho (right) all bring something different to Liverpool. Picture: Marc Atkins/Getty Images
The book contains numerous nuggets from Lijnders, whose infectious personality leaps off every page, and even reveals Mikel Arteta tried to persuade him to become his assistant at Arsenal in 2019.
One of the themes is the strength of the bond between Klopp and his 39-year-old assistant, who intends to test himself as a manager again – he left Liverpool for a brief stint as NEC Nijmegen coach in 2018 before returning six months later – when Klopp steps away. Klopp has written the book's foreword and the admiration is mutual. The Liverpool manager has given ever more responsibility to Lijnders, who recognises exactly how the club goes from strength to strength.
"[Jurgen] goes to the heart of the players," Lijnders says. "Not many people can inspire the big, big ones, but he can go straight into the heart just before the games, and that makes them go with all they have in the matches."
If Lijnders were to commit to another diary, would he accept a repeat of last term?
"No," he says swiftly. "What I want [to be] the same is the dedication of the team on and off the pitch. If I had to choose one thing to be different it would be beating City in the direct confrontations, because a real champion wins the direct confrontations."
The pursuit of perfection continues.
Originally published as Pep Lijnders takes us inside the methods driving Liverpool's relentless pursuit of perfection