Players are already distracted by winter World Cup, says Thomas Tuchel
Chelsea head coach also praised the transfer work of co-owner Todd Boehly as club confirm £62m signing of Marc Cucurella.
Tuchel, with new signing Carney Chukwuemeka, leads Chelsea training as they prepare for their opening match against Everton. Picture: Darren Walsh/Chelsea FC via Getty Images
Thomas Tuchel believes that the winter World Cup is already having a negative impact on Chelsea's preparations as players are prioritising international duty.
The tournament in Qatar begins on November 21, eight days after the final round of Premier League games, and concludes on December 18, eight days before the domestic season resumes on Boxing Day.
Tuchel, the Chelsea head coach, anticipates players returning mentally and physically drained, and says that he hopes a mid-season tournament never happens again.
"Hopefully not," the 48-year-old said. "It does not make so much sense. You feel it. The players are very focused on this World Cup already, which is a good thing because they come in shape and take care of themselves.
"It is also a bad thing. They are focused on the World Cup and not here. A part of them, I have a feeling, is already thinking about November.
"We will see how it influences the players and the performances in October when it gets closer, then it will be for me a huge impact emotionally and physically on the guys that go to the World Cup."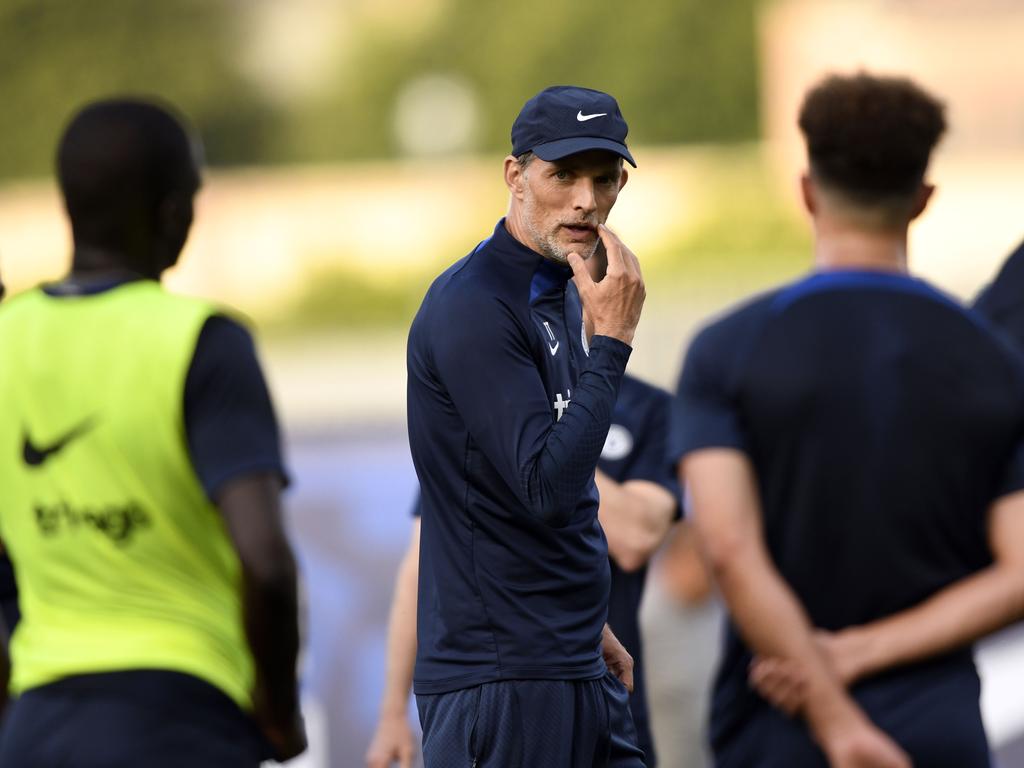 Tuchel believes the November World Cup will be a major impediment to Chelsea's EPL season. Picture: Kevork Djansezian/Getty Images
"They will come back drained physically, but also mentally, with big success, big emotions, positive or huge disappointment, you never know. Then, right away, four or five days later, we have Boxing Day.
"Nobody did it before. We feel it already and the talks with the players, the excitement, which is normal and a good thing. We try to turn it around and use it for us but I am a bit uncertain of all this."
Chelsea yesterday (Friday) confirmed the signing of the 24-year-old Spain defender Marc Cucurella from Brighton & Hove Albion, in a deal worth up to pounds 62 million.
The west London club are optimistic that Cucurella, who Tuchel believes can play in a back three, was registered in time to be available for their opening game of the Premier League season, away to Everton this afternoon.
Chelsea announced Cucurella's signing on social media by mocking a statement from Brighton that they had posted on Wednesday night, which read: "Contrary to inaccurate reports from numerous media outlets this evening, no agreement has been reached with any club to sell Marc Cucurella." Chelsea's post read: "Following reports from numerous media outlets this week, we can confirm an agreement has been reached with Brighton & Hove Albion for the signing of Marc Cucurella."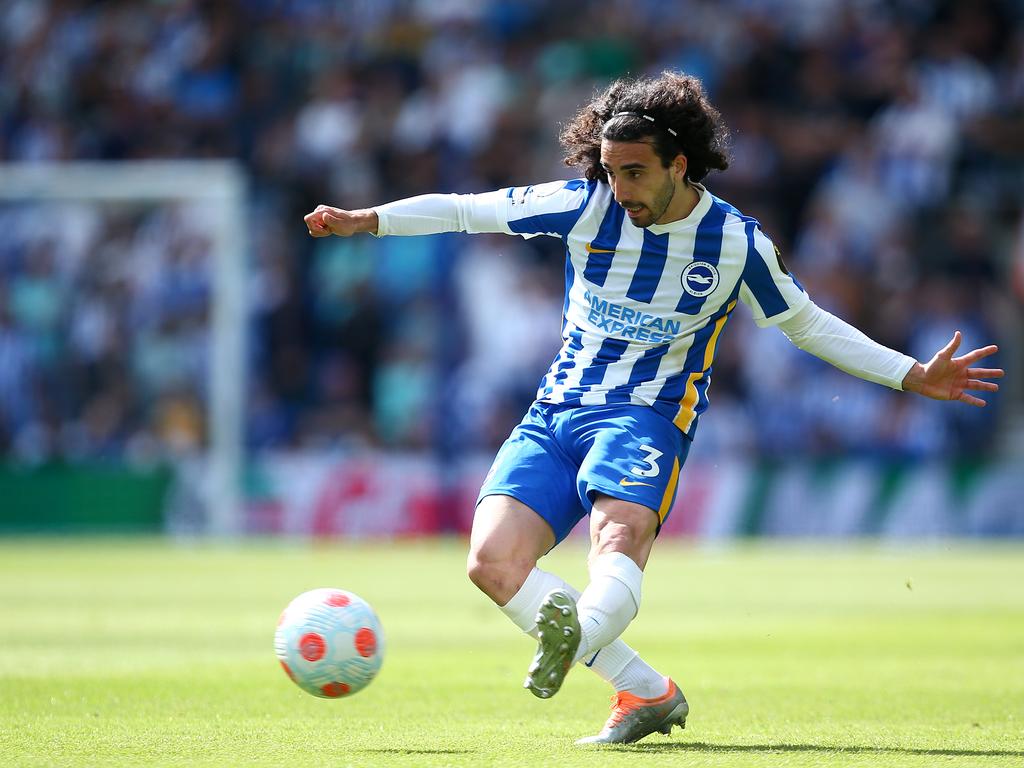 Cucurella has joined Chelsea in a £62 million move from Brighton. Picture: Charlie Crowhurst/Getty Images
Levi Colwill, the highly rated defender from Chelsea's academy, has gone the other way, joining Brighton on a season-long loan. Cucurella's sale is a club record for the south coast club and takes Chelsea's spending to more than pounds 150 million for the summer, after the signings of Raheem Sterling and Kalidou Koulibaly.
Tuchel, in a far brighter mood than during the club's pre-season tour to the United States, defended the new co-owner and acting sporting director, Todd Boehly, after Gary Neville accused the American businessman of approaching the transfer market like the video game Football Manager.
"Panicking? No," Tuchel said. "I would describe it as super hard working, learning on the job. New ownership, stepping in the transfer market is one of the toughest things you can do. I have nothing but the biggest respect and compliments for Todd and Behdad [Eghbali, a co-owner]. I don't know when they sleep, maybe they never do.
"The transfers speak for themselves. We have a delay, of course. Nobody is guilty, it's because of the sanctions [to their former owner Roman Abramovich, which meant the club could not buy or sell players]. This led to the loss of key players, but like I said both of the owners involved in the daily business do fantastic jobs so far."
Tuchel's responsibilities have increased this summer after the departures of Petr Cech and Marina Granovskaia, who led transfer business under the previous ownership. He described the period as "sometimes turbulent and sometimes distracting" as the list of potential signings grew, with a varying profile of player, summed up by the Manchester United striker Cristiano Ronaldo being offered to Boehly.
Boehly, left, and Eghbali, right, have been key figures in Chelsea's summer recruitment, including the signing of Sterling, centre. Picture: Darren Walsh/Chelsea FC via Getty Images
"The amount of names we discussed was endless, and was sometimes a bit confusing and distracting, but we managed to focus back on the names we mentioned in the first place, to stay calm, not to get distracted because opportunities come up," Tuchel said.
"You can get lost in all these names and suddenly you end up playing a 2-7-1 [formation] or whatever, and you need to refocus and have a cold shower and calm down, or I have to. Then you go, 'OK, let's go back: what do we need for the squad and what kind of personality and what kind of talent do we need?' And this is how it more or less goes."
Chelsea are still aiming to complete more signings, with Leicester City rejecting their opening bid for the centre back Wesley Fofana, as well as showing interest in the former Arsenal striker Pierre-Emerick Aubameyang, who has been offered to Chelsea by Barcelona. Although Tuchel would not comment on Aubameyang, with whom he worked at Borussia Dortmund, he hinted at a need for a goalscorer: "I would be interested in the 79 goals [he scored under Tuchel previously]."
Despite the club captain, Cesar Azpilicueta, signing a new two-year deal after Boehly blocked a move to Barcelona, Tuchel's priority is finding another central defender. But Brendan Rodgers, the Leicester manager, said they did not even consider accepting a pounds 60 million bid from Chelsea for Fofana, 21, who signed a new deal, until 2027, in March. "There's been an offer, but nowhere near the valuation of our ownership. We didn't even think about it," Rodgers said. The Times understands that Chelsea are considering a new bid of pounds 70 million, but Leicester are looking for more than pounds 80 million.
Originally published as Players are already distracted by winter World Cup, says Thomas Tuchel