Podcast: How 'Hurricane Joey' blew Manchester City to a thrilling EPL title win on final day
PODCAST SPECIAL: There were heroes all over the pitch on the day that Manchester City won the Premier League with an iconic Sergio Aguero goal. And one villain. Guess who.
Manchester City's Carlos Tevez and QPR's Joey Barton argue after Tevez was felled by a Barton elbow during the Premier League's title-deciding day in 2012. Picture: Tom Jenkins/Getty Images
Complicated doesn't begin to explain Joey Barton.
With trouble a loyal chaperone, Barton's career path in football is littered with highlights, lowlights, flashes of fierce intelligence and fearsome rage, and everything in between.
One minute he's in jail. Then next he's on television debating politics of the day.
One minute he's flattening a teammate at training. The next he's giving talks at centuries-old institutions on the philosophy of decision-making.
And now, of course, he's gravitated towards football management, with success. Could be in the Premier League with Burnley next season if he, and they, survive.
One particular day, 10 years ago, sums up Barton.
It is chronicled in a new podcast for Code Sports, The Aguero Goal: Drama and Delirium, centring on the day that Manchester City won the Premier League with two goals in stoppage time to defeat Queens Park Rangers.
The day ended in tears of joy for City and tears of relief for QPR, who survived relegation by the barest possible margin.
There were heroes all over the pitch. And one villain. Guess who.
Joey Barton is restrained by QPR coach Eddie Niedzwiecki and goalkeeping coach Kevin Hitchcock after being red carded against Manchester City. Picture: Shaun Botterill/Getty Images
*****
QPR were down at halftime to Manchester City, who had one hand on a trophy they've never been so close to.
Four minutes into the second half, QPR found a stunning equaliser. Now City were nervous. QPR were on top.
Then Joey Barton became his combustible worst.
He elbowed Carlos Tevez in the neck off the ball. The assistant saw it from 50 metres away and Barton was red carded.
Nedum Onuhoa knew Barton well from their time in the Manchester City academy together. Now they were both with QPR, Barton landing at the West London club five years after his time at City ended when he KO'd teammate Ousmane Dabo to the point of blindness at training. Onuoha was callously forced out by manager Roberto Mancini, who simply didn't rate the defender.
And now, Onuoha had a close-up account of Barton making life harder that in needed to be for everyone in a QPR shirt as they tried to save the club from dropping out of the Premier League. The day wasn't just about City. QPR were fighting for survival.
"What a thing to do, in the biggest game in the biggest moment," Onuoha tells The Aguero Goal: Drama & Delirium podcast.
"We probably needed 12 men to stop them, but to go down to 10 and for that to be one of the key players in the team at that time … for us it was, what on earth is he doing? Why is he doing this now?"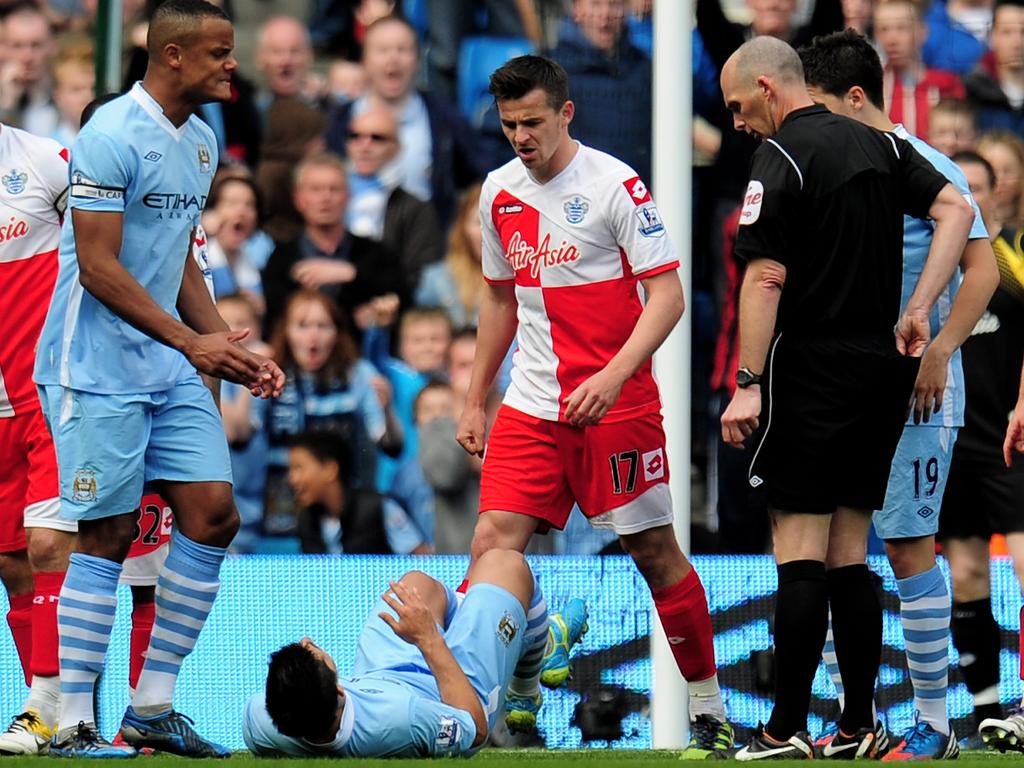 QPR's Joey Barton clashes with Sergio Aguero of Manchester City after being red carded by referee Mike Dean. Picture: Shaun Botterill/Getty Images
To use a football term, though, Onuoha knew Barton had that type of behaviour 'in his locker'.
"He was always a good player for the team that I played with … never thought he was the best but saw his value," Onuoha admits.
"But, some of the stuff he did … I never, ever understood it. This is from when I was first coming through the academy, playing with him at City, at QPR.
"He just thinks differently."
Onuoha got another example of Barton's unique mind after the game.
Once City settled into their celebrations and QPR slid through a side door, relieved about surviving relegation thanks to Bolton slipping up away to Stoke, Barton was already on the team bus, having a go at those who dared to feel a sense of achievement.
"He was very critical of the people who were relieved because he said, 'You shouldn't celebrate finishing 17th'," Ohuoha says.
"But in hindsight, a lot of the players in the squad then, 17th in the PL was the highest point in the English football pyramid that they ever finished.
"I think that in a nutshell is the best way to describe him: he has grand ideas, but sometimes he misses the point and lacks the perspective about certain people, and that was one of those moments.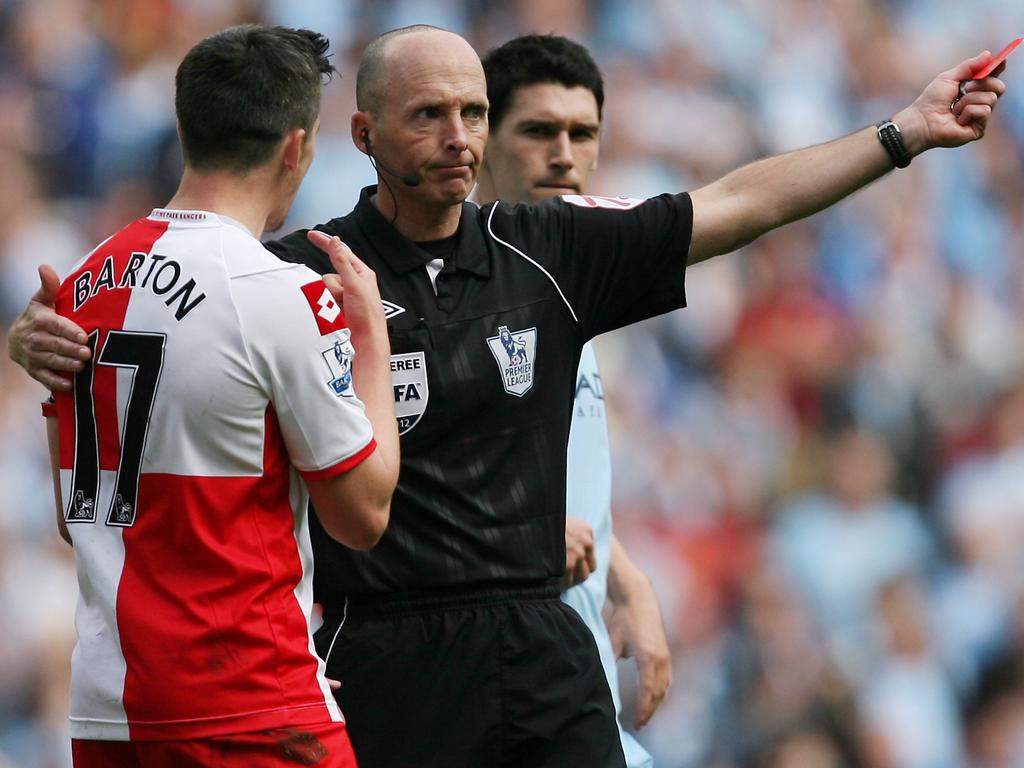 Referee Mike Dean shows Joey Barton a red card and sends him off against Manchester City, on the most dramatic of Premier League final days. Picture: AMA/Corbis via Getty Images
*****
Joleon Lescott was on the pitch that day too, as one of the high-priced recruits that City purchased to win a title.
Lescott was trying to stay calm in a situation for City that had just become critical. They'd cruised through the first half, 1-0 up, title on the way. Then the equaliser rocked everyone. Now Barton, after his red card, was trying to get a City player to lose control.
"I know Joey was trying entice someone," Lescott tells CodeSports.
"But we were all pretty mature. It didn't surprise me no one else was involved, because we just weren't like that.
"Probably the only player he could of (enticed) was Mario Balotelli."
Now there's a pair. Joey Barton and the enigma, Mario Balotelli.
Earlier that season, Balotelli had scored in a Manchester Derby then lifted his playing kit to reveal an undergarment with the words "Why Always Me" printed on the front. Balotelli loved a bit of mayhem, on and off the pitch; falling out with managers for fun, setting off firework displays from his bathroom just because he could.
Balotelli was on the bench when Barton saw red but couldn't help but be drawn in.
"Mario tried to have an altercation with him as he was getting toward the tunnel.
"Micah Richards came on, he was also on the bench, and dragged Mario away, which I don't even think he's allowed. You probably get sent off doing that now!"
Fate? Maybe. Soon after, Balotelli came on as a sub and provided the assist Sergio Aguero's iconic moment.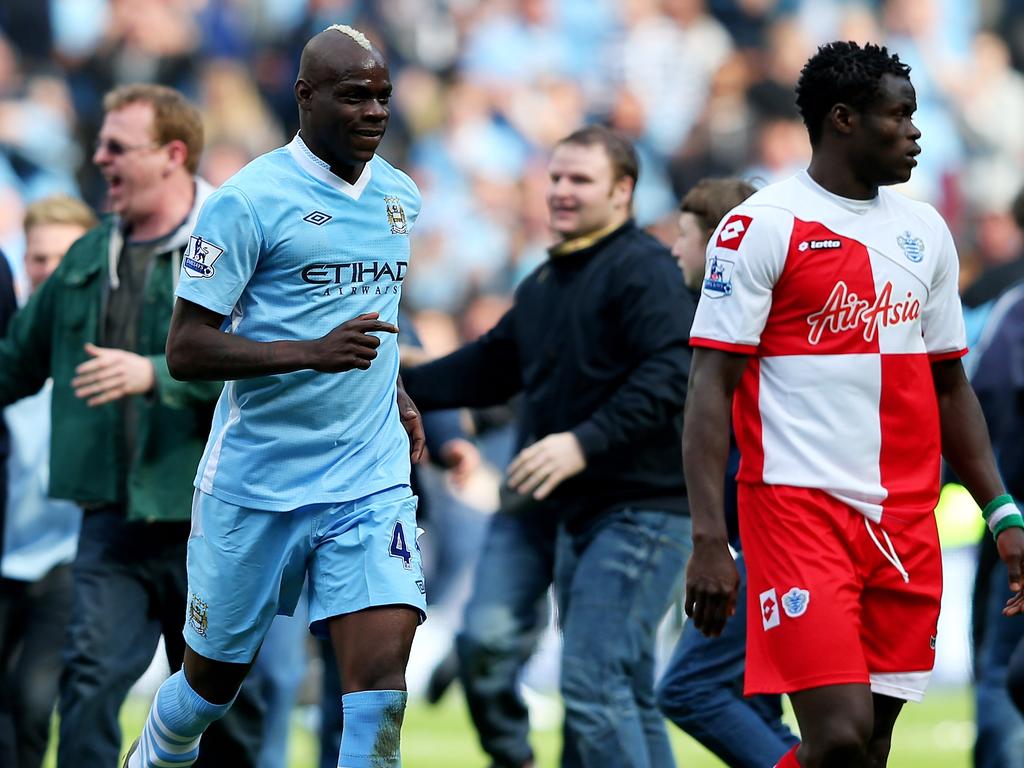 Mario Balotelli of Manchester City celebrates winning the title with an incredible last-gasp win over QPR, for which he provided the crucial assist. Picture: Alex Livesey/Getty Images
Sam Matterface was calling the game for UK radio station talkSPORT and his eyes widened when Hurricane Joey blew into the stadium out of nowhere.
Matterface got to know Barton later when working in radio and they talked about his infamous one-man uprising.
"Ultimately, (Joey) says … 'I won them the title'
"Really? Just explain that to me Joey?
"He went on – 'I won them the title, I got them started'."
"Whether he deserves all the credit that he is claiming is unlikely," Matterface says, "But, they were pivotal moments. It was chaotic."
Two years later, long after the chaos and the Aguero goal that changed Manchester City's destiny, Barton spoke about the incident with a clearer head, to a room of deep thinkers at a British institution, the Oxford Union.
"I'm still a good man, a good man who made bad decisions," Barton explained.
"Cold light of day, I almost look back now and think, 'That wasn't me who did that?'
"I've never professed to be perfect. Standing here with no adrenaline in my system … am thinking, how did he even make those decisions?"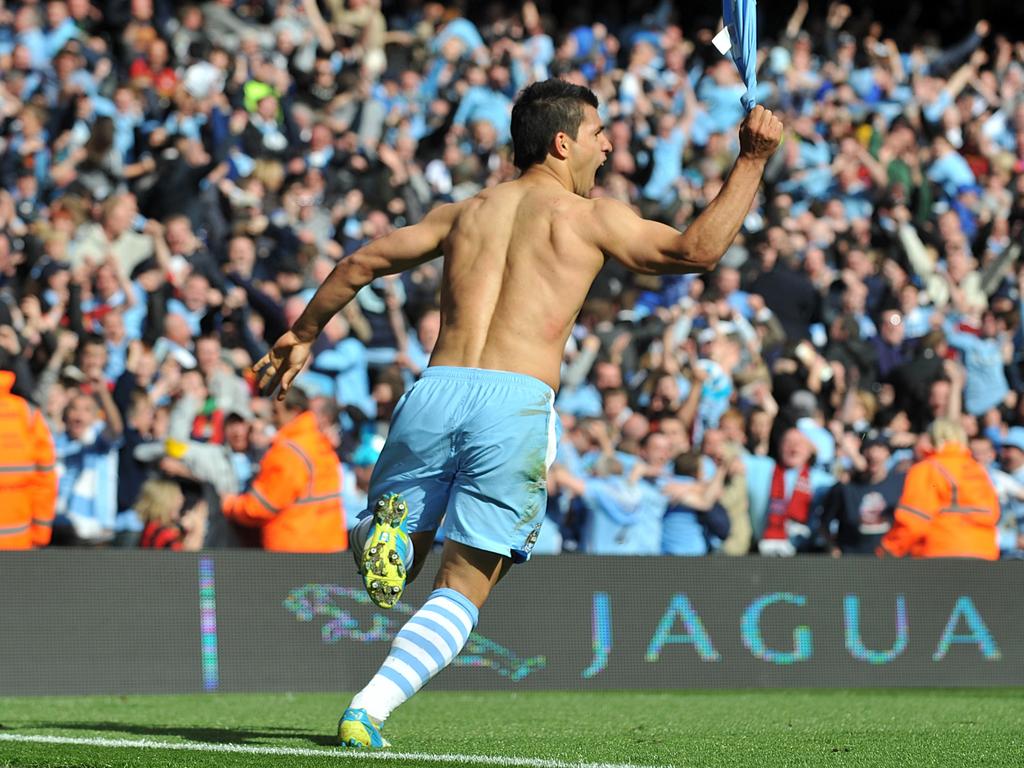 Manchester City's Sergio Aguero celebrates scoring his iconic title-winning goal. Picture: Ed Garvey/Manchester City FC via Getty Images
Barton went on to explain that he didn't lose his mind in the moment. The red mist didn't descend as he tried to get a City player sent off with him.
"People think I lost me head, going off on this WWE wrestling extravaganza on the pitch. I never!
"I've lost my head lots of times, that time I hadn't gone."
Barton that explained he was trying to even-up an earlier injustice: He claims that Tevez whacked him just before, also off the ball.
"I've got a strong sense of justice," Barton continued to the Oxford types.
"Aguero had been telling the ref I'd done it. I thought, 'He's grassed on me', so he gets a knee.
"Not trying to glorify it, the chain of events basically was me trying to get one of their players sent off. If I can even the teams up, it will make my sending off lesser.
"Cold light of day, I'm thinking that's a lunatic that made that decision."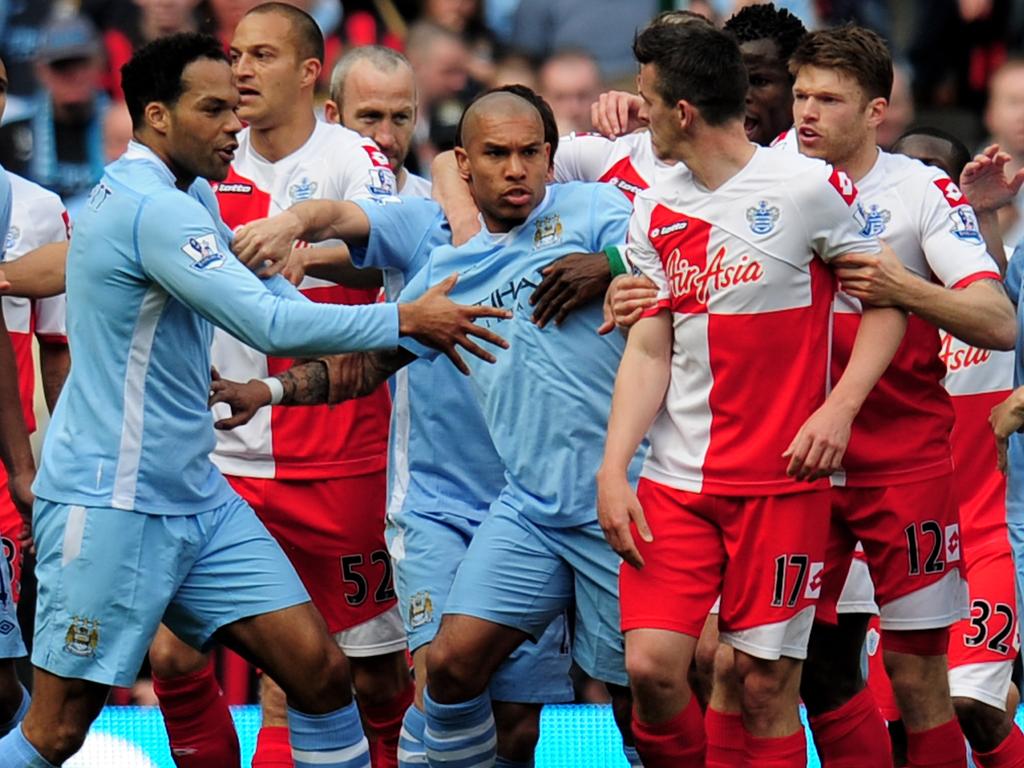 QPR's Joey Barton clashes with Manchester City players, including Joleon Lescott (L) after being red carded. Picture: Shaun Botterill/Getty Images
*****
Barton is now a manager with a growing reputation.
Just last week, his team, Bristol Rovers, produced its own miracle. Needing to win by seven goals in the last game of the season to gain automatic promotion from League Two, his side miraculously did so in the dying stages, Aguero style.
He's impressed all at Rovers with his demeanour and football intelligence, getting the most out of a floundering club.
Barton is now odds-on favourite for the Burnley job. Nothing will be decided until after the season, as the Clarets try to survive a Premier League relegation battle with Leeds and Everton.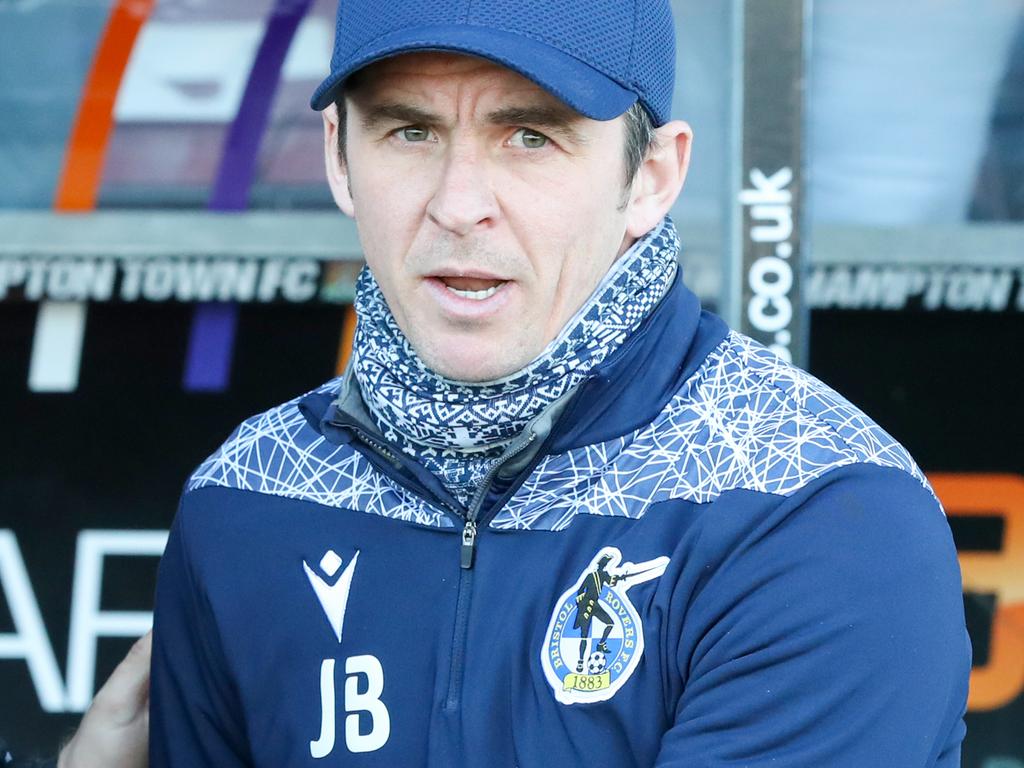 Bristol Rovers manager: Joey Barton. Picture: John Cripps/MI News/NurPhoto via Getty Images
Of course, there's always something else lurking, never far away, when it comes to Barton.
On June 23, he will be back in court facing charges of assaulting his wife, which he denies. Georgia Barton has supported her husband, writing to say that she was injured accidentally when friends intervened in a drunken argument.
Barton has already been to jail, serving 76 days for bashing a man in Liverpool during 2007.
Who knows what's next with Joey Barton; one part football philosopher, other part agent of mayhem.
*****
– The Aguero Goal: Drama & Delirium is out now, detailing all the events of that incredible day in 2012 when Manchester City scored two goals in added time against QPR to win the Premier League title, snatching it away from great rivals Manchester United.