Podcast: The Aguero goal chronicling the day Manchester City's fortunes finally changed
In a new CodeSports podcast series, ADAM PEACOCK talks to key figures about the day Manchester City won the English top division for the first time in 44 years and the drama and delirium around the unforgettable events.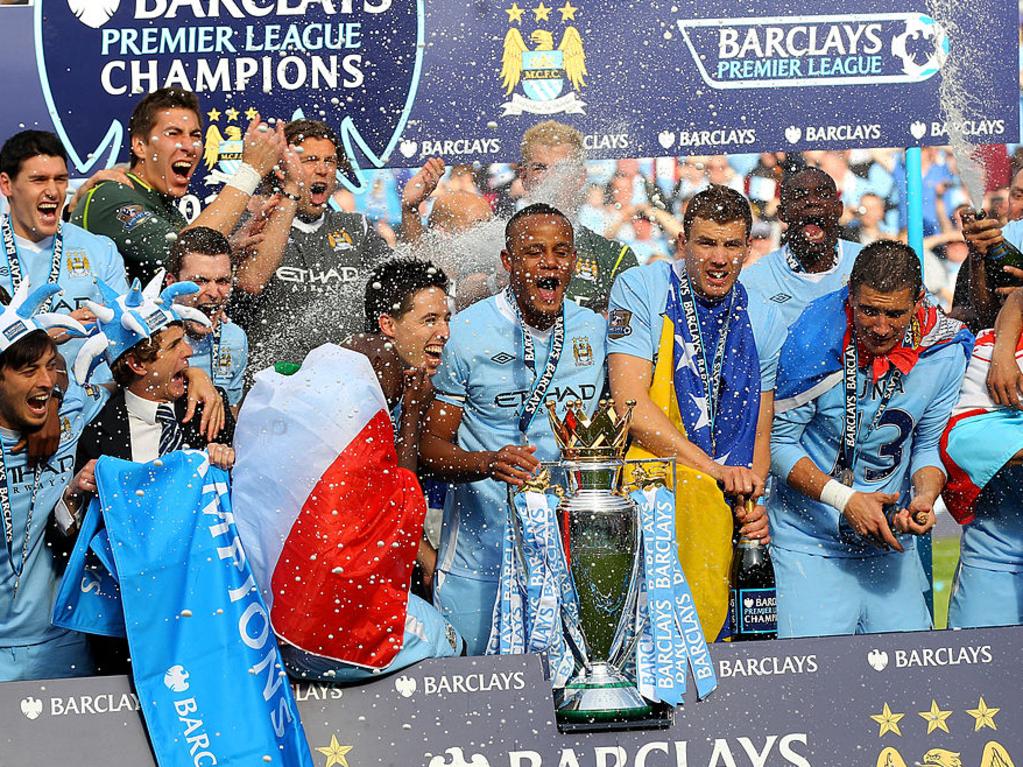 The Aguero Goal: Drama and Delirium is available on all good podcast platforms. Picture: Alex Livesey/Getty Images
In the week Andy Warhol's portrait of Marilyn Monroe was sold at auction for $284 million AUD – roughly the same price as the value of Kylian Mbappé – it's worth comparing art to sport for historical context.
Ten years ago today, a game of football was played in brilliant sunshine in Manchester. A sporting Picasso.
Manchester City's last minute title-winning victory over Queens Park Rangers is like a masterpiece from the surrealism era.
You stare at it. Can barely comprehend it. But it's hard to walk away from. It captivates, with layer upon layer.
That City-QPR game was the same. Nevermind Sergio Agüero's last-minute winner, with the soundtrack for the ages from Martin Tyler.
This story had layer, upon layer. Fascinating, the lot of it.
*****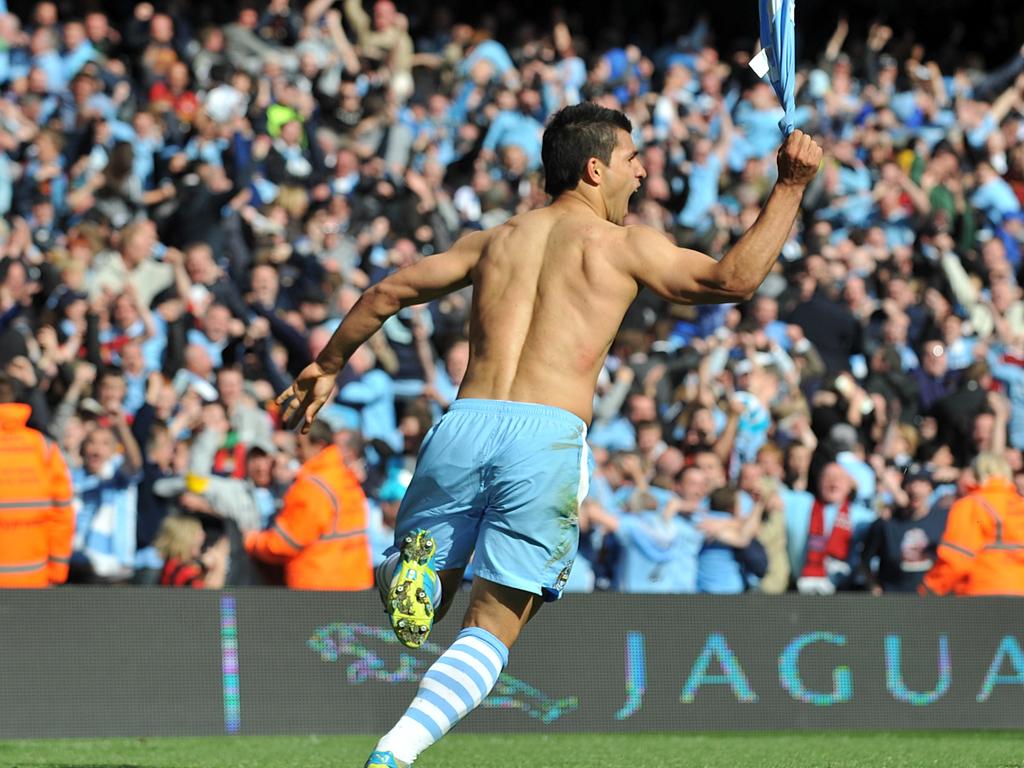 Sergio Aguero celebrates scoring his epic winning goal. Picture: Ed Garvey/Manchester City FC via Getty Images
The Aguero Goal: Drama and Delirium is a special CodeSports podcast which tracks the events of May 13, 2012 through four perspectives.
Two of those were from the pitch. They were important layers in the masterpiece of Manchester, which saw Manchester City win the English top division for the first time in 44 years with two goals in injury time, snatching the championship from serial winners Manchester United.
Towering central defender Joleon Lescott was a gun for hire, and the newly minted richest club in the world, Manchester City snapped him for $40 million. He along with a stack of other top of the market recruits were purchased to turn an underperforming club, not even close to being the biggest in its own town, into a juggernaut.
Lining up for QPR was Nedum Onuoha, who was a Manchester City player up until six months before the game. In fact, he was a City player from the age of 10, one of the first local lads to sign for City's Academy which was set up in the late 90s.
At that time, City were bad. Third division bad. Onuoha stuck with the club he loved through the bleak times, but just when they became good – following the Abu Dhabi Investment Authority becoming owners in 2008 – Onuoha was frozen out.
The catalyst was the appointment of hard-nose Italian manager Roberto Mancini, a gentleman not known for a melting heart. Mancini didn't rate Onuoha, and got rid of him.
*****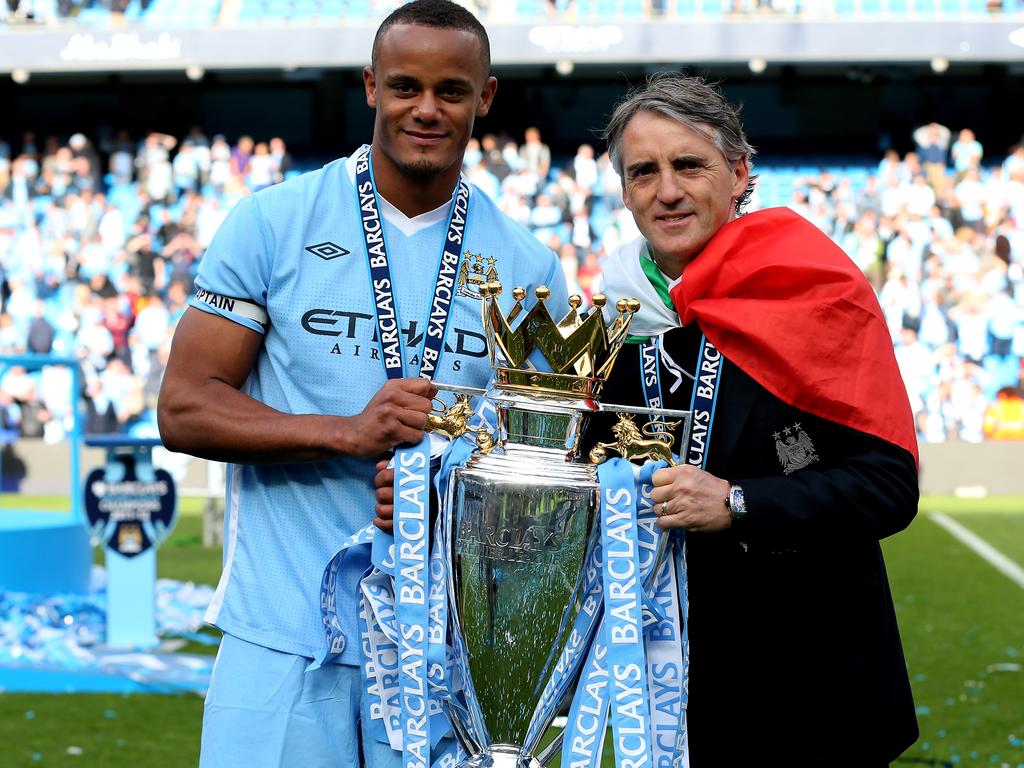 Man City captain Vincent Kompany with manager Roberto Mancini, who approached the game "coldly". Picture: Alex Livesey/Getty Images
Lescott remembers Mancini coldly approaching the QPR game.
The situation was simple. City had to better Manchester United's result. City were at home to QPR, who were battling to stay in the Premier League. United were away to Sunderland.
"The manager kept everything the same," Lescott tells The Aguero Goal: Drama and Delirium.
"The level of detail that was given was the same. 'You know what needs to be done, just do your job.'"
Mancini, clad in his usual sky blue, white scarf and expensive coat, was suitably impressed with a 1-0 halftime lead, and promptly gave a halftime speech no different to that of the instruction given any other day. Details mattered. Do the job. Keep the mind clear, and ruthless.
Ha! As if emotion could stay away from an occasion like this.
******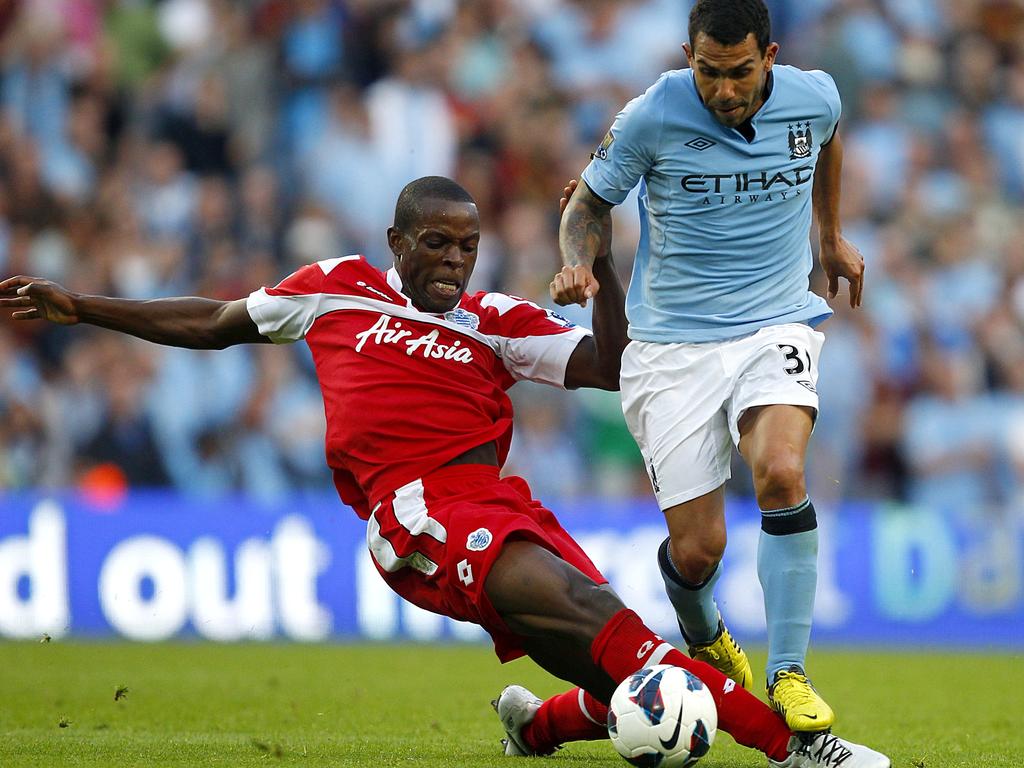 Nedum Onuoha (L) had incredibly mixed feelings about the game. Picture: Dave Thompson/PA Images via Getty Images
Onuoha's experience was vastly different before and during the match.
As City's dressing room of platinum purchases tried to keep everything normal, in contrast to what their (then) long-suffering fans were going through, Nedum Onuoha was a bag of nerves.
"As soon as I left City (four months earlier), I looked for the fixtures," Onuoha recalls.
"Ah right … last day of the season … in Manchester. Just park that there!"
QPR had spent big to stay in the Premier League, and trusted manager Mark Hughes to guide them to safety. Hughes was City manager before they callously sacked him in December 2009, finding out from a journalist before a game. City won that game, then Hughes was told to pack his bags, with Mancini immediately announced as his replacement.
Hughes didn't let anything distract him in the lead-up, but the same couldn't be said for Onuoha.
"All these things going through my mind," Onuoha says.
"What if I get relegated, 40,000 people laughing at me! What happens if I get relegated and Mancini, who I didn't really like, is just there and he's relegated me!
"I had a real disdain for him. It was stressful."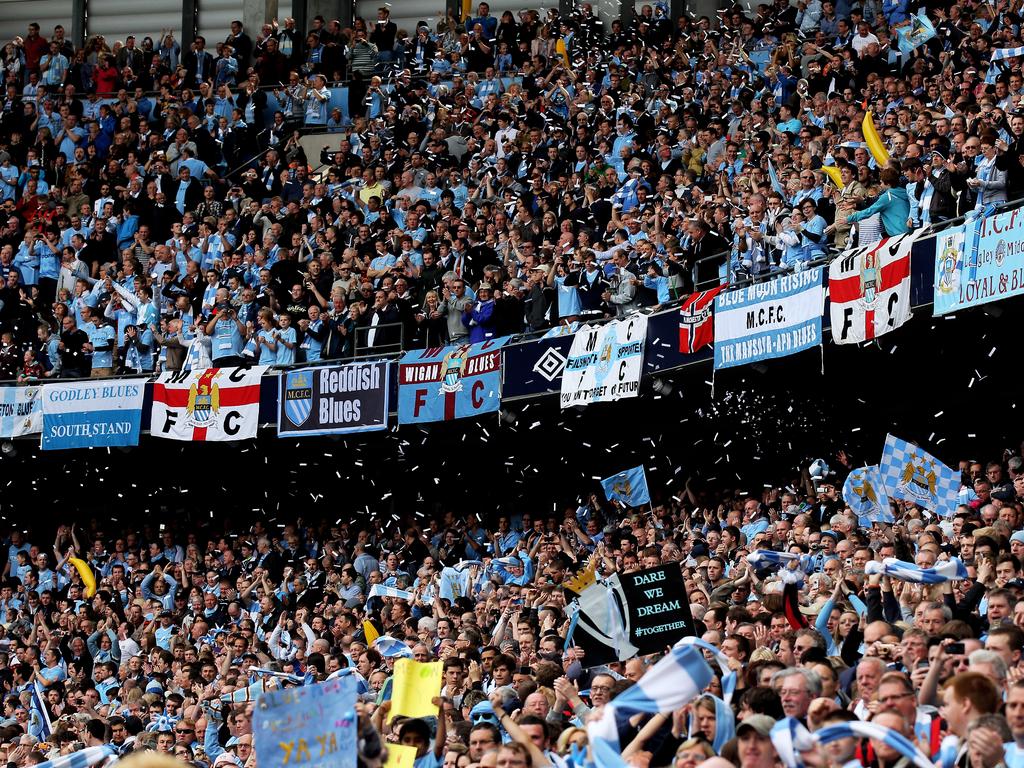 Manchester City thought their dream was dead. Picture: Alex Livesey/Getty Images
*****
It wouldn't be long before Lescott and City joined Onuoha's emotional state.
In 20 crazy minutes to start the second half, QPR equalised Pablo Zabaleta's first-half opener, before QPR's hothead Joey Barton got sent off in – for Barton – entirely believable circumstance, only for QPR to miraculously take the lead in one of their handful of attacking moves forward.
Jamie Mackie made it 2-1 with half an hour to play. The title was in United's hands, and the City fans old-maxim, uttered when disaster invariably struck – "typical Citeeehhh" – was entirely appropriate.
"Now the thoughts are wild," Lescott recalls.
"I can't leave the house. I don't want to go on holiday this summer. The Euros were coming, thinking I don't want to go.
"I'm thinking at the time this is just me thinking this, but speaking to the rest of the team, they were thinking the same things."
Onuoha felt the anxiety cascading down from the home fans onto the pitch.
And playing at right back, on the side where the coaches stood in their technical areas, he could see the panic descend upon Mancini.
"Mancini had lost his mind," Onuoha says.
"He was coming to the sideline to curse his players. That was his tactical thing, just tell them they are all crap basically."
Mancini was losing his mind on the sideline. Picture: Alex Livesey/Getty Images
*****
For the last half an hour City bombarded QPR's penalty area. Shots on sight, Crossed from wherever. Totally different to the style which got City to the cusp of a title, with quick passing and smooth movement.
Eventually they scored from a corner in the 91st minute to make it 2-2. Still not enough, but Edin Džeko's goal gave hope.
At the same time, Bolton had failed to win at Stoke, which meant QPR were safe, no matter what the result. To this day, the widely held belief – especially among Manchester United fans – is QPR switched off, knowing they'd kept their Premier League status.
There is a video from a City fan which shows the QPR bench exploding with joy, and 10 metres away, Onuoha is about to take the throw in which would be turned over to City leading to Aguero's life-defining moment.
Onuoha tells CodeSports he had no idea what was happening behind him.
"I didn't know that happened. Ten years, first person to say that!"
"I don't know what went on in my head because I didn't know it was a thing until now you tell me.
"But if you look back upon the third goal, there are bodies on the floor distraught because we think we are going down. Most of us thought we'd blown it."
*****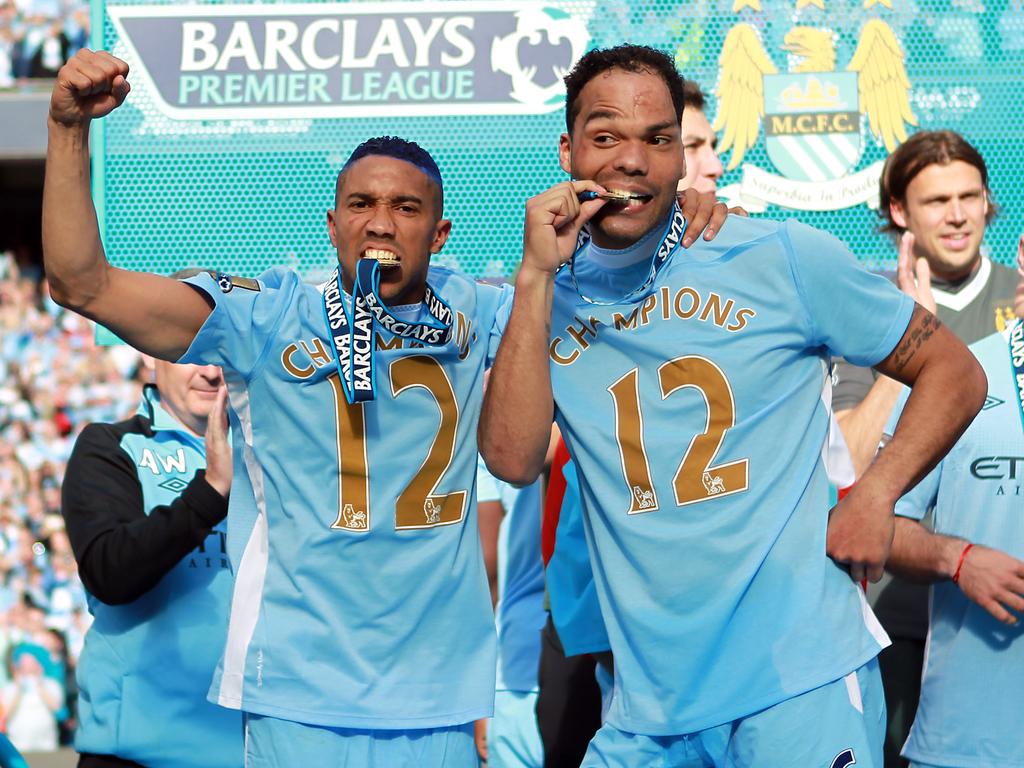 Joleon Lescott says the team of 2012 are still close. Picture: Sharon Latham/Manchester City FC via Getty Images
For the rest of time, Sergio Aguero's goal will be replayed and enjoyed.
Lescott and the City players eventually found the depths of their emotional capabilities, filled with adrenaline and a feeling they'll never be able to replicate.
"It was just understanding what we achieved, after that it was just mayhem … yeah. Phew," Lescott says.
"There's a bond there that I doubt is broken. If I run into say James Milner, we're all still close.
"We have a huge fondness for each other, we understand what we achieved and as soon as we see each other, it's instant, it's instant and good memories."
As for Onuoha, now retired and who these days is back at Manchester City with the club's community arm, still finds it hard to exactly piece together what he lived through that day.
"I hadn't thought about the one where we lose, they win and we win as well.
"It had never crossed my mind. Just seemed like an illogical thing to happen, but it happened and it was a great moment. The sun was shining, not really like Manchester.
"And we didn't really realise the gravity of it until days after and now years after when we can talk about it.
*****
Check out CodeSports this weekend with another except from The Aguero Goal: Drama and Delirium, where the chaos Joey Barton created is detailed. Barton, a former City player turned QPR leader, was sent off in the second half. And he tried to take a few with him.