Premier League: Virgil van Dijk and Joel Matip have laid the foundations for Liverpool's title ambitions
On the surface, it appears Liverpool's title challenge is being powered by relentless attacking intent. Dig a little deeper and it is clear where the foundation of the Reds' campaign truly lies.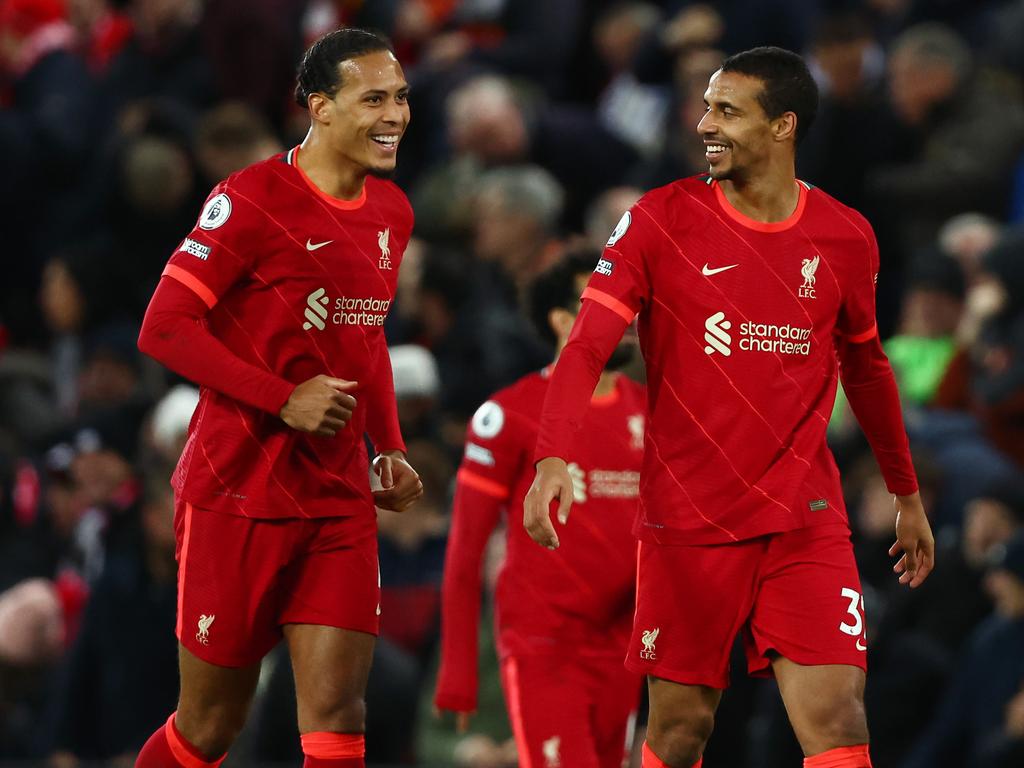 Virgil van Dijk (left) and Joel Matip have been essential to Liverpool's Premier League campain. Picture: Clive Brunskill/Getty Images
On the surface, it appears that Liverpool's title challenge is being powered by the relentless attacking intent of Jürgen Klopp's side.
They possess three of the top four leading goalscorers in the Premier League, with 20-goal Mohamed Salah blazing a trail and Diogo Jota and Sadio Mané having only been joined on 12 goals by Cristiano Ronaldo after the Manchester United talisman's hat-trick last weekend.
Liverpool also have three of the top four players with the most assists in the league. Trent Alexander-Arnold is out in front with 11, then comes Salah with ten before Andrew Robertson and Paul Pogba are level with nine.
Yet arguably their pursuit of Manchester City has been underpinned since the turn of the year by a defensive resilience epitomised by Virgil van Dijk but which courses throughout the team. Remarkably, Liverpool have not conceded a first-half goal in the Premier League since Christian Pulisic scored for Chelsea on January 2.
Saturday's clean sheet in the 2-0 victory over Brighton and Hove Albion means Klopp's side have conceded 20 goals in 28 league games this season. That is exactly the same record as this stage of their title-winning campaign of 2019-20. It also represents a turnaround from where they were earlier in the season, with Brighton a convenient reference point.
Back in October, Liverpool carelessly surrendered a 2-0 lead against Graham Potter's side to draw at Anfield. The following weekend, Klopp saw his side leak three goals in a 3-2 loss away to West Ham United.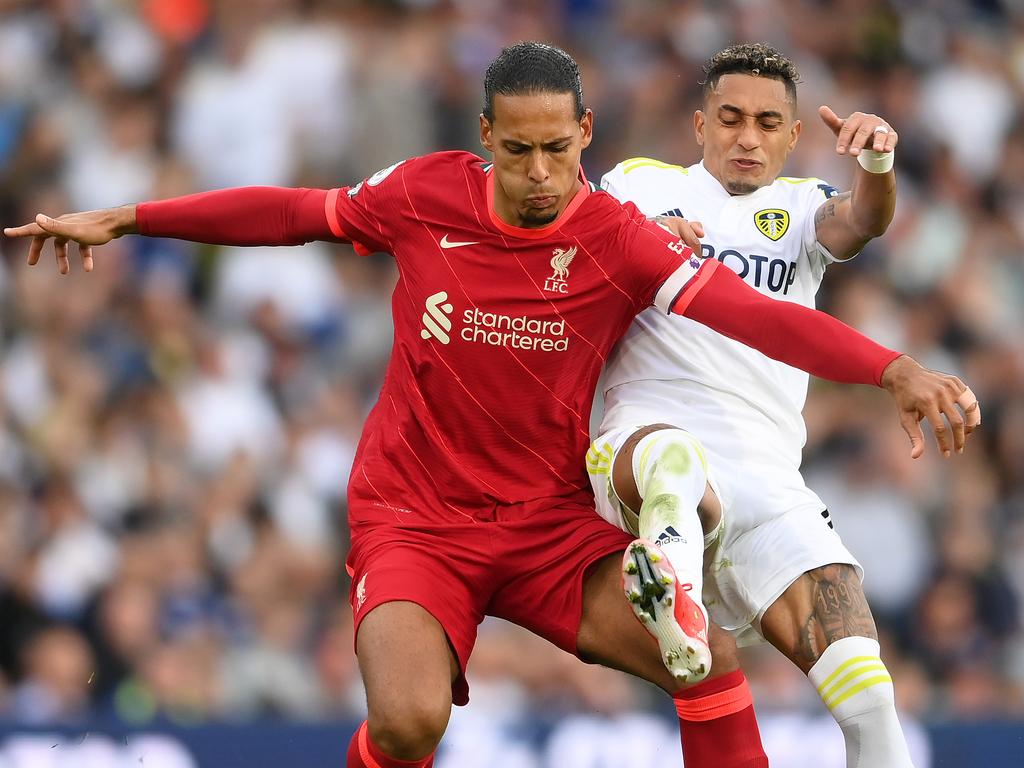 Virgil van Dijk's return from injury this season has taken Liverpool to new levels. Picture: Laurence Griffiths/Getty Images
That tally of five goals in eight days is more than the four goals conceded across nine league games in 2022 — two versus Chelsea, one each against Crystal Palace and Norwich City — and is one reason why they will head into tomorrow's testing trip to a rejuvenated Arsenal with confidence intact.
It feels like a defining game for the visitors, more so in the aftermath of City's goalless draw with Crystal Palace on Monday night which means Liverpool can close to within a single point with success at The Emirates.
Crunch the numbers further and Liverpool are now performing better in many elements from a defensive point of view than in their title season.
After 28 games of this term, compared to the same number in 2019-20, clean sheets are up, errors leading to shots markedly down and shots faced are down. The number of shots on target that Liverpool have faced is slightly up, to 84 from 80. Interestingly, the amount of possession they have is the same — 62.6 per cent — and Alisson Becker has made one more save.
The barb that Liverpool were "bad champions" last season always felt a harsh appraisal when the reality was that hopes of successive title victories were undermined when important defensive options were lost to long-term injuries, with Van Dijk, Joël Matip and Joe Gomez all missing significant time.
Klopp remained convinced that Liverpool would thrive again with competition for places restored, and the raising of standards can be partly attributed to Van Dijk, for one, being back in his groove. The reassurance he offers to those around him from the heart of the defence cannot be underestimated.
The form of Matip is another, and the fact he has made 22 league appearances to date — more than the previous two seasons combined — is one more reason for the enduring excellence. Matip's biggest improvement has come in the area of availability.
Liverpool's stinginess can be further attributed to the team-first ethos that assistant manager Pepijn Lijnders spoke of last week when insisting they defend as a unit. In the aftermath of the defeat by West Ham, Klopp called for his team to be more aggressive. There had been too many instances of opponents slicing through his side.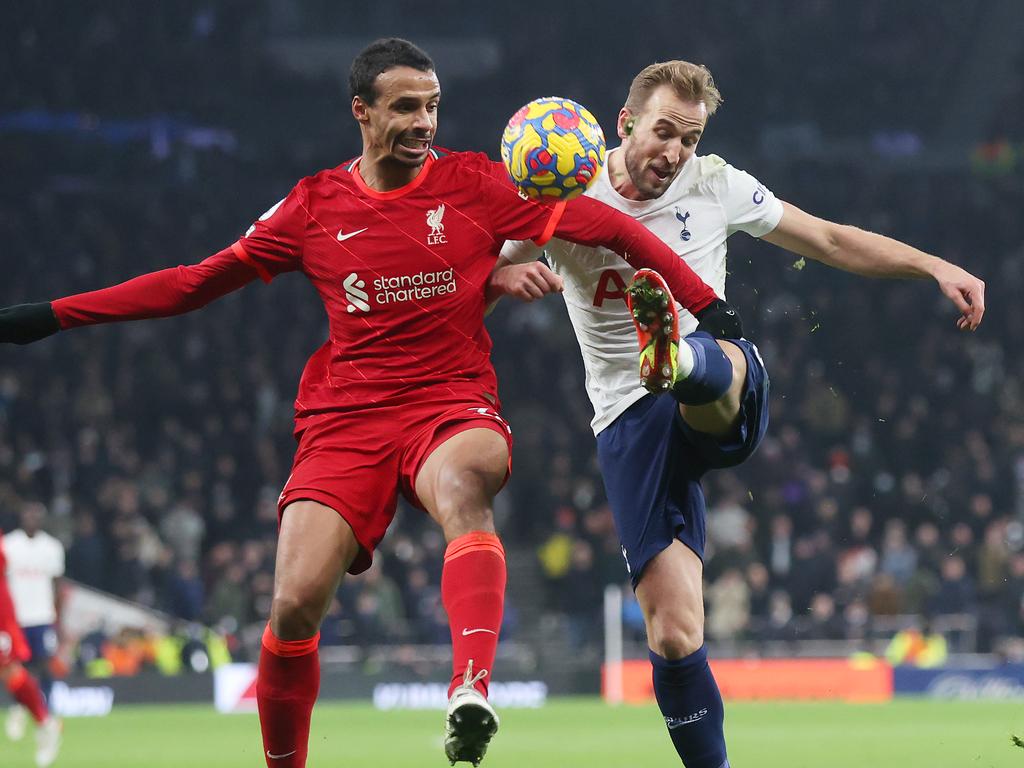 Joel Matip's improved availability this season has been a boon for Liverpool. Picture: Julian Finney/Getty Images
"We had to improve our protection from that game," he said recently. "When we lost the ball our counter-pressing was not the highest level. The protection was just not good and there were so many things after that game we had to talk about. That's what you should use the defeat for otherwise it makes no sense."
Crucially, the return fixture against David Moyes's side at the start of the month provided evidence that the sermon was heeded. When Van Dijk made an uncharacteristic error with a header that opened the door to Jarrod Bowen, it was swiftly shut again by the switched-on Robertson.
It was noticeable, too, that Salah spent much of the second half tracking back and adhering to defensive duties as he looked to protect a slender 1-0 lead. Klopp's methods and outlook create a loyalty among his players which demands that musketeer spirit. If someone does not buy into that, they will not play.
As always, the trouble for Liverpool is that City have also improved. Pep Guardiola's side have conceded 18 times in 29 games this season, compared to 21 at the same stage of last season. However, City have now failed to score in four Premier League games this season, bringing renewed focus on the question of whether they are missing a ruthless finisher. Liverpool have scored in 27 of 28 games to date.
Should Klopp's side emerge victorious at Arsenal, if they do go on to overhaul their rivals in the run-in, then the suspicion nags that it will be because both sides of their game are now in perfect working harmony.
- The Times