The legend of Leeds United bonding Neil Kilkenny and Patrick Kisnorbo
Before Patrick Kisnorbo coached Melbourne City and Neil Kilkenny played for Western United, the two Aussies took on one of the toughest gigs in the world – making Leeds United fans happy.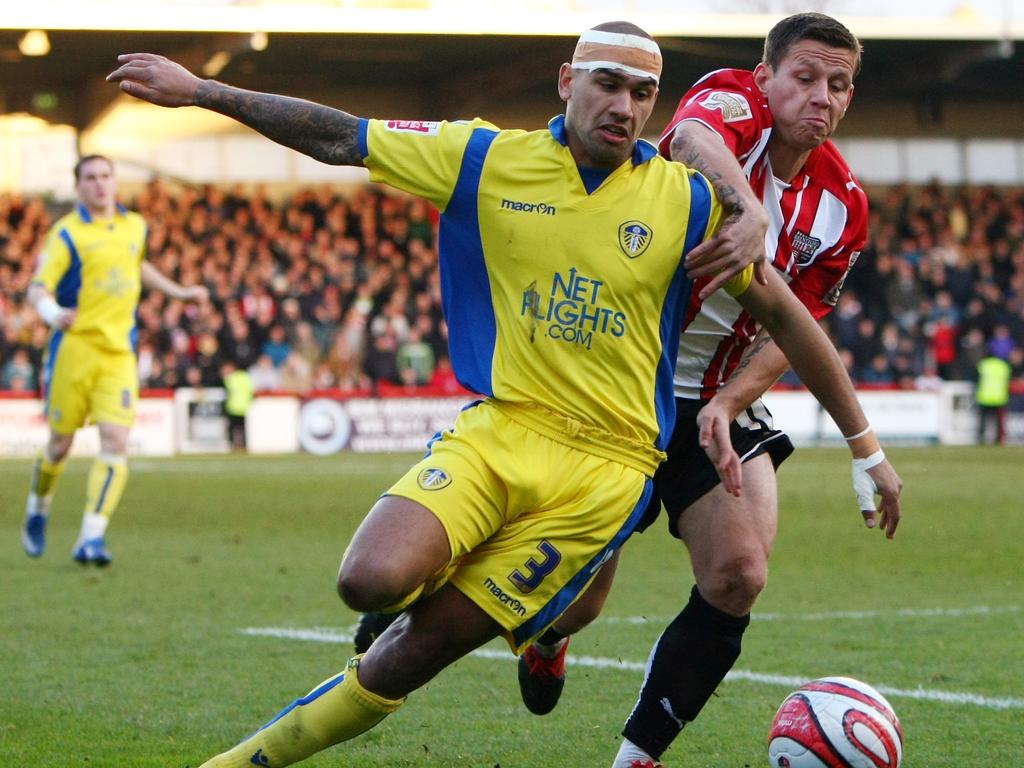 Patrick Kisnorbo at Leeds United in 2009. Picture: Clive Rose/Getty Images
There's real affection in the voice of Simon Grayson as he recalls that season, and remembers the Australians who were at the heart of something special.
Sometimes a manager stumbles across a form of alchemy and a team just transcends what it should be, and becomes so much more than the sum of its parts.
When that team dovetails with one of the most rabid fanbases in English football – when the manager himself is one of those Leeds United fans, and understands the passion and the desire to succeed – then miracles can come to pass.
Just ask Neil Kilkenny and Patrick Kisnorbo what can happen; even at a club that a few short years before was rubbing shoulders with the European elite, but is suddenly marooned in the foothills of English football.
This is a story of one season, where those two Australians – and later a third – helped to exorcise some of the demons that had cast down Leeds United, and a season soaked in drama that would have – for one of them – a horrible twist in the final act.
"It was just a rollercoaster ride which is, as people will say, the Leeds United way of doing things, and both Paddy and Killa were instrumental in all those good days," Grayson tells CodeSports.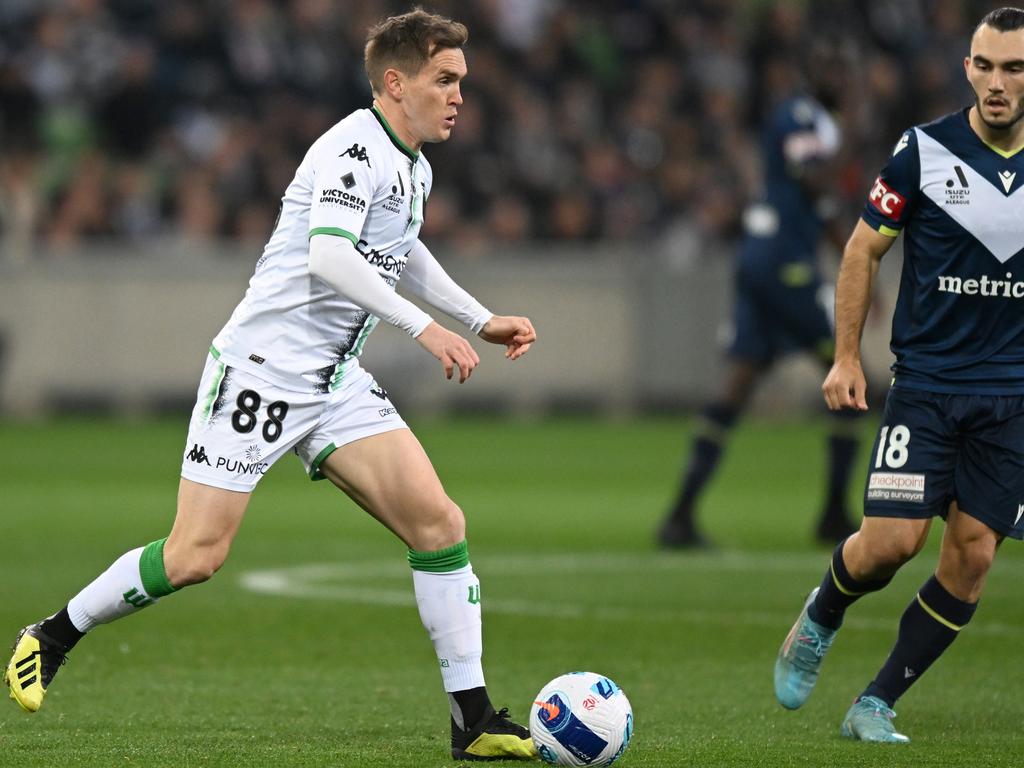 Neil Kilkenny of Western United will face old teammate Patrick Kisnorbo in the A-League Mens Grand Final. Picture: Morgan Hancock/Getty Images
'Paddy' would be Patrick Kisnorbo, "with his bloodied headband", while Neil 'Killa' Kilkenny "sat in midfield pulling strings … that was a special group of players, a real together group."
Leeds fans still enthuse about that year and the Australians at the heart of it; it's quite conceivable the British viewing figures for this Saturday's A-League Men's grand final will be skewed towards the county of Yorkshire, because fate has pitched those erstwhile Leeds teammates against each other in the season finale.
Kilkenny is still playing, the quarterback for Western United's counterattacking team, but Kisnorbo succumbed to injuries years ago and as Melbourne City head coach already has last year's A-League title on his CV.
Grayson still follows them both, and talks to them regularly; he jokes that he couldn't choose which one he'd rather win the grand final. The memories of 2009-10 are still that potent.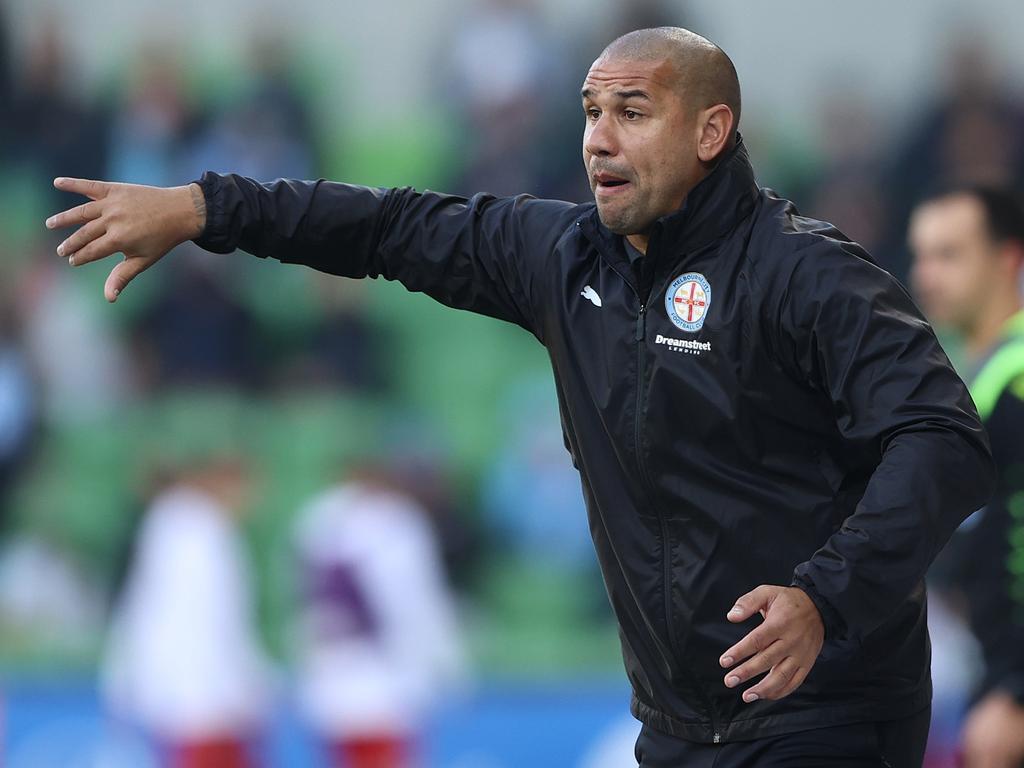 Once teammates, Patrick Kisnorbo will be plotting against Neil Kilkenny in the A-League Mens Grand Final. Picture: Robert Cianflone/Getty Images
***
Two other Australians were at the heart of Leeds' modern-day glory years around the turn of the millennium; Harry Kewell and Mark Viduka drove Leeds to the semi-finals of the Champions League, and the brink of domestic glory.
But when the money ran out, and the star players were sold, United's fall was precipitous. By the time Grayson took over in January 2009 the club was in its second season in League One, the third tier of English football, and had been through administration and points deductions. They lost in the playoff semi finals that season, and Grayson – a born and bred Leeds fan himself – looked for signings who could help them secure promotion.
Kisnorbo meanwhile had fallen out of favour at Leicester and been released.
"I actually remember playing against Paddy in the last year of my career. I was at Blackpool, he played for Leicester, and to this day I remind that I ran rings around him, though he'll tell you it was the other way round," laughs Grayson.
"We were looking for a real aggressive centreback, a no-nonsense good character, good leader, who basically could handle playing for Leeds United because of the size of the club and the expectations."
Patrick Kisnorbo endeared himself to Leeds fans. Picture: Clive Rose/Getty Images
You could only describe the way the season unfolded as the perfect start for the club and its new signing. Leeds won their first six games and didn't lose until late October, while Kisnorbo cut his forehead on his debut in the opening match, played on with a bandage and was the epitome of the bloodied warrior by the time of the final whistle.
The Leeds fans loved it, to the extent that Kisnorbo – having declined surgery on his forehead – wore similar strapping round his head every week for months.
"I wanted leaders in that dressing room and people that could handle the pressure," Grayson goes on.
"One of my first signings was a lad called Richard Naylor, who was very, very similar to Paddy in terms of wearing his heart on his sleeve, was vocal, a lead-by-example warrior type.
"The two of them together were an unbelievable partnership. I didn't know what was going on in the dressing room all the time, but I'm pretty sure that if there were things that needed to be resolved, then those two people, those two lads, would be there sorting things out before it even got to the manager's door.
"We started the season really well and got to around Christmas time and were top of the division I think. We were playing some good stuff, scoring lots of goals, and as a club we looked like we were well and truly back on track."
***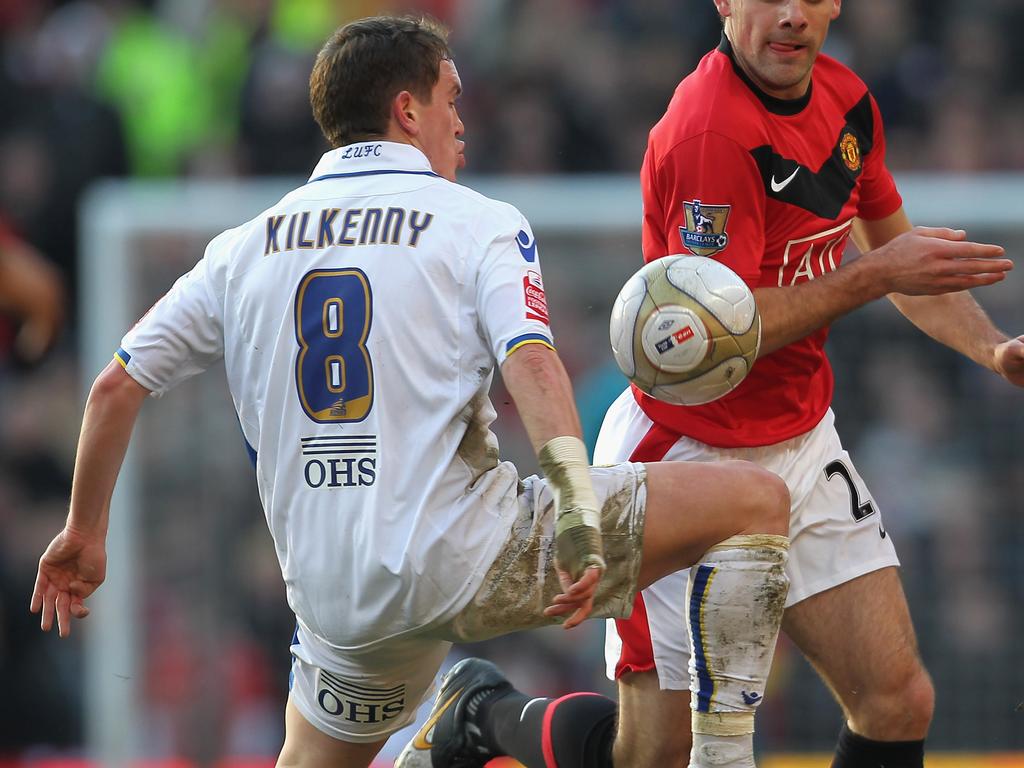 Neil Kilkenny in the memorable FA Cup clash with Manchester United. Picture: Alex Livesey/Getty Images
Kilkenny was already at Leeds when Grayson came in, and could see how much the fortunes of the club meant to the incoming manager.
"Playing for Leeds is an honour, I'll be honest, it's a privilege, and you have to have courage," Kilkenny recalls now. "Massive courage. The crowd is on top of you, good or bad, they expect results.
"We had some very big characters in the changing room. Being a young lad in my early 20s, I was part of a group who were striving to succeed and show what they could do."
The proof of that came in the results. Leeds weren't just flying high on the league table; as a League One team, they came in at the first round of the FA Cup, and drew Manchester United at Old Trafford in the third round.
To the unmitigated fury of Sir Alex Ferguson, Manchester United conceded an early goal and never really looked like recovering. Leeds, The Guardian newspaper reported, "went toe to toe against the Premier League champions at Old Trafford, matched or bested them in nearly every department and emerged worthy winners".
Kisnorbo won high praise for his marshalling of the Leeds back four; to accentuate his defiance, his forehead had been gashed again and once more he finished the game in bloodied bandages. Stepping towards Ferguson to shake his hand, Kisnorbo was told to "f--- off", just completing the night.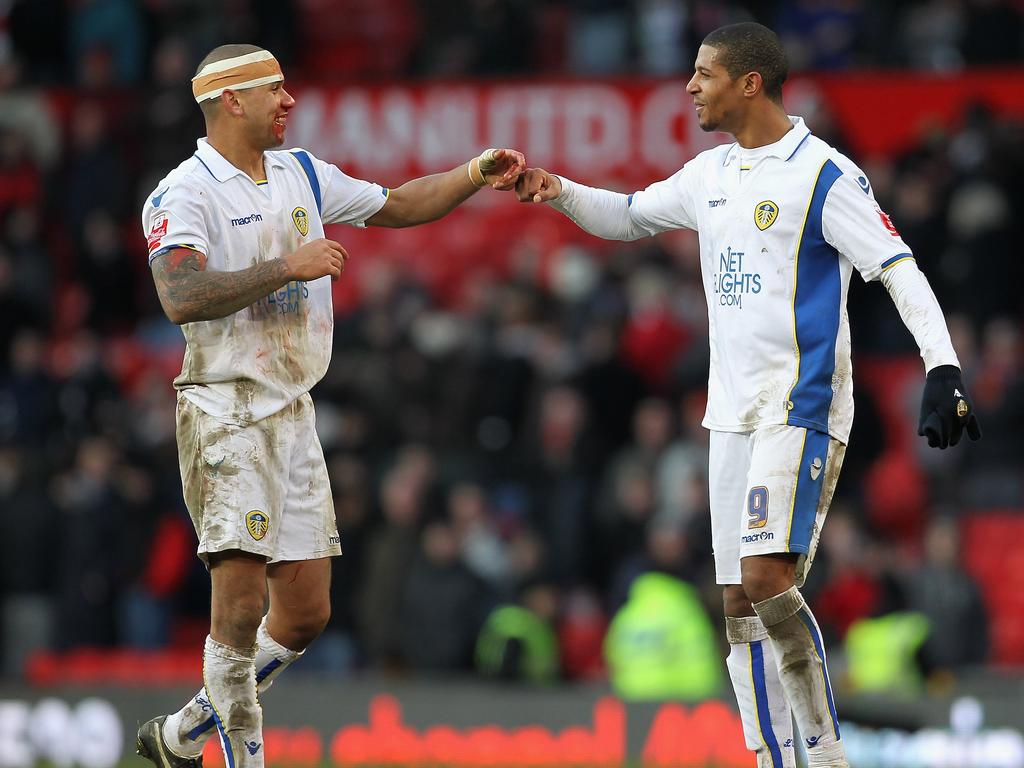 Patrick Kisnorbo celebrates a famous victory against Manchester United. Picture: Alex Livesey/Getty Images
To be fair, the United manager was rather more gracious towards Grayson, sharing a glass of wine with him after the game.
"At the end I just sort of looked up to the sky and took a big breath in, but I don't think I realised what we'd actually done," says Grayson. As he walked to the press conference room, 9000 Leeds fans in the corner were singing his name.
"Sir Alex was obviously gutted, devastated, but very respectful of what we've done," Grayson says. "Through gritted teeth, I think he said that we deserved to win."
Kilkenny also played the whole match, less obviously a hero without the blood and guts, but just as influential.
"Killa was always one of those players that wanted to improve – he had a great upbringing from being at Arsenal (in the academy) and just wanted the ball all the time," says Grayson.
"Yeah, he could be an angry little man at times when we dropped him and things like that. But he always came back with stats on the Monday morning to show why we're always a better team with him in it.
"He wasn't frightened to get on the ball. You had to have people like Killa at Leeds because a lot of people crumble, or go into the shells when the pressure is on, the crowd are not really on-side with the team if you lose."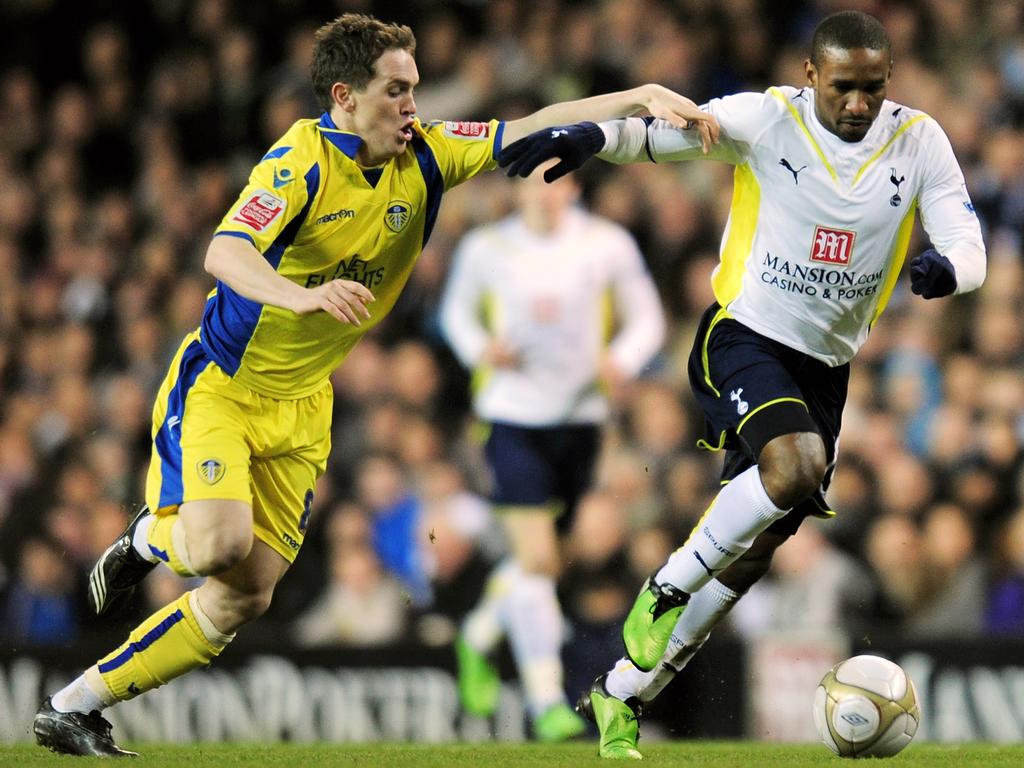 Neil Kilkenny challenges Jermaine Defoe during Leeds' gallant effort against Tottenham. Picture: Shaun Botterill/Getty Images
***
Leeds went to Tottenham in the next round of the FA Cup and scored an equaliser in the 96th minute to earn a remarkable 2-2 draw. Kisnorbo and Kilkenny were again singled out for praise, and the fact they were injured for the replay may well have been a factor in Leeds going down 3-1.
But as the weeks went on, and the club also made progress in the Football League Trophy, the workload – and injuries – began to tell. Having won 17 of the 23 league games in the first half of the season, losing just one, Grayson's team won just three of the next 16. Over the season 11 players came in on loan as injuries mounted – including another Australian in Shane Lowry, who was borrowed from Aston Villa aged 20.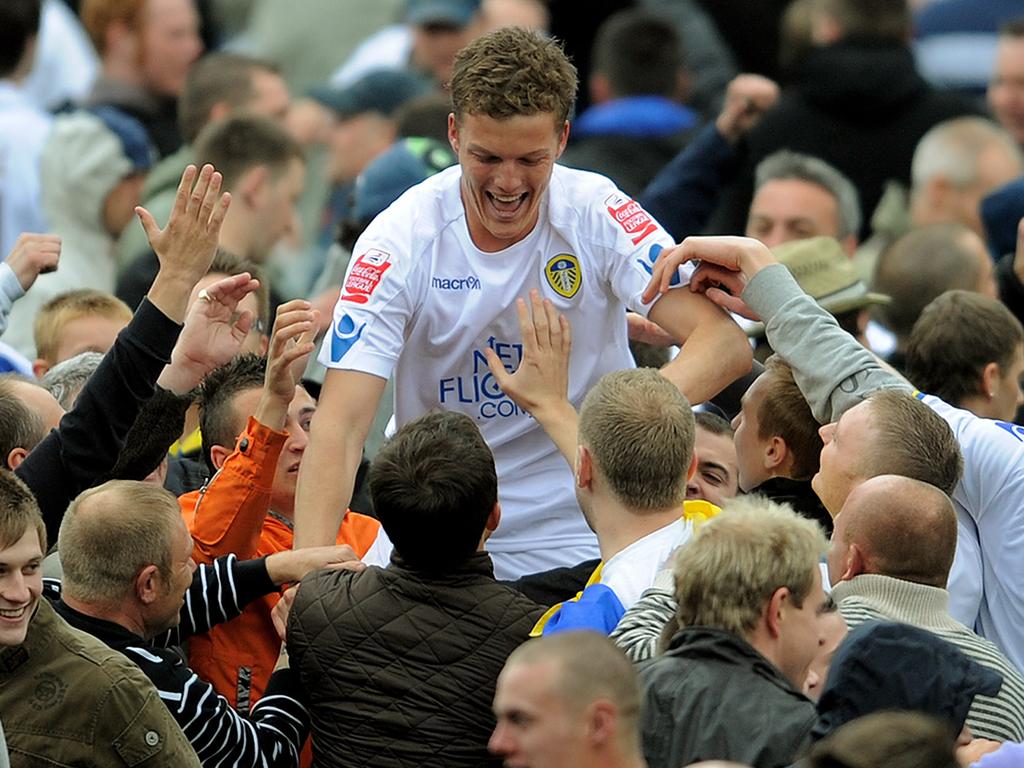 Shane Lowry with Leeds fans after promotion in 2010. Picture: Michael Regan/Getty Images
"In retrospect, I don't think I realised the size of the club I was going to, how intense it would be," Lowry says now.
"As a young player I had no idea that effectively it was a Premier League club playing in League One, in the sense of the size of their crowds and the expectations of those crowds.
"It wasn't a move that worked out for me because I didn't feel like I showed my true potential."
Lowry is possibly being a harsh judge of himself, because Grayson admits the pursuit of promotion had become high-octane.
"We'd had the cup run and like any team I suppose, you are going to go through a blip at some time. Being a Leeds United supporter like I am, even just watching them over this season as well, we never seem to do things easily. And it became a downward spiral."
Leeds slipped out of the top two – the positions earning automatic promotion – and were heading for the playoffs, until they managed to eke out enough wins to go second with two games to go. But Kisnorbo's campaign was over already.
"There were two different types of characters and players," says Grayson.
"Where Killa would lead by example, in terms of wanting to get on the ball, Paddy would do it by barking orders and making a 50:50 challenge that Leeds United fans love to see.
"He certainly led with his heart on his sleeve, and sometimes a tackle was good as a goal at Elland Road. But also he would (sometimes) come out of tackles that he shouldn't have gone into and be injured."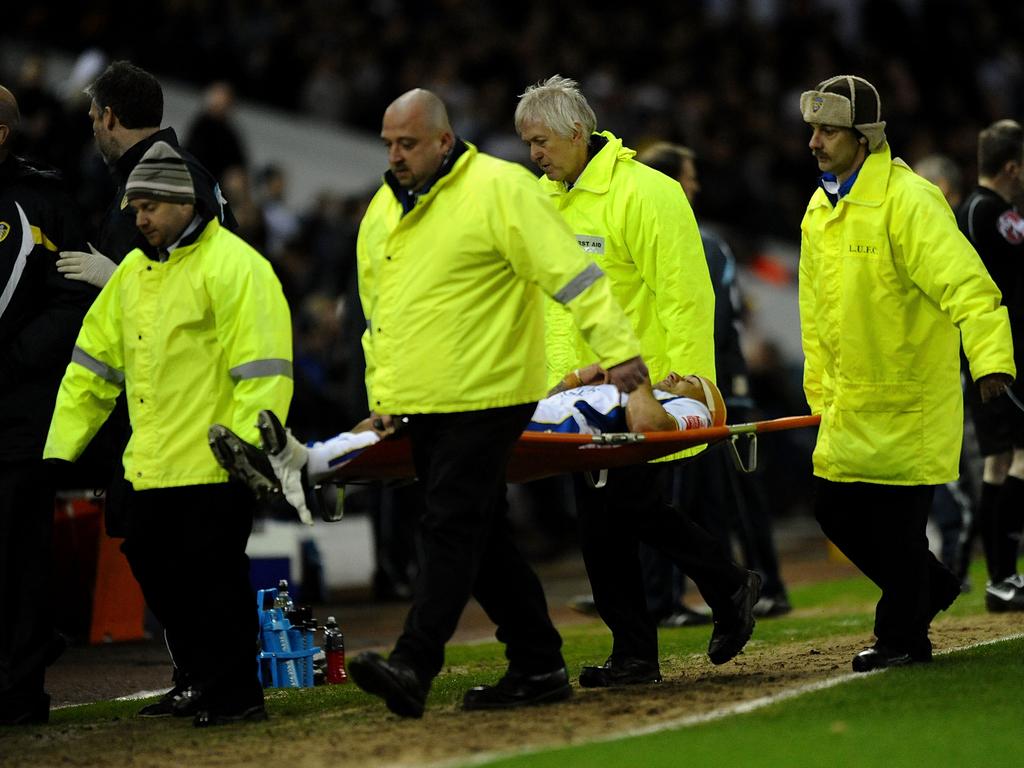 Patrick Kisnorbo of Leeds is stretchered off against Millwall in 2010. Picture: Laurence Griffiths/Getty Images
A ruptured achilles tendon meant Kisnorbo was not only out of the final games, but would not be going to the World Cup in South Africa.
As he grappled with that disappointment, Leeds prepared for the final game of the season at home to Bristol Rovers, knowing a win would seal promotion.
"If someone had offered us at the start of the season, just to beat Bristol Rovers who were in the bottom four, we'd have taken that," says Grayson now.
"But all of a sudden, Max Gradle gets sent off and Paddy, who was really good friends with Max, is having to calm him down. To then go a goal down, everybody's thinking that we're going into the playoffs again and we're not going to be able to get through them because that's never been great for Leeds."
Lowry still remembers the drama vividly.
"It was absolutely crazy, the tension was insane," he says. "The expectation on the players and the manager from the fans was massive.
"I got subbed off after we went a goal down, I wasn't having the best game to be fair and the manager wanted another attacker."
Jonny Howson was the man introduced, and promptly curled home the equaliser. Minutes later Jermaine Beckford scored what proved to be the winner. Grayson, Kisnorbo, Kilkenny and the rest of the team had lifted the curse and were heading for the Championship.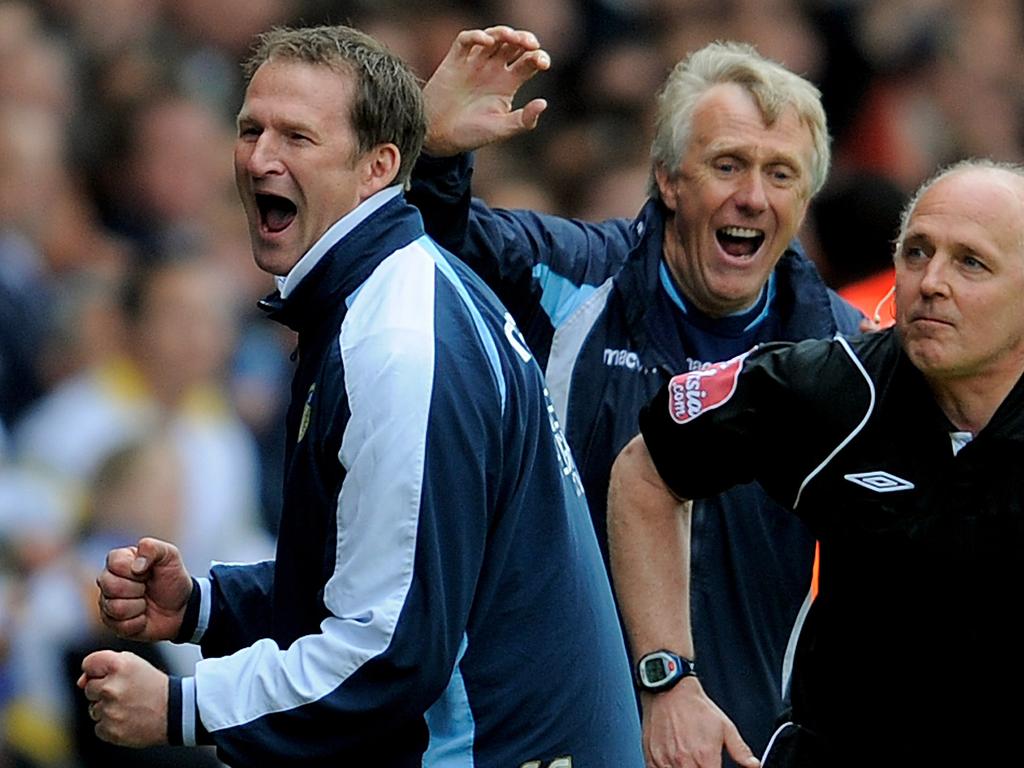 Leeds manager Simon Grayson celebrates victory and promotion on the final whistle of the Coca Cola League One match between Leeds United and Bristol Rovers in 2010. Picture: Michael Regan/Getty Images
"It was more relief than anything," says Grayson. "You could see what it meant from the jubilation on everybody's faces. Paddy was in there celebrating on crutches, and the joy in the dressing room will live with us forever.
"We were obviously throwing champagne around left, right and centre and we had the Player of the Year do that night actually at Elland Road which could have been one of the worst presentations ever if the result hadn't gone our way.
"It turned out to be one of the best nights and then the lads went off into town. I was probably more mentally drained because of the day that we'd had, but we'd had a decent drink. And then I think we flew up to Dubai a few days later as a team to celebrate.
"Like I said, they were a special group, a real together group. It was just a pleasure."
A-League Grand Final
Melbourne City v Western United AAMI Park
Kick-off: 7.45pm AEST
Broadcast: Network 10, Paramount+
*Tom Smithies is a writer for KeepUp.com.au