The Premier League title race was next level – now referees and 'fans' have to raise their game
The season will be remembered for Manchester City's epic final-day comeback, but HENRY WINTER reflects on a season where referees and so-called fans struggled to match the on-field quality.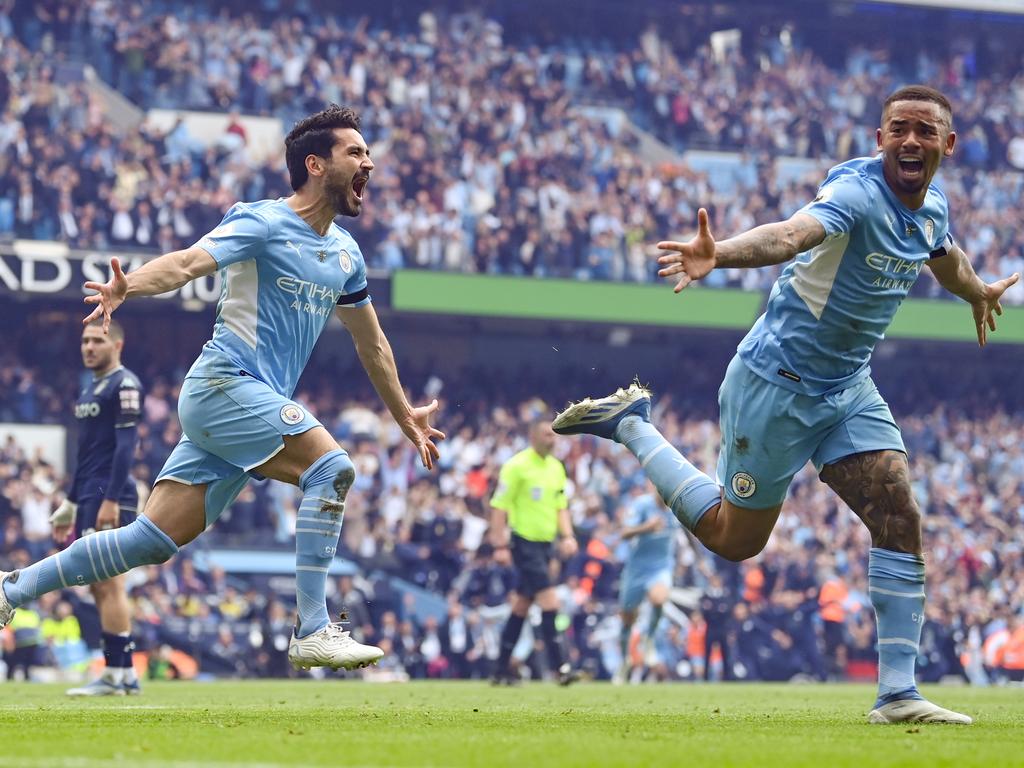 Manchester City stole the headlines yet again with their final day heroics. Picture: Michael Regan/Getty Images
This season has to be among the very best because of the tense, close race to the line, the quality of the players and the attacking approach of both managers. It's almost up there with 1989 in terms of dramatic denouements.
There have been more dominant individual teams, including Liverpool from 1977 to 1984 and Manchester United under Sir Alex Ferguson, but Manchester City are among the greats of the English game, given their four titles in five seasons.
Liverpool deserve enormous praise for running them so close, especially on lesser resources. In terms of special, sustained rivalry and the supreme technical and tactical football offered by both over a number of years, it is hard to put any duel ahead of this.
City and Liverpool pushed each other to the very limits, lifting the game to a new level.
TEAM OF THE SEASON
Goalkeeper: Alisson
Defenders: Trent Alexander-Arnold, Virgil van Dijk, Antonio Rudiger, Joao Cancelo
Midfielders: Kevin De Bruyne, Rodri, Declan Rice
Forwards: Mohamed Salah, Son Heung-min, Bernardo Silva.
MANAGER OF THE YEAR
Graham Potter had Brighton & Hove Albion entertaining and finishing ninth, Thomas Frank guided promoted Brentford on modest resources to 13th, while Eddie Howe galvanised Newcastle United.
Antonio Conte organised Tottenham Hotspur and steered them into the Champions League, David Moyes has West Ham United on the up, while Jurgen Klopp created this wonderful organised chaos of Liverpool.
But it has to be Pep Guardiola.
Yes, he has plentiful resources but he uses them so well. Guardiola's vision, philosophy, changes in games, man-management, skilled stirring of supporters and obsessive drive to win make him the best. Again.
Pep Guardiola was reunited with the Premier League trophy yet again. Picture: Oli Scarff/AFP
PLAYER OF THE YEAR
Mohamed Salah edges it from the dynamic, driven Kevin De Bruyne because of his silky work in the box, his skill under pressure and that goal return, sharing the Golden Boot with Son Heung-Min on 23 goals.
Salah's dribble against Manchester City, eluding Joao Cancelo, Phil Foden, Bernardo Silva, Aymeric Laporte and Ruben Dias before beating Ederson, was the goal of the season.
BEST HOME SUPPORT
Everton's fanbase has mobilised stirringly, Steven Gerrard has got the Holte End going, Liverpool is good especially on night matches, while the Holmesdale Fanatics lift the decibel level at Crystal Palace.
But for adrenaline, atmosphere and all-round noise it has to be Leeds United, just ahead of Newcastle.
There's an edge to Elland Road, not always acceptable, but that passion runs deep, loud and proud, flows from all parts of the ground and reminds the players, home and visiting, where they are.
REFEREES
Michael Oliver and Anthony Taylor apart, this has not been a vintage season. The game is so physically stretching that it is hard to keep up, the simulation from players is challenging, the scrutiny relentless and the social media verdicts coruscating, yet it cannot be stated enough that the mistakes our officials make are honest ones.
And yet there are countless tribal fans, and a few conspiracy theorists, who feel that certain referees deliberately have it in for them. It's nonsense.
But PGMOL needs to raise standards, its chief Mike Riley needs to explain decisions more and, at the very least, communication between the on-field referee and the VAR needs broadcasting so fans can understand the officials' thought process.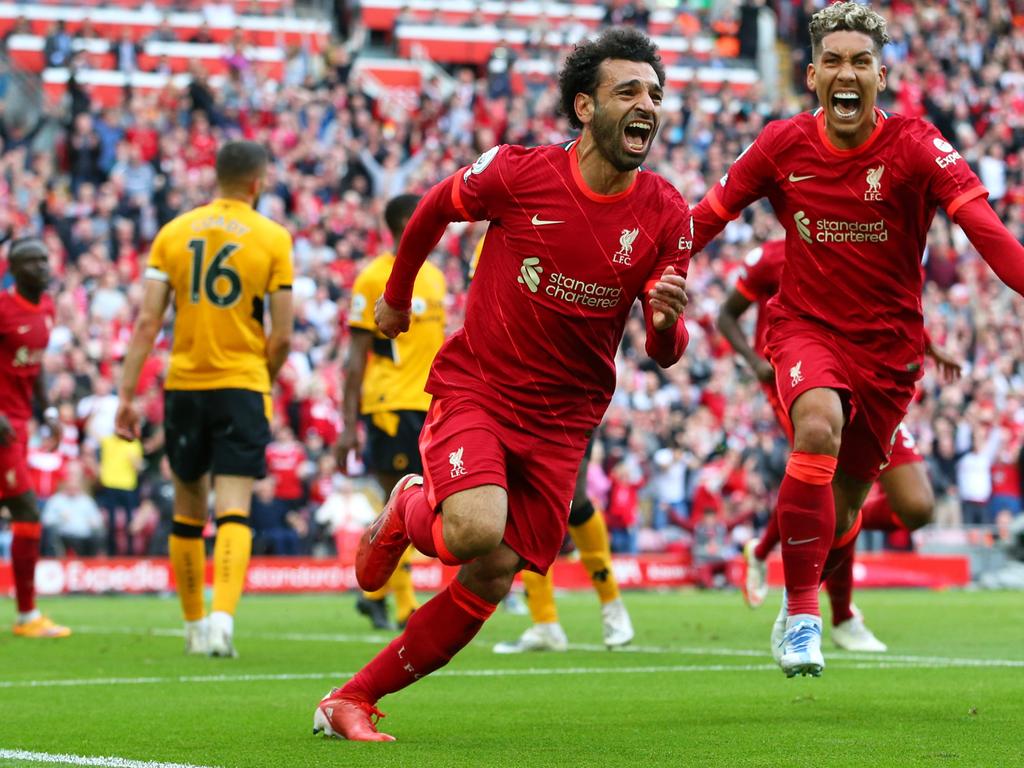 Salah was Winter's player of the season. Picture: Alex Livesey/Getty Images
BEST AWAY FANS
Newcastle.
Anyone going to a game comes away with "Toon, Toon, black and white army" reverberating in their head. I get the last train north out of London on match night, the 23.33 from King's Cross, aka "the Vomit Comet", and Newcastle fans are there in numbers, their mood undimmed by any reverse in the capital.
Followers of Manchester United, Leeds and Liverpool also deserve a particular shout out.
OWNERS
Some owners are good.
Matthew Benham cares and runs Brentford well. I've seen him have a kickabout on the pitch and what he lacks in touch he makes up for in commitment to the club. Ditto Tony Bloom at Brighton.
What the Championship-bound Delia Smith and Michael Wynn-Jones lack in deep pockets they make up for in passion for Norwich City and real values. Andrea Radrizzani engages with Leeds fans, hopping out of his car to wish one fan a happy 70th. Palace will always be a force for good ideas with Steve Parish. Aiyawatt Srivaddhanaprabha, "Top", leads Leicester City in a dutiful manner that his late father would appreciate. Aston Villa seem to have the balance right with Christian Purslow advising Nassef Sawiris and Wes Edens.
It is undeniable that the Premier League as an organisation (not the competition, that's wonderful) hosts the best party in town but needs a more discerning guest policy. It needs to be warier about the enemy within.
Those owners based in Florida, Abu Dhabi, Riyadh, Boston and Denver are not football fans, they did not grow up with posters of Perry Groves or Paul Scholes on their walls. Their motives are financial or political.
It is not the responsibility of Newcastle fans to hold the moral compass of the nation, especially given government links with Saudi Arabia, but the league has to be more mindful of the sport's image and integrity.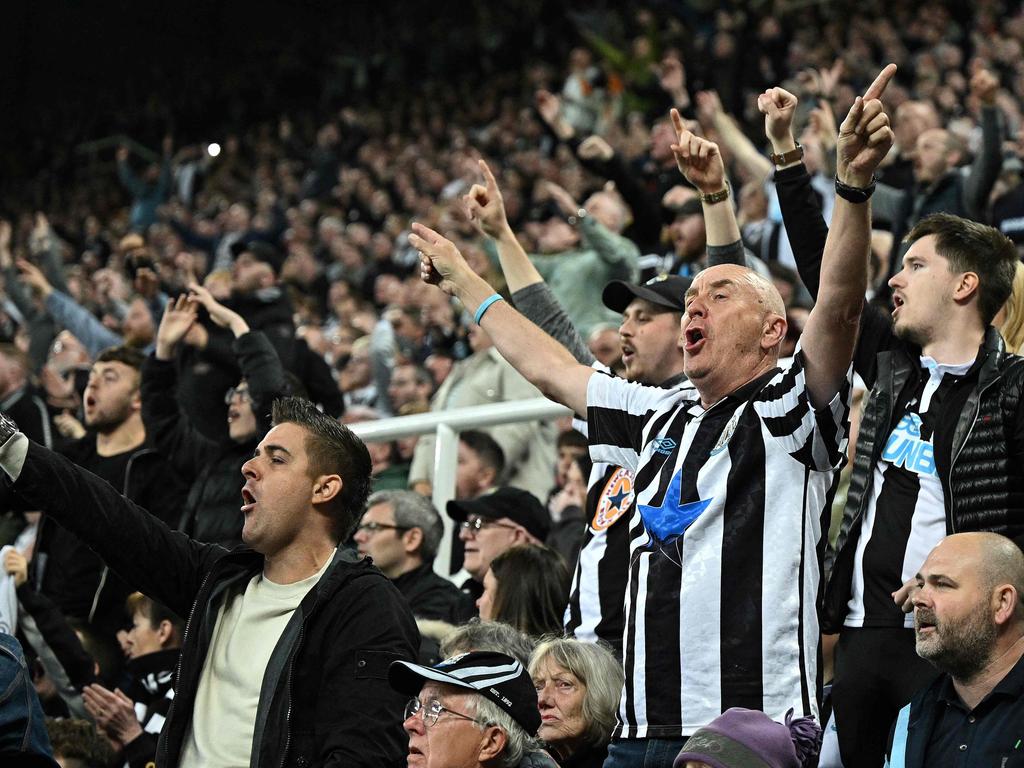 Newcastle fans have been particularly boisterous thanks to their new owners, but shouldn't be the ones to hold them to account. Picture: Oli Scarff/AFP
BIGGEST DISAPPOINTMENTS
Harry Maguire, Romelu Lukaku, Marcus Rashford, Leon Bailey, Saul Niguez, Chris Wood, Christian Pulisic, Alexandre Lacazette, Ralf Rangnick and Ismaila Sarr. Take your pick.
Jack Grealish will probably be back at Villa one day (he loves his hometown club) but until then the 26-year-old needs to seize his moment more at Manchester City. His celebrations were understandable on Sunday, as City had won the title, but three goals and three assists in 26 top-flight appearances is not the return expected from a player of his special talent.
Grealish will surely kick on next season, especially with Erling Haaland to target at City and a World Cup with England. He has the ability.
PITCH INVASIONS
These stem from heat-of-the-moment emotion, "unlearnt behaviour" post-lockdown, the trend for filming yourself and posting it on social media, tribalism towards others and the ease with which you can elude outnumbered, poorly paid and insufficiently trained stewards. Stir in some drink and drugs, too.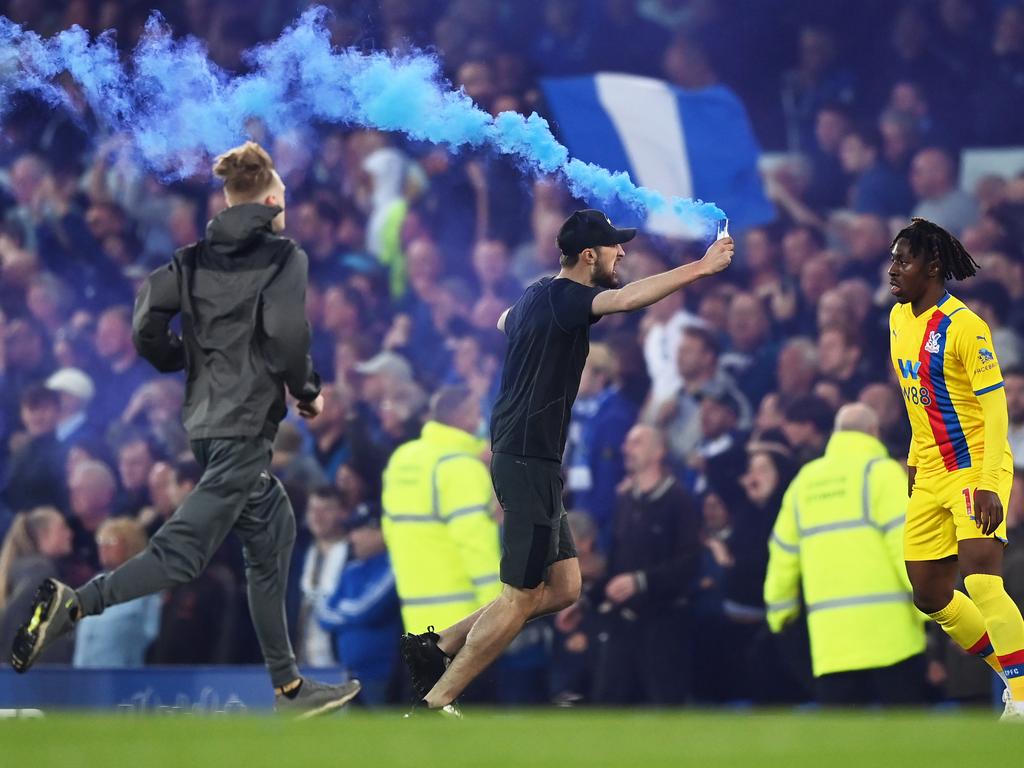 Everton fans took to the pitch after securing safety in the Premier League. Picture: Gareth Copley/Getty Images
Many of those swarming on to the field don't remember when fans were fenced in. Nobody wants fences to return, so it is about clubs protecting players and managers, making fans understand what they risk by running on the pitch, and working with the police to get the aggressive and abusive pitch invaders brought to justice.
The courts have a vital role to play here, incarcerating the violent ones who must then be banned indefinitely by their clubs.
NON-TOP FOUR TEAM OF SEASON
Goalkeeper: Jose Sa
Defenders: Matty Cash, Marc Guehi, Max Kilman, Marc Cucurella
Midfielders: Joelinton, Christian Norgaard, Connor Gallagher
Attackers: Jarrod Bowen, Cristiano Ronaldo, Bukayo Saka.
Jarrod Bowen had a standout year for West Ham. Picture: Charlie Crowhurst/Getty Images
BROADCAST BLUES AND VIEWS
Organisations such as Premier League Productions shedding respected presenters and reporters is alarming. The move towards shorter digital content and social media influencers lets down fans who want facts not fluff.
Not everyone relishes banter and bite-sized takes on games. There are enough exceptional presenters, pundits and reporters on our screens and airwaves to believe that this is a golden age of broadcasting, so planned changes are concerning.
Influencers and DJs have their place, increasingly, and a fan's perspective is rightly encouraged but you wouldn't want them anywhere near a breaking story that requires journalistic expertise or playing experience.
Some of the tales you hear of the people being tried out for next season's shows are troubling: one couldn't cope with the producer's feedback in his ear.
Please don't dumb down or fans may switch off.
– The Times

Originally published as The Premier League title race was next level – now referees and 'fans' have to raise their game