The tragedy that inspired Leeds United stars to get jab
All 82 members of Elland Road staff – from players to canteen workers – are fully jabbed after two deaths that shook tight-knit club to its core, writes HENRY WINTER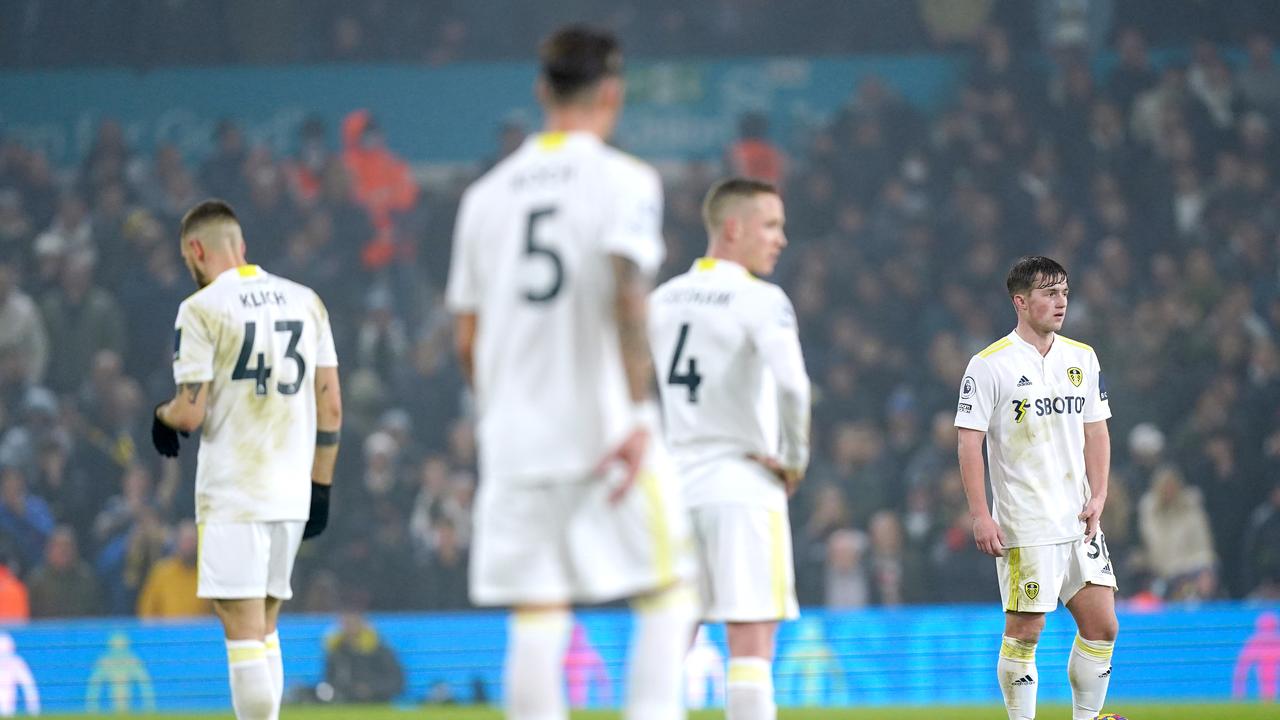 Leeds United players appear dejected after Arsenal scores during a recent Premier League match Picture: Mike Egerton/PA Images/Getty Images
When the parents of Rob Price, Leeds United's hugely respected head of medicine and performance, passed away from Covid within a fortnight of each other in January, he gathered the players at Thorp Arch and urged them to get the vaccine when eligible.
The players knew the tragedy that had occurred. Colin Price went into hospital for a procedure and caught Covid. Hazel Price went in to say goodbye to her husband and also contracted the virus. The Prices were pillars of the community in Shaw, Oldham, and their sudden passing was widely mourned.
Leeds grieved with Price. Leeds mourned with Price. It is why all 82 members of Leeds's staff, from playing to management, media to canteen, who operate in the "red zone" of match day, are double-vaccinated and why they all got the booster either last week or after Saturday's game against Arsenal.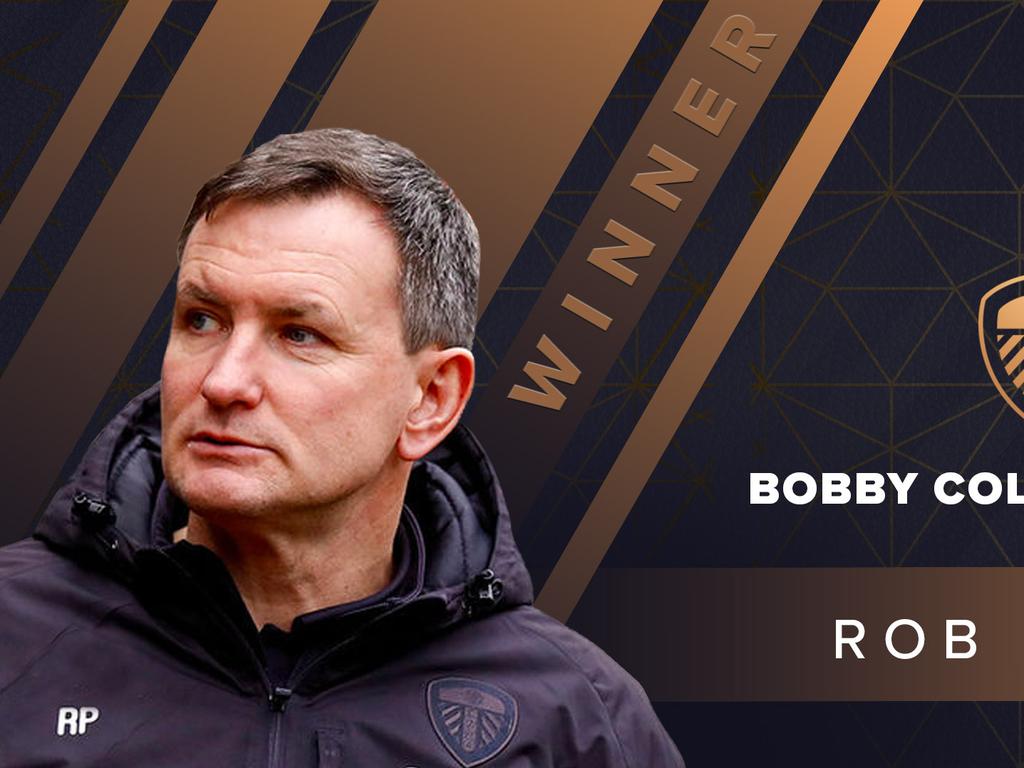 Leeds United's Head of Medicine and Performance Rob Price received The Bobby Collins' Award in May, 2021. Picture: Twitter/Leeds United Football Club.
They listen to Price, who has worked with distinction at Hull City, Fifa, Liverpool, England Under-21 and as a physiotherapist in the NHS in the 90s. They heed the advice of a medical expert who is so admired by players because of his experience, his character, his story. Given the rigours of Marcelo Bielsa's training, Price is an important individual in the lives of Leeds's players. They trust him.
So they rolled up their sleeves and got jabbed. This is how you face the pandemic. With courage and knowledge. And this is why all clubs should follow Leeds's example. Listen to the experts.
The Premier League trumpeted on Monday night that "92 per cent of players and club staff have received one, two or three vaccination doses, with 84 per cent of players on the vaccination journey".
Leeds's players and staff, barring one player still awaiting his booster, are at 100 per cent first-jabbed, second-jabbed and boosted because everyone understands the importance of the vaccine.
They are not like a couple of the dressing-room residents at Manchester United who believe the anti-vax cranks on Facebook.
Leeds follow the science not the conspiracy theorists.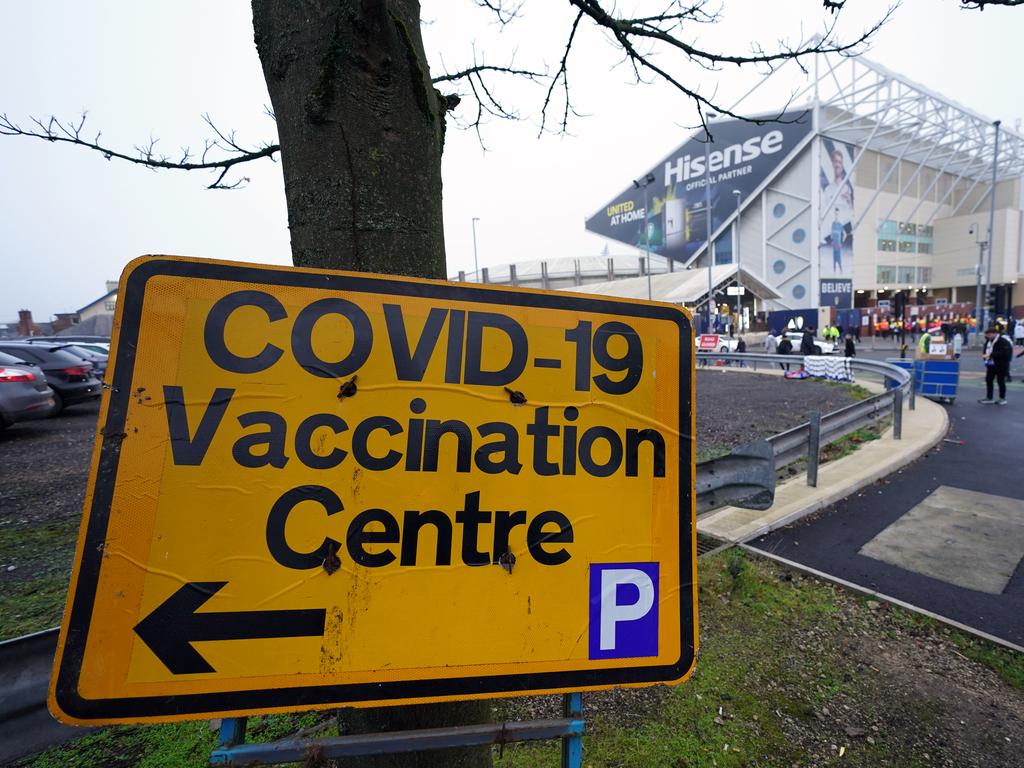 A Covid-19 Vaccination Centre sign outside of Elland Road, home of Leeds United. Picture: Mike Egerton/PA Images/Getty Images
Strong leadership helped Leeds players and staff on the vaccine journey, from Bielsa, the manager, to Liam Cooper, the captain, to Angus Kinnear, the chief executive, the director of football Victor Orta and the owner Andrea Radrizzani. Price's desperate experience hit home, too.
Nobody at Leeds has spoken publicly about it (and I received permission from Price and the club to write this) but fans did note the outpouring of support from the players in January.
After the victory at St James' Park on January 26, Cooper and the players held up a shirt in the dressing room with "PRICE" on the back.
"When one suffers we all suffer," Cooper tweeted. "Condolences to Rob and his family. That was for you and yours mate."
That's why the players followed Price's instructions to get vaccinated. They respected an expert who had wretched personal experience of Covid's pernicious threat.
Price knew the vaccine would protect staff. Even if they did contract Covid, as one player did suddenly before Saturday's match with Arsenal, the vaccine would provide a certain insurance against being hospitalised.
With injury taking a toll, Leeds had only eight recognised first-team players for that game but, being Leeds, and not ones to complain, they got on with it.
Liam Cooper of Leeds United celebrates during a Premier League clash against Crystal Palace. Picture: Sebastian Frej/MB Media/Getty Images
If anything, there is a cogent argument that Leeds were effectively being punished by the Premier League for being so committed to the vaccine.
Where is the justice in this? If Leeds had unvaccinated players, who'd been in contact with somebody who tested positive, they would have had to isolate for ten days and the club could have asked for the Arsenal game to be called off.
Leeds are too measured as a club to let rip but they could have rounded on the club that got a game postponed because one or more of their unvaccinated players was isolating. They hadn't tested positive. They had just come into a contact with somebody who had, so they had ten days in the domestic slammer. Those individuals should feel ashamed.
Football's anti-vaxxers should think of their fans, who spent hard-earned money to attend that match, booking travel and some even accommodation, juggling shifts or negotiating with bosses for time off work. And then being let down by a selfish star.
Leeds are doing it right. Get vaccinated. Leeds know the enormity of the virus.
The Leeds legend Norman Hunter died after contracting coronavirus in April 2020. Kalvin Phillips's beloved Granny Val passed away with Covid in February.
Anyone with any knowledge of the players knows that they feel a sense of duty to community, and that entails getting the jabs.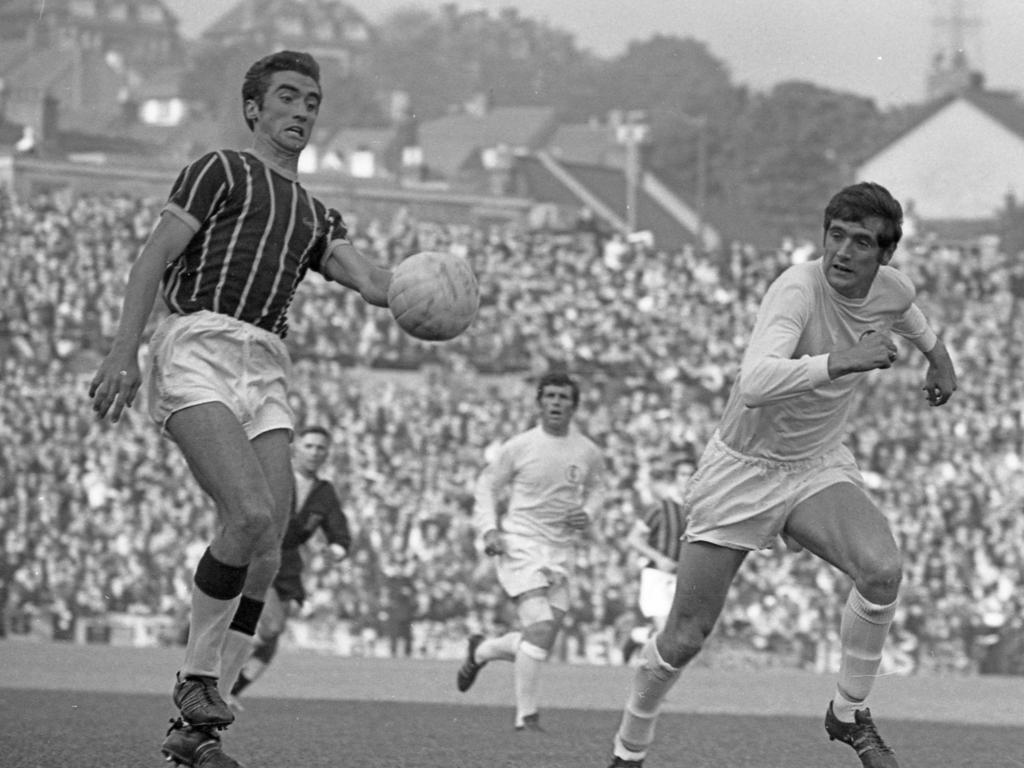 Leeds legend Norman Hunter (R) passed away after contracting coronavirus in 2020. Hunter marks Crystal Palace's Gerry Queen during a Football League Div 1 match in 1969. Picture:

Ian McLennan/Getty Images
It's right that the Premier League show goes on, fulfilling the festive fixture list, because it is all about broadcast obligations and fears over fixture congestion.
But there needs to be greater consistency in Premier League thinking.
Leeds were struggling with injuries as well as Covid, yet ordered to play on against Arsenal. Chelsea were thrown to the Wolves. Aston Villa were rescued three hours before kick-off against Burnley. Manchester United were reprieved the night before their game with Brentford.
No consistency.
Clubs know that government intervention may come in January with the possibility of games behind closed doors if the R number continues to rise. That is why players need to be vaccinated, partly because they are role models and send a message out to the wider community.
The level of "lies and misinformation" — to borrow Jürgen Klopp's phrase — percolating online among the anti-vaxxers is concerning.
England's young gun Jude Bellingham has received two Covid-19 vaccinations and his booster shot. Photo: Ina Fassbender/AFP
Chatting with NHS staff while receiving my booster jab at the start of the weekend, it was alarming to hear one nurse detail how she came off social media because of abuse from anti-vaxxers.
The other said that the portable sign outside the vaccine centre had razor-blades taped to it, so that staff would cut themselves when bringing it in.
So it was heartening at the end of the weekend to hear such measured comments from Jude Bellingham, the 18-year-old England player, who told the BBC's Sally Nugent he had "both jabs and the booster to be safe".
It is important that players speak out. They will receive some of the abuse the NHS heroes do. But that shows Bellingham's strength of character.
Same with Rob Price and the players, staff and executive at Leeds. In May, at the Player of the Year Awards at Elland Road, Price received the Bobby Collins Award for guiding the club through the pandemic. He still is.
Those clubs with still embarrassingly low take-up numbers of the vital vaccine should take note.