Europa League final 2022: Ajdin Hrustic set to join small group of Australian to play European final
The odds of Melbourne's Ajdin Hrustic making a European final were infinitesimal. He tells ADAM PEACOCK how he did it.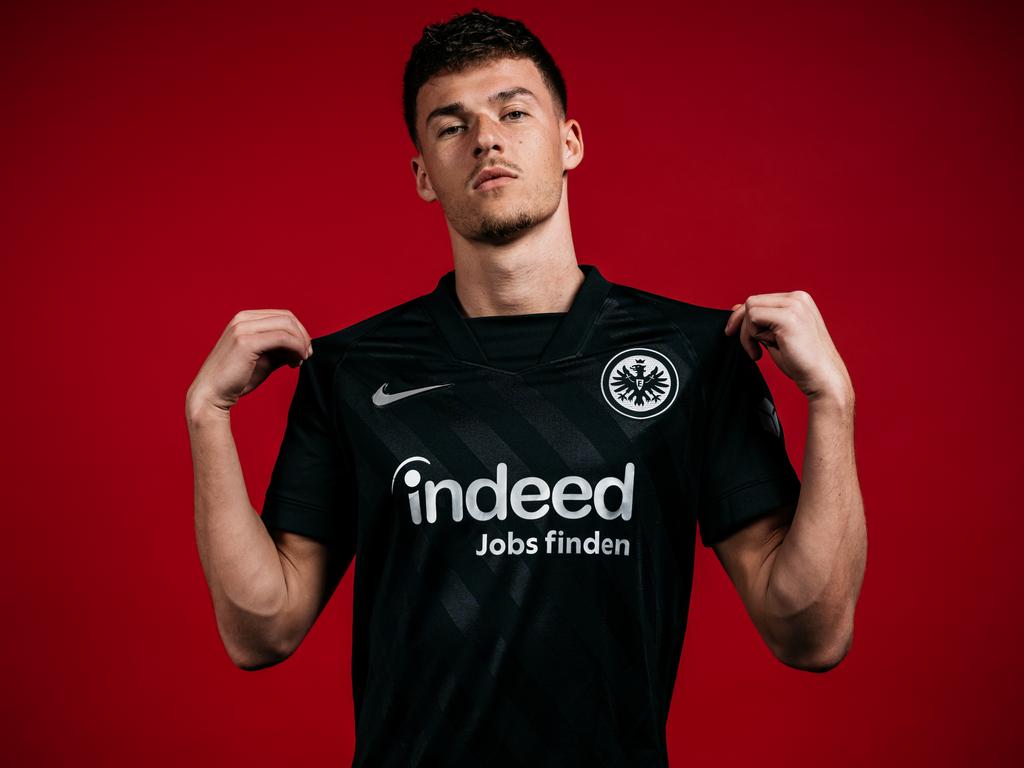 Ajdin Hrustic is on the verge of history with Eintracht Frankfurt. Picture: Alexander Scheuber - UEFA/UEFA via Getty Images
To fully appreciate the scale of Ajdin Hrustic's achievement, on the cusp of playing in a European final, play a game of process by elimination.
Football is the most played sport in Australia, with around one million lacing up boots each season. Hrustic is one of the best 11 males, and arguably, one of the Socceroos' most important.
Worldwide, football is the most popular sport, and any kid who plays has dreams bigger than the solar system. It's speculated less than 0.5% of every academy-level (talented) child playing the sport will earn a living out of the game.
Chip the 0.5% down even more to work out how many get to the rarefied air of the top level in England, Germany, Italy or Spain.
Hrustic is one of those.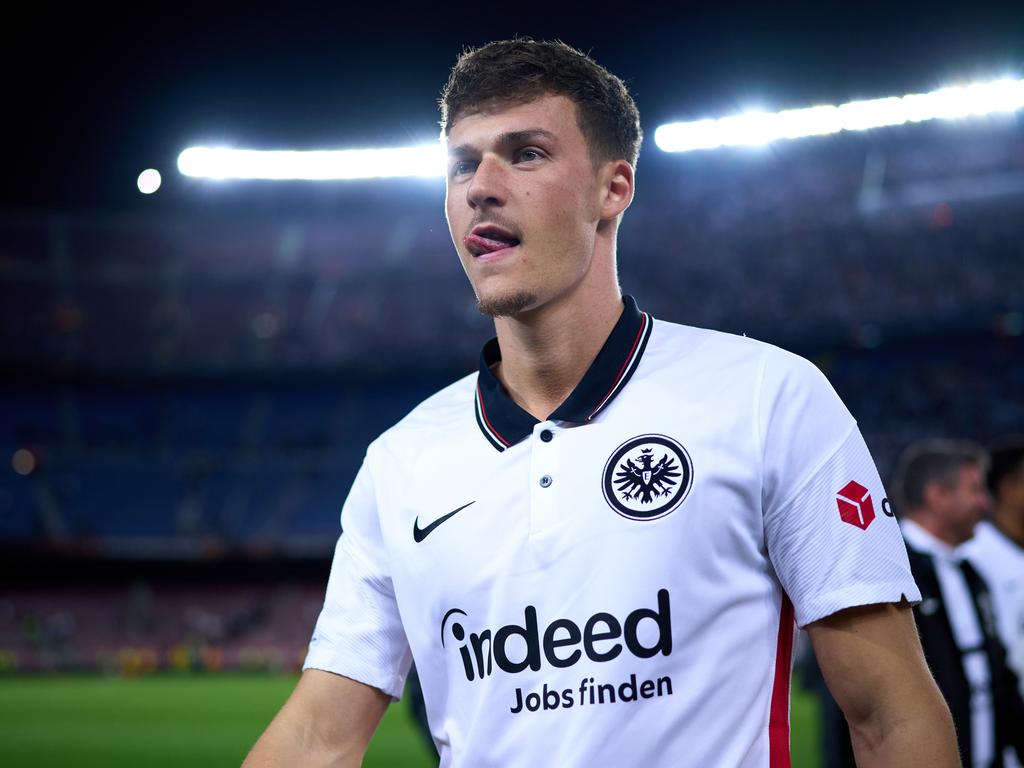 Hrustic's Eintracht Frankfurt will take on Rangers in the final. Picture: Alex Caparros – UEFA/UEFA via Getty Images
Out of Australia. Out of an academy in Europe. Into the big leagues with Eintracht Frankfurt, a big German club with a massive supporter base. And now Hrustic is on the verge of something only a handful of Australians have ever experienced: play in a cup final in Europe.
Next Thursday morning, Hrustic will walk onto Seville's Estadio Ramon Sanchez-Pizjuan, exploding with noise from the Frankfurt fans, and the equally rowdy Scottish mob supporting Rangers in the Europa League Final.
And when he strolls out, two people will be on his mind.
Hrustic two special relationships – with a ball and with his parents – are intertwined. Growing up in Melbourne's sprawling south-eastern suburbs, Hrustic has clear memories of endlessly kicking a ball with his dad.
"We had a massive backyard," Hrustic tells CodeSports. "Dad was planning to build on it, [and I] said to him, 'Can you wait a little bit longer so I could hit a few walls?' and that's how it started.
"We had a shed we didn't use, we were going to knock it down, there was a little window, and Dad said it was OK to smash it. It helped my game. Something I won't forget."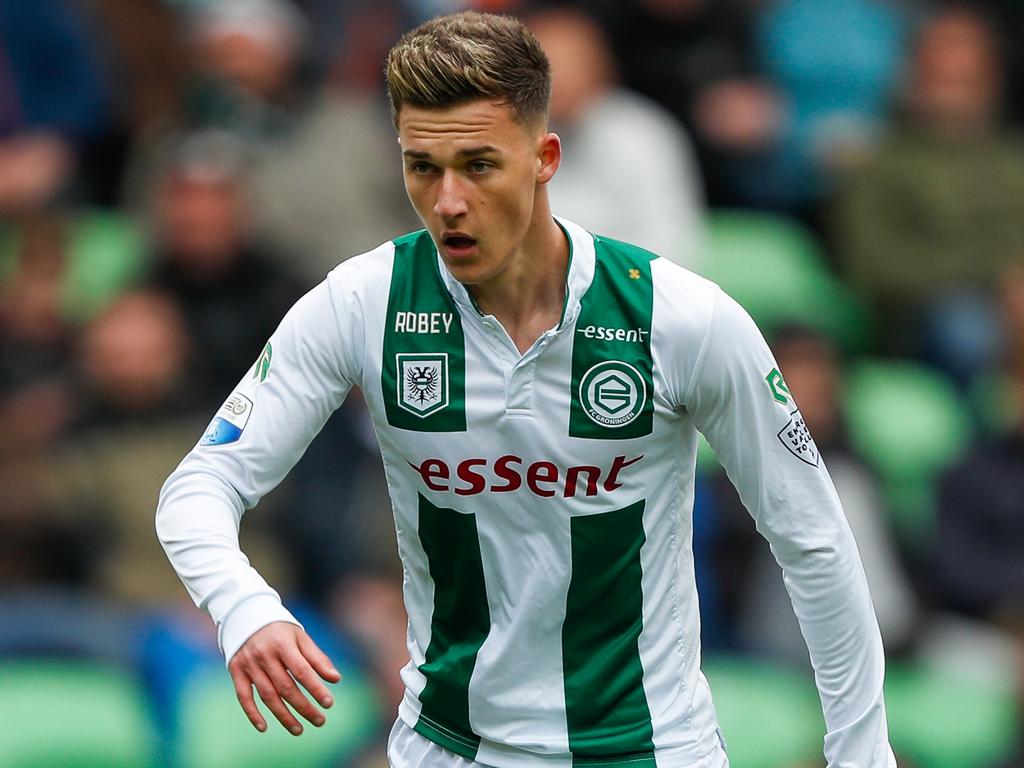 Hrustic spent five seasons playing for FC Groningen in the Netherlands. Picture: VI Images via Getty Images
Wherever Ajdin went, a ball wasn't far away.
Heatherton United was established in the early 1990s by Bosnian immigrants fleeing conflict at home, and Hrustic's early talent was so pronounced, he played his first season as a 5 year-old in the under 8's.
"He was so skilful," recalls Heatherton's club president Resul Heco. "He'd dribble past the whole team and do everything himself. [We] used to have a bag of size four balls he'd take everywhere."
Nearly two decades have passed since Hrustic's first club football at Heatherton, but even his teammates from then can vividly recall details.
"As soon as he rocked up, we all thought, wow, this kid is something," says Ado Lojic, an early teammate of Hrustic.
"All through juniors he was insane. One game against Beaumaris, he scored 11 goals for the left wing! He was just a whiz," recalls Lojic.
And confident, too. In 2008 Hrustic trained with other talented Victorian kids each week, with sessions taken by the future king of Australian managers.
"I got coached by Ange Postecoglou back then with my little pony tail," Hrustic says.
"I used to copy David Beckham. Went with the headband at one stage, then he shaved his head and I said, 'Nah, got to stop.'"
Which meant, thankfully, young Ajdin didn't go down Beckham's path of styling cornrows for a regrettable fashion statement. "That would have been too far," he adds. "Mum would have slapped me!"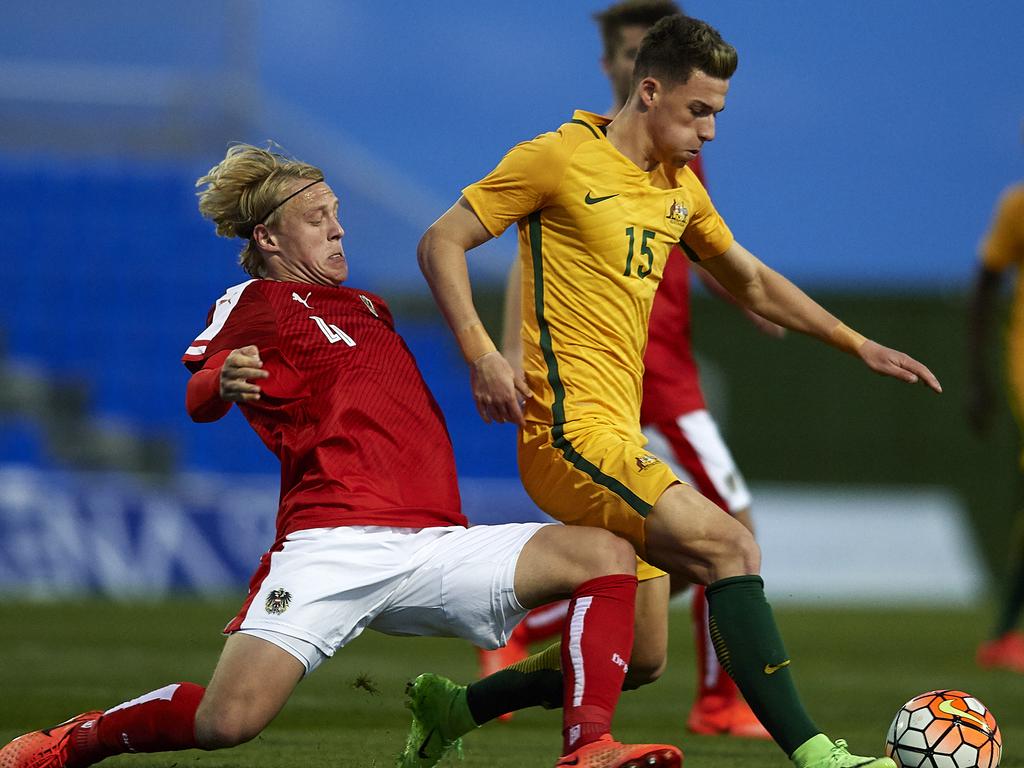 Hrustic playing for the Australian under-21s against Austria in 2017. Picture: Manuel Queimadelos Alonso/Getty Images
As much as he was getting noticed by Ange at South Melbourne, after moving from Heatherton, the Hrustics decided the talented Ajdin needed to be in the football epicentre of Europe.
"Dad sold the house, said let's go for it, nothing to lose," Ajdin says. "That was the biggest sacrifice, and that's how it all started basically."
The first stop was England, but that move led only to frustration and waiting as Hrustic couldn't get a clearance to join a club. S the family headed to the continent, and a door finally opened in Germany.
Not just any door, either. Schalke might not have the world standing of a Bayern Munich or a Borussia Dortmund, but they do have a well-earned reputation for developing players.
The Hrustics settled in Germany before Ajdin went to Holland for first team opportunity with Groningen. That went well enough to illicit interest from some of the bigger leagues in Europe. He ultimately signed with Eintracht Frankfurt.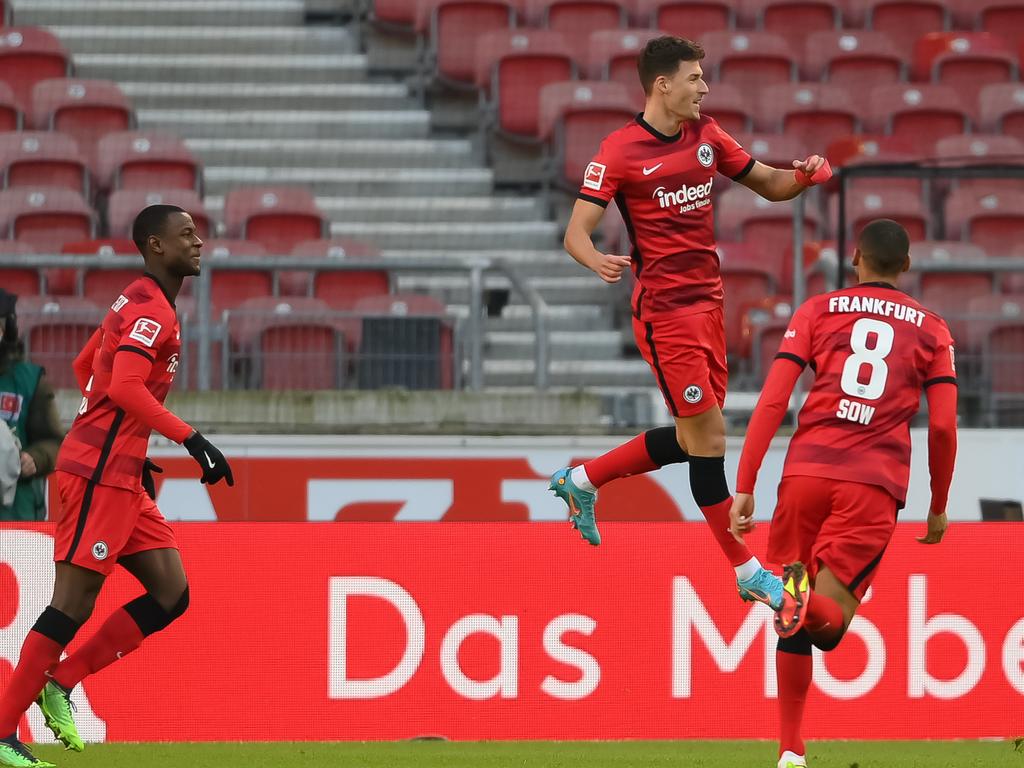 Hrustic has excelled since moving to Frankfurt in 2020. Picture: Christian Kaspar-Bartke/Getty Images
*****
The speed hit Hrustic between the eyes.
The Premier League receives plenty of attention for how maniacal it is, but Germany's Bundesliga is autobahn football. Speed means so much. Most clubs won't recruit unless a player can hit a top speed of over 34 kilometres/hour.
It took Hrustic three months to settle before Hrustic received his Eintracht Frankfurt debut.
It was a night the club aimed to break an eight-week winless streak.
"First game, Augsburg away, in a drought where we hadn't won," he recalls. "I came on when it was 1-0 for us, thought it's not going to be easy, they were putting us under pressure.
"It was that step extra I needed to take. It was quite a good debut even if I was knackered after 20 minutes if I'm honest!"
Eintracht Frankfurt won 2-0.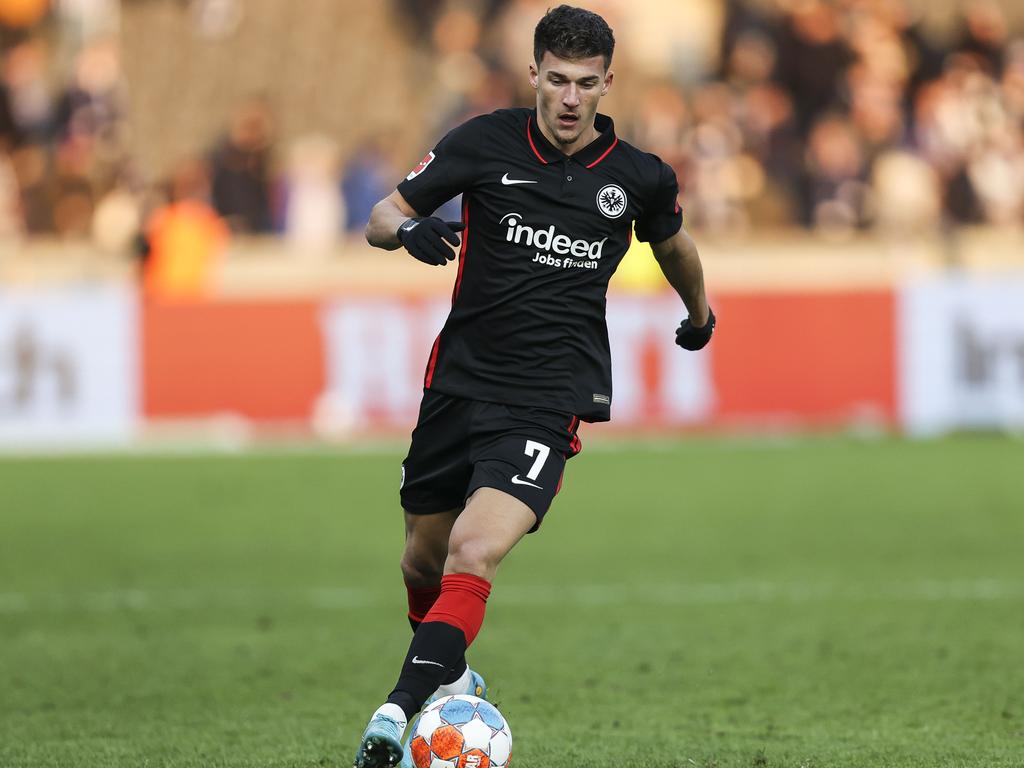 Hrustic knew playing in Germany would take his game to the next level. Picture: Maja Hitij/Getty Images
Since then, Hrustic has developed not only into a valuable player for Eintracht, but also the Socceroos, which has proven important during a period when playmakers Aaron Mooy and Tom Rogic have been scarcely available.
Hrustic knows he is improving thanks to his surrounds.
"As a footballer you grow without even realising," he says. "I look at my past games and think how much quicker things are going now, when to release the ball, when to hold the ball.
"It's just small details that count. When you win the ball: do you go in to counter or keep it? It's just those small details where I've made that extra step."
A club like Eintracht, which loosely translates in football terms to 'United', demands plenty from its players. When things go wrong it can get messy.
But not now.
Eintracht is through to its first European final in 42 years. The club has received 100,000 ticket requests from fans. Only one-tenth of them will be lucky enough, officially, but the black market should sort a few more for the showpiece in Seville.
Last month, Eintracht's fans descended on Barcelona for the Europa League quarter-final and managed to secure an extra 20,000 tickets from Barca members and fans.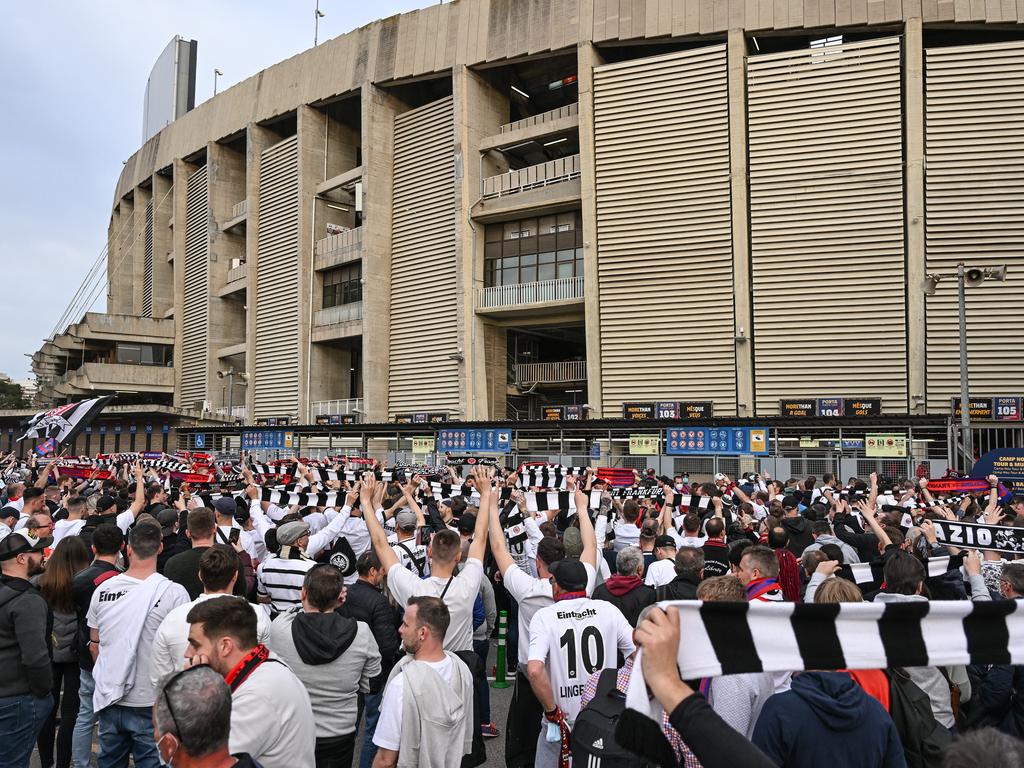 Frankfurt fans descended on the Camp Nou for their Europa League quarter-final. Picture: David Ramos/Getty Images
The Germans won the game to progress, leaving Barcelona manager Xavi in a state of shock, having to play a home game in what was practically an away atmosphere at the famed Camp Nou.
"It was a nightmare night in every sense on and off the pitch," Xavis said later. "We feel robbed."
The Seville tourist board might have second thoughts this week when comprehending what they've got themselves in for in hosting the Europa League final.
Between 50,000 and 100,000 Eintracht and Rangers fans will invade the south-western Spanish city for a week long build up.
Germany has Oktoberfest.
Scotland has every Friday night.
Seville is about to live through Mayhem.
"It's something you can't put into words," Hrustic says of the Eintracht support. "Both sets of fans are good, but I am sure our fans are going to be up to something."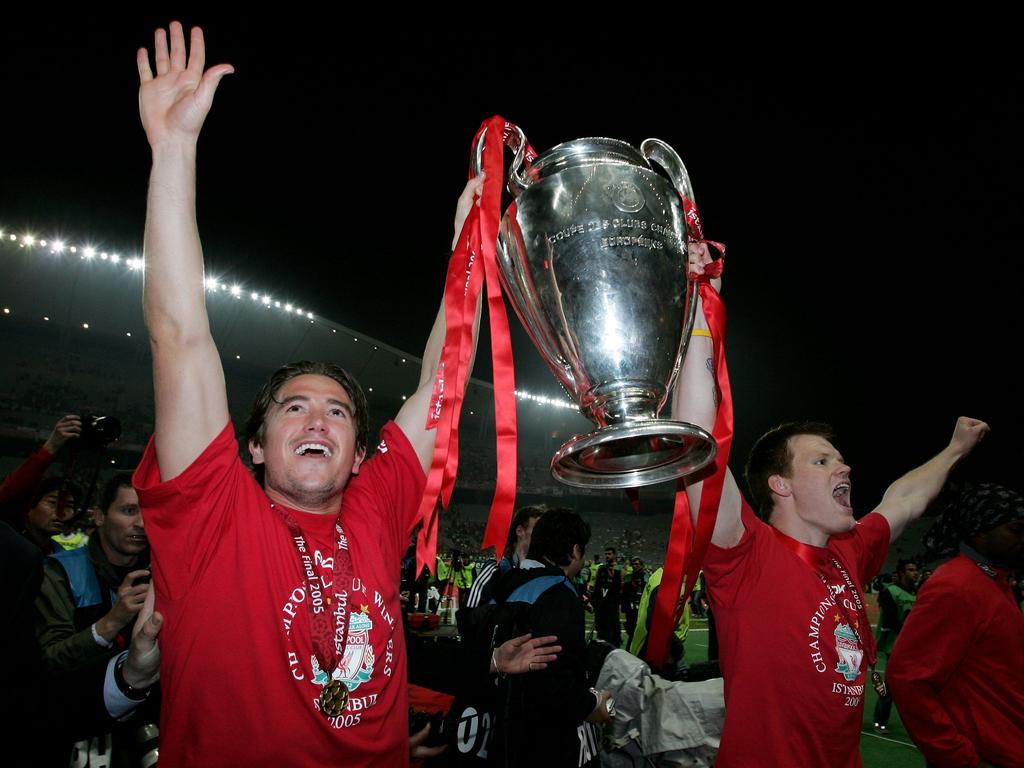 Hrustic could become the first Australian since Harry Kewell in 2005 to lift a European trophy. Picture: Clive Brunskill/Getty Images
Hrustic is no guarantee to start the Europa League final but he's a big chance to play some part, thus joining an elite group of Australian footballers including Craig Johnston, Harry Kewell, Mark Schwarzer, Mark Viduka and Ned Zelic to have played in a European final.
In the stands, first in line for the eight tickets he has organised, will be two people who made this most improbable of journeys possible.
"It's the emotion that I've got for the relationship I have between my parents and myself," Hrustic says. "They've left and sacrificed everything, their home, basically for me to succeed.
"It's stuck in the back of my head, if I think I'm going to make it, keep going.
"That will always be with me."