Football superagent Mino Raiola dies, aged 54
Notorious superagent Mino Raiola pocketed hundreds of millions of pounds from brokering transfer deals of the world's best footballers like Paul Pogba and Zlatan Ibrahimovic.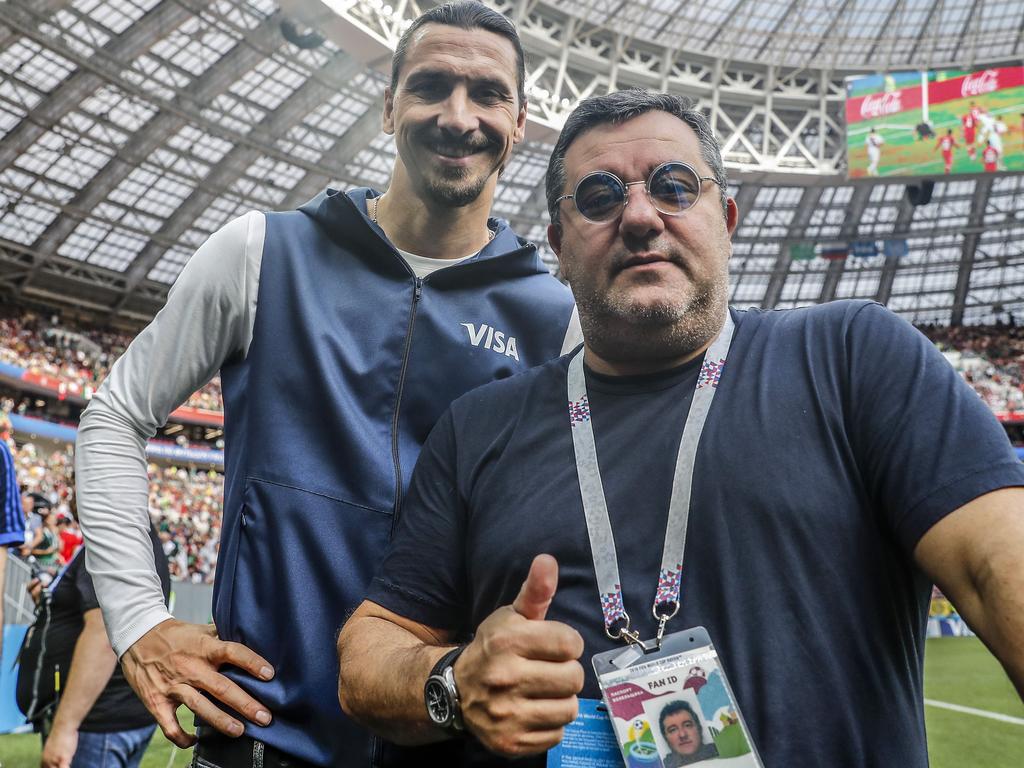 Zlatan Ibrahimovic was one of Mino Raiola's high-profile clients. Picture: VI Images via Getty Images
When Mino Raiola earned a reported pounds 41 million for brokering the then world-record pounds 89 million transfer of Paul Pogba from Juventus to Manchester United in 2016, some felt it appropriate that the "superagent" was reported to have spent the proceeds on a house once owned by Al Capone.
Rapacious agents, accused of manipulating their naive young clients to move clubs in order to claim lucrative commissions, were nothing new in football. Yet in recent years the most notorious superagent of them all created a whole new ball game.
Despite being one of the most powerful men in football, Raiola took pride in looking as though he had just attended a summer frat party: slightly dishevelled, he often wore shorts and a T-shirt, and sported stubble and obligatory sunglasses as he conducted business on a mobile phone by a swimming pool in a sunny clime.
The scruffy, short and pot-bellied Italian-born Raiola cut a curious figure next to the athletic young men he represented. Yet to the footballers, unused to their sudden riches, he was a Svengali and a "one-stop shop". Raiola would advise them on where to buy a lavish apartment and which exclusive restaurants to dine in. When their customised Bentley broke down, Raiola would send a mechanic. When they were arrested for drunken disorder or faced lurid tabloid headlines after a "kiss-and-tell", Raiola would act as consigliere.
Mario Balotelli, whose transfer from Inter Milan to Manchester City Raiola had negotiated in 2010, once set fire to his house during a prank at a party that went badly wrong. The panic-stricken Italian called Raiola who calmly told him to call the fire brigade.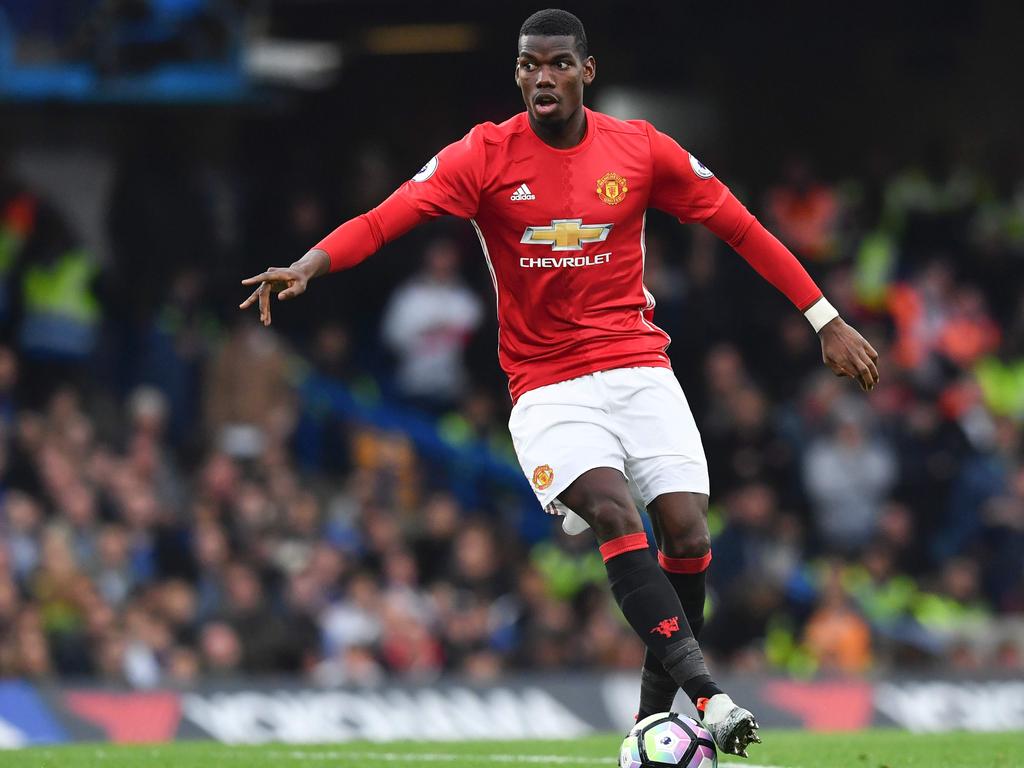 Raiola's dealing with Paul Pogba and Manchester United earned him the ire of Sir Alex Ferguson. Picture: AFP
In the case of Pogba, Raiola had first incurred the wrath of Manchester United's then manager Sir Alex Ferguson in 2012. "Fergie" had been quietly nurturing the 19-year-old Frenchman when Raiola blew his cover and demanded that Pogba be paid a vastly improved contract in the face of interest in the player from Juventus. Unfazed by the celebrated Scottish manager who knew how to be intimidating when he needed to be, Raiola had the temerity to tell Ferguson that "my chihuahuas wouldn't sign" the contract that United were offering. Ferguson called Raiola a "t***" and refused to agree to the new terms. Inside, though, the Manchester United manager was seething with rage because he knew that the player's head had been turned. Pogba moved to Juventus that summer and Raiola made a hefty commission.
"I distrusted him from the moment I met him," said Ferguson, who was already well used to dealing with agents but had yet to deal with one as abrasive as Raiola, who had a reputation for throwing chairs to make his point. "Raiola suddenly appeared on the scene and our first meeting was a fiasco. From then on our goose was cooked."
Four years later, with Ferguson having retired, Pogba returned to Manchester United with Raiola claiming that his client would "dominate for ten years. He is United's lost son." This summer Pogba is expected to leave Old Trafford after six ultimately disappointing years marked by fallings-out with managers, injuries and long absences from the team. Raiola was expected to profit handsomely from a deal with Real Madrid or Paris Saint-Germain.
More hard-headed observers claimed that Raiola was cleverly fulfilling a need. He was obsessed with football, using his knowledge of the game, and contacts within it, to identify future superstars. Second, he was a brilliant linguist who could negotiate with a humorous patter in English, Italian, German, Spanish, French, Portuguese and Dutch – languages spoken by all the great footballing nations. Third, he was a workaholic who operated as a one-man band apart from using the services of his Brazilian lawyer. Finally, he had business pedigree before becoming a football agent, having made his first million at the age of 19 when he bought and sold a McDonald's franchise in the Netherlands. Raiola may have been unscrupulous and even greedy, but many claimed that the real folly lay with the big clubs, especially in England, who Raiola had shaken money out of so adeptly for so long. Raiola told the Financial Times: "It's a closed world with gigantic potential and a huge turnover of money, but often managed by people of whom I think 'what the f***?' "
Carmine Raiola was born in 1967 in Nocera Inferiore, Salerno, southern Italy. His father was a mechanic but when Mino was a baby the family moved to Haarlem in the Netherlands, where his parents first opened a sandwich shop, then a pizzeria and finally an up-market restaurant.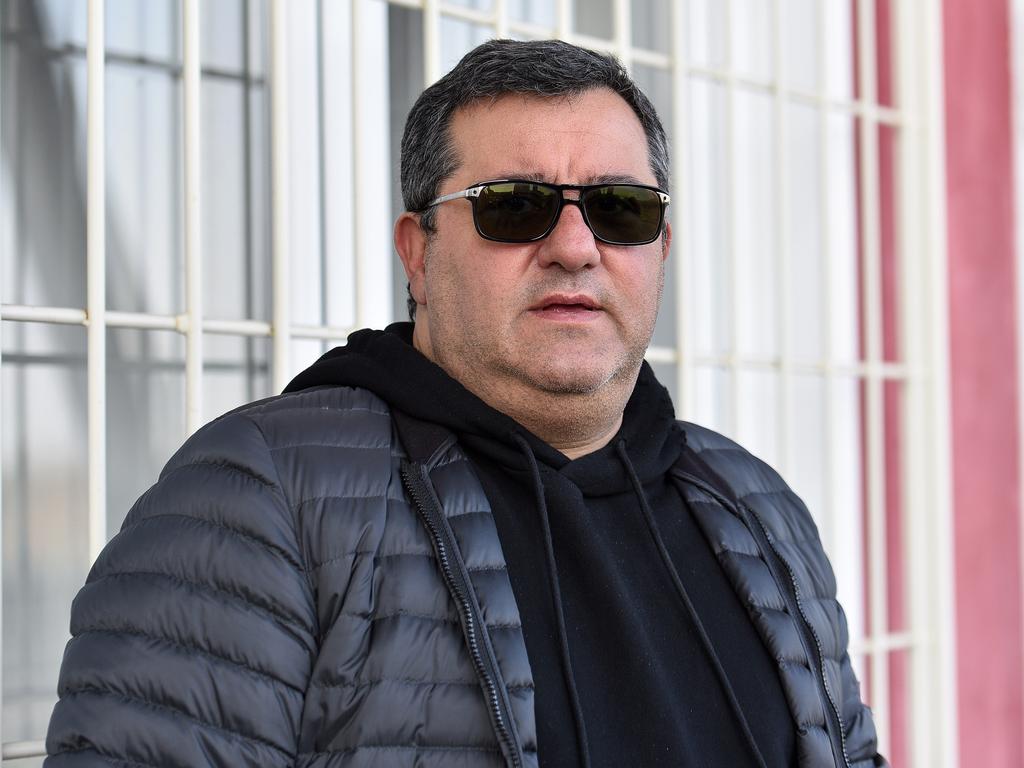 "I am not here to be loved and liked by everybody. I am here to be loved by my family and by my players. And the rest, I don't give a shit." Picture: Reporter Torino/LiveMedia/NurPhoto via Getty Images
From the age of 11 Mino was working as a waiter in the restaurant so that he could "get to know my dad", who often worked 20-hour days. By 16 he was negotiating with banks on behalf of his father who could not speak Dutch. At the same time he was playing in the youth team of Haarlem FC. At 18 he had stopped playing football and was managing Haarlem's youth team. Meanwhile, he studied law for two years and was appointed sporting director at Haarlem after he told the club's chairman (rather in the manner of Brian Clough) that he knew nothing about football. He hatched a plan to sign a young player called Dennis Bergkamp, but his brash manner made him enemies in the Haarlem boardroom and he left the club.
He began assisting the Dutch football agent Rob Jansen, acting as an interpreter when Bergkamp was transferred from Ajax to Inter Milan in 1993. While working for Jansen's agency Sports Promotions he built up his own client list of Dutch players and developed an approach that took being a father figure to new heights. After negotiating the transfer of Brian Roy from Ajax to Foggia, he stayed in the southern Italian city for six months to help Roy settle in and even painted his house.
During Euro '96 England were agonisingly knocked out in the semi-final on penalties by Germany, who would meet the little fancied Czech Republic in the final. One of the Czech players who showcased his talent in the tournament was Pavel Nedved. Raiola, having left Sports Promotions, was on hand to broker his move from Sparta Prague to Lazio.
Over the next few years, Raiola courted young players and promised them riches. He first met the young Swedish forward Zlatan Ibrahimovic in a Japanese sushi restaurant in Amsterdam in 2001. Raiola told the 20-year-old Ajax player "sell all your cars and watches" because he would soon be acquiring much more expensive ones. Sure enough Ibrahimovic would go on to seal big-money moves to Juventus, Inter Milan, Barcelona, AC Milan, PSG and, inevitably, Manchester United.
Ibrahimovic would portray Raiola as a sort of mafioso and in recent years the superagent was investigated by the Italian football authorities for "irregularities". For a long time he evaded punishment and when he was sanctioned he successfully appealed in 2019. He continued to live with his family in an apartment overlooking the harbour in Monaco; details of his survivors were not immediately forthcoming although he is believed to have had an Italian partner and two sons.
In 2020, he threatened the world governing body Fifa with legal action after it unveiled plans to cap agents' commission on player transfers at 10 per cent.
This summer Raiola had been expecting to earn a great deal more than 10 per cent in brokering the transfer of Erling Haaland from Borussia Dortmund to Manchester City, a club that had previously vowed never to do business with Raiola because of an incident years before in which the club's manager Pep Guardiola nearly came to blows with the superagent. The deal (if it goes through) could make the 21-year-old Norwegian Britain's first pounds 1 million-a-week player – 61 years after the maximum wage of pounds 20 a week in English football was scrapped. Had he lived, Raiola would have been in line to earn pounds 47 million in fees and commission from the Haaland deal. And he would have been entirely unconcerned at the negative headlines. "I am not here to be loved and liked by everybody. I am here to be loved by my family and by my players. And the rest, I don't give a shit."
Mino Raiola, superagent, was born on November 4, 1967. He died of lung disease on April 30, 2022, aged 54
Originally published as Football superagent Mino Raiola dies, aged 54